Typically small and compact in size, pulse oximeters are handy medical tools used to review, measure and monitor your blood oxygen levels as well as heart (pulse) rates using infrared light refraction.
For those who are concerned, they happen to be painless and non-invasive. Instead, pulse oximeters usually come in fingertip-type varieties and can be purchased both in-stores (e.g. pharmacies) as well as online.
Here, our FDA approved pulse oximeter list, together with some KKM approved pulse oximeters, will not just be on the reviews of the best oximeter in Malaysia but also visit info on the general function, usage of a pulse oximeter and the average oximeter price in Malaysia.
---
Table of Contents
---
14 Best Oximeters in Malaysia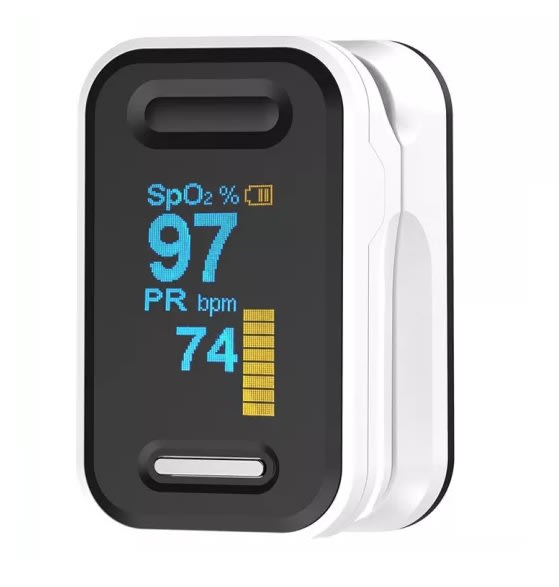 add_circle
Battery-saving
add_circle
Multiple display modes for easy reading
remove_circle
No warranty
remove_circle
Batteries not provided
One can quickly check their health with the Yonker YK-81 as it only takes 8 seconds to measure your oxygen saturation level and pulse rate. It uses LFC PLUS technology to ensure an accurate reading and is programmed to sound an alarm if the readings fall outside the safety range.
Furthermore, its OLED screen has six different display modes for easy reading in all directions. It also features an oxygen bar graph and pulse waveform map. Bonuses; this oximeter comes with a free lanyard and storage bag for convenient carrying.

MDA Registration Number: GC4998120-43555
---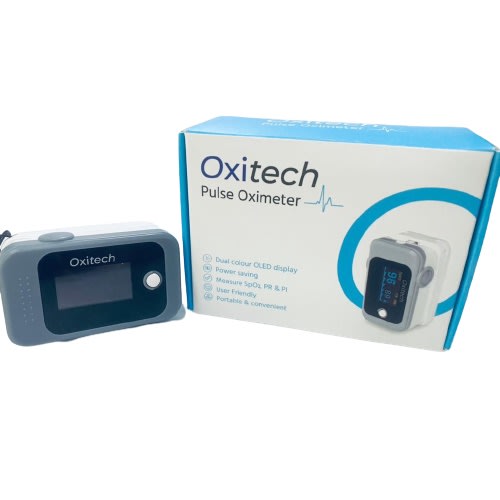 add_circle
Provides perfusion index (PI) readings
add_circle
Batteries provided
add_circle
Multi-directional display
add_circle
1 year warranty
This fingertip pulse oximeter by Oxitech runs on two AAA batteries and features a dual-coloured OLED display that can be rotated in four directions. Despite its small size, its readings are highly visible thanks to its bright display and it also has an audible beep sound to alert users.
Perfect for patients doing home monitoring, this nifty gadget provides fast and accurate oxygen saturation, pulse rate, and perfusion index readings with just one touch of a button.
MDA Registration Number: GC1574221-53413
---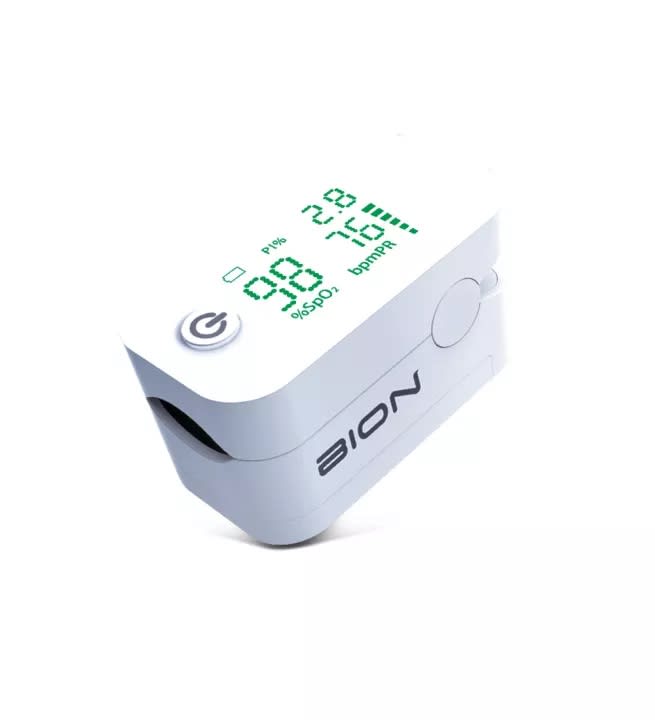 add_circle
Measures perfusion index (PI)
add_circle
Low power indication
add_circle
Threshold alerts can be set
add_circle
1 year warranty
This BION Finger Pulse Oximeter is equipped to provide SpO2, PR, and PI readings for a comprehensive oximetry assessment. There is also no need to worry about power wastage on this double AAA battery-powered device as it has an auto shut-off function. So, you're set if you need to travel with a fingertip pulse oximeter.
Additionally, its clear LED display has three backlight brightness settings so that users are always aware of their current readings. Threshold alerts can also be set to inform users of any abnormal fluctuations in oxygen levels and pulse rate.
A bonus for getting this oximeter is that users will also receive a free lanyard and pouch with their purchase.
MDA Registration Number: GB3492221-65288
---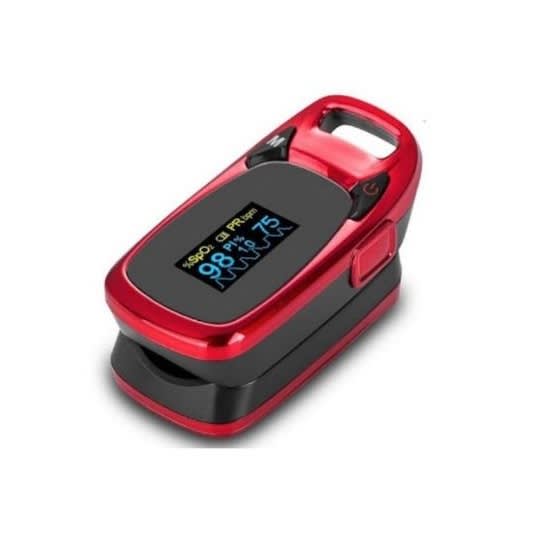 add_circle
IP22 water splash proof
add_circle
Measures perfusion index (PI)
The AEON Technology Pulse Oximeter comes in a striking red and black design to measure your blood oxygen level, pulse rate, and perfusion index. Its dual-colour OLED display has big fonts that make reading the results easy. Also available is the built-in real-time plethysmograph for users to monitor any fluctuations in blood volume.
Furthermore, it supports six display modes to suit the user's preferred screen orientation. Among its highlights is its advanced DSP algorithm that minimises the influence of motion on readings. Thus, users can expect accurate results. Additionally, there's also a visual alarm to alert users of abnormal readings.
MDA Registration Number: GC3978321-65258
---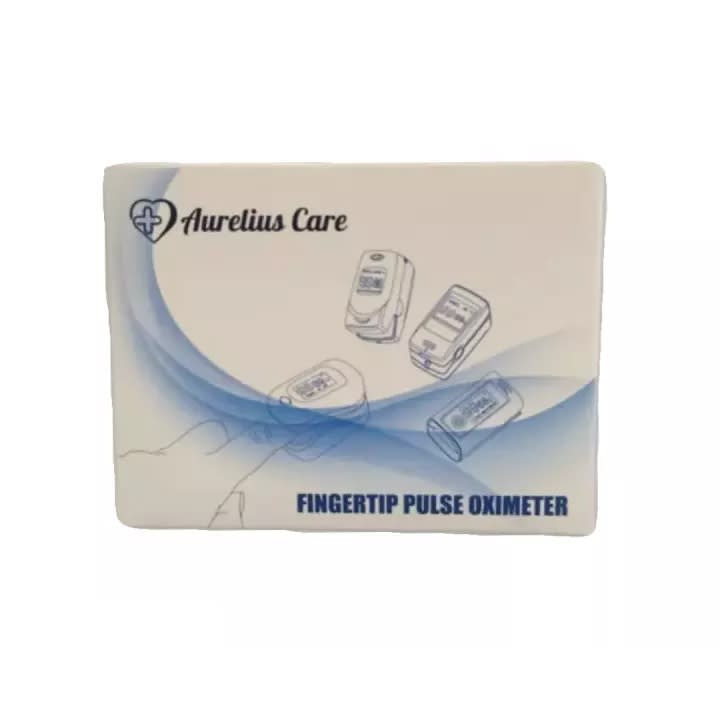 add_circle
2 years warranty
add_circle
Durable (splash-proof and drop-resistant)
add_circle
Displays PI readings
The Aurelius oximeter is a durable one as it is specially designed to be both splash-proof and drop-resistant.
Besides the usual SpO2 and PR readings, it also displays a PI pulse bar and waveform. Plus, other features you'll want to know are its pulse rate analysis and a continuous measuring mode. What's more, this oximeter enables users to store up to 12 groups of SpO2 data.
When it comes to user convenience, the oximeter's OLED display can be oriented in four directions according to users' preferences. It also has an audible and visual alarm with low battery indication to boot.
MDA Registration Number: GC9770721-65290
---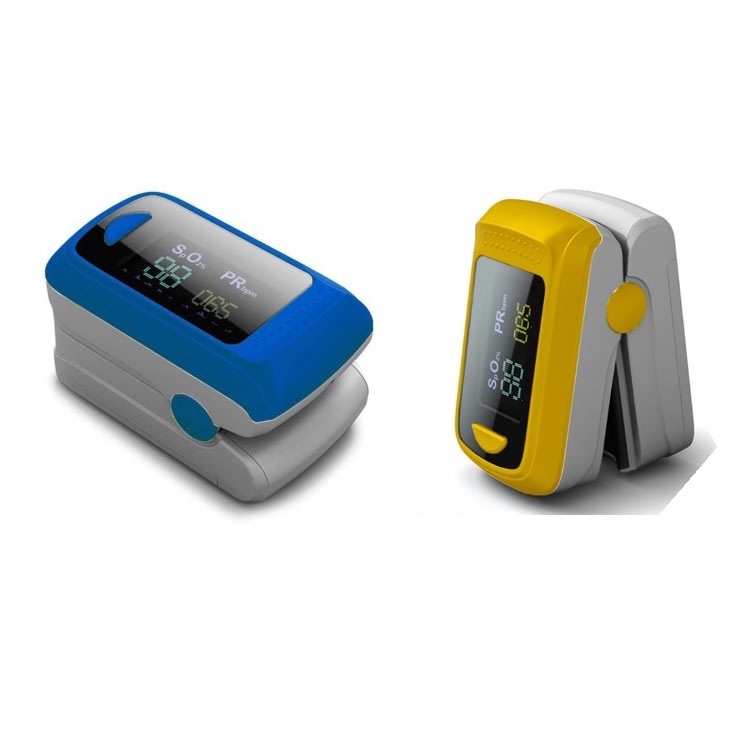 add_circle
1 year warranty
add_circle
Batteries included
Here is another oximeter that features anti-motion technology for more accurate measurements.
The Biolight M70C has a sturdy yet ergonomic design as the interior is fitted with soft silicone padding to provide more comfort for the fingers. Interestingly, its exterior features a shading design to reduce the interference of surrounding light that may affect readings.
Nevertheless, the dual-colour OLED display is multi-directional and can be adjusted in terms of brightness for your convenience. Moreover, its high-resolution display allows users to easily read the Sp02, PR, pulse waveform, pulse intensity, and battery capacity at a glance.
To top it off, the lightweight device comes in two fashionable colours of blue and yellow.
MDA Registration Number: GC94689685818
---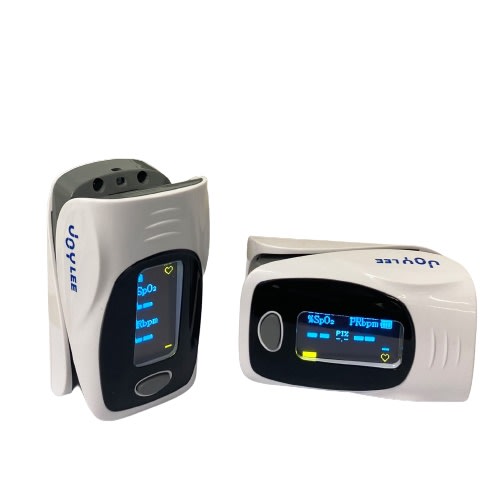 add_circle
2 years warranty
add_circle
Comes with a lanyard
remove_circle
Batteries not included
Users can expect quick readings with the JOYLEE oximeter which measures oxygen saturation level in the blood and pulse rate within 8 seconds. Not that speed is its prowess, but the dual-colour display also makes it easy to show the perfusion index reading for users to check their overall health performance.
In terms of display, there are four display mode directions available for easy use at any angle.
Moreover, the one-touch operation device is easy to operate and suitable to be used by 3-year-olds and above thanks to its medical-grade silicone chamber that guarantees safety and comfort. It is also low on power consumption and has an auto-switch off function when not in use.
MDA Registration Number: GC6804921-68270
---
add_circle
Colour display
add_circle
Adjustable brightness
Suitable for home use, the Beurer Pulse Oximeter PO-30 runs on 2 AAA batteries and features an OLED colour display that indicates your pulse level. The brightness of the display itself can be adjusted according to your personal preference. Plus, its compact and lightweight built makes it portable enough to carry around with you.
Not to mention, this device is easy to use too. Simply insert your finger between the opening of the pulse oximeter and press the start button. You will see the result on the display within seconds.
Other highlights include an auto switch-off whenever not in use and a low battery indicator.
MDA Registration Number: GC7817621-66828
---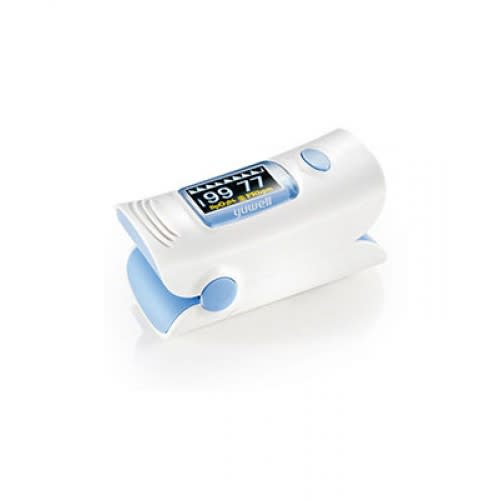 add_circle
Clear & bright display
add_circle
Automatic shutdown
Designed with ease of use in mind, this fingertip Yuwell Pulse Oximeter YX302 has a bright OLED display that allows you to monitor your pulse rate crystal-clear. The display tells users its battery level as well as pulse strength and oxygen saturation.
When not in use, it will automatically shut off the pulse oximeter in 8 seconds. In terms of power, it only requires two AAA batteries to operate the device. At a mere 54g, the Yuwell Pulse Oximeter YX302 feels light enough.
MDA Registration Number: YGC9480821-57718
---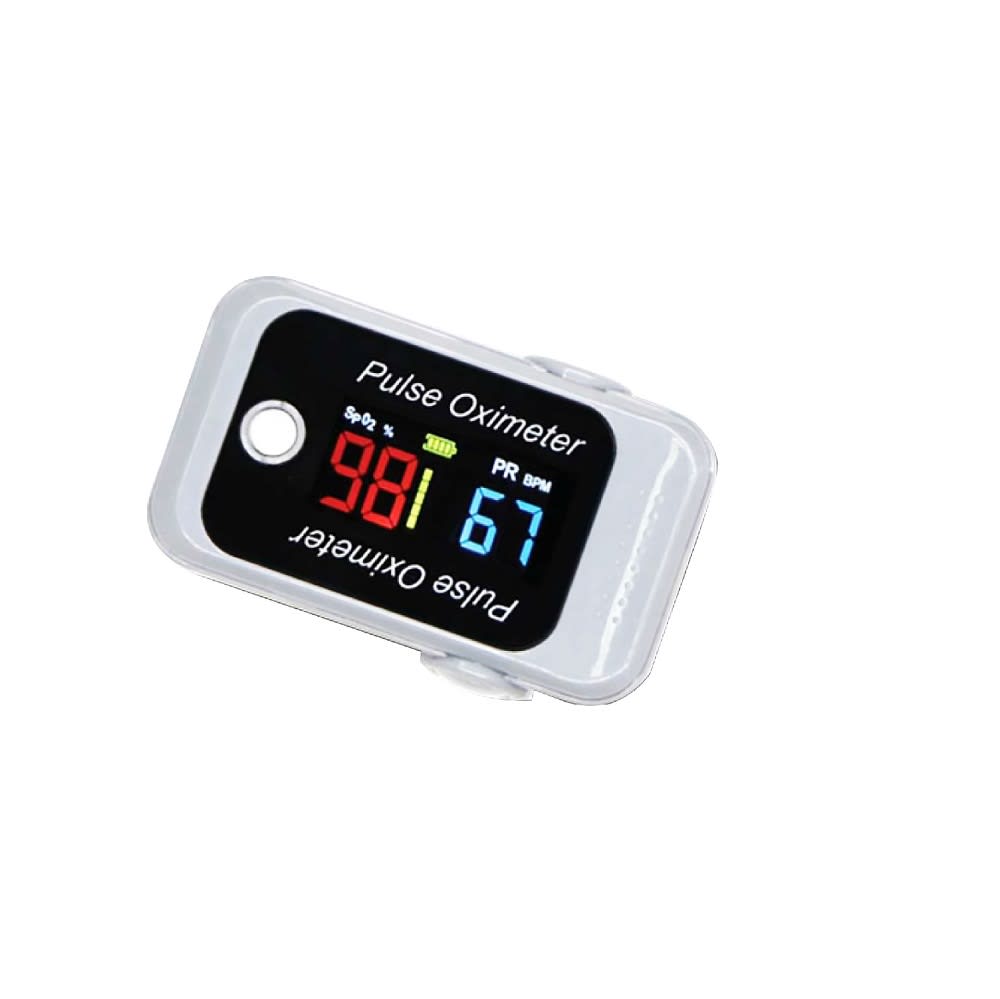 add_circle
Compact design and can be linked to your smartphone via Bluetooth
This reasonably-priced Berry Pulse Oximeter BM1000 has everything you need to monitor your oxygen levels, all in a compact and streamlined device. And it's easy to use too. Suitable for anyone who has a medical condition like asthma and sleep apnea, they just need to place their finger, toe or earlobe between the housing of the pulse oximeter and monitor.
As for the display, the screen includes the percentage and number of your respective blood oxygen level (SpO2) as well as pulse rate upon each use. You can also link the pulse oximeter to your smartphone via Bluetooth connection to monitor your reading.
MDA Registration Number: GC9264520-47073
---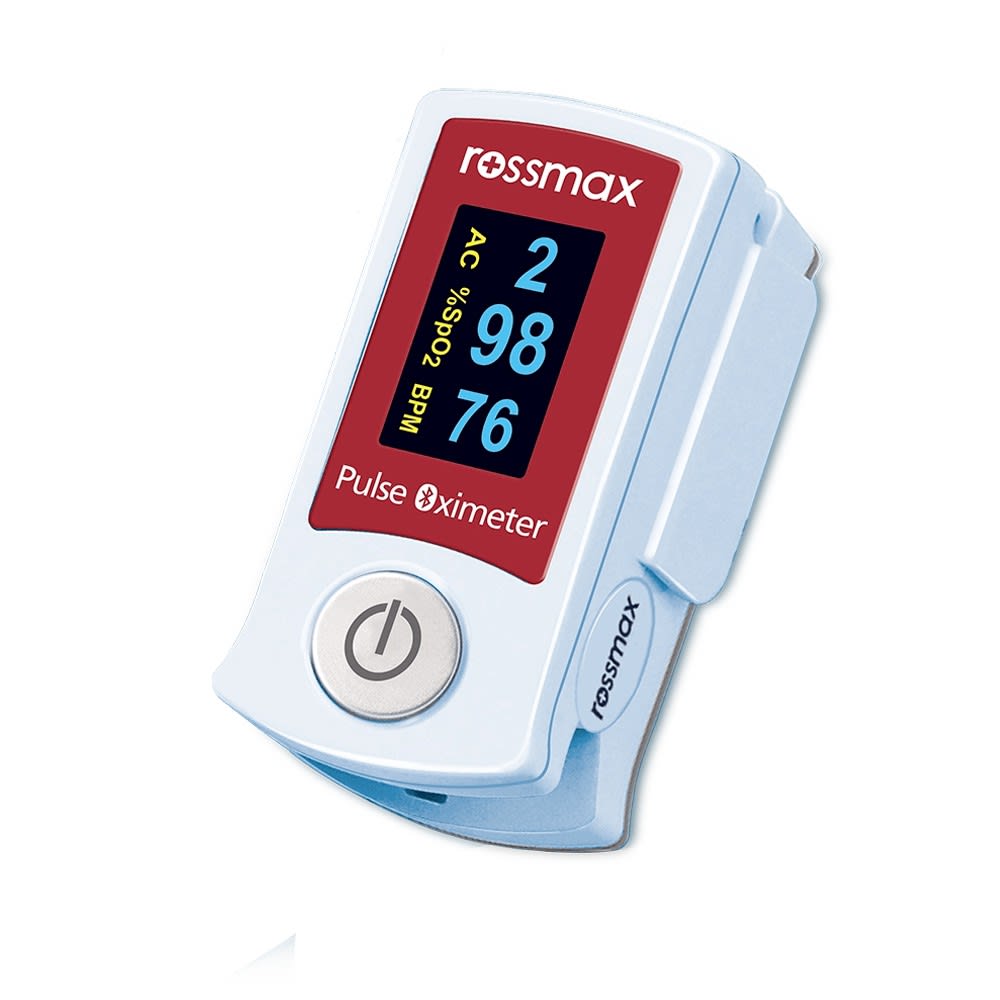 add_circle
Compatible with Bluetooth
add_circle
Easy-to-read OLED display
add_circle
Displays fast result in just 1 minute
The Rossmax SB210 is made compatible with a Bluetooth connection, allowing you to transfer your pulse measurement to your smartphone. Its two-colour OLED display is also easy to read and offers calculations on the AC (arterial condition), SpO2 and BPM (beats per minute).
Also renowned for its Artery Check Technology (ACT), this pulse oximeter detects your arterial pulse the moment you place your fingertip between the opening of the device. From there, it helps to sort out your arterial status into 6 levels (Level 1 = Excellent Status to Level 6 = Severe Impairment) before providing the visual result in a mere minute.
MDA Registration Number: GC6493119-36113
---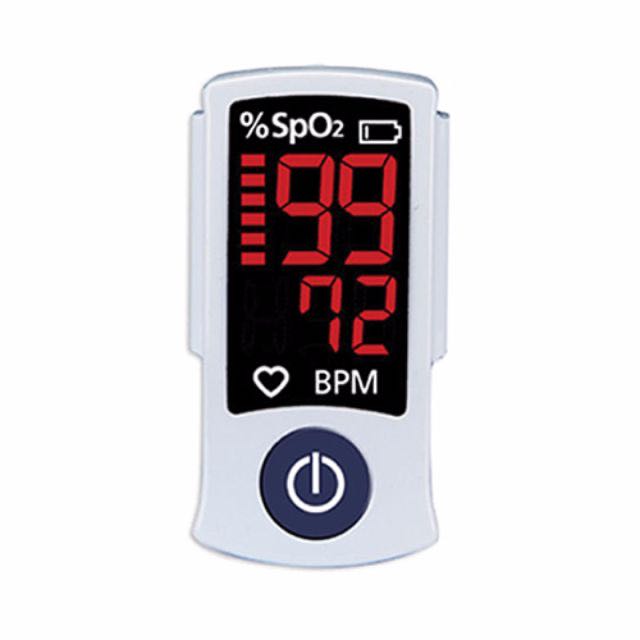 add_circle
Big LED display
Here is another quality pulse oximeter from Rossmax, with their SB100 model that is suitable for those who suffer from sleep apnea and needs to monitor their SpO2 level overnight. It boasts an ample LED display that is bright and clear enough to read the measurement.
Other highlights you can find from Rossmax SB100 includes a Pulse Strength Indicator, a simple one-touch on/off button and an attached cord for easy portability. For your peace of mind, it comes with a 2-year warranty.
MDA Registration Number: GC6493119-36113
---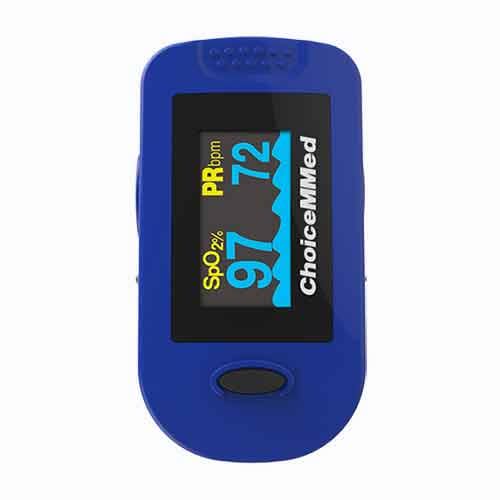 add_circle
Portable design
add_circle
Auto-power off feature
add_circle
Adjustable brightness.
With a portable design that's easy to carry around, The Choicemmed MD300C2 pulse oximeter features 6 display modes that can be read in four different directions. It has an auto-power off function that shuts down in 6 seconds whenever you remove your finger. The low battery indicator comes in handy too, allowing you to determine the duration of the batteries.
The Choicemmed MD300C2 also calculates your perfusion index, where it basically assesses your level of pulse strength. Also, a plus is its two-colour OLED display which is bright and easy to read. You can even adjust your preferred brightness of up to 10 levels.
MDA Registration Number: GC2160119-29755
---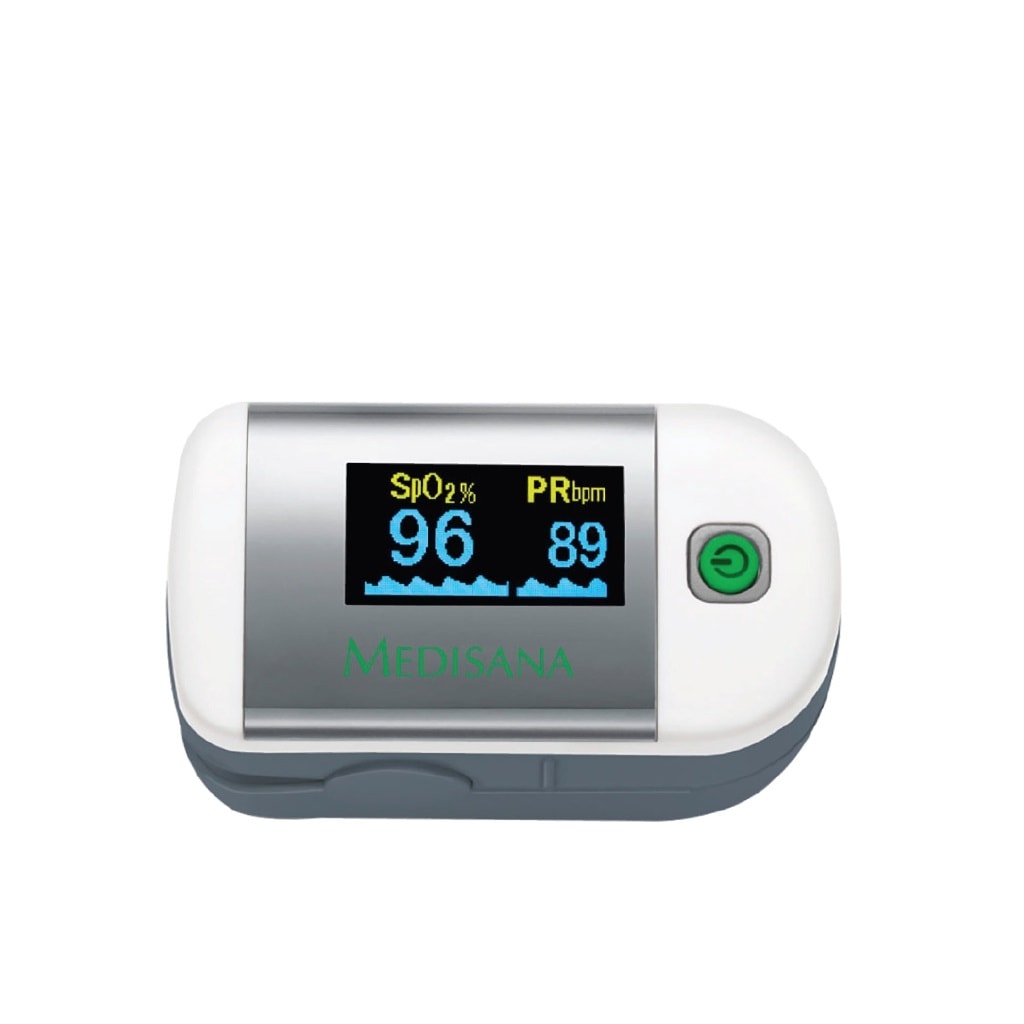 add_circle
Heart rate can be read in a bar graph or waveform
add_circle
Easy one-touch operation
add_circle
Adjustable brightness
Get an accurate reading of your heart rate regardless of a bar graph or waveform with the Medisana PM100 Pulse Oximeter. It uses a simple and convenient one-touch operation, complete with a bright OLED display that can be viewed in six different directions. You can even adjust the brightness accordingly using its 10-level setting.
It also comes with an automatic switch-off feature, which would shut down within 8 seconds if no measurement is taken. This helps to save the battery efficiently. Other highlights include a battery level indicator and a bundled carrying strap to hang it on.
MDA Registration Number: GC52083234217
---
What is an oximeter's function?
A pulse oximeter measures the oxygen saturation level in your blood. In other words, it is used to gauge how well the heart is pumping oxygen to all of your body parts. They are often used to monitor the health of individuals with conditions that affect blood oxygen levels.
Other cases in which an oximeter is used include determining how effective supplemental oxygen therapy is or assessing how well a new lung medication is working. They are also used to evaluate whether someone needs help breathing.
How to use a pulse oximeter?
The good thing about a pulse oximeter is that you don't have to be a medical professional to know how to operate such a device. In fact, the procedure couldn't be simpler enough.
First, clip

your finger (or on your earlobe or toe) between the opening of the pulse oximeter.

Remember to sit still when you take the readings.

If you have any nail polish or varnish, it's best to remove them beforehand as it can cause inaccurate measurements.

Then, switch on the device and within seconds or a minute (depending on your pulse oximeter itself)
You will get to see the information (e.g. pulse rate, SpO2) that appeared on the display.
Once done, simply remove your finger and the pulse oximeter will switches off automatically.
When it comes to the result, your blood oxygen level a.k.a. SpO2 should be between 95% to 100%. But if the reading shows the count under 95%, this indicates you are having medical conditions needed to be addressed by a doctor immediately.
What is the normal range for oximeter reading?
As mentioned, a healthy adult should have an oxygen saturation level of 95% to 100%. A reading below 95% needs attention, and 90% is considered low which is an indication of hypoxemia (a deficiency of oxygen reaching body tissues).
To simply put, the lower the oxygen level, the more severe the hypoxemia.
How to read a pulse oximeter?
A pulse oximeter usually has two numbers. One is to measure your oxygen level (SpO2) and the other is your pulse rate (PR bpm). When the numbers on the oximeter have stopped changing, the readings displayed will be your measured blood oxygen level and pulse rate.
Can an oximeter detect blood clots?
Although an oximeter can't directly tell you whether or not a blood clot is present, it has the ability to measure oxygen saturation in the blood. This can be used as a method of detection because consistently low readings may indicate the presence of a blood clot or other pulmonary health issues.
Does altitude affect oxygen levels?
Yes, high altitudes can cause lower oxygen levels due to the low atmospheric pressure. Hence, the normal oxygen saturation level may change depending on where you're at. For example, the normal oxygen saturation for a healthy individual is about 90% at 5000 feet above sea level.
Popular Oximeter Brands in Malaysia?
Wonder whether all oximeter brands are the same? Or are you looking for Omron oximeters in Malaysia? The latter is a brand from Japan, known for their many electrical devices in the healthcare sector, so it's no surprise that Omron also made oximeters catered for public use.
Unfortunately, they are not available in Malaysia. However, you can still get several official oximeter brands that are MDA-approved, as well as KKM-approved (KKM = Ministry of Health Malaysia).
Based on our research, the top 3, most popular oximeter brands on our best pulse oximeter list are:
Beurer

Choicemmed

AEON
If you're interested in an actual tried-and-tested review of them, please stick around as we are in the midst of reviewing them.
---
More related oximeter Malaysia recommendations: