Ever since the occurrence of the Covid-19 pandemic happened, the whole world have been practicing more vigilance in caring for everyone's health and hygiene. 
The Medical Device Authority (MDA), a branch under the Ministry of Health Malaysia (KKM) has approved RTK Antigen self-test kits, encouraging locals to test for the SARS-CoV-2 virus at home. This mandate is great, as mass screening is now possible, allowing people to get faster results and lowering the chances of spreading the deadly virus. 
Today, we'll review some 8 MDA-approved Covid-19 self-testing kits, which you can get from most pharmacies. However, do keep in mind that these kits are for screening purposes. The RT-PCR test is still the gold standard for accurate and efficient test results, and you are encouraged to go for a PCR test for confirmatory results. 
---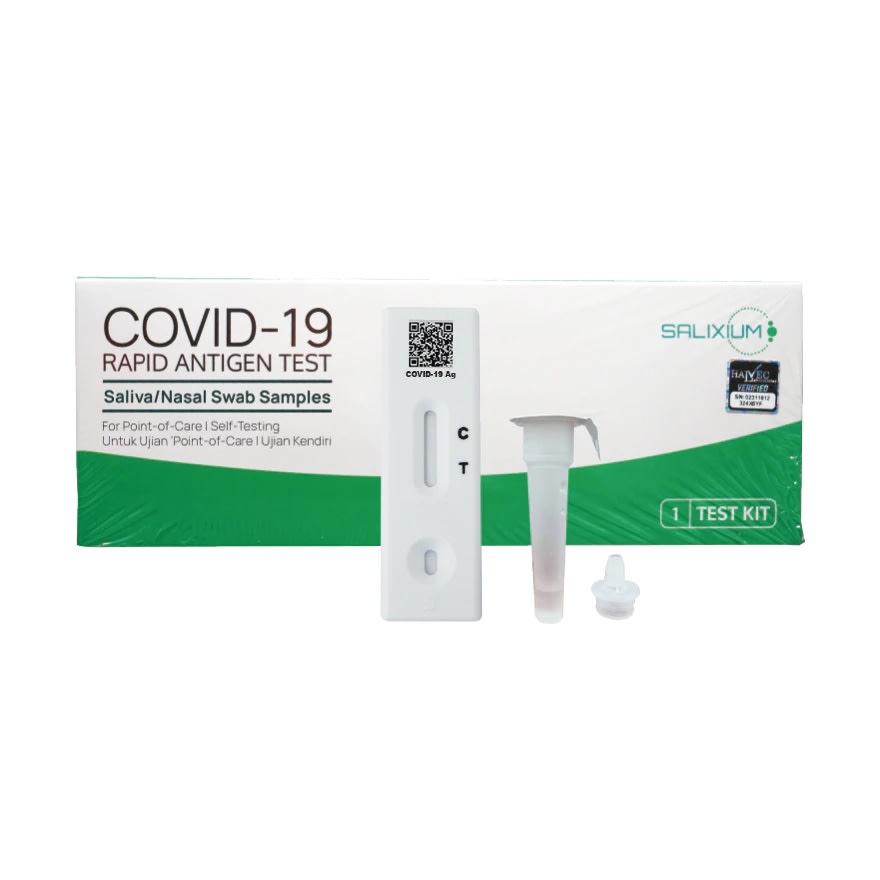 Check Salixium Covid-19 Rapid Antigen Test Kit price below:
add_circle
Nasal and oral swab for increased detection rate
add_circle
No deep and intrusive swabs needed
This test by Reszon Diagnostic International Sdn Bhd is both a nasal and oral swab test to detect the SARS-CoV-2 virus, but it is completely painless! Many will be nervous about having to insert the swab way up to your nasal cavity, but this kit allows for non-intrusive swabbing. There is a 91.4% sensitivity and 100.0% specificity rate.
Overview
The kit comes with two swabs, one for the oral sample, which requires rubbing on both sides of your mouth and the palate. The other is a nasal swab, which you must slide up to about 2cm on both nostrils and roll around 5 times on each side. You will then immerse both swabs into the extraction tube provided to mix at least 10 times, and then mix again after closing the tube with the dropper head.
Two drops of the sample are to be added onto the test cassette's sample well, and your results should be ready after 10-15 minutes! 
Testimonies
The testing process can be a bit daunting at first due to the insertion of the nasal swab. However, upon realising that users need not go too deep into their nostrils, many find it easy to use.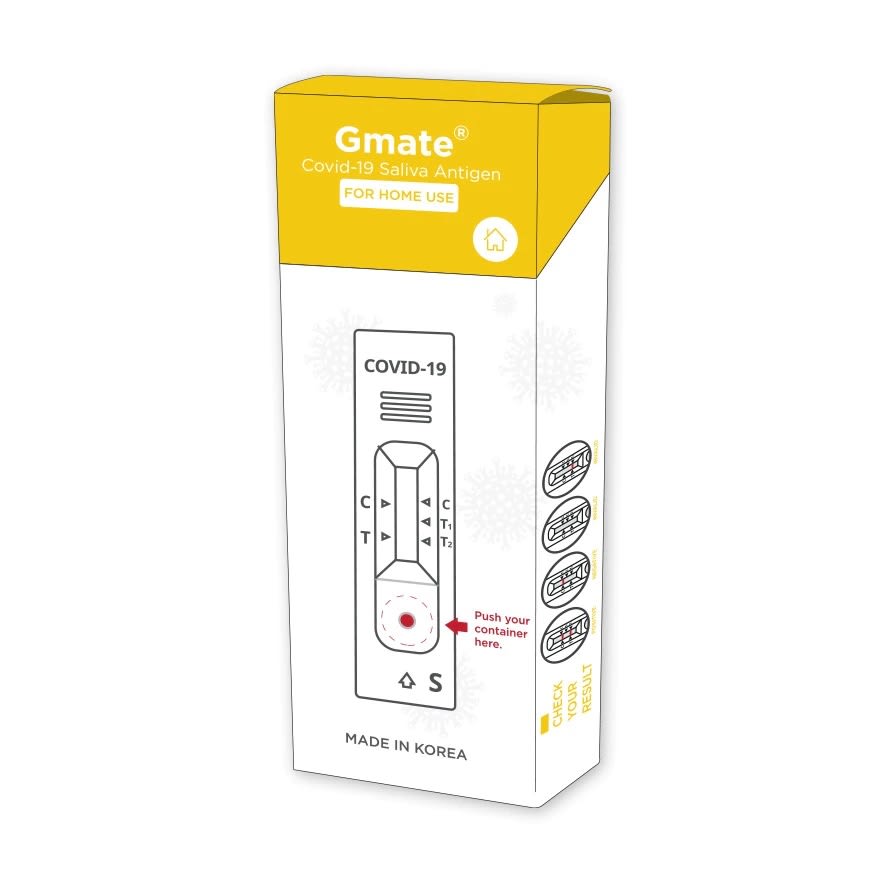 Check Gmate® Covid-19 Ag Saliva for Home Use price below:
add_circle
Very easy to use
The great thing about these self-test kits is how user-friendly they are. Created by Citymedic Sdn Bhd, these test for the presence of the Covid-19 virus through saliva only. This kit has a shelf life of two years with a 90.9% sensitivity rate and 100% specificity level. 
Overview
Users will have to spit into the regent container after connecting the funnel to it. And your saliva must reach up to ¼ of the container (more is fine!) After that, remove the funnel and put the cap on the reagent container, squeeze it and then shake 20 times after. 
Drop 4 drops of the mixed reagent into the test kit and your results will be done 15 minutes later.
Testimonies
The fact that only saliva is required for the testing process is a big relief for many who are afraid of or hate painful swab tests.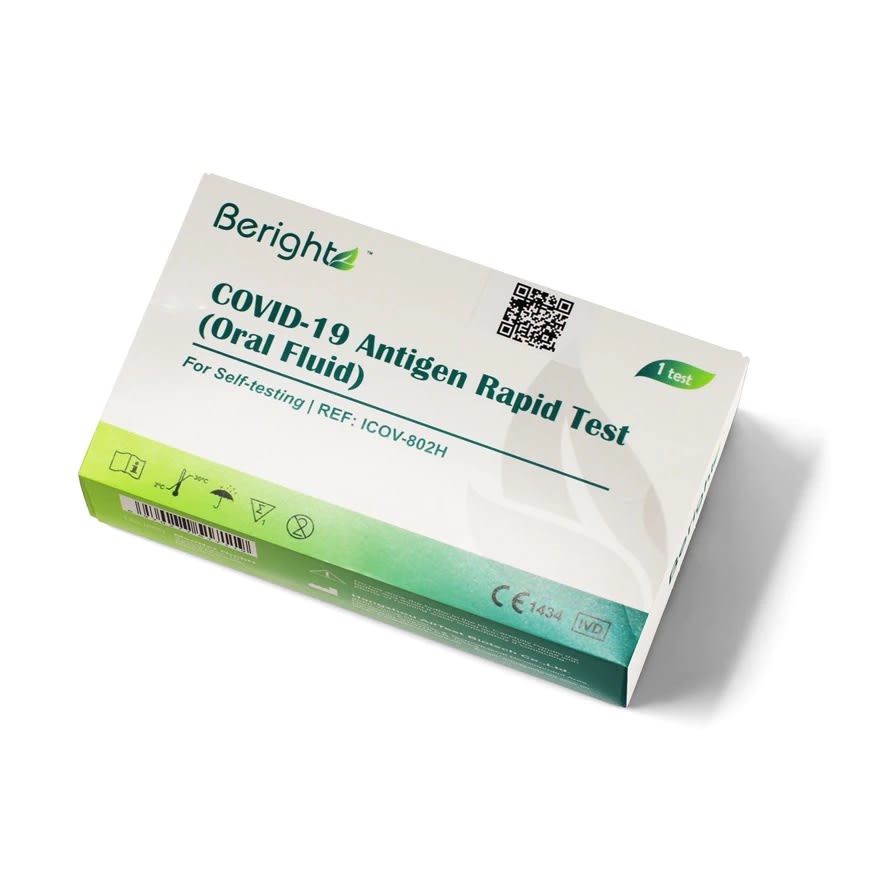 Check Beright-COVID-19 Antigen Rapid Test Device (Oral Fluid) price below:
add_circle
Higher sensitivity rate than other kits
The Beright kit by Medinics (M) Sdn Bhd uses deep coughing methods to gather saliva samples for the most accurate results. It has up to 93% sensitivity and 100% specificity.
Overview
To use, simply fit the funnel onto the tube provided. Users are expected to cough deeply 3-5 times and spit the oral fluid into the funnel. Note that the solution should touch the scale line.
After that, place the tube into the provided holder and squeeze 10-15 times. 2 drops of the resulted solution should be put onto the kit. 15 minutes later, your results will be shown.
Testimonies
This kit is fairly easy to use, as there are not many steps required to achieve the intended result. The deep coughing technique also provides a more accurate reading, as the Covid-19 virus usually resides in our lungs and nasal cavity.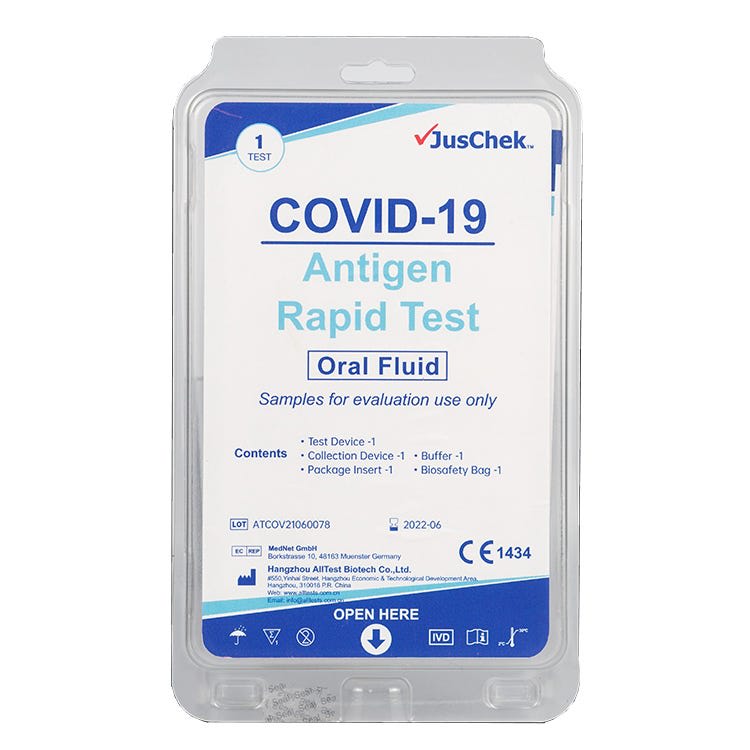 Check JusChek COVID-19 Antigen Rapid Test (Oral Fluid) price below:
add_circle
Simple instructions
add_circle
Easy to use features
remove_circle
Lower sensitivity than other kits
With COVID-19 around, paranoia will always be rampant, as people worry that they are bringing back the virus from outdoors into their homes. If you are exhibiting symptoms but are unsure, 'JusChek' with this kit by Neopharma Biotech Asia Sdn Bhd! This kit provides a sensitivity of 90% and a 100% specificity rate. 
Overview
To use, simply remove the cover and fit the funnel onto the tube provided. Cough deeply about 3.5 times, and spit the phelgm into the tube. Close and squeeze the tube for 10 seconds to disturb the fluids. 
Then, unscrew the small-cap atop the cover and add two drops  of the test solution onto the kit. 15 minutes later, your results should be displayed. 
Testimonies
Users should be aware that results tend to deteriorate after the 15-minute mark is up. Therefore, do try and set a timer so you do not miss out on the timing!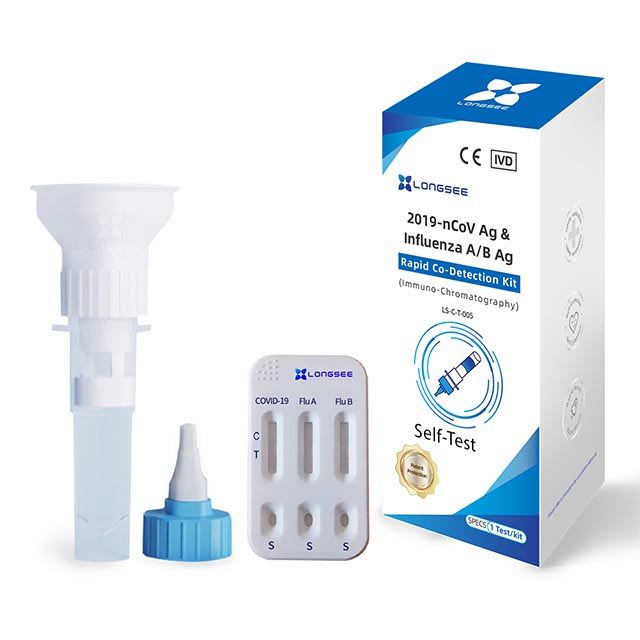 Check Longsee 2019-nCoV Ag & Influenza A/B Rapid Co-Detection Kit (Immunochromatography) price below:
add_circle
Tests for three components of the Covid-19 virus
add_circle
Simple instructions
remove_circle
It may be confusing, as there are three sample wells
Jingga Anggun Sdn Bhd's kit tests for the Covid-19 virus using immunochromatography technology, which can detect the virus, together with the influenzas A and B virus. This is made possible as there are three specimen wells to detect the three different components of the virus for a more accurate result. 
Overview
Before using, one should leave the kit at room temperature for 30 minutes. Then, you can spit your saliva into the collection funnel up to about 1ml. 
From here, you will have to turn the tube upside down for about 5 seconds to allow the sample to combine evenly with the diluent, and leave it at room temperature for 5 minutes. Then, remove the nozzle cap and have 3-4 drops of the sample onto the sample wells. 15-20 minutes later, your results are done!
Testimonies
Users must take note of the need to put their test kits on a level surface for a more accurate reading. This is to prevent bubbles from forming on the extraction tube, which will tamper with the results.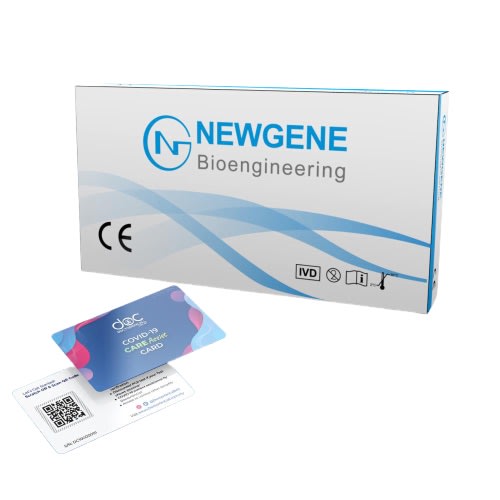 Check NEWGENE Bioengineering COVID-19 Antigen Detection Kit price below:
add_circle
Provides two options for customers
The best part about this kit by Dewina Consult Sdn Bhd is that it is versatile. Two methods are provided by the kit, so you can either do a swab or saliva test. 
The swab test is not intrusive either, as you do not need to insert it too deeply like a normal PCR test. This kit offers a 90.9% sensitivity rate and a specificity of 100%.
Overview
If you opt to use the saliva test, just deep cough and get your fluids into the sample collector. Use the dropper to put 3 drops into the regent tube and cover it with the cap. 
For the swab test, you can choose to either swab for fluids from your nostrils (not too deep!) or both sides of your mouth and the palate. Insert the swab into the regent tube and squeeze 5 times to disturb the fluid, then close the cap and apply 3 drops onto the test card. 
Results should show after 15 minutes but will be invalid after 30 minutes. 
Testimonies
The only dilemma that comes along when users use this product is which method to apply. As the company does not provide that either option would be more accurate than the other, both options should provide a similar result.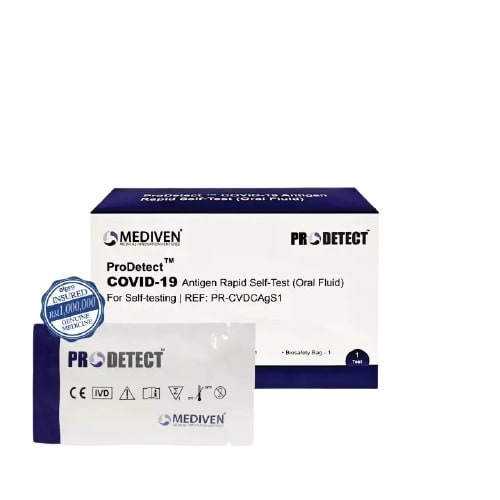 Check ProDetect™ COVID-19 Antigen Rapid Self-Test (Saliva) price below:
This is another test that uses saliva to test for the presence of SARS-CoV-2 antigens, so users need not go through the pain of regular nasal swabs! The test is designed by Medical Innovation Ventures Sdn Bhd, a Malaysian-based diagnostics company. 
Overview
This kit comes with a funnel to attach to the tube, where users would cough deeply and release their saliva into. A dropper is given to move fluids easily in order to easily meet the minimum amount needed for the test, indicated as a line on the tube. 
After that, empty the entire amount of fluid into the tube and squeeze it for about 10 times after putting on the cap. You can then put two drops onto the kit and see your results 15 minutes later. 
Testimonies
The instructions are simple, though some users can find it confusing. Nevertheless, it works like most test kits.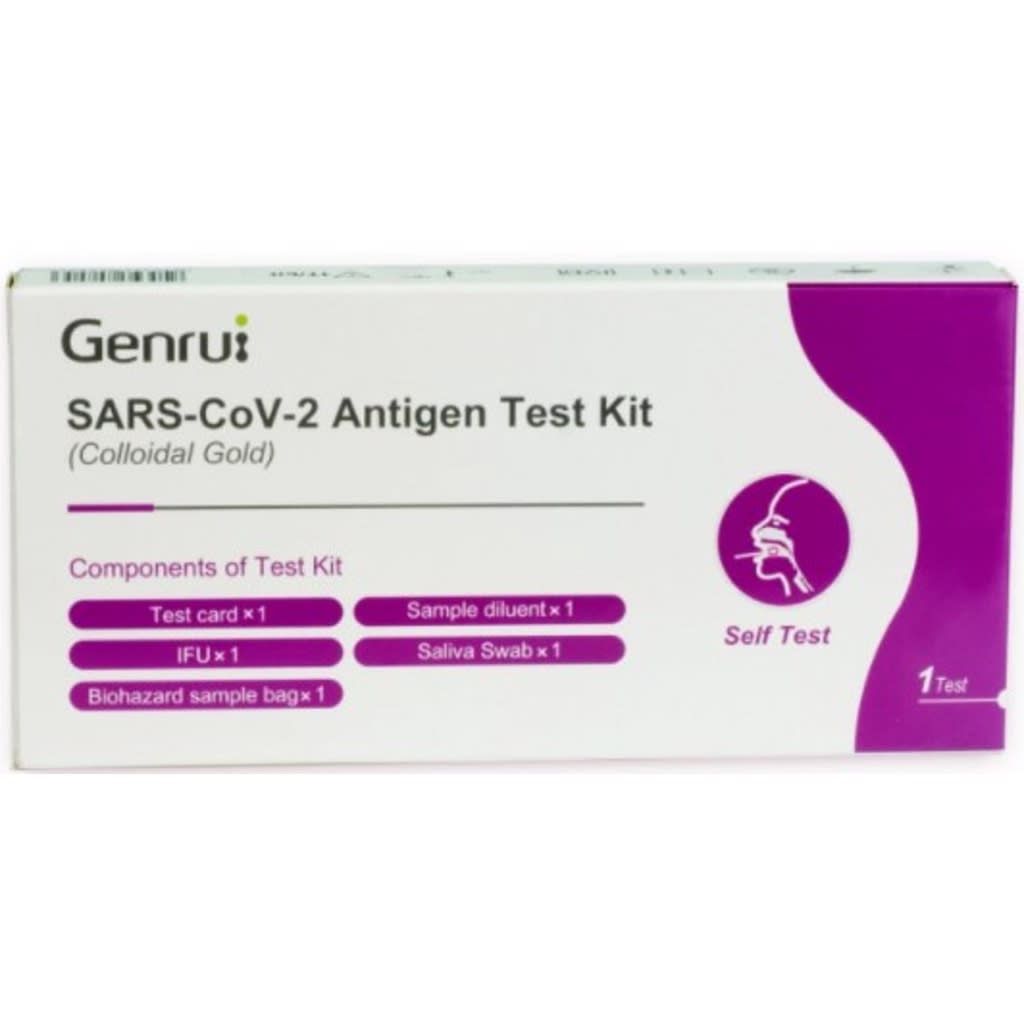 Check Genrui COVID-19 Antigen Saliva Test Kit- Lollipop Method price below:
add_circle
Simple instructions
add_circle
Good for children and seniors
This is a great kit for seniors and children who may not have quite gotten the hang of COVID tests. It has a sensitivity of 96.7% and a specificity level of 100%. Painless testing with accuracy indeed. 
Overview
The test has an absorbent tip which is to be put under the person's tongue. Allow it to absorb saliva for around 40 seconds. Then, put the swab into the sample solvent and rotate it against the wall 5-6 times. 
Next, let the swab sit in the solvent for about a minute and squeeze the tube walls to pick up any remaining specimen before removing the swab. Mix the solvent well and put on the cap. Remove the white top and, add 3 to 4 drops of the solution into the sample hole of the test card. 
You should get your results after 15 minutes. 
Testimonies
This is perfect, especially for kids who may find sticking the swab up their noses or down their throats too uncomfortable. The instructions are easy to understand, and it's easy to use.
FAQ
It's normal to feel confused about the complications of these test-kits. We've simplified some commonly asked questions about them here.
How accurate are RTK Antigen self-test kits? 
Self-test kits are aimed as a screening process for a larger percent of the population due to their ease of use and simple accessibility. 

The lowest accuracy rate ever stated, as per our list, have so far been at 90%. This means its accuracy rate is 10% invalid.

For confirmation, Malaysians are still advised to take a PCR test, which will be the most accurate of all tests. 
---
What should you know before and after doing the test? 
Note that you must update your MySejahtera for both positive or negative results. 

After your test, access the app and look for a button on the homepage labeled 'Covid-19 Self-Test'. Fill in the required details and send in your results. 

If you do get a positive result, go immediately to a private health facility, a Covid-19 assessment center (CAC) or a Health Clinic (Klinik Kesihatan) near you. 

All the test kits exhibit results in the same way. Two lines indicate a positive result. Whereas, one line on the 'C' bar indicates a negative result. 

If no lines are shown or there is one line on the 'T' bar only, it means your test is invalid and you will need to do another test or purchase another kit. 

Do not place anything in the mouth, including food, drink, gum, tobacco, water, and especially mouthwash for at least 30 minutes before carrying out oral tests. 
Related articles: