Once in a while we'll catch the occasional bug and feel the heat of our body rising. Paying a visit to the doctor can be a hassle at times too considering the exorbitant consultation fees, when all you want to know is if your body temperature is normal. 
Cue thermometers for home use. Though there are many types of thermometers such as infrared, digital, forehead, and ear thermometers, our highlight in this article will be on digital thermometers. 
Digital thermometers are so diverse in the market due to their array of functionalities in order to assure instant and accurate readings upon touch. As these thermometers are different than infrared thermometers, they require contact to measure your temperature. 
We understand that there is a plethora of digital thermometers in the market. So, we have listed down for you some of the best thermometers with accompanying reviews to help you make your decision better.
8 Best Digital Thermometers in Malaysia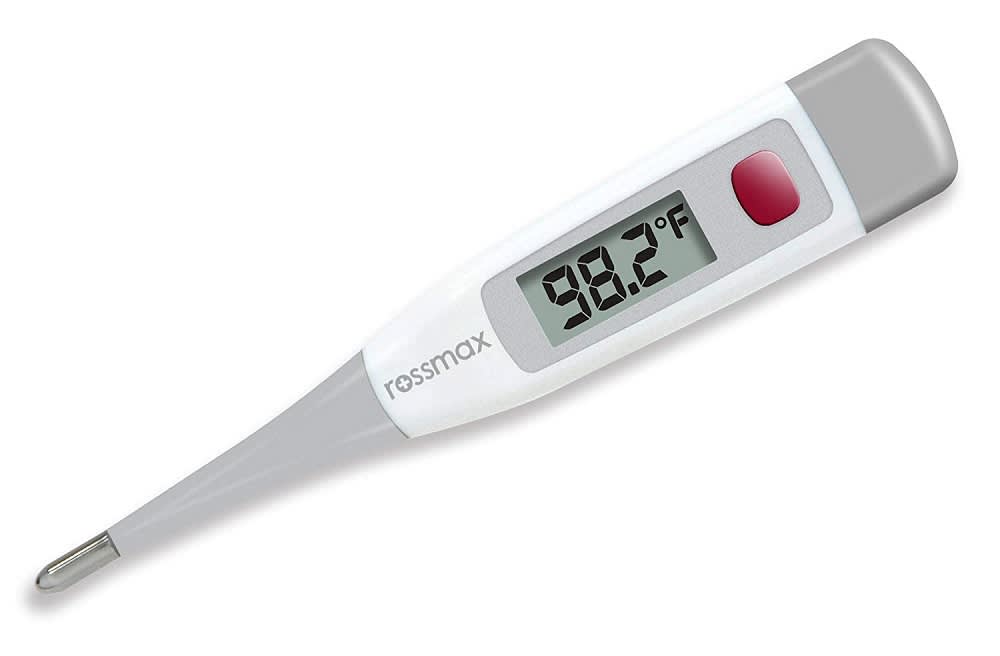 Check Rossmax TG380 Flexible Tip Thermometer price below:
add_circle
5-year warranty period
When in doubt, just go for a simple digital thermometer for home use. In fact, the Rossmax TG380 is one that seems popular. Both medical officers and fitness trainers highly endorse the Rossmax Thermometer in its efficacy in measuring body heat.
Feature:
The Rossmax TG380 Flexi Tip Thermometer showcases unique calibration functions and is regarded to be entirely safe for use on any part of the body. Its flexible sensory tip is also gentle and  safe to be used for infants and pregnant women. Also, the thermometer is waterproof and built with smart technology for increased accuracy. Not forgetting, it sends a notification of when the battery is low and shuts off instantly after a 10-second display. 
Performance: 
Users have praised how outstanding this simple thermometer is in displaying accurate temperature readings. Though it is a reliable and durable thermometer, some users say that it takes a while to measure.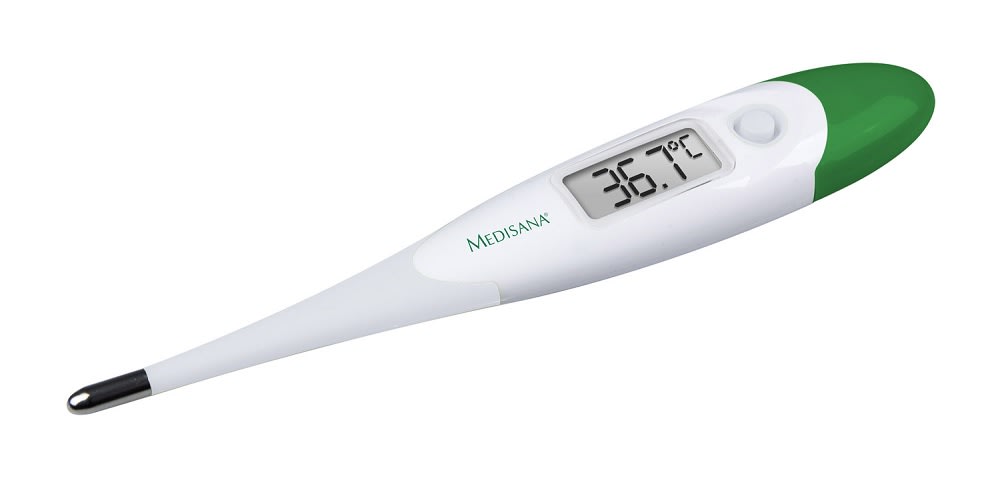 Check Medisana TM700 Digital Thermometer price below:
add_circle
Has a memory function
add_circle
Flexible tip for comfort
add_circle
Displays measurement in 10 seconds
add_circle
Has a fever alarm alert
remove_circle
Takes a while for the beep to sound
If you wish to measure your temperature orally, axillary, or rectally, the Medisana TM700 Digital Thermometer can do it all! 
Feature: 
This thermometer displays your reading in just 10 seconds! What's handy too is that if your temperature reaches a higher than usual point, an alarm will chime to give off an alert. Apart from this trigger alert, the Medisana thermometer also alerts you at the beginning and end of obtaining temperature readings. 
Performance: 
This MDD (Medical Device Directive) certified medical device has been proven to reveal accurate and instantaneous readings. Though it works as a precise thermometer, users have noted that temperatures taken under the arms tend to be time-consuming and not as reliable.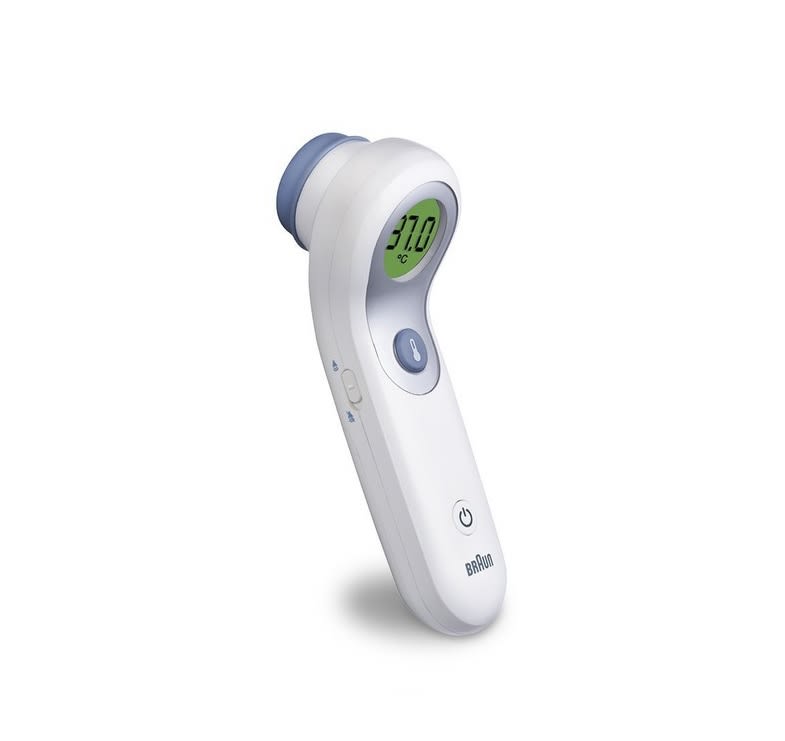 Check Braun Touchless Forehead Thermometer NTF 3000 price below:
add_circle
User-friendly, measures the temperature of anything, accurate, reliable, can be used on new-borns, has a large display with colour-coded readings
Why this is our top pick: 
The Braun Touchless Forehead Thermometer NTF 3000 has a 2-in-1 system which incorporates both digital and infrared technologies. This way, it provides an advantage for when you need the thermometer for different measurements. 
For example, if you need to measure your child's temperature without disturbing her, the no-touch mode of this thermometer will be able to do just that. Oh, you want to do it the old-fashioned way? Its touch feature enables you to instantly and easily measure a temperature. 
Feature: 
Presenting an innovative dual-technology and ultra-sensitive sensor, this thermometer produces instant and accurate temperature readings. The readings can be taken either in touch mode on the forehead or by placing it 5 cm away from the forehead on a no-touch mode; it is that easy! 
Moreover, the ultra-sensitive sensor together with the innovative optical system takes two times as much emitted heat compared to traditional forehead thermometers. 
Performance: 
The Braun Touchless Forehead Thermometer NTF 3000 presents instant accurate readings that make it an excellent choice compared to other thermometers. However, users did say that the performance of this thermometer is highly dependent on following through with its operating instructions precisely.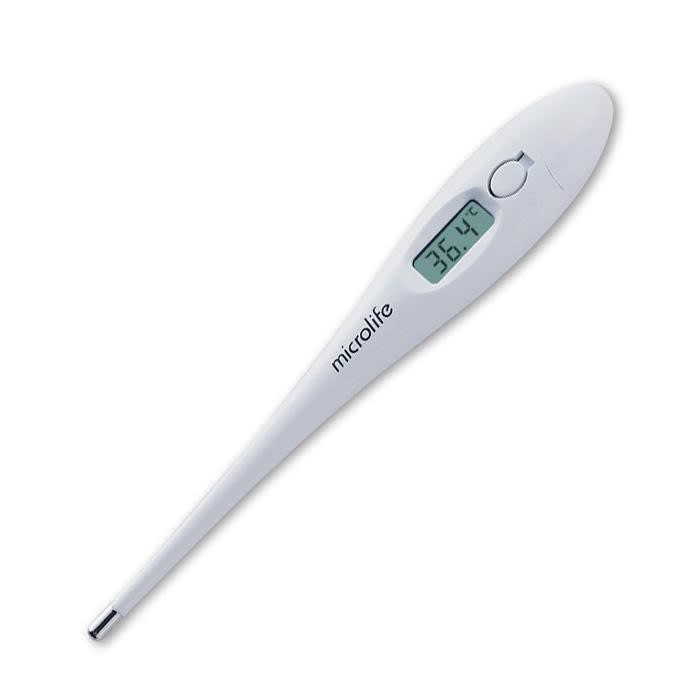 Check Microlife Digital Thermometer MT 16F1 price below:
add_circle
Contains memory function
add_circle
Lifetime warranty
add_circle
Performs automatic self-test
remove_circle
Not waterproof
Though easy to use, Microlife's Digital Thermometer MT 16F1 is only intended for rectal, axillary, and oral temperature measurements. As its tip is not flexible, this thermometer is more suitable for adults.
Feature: 
Spotting the latest technological features of a thermometer, this one exhibits precise measurements all thanks to its microcomputer technology. The thermometer comprises a memory function that retains previous measurement readings to make it easy for comparison checks. 
This thermometer also measures temperature within 60-300 seconds and automatically switches off after 10 minutes when not in use. Better yet, it even performs a self-test each time it's turned on to ensure its measurement capability remains consistently accurate!
Performance:  
Promising all the functions it said it would, users could not be more pleased with its efficiency and durability. Even after experiencing a fall, it would still work just as well. Some users have expressed that it takes a while for the beep to sound.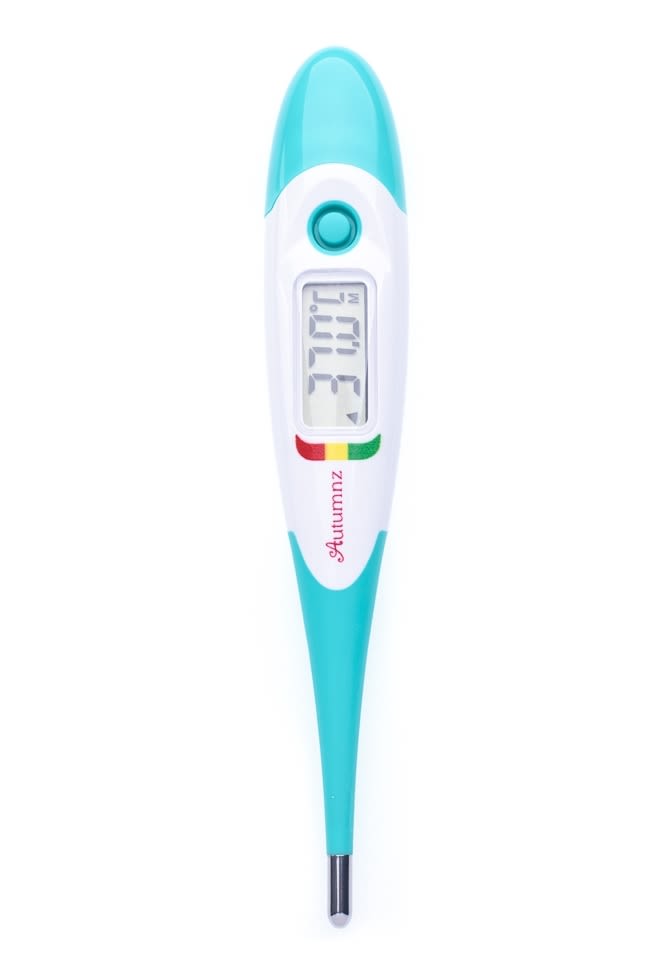 Check AUTUMNZ Baby Digital Thermometer price below:
add_circle
Instant readings within 10-15 seconds
add_circle
Easy to change the battery
add_circle
Has a memory recall function
Apart from its affordable price and great functionality, Autumnz Baby Digital Thermometer is one of the best digital thermometers there is for babies. 
Feature: 
This thermometer comes with a soft, flexible tip to assure the comfort and safety of your baby while you measure their temperature. Great to be used orally and under the arm, the Autumnz Baby Digital Thermometer digitally displays readings in both Celsius (°C) and Fahrenheit (°F). 
Besides, it also has a fever line indicator that highlights different colours to represent the different body temperature conditions.
Performance: 
In challenging times such as during the COVID-19 pandemic, users are very pleased with the efficacy and reliability of this thermometer. User-friendly, accurate, and superior quality are among the top complements given to this thermometer.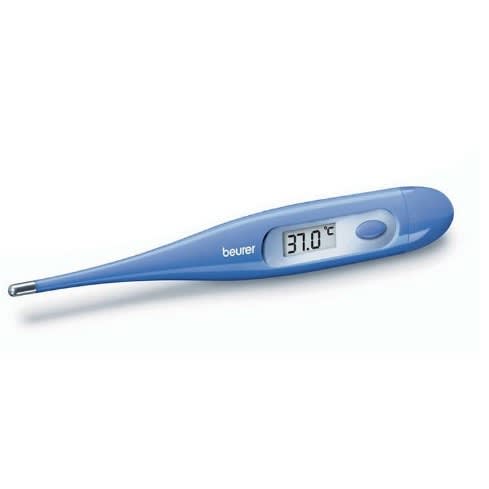 Check Beurer Clinical Thermometer FT09 price below:
add_circle
Automatically switches off after an amount of time
add_circle
Comes with a protective cap
add_circle
suitable for oral, rectal, and axial measurements
add_circle
Waterproof and disinfect-friendly
remove_circle
Takes a while to display temperature readings
If you're feeling hot with a fever, the Beurer Clinical Thermometer FT09 is the one you should go to in getting your temperature checked easily.
Feature: 
The Beurer Clinical Thermometer FT09 is designed to provide high precision and accuracy. Completely waterproof, this thermometer can be disinfected easily as well after each use. If you're concern about safeguarding the hygiene of this thermometer, it comes together with a protective cover to protect against harmful germs and bacteria. 
Deemed to be extremely user-friendly and convenient, this high-quality clinical device features a one-button operation that also gives off an acoustic signal when the measurement check is complete.
Performance: 
Though this thermometer is worth noting as a value buy and great for use at home, some users have said that the functionalities of this thermometer are the same as the other thermometers. Nevertheless, the quality and efficiency of this thermometer work great!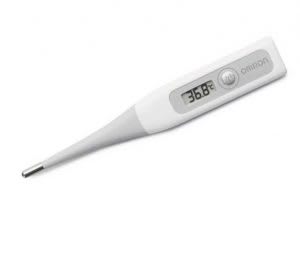 Check Omron MC 343F Digital Thermometer price below:
add_circle
Water-resistant
What we need is not just a thermometer to deliver accurate and instant temperature readings, but one that calms our fear of unfortunate incidences involving broken glasses or mercury hazards. The  Omron Digital Thermometer MC-343F comes into mind for such scenarios.
Feature: 
While you shouldn't use the same one for all of the following, this thermometer is suitable for oral, rectal, and underarm temperature checks. Its flexible tip provides adequate comfort and safety. This thermometer also comes with a memory recall function that can track the last temperature taken. You will also be alerted when the measurement is completed after hearing a beep sound. 
Performance: 
Users have praised how contented they are with this thermometer and the accuracy of readings it measured. The variety of features it has, makes it undeniably easy to use!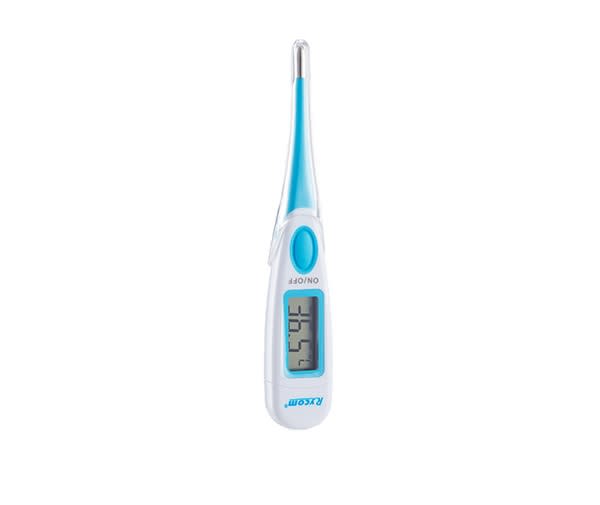 Check Rycom Digital Thermometer DT001 price below:
add_circle
Extra-flexible measuring tip
add_circle
Mercury and glass-free
add_circle
Comes with a protective cover
As much as social-distancing is needed to avoid viral infection, it's still crucial that one monitors their temperature for any early signs of something serious. In this case, the Rycom Digital Thermometer DT001 ensures both convenience and precision in checking your temperature.
Feature:   
Occupying the durability of measuring 100,000 readings, this thermometer instantly and precisely measures your temperature with just a single push of a button. Just place it on the forehead, and the readings will be instantly displayed. 
Equipped with the ability to measure three different temperatures in body, room, and surface modes, the Rycom's thermometer is also hygienic and practically easy to use! 
Performance: 
The Rycom Digital Thermometer DT001 has shown to be consistent in its capabilities throughout the few years that it was owned by online users all around the world. This fact shows how this ergonomically-featured thermometer works favourably even for both babies and toddlers as well. That's all thanks in part to its safe and flexible tip, and large LCD screen display. 
---
Infrared Thermometer or Digital Thermometer: Which One Is More Accurate?
With different types of thermometers available in the market such as infrared and digital, we can't help but wonder; which is more accurate than the other? 
Infrared Thermometers
Relatively new in the household, these thermometers have long been used by doctors. Infrared thermometers are growing more popular and common these days as they are extremely comfortable and safe to be used because no contact is needed when taking body temperature. 
However cool or efficient they may be, accuracy is a major downside to this thermometer type. Because it doesn't make contact to the skin, the temperature reading is prone to displaying inaccurate readings at times.
Digital Thermometers
These thermometers have been the pioneers in the market, in dominating households for medical purposes. They work great for measuring the body's temperature either in the mouth, below the armpit, or in the rectum for less than a minute's readings. 
Though, this type is less hygienic than infrared thermometers. Still, the latest innovations of digital thermometers have much more flexible sensor tips that make them suitable to be used for children as well. And because it involves physical contact to measure the temperature, this thermometer is capable of better precision. 
Both thermometers in no doubt do have their distinct advantages. It all depends on which thermometer you're more comfortable with in meeting your needs. 
---
Related digital thermometer recommendations: