Remember when we were kids and our parents used to stick thermometers under our armpits and tongues to determine our temperature? We had to stand there, all awkward and silent for a few seconds before we could find out if we had a fever. 
After being hit with the COVID-19 pandemic, medical suppliers have approached the scene with high-tech, infrared thermometers that are accessible for all. These thermometers measure the superficial temporal artery in our forehead with a quick press of the button. The best part? It requires no contact whatsoever, which reduces the risk of spreading the COVID-19 virus, especially if you are sharing the thermometer.
We are here to provide you with some of the best forehead thermometers for home use!
---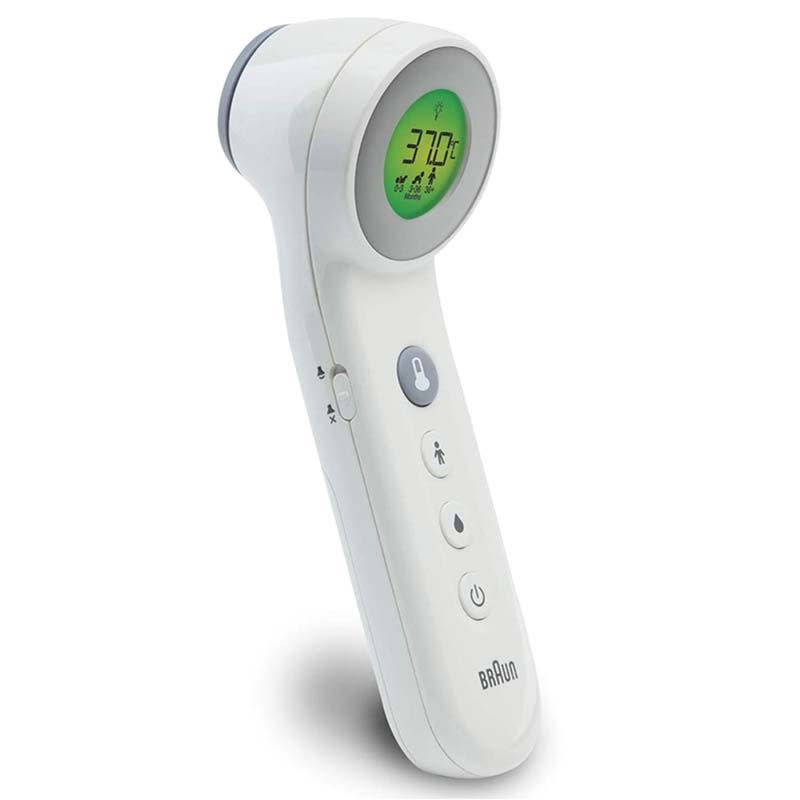 Check Braun No Touch Forehead Thermometer price below:
add_circle
Easy to interpret with the colour-coded screen
add_circle
Able to predict the age of user for a more accurate reading
Why It's Our Top Pick:
"Braun has always been regarded highly in the medical sphere, and many parents swear by their products. They have been in the business for a century, so no surprise there! 
Their No Touch + Forehead Thermometer is perfect as it is created to suit the whole family, with its dual forms of measurement: 'Touch' and 'No-touch' to provide versatility for its user."
Overview:
The 'No-touch' feature is made for parents who would benefit from a non-intrusive measurement since babies can get fussy sometimes. With a 'Touch' feature for self-measurement, one can directly place the thermometer on their forehead for an accurate reading. 
Braun's thermometer also boasts AgeSmartTM technology. Experts believe that the range of temperatures deemed as a fever deviates as the child grows. Thus, the technology aims to provide the most accurate reading by being able to detect the child's age and provide a measurement following that. 
There is also a 'silent mode' to measure your baby's temperature without waking them up. The red, yellow, and green light-up screen lets parents know immediately of the varying temperatures, e.g.: red for a high fever and green for a normal temperature. 
Specifications:
Charging method: 2 AAA batteries
Weight: 100g. (with batteries), 82.5g. (w/o batteries)
Operating temperature: 15 °C – 40 °C
Key features:
Unique on-screen positioning system confirms the correct distance
Easy to use and measures in less than 2 seconds
Silent mode
Testimonies:
This forehead thermometer is simple to use and provides a very accurate reading with no invasive methods of measurement. Because of the colour codes, users do not need to wonder what temperature exactly constitutes a fever. It is also helpful that many can use the device to measure the temperature for the likes of bathwater.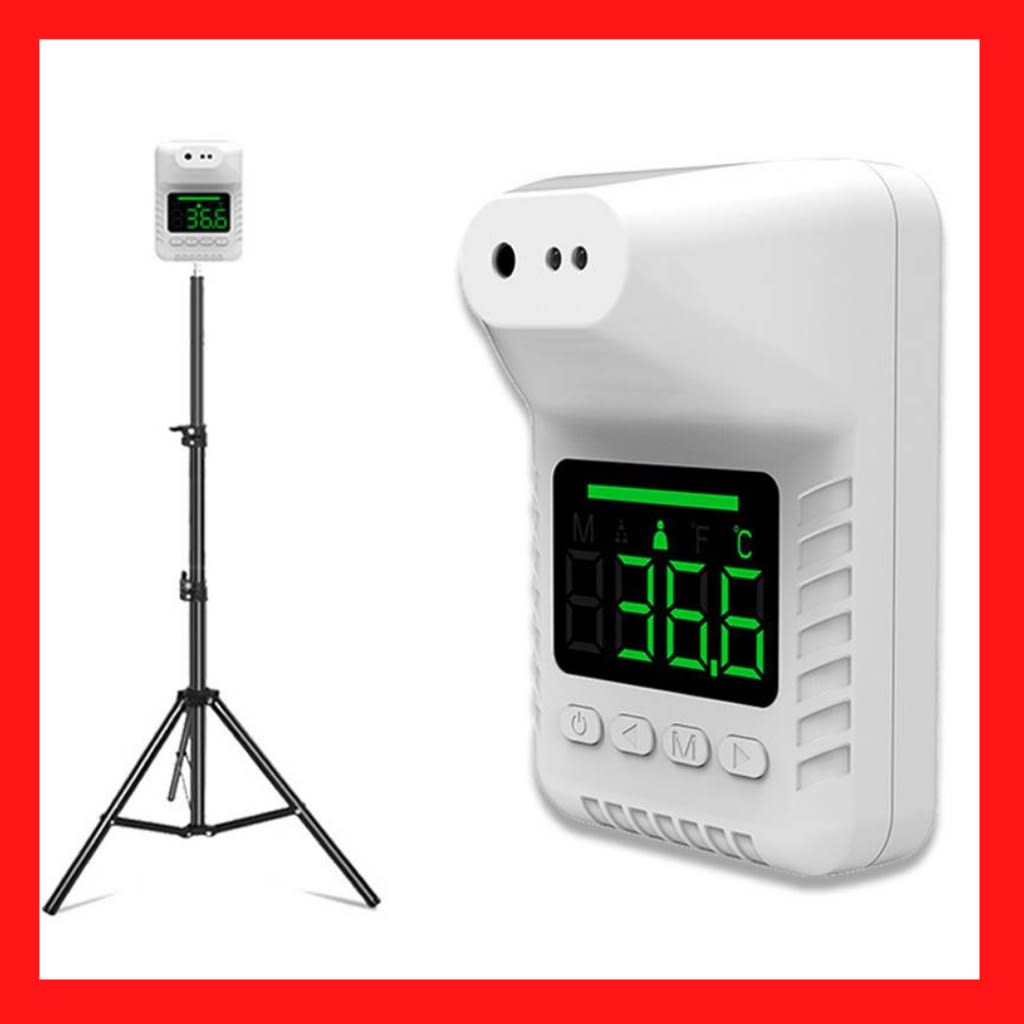 Check K3X Thermometer Scanner Digital price below:
add_circle
Allow users to measure their temperature with no hassle
add_circle
Comes with a voice feature to help with temperature severity
We see thermometers everywhere these days: the local grocer, schools, etc. If you are looking to buy one for your shop, you should get the K3X as it comes with a stand. This way, you save yourself the hassle of needing to manually scan everyone's temperature as the Ministry of Health has mandated that everyone must go through a temperature scan before entering any establishment. 
Overview:
A great feature of the KX3 is the big display, making it easy for people of all ages to check their temperatures. The thermometer will shut down after 15 seconds of inactivity, which helps to conserve power. 
Users need not worry about having to come into contact with the device, as you can measure it from a 3-5cm distance, while owners can store up to 50 sets of temperature data for better tracking of possible COVID cases. 
Specifications:
Charging method: USB charging or 3 AA battery or 1 K3x rechargeable battery
Input: USB DC 5.0V
Size: 100 x 60 x 150mm
Weight: 300g
Operating temperature: 16 ℃ -35 ℃
Key features:
Fever alarm and high temperature warning
Automatic induction measurement
Convenient reading
Easy to use
Testimonies:
Notably, users have commended its voice feature, which announces the temperature type: high or low. This helps with identifying people who may have Covid.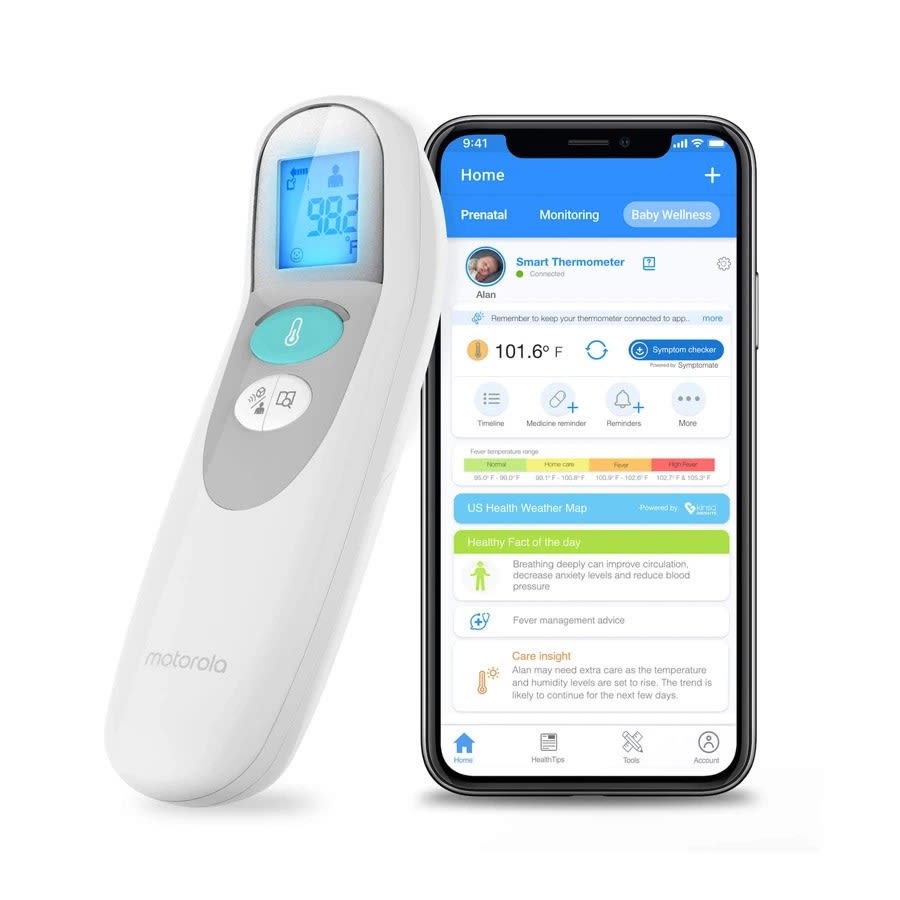 Check Motorola MBP75SN Care+ Non-Contact Smart Forehead Thermometer price below:
add_circle
Smart technology linking thermometer to an app for better health tracking
add_circle
Easy interpretation when it detects a fever
We get so busy that it is easy to forget about our health. This thermometer comes with an app to help keep us updated! Simply download the Hubble Connected app to track temperature changes, record a fever, and set a reminder for appointments. 
Since you are bound to look at your phone at some point, you will be constantly reminded to take better care especially if you or your loved ones are sick. 
Overview:
Usage of the thermometer is non-intrusive. All you need to do is have the thermometer about an inch away from your forehead to get a good reading. There's also a connecting app to the thermometer through power-conserving Bluetooth, and the thermometer itself has a built-in beeping system that warns you when the power is getting low. 
A nice feature is that there's also a silent mode for night-time use, plus the LED screen which lights up in red when it detects a fever. 
Specifications:
Charging method: 3 AA battery
Weight: 0.33kg
Key features:
Low battery alert
Automatically powers off
Red light indicates high temperature
Bluetooth low energy wireless connection
Beeps when done measuring temperature
Quick & easy readings in under 1 second with LCD
Clinical Accuracy- FDA medical certified for safety and accuracy
Accurately measures body, food and liquid (milk, bath water) temperatures
Testimonies:
The thermometer is an upgrade from regular thermometers since you can keep track of your health using the dedicated app. Its interface is also simple to use while the LED screen of the thermometer is easy to read.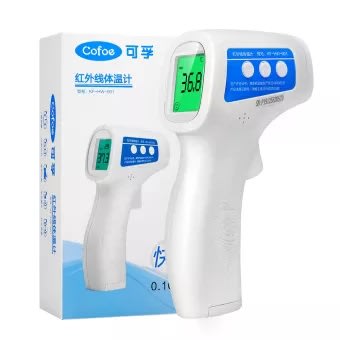 Check Cofoe 2 in 1 Infrared Forehead Thermometer price below:
add_circle
Colour-coded results make for easy interpretation
Everyone loves a good deal, especially if it comes at a reasonable price but is still packed with great features. Cofoe's forehead thermometer has similar functions to a regular one, and it won't break your bank! This way, everyone can afford to get one for themselves. 
Overview:
This thermometer can store up to 50-sets of readings, and come with a date and time function. Its intelligent tri-colour feature notifies users if they have a fever, making it easy to read even for older people. One can opt for a Fahrenheit or Celsius reading, and only takes one second to get a measurement!
Specifications:
Charging method: 2 AAA battery
Input: DC 3V
Size: 178 x 48 x 40mm
Key features:
1 second rapid measurement
Easy three button control
Body/Object temperature measurement
Infrared temperature sensing without radiation
Convenient recording of measurement data; 50 sets
Testimonies:
Reviewers are happy that they can get a product that provides an accurate reading at such a steal. The non-contact feature makes it convenient to be used on business premises too.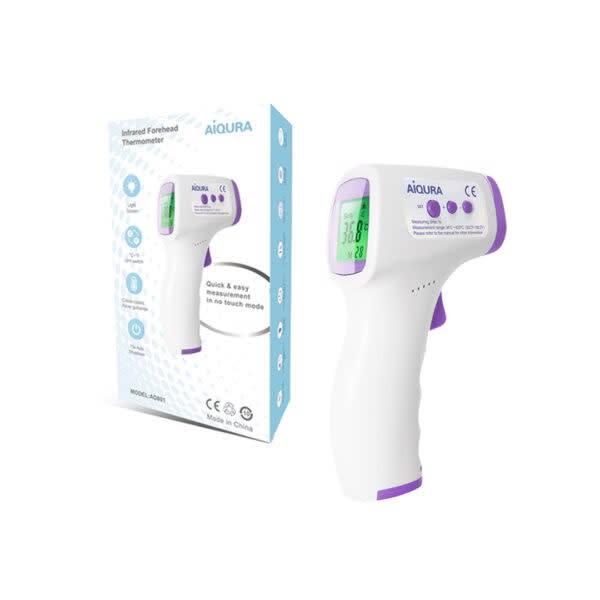 Check Aiqura Infrared Forehead Thermometer price below:
A nifty, convenient device that is multipurpose, and not just for measuring body temperatures
Overview
For quick and convenient temperature measurements, consider the Aiqura Infrared Forehead Thermometer. With 1 second rapid measurements and accurate results of ± 0.2 ℃, there are a total of 3 different temperature detections. It can even be used for other types of surfaces such as measuring the temperature of the water or baby milk.
Specifications
Charging method: 2 AAA battery

Size: 14*3.5*3.5 (cm)

Weight: 60g (without battery)
Key features
1s rapid measuring

32 records memory capacity

3 different alerts for different temperature detections
Testimonies
Many users have said that this thermometer is good to use on young children as it will not cause them any discomfort when scanning temperatures. They have also noted that the thermometer is easy to use, as well as lightweight.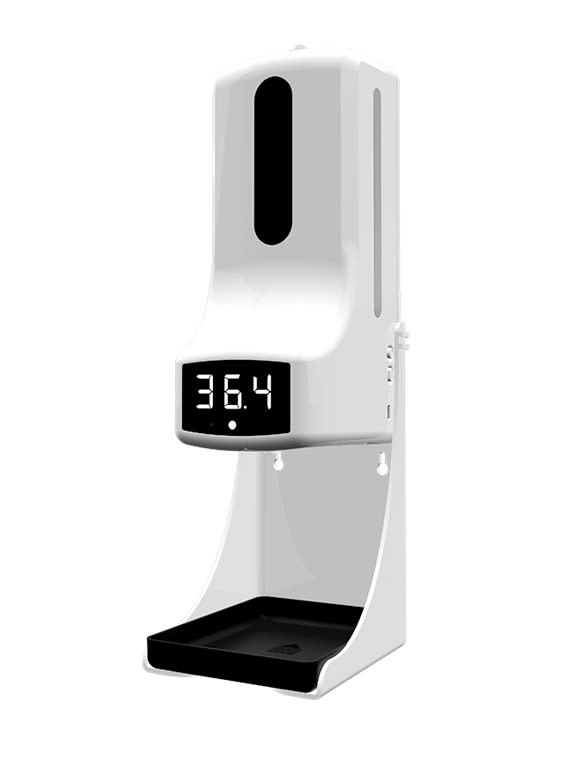 Check K9 Pro Thermometer price below:
add_circle
Can measure temperature and sanitise at the same time
add_circle
Power-conserving
remove_circle
Does not come with sanitizer
Sanitiser can be so important for when people leave their houses, and as a store owner, you may want to ensure that your customers have the option of cleaning their hands before they enter your establishment, especially at food and beverage places. 
The K9 Pro thermometer is so convenient as it comes with a sanitiser dispenser so users can sanitise while checking their temperature. 
Overview:
The device can be mounted on a wall bracket, but you can also opt to purchase the stand for more stable placement. To save power, the thermometer will shut down on its own when it is not used and turn back on immediately if it senses a user. It also has a UV light feature that helps with disinfecting any bacteria and viruses, and can be set to 9 different languages!
Specifications:
Charging method: USB cable or 4 AA batteries
Input: DC 5V 1A
Size: 119 x133 x280mm
Weight: 702g
Key features:
Automatic high temperature indicator
Large capacity liquid container
Power saving function
High precision sensor
Large digital display
Testimonies:
The 2-in-1 feature of the thermometer is a plus for most potential buyers, and the fact that it comes with a stand makes it a must-have for store owners. However, the disinfectant is not provided, so people who purchase the thermometer must purchase their own sanitisers as well.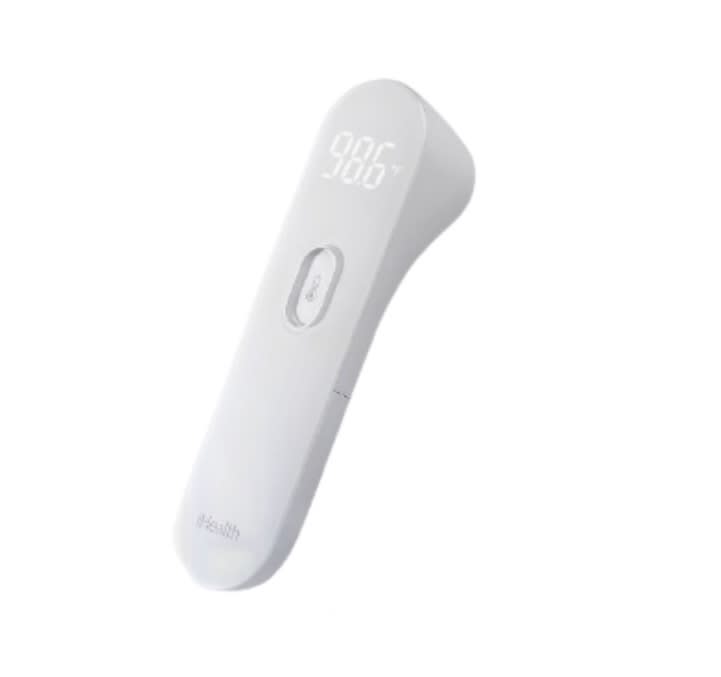 Check Xiaomi Mijia iHealth Thermometer price below:
add_circle
Inserted with technology to make measurements more accurate
It's no surprise that Xiaomi is King when it comes to smart home products. The sleek design of their thermometer appeals to adults, and the large LED screen display makes it very easy to read measurements, especially for older people. 
Overview:
This thermometer is equipped with a German Heimann sensor for a more accurate measurement. It also can differentiate the temperature of the environment and the body to ensure that readings are not affected by the surroundings. 
As fancy as it sounds, feedback in the form of a short vibration will be emitted when the temperature is successfully measured. 
Specifications:
Charging method: 2 AAA battery
Input: DC 3V, 2 x 1.5V
Size: 13.70 x 3.40 x 3.90 cm
Weight: 0.0900 kg
Operating temperature: 16 ℃ -35 ℃
Key features:
Non-contact infrared thermometer
Reads temperature within 1 second
Clear LED, easy to use for the elderly and children
Utilises a German Heimann Sensor for accurate detection
Testimonies:
The highlighted LED screen is easy to read, with the shape of the thermometer itself being easy to handle and not too bulky when held. Its non-intrusive recording feature also means that it is ideal for recording children's temperature.
---
FAQ
- Forehead or ear thermometer?
There are not many differences in terms of the accuracy of both types of thermometers. However, you may want to pick one which brings you the most convenience and comfort. 
Forehead Thermometers
The great thing about forehead thermometers is that they do not require any contact to gauge temperature. 

This is especially helpful during the pandemic as the Covid-19 virus passes on through direct contact. 

A thing about forehead thermometers is that the reading is affected by the distance between the thermometer and the body heat. So they are not as accurate as the traditional variant.
In-ear thermometer
Meanwhile, in-ear thermometers are capable of providing a slightly more accurate reading.

They are also closer to the body and will not be affected by external factors like the temperature of the room you are in. 

Nonetheless, it is not recommended for babies and toddlers as it may cause them discomfort and the ear canals of newborns may be too small for the thermometer to fit into
Now that we've got you covered, you can decide on a forehead thermometer to track your temperature!
---
- Is a forehead thermometer accurate?
Forehead thermometers are a simple and sanitary technique to check someone's temperature. They detect temperature using infrared sensors. It is easier to use when assessing large groups of individuals faster than other thermometers. The question here is, how accurate is a forehead thermometer?
For everyday use at home, forehead thermometers can be used to determine whether or not someone has a fever. The use of this type of thermometer has increased because they are convenient to use and provide temperature readings without the need for physical contact.
However, according to a study published in 2020, checking temperature from the forehead is less accurate than other temperature-taking methods such as ear or oral thermometers. According to the Food and Drug Administration (FDA), the accuracy can be affected by the environment in which it is used.
A breeze, radiant heat source, or direct sunlight can make it unreliable and affect the temperature reading. Further, the reading may be imprecise if a person wears a head wrap before taking the test or if there's any dirt or sweat on their forehead.
---
Related forehead thermometer recommendations: