Which part of your body is the 'lumbar'? The lumbar spine is your lower back and consists of the L1 to L5 components of your spine. Many of us experience pain there daily, especially women nearing, during, and sometimes after their menstrual cycles, or due to bad posture. Having additional support for your lower back will help prevent or alleviate that pain, and the important point is to start early!
We've compiled our top picks of the best lumbar supports for various situations, travelling, sleeping, and even if you need a seat cushion for back pain in your office! Remember, if you have a prevailing health condition involving your lower back, always consult your doctor before investing in some expensive item that may not work for you.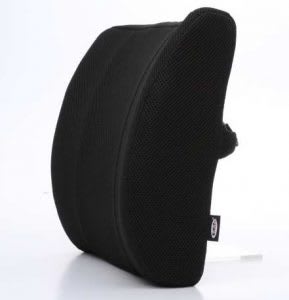 Check KOYOTO K-111 Back Pain Relief Pillow price below:
add_circle
Memory foam material
add_circle
Reasonable pricing
Why it's our top pick?
This cushion is the ultimate spine relief since it's made from premium quality, slow recovery memory foam. Its design is simple enough that it can be used anywhere and is under RM 100, so you won't break the bank buying it.  
Overview
The KOYOTO K-111 Back Pain Relief Pillow is one of the best lumbar supports you can get on the market. This cushion is made from BASF premium memory foam, which can provide the best for back support. 
Designed to support your lower back's natural curve, the material used is breathable, removable and washable so you can wash off the sweat that gets stuck. It also has an adjustable strap to help keep the cushion in place.
Details
Ergonomic Streamlining Moulded Memory Foam

Size: 36 x 33 x 11.5 (cm) 

Adjustable strap

Removable and Washable
 Who is it for?
This support cushion is perfect for people who sit for long hours at work. You can use it both at home and in the office thanks to its versatile design.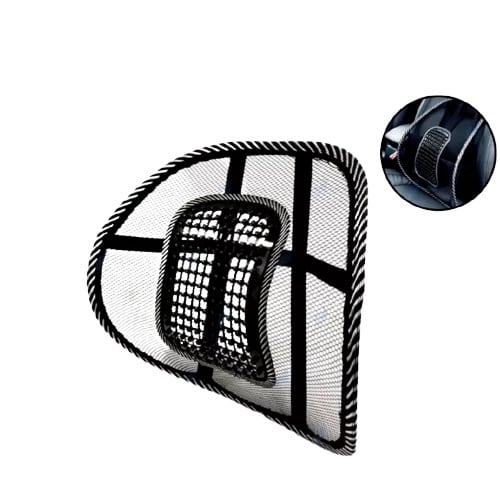 Check Realeos Mesh Back Lumbar Support with Massage Beads price below:
add_circle
Comfortable and easy to install
remove_circle
A little bit too soft
Overview
Sometimes, perspiration can result in a sweaty back and uncomfortable sitting experience. With the Realeos Mesh Back Lumbar Support however, you won't have to worry about that. It has a massage bead design and a breathable mesh that will keep your back comfortable and cool throughout its usage. 
Additionally, this inexpensive lumbar support can go over your office chair and car since it has a stretchable elastic rope. With a price like that, you could buy as many as you need or even for multiple people. 
Details
Breathable Mesh Design

Massage Beads built in

Size: 41 x 39 (cm)
Who is it for?
Those looking for cheap lumbar support will want to look into this extremely affordable option, as it serves to be both functional and practical.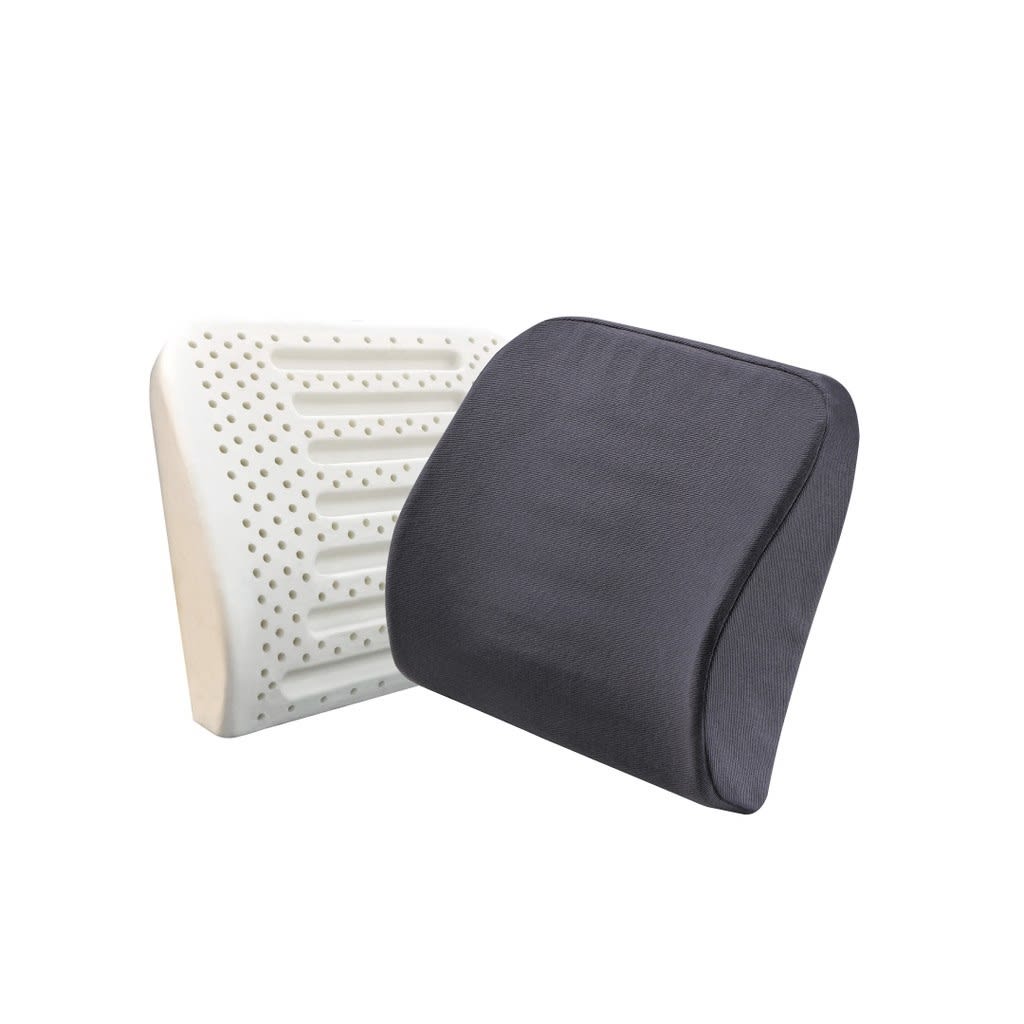 Check Getha Guardian Lumbar Support Latex Cushion price below:
add_circle
Ergonomically designed
add_circle
Firmness provides good support
Overview
Sometimes, you find yourself always in the living room couch spending free time, and you might find that your back starts to get tired eventually. That's where Getha's Guardian Lumbar Support Latex Cushion comes in handy. 
This multi-functional cushion will go well on your couch, especially when you want to binge-watch your favourite tv shows. Made with Getha's 100% latex material, it improves posture in the long run, is long lasting, toxic-free and also biodegradable.
Details
Made with 100% Natural Latex from Getha

Breathable and Ventilated

Naturally Allergens Resistant

Toxic free, Biodegradable, Sustainable

Size: 39 x 35 (cm)
Who is it for?
This lumbar support is perfect to keep our lower backs supported when we are seated on the couch watching TV. Its portability also makes it easy to bring around anywhere.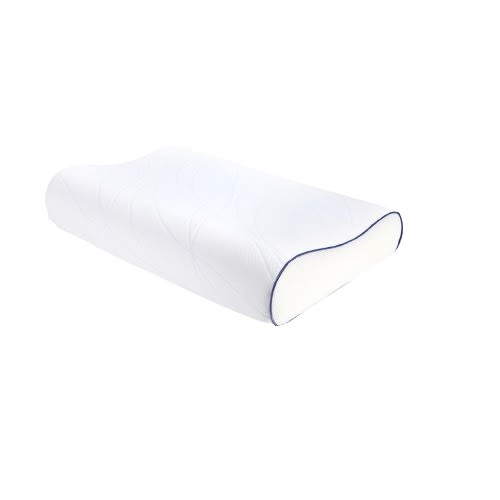 Check MLILY Cooling Gel Pad Contour Pillow price below:
add_circle
Ergonomic design
add_circle
Suitable for those with back and neck problems
Overview
If the thought of sleeping on a lumbar support at night sounds uncomfortable, then maybe the MLILY Oxygel Adapaptive Memory Pillow could change that. The pillow is designed to contour the shape of your body and give you the correct support you need while you sleep. 
Additionally, it has a cooling gel pad that disperses heat to allow for blood circulation, while also simultaneously keeping your pillow cool all night long for you to get a good night's sleep.
Details
Contains a cooling gel pad

Made from adaptive & zero pressure memory foam

Relieves pressure points

Size: 60 x 40 x 12 (cm)
Who is it for?
If you're someone who has trouble sleeping because of posture, this pillow can help keep your neck and head well-supported and relieves pressure from your back.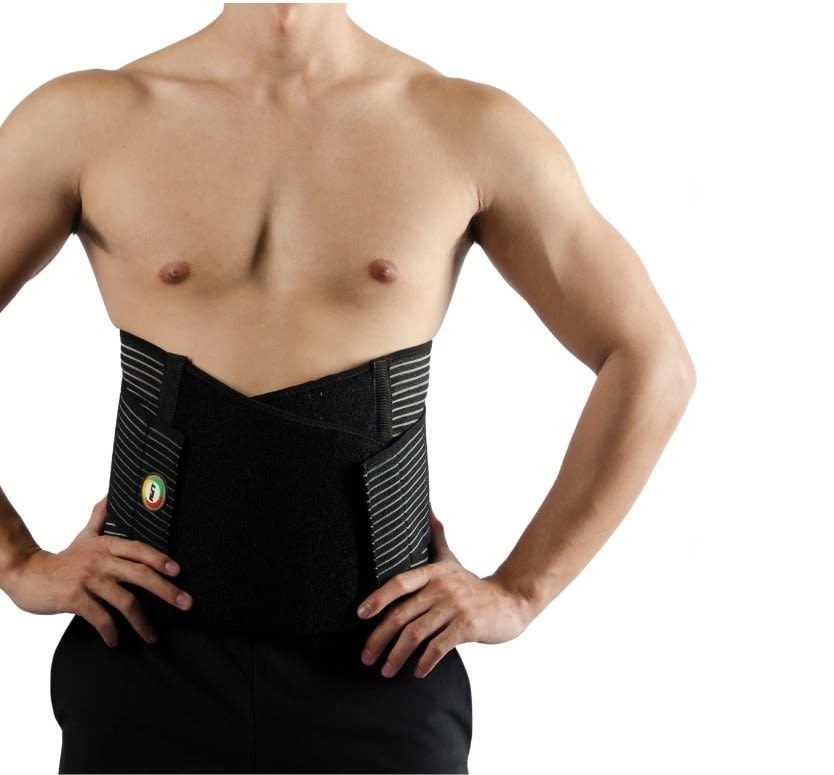 Check LPM Sacro Lumbar Support for Back Support price below:
add_circle
Able to be used on the go
add_circle
Different sizes available to fit wider ranges
Overview
You won't have to choose between posture or convenience again with the LPM Sacro Lumbar Support. It's a simple lumbar support belt that's available in different sizes, and can fit most people.
Made from 'space age' material, the belt goes around your back and fastens at the front of your body to provide better compression and back support. It also makes it so that you won't have to hold your arms behind your body to put it on.
Details
Available in sizes S - XXL

Made with stretchy fabric and Velcro straps

4x Back splints for stabilization

Great for lumbar and lumbarsacral region of the spine
Who is it for?
A belt like this will keep your posture upright and in a suitable position, especially when you're sitting in the office or out walking. You can wear it under or over your clothes to keep your back in a good and healthy position.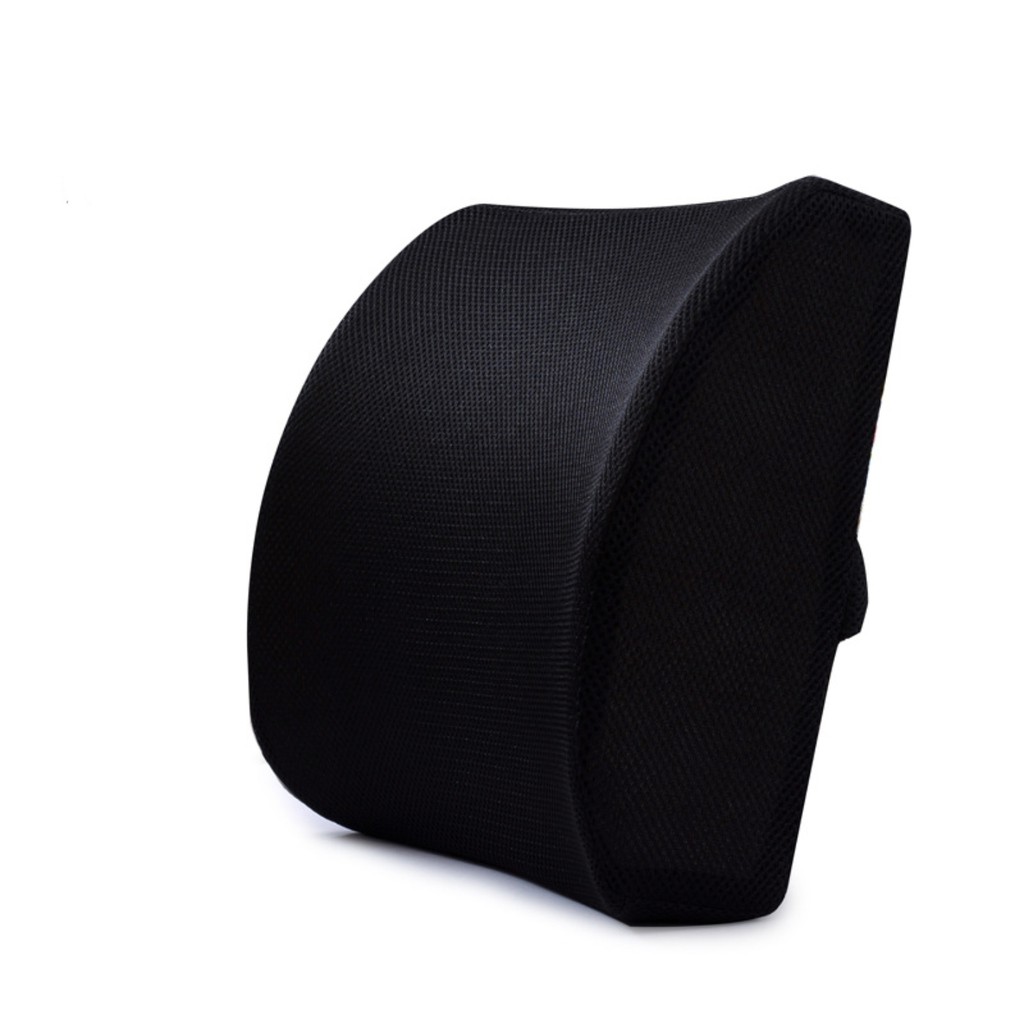 Check Machi Memory Foam Lumbar Back Support Pillow price below:
Overview
This lumbar support pillow is meticulously designed with memory foam and ergonomic precision to cradle your lumbar region, making those long drives to and from work slightly more comfortable. Crafted with a mesh material, it promotes breathability, keeping you comfortable in varying temperatures.
Additionally, it is available in a range of colours so you can express your personal style and seamlessly integrate it with your car's interior. Machi Memory Foam Lumbar Back Support Pillow keeps you in a more upright position throughout the journey, which is crucial for those very long drives. 
Details
Material: Mesh

Filling: Memory Foam

Ergonomic Design

Portable

Colours: Grey, Purple, Hot Pink, Blue, Black 
Who is it for?
Considering how bad the jam is getting these days, you will need a lumbar support pillow to keep you in an upright position every second of the way. This is especially important if you live far away from your office and are always stuck in traffic, which is why you should get a support pillow like this one from Machi.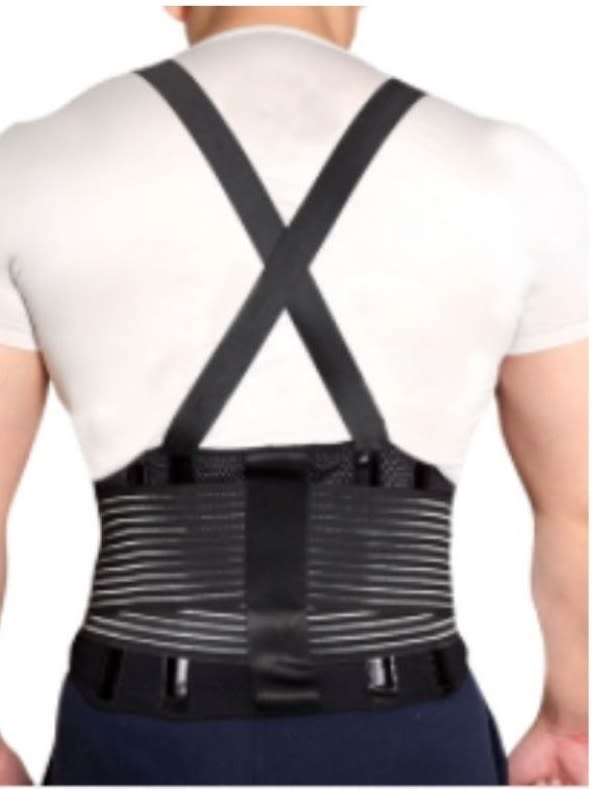 Check LPM Back Support 912 with Support Stays price below:
add_circle
Helps maintain good posture throughout the day
add_circle
Breathable material makes it easy to wear
add_circle
Elastic stretching keeps it from losing its form
Overview
For some extra support, you could try out the LPM Back Support 912 with Stays. These support stays are flexible enough that they can relieve pressure on your lower back, thanks to a crisscross design that can support and correct your whole upper body.
The suspenders are also be adjustable and snap on using Velcro straps, so it's easy to put on. It even has 4-inch side pulls that provides even more compression and support to your back.
Details
Sizes S to XL

Criss-cross shoulder straps

Adjustable Suspenders

Velcro Closure

Flexible Stays
Who is it for?
This back support should help you maintain your posture throughout the day with almost no effort on your part, and it's also a great option if you need to stand for long periods or if you have scoliosis.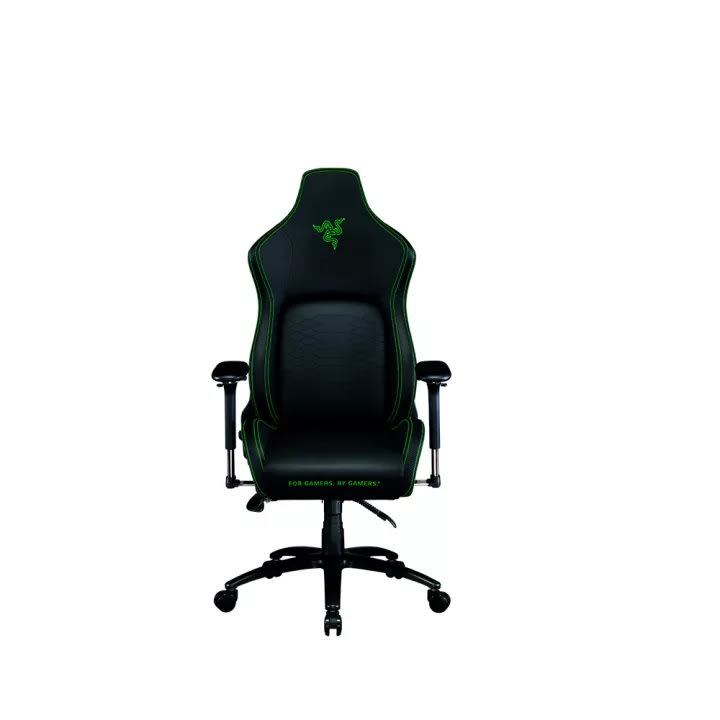 Check RAZER Gaming Chair with Built-in Lumbar Support price below:
add_circle
Adjustable lumbar support
add_circle
Multi-layered synthetic leather is more durable
Overview
Sometimes, we get so caught up in our games that we forget to take care of our posture. That's where the RAZER Iskur Gaming Chair comes in. With its built-in lumbar support, those days of back aches after gaming sessions should be long gone.
Its a fully adjustable, ergonomic chair that was built to make gaming comfortable by providing total lower back support. This is thanks to its fully customizable support that helps keep you in an optimal position when you game.    
Details
Fully sculpted lumbar support

Multi-layered synthetic leather

High-density foam cushions

PVC Leather

High Density Molded Foam
Who is it for?
For those who tend to game for long periods of time, this chair has got your back, literally. Ensure you're playing your very best without compromising your back health.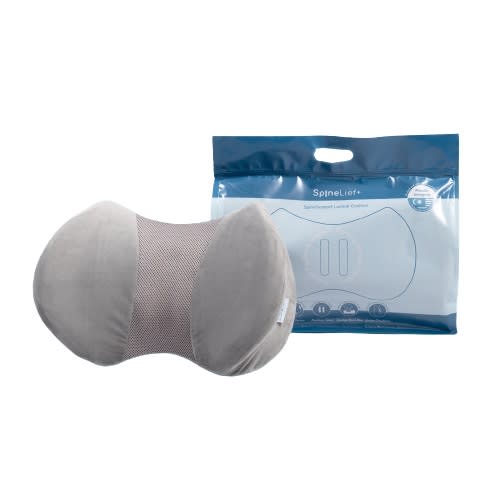 Check Spinelief - SpineSupport Lumbar Cushion price below:
add_circle
Ergonomic cushioning system
add_circle
Anti-slip bottom
Overview
Working and sitting for long hours in the office can get tiring for most of us, which is why the SpineSupport Lumbar Cushion by Spinelief can be a great purchase to consider. It's a simple yet surprisingly necessary cushion that can relieve your back pains and improve your posture.
This lumbar support comfortably fits the contour of your mid-lower back and adapts to your curvature to give you much-needed support. It's made from memory foam and has an anti-slip bottom, so it doesn't move around on the chair and is lightweight enough for you to take it anywhere.
Details
Reformulated Premium Memory Foam

Spinal Alignment Design

Tear-Drop Ergonomic Contour Shape

Size: 42 x 27 x 13 (cm)

Fits Most Chairs
Who is it for?
Being seated for a long time may cause strain on your lower back, which is why getting this support cushion will not only help reduce pain, but also make you more comfortable and productive when working.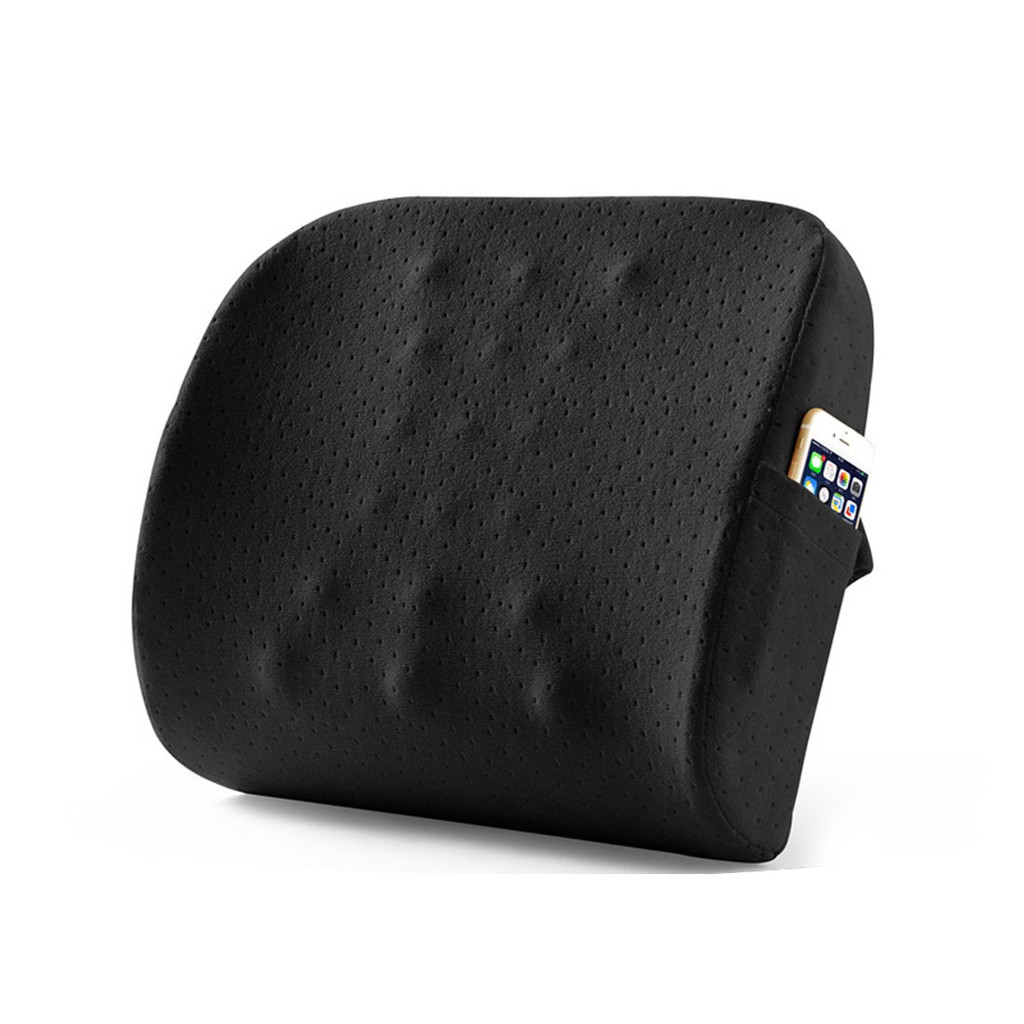 Check Margot Memory Foam Lumbar Support price below:
add_circle
Comes with a side pocket
Overview
Margot Memory Foam Lumbar Supports gives you the feeling like you're resting your lower back on some clouds. It gives you good comfort and well-being, whether at work, during travel, or in leisure thanks to its high-density memory foam.
This lumbar support is also engineered to cradle your lower back with the utmost care and features a concave point design that provides targeted relief to alleviate stress and tension. It even has a side pocket that lets you keep small objects, making it perfect for taking around with you. 
Details
Material: Velvet Fabric + Memory Foam

Product Dimensions: 40 x 35 x 10cm

Massage concave point design

The high-side wings

Adjustable elastic strap
Who is it for?
If you're someone who spends substantial hours sitting and values proper lumbar support, this product is your essential companion. It keeps you in an optimal position when you're sitting, be it in the office, at home or driving in your car. So, we recommend this for those who want to use the same lumbar support anywhere they go.
---
- What to look for in a lumbar support pillow?
A few things you need to look out for are:
Firmness
You should also make sure that the pillow is firm enough. A soft and squishy pillow seems comfortable, but they are not always good to support anything. 
Material
If you can afford to splurge, memory foam is probably your best bet for good lumbar support, but latex and polyurethane foam works well, too. 
Where you are using it 
Aside from that, consider if you need a pillow with straps to attach to your office chair, or perhaps a regular pillow for sleeping.
Pricing
Don't worry about the pricing as our list offers you a wide range of choices to suit differing budgets. Comfort should not cost you an arm and a leg!
---
- What makes good lumbar support?

 
This would depend on what support you are looking for. As you can see in the above entries, there is an abundance – from belts to pillows to massagers. 
Memory foam is currently the most widely used and touted material in the market for lumbar support, and for good reason! It contours to the shape of your body, providing you with adequate support. This also means it is universal and is suitable for people of all shapes and sizes. 
For a belt, you want to look for something breathable – especially if you are wearing it all day in the office, or at the gym. If not, you are going to get rashes or skin burns, which is not something you need if you are already sweltering due to lumbar pain. 
---
Experiencing the pain? We got your back (literally)!
Related articles