Since the Covid outbreak, cycling has become a wide-scale phenomenon among locals, but pedalling through the dangerous city streets by bike is as dangerous as it sounds. Many households opted for exercise bikes instead for the same exhilaration as cycling without the risks of doing so in the open.
Choosing the best exercise bikes could be challenging for first-timers, as there exist different kinds for you to delve into. We have great choices for you whether you're just starting out and want an easy introduction to indoor cycling or you're an experienced cyclist seeking a casual challenge.
---
Top 10 Exercise Bikes in Malaysia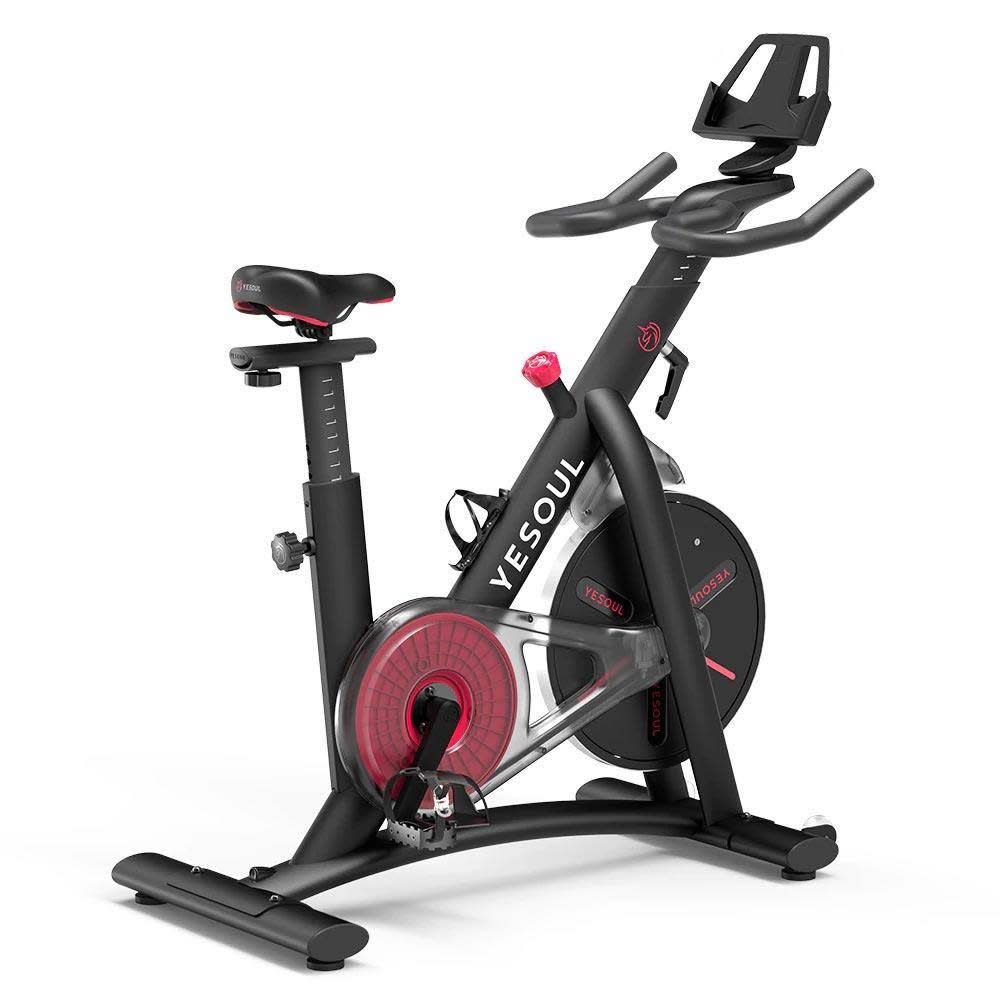 Check YESOUL Spinning Bike Magnetic Bike Indoor Cycling S3 price below:
add_circle
Easy to assemble
add_circle
App compatible
add_circle
Silent cycling
remove_circle
Restricted, subscription-only content in the YESOUL app
Why It's Our Top Pick
Everyone from beginners to seasoned home cyclists can enjoy the convenience and ease of use of this Yesoul Spinning Bike Magnetic Bike Indoor Cycling S3.
Like the M2 line of bikes, it is compatible with the YESOUL, Zwift, and Kinomap apps, allowing us to track our cycling progress and experience indoor cycling with street views and take spin classes, and participate in fun cycling activities.
Features
The bike comes with a 7.5kg flywheel on a magnetic system. Users can adjust the seat position and handlebar of the bike to suit their body shape and size. As the bike comes with an app, the bike's rear side is also fitted with a bigger tablet holder for when you cycle while taking classes or watching videos.
The pedals have adjustable foot straps and a front wheel is included to enable easy transport. 
Testimonies
Locals really appreciate the silent cycling experience in their homes and most of them complimented the bikes, comparing them to the ones that cost a thousand or more than this exercise bike. The app compatibility really amplifies their workout sessions too, and the bicycle takes less than an hour to assemble.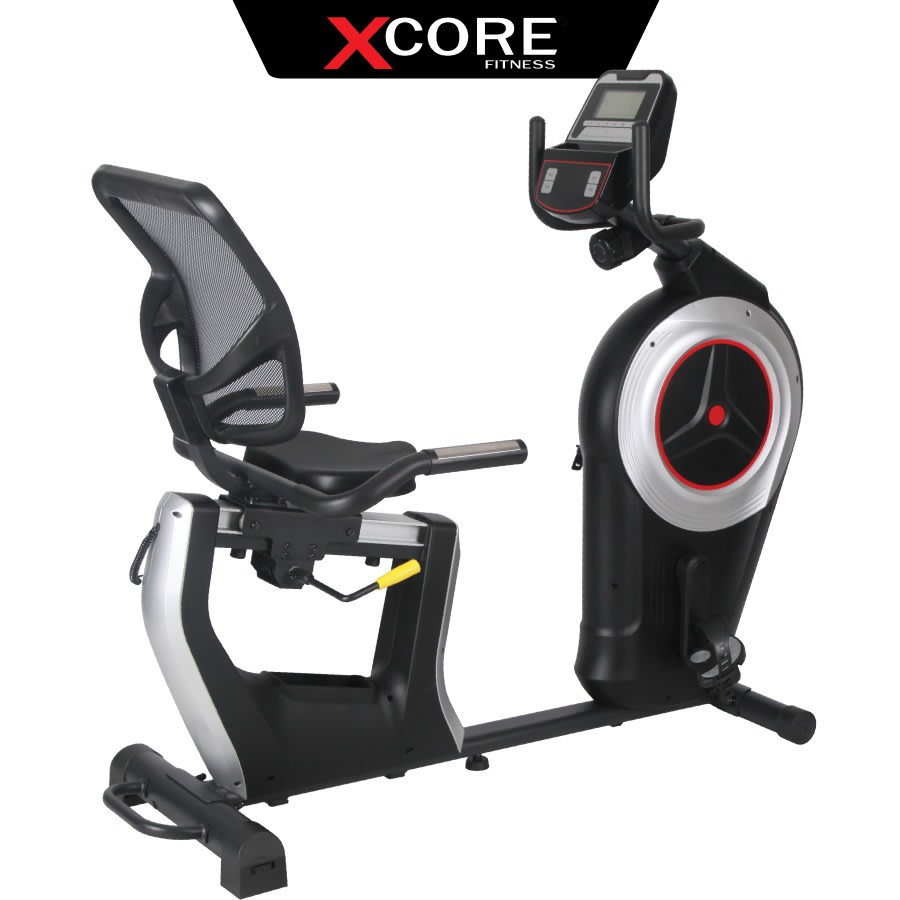 Check XCORE XC8742R Semi Commercial Recumbent Bike price below:
add_circle
Good for the elderly
add_circle
The big LCD makes it easy to read
Recumbent bikes are exercise bikes with back support – making them a great choice for seniors. Our joints tend to seize up as we age so getting in a bit of movement daily will slow down the deterioration process and keep our hearts active. However, you may want to watch the intensity of your workouts, especially if you are not constantly active. A recumbent bike will give you that low-intensity workout that is just right.  
Features:
The seat is wide and comfortable for ergonomic purposes – as it prevents back and joint pressure. Its step-through feature makes it easy for the elderly to use, and it is stable – with a 6kg magnetic flywheel. There are 15 different types of resistance and it comes with a big LCD to monitor your workout.
Testimonies:
This is a worthwhile buy as it is suitable to be used by the whole family. The adjustability is a plus and its ergonomic features make it a good starter machine for people who are easing into riding on exercise bikes.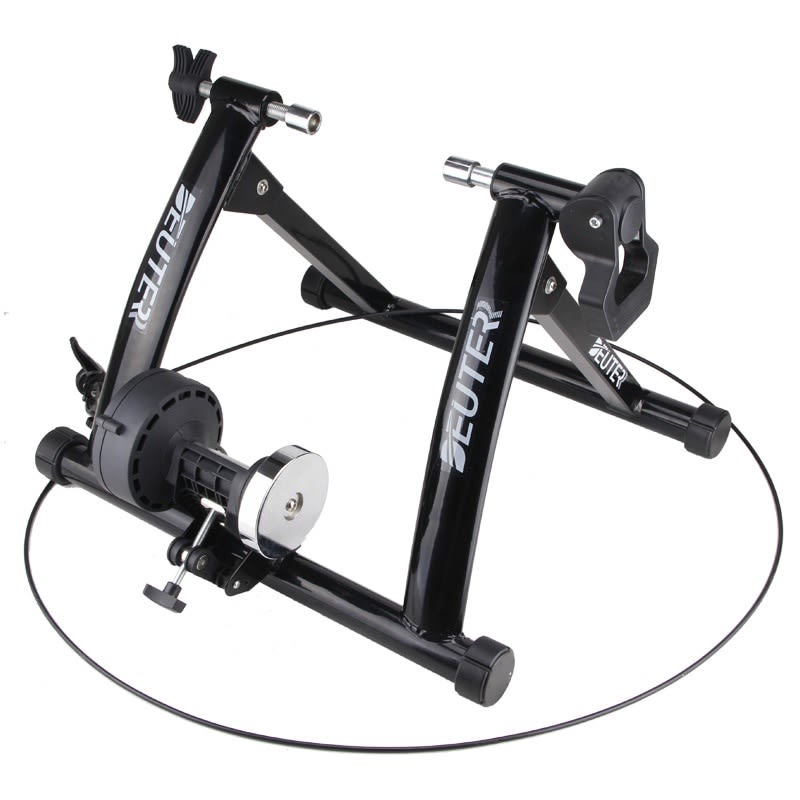 Check DEUTER MT04 Foldable Magnetic Bike Trainer price below:
add_circle
Great value for money
add_circle
Space-conserving
The cool part about a bike trainer is that you need not spend a fortune to have an indoor exercise bike. Simply attach your regular bike to the equipment and voila – exercise bike! Essentially, you are mounting your bike on two platforms, allowing the tires to move at one stationary spot. You can even get up to 6 levels of resistance for different kinds of workout routines, from regular spinning to training for more intense rides.
Features:
This piece of equipment allows you to mount a 26–29-inch mountain bike. Upon setting up, you can get up to 6 different levels of resistance for training, and the frame is extra wide, ensuring the stability of the bike. When you're done, you can fold it up and store it with zero hassle.
Testimonies:
People who bought the equipment found it very easy to set up and use. It is also great value for money, especially for people who already have a bike at home. Long-time regular bike riders found it useful during the pandemic when they could not leave their house to work out.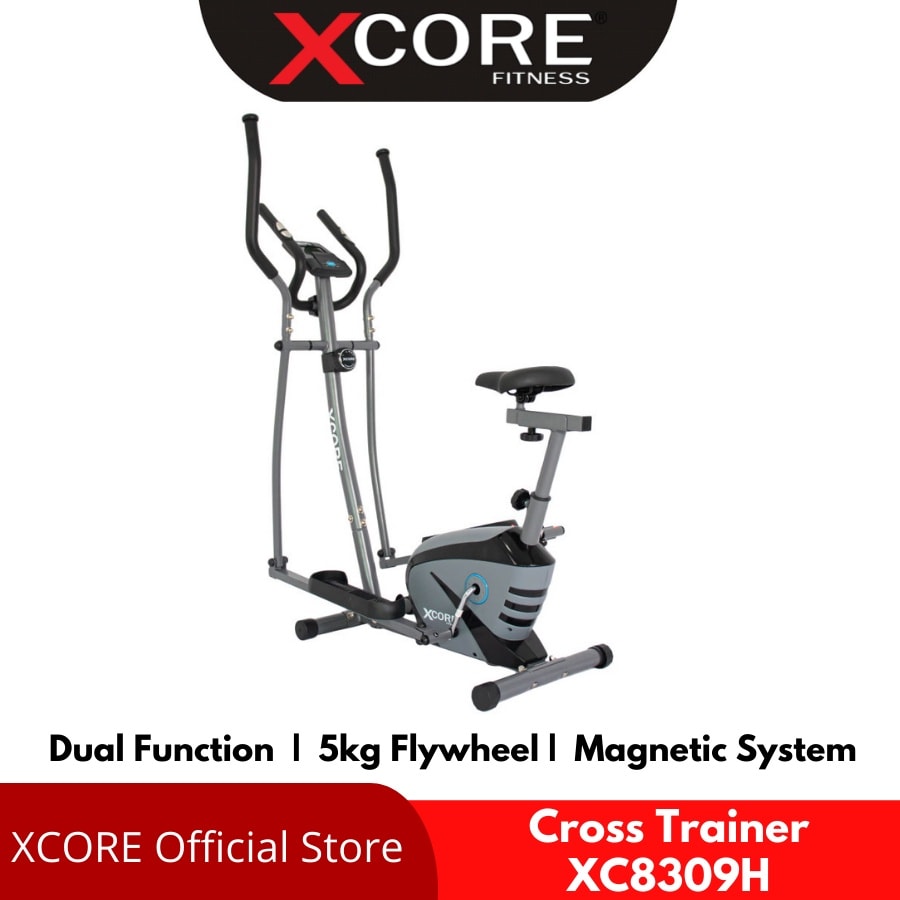 Check XCORE XC8309H Elliptical Machine Cross Trainer Bike price below:
add_circle
Versatile machine
Not in the mood for riding today but want an exercise bike anyway? Get this elliptical slash exercise bike for both experiences! It also allows you to immerse yourself in a cross-training experience where you challenge your heart rate by doing different types of workouts on different intensity levels. These routines have been known to burn fat a lot faster at a much shorter time.
Features:
Perched on a 5kg magnetic flywheel, this machine has 8 levels of resistance. The seat is adjustable both in height and distance so it can be used by people of all sizes. As it is also an elliptical, there are oversized footplates at the side – and the machine is affixed with an LCD exhibiting the time, speed, distance, calories burned, etc.
Testimonies:
People using this bike love its versatility. It is a very worthwhile piece of workout equipment for its price as you are getting two workouts with one machine (which also conserves space!). Plus, it is quiet enough that it doesn't wake the whole house when used.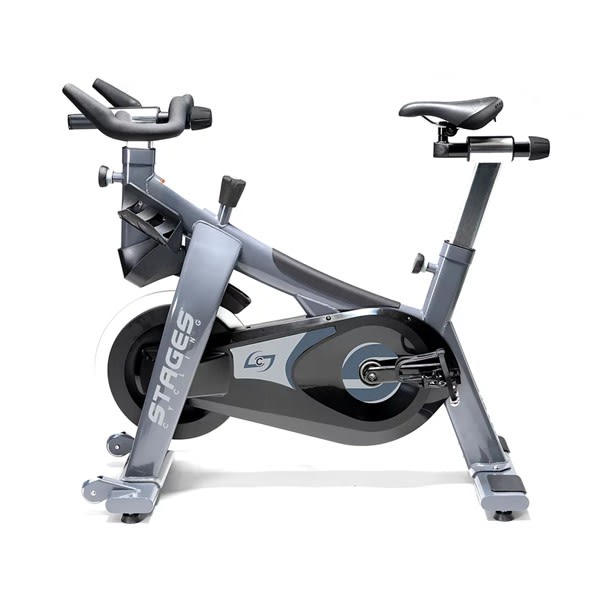 Check Stages SC1 Spin Bike price below:
add_circle
Capable of handling more intense workouts
Before you set out to purchase this bike, keep in mind that this is a commercial-grade bike. It has been used by popular spin gyms like Soulcycle and is built for absolute stability and durability. That being said, if you are a regular spin junkie but have been missing out on physical classes due to the pandemic, you can invest in this bike to get the full experience at home.
Besides, most spin classes are now held online via live recorded sessions for their customers these days.
Features:
The bike's distance and height are adjustable, with a magnetic resistance on a 5:1 gear ratio and a perimeter-weighted flywheel. The drive system was created to mimic the inertia of riding a bike outdoors and is made of carbon fibre.
Testimonies:
A commercial-grade bike is simply incomparable in terms of stability, especially during more intense workouts. However, it is a lot heavier than a regular exercise bike – so potential buyers must consider the free space they have before getting it. Rides are usually smooth and the resistance is flawless.

Check Nordictrack VR21 Recumbent Exercise Bike price below:
add_circle
Comes with speakers
remove_circle
Heavy to assemble alone
remove_circle
iFit function is slightly annoying
This Nordictrack exercise bike offers a 5-inch backlit iFit display for you to change the resistance of your workout and track your progress. If you're an iFit subscriber, you're also entitled to their free workout routines. Aside from the display, you have an integrated system of speakers and a fan to accompany your mission to get fit so it feels like you're working out at a fancy gym.
Features:
With 25 resistance levels, the bike is supported by a 9kg flywheel. A heart rate monitor is included with the bike and the iFit program (if you are subscribed to it) comes with 32 different workout apps – that is months' worth of classes! Two speakers are fitted into the machine, with a fan, a water bottle holder, and also a tablet holder.
Testimonies:
Riders of the bike are generally satisfied with its performance – though they do get annoyed at a few kinks. For instance, the iFit program appears in the beginning – though they discovered that you can bypass it by pressing the iFit button for about 20 seconds and it will not bother you again. The bike is also rather heavy so you might need to enlist the help of a friend to set it up.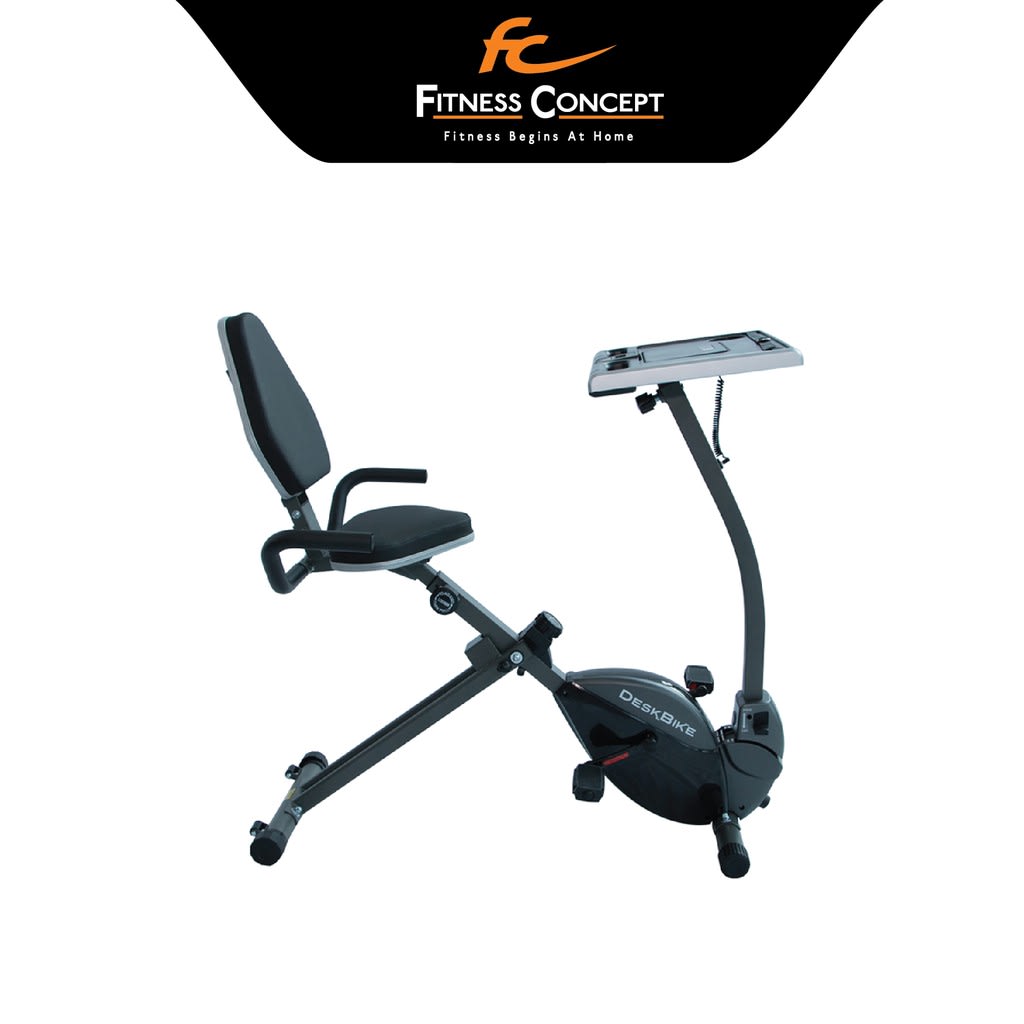 Check Fitness Concept Desk Bike price below:
add_circle
Easy to assemble
add_circle
Good for multitasking
You know how people get standing desks because it's supposed to be healthier than sitting around for hours at a time and working? Well, why not do yourself one better and get an exercise bike that comes with a desk? The Fitness Concept bike allows you to do both and converts into a standing desk when you want to fully concentrate on work. Perfect for busy people who want to multi-task while getting some form of exercise in.
Features:
The bike comes with 8 levels of tension control and is easily adjustable to suit your height and weight. Don't want to get up midway? The desk bike even comes with a cup holder for your morning chai lattes! The size of the desk is big enough to comfortably fit your laptop or notebook on, and it is slightly tilted for a more ergonomic position.
Testimonies:
This is a very popular pick for our WFH friends who find themselves turning into couch potatoes. It is also easy to assemble and many love it because they can work or use their smartphones while feeling good that they are getting some exercise.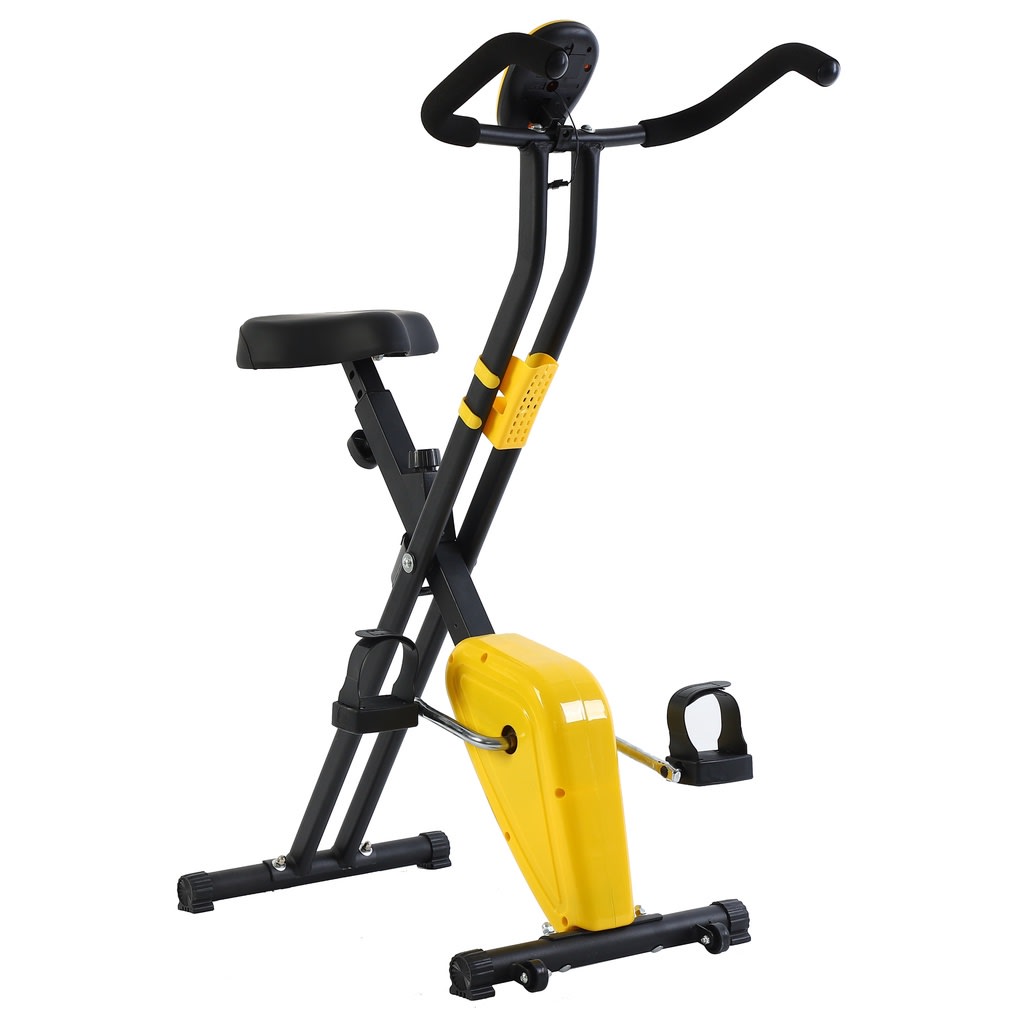 Check X-Bike Foldable Exercise Bike price below:
add_circle
Compact and easy to store
add_circle
Easy to assemble
remove_circle
The seat may be too high
For people who live in small spaces, this bike is right up your alley because it is foldable! It's great for easy storage as you can put it aside when you are done. Though small, compact, and cute, it's not lacking in terms of features. The resistance levels vary, from flat roads to steep hill. Plus, despite its tiny size, the machine can support weights of up to 110kg!
Overview:
The seat height is adjustable to 7 different levels, with a U-shape handle for ergonomic use. An LCD is affixed at eye level to measure your speed, distance, time, and calories burnt. To prevent slipping, the bottom of the machine is fitted with anti-slip socks. 
Testimonies:
Aside from being very easy to store, purchasers of this product found the price very affordable. It is also easy to assemble though the seat height may be too high for people on the shorter side. The LCD tracker is also a handy tool.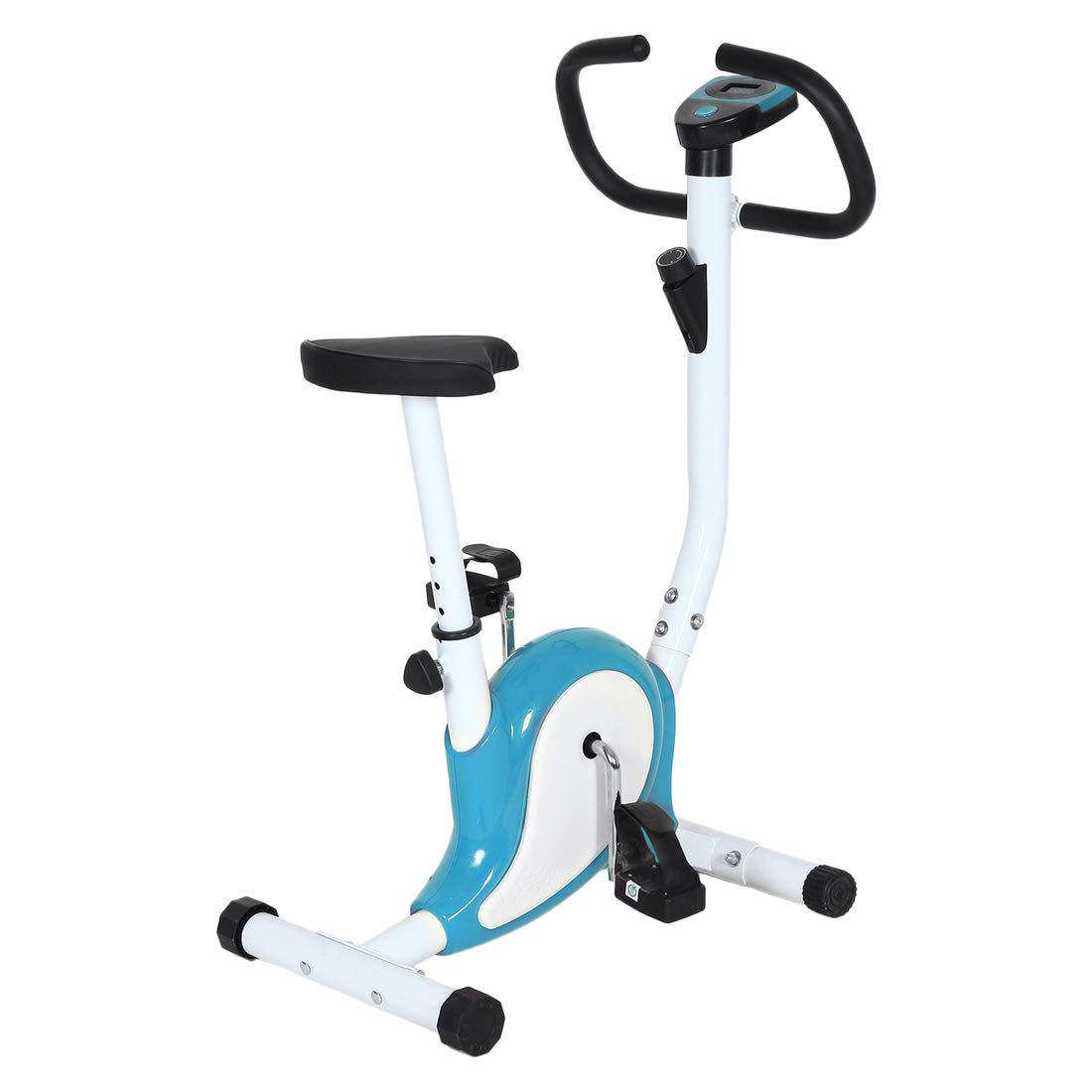 Check Mini Kids Lightweight Home Indoor Exercise Bike price below:
add_circle
Engaging for children
add_circle
Easy to set up
Overview
It is important for kids to get some exercise. But sometimes things like poor weather gets in the way of that, which is why getting an exercise bike like the Mini Kids Lightweight Home Indoor Exercise Bike can help in keeping your little ones healthy. This sturdy bike can provide your little ones ample exercise without the hassle of going outside.
Details
Sturdy steel frame

Can handle a maximum weight of 100kg

Dimensions (LxWxH): 102 x 65 x 41cm

Seat height: 65cm - 81cm

Material: Iron + ABS
Who is it for?
Young ones are full of energy, and what better way to burn it off than with an exercise bike? You won't even need to go outside to use it, and besides, imagine how cute it would be to exercise next to your kid!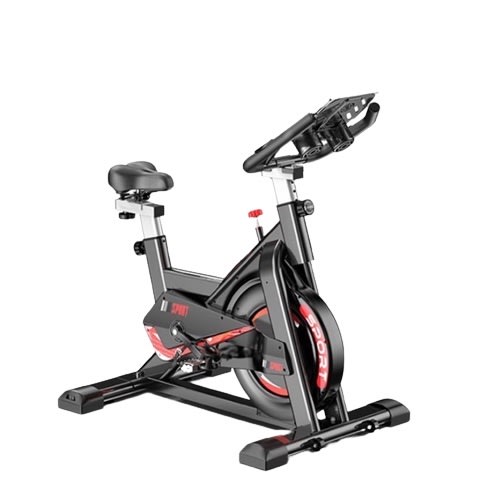 Check Spinning Bike Bicycle SB300 price below:
add_circle
Supports plus-size users
add_circle
Easy to assemble
remove_circle
Might hurt when cycling barefoot
Overview
The dream body is one we are happy in, and All body shapes are beautiful. But we still need to make sure that we maintain cardiovascular health to keep us healthy and avoid any risks to our bodies. So, you should consider getting an exercise bike like the Spinning Bike Bicycle SB300, especially if you're on the heavier side.
Details
Max Load: 260 KG 

Spiral variable resistance adjustment

Slide roller for easier movement

Adjustable Resistance

Comes with an Emergency Stop
Who is it for?
Considering the Spinning Bike Bicycle SB300 is capable of taking a maximum load of 260 kg, it is safe for those who are on the heavier side. There's also an emergency stop if you think your session gets too stressful. 
---
Exercise bikes vs. cycling outdoors 
The main bulk of your consideration is whether or not you have the time and the capacity to be outdoors. For instance, if you are busy with work and only get home late at night, you may not want to be cycling outside as it is dark and can be quite dangerous. In this case, an exercise bike would be a suitable option for you. 
Another consideration is whether you want to try other types of cycling. If you would like to take it on the road or to the mountains, then you should get the appropriate bike for the activity! 
That being said, both types of cycling offer similar health benefits and allow you to burn almost the same amount of calories if your cycling technique is correct.
---
Exercise bike vs treadmill
A significant difference between the two is how you use it in your routines. Treadmills are for walking and running, which is a good form of cardiovascular activity – but not as forgiving as an exercise bike. Every time our feet hit the 'ground' (or belt, technically), there is an equal amount of force being applied back onto the soles.
While this is fine for people with no pre-existing health conditions, seniors or people with joint pain are not advised to carry out a high-impact exercise routine. This is where the exercise bike flourishes – especially recumbent bikes which support your back.
On the other hand, you do burn more calories on a treadmill (anywhere up to 700 calories an hour vs. 400 to 500 calories on a stationary bike) – but only if your workout is high intensity (eg: running or brisk walking). This means that if you could not do high-impact workouts, getting a treadmill is redundant as you may end up burning only as much as you can on an exercise bike.
---
Exercise bike types
The three main types of exercise bikes are recumbent, upright, and indoor.
The recumbent bike supports you ergonomically – it allows you to burn calories but not worsen any pre-existing joint problems.
An upright bike does not have back support, and while a seat is fitted on the machine, you can opt to stand for your routines.
The indoor bike, also known as a spin bike has the same concept, but often with more choices of resistance. Commercial grade spin bikes are used at many boutique gyms in Malaysia for spin classes – FlyCycle, Club Aloha, and Cycology, to name a few.
Related Articles:
More: 7 Home-Friendly Treadmills to Keep Your Stamina in Check