So you're unable to take the car to, say, your work or school. That's okay, Malaysia has come a long way where we have several public transportation options to choose from such as the train system (LRT, MRT, Monorail or KTM), feeder buses and cab services (Grab). However, one may constantly come across issues such as last mile coverage or budget.
In that case, an electric bike would be a good investment.
Whether you are looking to find the best electric scooter brand, discover new electric scooter designs, or Malaysia prices; there's a lot you can choose from. Here, we're simplified your search to determine which one you can get.
Top 10 Electric Scooters in Malaysia
Check Xiaomi Electric Scooter 4 Lite price below:
add_circle
Suitable for heavy people - 100kg max load
add_circle
Great braking system
add_circle
Large standing deck
Why It's Our Top Pick
Xiaomi Electric Scooter 4 Lite, is the perfect blend of style, performance, and convenience. With all its cutting-edge features, it delivers an unmatched riding experience that caters to your daily urban mobility needs. Plus, its sleek design gives it that trendy look, especially with the black colour with a slim build.
Overview
Cruise around with this electric scooter from Xiaomi that gives you a maximum speed of 25km/h, which can cover an impressive travel range of approximately 20km on a single charge, so you can travel to your destination effortlessly. With its adequate speed limit and 300W motor, you can even easily go up inclines of up to 14%.
Additionally, with its customisable speed levels, you get 3 speeds that you can adjust to suit most types of road conditions. If your trip is quite long, you can ride in comfort thanks to its 160mm standing deck which offers ample space for comfortable riding, - and if you need to come to a halt, the Xiaomi Electric Scooter 4 Lite has E-ABS front braking and a rear drum brake system, which allows you to break quicker and safer. 
Details
Max. speed: 25km/h

Approx. 20km travel range

300W Powerful motors

Adjustable 3 Speed Levels

Front E-ABS + rear drum brake
Who is it for?
If your work requires you to go around an area a lot, you'll definitely need something that not only cuts the time down but also reduces how much energy you're using. So, why not consider getting the Xiaomi Electric Scooter 4 Lite? It'll allow you to go around the city with ease so you can get to your destination in style and with ease.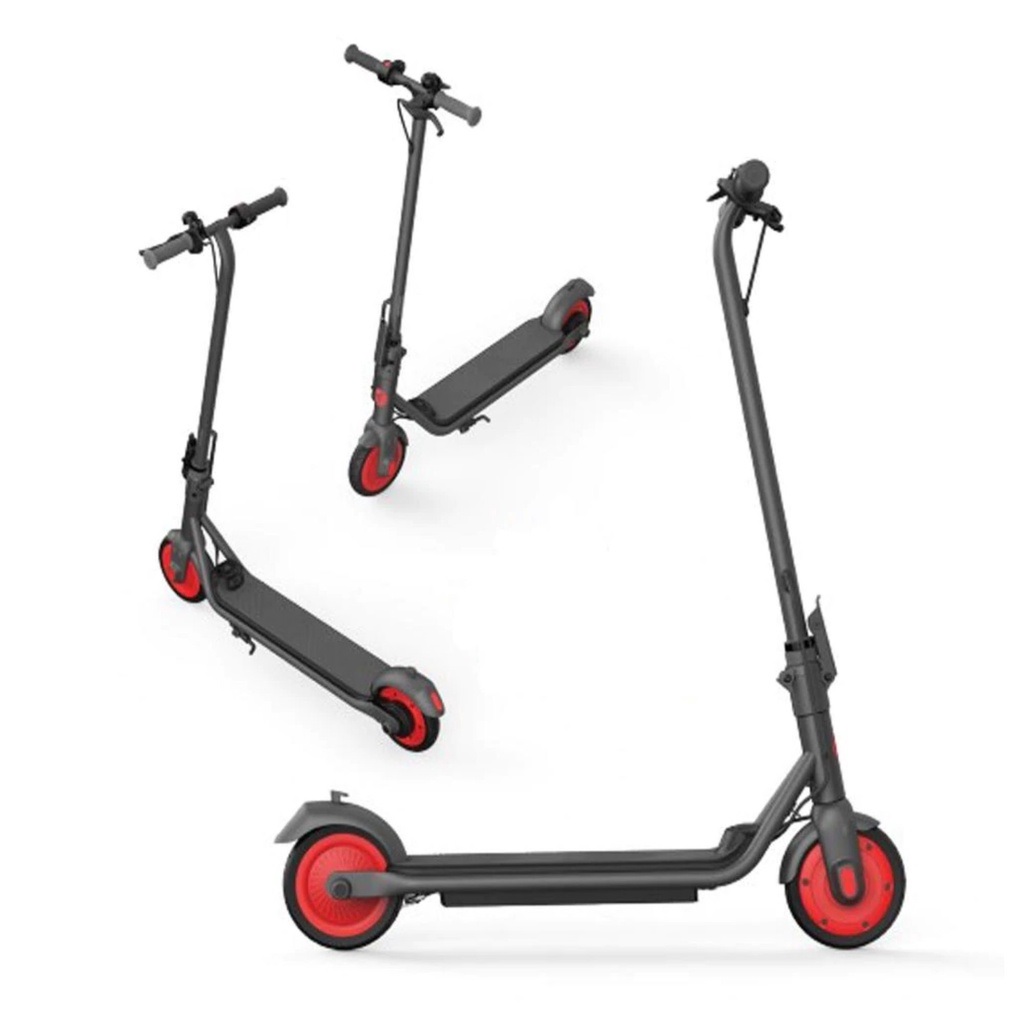 Check Ninebot Electric Scooter ZING C20 price below:
add_circle
Has IPX4 rating
add_circle
Easy control over modes to choose speed of vehicle
add_circle
Battery has several safety features in place
remove_circle
Only for riders under 50kg
remove_circle
No shock absorption
Overview
The ZING C20 gives you a maximum speed of 16 km/h which gives you a smooth and controlled ride that suits various environments. It has 3 riding modes – Turbo, Cruise, and Safe – and you can choose which level suits the condition of your surroundings best.  It's also water resistant thanks to its IPX4 rating, making it safe for rain.
The addition of ambient lights under the footboard adds a touch of style to your rides while enhancing visibility during low-light conditions, ensuring that you ride in both safety and style. This will prove useful when you take the scooter out at night since passing vehicles will be able to see you. 
Details
16 km/h Maximum Speed

Hand-Operated Rear Brake

3 Riding Modes: Turbo, Cruise and Safe Mode

Ambient lights under the footboard

IPX4 Rating
Who is it for?
Let your kids ride in style with the Ninebot ZING C20. Not just that, they will also be safe thanks to the lights under the footboard that will let other vehicles know where the scooter is in low light conditions. This scooter would make for a perfect birthday gift, and they will also be able to use it for a long time since the ZING C20 can hold up to 50kgs.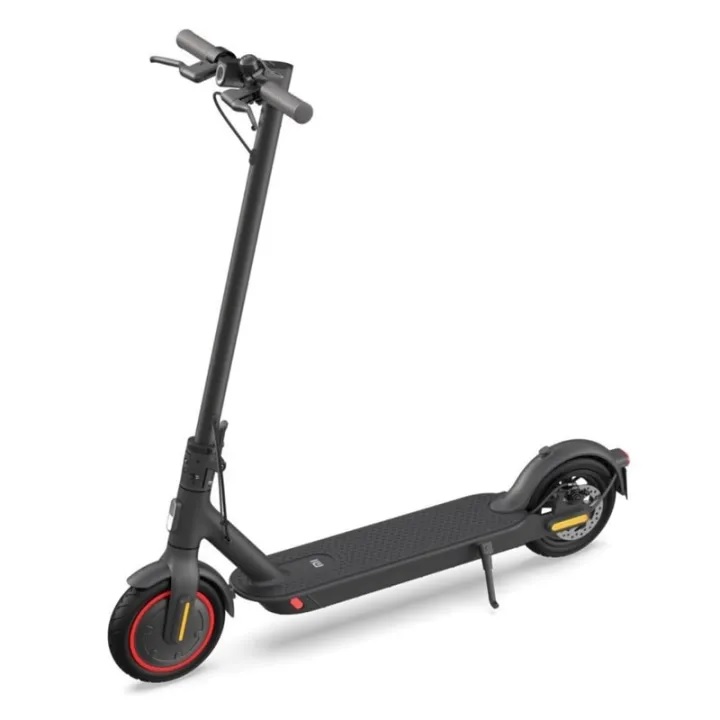 Check Xiaomi Mi Electric Scooter 3 price below:
remove_circle
Design is quite minimalistic
Overview
This sleek and efficient electric scooter has been crafted to provide you with a truly exceptional riding experience. With its 3-step folding, Xiaomi Mi Electric Scooter 3 gives you the portability you'll need when you're travelling with an electric scooter. It also has a 600 W motor power which allows you to go for about 30km on one charge. 
The Xiaomi Mi Electric Scooter 3 is made with aerospace-grade aluminium which gives it the perfect balance between durability and lightweight design. Its build ensures that your scooter can withstand daily wear and tear while remaining easy to manoeuvre. As for your safety, it has a rear dual-pad disc brake system which allows you to slow down and come to a stop smoothly. It also has an IP54 rating so it won't get spoiled in the rain. 
Details
Weight: 13.2kg

600 W Motor Power

3-step folding

IP54 rating 

30 km distance travel
Who is it for?
The Xiaomi Mi Electric Scooter 3 is tailored for urban explorers, commuters, and adventure enthusiasts seeking a portable mode of transportation. With its 3-fold system, you can even keep it in your car and take it out to ride when you find a calming place with a beautiful view. Students would also enjoy using this scooter since you can carry it around campus easily.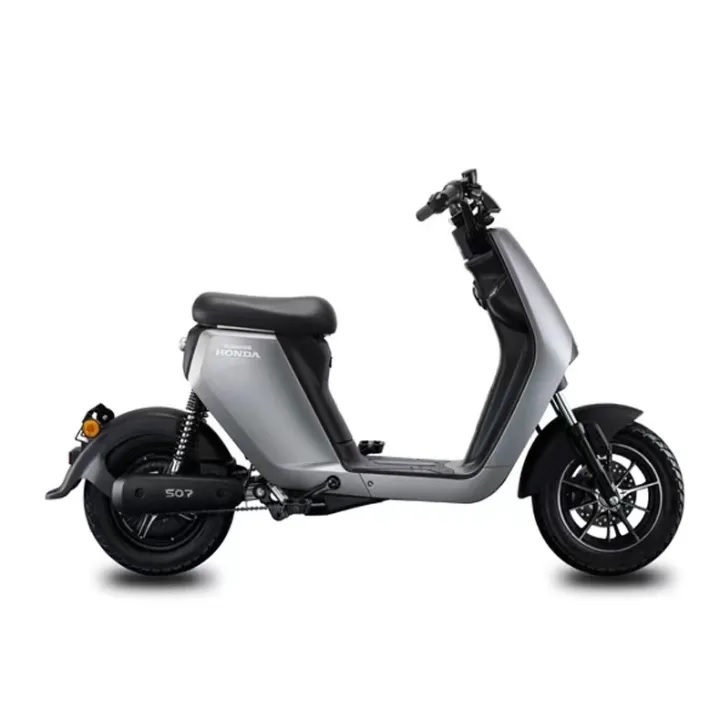 Check Honda S07 Scooter price below:
add_circle
Large weight capacity
add_circle
Comes with seat
add_circle
Water and dust resistant
remove_circle
Large in size
Overview
The Honda S07 Scooter is equipped with a 350W brushless-hub motor, delivering a smooth and quiet ride that's perfect for leisurely journeys, which gives you a top speed of 25 km/h, and you can even upgrade the scooter to have it go even faster if needed. 
Capable of a 12-degree climbing angle, that makes this scooter capable of handling subtle inclines and uphill roads, so you can explore your environment comfortably even when it's going uphill.
In terms of safety, the front mechanical disc brake, rear drum brake, and EABS braking system offer responsive and reliable stopping power.It also features a front hydraulic fork suspension and rear damping shocks, the scooter provides a comfortable and stable ride, minimising bumps and vibrations.
Another thing you'll appreciate is its IP56 rating which makes it resistant to dust and water. Other features to appreciate are the front LED headlights, rear LED brake lights, and a signal indicator, so you'll remain visible and safe, even during low-light conditions.
Details
350W Brushless-Hub Motor

Top Speed 25km/h

Climbing Angle 12°

IP56 Rated

Load Capacity: 150KG
Who is it for?
It is important for elders to go out and get a breath of fresh air. However, with age, many are riddled with joint pains and debilitating diseases that may prevent them from carrying out strenuous exercise. So, getting an e-scooter is a great way to facilitate simple activities, and with the Honda S07 Scooter, they can do just that without having to stand as it comes with a seat as well.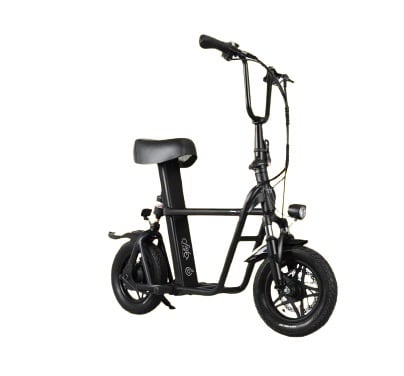 Check FIIDO Q1S Electric Scooter price below:
add_circle
In-built anti-theft alarm
Overview
With the top speed at 26.4km/h and distance range of 32.5km, the FIIDO Q1S Electric Scooter is a good last-mile-coverage transportation option as it can travel pretty far for a scooter that runs on a battery. 
This scooter has dual suspension and can run at an incline of about 10%, though it is relatively slow. Dual mechanical disc brakes are attached on both tires for maximum protection, with the brake control on your left at the cockpit, and the twist throttle on your right.  
Weighing just 14 kg, the Q1S strikes a balance between portability and stability, making it a perfect choice for city commutes and short trips. The inclusion of a cushioned seat provides you with a comfortable and relaxed ride which is perfect for longer journeys. 
Details
36V 250W Geared brushless motor

Up to 25km/h

120kg Load Capacity

Front Head Light & Rear Light Reflector

Built-in internal alarm, front and rear suspension
Who is it for?
No one likes to stand for long hours which is why you should get yourself an e-scooter with a seat! It is perfect to ride around your neighbourhood or run some errands nearby as it comes with a basket at the front for storage.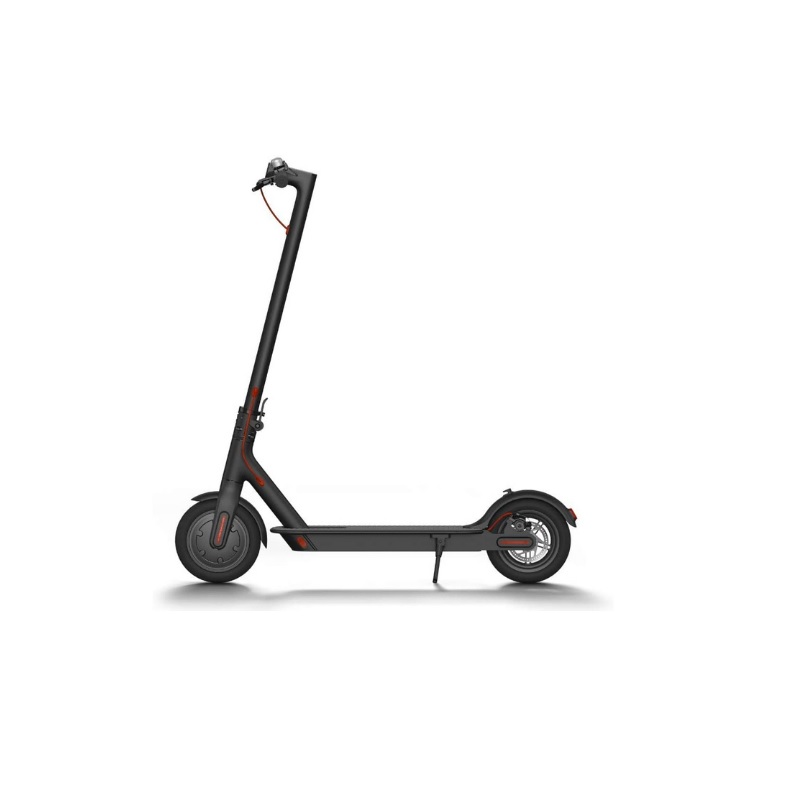 Check InTech Electric Scooter 1S price below:
add_circle
Quick charging
Overview
Whether you're cruising or exploring the city, the InTech 1S ensures you have the distance you need thanks to its 25-kilometre maximum mileage,  so you can enjoy those long rides to the grocery store. You'll also get there in a jiffy thanks to its 25km/h - 30km/h speed limits which lets you adapt your speed to your surroundings effortlessly. 
To enjoy that distance and speed all you need to do is, charge the scooter for about 2 to 3 hours, and then you can ride as much as you want. This quick charging capability is perfect for on-the-go individuals. Moreover, the InTech Electric Scooter 1S has a weight capacity of 100kg,  which accommodates a wide range of riders.
Details
25km max mileage

Passenger Capacity: Max 100kg

Max Speed: 25km/h - 30km/h

ChargingTime: About 2-3hours

Foldable
Who is it for?
The InTech Electric Scooter 1S is a budget-conscious, convenient and eco-friendly mode of transportation, that caters to city dwellers, commuters, or students looking to maneuver through urban streets with ease. With its quick speeds and large foldable design you can very easily bring it around with you and get to your destination without worrying about traffic jams.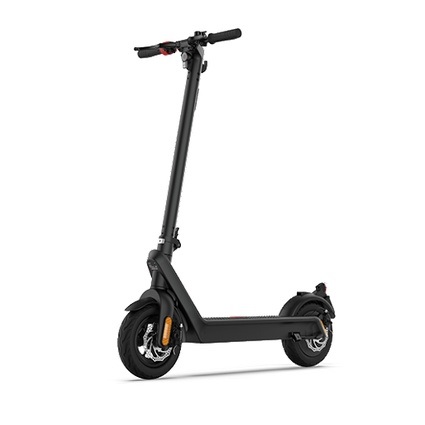 Check HX X9 Plus Electric Scooter price below:
add_circle
Long range distance
add_circle
Great braking system
Overview
The HX X9 Plus is a powerful and convenient electric scooter which gives you an impressive range of 60-70 kilometres on a single charge. With a climbing angle of 25 degrees, the HX X9 Plus effortlessly tackles inclines, making it perfect for city travelling, especially since it only weighs 19 kg, allowing you to carry it around whenever you're not able to ride it. 
HX X9 Plus is capable of handling a weight capacity of 100kg so you can also take it to the grocers, and even carry your bag while riding it. With its high capacity,  riders of various sizes can also comfortably and confidently navigate urban landscapes. But the best part about this scooter is that it has a detachable battery, so you can easily replace it. 
Details
Range: 60-70 KM

Max Load: 100 KG

Climbing Angle: 25 Degree

Weight: 19 KG

 E-ABS anti-lock electric brake
Who is it for?
Why would you need a removable battery? For convenience. You won't have to lug your scooter to a charging port and you can get another battery to bring with you for longer distances and swap it out when the first depletes. But, with the HX X9 Plus, you're getting up to 70km range so it goes pretty far before you'll need to replace the battery.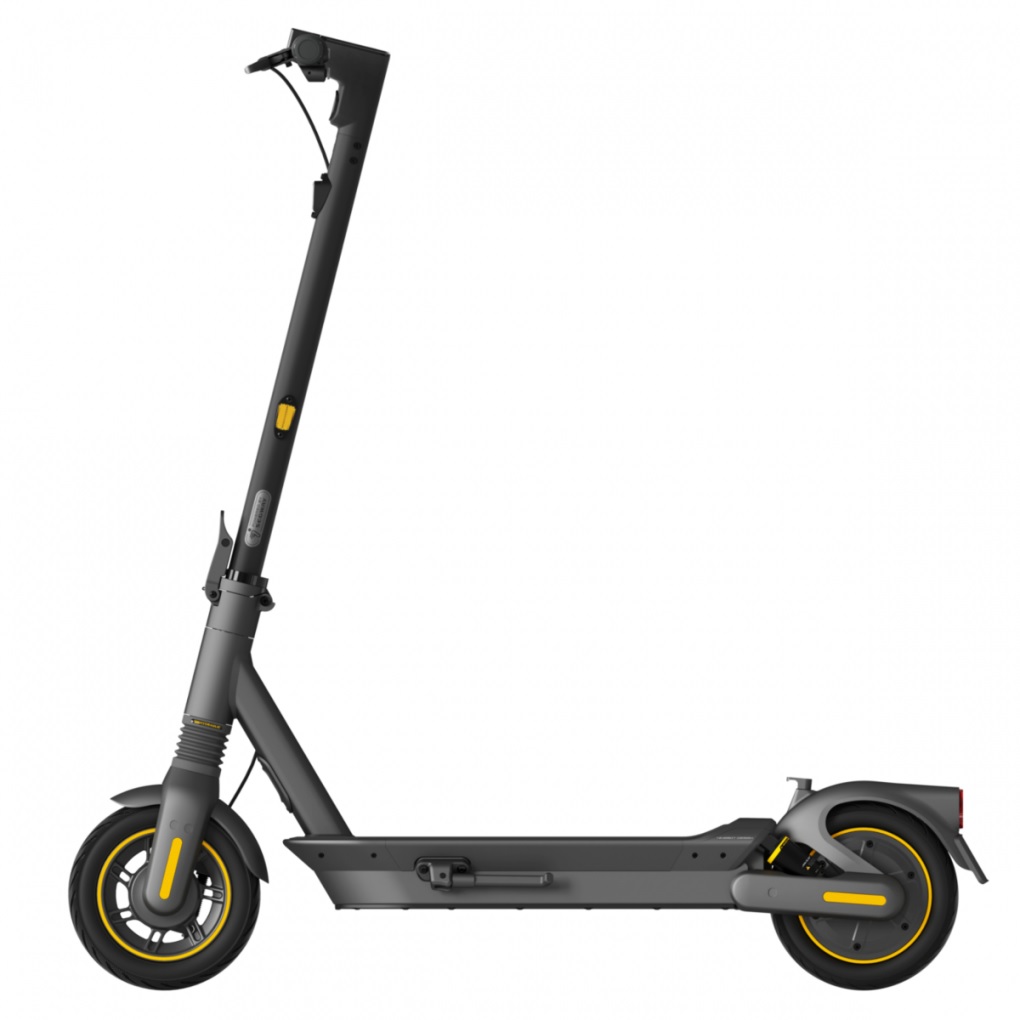 Check Segway-Ninebot Electric Kick Scooter Max G2 price below:
add_circle
Water and dust resistant
add_circle
Has turn signal lights
Overview
This Segway-Ninebot Electric Kick Scooter Max G2 was designed to accommodate individuals with a higher weight thanks to its 120kg capacity. You'll be able to experience its range of up to 70km distance, which allows you to go on longer rides, this will be perfect for a run to the grocery store. It gives you three riding modes - Eco, Sport, and Race modes - which allow you to choose when you want to go fast or slower. 
If the area you're in doesn't allow you to ride it, this scooter has a Walk Mode which lets you easily walk beside it while pulling the scooter, and there's also a Parking Mode for when you can't take it with you. Additionally, it comes equipped with front and rear turn signal lights, so vehicles passing by can easily see where you're going.
Details
Max speed: 25km/h

Max Range: 70km

Max Payload: 120kg

IPX5 Rating

3 Riding modes (Eco, Sport and Race modes), 1 Walk mode and 1 Park mode
Who is it for?
The Segway-Ninebot Electric Kick Scooter Max G2 is tailored for individuals who are looking for a scooter with a higher weight capacity. It's perfect for our buff babies out there who want to get a scooter to get around the city in style.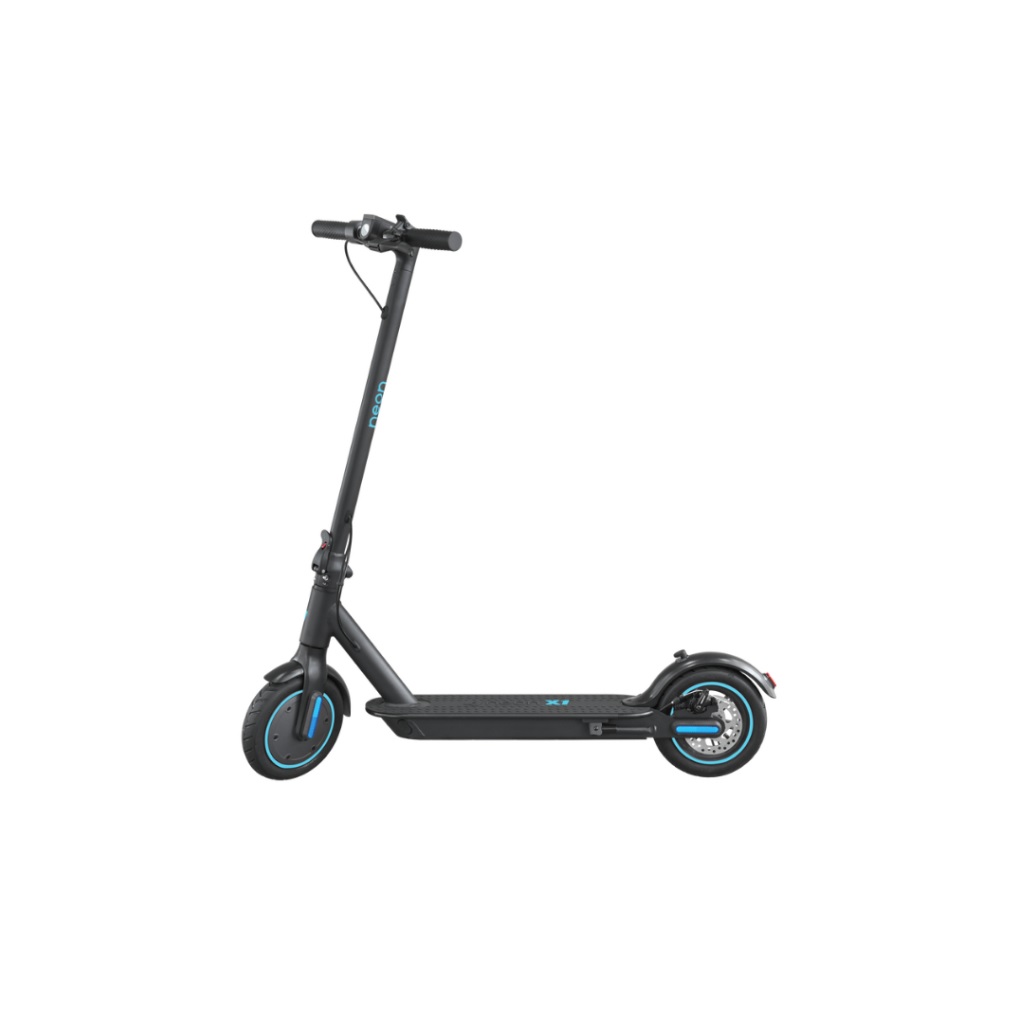 Check Neon X1 Premium Electric Scooter price below:
add_circle
Simple and easy to use
Overview
The Neon X1 Premium Electric Scooter is a straightforward and user-friendly scooter which comes with just the right features for someone taking their first ride on one. It has a maximum speed of 30 km/h so you can ride comfortably while gradually getting accustomed to higher speeds. You can cover up to 25 km distance, which is perfect for you to practice riding around your neighbourhood before you decide to take it to a more public area.
Boasting an IPX4 rating, the Neon X1 handle light rain and splashes, so you won't need to worry about getting it spoiled when riding in a drizzle, and it also only weighs 12 kg and is foldable, making it easy to carry and transport. You'll find this beneficial when you need to take it on public transport or when you want to take it during your vacations.
Details
Max speed: 30 km/h

Max Range: 25 km

Max Payload: 100kg

IP Rating: IPX4

Weight: 12 kg
Who is it for?
If you're new to electric scooters or simply prefer a straightforward and reliable option, the Neon X1 is designed with your needs in mind. It comes with simple and safe features that you can experience yourself and get used to over time, while also having the right features that allow you to commute to your destination without hassle.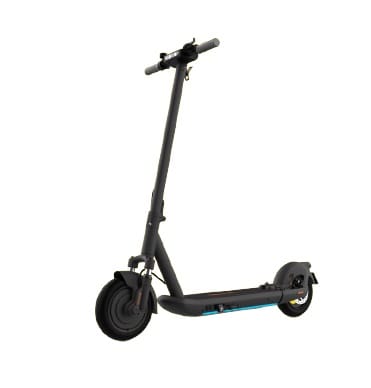 Check InMotion L9 Electric Scooter price below:
add_circle
Good for travel and commute
add_circle
Sturdy and durable
Overview
Capable of travelling up to 95km at a maximum speed of 30km/h, this scooter is top-notch for travelling. It accelerates on a thumb throttle, with a front regenerative brake and a rear disc brake. The scooter can handle an incline of 10% in 12.4 seconds too.  
Additionally, with an IP55 rating, the scooter is designed to withstand dust and water splashes, making it a reliable choice for various weather conditions. It also has headlights and a customizable deck RGB LED strip, which allows you to take a ride in low-light conditions. 
Details
Max speed:  30km/h

Max Range: 59 miles (about 95km)

Max Payload: 140 kg max

Brakes: Electronic front, disk brake in the rear

IP Rating: IP55
Who is it for?
Some e-scooters are made to play around with while some are built for utilitarian purposes – this scooter is leaning towards the latter. It is marketed to be able to go a distance of about 49km per full charge, and charging only takes 3.6 hours when you use both charging ports! 
There are even built-in turn signals which activate as you lean towards a certain direction, so you can see that the scooter was designed for travel and commuting.  
FAQ:
- Where can I use a scooter in Malaysia?
In Malaysia, the use of scooters, specifically electric scooters or e-scooters, has been subject to scrutiny and regulation due to safety concerns. As of our last update, here's a list of the places you can use electric bikes, scooters and likewise in Malaysia.
Pedestrian Paths: Unless there's no one using them, e-scooters are not allowed on pedestrian sidewalks. This is to ensure the safety of pedestrians, especially in crowded areas.

Roads: Take note that e-scooters are not considered motor vehicles in Malaysia. Hence, they are not permitted on public roads, especially on highways and main thoroughfares.

Parks and Recreational Areas: Some parks, recreational areas, or dedicated paths in urban areas might allow the use of e-scooters. Always look for signage or local guidelines. Example if there's a signage that allows the use of bicycles, you can ride the e-bike.

Private Areas: Generally, p compounds, gated communities, and specific resorts may allow the use of e-scooters. If you're uncertain, do ask the management or security personnel.
- Do you need license for an electric bike in Malaysia?
According to the portal of the Malaysian Road Transport Department (JPJ), we do not a license to operate and ride an electric bike as they are not allowed on public roads. However, this might be due to the fact that the bikes are not allowed on public roads such as the highway for cars. It is because every model has a maximum speed limit it can reach, which can jeopardise the safety of other licensed vehicles on the road.
Other things to take note of if you wish to ride your electric bike on private or public properties (which does not involve roads) would be the electric bike's power limit (maximum 250W), age limit (16) and the need to wear a helmet at all times.
Related Articles: