Mountain biking is certainly an extreme sport – a gravel-splitting, earth crunching, mud-splattering activity made for thrill-seekers. As much fun as it is, you want to make sure that you have the best equipment money could buy to make sure that you get the best out of your rides and remain safe. Unfortunately, regular-grade bikes will not cut it, as they are simply not made to handle the hardcore impact of perilous terrain. 
In this article, we recommend the 9 best mountain bikes we think will enhance your uphill and downhill journeys. There are recommendations for riders of all ages and types, so no one is left out!
---
Top 9 Mountain Bikes in Malaysia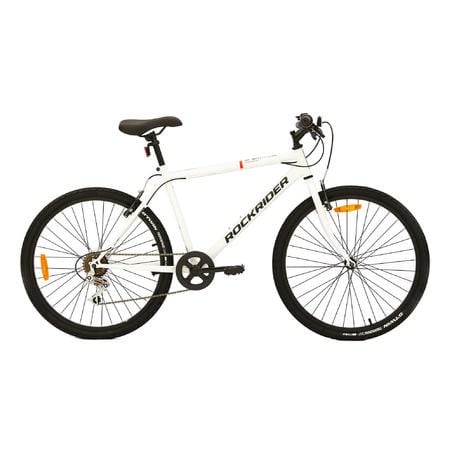 Check Rockrider ST30 26-inch 6 Speed Mountain Bike price below:
add_circle
Suitable for beginners
add_circle
Budget-friendly
remove_circle
The plastic gear shifter is rather flimsy
If you are looking for a little starter bike to test out the mountain biking experience, Rockrider offers this entry-level mountain bike – also friendly on your pocket, compared to other models. The bike has 6-speed gear, wholly sufficient for going up and down without too much hassle. It is fitted with a B'Twin Ergofit saddle, offering great cushioning. This is essential, as you are looking at a pretty bumpy ride. 
Features:
Its wheels are 26-inch all-round – good for beginners, though you may need to upgrade if you are going on rougher terrains. The frame is made of steel, with V-brake callipers ensuring progressive braking and preventing you from tipping over. The suspension covers the front, though not the rear, and the bike comes with a guard for the derailleur and chainrings, a bell, and reflectors for your wheels and pedals.
Testimonies:
Owners of this bike find that it is suitable for those of all ages and sizes, and loved the fresh colour of its body. It is a great beginner bike and they find that they can ride up to 20km on it on hilly terrain. The only downside is the plastic gear shifter, which is a bit flimsy and prone to breaking.
Check Rockrider ST500 kids' 20" Mountain Bike price below:
add_circle
Suitable for children
remove_circle
Gear shifting can be tricky
Are you ready to introduce your kids to the mountain biking world? Rockrider's got your back with this mountain bike, suited for kids between the ages of 6 and 9. The features on this bike are simple but efficient, made for children who need to get their training before trying out more complex models. The bright yellow colour of the bike ensures that your child is visible, even in more forested areas! 
Features:
The frame of the bike is made of steel, with shorter rear chainstays for easier handling and 20-inch wheels. There is the front suspension to absorb the impact of gravelly roads with ease, with two V-brake pads fitted in for additional safety. Even though the bike is for kids, it comes with a 6-speed gear that can be switched via a grip shifter – so they do not need to get their hands off the handlebar to change gears. 
Testimonies:
A good starter mountain bike to give younger kids a taste of mountain biking. Of course, users should note that the bike is not made for too extreme terrains. The only issue is that some found difficulty with the gear shift.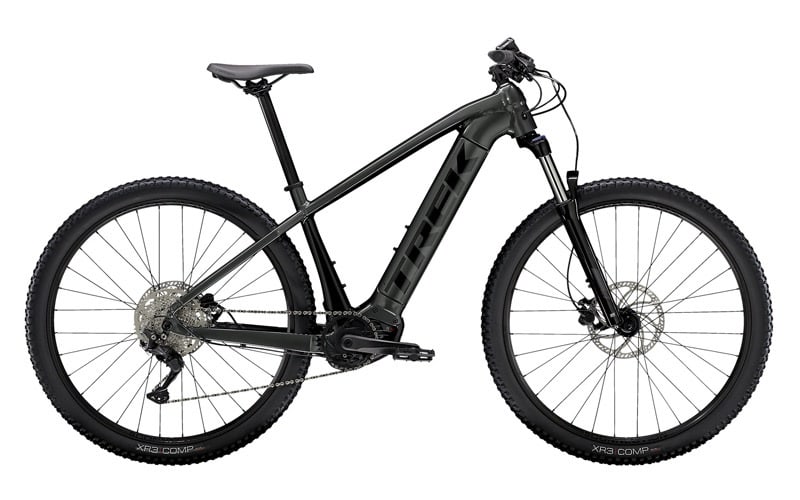 Check Trek E-bike Mountain Bike – Powerfly 4 price below:
add_circle
Eases hilly terrain
add_circle
Can be used by adults or seniors
Wish to go mountain biking but need a little aid? This is what E-mountain bikes are for! The bike is equipped with a Bosch Performance CX motor providing up to 15.5 mph of boost, great for steeper uphill climbs. On e-MTB mode, it can sense the terrain you are on and provide an adequate amount of power. Though it eases the climb, it does not overcompensate; allowing you to continue getting your cardio workout.
Features:
One can opt for a 27.5 or 29-inch wheel size. The battery needs to be charged for up to 4 hours and has a maximum range of 80 miles. Its frame is made of aluminium, and a front suspension is fitted onto the model, accompanied by reliable disc brakes. You get a 10-speed gear range and a suspension fork with lockout. It is truly a mountain bike that oozes features all around. 
Testimonies:
Most people will get their money's worth out of this bike as it can be used by adults and seniors. The e-MTB feature eases even the steepest of terrains and the Bosch motor is powerful. Its battery is well-hidden, so it will not be affected by rain or shine, and users love the sleek look of the bike.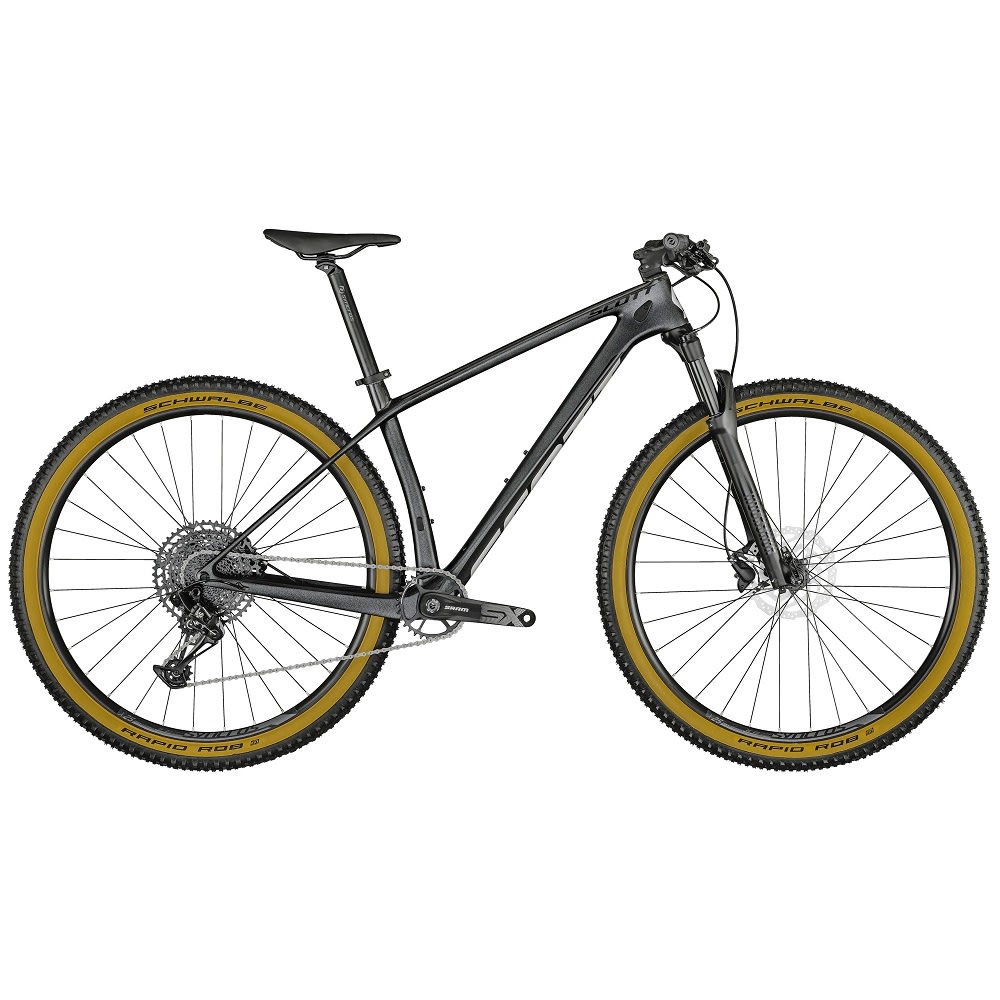 Check Scott 2021 Scale 940 Mountain Bike price below:
add_circle
Great in terms of speed
The thrill of mountain biking is the rush of adrenaline you feel in your blood as you course down the peak, and Scott's 940 is made just for that. Its carbon fibre frame compiled through Evo-Lap Carbon Technology functions to give you the lightest bike, reducing resistance as you slice through the air but not compromising its stiffness – required for endurance. 
Features:
Scott Scale 3 Carbon Fibre aside, the bike boasts 29-inch tires and a 100mm RockShox Judy Silver fork. You have the benefit of a 12-speed gear system with a Belcarra saddle for optimum comfort during longer rides, not to forget a strong Shimano MT200 disc brake set for progressive braking power. 
Testimonies:
People usually purchase this for the sake of competition, as it makes for a very stable ride yet is uncompromising in terms of speed. The description of this bike is usually accompanied by the notion of it being very 'fun' to go downhill on, great in terms of shifting and brakes. Further, the price is very reasonable for a high-performance mountain bike.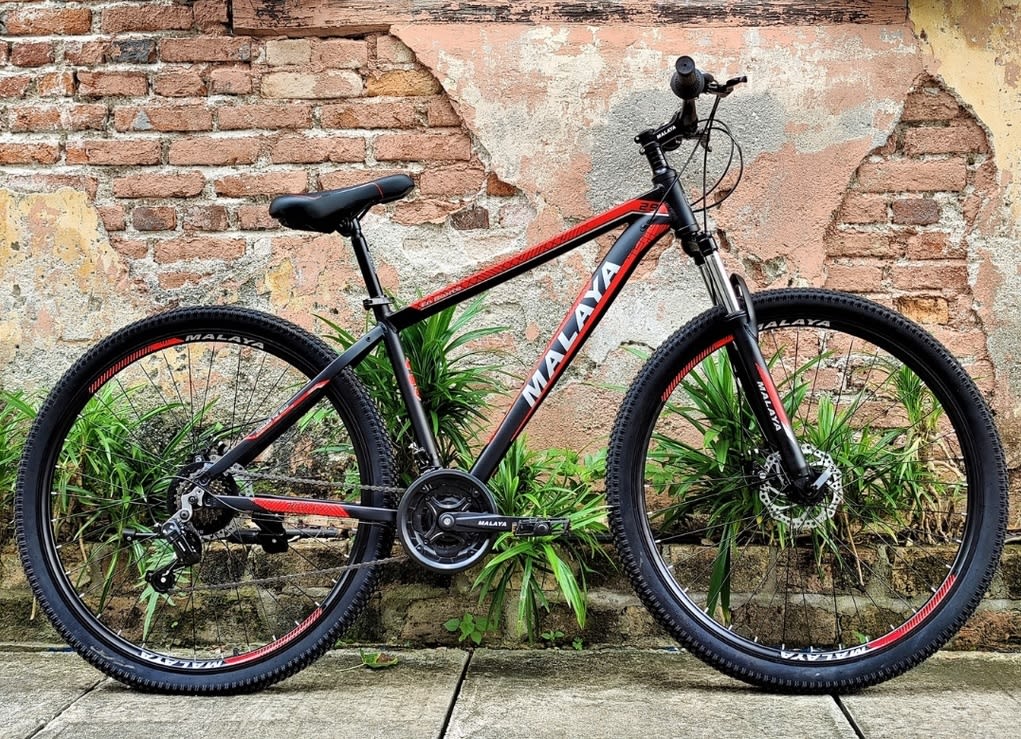 Check SHIMANO 29-inch 24 Speed Mountain Bike price below:
add_circle
Very affordable
add_circle
Easy to assemble
The SHIMANO 29-inch 24 Speed Mountain Bike won't make a dent in your bank account. Despite its low price, the bike comes with all the basic features of a mountain bike, plus free gifts! Besides. it comes with an alloy bottle holder, a maintenance toolset, and a xenon LED light for late rides. It truly has it all. 
Features:
Potential buyers can opt for the 27.5 or 29-inch version depending on which fits their body the most. The bike is made with an aluminium frame and a wider seat for comfort. It has a 24-speed Shimano gear set and disc brakes, accompanied by a lockout suspension. 
Testimonies:
Users think this bike is great value for its price, considering that it comes with original Shimano features. It is easy to assemble and the performance is satisfactory. Certain features may need a bit of tinkering and balancing, but overall, a good bike.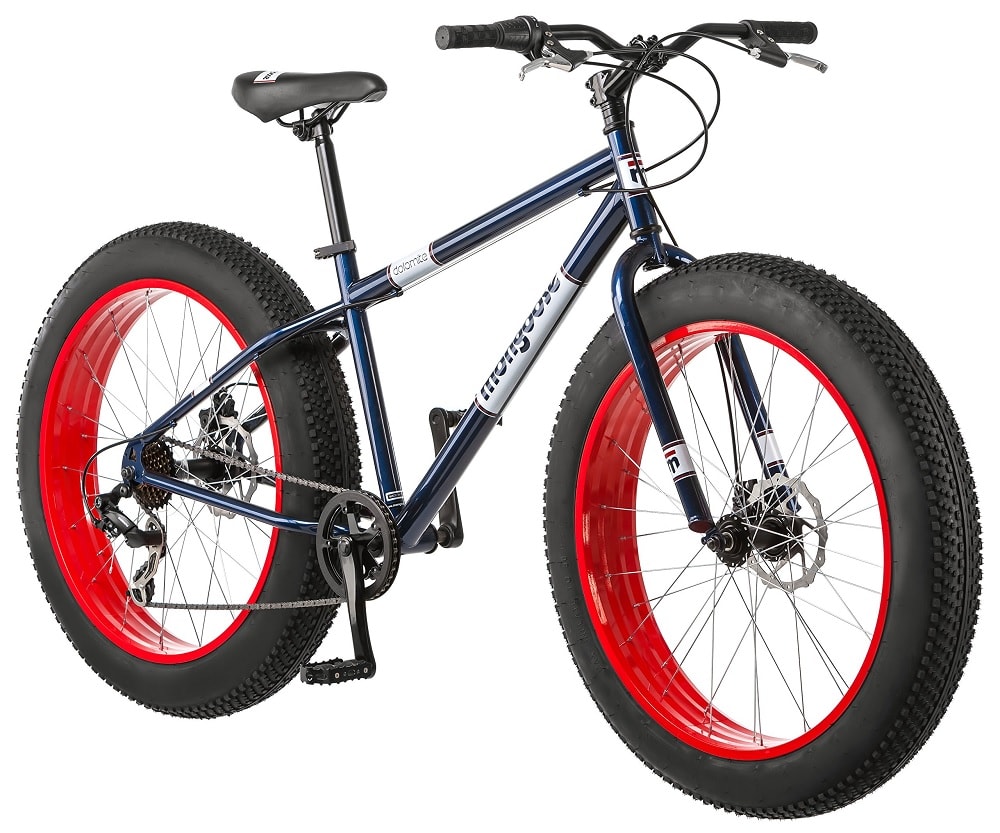 Check Mongoose Dolomite Fat Tire Mountain Bike price below:
add_circle
Perfect for all body weight
add_circle
Good for all types of terrain
If you find that regular mountain bikes aren't suitable for your heavyset build, we got you! Get yourself a bike that can accommodate your size and weight. This reduces the risk of going out of balance because mountain paths can get tricky (that is the point!). A mountain bike with fat tires (bigger wheel and rims) will reduce overall pressure on the bike and give you the stability required – the concept of being "too big" for your bike is a myth, my friends.
Features: 
It has a steel frame with a wheel size of 26-inches. The wheel thickness is a whopping 4-inches, suitable for all-terrain and weathers (some even ride it on the ocean!).  Front and rear disc brakes are attached to the bike, providing a full-on braking system, and it has a 7-speed gear system.  
Testimonies:
People are surprised at the cushioning of the bike, whether coming from the stable wheels themselves or the saddle. International users find it easy to trudge through snow in, and many buy it as a sort of base for their upgrades. More heavyset riders love it, as it accommodates their weight and helps them get fit again.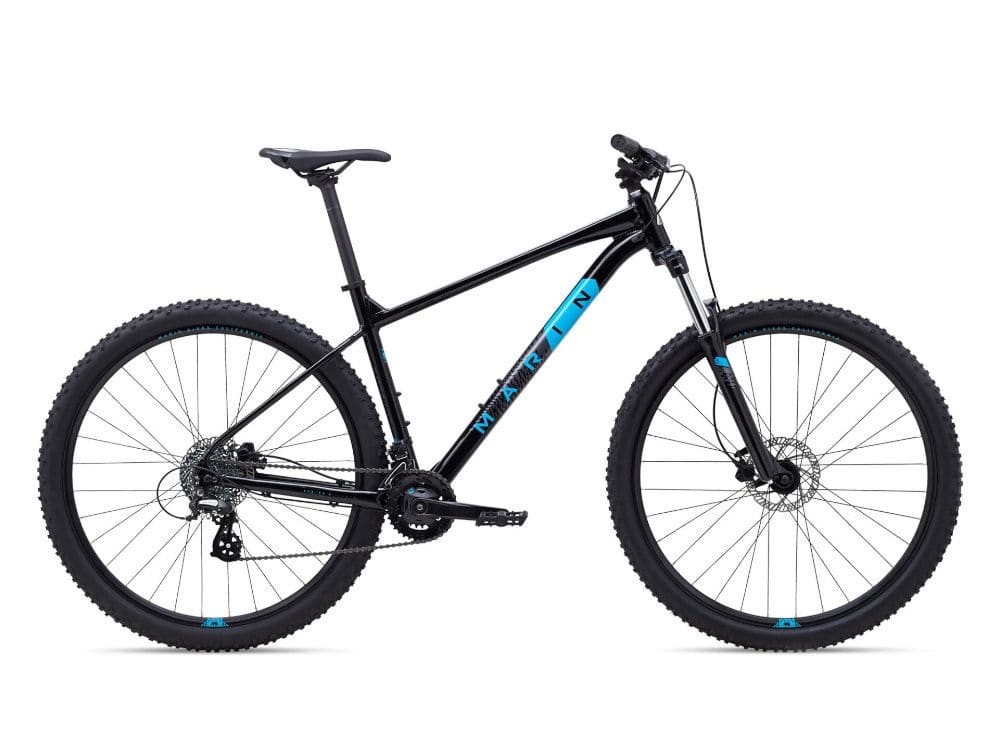 Check Marin Bobcat Trail 3 price below:
add_circle
Good for trails
remove_circle
Performance may be affected by rougher terrain
For those who like working through more complex trails, get the Marin Bobcat Trail 3. You will benefit from a bike that gives you more control and is more stable across the tracks. The wider built bar provides freedom of steering and it is great for uphill climbs as well and is the bike you need to bring along for longer distances. 
Features:
Its frame is lightweight aluminium alloy, with the option of 27.5 or 29-inch wheels. The 120mm fork coupled with a 780mm Marin handlebar gives you great steering power, needed to maintain your balance during harsher turns. Worry not about the safety features, for the bike comes with Tektro M275 hydraulic disc brakes and a lockout suspension for customizability. 
Testimonies:
Longer distances can be covered with this bike and it works great for trails due to the control you get, together with the larger contact patch on the ground with the 29-inch wheels. The brakes aid in the handling of the bike and mild trails can be undertaken on it – though some users recommend a wheel upgrade for more technical ones.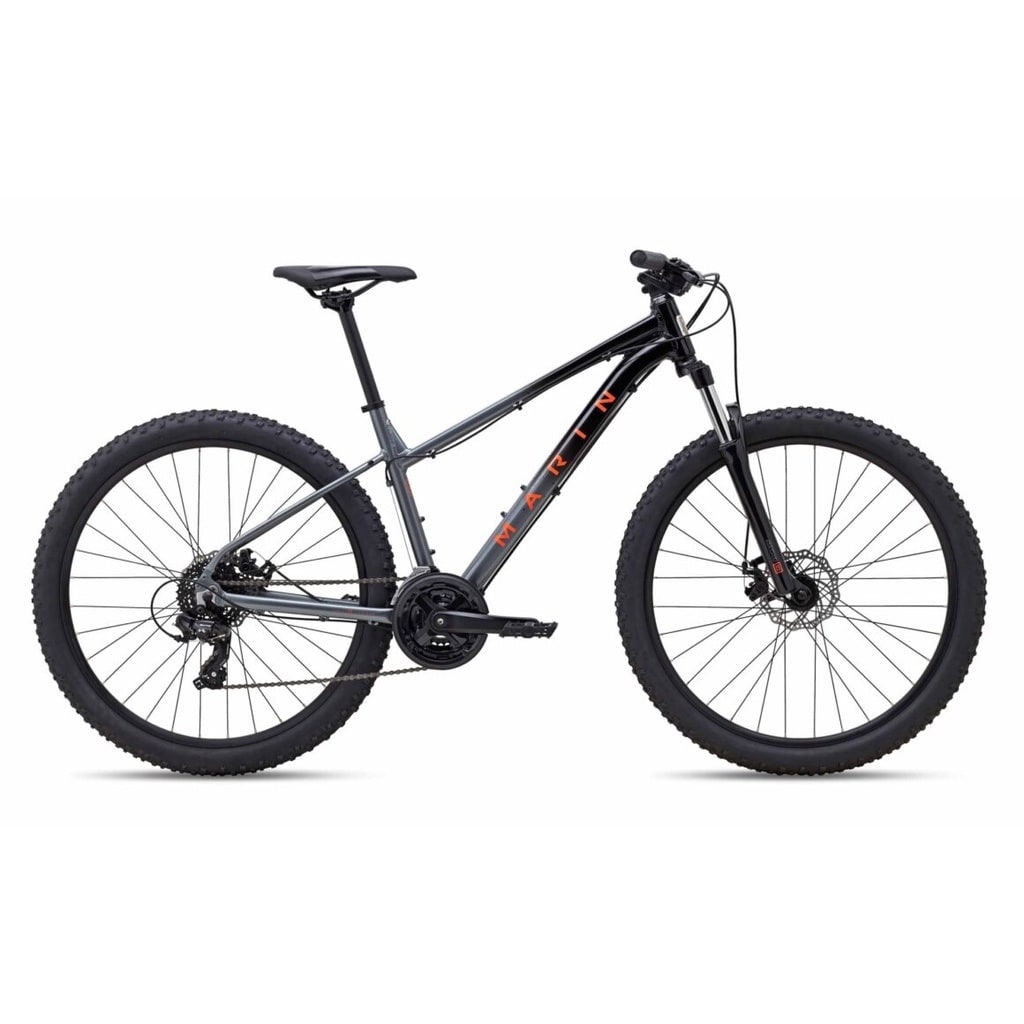 Check Marin Wildcat Trail 1 price below:
add_circle
Designed specifically for more petite riders
add_circle
Easy to assemble
"Are bike designers sexist?". Well, the reason behind a 'woman style' bike is not as misogynist as you may perceive; it is just designed to fit smaller frames. As we all know, finding a bike that suits us in terms of height and frame is essential to ensure one's safety and comfort. Thus, this bike is great for those with more petite bodies or even tweens. 
Features:
The bike has a saddle designed specifically for women, with narrower bars for better reach. The wheels are 27.5-inch, able to provide apt stability, with an aluminium frame compensating in terms of a lighter weight. It has 100mm suspension travel and mechanical disc brakes, halting rides with ease, especially for harsher pathways. With Shimano gear components, shifting of gears can be done with just a lever below the grips. 
Testimonies:
Riders of the bike find that it is great for trails, though it is more of an entry-level bike. That being said, the model offers alternative wheel sizes to amp up its stability on rockier terrain. It is easy to assemble and provides for a smooth and balanced ride.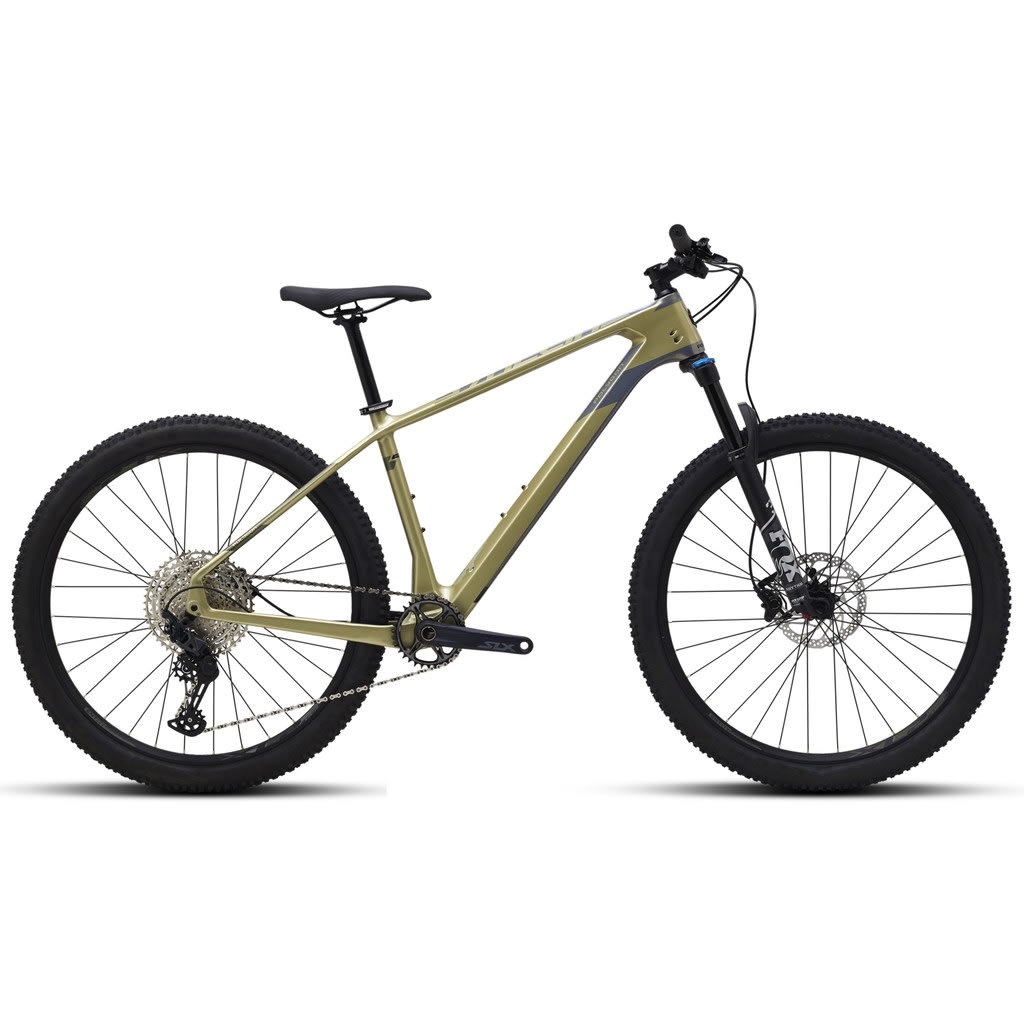 Check Polygon Syncline C5 Carbon XC price below:
add_circle
Multi-trail bike
add_circle
Durable and stable
This is a trail bike that is worth every penny because of the multiple purposes you can get out of it. Whether you are going on rough terrain or off-road riding – just whip out your bike and you are ready to go!  Its versatility means that it can be used for cross-country rides where the pathways are always changing. 
Hence, despite its pretty steep price, you can go on different rides with just one bike.
Overview
You know that you are going to get a carbon fibre frame at this price point. The bike also boasts Shimano hydraulic disc brakes and offers a 12-speed drivetrain for better control.
With an Entity Void saddle, you are going to be able to sit for hours without discomfort. You could also opt for 27.5- or 29-inch wheels, all dependent on the rider and the type of trails you are aiming to surpass. 
Testimonies
Generally, users found this to be a very solid bike. It has five-star reviews from many purchasers who found it perfect for going on a long riding trip. 
You could ride uphill on mountains with it or bring it out on the road because you can put it on full-suspension mode or hardtail. Its versatility and durability are a plus point for many avid riders. 
---
FAQs
- What is the difference between a mountain bike and a regular/road bike? 
Mountain bikes are made to withstand a lot of impact, taking into account the treacherous trails that riders have to contend with and the changing weather conditions. That's why they come with wider diameter wheels and stronger suspension than regular or road bikes – and are often heavier. 
On the other hand, road bikes or regular bikes are made for speed. You will not experience a smooth ride on a flat road or pavement with a mountain bike, but you can sail across paths with no problem on a regular one. In terms of comfort, a road bike is ideal for long distances, so it compensates with elements like drop bars so you will not feel as much strain if you travel on it. 
---
- Is mountain biking good for your health?
Cycling is generally good for maintaining cardiovascular activity. It helps tone your legs and glutes. This exercise is suitable for those who have joint issues, or skin problems – and cannot run or swim. It protects your joints from experiencing too much stress and gets your heart pumping as you'll need to put riding uphill requires strength and energy. Of course, people with heart or lung issues must consult their physician before engaging in mountain biking, as it is still a rather challenging sport.  
---
Go show off your pro rider skills with your new mountain bike today!
Related Articles