These days, there are different types of bicycles you can find from both online and physical stores. One of the easiest to look out for is the folding bike, which is blessed with a compact design that makes it easier to pack away when not in use. Like the conventional varieties, these folding bikes come with the likes of different speed capabilities and wheel sizes.
So, no matter if you are a teenager or an adult, here are reviews of the best foldable bikes worth considering.
---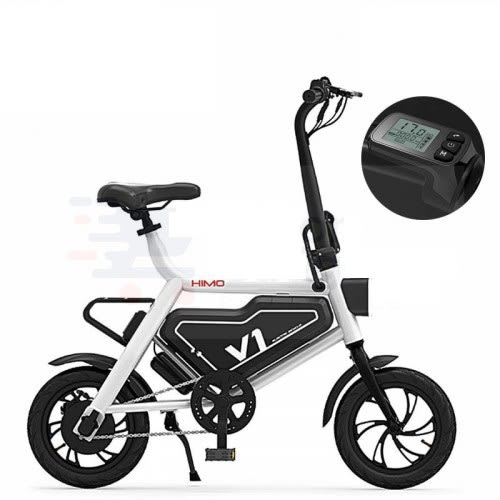 Check Xiaomi Himo V1 Plus Electric E Bicycle price below:
add_circle
Solid build quality
add_circle
intelligent battery management system
add_circle
easy-to-read dashboard display
remove_circle
Some people may find it heavy to carry the bike around on public transport.
Compact yet stylish enough while on the road, the Xiaomi HIMO V1 Plus is made foldable for easy transportation. It also runs on a 6Ah lithium-ion battery with a 250W motor power which is capable of reaching a maximum speed of around 20-30 km per hour.
The bike is made from a high-quality aluminium alloy that provides better stability and durability. It comes with a multi-function display located on a handlebar, allowing you to monitor settings like speed and mileage. Though, the 18.5 kg weight, can be a little too heavy for those who want to carry it around on public transport often.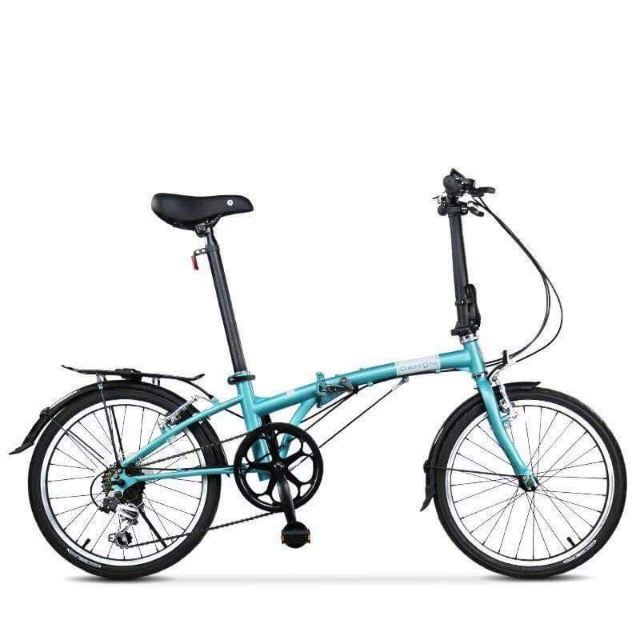 Check Dahon Dream D6 price below:
add_circle
Great easy-to-fold design
add_circle
long-lasting steel frame
Here's an all-rounder of a folding bike from Dahon. This Ilinois-based bike brand was revolutionised as "the world's first folding bicycle small enough to fit under a train seat". Their foldable design is the main highlight here, where you can easily fold the bike to a compact form in just 10 seconds.
Dahon Dream D6 is also built to last, thanks to its sturdy steel frame with Deltec cable. It can accommodate up to 105 kg max weight. Other highlights include an adjustable 6-speed Shimano gear and a powerful front & rear V-brake system. For your preferences, the bike comes in several colours including yellow and black variants.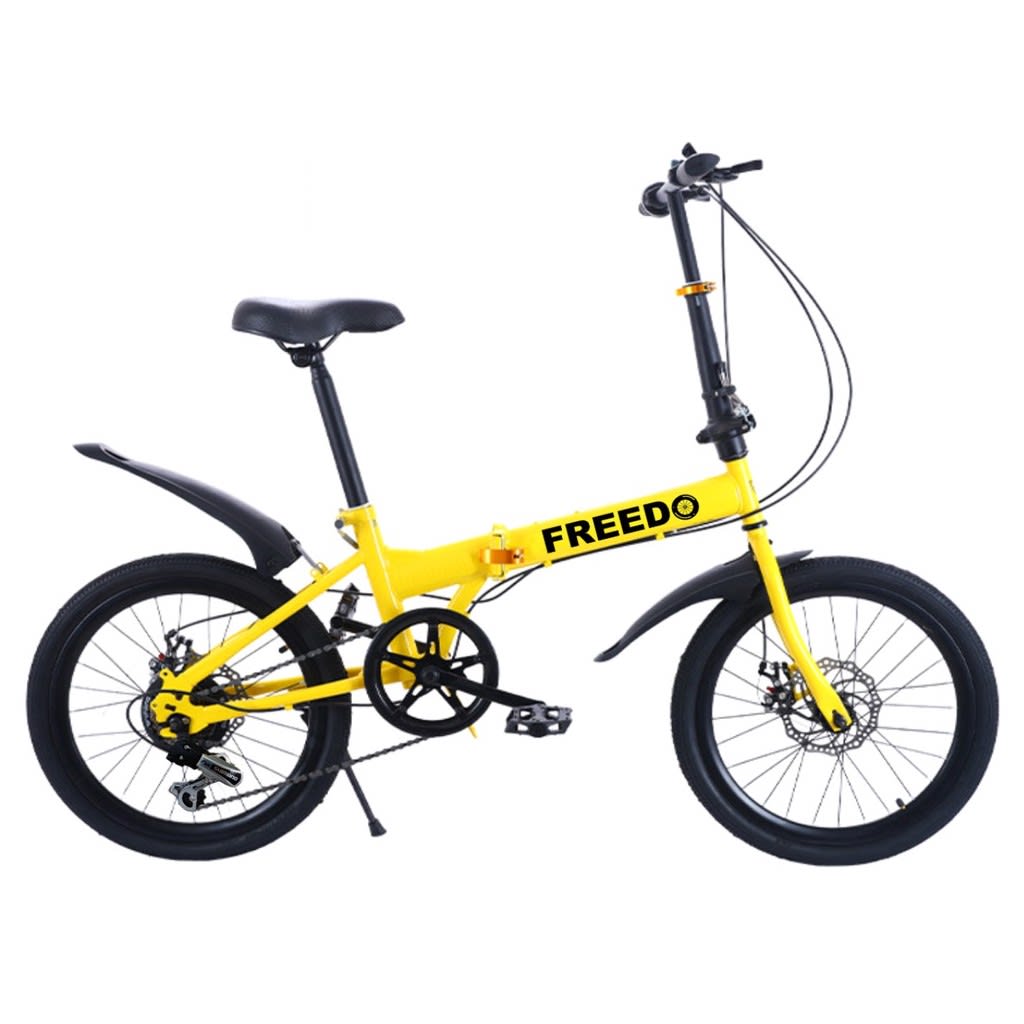 Check Freedo 20" Folding Bike price below:
add_circle
Reliable dual disc brake system
add_circle
Adjustable seat & handlebar
Looking for a folding bike that doesn't cost you a fortune? You might want to consider this affordably-priced Freedo model, which comes in 20" wheel sizes and an easy-to-fold design that can be compacted from 150 cm to 80 cm in diameter.
For your peace of mind, it has a dual disc brake system for better and reliable stopping power even if you are on a wet or muddy road. Both seat and handlebar are made adjustable to your liking. Finally, the 7-speed Shimano Tourney comes in handy for adjusting the speed of your ride accordingly.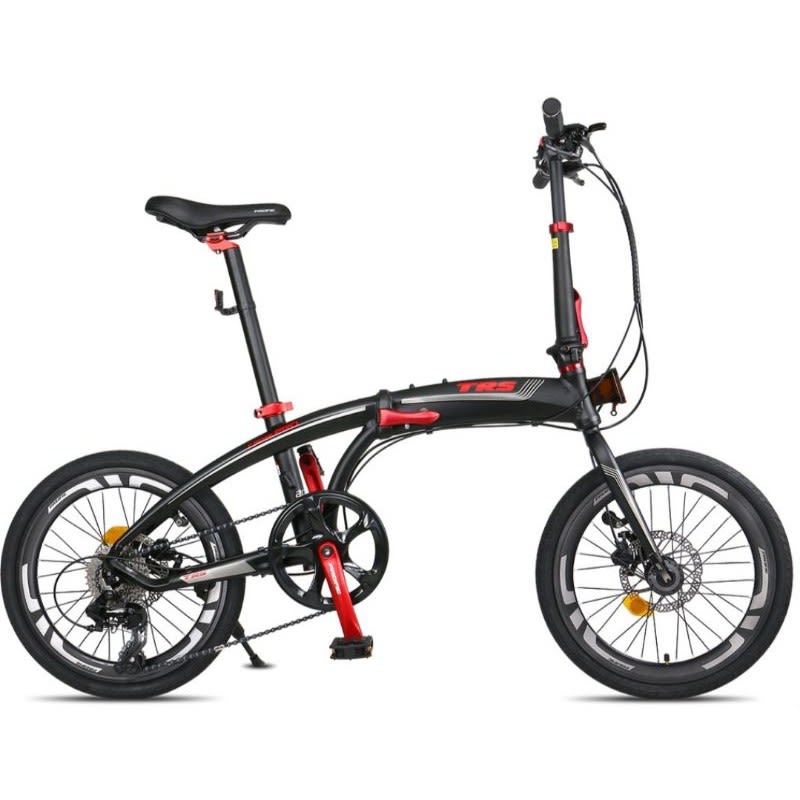 Check TRS Croze Pro 20" price below:
add_circle
Lightweight design
add_circle
Sturdy aluminium frame
add_circle
Adjustable 8-speed Shimano gear
Weighing at 12.7 kg, this reasonably lightweight TRS Croze Pro bike comes with a foldable design made suitable for daily commuting. Firstly, its frame design is made from durable aluminium material and uses the Tektro hydraulic disc brake system which offers better braking, requiring you to use less forcer.
The TRS Croze Pro also comes equipped with an adjustable 8-speed Shimano gear system, which is handy for a more comfortable pedalling experience on different terrains. For your personal preference, the bike comes in several different colours including red, grey and gold.
Check Nordictrack Folding Bike 26 price below:
add_circle
Bigger & stable wheel sizes
add_circle
Uses mechanical disc brakes
If you are looking for a foldable bike for touring purpose, you can't go wrong with the mountain-bike variety such as this one from Nordictrack. Available exclusively at Fitness Concept, it comes equipped with a pair of 26" wheel sizes which is suitable for longer travel distance as well as offer better stability.
The bike has both front and rear mechanical disc brakes, designed to offer efficient stopping power upon pressing the lever. A solid reason to get this for all-day travelling is the fact that the bike also includes a water cage to store your water bottle. For a foldable bike, however, the 17.5 kg weight can be a bit heavy for some individuals.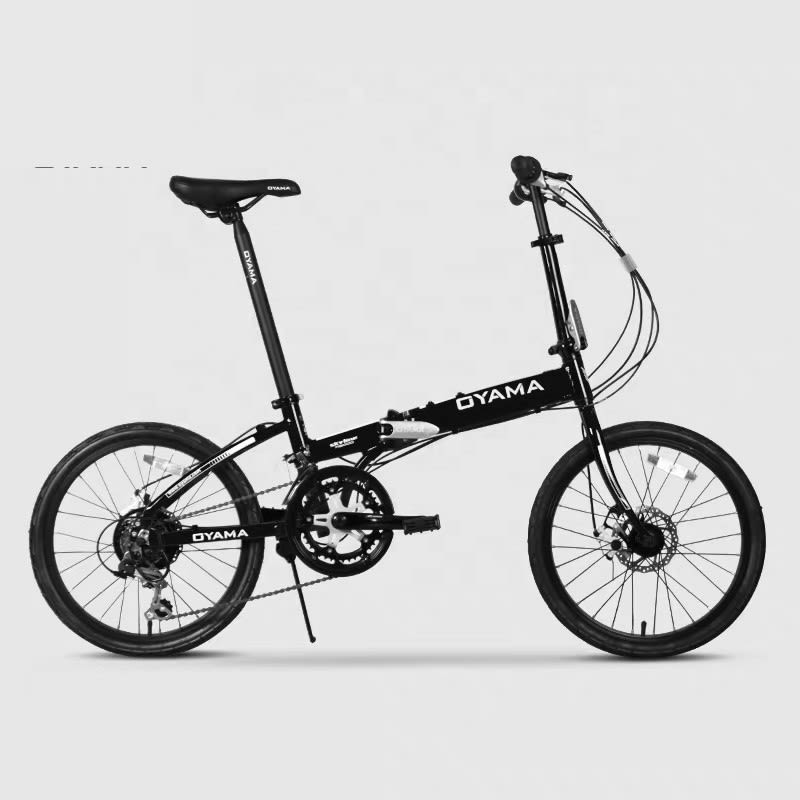 Check Oyama ELITE-Sky-M500D 20" price below:
add_circle
Can be folded easily
add_circle
Has a 12-speed Shimano gear
add_circle
Efficient mechanical disc brakes
If speed matters to you, then check out this folding bike from Oyama. It comes equipped with a 12-speed Shimano gear system, giving you the flexibility to shift different gears regardless of say, riding at a faster speed or for uphill rides. The bike is also built to easily fold and unfold at your convenience.
It uses the aluminium alloy material for its frame design which doesn't only feel sturdy but also remains lightweight. Suitable for tall riders of up to 178 cm height, this Oyama folding bike utilises the mechanical disc brake system for better braking power without the need to use much force.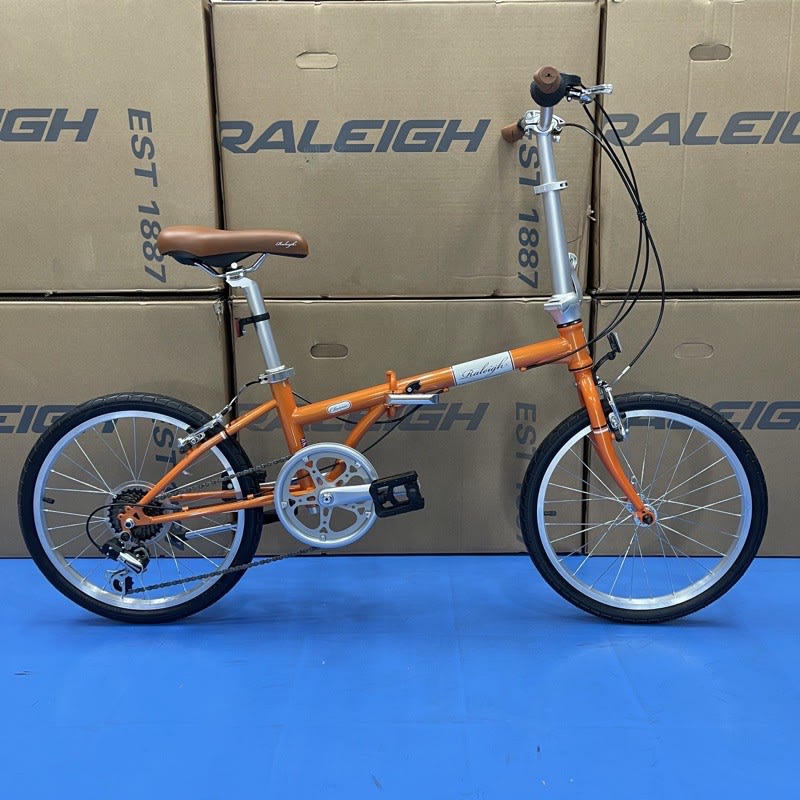 Check Raleigh Calypso Classic - Limited Edition price below:
add_circle
Comes with 7-speed Shimano gear
True to its name, this limited-edition Raleigh Calypso folding bike boasts a classy frame design that looks aesthetically pleasing to the eyes. The frame itself is constructed from durable hi-ten (high-tensile) steel, making it suitable for day-to-day use.
For the tires, it uses the Kenda Kwest tube varieties that provide good stability and durability. The Raleigh Calypso Classic also comes equipped with a Shimano SIS 7-speed gear set, allowing you to adjust your speed accordingly for an efficient and smoother ride.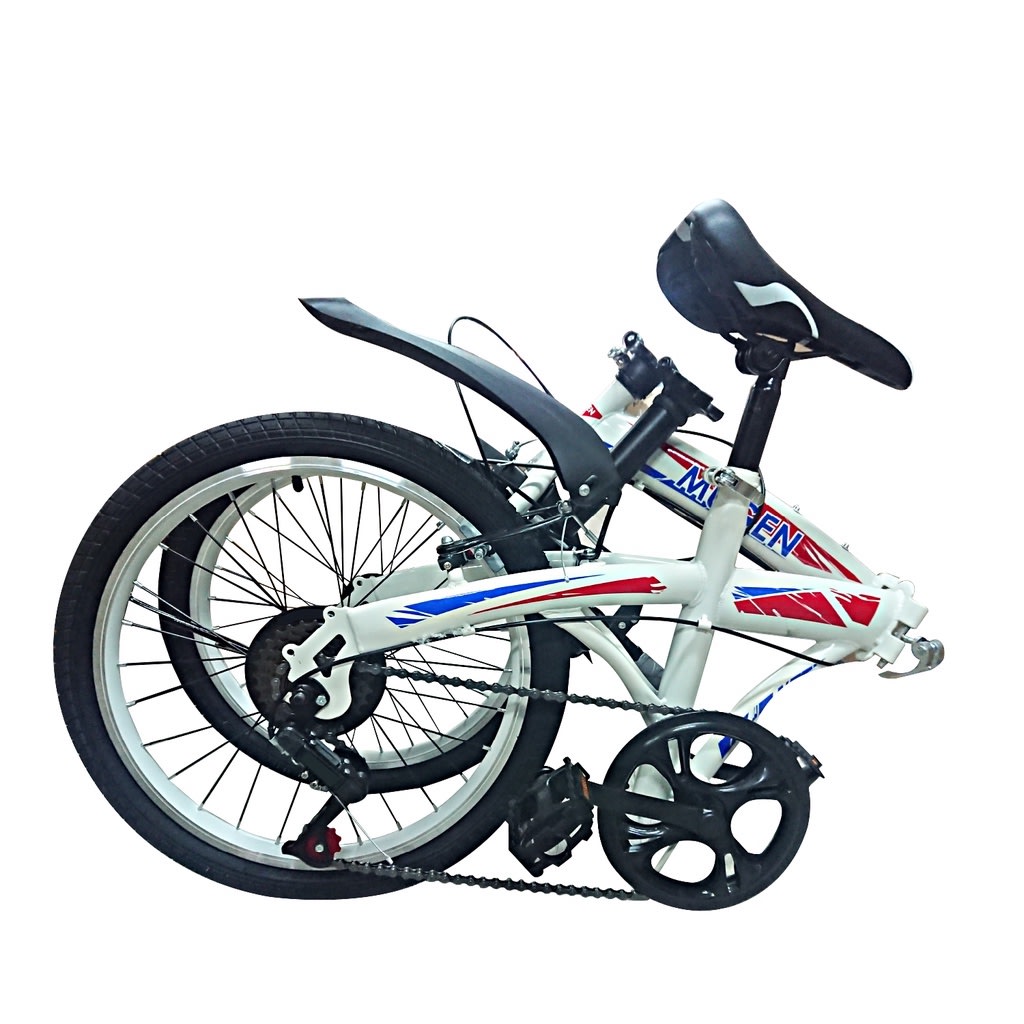 Check Mugen 20" Foldable Bike (MFC-8820) price below:
add_circle
Reasonable price
add_circle
Adjustable seat and handle
This 20" Foldable Bike from Mugen is great value for money, especially if you're trying to keep your bike budget under RM1,000. It's easy to fold, unfold and carry around. It has an adjustable seat and handles so you can change it to suit your height and it can hold up to 100kg in weight.
This foldable bike is also equipped with a 7-speed gear system, suitable for everyday riding, especially in residential and urban areas. The durable hand brakes offer more security and the comfortable handles have a non-slip surface for added grip.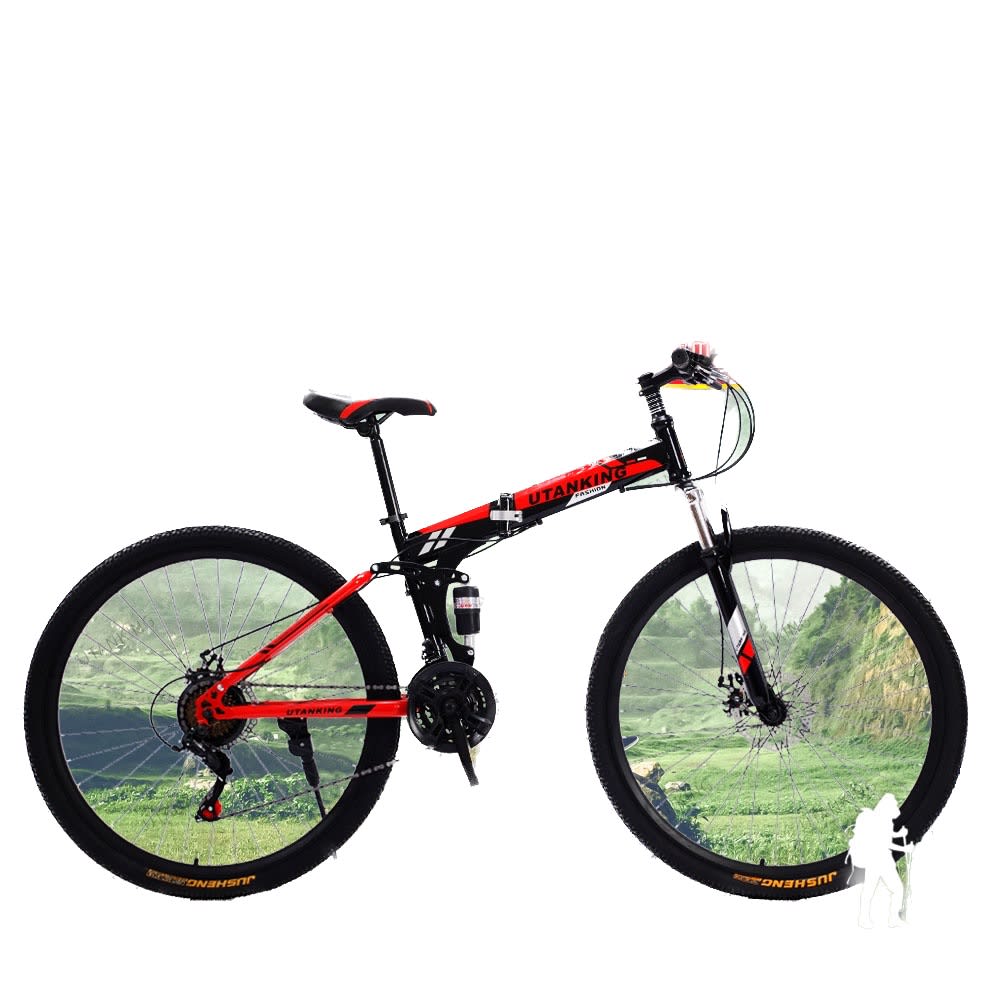 Check Utanking SHIMANO Mountain Bike 21 Speed Gear Folding Bike price below:
add_circle
Equipped with 21-speed SHIMANO gear
add_circle
120kg weight limit
If you have plans to go mountain biking and you need a foldable bike for easy transportation, get this Utanking option. It comes equipped with a durable 21-speed gear system from SHIMANO. The thickened front fork and rear suspension help to ensure a comfortable and stable riding experience.
The frame is made with durable high-carbon steel and the brake system is a double disc brake that will give you a smoother, safer brake. The brakes are also weatherproof so there's no worrying about rainy days. The 27" rims are great for rough terrains and the bike also has a maximum weight limit of 120kg.
FAQ
- Folding bicycles vs Regular bicycles
A foldable bike, as the name suggests, can be folded to take up less space. Nearly all folding bikes are portable, lightweight, and practical. However, the main difference lies in the frame for making them. And often times they cost more than regular bikes. If you have space and are only planning to use it for commuting, a normal bike would be enough.
---
- Are folding bikes the right pick for me?
You have to weigh the merits and disadvantages of a folding bike.
If you like travelling on a bike to reduce your carbon footprint and frequently use public transport, it would be great to have a bike you can fold up so as to not impede other people on the train or bus. The same goes for people who have smaller living spaces.
However, keep in mind that speed and stability may be compromised for convenience. In other words, you cannot expect to win races or do heavy mountain biking with a folding bike.
Related Articles: