Many favour the use of soap and water to clean their hands from bacteria and germs but when you're out and about, hand sanitiser sprays are the next best thing. Other than the fact that it is convenient and sterilizes skin, hand sanitiser spray with at least 60% ethyl alcohol can also be used to disinfect personal items or surfaces. 
Here, we look at the best hand sanitiser sprays in the market that give you your money's worth and suit varying skin conditions with formulations that include natural, organic ingredients that are moisturizing and smell good too. 
14 Best Hand Sanitizer Sprays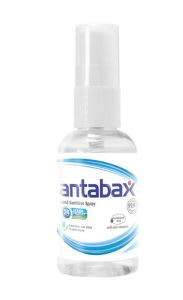 Check Antabax Anti-Bacterial Sanitizer Spray price below:
add_circle
Refreshing fragrance
This product is a perfect item to carry with you when running errands. Best of all, it's affordable.
Features
This product is non-sticky, quick-drying, and can even be used on surfaces such as trolley handles, doorknobs, etc. Besides, it is also dermatologically tested to be gentle on the most delicate skin. Among a few of the promising ingredients in the product includes aloe vera, skin vitamins, and the new Micro Moisture Serum to keep hands smooth, soft, and protected while leaving a pleasant scent. This is a Muslim-friendly option as it is Halal certified. 
Testimonies
Users love this product not only because of its petite size which makes it portable but they also find the product non-sticky and quick-drying. Most importantly, it keeps their hands moisturized after every use.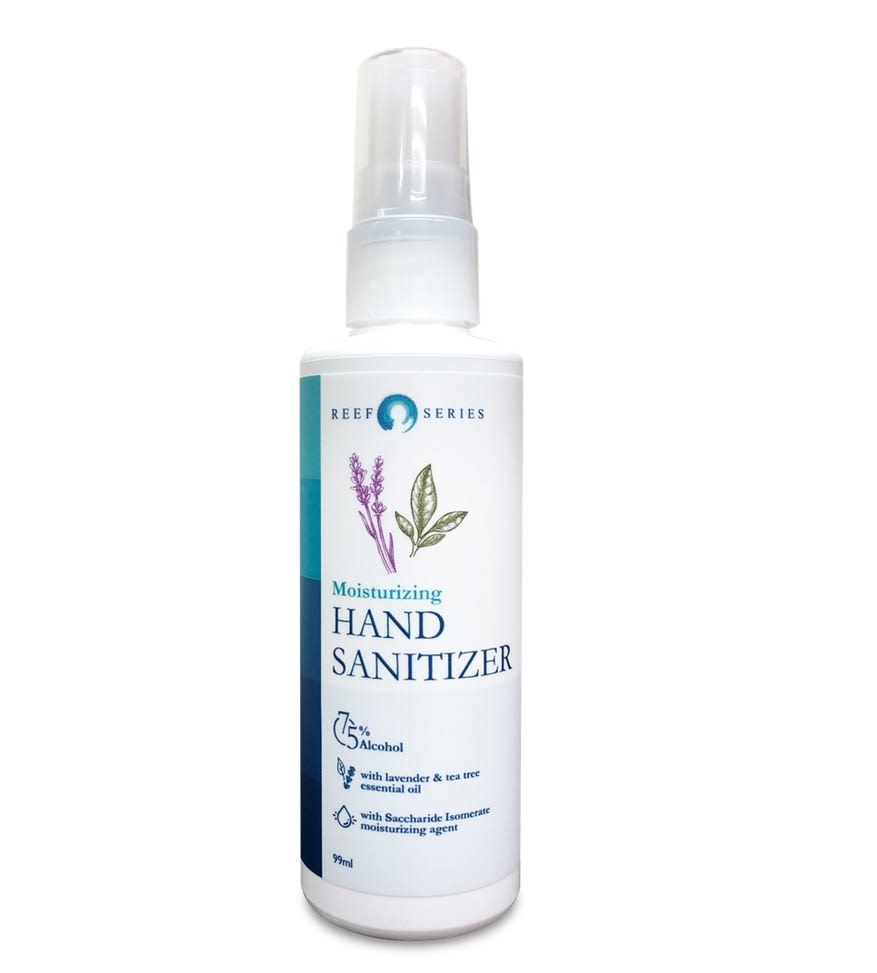 Check Reef Series Moisturizing Hand Sanitizer Spray (99ml) price below:
add_circle
Suitable for those with sensitive skin or skin conditions
add_circle
Contains moisturizing agents
remove_circle
Comes with a herbal scent
This product is ideal for people who have dry or sensitive skin or suffer from skin conditions.
Features
This sanitiser spray contains 75% alcohol with a plant-derived hydration hero called pentavitin that provides hydration for up to 72hours. It also contains Essential Tea Tree Oil, which is recognized for its antiviral and antibacterial characteristics, as well as Lavender, which is known for its antiseptic and anti-inflammatory properties.
Testimonies
Because of the natural and moisturizing ingredients, this product is favoured by those with skin conditions like eczema, dermatitis, and dry skin.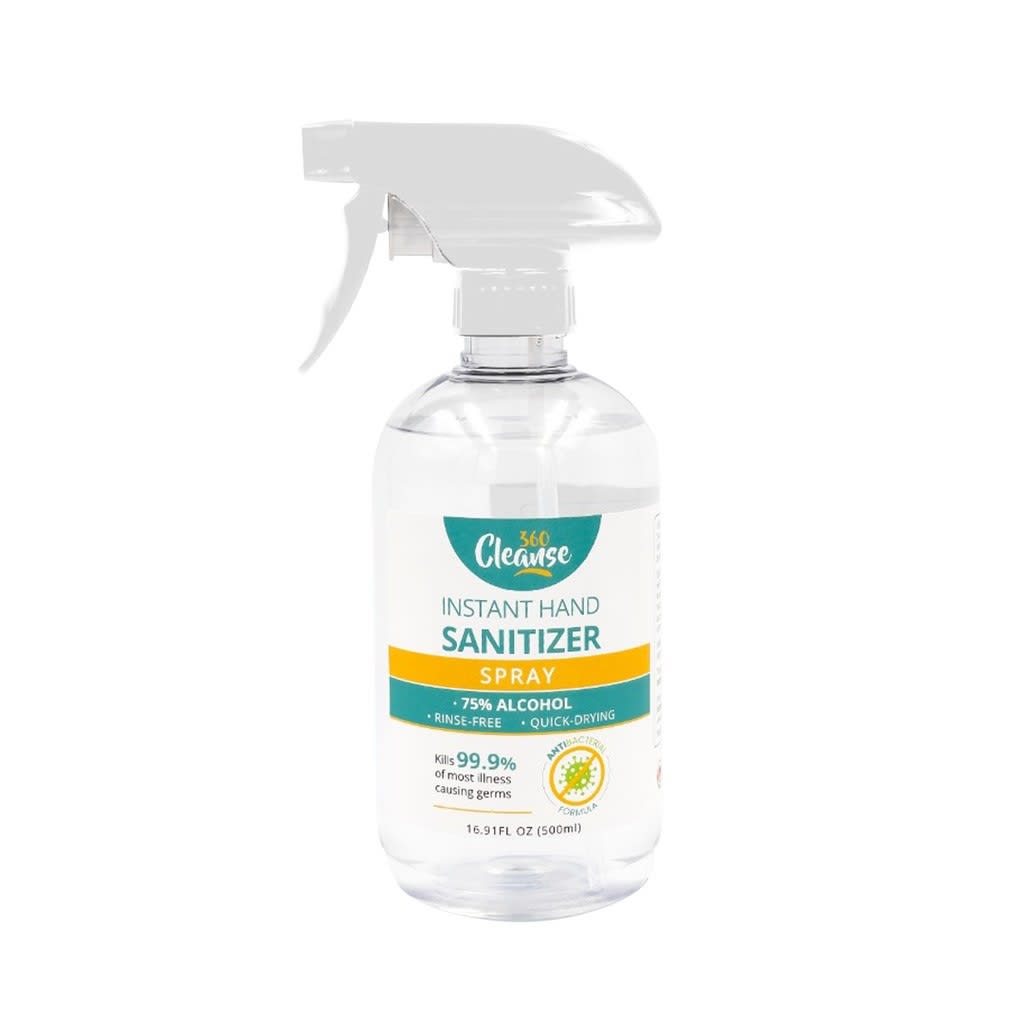 Check Cleanse360 Hand Sanitizer Spray (500ml) price below:
add_circle
Quick-drying formula
A pocket-friendly option that's just as good their pricier counterparts. 
Features
Users have expressed their satisfaction and approval for this product mainly because of its effectiveness. With 75% ethanol alcohol, this 500ml product has a sterilizing rate of 99.9% at a really low price! There's also a fragrance-free option available.
Testimonies:
Even though the size of the bottle can be a bit bulky to be carried on the go, reviews suggest that the product is loved for its non-sticky formula. Moreover, it leaves no residue and has yet to receive a complaint about its form or value!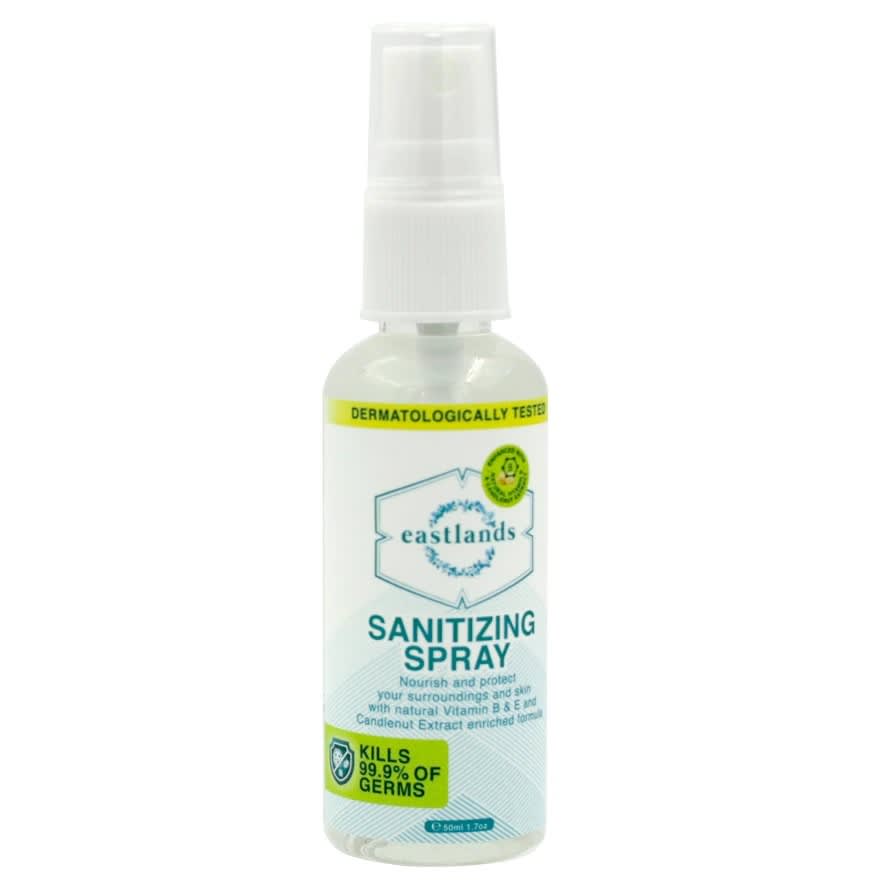 Check Eastlands Hand Sanitizer Spray (50ml) price below:
add_circle
Moisturizing formulation
add_circle
Natural bland with vitamin B & E
Known for their long list of varying products, you may also count on Eastlands for their inexpensive, yet powerful hand sanitiser spray.
Features
With 75% of denatured alcohol and 0% of methanol, formulated with a unique composition of Candlenut extracts which further strengthen the elimination of germs and bacteria, this sanitiser packs a punch. It's also rinse-free, non-sticky, and enriched with skin vitamins to keep your skin feel soft, fresh, and clean all day. Try this locally made, MOH-approved sanitiser!
Testimonies
Besides its small size, the product is often picked by many germaphobes for its tolerable scent. The product is versatile and can be used to sanitize all sorts of surfaces to keep germs away.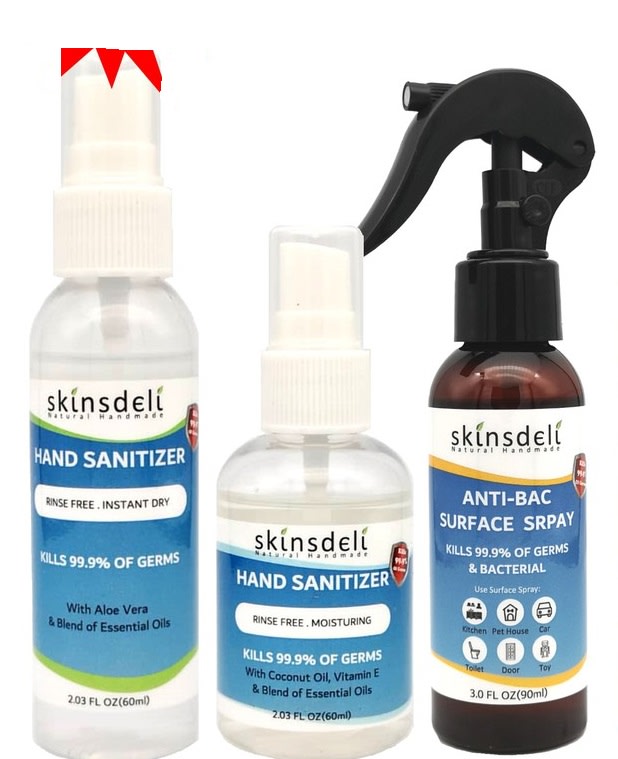 Check SkinsDeli's Hand Sanitizer Spray price below:
add_circle
Skin hydrating
add_circle
Sensitive-skin friendly
remove_circle
Slightly sticky after application
When a sink is nowhere to be found, whip out this essential oil hand sanitiser spray.
Features
This spray sanitiser is perfect for essential oil aficionados. This sanitiser with 75% alcohol is a must-have item in your bag for your sensitive skin. Tea tree, eucalyptus, peppermint, and lavender are added to help counteract the drying effects of the alcohol in the product.
Testimonies
Many have vouched for this product because of its smell and promising ingredients. Even though some essential oil users find the scent a bit strong after every spray, the smell lightens up after a few minutes, leaving your hands feeling clean and comfortable.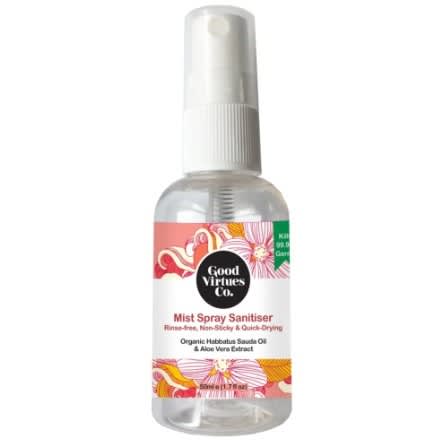 Check Good Virtues Co. Mist Spray Sanitizer (50ml) price below:
add_circle
Contains Aloe Vera extract to moisturize skin
add_circle
Free from mineral oil, parabens, and synthetic colourants
remove_circle
Not toddler-friendly
Known for their Muslim-friendly products, you can also rely on Good Virtues Co. Mist Spray Sanitizer to keep you germ-free.
Features
This mist spray contains organic Habbatus Sauda Oil which is great for skin rejuvenation and Aloe Vera Extract for maximum deep hydration and great soothing effects. You can also use the mist to disinfect surfaces. This product is formulated with Chlorhexidine Digluconate for double protection.
Testimonies
This product with no minerals and parabens is an ideal pick if you're looking for a superior calming effect. Its efficiency in sanitizing, pleasant scent, and convenient size makes it a superb choice.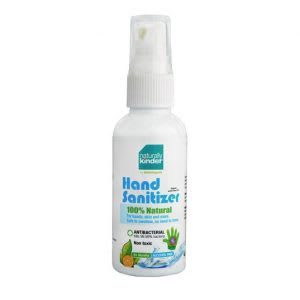 Check Baby Organix Naturally Kinder Hand Sanitizer price below:
add_circle
Safe for children
If you have children, you know that whatever their little hands come into contact with will probably end up in their mouth or nose. Try the BabyOrganix Naturally Kinder Hand Sanitizer for a quick fix.
Features
Thanks to a combination of soothing chemicals tailored specifically for fragile baby skin, this sanitiser is a good recipe to eliminate bacteria and germs. Because it is plant-based, it softens the skin, preventing your infant from experiencing the itchy, dry sensation that can be triggered by the use of alcohol-based products. Interestingly, it's so safe that the brand's website stated that it can be swallowed! Fascinating, huh?
Testimonies
The product is often used to clean hard surfaces and children's belongings. As it has a safe-to-swallow formulation that kills up to 99.9% of germs, fungus, bacteria, and viruses,  the product can be used to clean teethers and other feeding equipment without any rinse!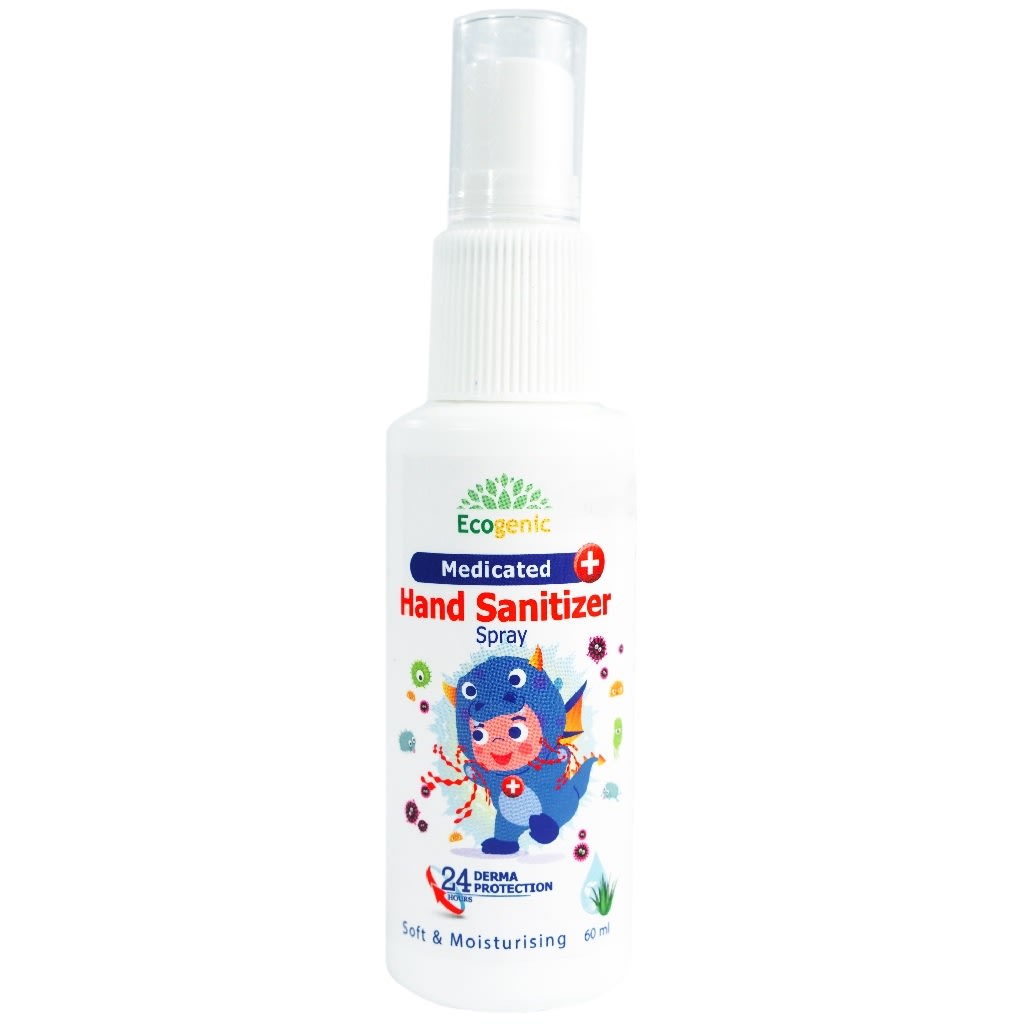 Check Ecogenic Medicated Hand Sanitizer Spray (60ml) price below:
add_circle
Safe for children
If you're looking for a natural sanitiser, check this one out. 
Features
This brand takes pride in its proven medicated formula that's safe for children and gentle on hands. With 75% Ethanol, this powerful plant-based hand sanitiser spray helps to keep virus and bacterium infections away. As it has aloe vera, the product also serves as a brilliant moisturizing sanitiser for your little ones.
Testimonies
Recommended by many parents for its non-sticky and moisturizing properties, this product is a must-have for your peace of mind. With school starting soon, you may rest easy knowing that you have found the right gentle-on-hand sanitiser for your child.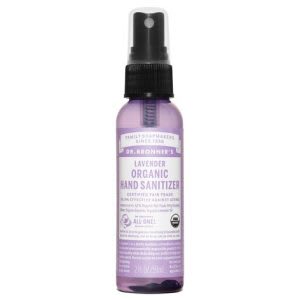 Check Dr. Bronner's Organic Hand Sanitizer price below:
add_circle
Can be used as freshener/deodorant
add_circle
No GMO-ethanol or petrochemical thickeners
For active individuals who love floral scents, this gentle and calming sanitizer is the one for you!
Features
This Organic Hand Sanitizer is made out of only four ingredients: 62% organic fair trade ethyl alcohol, water, organic lavender oil, and organic glycerin. It's gentle enough to be used on the face and can even be used as an air freshener or deodorant. 
Testimonies
This product doesn't only kill germs or bacteria as many other sanitizing sprays do, users fall for it because it can be used as a deodorant and air freshener too. It has everything we all need!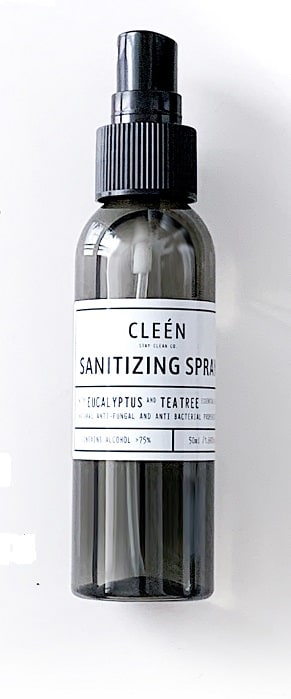 Check Cleen Hand Sanitizer Spray Disinfectant Spray price below:
add_circle
Quick-drying formula
add_circle
Travel-size bottle
remove_circle
Comes with a herbal scent
Packaged in a sleek aesthetic container, this product might be just what you need if you're looking for an organic sanitiser.
Features
The hand sanitiser spray is plant-based with 75% alcohol. And the soothing scent of eucalyptus is said to be able to relieve flu symptoms and tea tree oil kills bacteria viruses. These essential oils are a perfect combination due to their antimicrobial and antiseptic properties.
Testimonies
The small-sized bottle is ideal for on-the-go protection, and can be kept in your car, office, purse, or even brought on a plane. It is a repeat purchase for many due to the natural sanitizing abilities of the two natural active essential oils as a combination.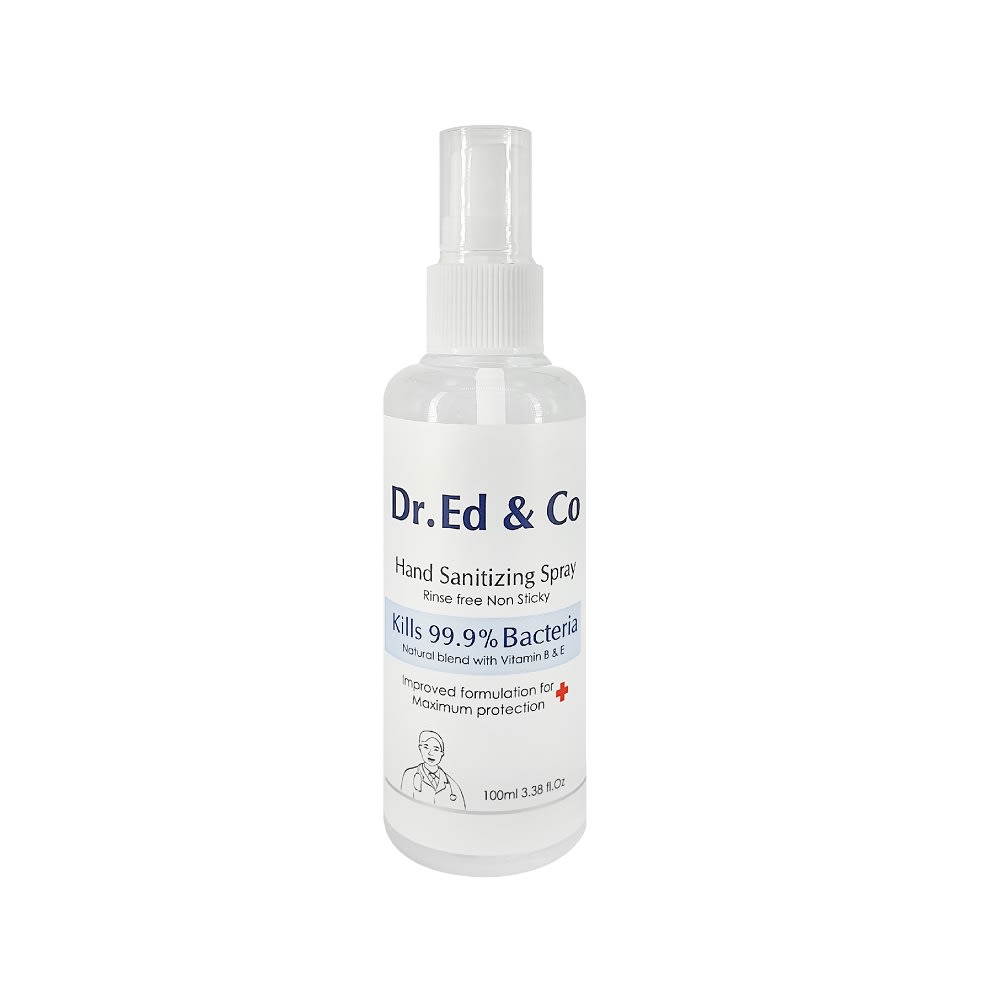 Check Dr. Ed & Co Hand Sanitizing Spray (50ml) price below:
add_circle
Registered with Ministry of Health
add_circle
Contains vitamin B and E
Ever since its establishment in 1987, this brand has been striving to provide the best products for our skin. They have yet to disappoint. #JomSupportLokal!
Features
This SGS Labs tested hand sanitiser spray is loaded with skin vitamins to help keep your skin soft, fresh, and clean by moisturizing it. This sanitiser is kind to sensitive and easily irritated skin as it is paraben-free. Give this local product some love!
Testimonies
This sanitizing spray is found to have left users' skins feeling fresh and moisturized because of its skin vitamin ingredients. Reviewers online have also expressed how easy it is to sanitize surfaces with the product in just under 30 seconds!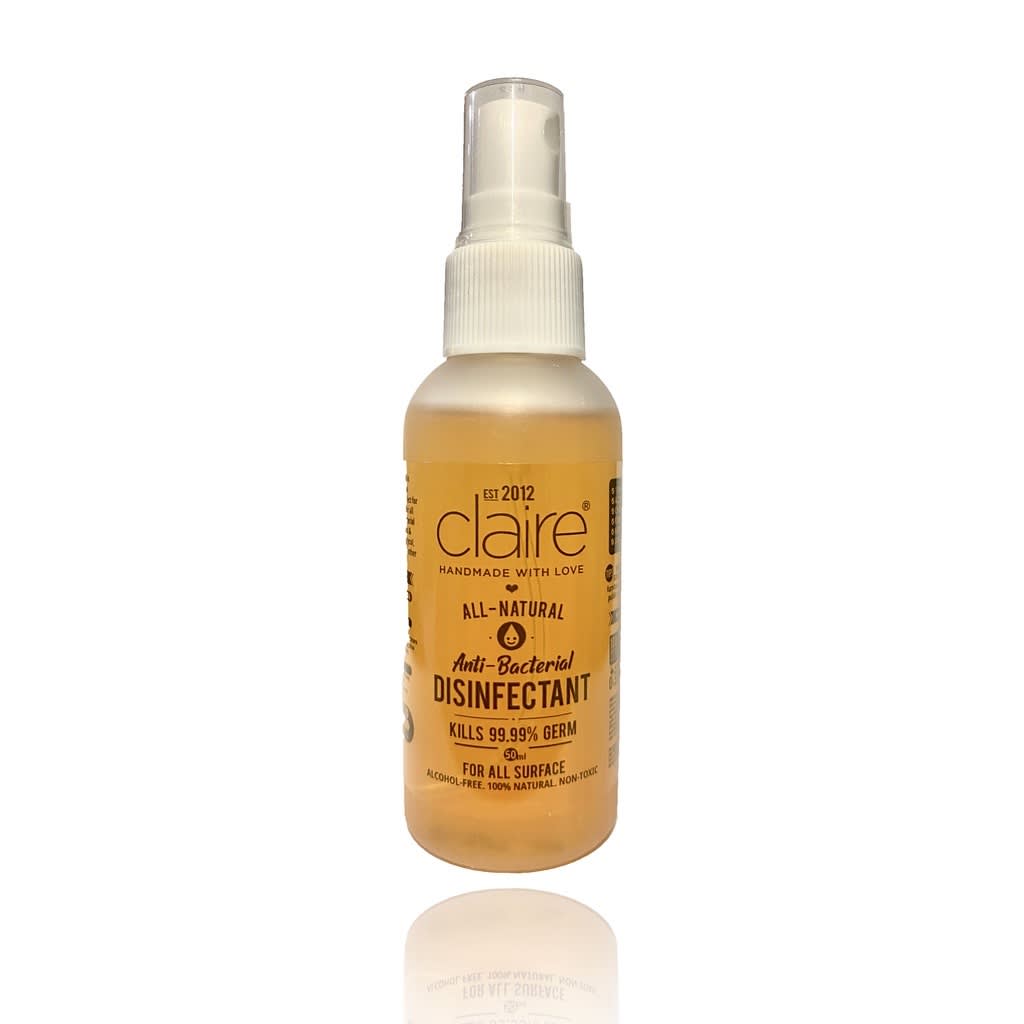 Check Claire Organics Hand Sanitizing Spray (50ml) price below:
remove_circle
Slightly pricey
This option scores major brownie points for being an all-natural, local product.
Features
The Claire Organics Hand Sanitizing Spray is alcohol-free and kills 99.9% of germs. It is a non-toxic formula, made of 100% plant extract, which serves as a great option for kids. Plus, it is suitable to be used to disinfect all surfaces such as your mobile phone, yoga mats, office desks, etc.
Testimonies
Even though this sanitizing spray is alcohol-free, this all-natural anti-bacterial disinfectant is capable of killing germs and bacteria on surfaces and skin. Besides, the product is safe for children as it contains no harmful chemicals and parabens.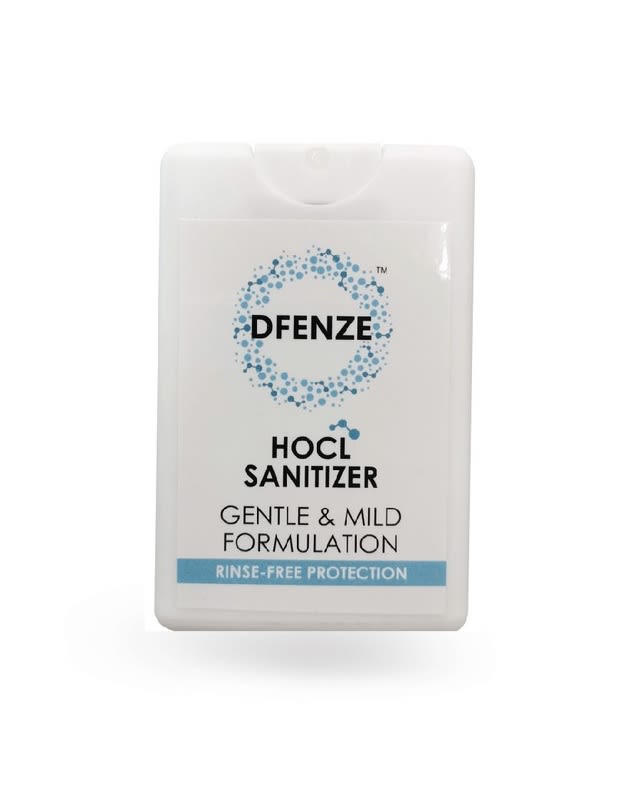 Check Dfenze Hocl Hand Sanitizer Spray (20ml) price below:
add_circle
Suitable for all ages
What's so interesting about this is that the brand claims that its product disinfects 80 times higher than alcohol and bleach with the same concentration!
Features
Natural Acid is one of the active ingredients in this petite hand sanitiser spray. As some of us might know it, hypochlorous acid (HOCL) is produced naturally by human's white blood cell to combat pathogens and inflammation. Plus, the product is non-toxic and rinse-free too. 
Testimonies
Dfenze Hocl Hand Sanitizer Spray works quickly to disinfect your hands and surfaces. Users love the brand because due to its portability and the fact that it sprays up to 300 times despite its size.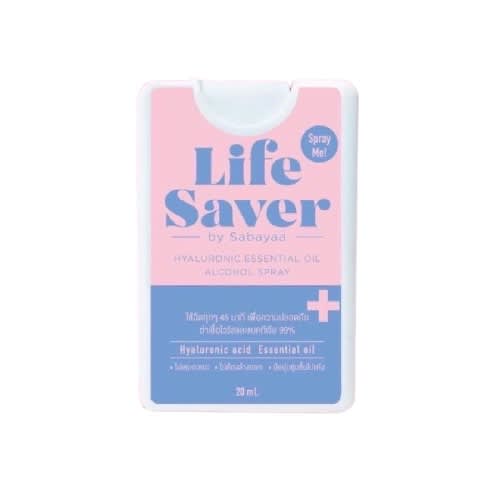 Check Life Saver Hand Sanitizer Spray (20ml) price below:
add_circle
Wide range of scents
add_circle
Safe for pregnant ladies and kids
The cute packaging makes this hand sanitiser spray irresistible. With just a spritz, you'll get to enjoy the sweet-smelling scent of your choice while sanitizing.
Features
There are many scents available to choose from so there's something for everyone! This 20ml product is anti-bacterial, pH-balanced, and moisturizing due to the hyaluronic essential oil. Not to mention, it has 15% more than the minimum 60% recommended alcohol concentration to disinfect germs.
Testimonies
Due to the vast range of scents they offer, there will surely be something for you. Moreover, the product is anti-bacterial, non-sticky, and contains 75% ethyl alcohol; making this a child-friendly option!
---
More related antiseptic spray recommendations: