With the global pandemic not ending anytime soon, we must all continue to take cautionary measures to stop the spread of the Coronavirus (COVID-19). One way to do so is to mask up at all times. By wearing a face mask, you can prevent your cough and sneeze droplets from travelling in the air and potentially infecting others.
Of course, the best way to protect yourself and others during the pandemic is by staying home and practising social distancing. But life goes on, so as we forge ahead in this time of recovery, let us be prudent and stick to the SOPs to stay safe.
---
Sewing a good quality face mask is not easy. On top of that, you'll have to make sure that it has a filter too. Disposable face masks are reliable and offer adequate protection.
You're probably reading this because you typed "face mask Malaysia", "kn95 mask Malaysia" or "best kf94 mask brand in Malaysia" into the search bar.
Well, you've come to the right page. Keep scrolling to shop for the best face mask brands, and even cloth face masks with cool patterns. We've also go answered FAQs that should answer any queries you might have.
---
Best Face Masks in Malaysia 2023
---
Best face mask brands in Malaysia(reviews)
While most brands technically meet the safety standards, there have been certain brands that have caught the attention of buyers for their affordability and high reviews.
To note, a good quality mask is thick with 3-ply, with the earloops not tearing apart easily. Moreover, they should fit over the face like a glove and that it does not easily irritate the skin.
Here's what we found out.
---
Editor's Choice: Iconic Medicare 4 Ply KF99 Korean Medical face mask review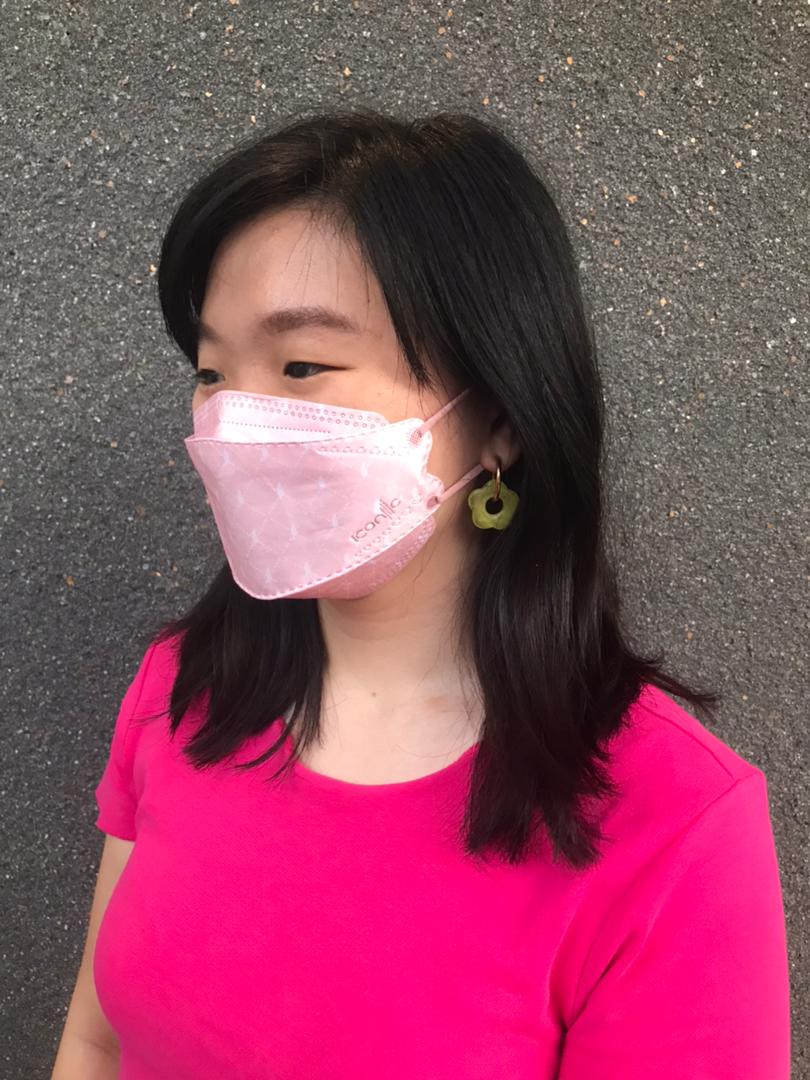 Let's get into it then. The mask feels soft and does have a more premium feel to it compared to other masks on this list. The difference in quality is evident though not significant in terms of filtration efficiency.
If you'll be masked up all day, you'll love this mask as the earloops are comfortable and aren't too tight. Fit is good too as you can see there are no gaps at the nose bridge, side or bottom. The mask sits well on the face.
These masks are apparently hypoallergenic so if you've got sensitive skin or are concerned about "maskne",  the Iconic Medicare 4 Ply KF99 masks would be a good option for you. Our editor's skin type is not sensitive. However, she has experienced "maskne" wearing other masks though not with this one.
This mask features a 3D Slim Fit Cutting which apparently results in a slimming effect. Not too sure about its efficacy but looking at the picture, you can indeed see that where the line of the mask is situated creates the illusion of a sharp jawline. Yet another reason to buy this mask!
With 8 colourways/designs to choose from, decide between neutral tones like Ivory Cream, Snow White and Neutral Brown, or go for Turquoise if you want to add a pop of colour. Our editor wears Pink Monogram in the picture above. The subtle shade of pink with the white pattern adds some character to any look without drawing too much attention.
---
Supmedi KN95 mask review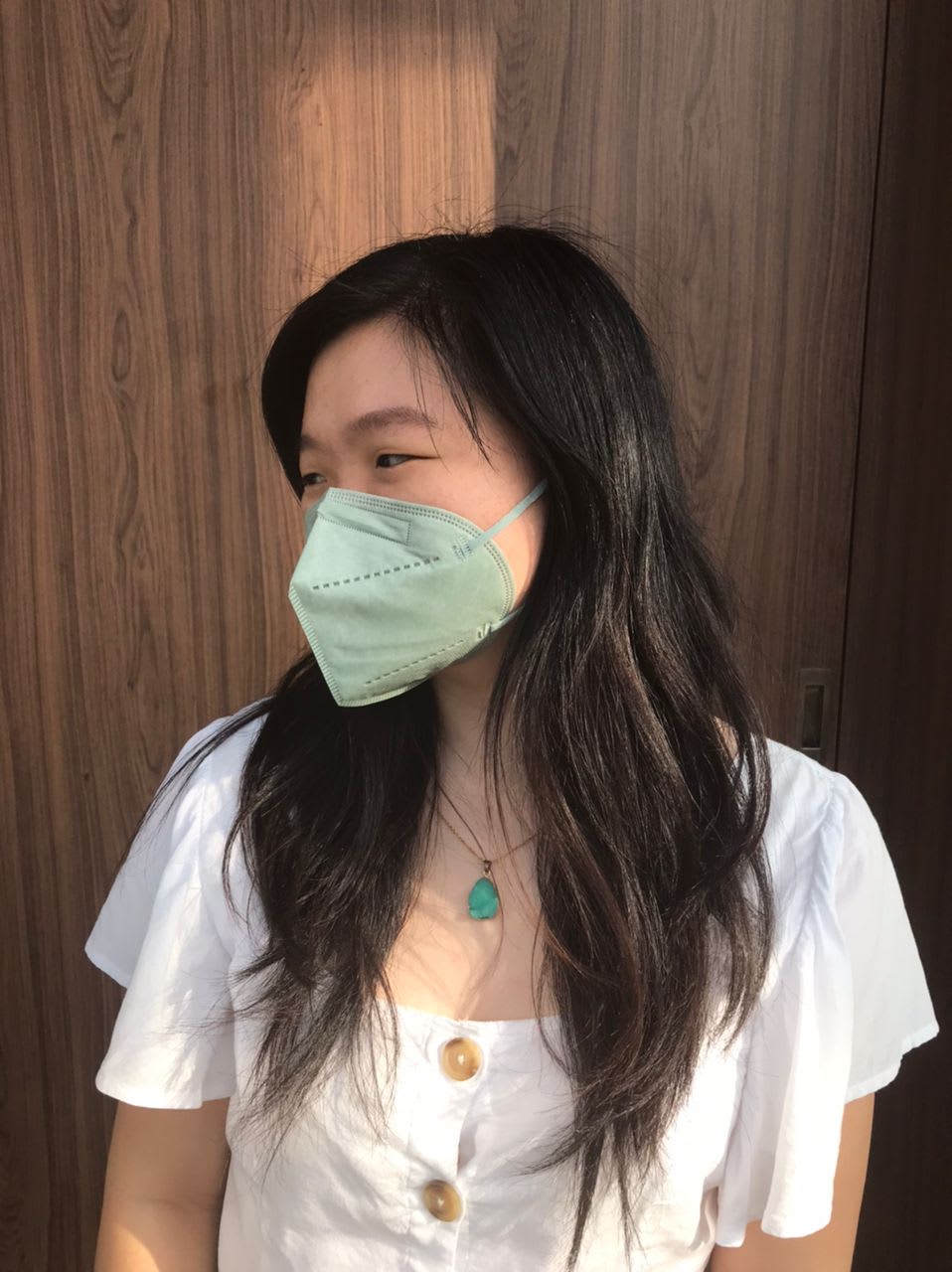 The fit is good without any gaps and does not feel tight or uncomfortable.
As you can see, it looks very much like a bird beak as it sticks out from your face, leaving a gap between your mouth and the mask, making it breathable.
Our editor highly recommends this to those who still wear lipstick diligently as you won't have to worry about having to constantly touch up as it won't smudge or smear your mask.
We're also happy to report that its claim of being water-resistant rings true; tried and tested by our editor. This is great especially if you pull your mask down to your chin(though not advisable as the potentially contaminated external surface of the mask may come into contact with your face and possibly your lower lip) when drinking. If you're a little messy and occasionally spill some water, it won't completely wet the mask and render it unusable.
General views on this mask are that it is soft and comfortable; the earloops do not hurt nor snap easily.  The fact that these are individually packed makes it perfect to throw in your bag as a spare as you won't need to worry about contamination.
While KN95 masks are great, our editor had not worn them before testing it out for this article. She does like them but prefers the shape of the KF94 to the bird-like one of the KN95.
---
Supmedi KF94 mask review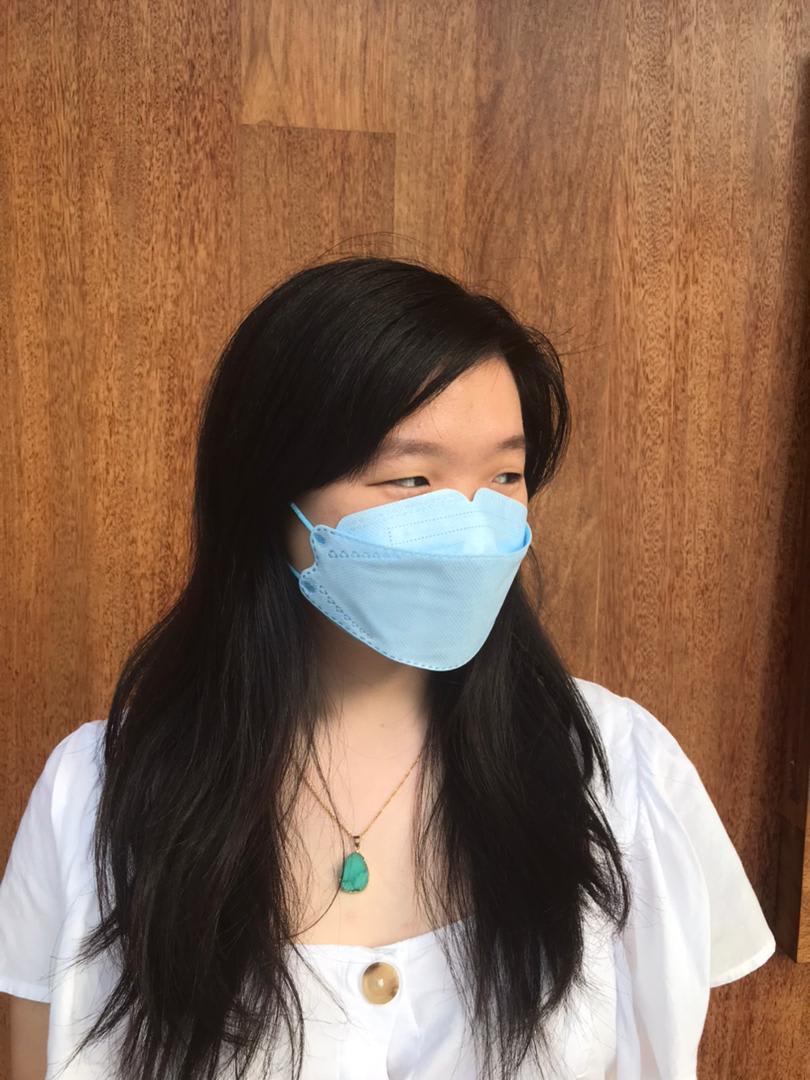 KF94 masks are a personal favourite of our editor due to the pocket of air between the mask and face that ensures breathability. She does not feel the need to double mask and has been exclusively wearing KF94 masks since discovering them over 6 months ago and only resorts to 3-ply masks out of convenience and necessity. However, she had not worn the Supmedi ones prior to this review!
These are of good quality and have elastic earloops that won't snap easily. Providing a secure fit that's free of gaps, you can go about your day without worry. Despite how comfortable it feels, the earloops are not loose but do not dig into the skin.  
It's also available in kid's sizing, and hijab wearers will be happy to note that there are headloop ones too.
Besides, if you've started wearing lipstick again, this is the mask for you as it has anti-stick lipstick so you won't have to worry about staining your mask. Notwithstanding, it is our editor's humble opinion that the KN95 is superior in this regard.
---
Champion 4-ply medical mask review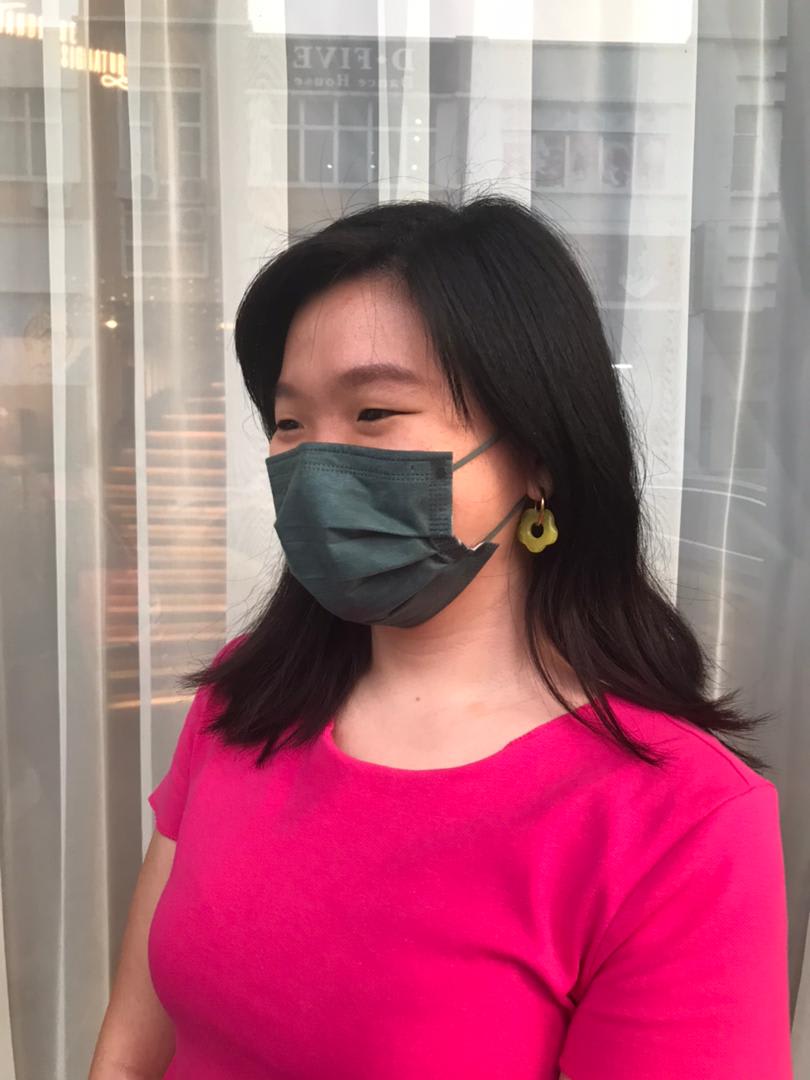 Our editor tested this mask out while doing quite a bit of walking. Unfortunately, she had difficulty breathing and found herself pulling the mask down(in open-air spaces without crowds). However, this may be suitable for wearing at a desk job in the office as you wouldn't be moving around a lot and feel too out of breath.
Now, let's talk about fit. As pictured, there is a gap on the side but this is common with masks of this structure. In fact, it isn't exactly a gap but more of that the mask doesn't sit flat according to the contour of the face.
This 4-ply mask by Champion is pretty thick and our editor would not personally recommend it for double masking though it's possible.
Apart from that, it is soft and comfortable nonetheless. Besides, a fair number of units have been sold owing to their quality and affordability which are not in dispute.
These come in a box of  50 that will last you over a month if you only wear one a day, and we think this is a gorgeous shade of Hunter Green.  We love how high quality they are despite their affordability. As low as RM9.89 per box, that amounts to barely 20 cents per mask.
Stock up on these today and keep you and your loved ones protected!
---
3 Layer Ultra Soft Premium Disposable Face Mask review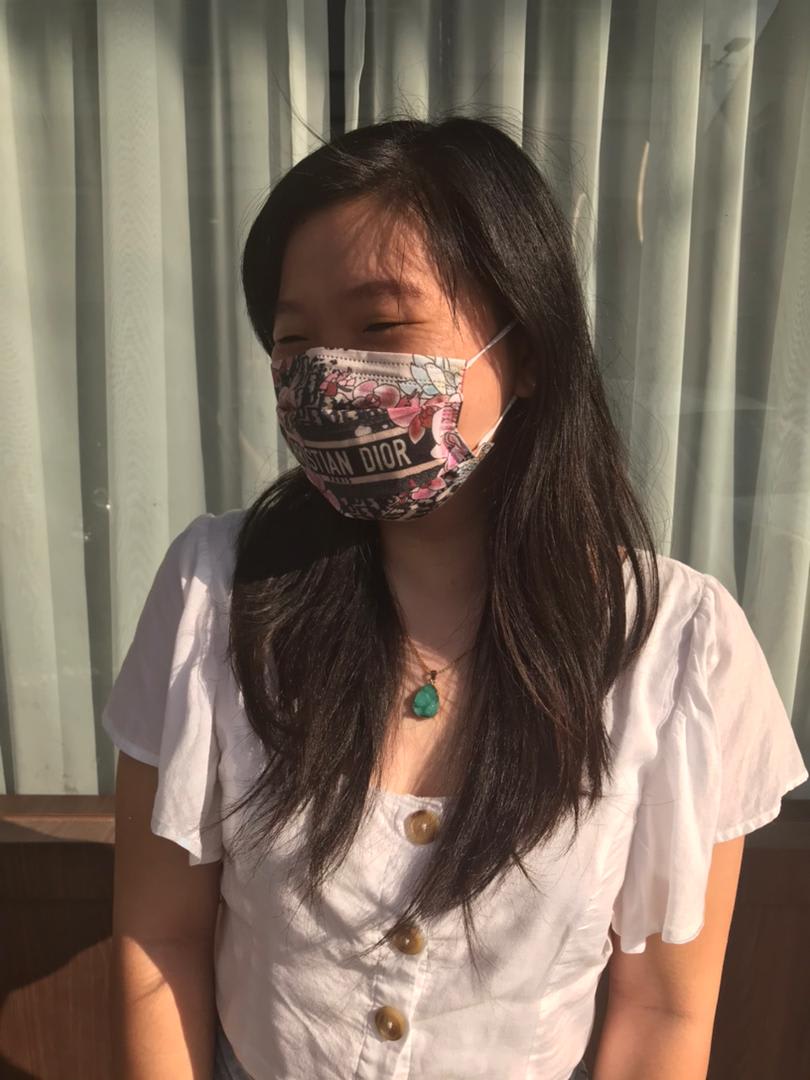 Despite their affordability, their quality is impressive and is better than most 3-ply OEM masks on the market as these have a thickness to them. As is the case with masks of this structure, there is a gap on the side as pictured. However, these are perfect for double masking as they aren't too thick.
Though not personally a fan of such bold designs, the floral print is pretty and feminine. Especially in light shades of blue and pink coupled with neutral colours, our editor may be persuaded to include this mask in her rotation!
Plus, if you're double masking, the design is the last thing on your mind.
What you'll want to take note of is the fact that this mask is comfortable, and can be worn on its own for adequate protection. Nevertheless, you would still be able to wear a cloth mask over it without breathability being affected.
These come in a box of 50, and at under RM10 there isn't much to debate! It has a high filtration rate, features attractive designs, and is of good quality. The earloops are stretchable too and don't break easily. Snap these up today!
---
Medishield Earloop 3-Ply Masks review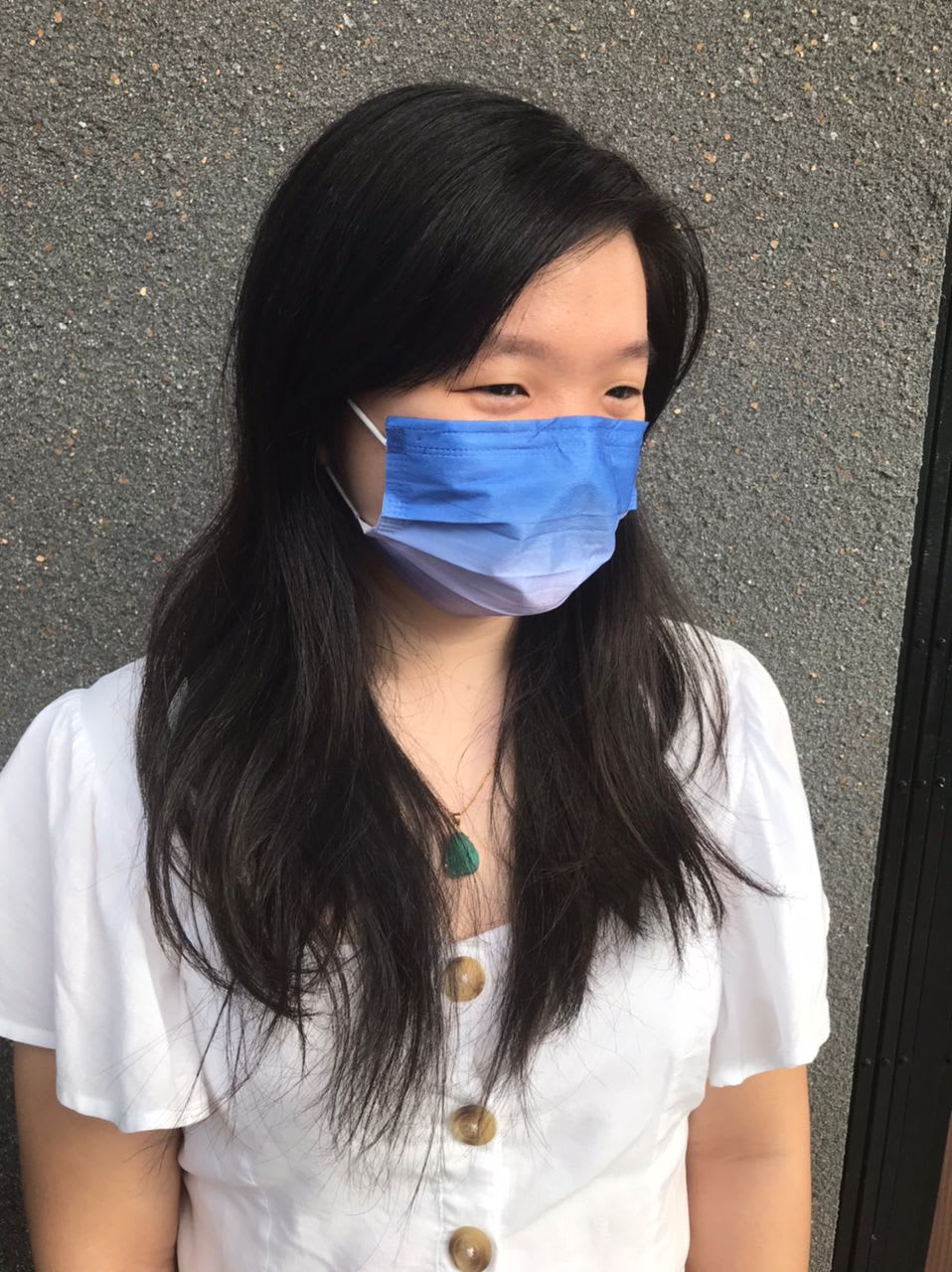 Let's get down to business. Here's another 3-ply mask on our list. Frankly, it's nothing to shout about. But, our editor is obsessed with this ombre colourway!! So much so that it warranted the use of not one, but two exclamation points. Just look at it.
This mask feels thinner compared to the previous option above. It's definitely soft to the skin and is light and breathable. You would not face any problem double masking with this one.
It's great, especially for our hot and humid weather. If you'll be out on the go all day long, this mask will be perfect for you. Worn on its own, it should offer sufficient protection.
Affordable as it may be, its quality is still commendable as you get a water-resistant premium non woven fabric layer. Our editor tested it out and the inner layer indeed did not get wet at all.
With over 15k units sold, there's really not much to fault with this mask. Buyers are satisfied with its quality and comfortable wear. It is good value for money and is available in other pretty colours! If you're not feeling too adventurous, this does come in the regular white and blue variation.
In the meantime, our editor will be stocking up on these.
---
3D cotton cloth mask review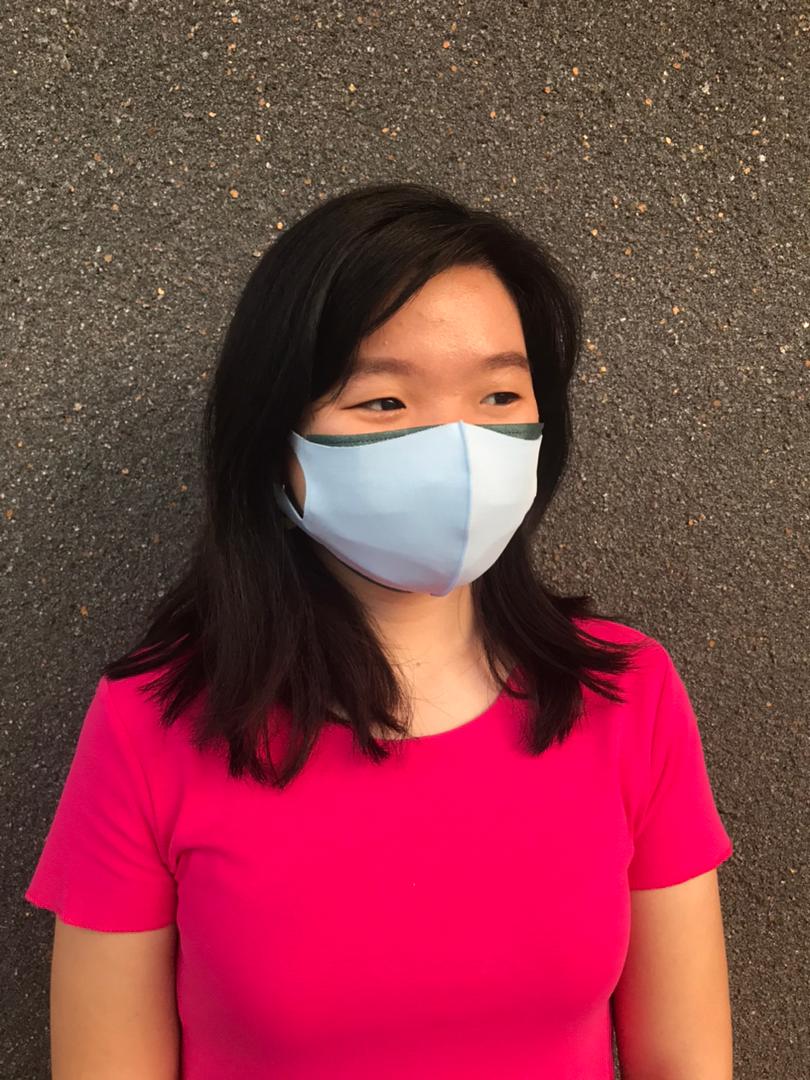 Look how well it fits over a surgical 3-ply mask! It definitely enhances fit.
It feels soft and is breathable. Yes, we've said this countless times throughout this article but it's important to know. Our editor owns a mask that's similar to this one and has used it for double masking over the last few months. While her mask tended to come off during wear, she was pleased to find that this one stays on.
Besides, given its low price, we caution you not to expect this mask to last you for a long time. Our editor's mask that's of similar quality to this one has shown signs of wear and tear with almost daily use of it, and will need to be replaced soon.
This mask has not been tested for long so we can't speak to its durability but given its similarity to hers, don't get your hopes up.
With that said, it's so cheap that we wouldn't mind replacing it every few months after getting much use out of it.
---
Plain cloth headloop mask review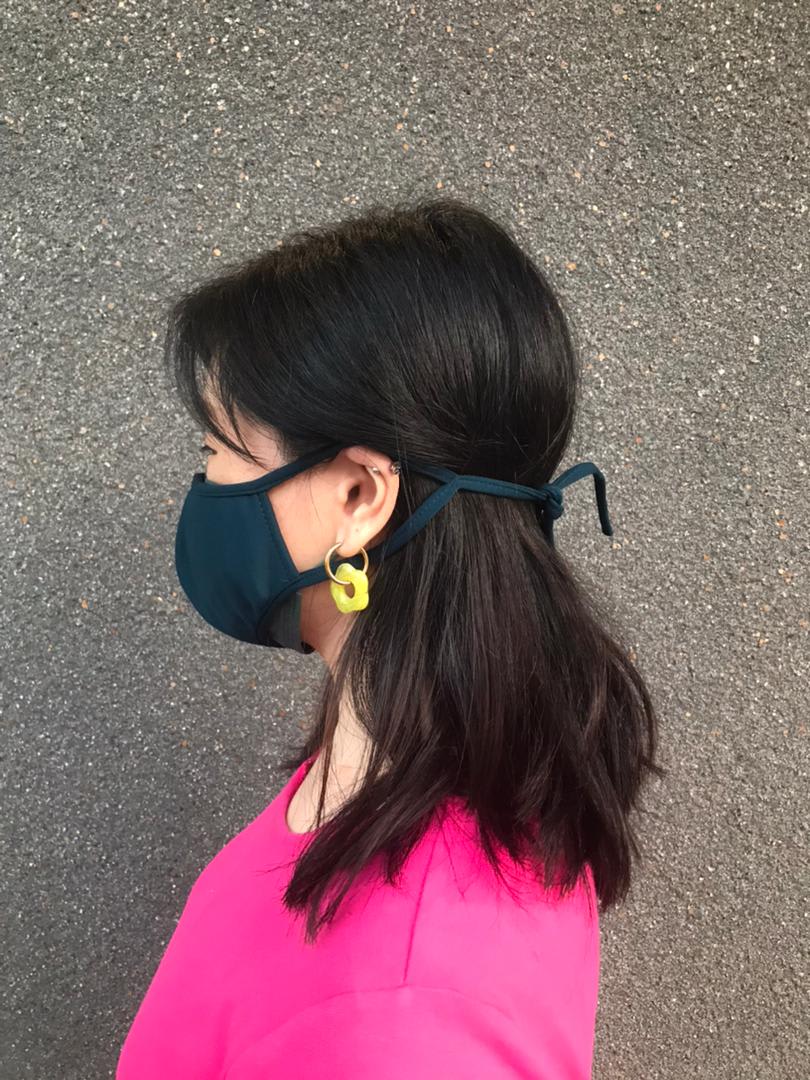 Our editor has never worn a headloop mask before reviewing this one. Verdict: It can be difficult to wear on your own. The help of a friend was required to put it on.
It may be easier to put on with practice but she's not a fan of it as it's a hassle with hair in the mix and is not sure if she would give it another try.
It is conceded that the fact that it's self-tie allows for an excellent fit as it can be adjusted to your preference and comfort. What you do not see pictured is that the interior actually has a bit of a gap, making it breathable. In terms of size, this would be good for those with broad faces as it covers the face well.
Quality-wise, these feel premium but without that hefty price tag. It's thick and is well-made but unfortunately does not come with a filter pocket. It is not advisable to wear a cloth mask on its own as it offers little to no protection, especially against the Omicron variant that is highly transmissible.
Hijab wearers, if you're on the lookout for a new headloop mask, this would be an excellent choice. You'll surely be able to find one that matches your hijab as it comes in many colours. Our editor loved the colour of this mask!
This mask has received many positive reviews and 5-star ratings, selling 10k units at the time of writing.
---
ROO 4 Layer Reusable And Washable Face Mask review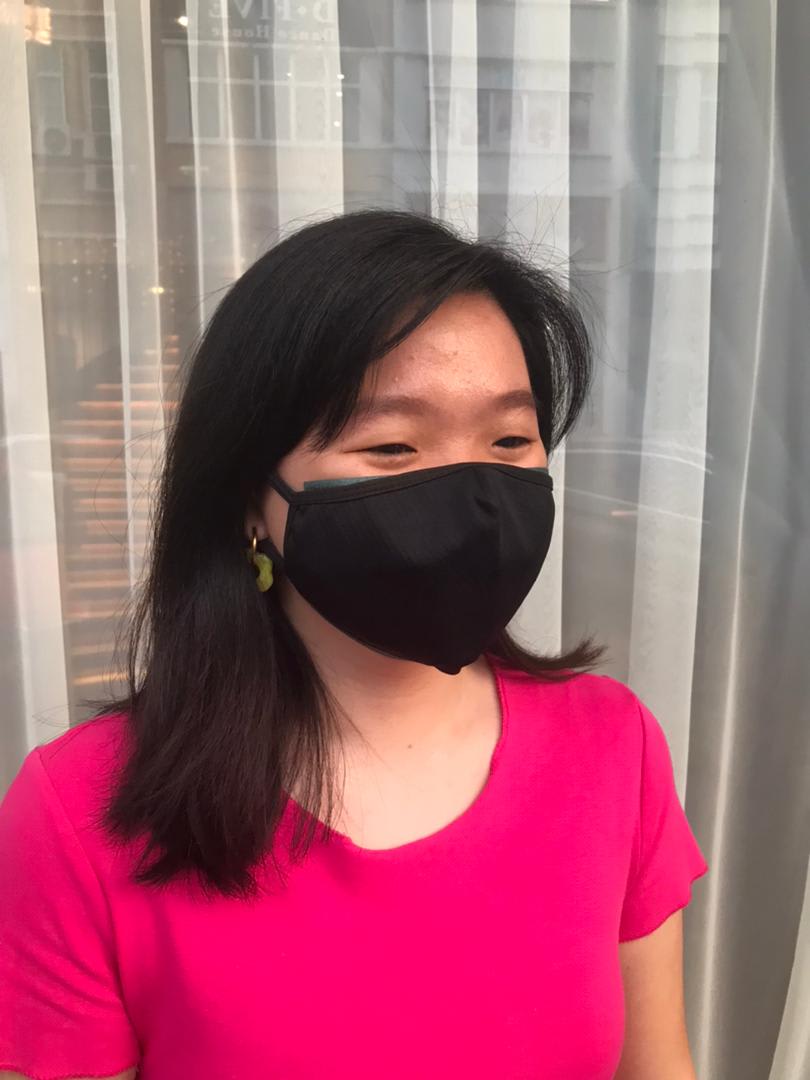 It's giving Korean street style. We love a minimalist plain black mask that goes with everything. This mask is of good quality and it apparently expels heat. Sounds like a recipe for double masking perfection! Available in sizes S, M and L; Size S is recommended for kids. According to ROO, their masks have a lifespan of 50 washes.
Our editor says that it's indeed suitable to be worn as a double mask. She did not feel hot when wearing it as it is lightweight, and probably expels heat as claimed.
However, it's disappointing that this mask does not come with filters and a filter pocket.
Based on buyer reviews, it is reasonably priced and is of decent quality though it could be better. Reviews are mixed with some being extremely satisfied with their purchases. Though we have to agree that the earloops are not the most comfortable. This can sometimes be attributed to wearing the wrong size but it could be due to the fact that the earloops are not very stretchable. Something to bear in mind but our editor found the fit to be alright.
One buyer rated it 4 stars and noted that ROO masks are smaller than Nextcare ones though measurements seem to be the same. While the quality is acceptable, the cutting and fabric are inferior. Do note that Nextcare masks cost 5 times more when making your judgement. You get what you pay for.
---
HealPlus 3-Ply Fabric Mask(with PM2.5 disposable bacterial filter) review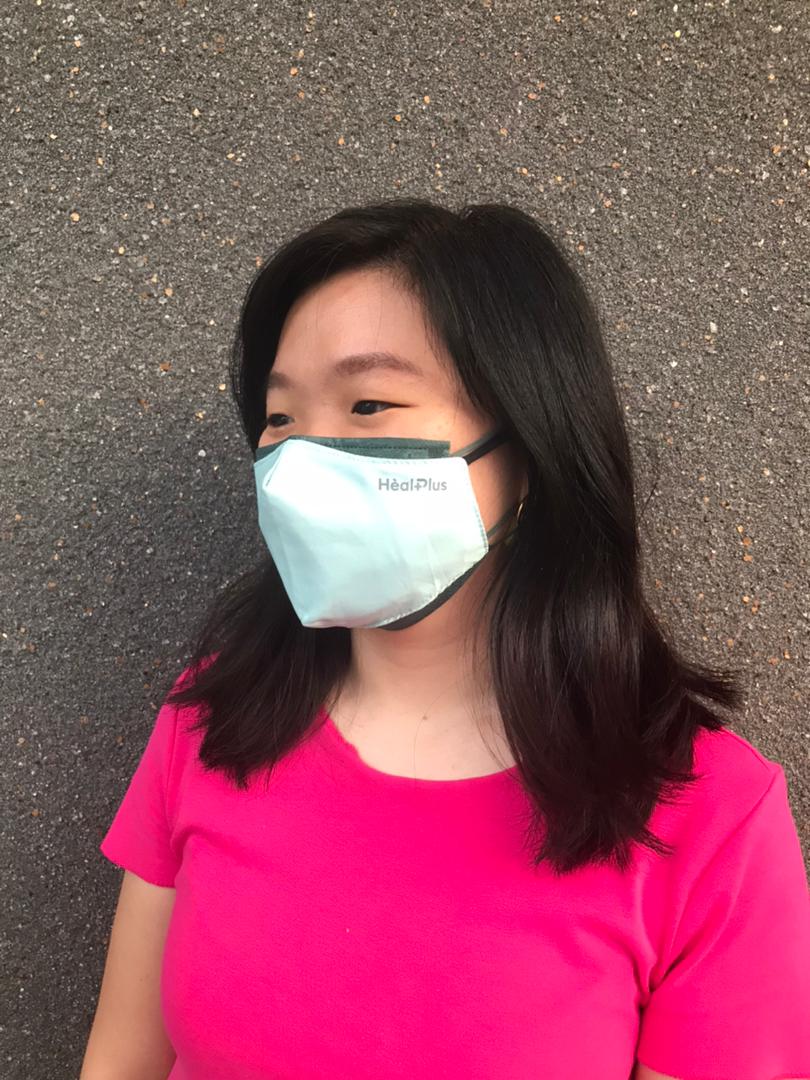 This mask in mint green is a pastel dream! It's SO soft, smooth and silky making it suitable for sensitive skin. No, we weren't talking about hair! It feels divine, honestly.
Comfort is no issue with this mask, especially since the earloops are easily adjustable for a better fit. If you favour cloth masks, this is the one to go for. Complete with a filter pocket, it's breathable and the material is cooling. Although it's made of silk, it doesn't slip off the face.
Our editor tried it on for double masking too and loves how comfortable it is. She had no difficulty breathing despite all the layers.
According to HealPlus, this mask can withstand daily washing for up to 3 months. That's pretty good in our opinion! Our editor loves this mask. It's her favourite compared to the other three above. She loves that it can be worn with a filter or be used for double masking without it. It's got our editor's stamp of approval!
With over 11k units sold thus far, it has received 1.8k 5-star ratings out of 1.9k ratings and reviews. This mask is no doubt worth a try.
---
Medicos face mask review
The brand commonly offers some of the best deals among many other face masks brands. Their thickness is satisfactory, with the fitting meeting most face sizes. However, several do think that the stitching quality of Medicos' face mask can be better, as the ear loops for unworn face masks can happen often.
---
Neutrovis face mask review
This brand has quite a few interesting mask options, with one that's also made with Lavender. Their masks seem to be quite sturdy and do not randomly break away easily. Their offerings are also reported to be soft and comfortable to wear.
We do think that adjustments need to be made in order to have the mask fit on securely, considering the fact that their masks' fitting is often not a one-size-fits-all.
---
Watsons face mask review
As a leading pharmacy brand, you can trust Watsons to have a reliable surgical face mask to buy. While their sets are not cheap, but their masks are thick, fairly comfortable and fit securely even on small faces (adults). Moreover, their mask comes in several colours to suit your fancy. 
---
Durio face mask review
To tackle shortages of surgical face masks in Malaysia, local brand Durio seek to supply Malaysians surgical face masks that are made with melt-blown fabric, which offers protection while staying comfortable on the skin. The brand's core is surrounded by the idea of high-quality masks at reasonable, low prices.
Their masks are made with high-quality materials to ensure durability and sufficient protection. Durio doesn't only make 3-ply masks, but also 4-ply and N95 masks. Aside from its quality, many users adore the cute prints found on their masks.
---
FAQs
Should we double-mask?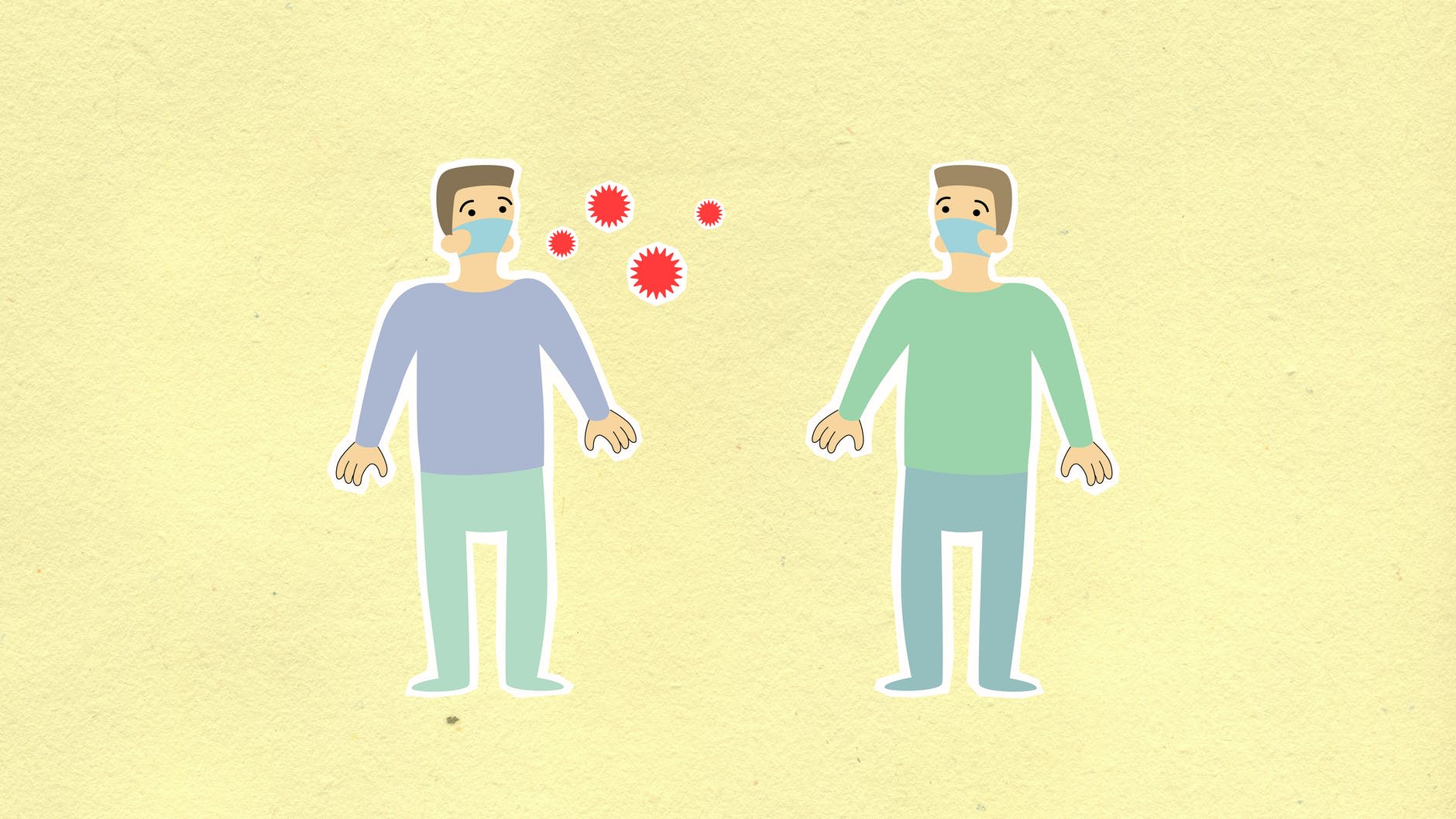 The American Centres for Disease Control (CDC) has provided a guide for double-masking. Basically, it was shown that double-masking can filter out up to 85.4% of particles compared to only 56.1% of filtration if we wear an unknotted surgical mask. 
In short, double-masking is effective & offers almost double the protection.
With this, health Director-General - Tan Sri Dr Noor Hisham Abdullah had previously advised Malaysians to double-mask in order to achieve optimum levels of protection when we are out and about.
---
Types of Masks
Surgical face masks are disposable masks that healthcare professionals wear when treating patients. These masks are useful in preventing large droplets of bodily fluid from escaping. Hence, they protect the wearer from spreading any sneeze and cough sprays. Likewise, it also serves as a protective layer against bodily fluids from others.
N95 respirator masks are tighter in fitting and are designed to protect the wearer from small viral particles in the air compared to surgical face masks. The name itself, "N95", is actually derived from the fact that the respirator mask can filter out 95% of airborne particles. Unlike a surgical mask, the respirators work to filter out both large and smaller particles. 
KF94 masks are masks that have 94% efficacy against the virus as signified by '94' in KF94. It has a tent-like structure, allowing for a pocket of air to exist between your mouth and the mask. This will contribute to your breathing efficacy while also providing a tight enough seal to prevent the COVID-19 virus from entering through gaps that may present itself if it isn't attached closely against your face.  
Cloth masks are meant to help slow down the spread of body fluid droplets as they get trapped in the woven cloth. Even if they do not contain filters unlike surgical and N95 face masks, cloth masks are still efficient in slowing down the spread of sneezes and coughs compared to not wearing any mask. These masks are preferred by many these days as they can be washed and reused.
---
Which Face Mask Should I Get?
In terms of usage, surgical masks should be changed daily or when there's bodily fluid on them from the wearer. They are cheaper and easily accessible. As for cloth masks, washing them daily is best to keep the item clean always.
For N95 masks, however, they are more expensive but they can be used about 3 to 4 days before needing to be changed. They offer the most protection but should be reserved best for medical practitioners that need them urgently as they are more exposed when treating patients.
Some N95 masks have a one-way respiratory valve that lets the wearer breathe out unfiltered air. This can actually spread the virus. So, it's best to not get those kinds.
---
Best Fabric/Material for N95 Mask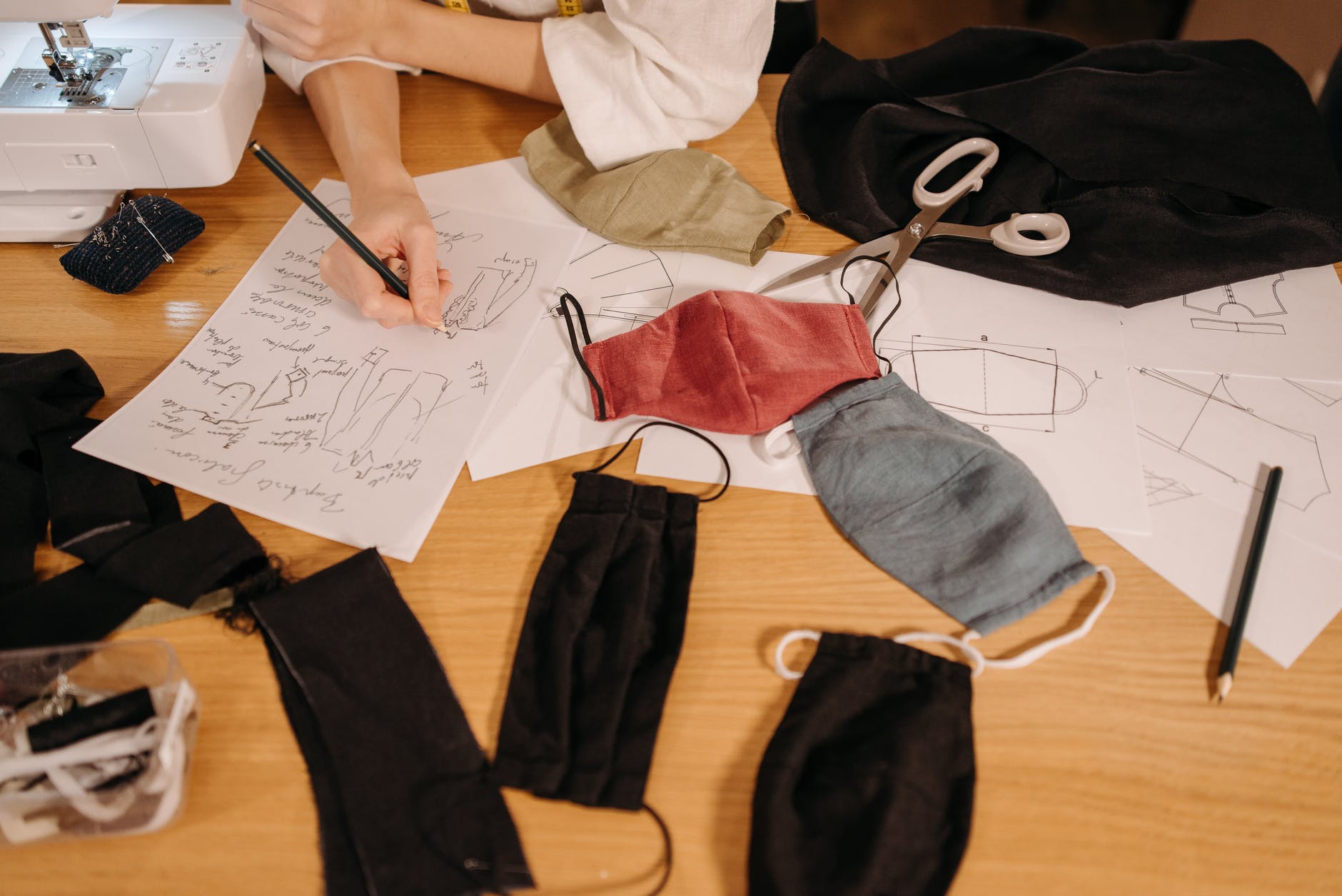 Because Coronavirus is spread airborne through our (respiratory) breathing and body fluids such as sneezes and coughs, the government has made it compulsory for surgical masks to be at least 3-ply for maximum effectiveness and protection. In terms of the best material, they should be non-woven fabric between 20 or 25 gsm polypropylene. 
For the N95 masks, the inner and outer layers should be a protective non-woven fabric between 20 to 50 grams per square meter (gsm). This is to ensure a density that works effectively as a barrier. 
But if you are unable to afford surgical or N95 masks (due to being high in demand), have at least a double-layered cloth mask in hand to lower the risk of passing your respiratory and body fluids into the air.
---
How To (Properly) Wear a Face Mask
Follow these steps to ensure you're wearing your face mask properly for maximum protection:
Before wearing your mask, wash your hands for at least 20 seconds with soap and water to prevent accidental contamination.
Consider shaving off your facial hair to ensure maximum coverage (for a sealed fit).
Have the darker/coloured side of the mask facing outwards.
Earloop the mask over your ears without touching the mask.
Pinch the metallic strip (at the top of the mask) against your nose. Then mould it according to your nose shape.
Pull/spread the mask down to properly cover your mouth and chin.
Ensure your mask is snugly fit with no gaps.
---
When Do Face Masks Expire?
Surgical masks generally start to break down and lose their effectiveness between one to three years after the manufacturing date when not stored in proper conditions. Especially when its packages are left open, you should dispose of them after 3 months to avoid potential skin-infecting micro-organisms.
N95 masks sealed in packages have a shelf life of up to five years from the production date. This duration is dependent on the storage condition. Do check for any signs of degradation in the headband or nose foam before putting it on. If you notice high difficulty in breathing, dispose of the mask and pick up a new one. 
Cloth masks should be washed daily for hygiene purposes such as avoiding skin infection and leftover virus trapped between the cloth layers. Use until you start seeing signs of breakage and being worn out such as holes, or if the layers feel thin.
---
More related face mask recommendations