If you cook for your big family often, it's normal to worry about their health. Air fryers are a handy tool that helps you get that great taste in fried foods with less unhealthy side effects compared to frying with a wok. These fryers allow you to minimise the use of cooking oil through the use of hot air induction and convection cooking which yields tastes comparable to the usual. 
Besides the ease of cooking, another benefit of using an air fryer is having little to no lingering scents and smoke in the kitchen as opposed to traditional deep frying. 
There are a plethora of air fryer models on the market which can be a headache for first-time buyers, more so with sizes, capacity, features and cooking efficiency. Here's a quick stop for you to learn what you need!
---
Table Of Contents
---
What is the biggest air fryer size
The largest air fryers are usually of the 'air fryer oven' variation. It's designed like a convection oven and has other features such as a keep warm mode, dehydrate and most likely includes a rotisserie function that wouldn't normally be available in smaller models. Additional accessories like skewers, a wire rack, and a baking tray are usually included. 
Extra-large air fryers typically range between 9.5L to 15L, though there are some even larger ones that are 20L to 30L. 
These are ideal for large families or if you frequently host dinner parties and have many guests as you won't have to cook multiple rounds and can even cook say, a whole chicken. 
---
Top 7 Large Air Fryers In Malaysia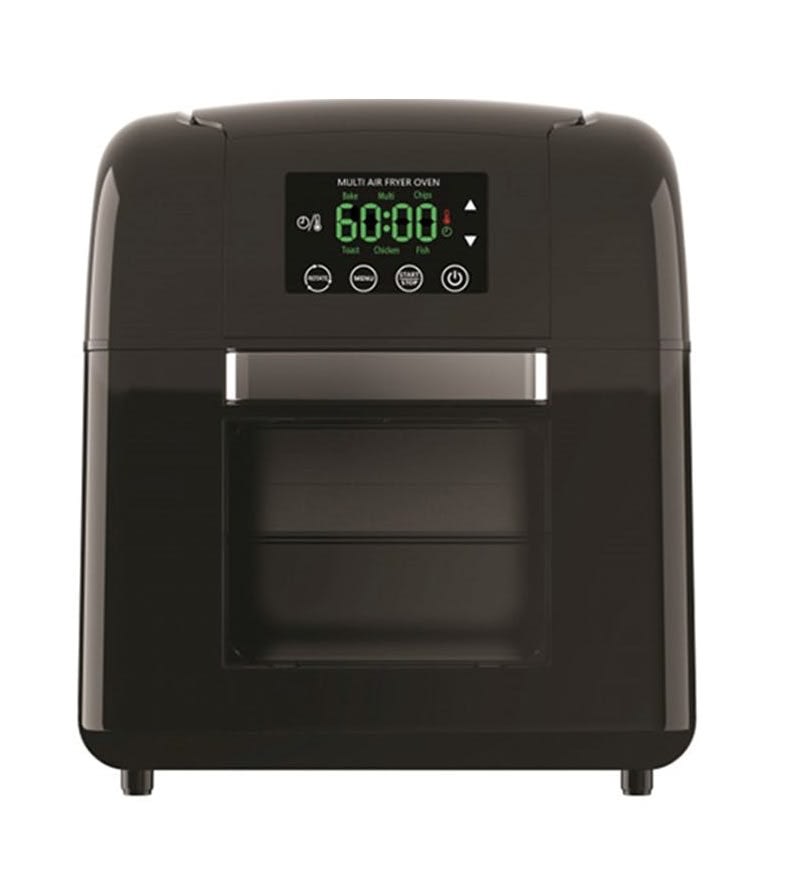 Check Khind Air Fryer Oven ARF9500 price below:
add_circle
Rotisserie function
add_circle
Stainless steel mesh frying basket
remove_circle
Not as many presets as some other models
remove_circle
Cannot fit a large sized chicken
Why It's Our Top Pick:
"Khind is a household name when it comes to trusted, good quality kitchen appliances. Their ARF9500 is a 9.5L air fryer oven that is no exception, allowing you to cook great-tasting food with little or no added oil at all.
It's our top pick for its versatility, generous capacity, and its user-friendly touch sensor control."
Features:
The ARF9500 utilises high-speed air circulation technology for fast cooking and comes with 6 presets that make it super easy to use. This air fryer oven features a large transparent viewing window with an internal oven light that makes it convenient for you to monitor the cooking progress of your food.
There's an auto shut down heater switch is an added precaution for safety measures. Meanwhile, the frying basket is made of rust-free stainless steel mesh that's durable and easy to clean. Since this is also an oven, you can make rotisserie chicken with the touch of a button.
Performance: 
Users are satisfied with how well this air fryer works and love that it's easy to use. Despite it not having as many presets as some other models, it covers all the basic functions that you'll use more often anyway. You can't really go wrong with this value-for-money option.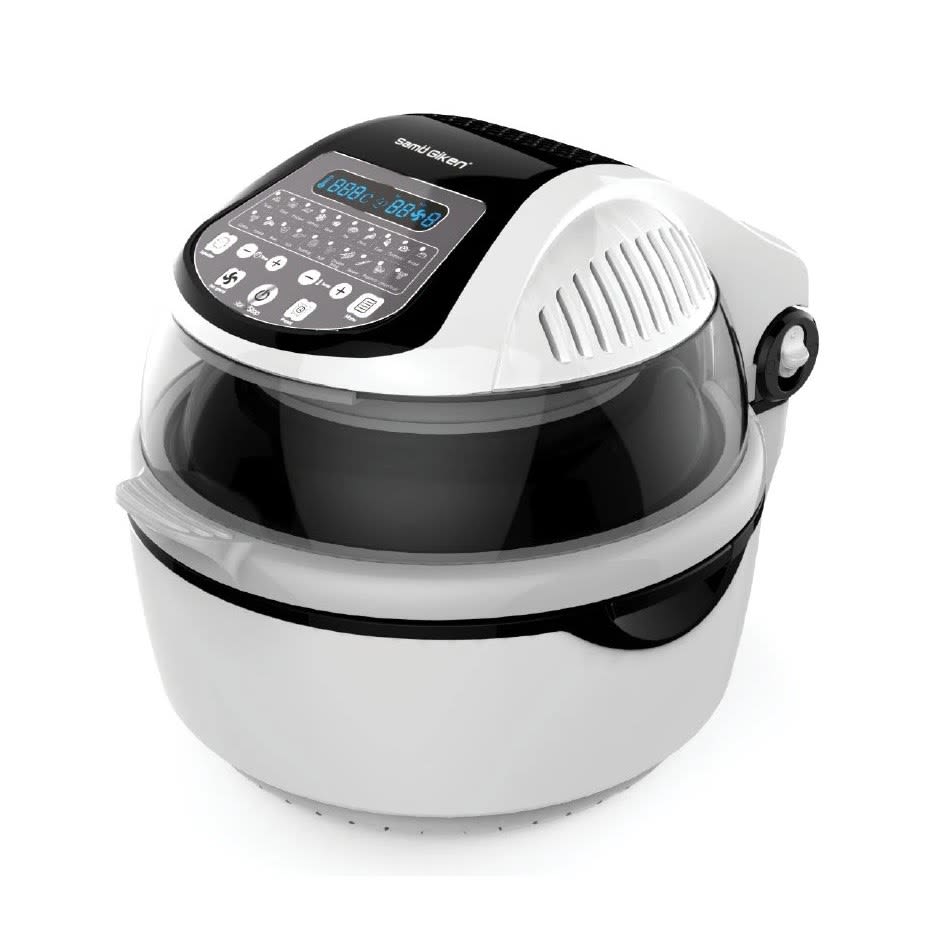 Check Samu Giken Digital Turbo Air Fryer price below:
add_circle
Large capacity
remove_circle
Preset temperature may be too high
This Samu Giken Air Fryer boasts an ultra-large cooking capacity of 10 litres which easily allows you to cook a larger portion at once. The fryer is reasonably priced yet it comes fully equipped to handle a variety of cooking tasks. 
Features:
There are a whopping 20 presets that include pie, defrost, pudding, popcorn, and steak; simplifying cooking to the touch of a button.  It comes with 9 cooking accessories including a chicken fork, baking cage, baking pan, steak cage, and a skewer rack
The air fryer automatically shuts off when the lid is opened as a neat safety measure. 
Performance:
Customers are extremely satisfied with its performance and large capacity. However, one user commented that fries were overcooked when cooked using the chips preset but that results were satisfying when cooked manually at a lowered temperature. Do with that info what you will but the overall verdict is positive.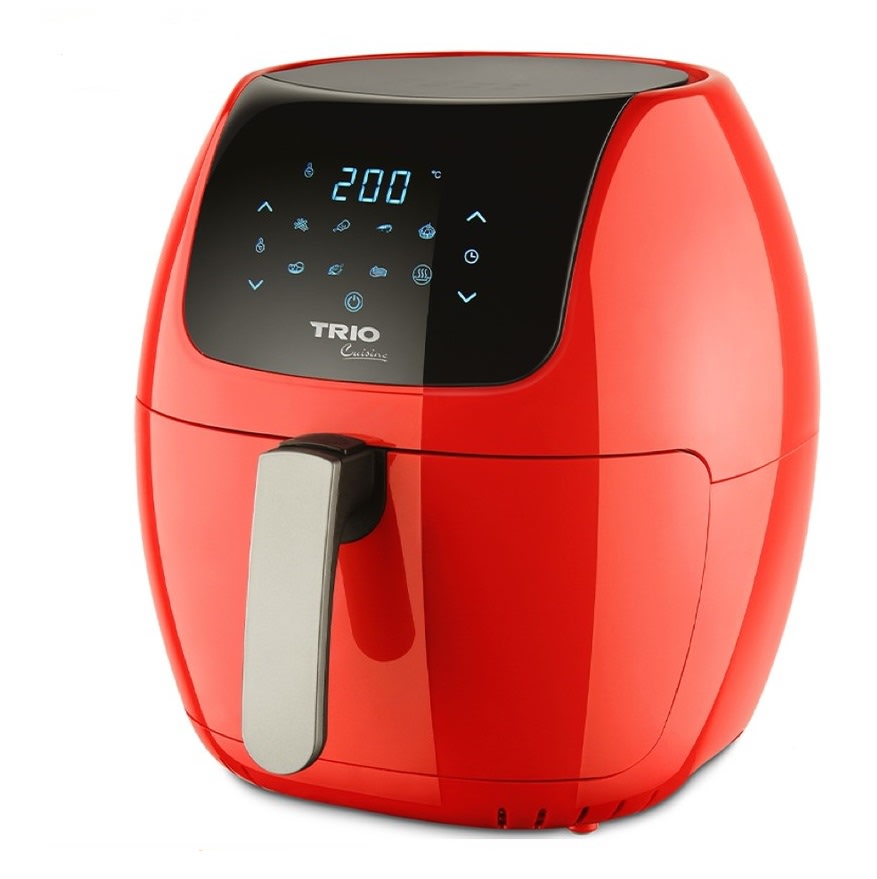 Check Trio 6.0L Healthy Air fryer TAF-961 price below:
Digital air fryers are easy and convenient to use. This one by Trio is a great option. 
Features:
With a 6L capacity, the Trio TAF-961 features an elegant touch screen LCD panel that allows for easy access to 8 different cooking programs and control of temperature. 
For quick-cooking, the fryer boasts 1800 watts of cooking power and uses the latest rapid air convection technology to cook your food to perfection. Besides, it has a detachable frying basket built with a safety release button to avoid the risk of accidents. 
Performance:
Users feel that it's just the right size; not too big or too small. It has been praised for its superb quality and satisfactory performance.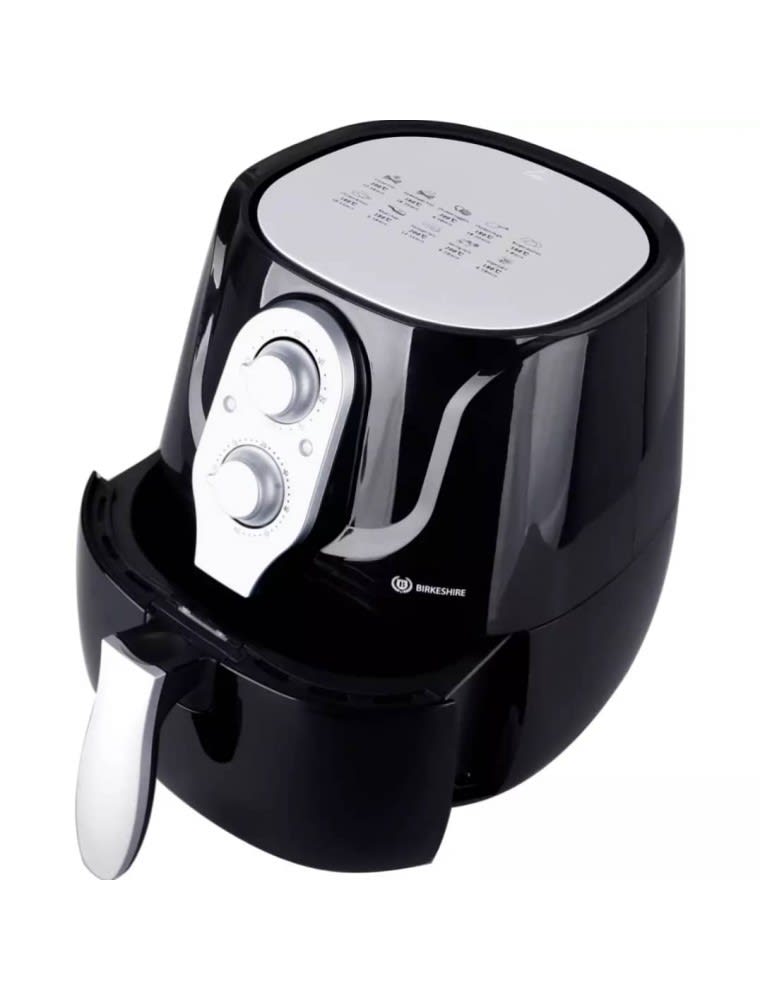 Check Birkeshire XL Air Fryer AF-420-M price below:
add_circle
Dish-washer safe
add_circle
Integrated air filter
remove_circle
Doesn't have as many functions as pricier models
If you're on a tight budget but still want a large air fryer, then look no further than the Birkshire XL air fryer that has a respectable 4.2-L frying pan capacity.
Features:
This fryer can cook food oil-free quickly thanks to its 1400 Watt heating capacity while working in between 60°C to 200°C. Cleaning up after cooking is hassle-free thanks to its non-stick coating on the pan and due to the fact that it's dish-washer safe. It is SIRIM certified.
Performance:
Users are amazed at how well it performs despite its low price tag. It is user-friendly, with satisfying results that could rival that of some higher-end models. It's truly a bargain!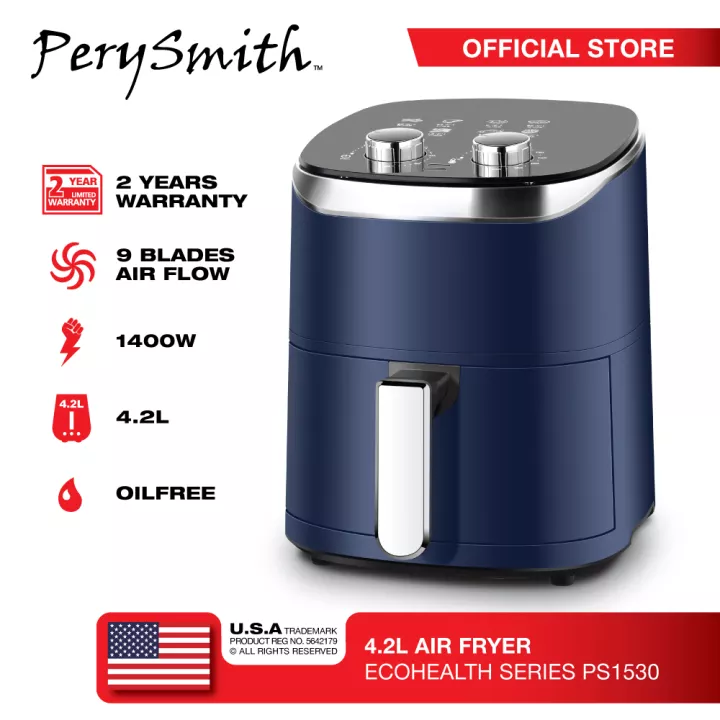 Check PerySmith 3D Air Fryer Ecohealth II Series PS1530 price below:
add_circle
Multi-layer cool touch body for east handling
add_circle
Energy-saving due to faster cooking
remove_circle
Timer stops before reaching 0
remove_circle
Temperature isn't hot enough
Over 20000 units of this model have been sold, as far as we know. It could be way more.
Features:
This PS1530 model is PerySmith's newly updated design of 2021. It's a gorgeous navy blue that screams classy and bougee. Featuring 9 blades, its 3D airflow heating system generates heat fast, cooking food quickly and thus saving energy.
The PFOA free, non-stick coating of the inner pan allows for easy clean-up along with the fact that it is dishwasher safe, and the filter allows for easy separation of oil from food. Besides, it features two knobs for easy and precise control of the temperature and time.
Performance:
With a 60 minute timer and an automatic shut-off function, you can expect you food to cook evenly and not be overcooked. Users commented that it is indeed non-stick. However, one review did say that the timer stops before reaching 0 and the temperature is pretty low so the maximum temperature of 200°C is set  instead of the actual recommended temperature.
Although it's not without its flaws, we can see why it's still a best seller with all its great design, features and performance. The positive reviews outweigh the bad.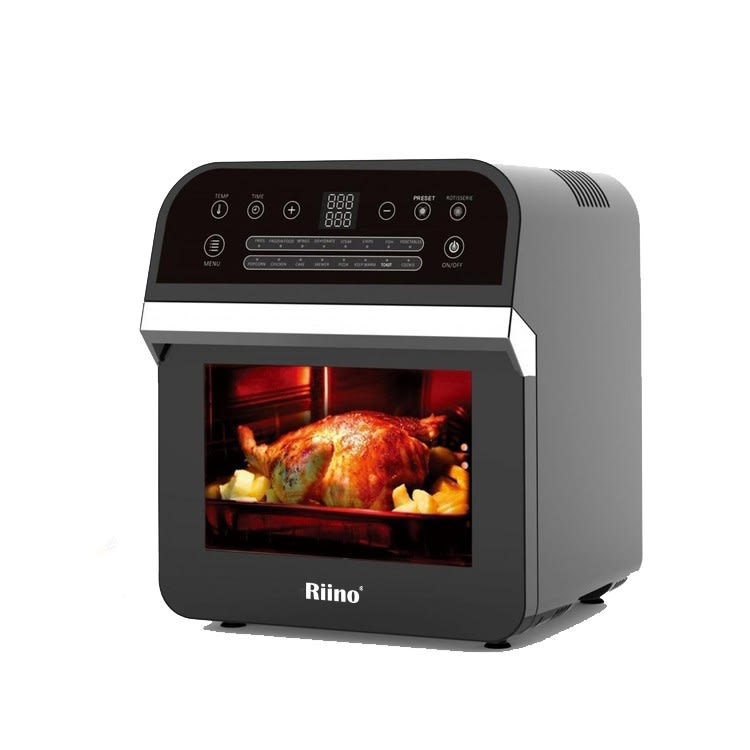 Check Riino Air Fryer Oven AF510T price below:
add_circle
Fits a whole chicken
remove_circle
Heats up quickly and may burn food easily
If you're looking for more a 2-in-1 air fryer+rotisserie oven, this multifunction AF510T model by Riino is for you.
Features:
This multi-purpose digital air fryer is also a rotisserie oven. It comes with 16 presets that include cookies, cake, fish, wings, and dehydrate; allowing you to cook different types of food with one click. The temperature and timer will set automatically, according to the function chosen.
There's a special rotisserie function; 360° auto rotation that will cook the meat evenly in its own juices. This air fryer is equipped with 10 accessories including a mesh basket, dip tray, frying pan, rolling cage, wire rack, and tongs.
Performance:
It easily fits a whole chicken and it doesn't dry out, with users reporting that  their chicken  turned out pretty tender and juicy. One user commented that it heats up faster than a regular air fryer so do be mindful of the temperature. Overall, it's performance is commendable.

Check Innofood Air Fryer Oven KT-CF22D price below:
add_circle
Auto 360° rotation
add_circle
Large capacity
remove_circle
Longer cooking time due to low temperature
If you need an extra-large air fryer for whatever reason, this Innofood air fryer oven is one of the largest on the market with a 22L capacity.
Features:
The 22L oven chamber lets you bake, fry, grill, and dehydrate food with its 12 cooking modes. Its automatic 360° rotation ensures even cooking on all sides.  There are three tray slots and a double-layered tempered glass door that is able to withstand heat. This air fryer oven comes with a frying cage, mesh tray, wire rack, and oven tray worth RM109.
Performance:
The dehydrate function is meant to run for up to 5 hours, making it unlike its similar counterparts and the crumb tray makes cleaning a breeze. The three tray slots allow users to cook different things simultaneously and speed up meal preparation time.
One user commented that the temperature is low, thus making it less efficient and requiring a longer cooking time. Nevertheless, the user was most satisfied with its overall performance. Users love its various functions and how effective and convenient it is. 
Related articles: