From reheating leftover meals to the likes of cooking, baking, roasting and grilling foods, there are many things you can do with a microwave oven. Of course, that depends on its respective functionality, types and price range. But one thing's for sure, a microwave oven is a versatile kitchen appliance that's convenient for home and office use.
---
Top 8 Microwave Ovens In Malaysia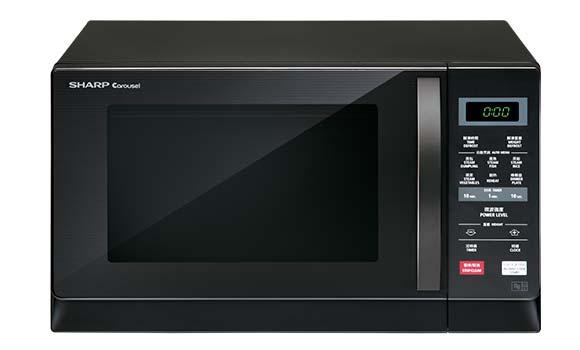 Check Sharp Microwave R207EK price below:
add_circle
20 power levels for quick and efficient microwave cooking
add_circle
Convection function to evenly distribute heat around microwave for uniform cooking
add_circle
Features microwave cooking with convection and grill to better cook meals more efficiently and to lock in nutrients and flavour
add_circle
Carousell turntable eliminates any hot or cold spots
add_circle
Steam function to let you cook fish, meat, and dumplings to perfection
add_circle
Child safety function
remove_circle
Inconvenient control buttons that contain small prints that may be difficult to read
Why It's Our Top Pick:
"Here's a value-for-money microwave oven from Sharp that packs plenty of features. At this price point, it's worth every penny for the features you're getting; multiple steam settings that accompany the usual reheat and defrost functions. It even comes with a child lock. This no-frills microwave oven gets the job done and is a great option for those on a budget."
Overview:
First things first, it has a medium-sized 20L capacity that can fit most dishes. There's also a 255mm turntable that automatically rotates the food inside and cooks it evenly while eliminating hot or cold spots.
On the right side of the oven, you'll find a few buttons for handy functions like defrosting frozen foods like fries, or mixed vegetables either by 'time defrost' or 'weight defrost'.
There are also 6 presets that allow you to prepare different foods. Those who love to steam their food will find this microwave useful as you'll be able to steam dumplings, fish, rice, and vegetables -- all with one touch of a button apart from the usual; Reheat and Dinner Plate functions.
The Child Lock is a thoughtful safety feature that prevents accidents. Finally, there's the LED panel which displays clear and easy-to-read timing.
Specifications:
Power: 230 - 240V, 50Hz
Capacity: 20 L
Child lock: Yes
Dimensions: Exterior: 440 x 259 x 359mm; Interior: 306 x 206 x 304mm
Key features:
Energy-saving mode
Quick defrost
2 auto menus
Pull door
1-year warranty
Performance:
Some users pointed out the lack of assorted pre-programmed functions to cook different foods. In the case of this model, the function leans more on the singular different types of steaming. But if you look past this minor inconvenience, it remains a good buy for those who do not want to spend a fortune on a microwave oven.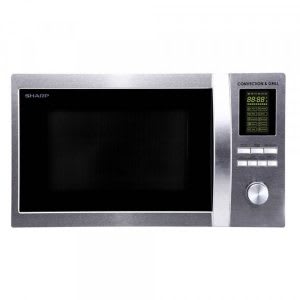 Check Sharp Microwave Convection Oven SHP-R854AST price below:
add_circle
Has 10 auto menus
add_circle
Child Lock feature
add_circle
Classy stainless steel finish
If the Sharp R954AST model is too big for your home kitchen, here's the smaller version that features a 32L capacity and more or less the same features you get from its bigger brother.
Overview:
This includes 10 auto menus, a Child Lock system, the rotating knob-style tact dial control panel and an LED display. It also has the same classy stainless steel finishing. The Sharp R854AST's inclusion of the energy-saving mode helps to conserve energy as well as reduce your long-term running costs. This is especially true if you are relying heavily on the oven to do your cooking or baking.
Speaking of baking, you can use it to bake the likes of cookies, cupcakes and cakes in general. For the latter, keep in mind that, unlike the R954AST model, this one isn't made suitable for the taller or bigger size. Other common things you can do with this oven include reheating your leftover meal, grilling, steaming and yes, even toasting bread as well.
Specifications:
Power: 230-240V, 50Hz
Capacity: 32 L
Dimensions: 519 x 315 x 510mm
Key features:
Pull door
Grill function
5 power levels
1-year warranty
Weight/Auto defrost
Performance:
Despite all the good stuff, the Sharp R854AST is still not that cheap. However, if your budget allows it, this one is undoubtedly a good buy for a long-term investment. Users say it works well and are satisfied with its quality.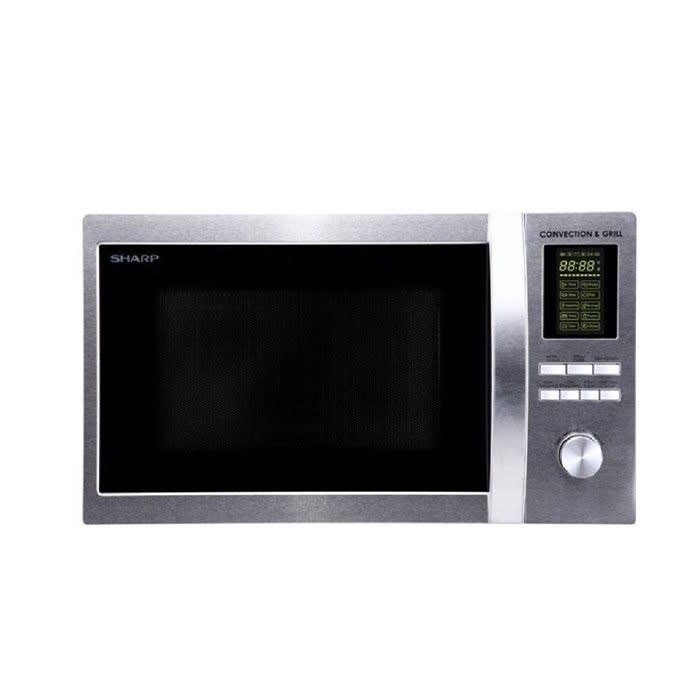 Check Sharp 42L Microwave Oven with Convection R954AST price below:
add_circle
Has 10 auto menus
remove_circle
Hefty price tag
Cooking a family lunch or dinner has been never been this easy and convenient with the Sharp R954AST convection-type microwave oven. Given its larger build and 42L capacity, it's also made suitable for baking purposes regardless of sizes and heights (yes, your dream of making taller baked goods are possible as well).
Overview:
This oven allows you to adjust a wide temperature range, between 140°C to 230°C. With a bigger sized turntable measuring 345mm, you can use this oven to bake a 6" round pizza or roast a whole chicken.
Some of the highlights of this oven include 10 auto menus, an easy-to-read LED display as well as a simple-to-use tact dial type that enables you to control the temperature and timing smoothly. As with other Sharp models, this one also features a Child Lock to prevent your kid's itchy fingers from interfering with the oven-cooking process.
The overall stainless steel finishing looks both classy and elegant, making it a seamless fit for any modern kitchen.
Specifications:
Power: 1000W
Capacity: 42 L
Dimensions: Exterior: 553 x 326 x 550mm; Interior: 395 x 272 x 394mm
Key features:
2 Multiple Sequence Cooking
Pull door opening
1-year warranty
5 power level
Performance:
This oven does indeed make your life easier but its downside is its hefty price tag that might be too expensive for the average household.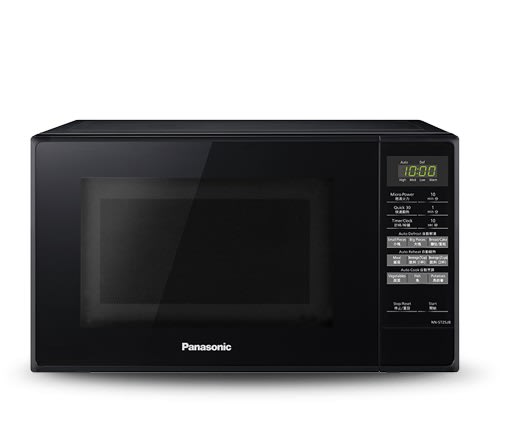 Check Panasonic 20L Microwave Oven NN-ST25JBMPQ/NN-ST25JB price below:
add_circle
Compact form factor
add_circle
Has 9 auto cooking menus
add_circle
Auto defrost setting
add_circle
Child Lock feature
remove_circle
No energy saving mode
Small but mighty, the Panasonic NN-ST25JBMPQ packs a wealth of features for an otherwise 20L capacity oven in a similar category.
Overview:
First off, it has 9 auto cooking menus that make your cooking simpler and more convenient. This includes everything from baking bread and potatoes to heating/reheating hot beverages as well as cooking vegetables and fish.
Some of the other highlights to look out for include a 30-second setting, which allows you to set a faster cooking time without having to fiddle with any other settings. It also has an auto-defrost setting that comes in handy for thawing the likes of frozen bread, cake or mixed vegetables.
Worry that your kid might accidentally open the oven door during the cooking process? Thankfully, this oven has a safety Child Lock feature to prevent that from happening. To activate, just press the Start button three times and vice versa to switch off the feature. 
Given its compact form factor, this oven is suitable even for those who live in a smaller apartment since it doesn't take up much of your kitchen counter space. The all-black design brings a sleek and sophisticated look to your kitchen.
Specifications:
Power: 800W
Capacity: 20 L
Dimensions: Exterior: 443 x 330 x 258 mm; Interior 306 x 308 x 214 mm
Key features:
Quick 30 functions
5 power level
1-year warranty
Performance:
The Panasonic NN-ST25JBMPQ comes with an economical price tag too, which is quite reasonable for most average households. A notable setback is the lack of energy-saving mode in this oven but it's a minor flaw that's forgivable.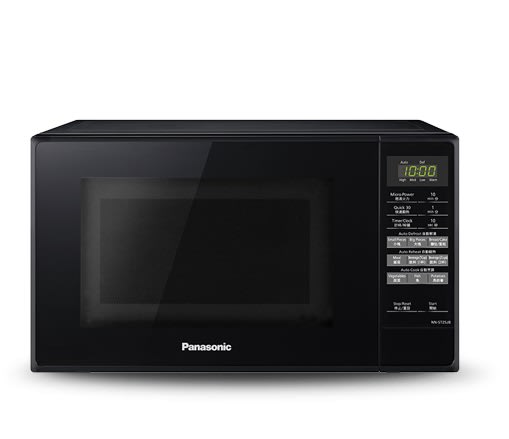 Check Panasonic Microwave Oven NN-DS596B price below:
add_circle
Has an inverter technology for quicker and perfectly cooked meals
add_circle
Powerful steam function
add_circle
Effective Grill Tray for perfectly-browned foods
remove_circle
Very expensive
remove_circle
The drop-down door design not for everyone
Beyond its hefty price tag that might prove too costly for some, this 27L oven capacity of the Panasonic NN-DS596B model comes with loads of noteworthy features.
Overview:
For one, the inverter technology for faster and well-cooked meals. That means if you are roasting beef or chicken, you don't have to worry about overheating and any loss of the natural flavour.
Not to forget, the inverter technology implemented in the oven helps to maintain the nutrient levels of your food. It's definitely useful for when you are cooking the likes of broccolis whereby nutrients will remain intact compared to the traditional boiling or steaming method. And that is not all; the Inverter Turbo Defrost ensures your frozen foods such as meat chunks defrosts faster than before.
Then comes the best part of this oven: the steam function. It steams your food quickly while keeping it moist as well as maintaining the natural flavour of the ingredients. All of this is made possible, thanks to its powerful steam injector from the boiler located in the side of the oven. You can also combine your steam cooking with the grill or microwave feature.
Another highlight includes an efficient Grill Tray that heats and brown your food whole without the need to flip it over. This helps minimise the cooking time while ensuring your food cooks faster, without sacrificing the juicy interior and crispy exterior. The grooves located on the surface of the Grill Tray comes in handy to drain off the excess fat during the cooking process.
Specifications:
Capacity: 27 L
Dimensions: 512 X 400 X 347 mm
Key features:
25 menus
Pull down door
1-year warranty
Performance:
There are few shortcomings, though. Some users might find the drop-down door a nuisance compared with the more practical side-opening door design. And while the bulky, yet larger build is fine enough for those who have a spacious countertop, it's not a good idea if you got limited kitchen space.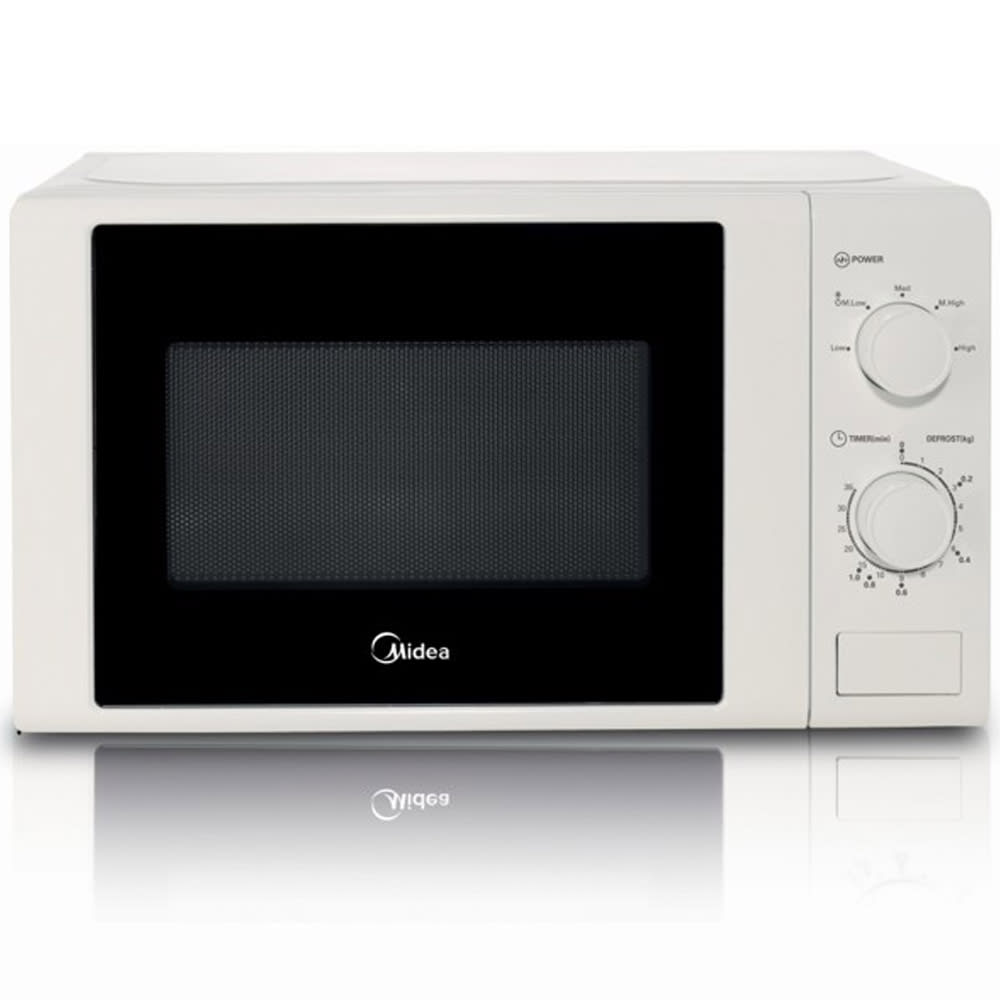 Check Midea 20L Microwave Oven MM720CGE price below:
add_circle
Easy-to-use knobs
add_circle
Doesn't take up a lot of space
remove_circle
No digital LED display
remove_circle
No Child Lock feature
remove_circle
No energy-saving mode
remove_circle
The white design may not for everybody
Here's a microwave oven with a budget-friendly price for those who don't want to spend a lot on a kitchen appliance. The Midea MM720CGE model features a 20L capacity, which is suitable for single individuals or small families.
Overview:
It covers the basic functions, namely the Defrost setting for defrosting frozen foods like mixed vegetables, fries and fillets straight out from the freezer. It uses a convenient push-button door that is easy to open as well. Also, the overall medium-sized build doesn't take up much space, making it ideal to place even on a small kitchen counter.
Setting the cooking power is easy. All you need to do is turn the power knob located on the upper right side of the oven to your preferred setting: low, medium-low, medium-high or high. Once you are done, the microwave oven will automatically start cooking. Might we add that the oven heats up fast too.
The five temperature settings come in handy especially when you are using them for different purposes. For instance, the medium-low setting is best for making soup stew or softening butter from the fridge. Meanwhile, the medium-high setting is suitable for cooking fish, chicken or meat in the oven.
Specifications:
Power: 700W
Capacity: 20 L
Child lock: Yes
Dimensions: 439.5 x 328.0 x 258.2mm
Key features:
Defrost setting
35 minutes timer
Push button door
1-year warranty
Performance:
Given the fact that this is simply a basic microwave oven, it lacks the bells and whistles of a more feature-packed variety such as energy-saving mode and Child Lock feature. However, if you're just looking for the convenience of quick thawing and want something that does the usual heating then this is a perfectly good model for you. Though, the predominantly white exterior is more for an acquired taste since most microwave ovens come in either black or stainless-steel silver. 

Check Toshiba Microwave Oven With Grill ER-SGS20(K)MY price below:
add_circle
Reasonably priced
add_circle
Child safety lock
Simplify cooking with the Toshiba Microwave Oven With Grill ER-SGS20(K)MY.
Overview:
This microwave oven features an easy to use touch control panel with 9 auto cooking menu options that include potatoes, popcorn, frozen pizza, and the usual weight defrost and time defrost, among other presets.
There's a child safety lock so you won't have to worry for your family's safety, especially if you have kids who may let their curiosity get the best of them and try and tamper with the settings.
Specifications:
Power: 1000 W
Capacity: 20L
Dimensions: Exterior: 440 x 325 x 258mm; Interior: 306 x 304 x 208mm
Key features:
Multi-stage cooking
11 power levels
Grill function
9 auto menus
Touch control
1-year warranty
Performance:
With a 20L capacity, it's pretty small but it does save storage space. Users are pleased that they can grill food with the push of a button.

Check Rubine Built-In Microwave Oven With Grill Function RMO-OREO-28BL price below:
add_circle
Quick start function
Remodelling your kitchen and want a built-in microwave? This one is perfect for you!
Overview:
It's a nice size with a 28L capacity, not too big or too small, but then again this depends on the amount of space you actually have. Grilling is convenient as this microwave oven is equipped with a grilling rack. With 8 presets that include settings for fish, pasta, and vegetables, meal prep will be quick and easy.
There's also a child lock for safety purposes.
Specifications:
Power: 230-240V~50Hz
Capacity: 28 L
Dimensions: 653 x 500 x 466 mm
Key features:
Weight and time defrost
Grill function
8 auto menus
1-year warranty
Performance:
This model has received positive reviews for its useful dual-function and its 30-second quick start function that allows you to heat up food quickly.
---
How To Choose A Microwave Oven
So, you have decided to take the leap and buy a microwave oven. But before you spend your hard-earned money, there are a few important things you need to take into consideration when it comes to choosing the right microwave oven. 
a) Types of Microwaves
There are generally three major types of microwave ovens available in the market.
First and foremost is the countertop microwave. You commonly see them on display in many departmental stores and electronic shops. These countertop varieties are generally affordable, although there are those that come at a premium price tag due to varying features.
The other two are known as built-in and over-the-range microwaves, both of which typically require a professional installer. 
Usually, either of these types is more suitable for those who own a big home. However, these two types are quite rare in Malaysia. Therefore, our list is limited to countertops that are just as great.
b) Wattage
Good microwaves require a good amount of power. It is recommended to pick one with a minimum power of 1,000 Watts, Those that are 700 Watts or lower will result in slower cooking time and uneven cooking results.
The rule of thumb is that the higher the wattage, the quicker the cooking time. Of course, a higher-wattage microwave oven usually comes at a higher price.
c) Know Your Oven Capacity
Every microwave oven has a different capacity level, which is measured in litres. The capacity of an oven serves as a guide as to the amount of food you can cook at one go. Here's a guide on microwave capacity based on family size and frequency of use:
i) Solo Microwave (2-4 members, ideal capacity between 15L to 20L)
ii) Solo Microwave (4-6 members, ideal capacity between 25L to 30L)
iii) Grill/Convection Microwave (2-4 members, ideal capacity between 21L to 30L)
iv) Grill/Convection Microwave (4-6 members, ideal capacity from 32L and above)
d) Features
Depending on the model and price range, there are a wide range of features when it comes to microwave ovens. Here are some of them:
Auto Cook
As the name suggests, this feature helps to simplify your cooking with just the push of a button. By using the auto cook function, you don't even need to set the timer and configure the right power level.
Defrost
Some microwave ovens have both auto and adjustable defrost functions while others come with a single defrost feature. Either way, this feature comes in handy for defrosting and heating frozen packaged food such as mixed vegetables, meat, fries and fish fillets straight from the freezer.
Convection
Certain microwave ovens come equipped with a convection fan, which is typically built into the back of the unit. The general function of a convection fan is to help circulate the heat around the food so it can cook faster and more evenly. Depending on the model and your budget, you will find thatsome microwaves have more than one convection fan.
Child Lock
If you have kids at home, it would be wise to invest in a microwave oven that comes with a Child Lock. It's a handy safety feature to keep your kids' from tampering with the settings especially when you can't have eyeballs on them at all times. 
---
Microwave Oven Vs Oven
Both of these appliances have become commonplace in most kitchens, yet some may still be confused about how they differ. Microwave ovens or microwaves employ electromagnetic radiation to heat and cook food. On the other hand, an oven is a generic name for a thermally insulated chamber used to heat, cook, or bake food.
In addition, they differ in the following areas:
The Physics
A microwave oven uses safe radiation to heat meals efficiently. It is equipped with a magnetron, an electron device that emits microwave radiation to cause the molecules in the meal to vibrate, rotate, and finally generate heat. Microwaves penetrate the food and produce friction from within, which causes the food to heat up.
The faster the food molecules move and the hotter the meal, the more radiation there is. The turntable plate and mirrored walls of a microwave oven allow food to be cooked uniformly in a shorter duration of time.
On the other hand, an oven generates heat and bakes food using thermal insulation. It comprises two heating elements; one on top and the other on the bottom. Copper wires are twisted into bundles within the heating equipment. Fans pump heated air across the chamber, evenly cooking the food.
Nutrient levels
Compared to an oven, a microwave oven prevents overcooking, thus reducing the loss of nutrients in food. This is because food is cooked evenly, also retaining the flavour and texture.
The surface of the food wil not get overly hard, dry, or brown if it is exposed to controlled radiation.
Cooking and the Price
Preheating, defrosting, boiling, steaming, and simmering are just some of the functions of a microwave oven. 
Microwave ovens can help you save because you can switch it on right away instead of waiting for it to heat up to a set temperature. It cooks food from the inside out, which means they are more efficient and require less electricity than conventional ovens, saving up to 75% electricity.
Meanwhile, ovens are ideal for roasting and baking cake, meat, bread, cookies, and other pastries. The most significant difference between a microwave oven and an oven is that the latter cannot be used to reheat food since the food might turn out charred.
Furthermore, it is best to preheat the oven before using it as the copper coils require time to heat up. 
Related articles: