A freestanding cooker is essentially a 2-in-1 combination of a cooktop and an oven at its most basic. These days though, technology brings new features to the cooker, such as rotisserie and defrosting functions, making it a much more versatile appliance than it used to be. 
It can be placed just about anywhere and can be easily fitted into your kitchen. What's more, as it is freestanding, you can easily reposition it should you feel like switching up your kitchen layout. So, if you're the type to get bored with a fixed arrangement, a freestanding cooker is what you need.
Check out the best freestanding cookers on the market below.
---
Top 7 Freestanding Cookers In Malaysia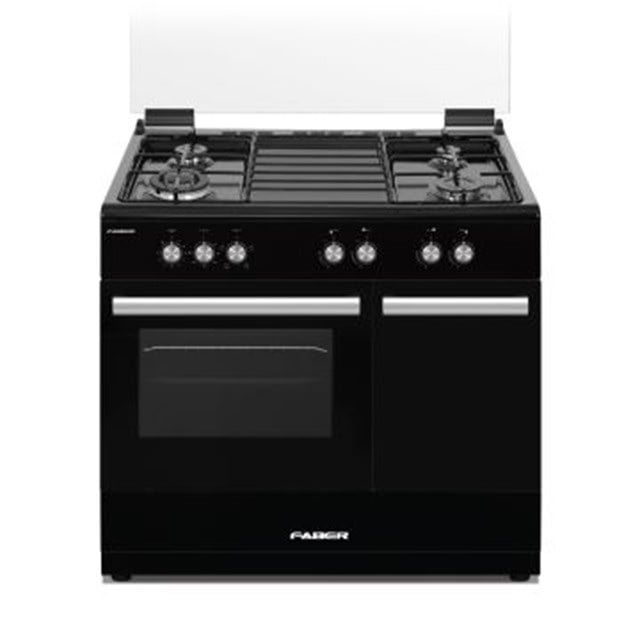 Check Faber Fisso 9844E/BK Freestanding Cooker price below:
Why it's our top pick?
The Faber Fisso 9844E/BK comes in a style that will undoubtedly become the centrepiece of your kitchen. It features an oven with a generous capacity and allows you to create anything like hearty roasts or delicious pastries. In short, this is a very versatile freestanding cooker that's more than capable when it comes to making any recipe. 
Overview
With a 60L oven capacity, the Faber Fisso 9844E/BK gives you more than enough space for whatever family favourite you plan on cooking. The oven also has 5 functions which allow for a wider culinary endeavour. Cook up a storm if you want as there are 4 burners to handle anything you throw at it, especially with the ratings of 3.6kW, 2.9kW, 1.7kW, and 0.95kW. 
Additionally, it features an auto-ignition hob which allows for a quicker and easier startup for when you need to cook in a hurry. Plus, its oven has two removable glass doors which allows for an even easier cleaning and ensures every part of it is cleaned. 
Details
Oven Capacity

: 60L 

4 burners rating (kW)

: 3.6 + 2.9 + 1.7 + 0.95

Full Electric Oven with 5 function

Auto ignition hobs

Enamel Pan Support
Who is it for?
Looking for an all-in-one and versatile freestanding cooker? We have you covered with the Faber Fisso 9844E/BK Freestanding Cooker. It gives you a large-capacity oven and enough burners that let you cook multiple things at once. The cooker will also elevate the look of your kitchen with its black design that comes with a glass door for the oven.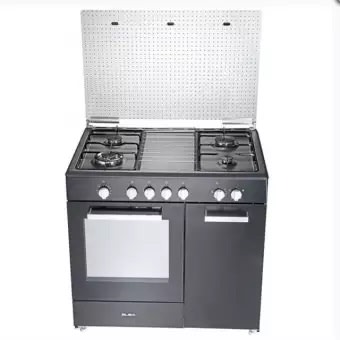 Check Elba Free Standing 4 Burner Gas Cooker With 70l Gas Oven EGC-C9704G(BK) price below:
add_circle
Rotisserie function
Overview
This cooker has 4 different burners available on the cooker for achieving certain cooking results and experiences, namely a Triple Ring burner, rapid burner, semi-rapid burner, and auxiliary burner.
A great feature to this cooker is the rotisserie, which opens up to even more possibilities when it comes to refining your skills in the kitchen (we'd recommend starting with a roast chicken first!). 
Other than that, durability is another aspect of which to be worry-free. Made of stainless steel, the structure and foundation of the cooker are solid and sturdy. Its pan support made of enamel gives the cooker a better-looking finish and enhanced toughness. Not to mention, much easier cleaning overall. 
You can whip up satisfying meals in a jiffy, and safely too thanks to its top glass cover ignition and SABAF safety device. Whether you're a beginner cook or already have dishes in your repertoire, this freestanding cooker promises to put your safety first.
Details
70L gas oven capacity with 4 gas burners 

Automatic electric ignition 

Stainless steel with tempered glass door

Enamel pan support
Who is this for?
The Elba EGC-C9704G brings you endless possibilities in the cooking world. It makes cooking so simple, even beginners can work the cooker like a pro. It allows you to cook different kinds of meals thanks to its multi-function features. For the most parts, users are satisfied with this product though there were a few complaints saying that the plug was not included.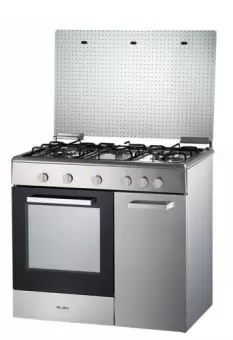 Check Elba Free Standing Cooker Electric Oven EGC-C9783E(SS) price below:
add_circle
Stainless steel
add_circle
Reasonably priced
remove_circle
Oven doesn't come with a plug
Overview
Equipped with 4 functions; 'light', 'top grilling', 'conventional', and 'bottom element'; these are some of the best cooking basics functions you can get out of a cooker. 
This freestanding cooker screams durability when equipped with Italian SABAF burners and enamel pan support. It also comes with a tempered glass top, so safety is enhanced while cooking and clean up are made easy.
We should point out how much users rave about its stainless-steel body that's built to last. Its sleek design goes well with various kitchen designs and arrangements, making it easy to fit in practically anywhere. Besides not rusting easily, any mess made on it can simply be wiped away without leaving any residue, making this a huge plus point to many users.
It doesn't, however, come with a plug for the oven. This does pose a little trouble since there might be the need to have the additional installation done by an electrician. Not to worry though. Once it is set up, everything will fall into place with its usability and quality. 
Details
70L capacity with 3 gas burners

Enamel pan support

Mechanical-timed top grilling with rotisserie function

Gas cut-out safety
Who is this for?
Elegant yet practical, the Elba Free Standing Cooker Electric Oven EGC-C9783E(SS) is a great choice for your kitchen. Suitable for those who don't fancy big flames or heat during cooking, it's durable, easy to clean, and works well.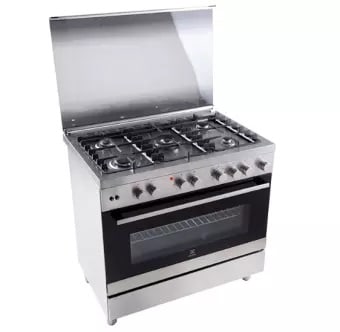 Check Electrolux EKM9689X price below:
add_circle
Good aftersale service
add_circle
Powerful burners
remove_circle
Short warranty period
Overview
Hailed as a wonder stove, this Electrolux gas cooker is partnered with a fabulously huge 130-litre electric oven. 
This cooker has an anti-tilt feature ensures stability so that you can worry less about food mess, uneven heating, or potential cooking accidents. 
It also has 8 functions that include grilling and defrosting to name a few. Plus, the 130L capacity makes cooking large batches of food a walk in the park.  
Atop the oven is 5 burners including a wok burner, so you'll get to use different types of pots and pans to cook meals of various cooking styles – simply perfect for the aspiring chef.
Details
Extra large 130L oven capacity with 7 cooking functions

Comes with 5 burners and an iron grid

Huge convection oven

Double fan assist for even heat distribution

3-layer glass cool door
Who is this for?
We would recommend this freestanding cooker if you frequently cook for a large family or own a small food business like home catering or home bakeries.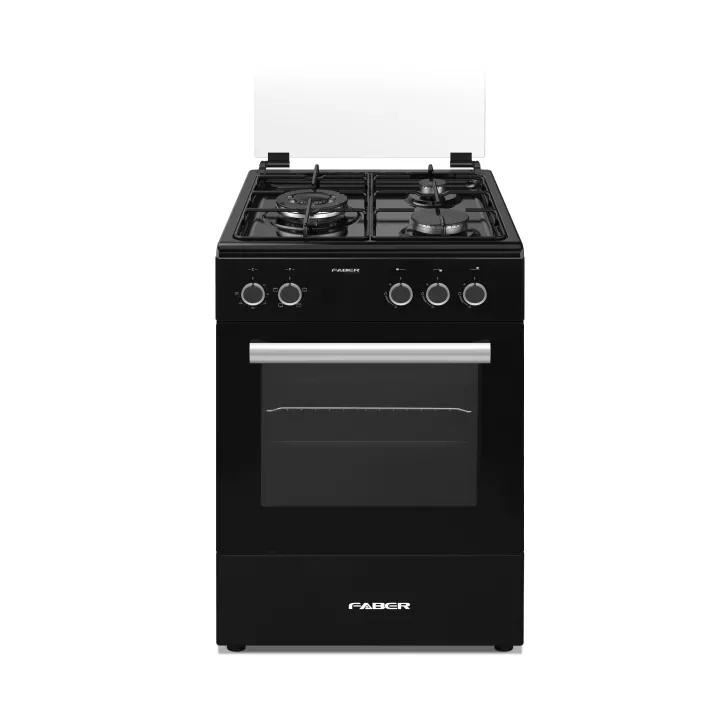 Check FABER FISSO 5583E/BK 3 price below:
add_circle
Auto-ignition hobs
add_circle
Enamel pan support
Overview
Despite its small size, this 50L electric oven is just as versatile as other larger units, complete with 5 functions. There are 3 burner ratings and a temperature range of up to 240°C. The removable double glass door oven also makes cleaning an effortless task. 
Details
50L full electric oven capacity with 5 cooking functions

3 gas burners 

Removable double glass door oven

Auto ignition hobs

Enamel pan support
Who is this for?
This sleek and compact cooker is ideal for small spaces and studio apartments. With its 3-burner stovetop, you can cook multiple things at once to speed up meal prep. Overall, this is a comfortable pick for couples or those who live on their own.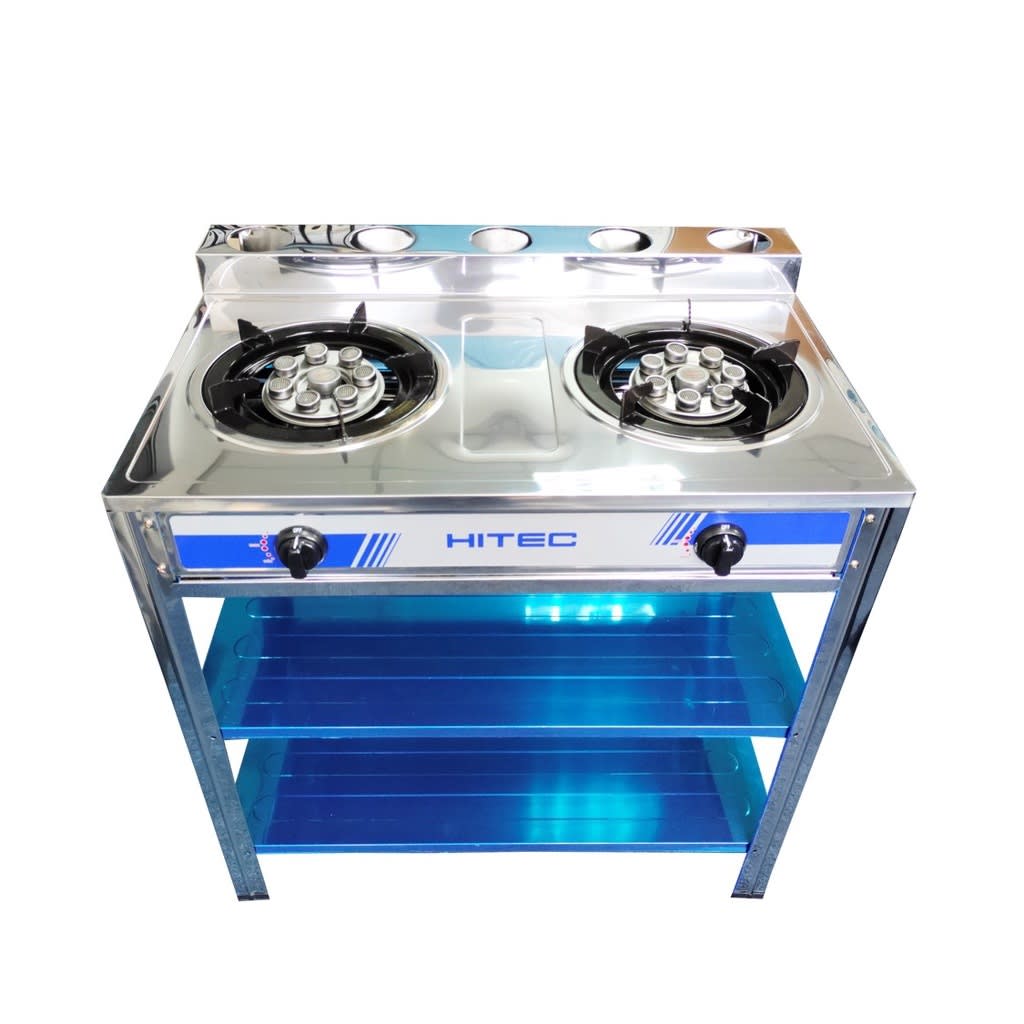 Check HITEC Free Standing Gas Cooker HTB-S228FS price below:
add_circle
High thermal efficiency and energy saving
add_circle
Comes with 2 fitted shelves
add_circle
Powerful flames
remove_circle
Doesn't come with oven and multiple cooking functions
remove_circle
Only 2 gas burners
Overview
Don't let the price fool you as this HITEC HTB-S228FS Freestanding Cooker comes with 8 powerful jet burners for steadier heat when cooking, and the 2 gas burners will definitely suffice your casual cooking ventures. 
The cooker sports a full stainless steel body with piezo ignition that's certified by SIRIM. Perfect for home-cooking, the HITEC HTB-S228FS also comes with 2 fitted shelves for you to place your favourite spices and sauces when cooking.
Details 
2 gas burners with 8 powerful jet burners for powerful flame

SIRIM-certified piezo ignition

Comes with 2 fitted shelves

Full stainless steel body
Who is this for?
Buying an ideal freestanding cooker shouldn't leave you strapped for cash. Hence why this HITEC HTB-S228FS Freestanding Cooker is a suitable choice for fuss-free cooking sessions at your homes. Though, this freestanding cooker doesn't come with an oven and multiple cooking functions, which is amenable for those who love simple home-cooked food.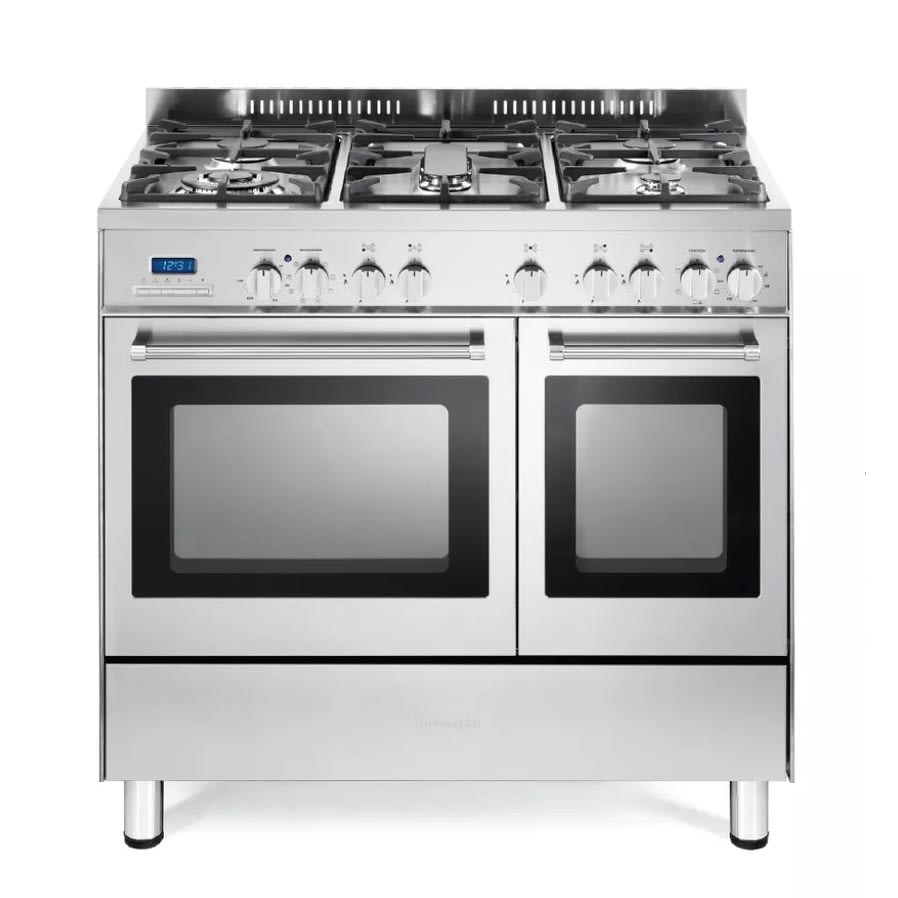 Check DELONGHI DMX-9623 price below:
add_circle
5 burners for maximum cooking efficiency
add_circle
Stainless steel
Overview
Ever been in a situation where you have to whip out your cooking skills pronto because of unexpected guests coming over? Fear not, this DeLonghi DMX-9623 freestanding cooker gives you the feeling of being a professional cook for a day! The professional range cooker features 5 SABAF burners with a safety device for an ideal multi-cooking session.
What makes this DeLonghi DMX-9623 ideal for a professional kitchen is that it has 2  large 57L and 35L ovens. That means you can serve the best roast and home cooked lasagna for the perfect dinner with your loved ones. Each oven also has multiple cooking functions in stainless steel finish with cast iron trivet for the best food heat flow.
Details
2 large 57L and 35L oven capacity
8 multi-cooking functions
Stainless steel material
5 Italian SABAF burners with safety device
Who is this for?
With the dual-oven technology, this DeLonghi DX-9623 freestanding cooker oven works wonders for family dinners and feasts during holidays. Those who aspire to hone their baking skills would appreciate this cooker as well!
- Freestanding cooker vs Built-in cooker
A freestanding cooker can be installed in any kitchen since it can be moved around. It can simply be slid into a space between your cabinets. It functions as an appliance and a unit on its own with the presence of a grill, gas stoves and oven.
If you buy one and later decide to change the layout of your kitchen, it's very simple to include it into your new project. Freestanding cookers usually are available in a variety of sizes and types.
The built-in oven, on the other hand, has a lot going for it. Your kitchen's design will be enhanced with a built-in cooker. Built cooker needs to be built from scratch in a designated area of your kitchen. These cookers usually come with burners and an oven below the burners. If you have a small kitchen, this takes up very little room.
---
- Types of freestanding cookers
Natural gas cooker
The heat that cooks your food in a natural gas cooker is created by gas. Your cooker delivers gas to the surface, and when the ignition button is hit, a spark is created, which ignites the gas, resulting in a flame.
One of the most significant advantages of utilising a gas burner is that it cooks faster than an electric oven. This is because electric ovens take a long time to heat up, but flame produces heat instantly.
Electric Cooker
An electric cooker is a combination of a ceramic stove and an electric powered cooker. Ceramic hobs have a glass surface with electric heating components beneath it. This design is popular because of its sleek and has convenience of usage. An electric cooker is a combination of a ceramic stove and an electric powered cooker.
---
- How to choose a freestanding cooker?
Even when you've narrowed your cooker search to freestanding gas appliances, you'll be faced with a baffling variety of design features and function possibilities. Select the model that best suits your requirements, lifestyle, and budget. Take the time to choose an oven that will make your cooking as pleasant and easy as possible, whether you're renovating or simply moving into a new house.
Towards the end of your search and before purchasing, be sure to measure the area you'd like your cooker to be installed and ensure how much storage space you want you cooker to be.
Related articles: