Fried food can be healthy, you just need to know how to cook your favourite crispy food with the right tools in the market!
The air fryer has been dominating our Malaysian kitchen scene for the last 10 years or so, and it doesn't seem to be stopping. At least, not yet. Even if you have your typical ovens and toasters to cook certain crispy food, nothing will fry them like an actual fryer.
Air fryers not only give us healthier food options, but it's also convenient and easy to use, making this a dream appliance for anyone from bachelors to working moms.
---
Check out our reviews on the best air fryers in Malaysia, all suitable for cooking healthy fries and whatnots with. If you think you need more than what we have to recommend, do read the guide after our air fryer list!
Best Air Fryers in Malaysia
Corvan Air Fryer F38
Riino Air Fryer Oven AF510T
Cornell Multi Air-Fryer CAF-E1600G
Airbot Air Fryer AF100
Pensonic Chef's Like Air Fryer PDF-2201
Trio Air Fryer TAF-827
Milux Digital Turbo Air Fryer MAF-1360
Tefal Fry Delight Meca FX1000
Midea AIr Fryer MAF-CN20A
Philips Viva Collection Airfryer XXL HD9630/99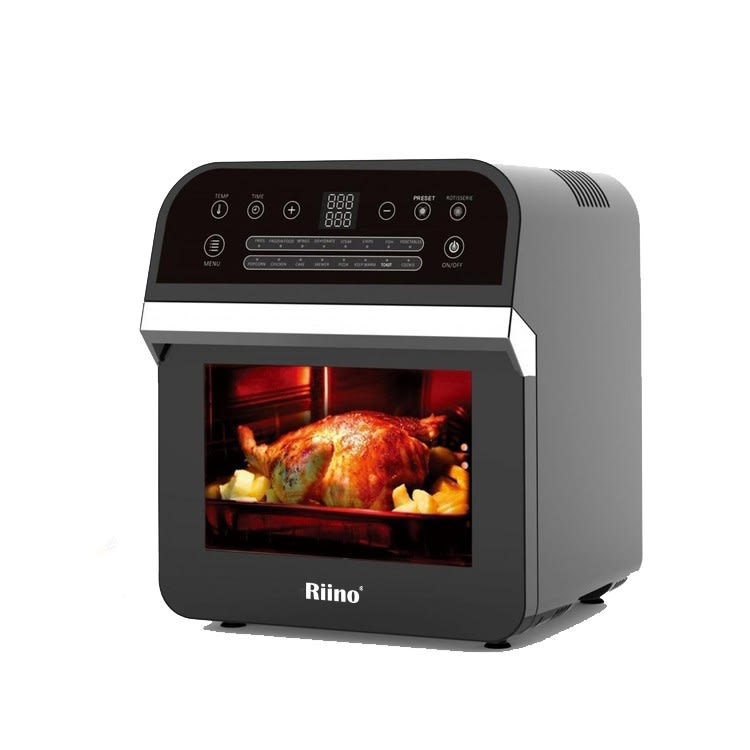 add_circle
Spacious interior capacity to let you fit and rotisserie a whol chicken
add_circle
17 cooking functions to let you cook all kinds of meals
add_circle
Functions as an oven, air fryer, grill, frying pan, yogurt maker, and dehydrator in one appliance
add_circle
Compact and narrow size to fit smapp kitchens
remove_circle
Baked buns may be a bit dry
remove_circle
Heats up quickly and may burn food easily
remove_circle
Button noise is loud
Established in 2015, Riino is a Malaysian brand with a variety of home and kitchen products. They may be relatively new compared to other local brands, but the quality of their air fryer oven seems to be as good as the rest.
The Riino AF510T is a 12L air fryer oven with 16 preset menus and 10 accessories, making it the unit with the most features (on this list of course). Now, we're not going to list down all the presets, but we'd like to point out that one particular preset menu that caught our eye – the dehydrate preset. With this preset, you'd be able to dehydrate your own fruits – making this function perfect for healthier snacking. We also found users to have no complaints about the other preset menus, and were in fact, more than satisfied with the results.
Besides fries, roast chicken is next on the list of popular food people like to try cooking with an air fryer. However, what most don't know is that it would probably be impossible to fit a whole chicken into the usual bucket-type air fryers. This 12L oven-type air fryer would be able to accommodate a whole chicken, albeit a small one of around 1.8kg, according to most users.
If you don't mind forking out a bit more for much more functions, the Riino AF510T is a definite bang for your buck.
---
More: 7 Best Large Air Fryers That Are Fitting For A Large Family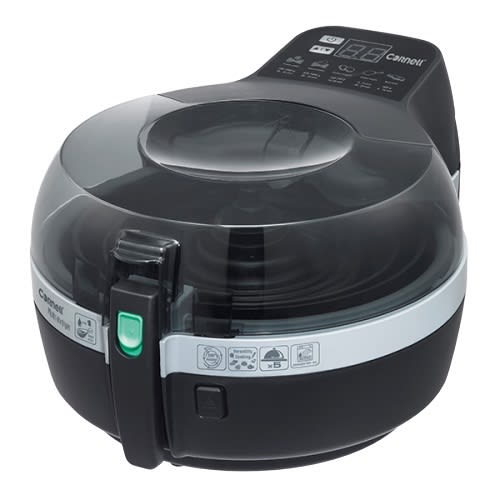 add_circle
Comes with stirring paddle for evened cooking
add_circle
Viewing window
add_circle
Has two compartments
Established the year 1995 in the United States, Cornell manufactures high quality and well-designed appliances that are also user friendly. Although this brand is not as well-known as local and Japanese brands, the Cornell CAF-E1600G is a multi-functional air-fryer combo we absolutely vouch for.
First off, this 4.4L unit has two compartments. This allows you to cook different food separately at the same time, so that you wouldn't need to mix them together. Let's say you'd like to cook some fried rice with fried chicken on the side. This air fryer is able to cook fried rice on the bottom grill compartment, while a few pieces of fried chicken cook atop the upper mesh basket.
Next is its stirring paddle. Although the Cornell Multi Air Fryer comes with a paddle, it only stirs the bottom grill and leaves the upper-tier untouched. This 2-in-1 feature comes in useful when there are times you'd want to cook more tender food like fish – simply place your fish on the top tier. For food like vegetables, rice, and fries that require more even cooking, place them on the bottom grill to be stirred.
Having said all that, this unit has quite a big downside – it is a relatively old model. There are only a few units left for sale on Lazada and Shopee, and we're not too sure if it's being sold at offline home stores either. But if you don't mind it not being the latest kitchen gizmo out there, give this a try.
---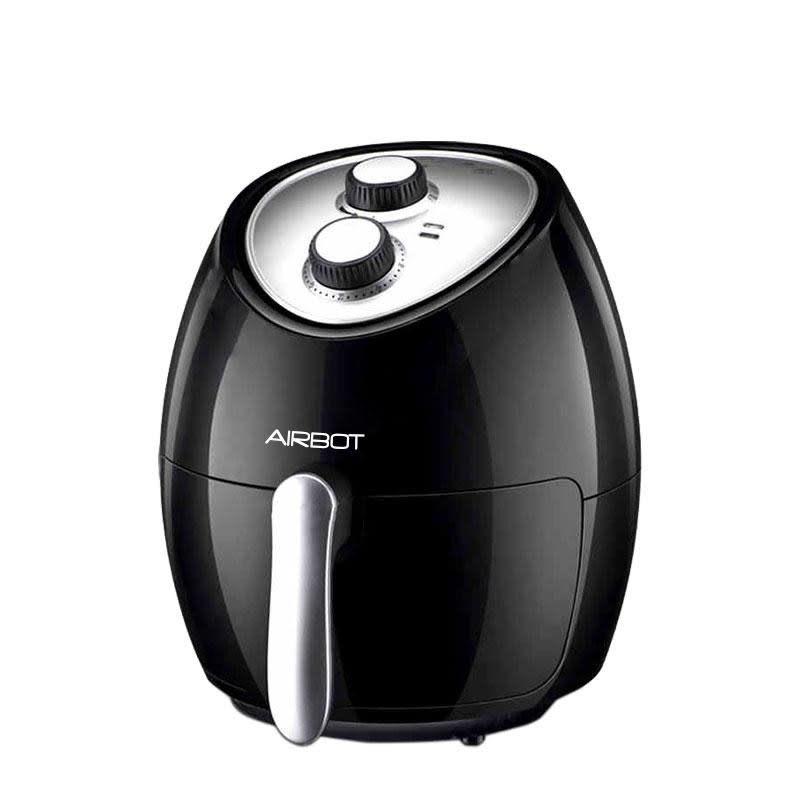 add_circle
Satisfactory crisp level
remove_circle
Limited temperature range
remove_circle
Small capacity
Owning an air fryer does not need to cost you an arm or a leg, and the Airbot Air Fryer AF100 comes with all the whistles and bells, but without the expensive price tag. Airbot is a home appliance brand from across the causeway that sells a variety of products at affordable prices, and the Airbot AF100 is one of them.
This air fryer has everything you'd need to cook most air-fryer friendly food (such as frozen food). With a pot capacity of 3.0L, you can cook up a reasonably sized healthy meal for 2 (no whole chicken though). It has a temperature range of 80 to 200 degrees and a timer of up to 30 minutes - all bare minimums for an air fryer.
Although 30 minutes is short and that the temperature range doesn't seem high enough, the air fryer counters this by featuring a Turbo Airflow technology that will evenly cook and heat up each part of your food. This ensures that food is crispy outside and soft on the inside in a good manner of time. Complementing the feature is also its insulated inner walls, which lets the appliance use heat energy efficiently.
In general, users are very happy with the fryer's good performance. Adding to the fact that at such a low price, it's a good recommendation for anyone looking to buy their first air fryer.
---
More: 9 Best Budget Air Fryers That Won't Cost More Than RM 300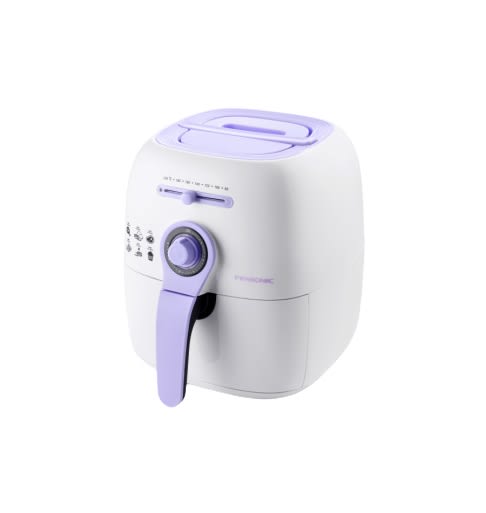 add_circle
No burnt-plastic smell during cooking as claimed by reviewers
add_circle
Cool-touch housing
remove_circle
No claims of non-stick basket
remove_circle
Not dishwasher-safe
When it comes to cooking fish in an air fryer, there are three features you should look out for: size, stirring paddle and pre-settings.
Size
Where size is concerned, we're talking about the air fryer's capacity and also the size of the fish. If you would be cooking medium-sized fish fillets for 1-2 persons more often, then this Pensonic air fryer would be a good pick because of its 3.0L capacity. Getting one that is too big might prove to be a waste of countertop space unless you've got a larger family.
Stirring Paddle
A stirring paddle is actually a convenience for some, especially when there's the need to flip over fries for evened cooking. However, such an accessory might only become a nuisance when it comes to cooking food like fish as we wouldn't want the fish to be broken apart.
Pre-set menus
Some air fryers come with pre-sets that include chicken, meat, frozen food, fish, etc. Getting an air fryer that includes a pre-set for cooking fish would prove to be a big help, especially for newbies in the kitchen.
The Pensonic PDF-2201 comes in a decent 3L capacity with no stirring paddle, and unfortunately does not have any pre-set menus. On the appliance, however, there is an icon display guide for 6 types of food. This guide works as well as a pre-set menu function if you prefer setting the temperature and timer manually.
---
More: 8 Deep Fryers That Ensure You Cook Safely And With Perfection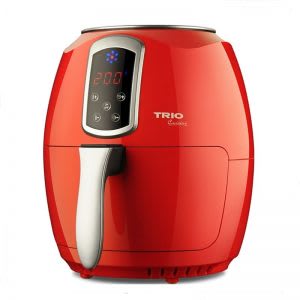 add_circle
Convenient handle design enhances portability
add_circle
More accurate temperature and timer settings compared to analogue control
add_circle
Wide temperature range from 60 to 200 degrees
add_circle
Suitable for warming up certain food
remove_circle
Not dishwasher-safe
Countertop space could be an issue if you've got a smaller kitchen but love using many appliances (like some of the editors at ProductNation). One way to overcome this is by cleaning and keeping the unit once you're done using it. However, bigger capacity air fryers can be quite heavy and difficult to move around, especially if it's being used by older folk.
Among all the units in this list, this 2.6L air fryer is the only one that comes with a handle, making it easier to carry and store after use. Surprisingly though, it weighs a whopping 6kg, even with a 2.6L capacity. This makes that handle design all the more useful.
When it comes to futuristic features, the Trio TAF-827 is modern enough to have a touch screen panel but weirdly, no pre-set menus. It has the standard temperature and timer settings all other air fryers have, but that's nothing to shout about.
This air fryer has been given raving reviews on Lazada, and is given 4.7/5 stars (at time of writing). Besides being a good pick for newbies in the kitchen, users also complimented the unit on being easy to use and clean.
---
More: 10 Best Air Fryers That Cooks Fish Without Leaving Odour Behind!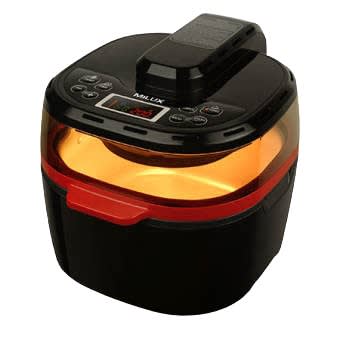 add_circle
99-minutes timer
add_circle
Comes with accessories
add_circle
7 preset functions
Milux is a Malaysian brand established in 1977 and has since grown to be known as the household gas specialist in the South East Asian region. The Milux Digital Turbo Air Fryer MAF-1360 is our favourite pick for large families simply because, well, its capacity.
This 12L air fryer can cook up a storm for a large family of 5 – 8 people, maybe even 10 if you have young children in the household. This isn't to say that a smaller capacity air fryer wouldn't be able to cook for a big family, but you'd have to do so in batches which can be time-consuming.
Besides its huge capacity, it comes with 7 accessories to accommodate a wide variety of food. These accessories include chicken forks (rotisserie), a cage (for nuts and fries), a fish cage, a rack, a non-stick grill plate, skewers, and tongs. Complementing its 7 bonus accessories is a set of 7 pre-set menus for nuts, chicken, cake, skewers, steak, fries and fish & DIY.
---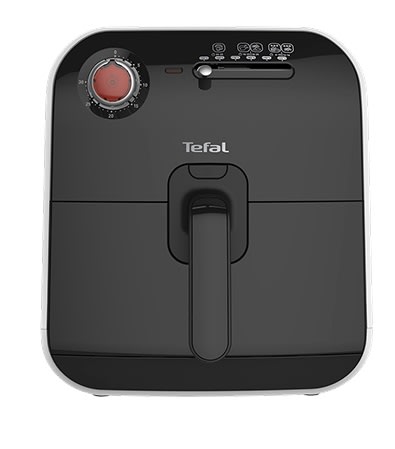 add_circle
Perfect for one person
add_circle
Dishwasher-friendly
remove_circle
Might be bulky for some
Known for their wide array of kitchen appliances and cookware (particularly their non-stick utensils), Tefal is a trusted household name in the kitchen department all around the world. Among all the brands listed, only Tefal and Philips have more than a few different models of air fryers.
The Tefal FX1000 is the only unit with a 0.8L capacity to be mentioned on this list. Now, it's important to note that an air fryer with such a capacity is perfect for a single person, but no more than that. Of course, if such a situation occurs where you'd have to cook for another person, you'd just have to cook in batches.
Like some of the air fryers mentioned here, this unit comes with a standard temperature and timer you'd have to set manually. So if touchscreen or digital control isn't your cup of tea, this model would be perfect. It also comes in a black-and-white colour combo and has a nicer, squarish design compared to most air fryers. However, we've found users complain that it could be quite bulky especially if you lack kitchen countertop space.
---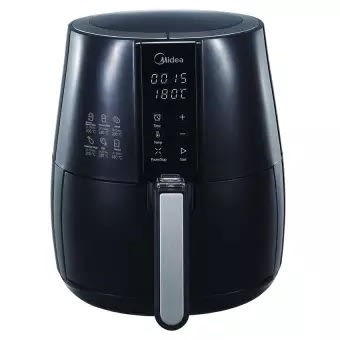 add_circle
Uses 304 Stainless steel for extended durability
add_circle
LED touch control panel
add_circle
More accurate temperature and timer settings compared to analogue control
remove_circle
Small capacity
Enjoy fresh and healthy meals with the Midea MAF-CN20A. It uses the 3D Air Flow Heating System to ensure that food cooks evenly, turn out crispy, and is kept warm. Do take note that this unit's capacity sits at 2.2L, enough for 1 person or 2 people at most.
This unit is clad in black, with only a dark silver handle that stands out just a little. Paired with its LED touch control panel, this would be a near-perfect addition for the home of a bachelor or young couple who fancy a futuristic yet minimalistic theme.
For a longer lifespan, this unit's heating element is made with grade 304 stainless steel, a type of austenitic stainless steel that provides outstanding corrosion resistance. According to Metal Supermarkets, Grade 304 stainless steel is also a common material used in home appliances and commercial food processing equipment.
Nevertheless, we still came across negative reviews complaining about the amount of noise this unit makes while it's cooking the food. Noisy appliances could become irksome so it's best to keep that in mind before purchasing this unit.
---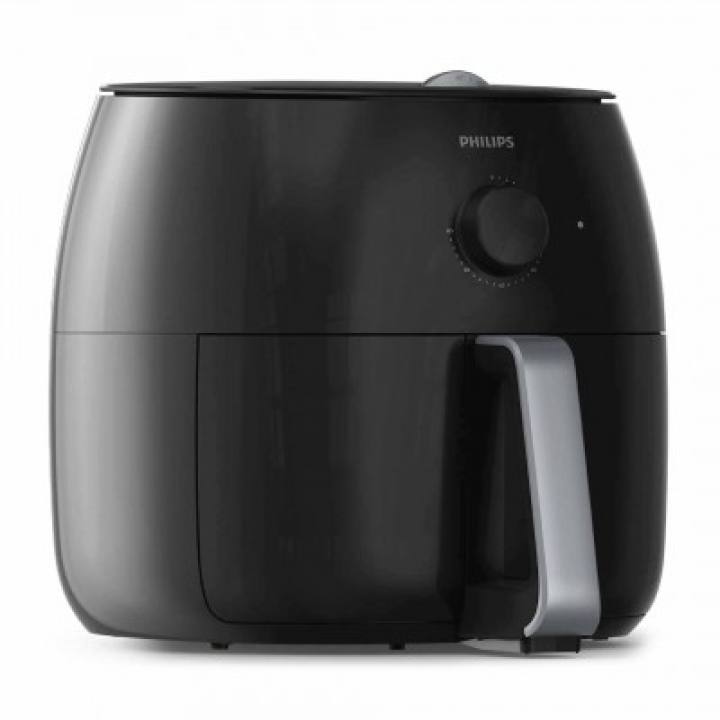 add_circle
Ensures thorough cooking
add_circle
Dishwasher safe
add_circle
2-year original warranty by Philips Malaysia
add_circle
QuickClean basket for easier cleaning
remove_circle
No stirring paddle
Philips is a brand well-known for a variety of home appliances and their air fryers are one of the best on the market. You'd be happy to know that this air fryer could help you whip up tons of delicious meals via frying, grilling, roasting, and even baking. It also has a reheat function to help warm up cold or refrigerated food.
You probably already know that air fryers use little-to-no oil for "frying" the food. The Philips Viva Collection Air Fryer XXL further reduces fat with its new Fat Removal technology that separates and captures excess fat. Apparently, it is the only air fryer on the market with said technology. This way, you can enjoy delicious, healthier food with maximum taste and minimum fat.
Its QuickClean basket is also something worth pointing out. Although most air fryers are easy to clean, the basket can get dirtier as time goes by. Philips QuickClean basket has a removable mesh that makes it easier to clean thoroughly, and non-stick coating so that less food debris gets stuck.
One thing you should take note of is its capacity. Unlike all the other air fryers on this list, the Philips doesn't mention its capacity. At most, we know that the device can cook 1.4kg of fries. Upon further research though, we found that this air fryer has a 7.3L capacity and is enough to feed a medium-sized family of 3 to 5.
---
---
So, How Does an Air Fryer Work?
Despite it being called an air "fryer", there's actually no frying involved. As stated by Ktchn, an air fryer is a small electric appliance with a heating element and a fan that blows air around in a cooking chamber. Sounds familiar? That's because a convection oven works the same way.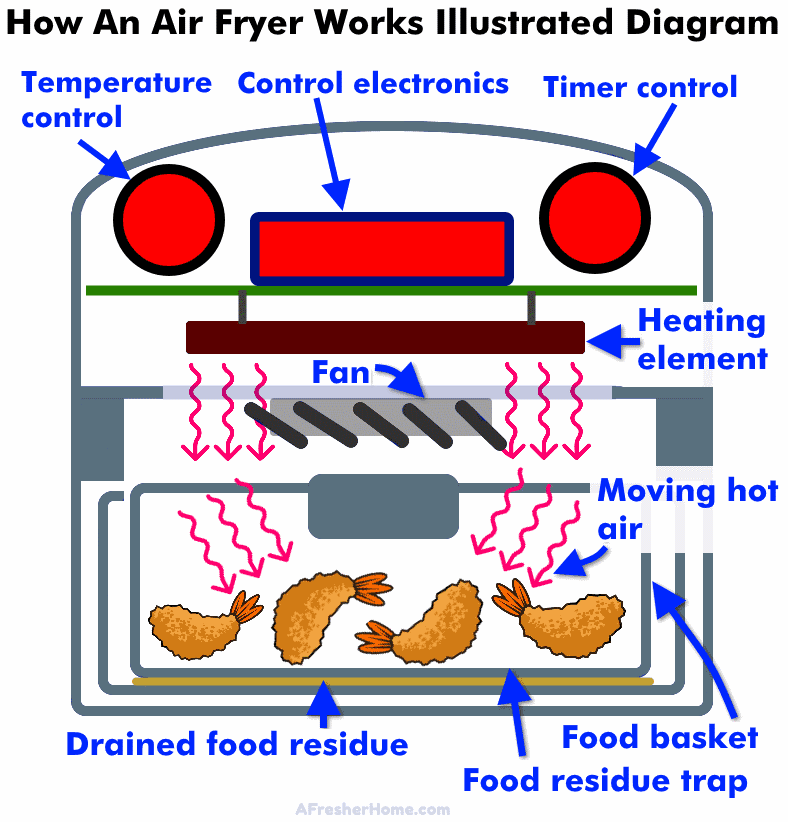 Credits: AFresherHome.com
What makes an air fryer different from a convection oven is that the heated air is swirled very quickly in a circular fashion, so it does a better job of reaching all of the surfaces of the food and creating a crisp crust. Additionally, the food sits in a perforated basket which increases its contact with the hot moving air.
---
How to pick an air fryer
It is important to know and understand the various qualities an air fryer offers so you can better determine which to go for. Below are a few pointers to pay attention to as you check out your air fryer options:
Type
The model of air fryer you pick can affect how much space you have to cook with as well as how much effort you need to put in. Air fryers mainly come with either a pull-out tray or with a bowl.
A pull-out tray is a basket that you can add food to and slot into your air fryer. But this option does not offer you the convenience of checking the progress of your food unless you pull the entire basket out.
On the other hand, some air fryers have a wider bowl with a viewing window in the lid to make it easier for you to check on your food without disturbing the process. Some may even come with a stirring paddle for you to stir your food as it cooks.
Size
Air fryers come in various basket sizes ranging from small to extra-large. You would need to then decide if you want one with a large capacity to feed your entire family or just a compact one for easier storage.
For example; if you live alone, a 3L volume capacity might be too much. It's best that you get something around 0.8L to 2.8L. Not only are smaller models cheaper, but they're also more practical in terms of usage and power consumption. A 2.6L to 3L capacity unit would be great for 2 people, and a unit ranging from 4.4L to 7.3L would be quite good for a small family of 3 to 5 people.
Cost
Some air fryers can get pretty pricey. However, the higher the cost does not necessarily mean the higher its quality. Make sure to review the details of each air fryer and choose wisely before you make that investment.
Ease of Use
In our list, we picked the units most easy to operate while still getting the best results. However, some are quite complex, especially for the bigger air fryers as they have more cooking features. If you want to experiment on food and improve your cooking skills, you might want a machine that offers more than just temperature and time controls.
Settings
An air fryer can come with various settings for convenient cooking. Some offer pre-sets to cook chicken, frozen foods, meats, fish, etc. In this case, it is recommended to get one with a fish pre-set as they're quite tricky to cook in an air fryer, so it can become a very helpful tool. However, air fryers with manual settings can work great as well.
Conclusion
An air fryer is the only countertop appliance that guarantees great taste while keeping things healthy. Although it uses quite a lot of electricity to function, it's still worth having as you save on cooking oil and gas at the same time. However, it's definitely worth the investment, regardless of whether you're health-conscious or not.
Disclaimer: The pricing shown is just a good indication of how much these products are worth. The prices could change based on the e-commerce promotions that are going on. If some of the products are not available, do email us at [email protected] Thank you!