Expert In This Title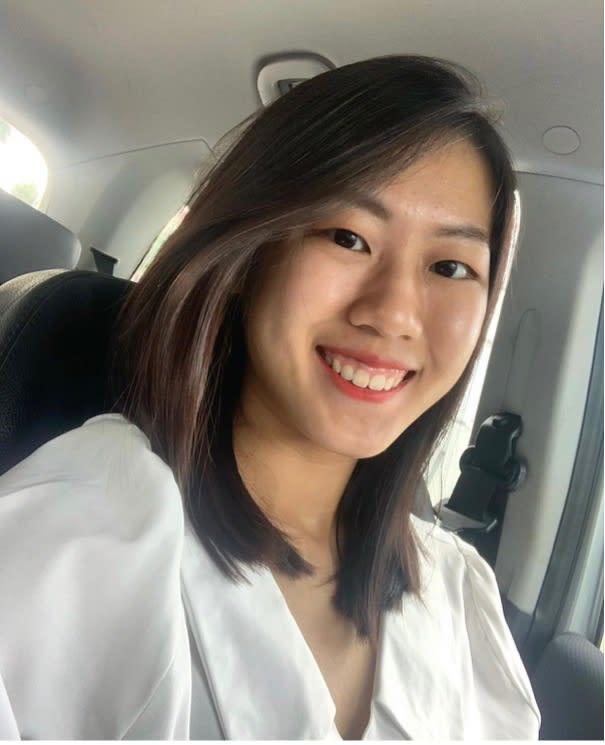 Content Creator, Fitness Enthusiast, Dietitian
Bobo Ng
Besides being an avid content creator and fitness enthusiast, Bobo is a certified dietitian who is passionate about the education of healthy eating & lifestyle. She inspires people around her to create a healthy community through her abundance of work serving the public in hospitals, clinics, NGO's & more.
"An air fryer helps to minimize intake of oil, saturated fat, trans fat and overall calories from foods. This in turn helps to not only reduce the risk of chronic disease but also aids in enhancing overall meal quality and mitigating inflammation in the body. Besides, air fryers nowadays are multi-functional. This helps to save cost and time because we no longer need to buy different individual kitchen appliances tailoring to the different cooking method separately." - Bobo
Fried food can be healthy, you just need to know how to cook your favourite crispy food with the right tools in the market!
The air fryer has been dominating our Malaysian kitchen scene for the last 10 years or so, and it doesn't seem to be stopping. At least, not yet. Even if you have your typical ovens and toasters to cook certain crispy food, nothing will fry them like an actual fryer.
Air fryers not only give us healthier food options, but it's also convenient and easy to use, making this a dream appliance for anyone from bachelors to working moms. 
Check out our reviews on the best air fryers in Malaysia, all suitable for cooking healthy fries and whatnot. If you think you need more than what we have to recommend, do read the guide after our air fryer list!
---
Top 10 Air Fryers in Malaysia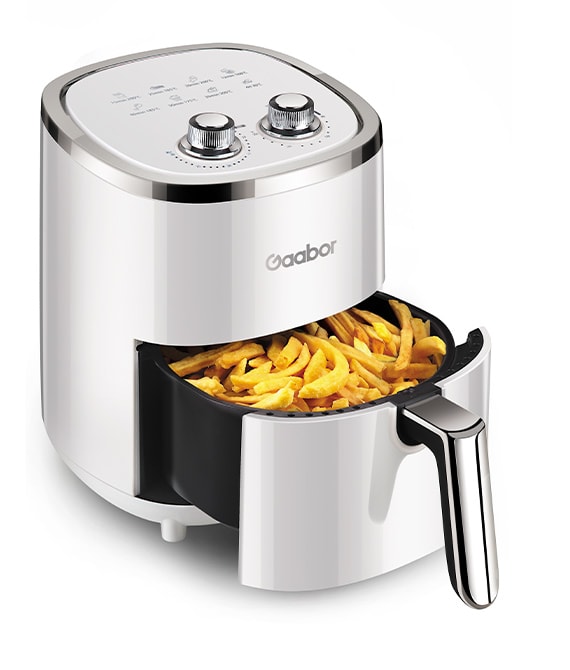 Check Gaabor Air Fryer Oven 4L Cooking GA-M4A price below:
add_circle
Anti-scald handle design
add_circle
Large capacity for a small family
Gaboor is an upcoming home appliance company that is loved by many. Their extensive range of products has made its way through customers' hearts to find the perfect product in a split second. 
Overview
This air fryer not only serves as an air fryer but also doubles as an oven too. It has 8 menu functions to accommodate your inner chef's urge for a new meal of the day. The Gaboor air fryer also has a 360° three-dimensional hot air circulation that helps with heating and lets your meal cook thoroughly.
Regarding the design itself; it's sleek and comes in a whitish-silver colour that fits right on your kitchen top. Besides the traditional feel of operational knobs, they also function as a safety element for temperature control and are easy to power off.
Specifications:
Power:

1200W

Inner Chamber Capacity:

4.0L

Net Weight: 3.2kg
Gross Weight: 3.9kg
Dimensions: 30.5cm (L) x 26.1cm (W) x 29.5cm (H)
Performance
To ensure the perfect cooking of your food, you can modify the temperature for various cooking functions thanks to its adjustable temperature range of 80 °C to 200 °C. After usage, the detachable non-stick grill extension leaves no oil or smoke stains and is easy to clean.
Promising Review
"Good packaging. Safe arrival Responsible courier man. Item looks soooo amazing. Luxury white colour. Will order Gaabor next item. I tried cook chicken nugget and it taste good." - r*****9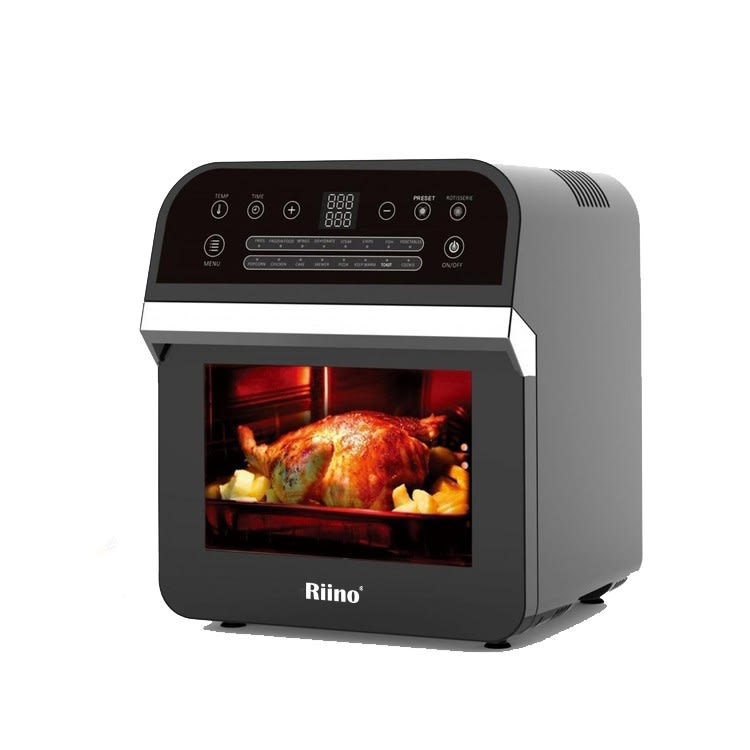 Check Riino Air Fryer Oven AF510T price below:
add_circle
Fits a whole chicken
remove_circle
Heats up quickly and may burn food easily
We think it's the best buy because of its versatility as a hybrid appliance; an air fryer and oven in one. 
Established in 2015, Riino is a Malaysian brand with a variety of home and kitchen products. They may be relatively new compared to other local brands, but the quality of their air fryer oven seems to be as good as the rest. 
Reasonably priced, it comes with a host of features and extra tools that make cooking that much easier. We love how much just one cooking appliance can do, saving us money and valuable storage space since there is no need to buy other appliances.
Overview:
The Riino AF510T is a 12L air fryer oven with 16 preset menus and 10 accessories, making it the unit with the most features (on this list of course). Now, we're not going to list down all the presets, but we'd like to point out that one particular preset menu that caught our eye – the dehydrate preset. With this preset, you'll be able to dehydrate your own fruits – making this function perfect for forming healthier snacking habits.
Specifications:
Power : 1600W
Inner Chamber Capacity : 12L
Net Weight : 8.6kg
Gross Weight : 8.7kg
Dimensions : 27cm (L) x 49cm (W) x 37cm (H)
Performance:
Besides fries, roast chicken is next on the list of popular food people like to try cooking with an air fryer. However, what most don't know is that it would probably be impossible to fit a whole chicken into the usual bucket-type air fryers. This 12L oven-type air fryer would be able to accommodate a whole chicken, albeit a small one of around 1.8kg, according to most users.
We found that users have no complaints and were more than satisfied with the results. For what you're paying, this model has all the bells and whistles that definitely give you bang for your buck. 
Promising Review:
"Like the air fryer oven so much, tried to cook fries and chicken wing, the fries is so crunchy and the chicken wing is so delicious too." - fannysp22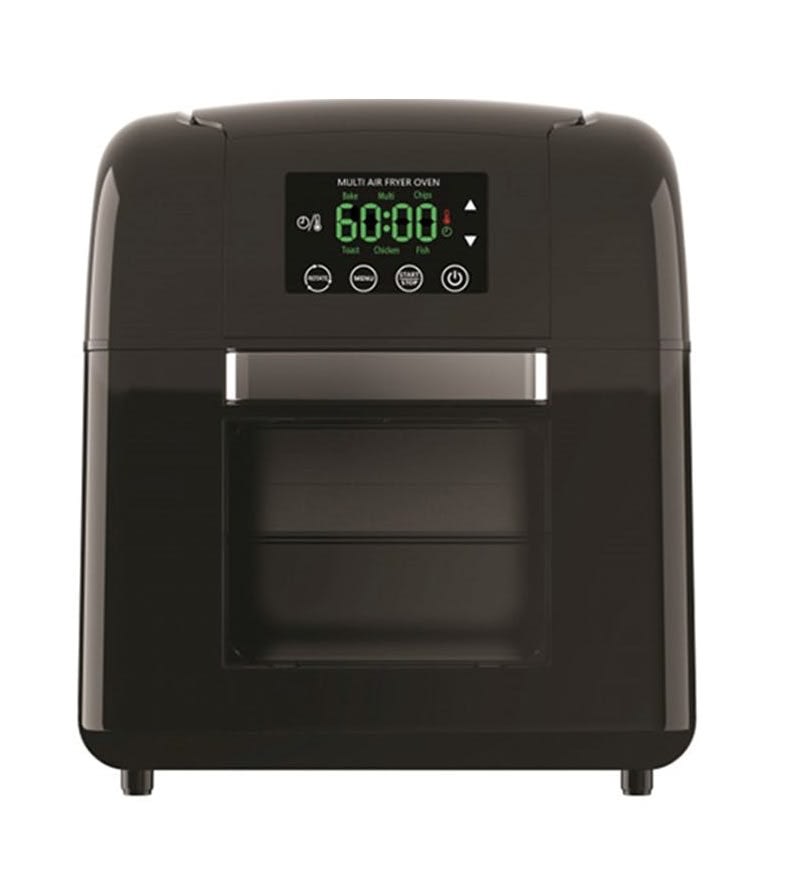 Check Khind Air Fryer Oven ARF9500 price below:
add_circle
Rotisserie function
add_circle
Stainless steel mesh frying basket
remove_circle
Not as many presets as some other models
remove_circle
Cannot fit a large sized chicken
Stainless steel is durable and makes clean up so easy. You'll love this air fryer oven by Khind that comes with a rust-free stainless steel mesh frying basket.
Overview:
Activate the rotate function with the touch of a button and make rotisserie chicken at home! The digital display with touch sensor control is straightforward and easy to use.
Specifications :
Power : 1400W-1650W
Inner Chamber Capacity : 9.5L
Net Weight : 7kg
Gross Weight : 7.6kg
Dimensions : 31.6cm (L) x 31.4cm (W) x 35.8cm (H)
Performance:
You'll be able to practise healthier cooking as this air fryer oven utilises high-speed air circulation technology so you won't need to use a lot of oil for your food to cook. It can only fit whole chicken of a smaller size. Overall, its performance is satisfying.
Promising Review:
 "The air fryer did a really good job with the chicken skin cracklings i made and is worth it." - Sabado Kitchen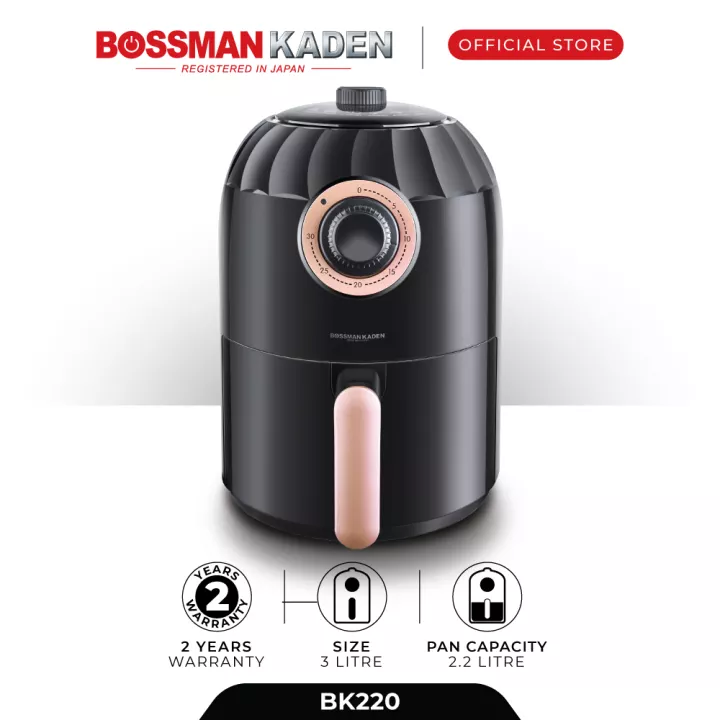 Check Bossman Kaden Mini Air Fryer BK220 price below:
add_circle
Safe to use (has several heat protection features)
add_circle
Consistent cooking results
remove_circle
Stiff timer knob
Owning an air fryer does not need to cost you an arm and a leg. The Bossman BK200 is a great budget-friendly option.
Overview:
With a net capacity of 2.2L, it suits small families of 2-3. The inner pan has a non-stick coating which is easy to clean.  
It has a temperature range of 80 to 200°C and a timer of up to 30 minutes. Although 30 minutes is a short time and the temperature range is limited, it does have 360° circling airflow to ensure that food is cooked evenly so that food turns out crispy outside and is well-cooked.
Specifications:
Power : 800W
Inner Chamber Capacity : 5.2L
Net Weight : 2.6kg
Gross Weight : 3.2kg
Dimensions : 25.5cm (L) x 33cm (W) x 25.5cm (H)
Performance:
In general, users are happy with the fryer's performance especially given its affordable price tag. This is a good option for anyone looking to buy an entry-level air fryer.
Promising Review:
"It's make cooking become easier and saving a lot of time & oil. Suitable for single or couple person only. Recommended" - chendrylilahtumporit

Check Giselle Digital 10-in-1 Air Fryer Oven KEA0340 price below:
add_circle
Dishwater-safe
add_circle
Useful presets especially for newbie cooks
Air fryers with more than one rack allow you to get more done in the same amount of time.
Overview:
This air fryer oven has 10 functions which include a dehydrate, rotisserie, bake, and toast. To give you an idea of how spacious it is, its 23L capacity can apparently accommodate an 8-inch pizza, 6 slices of toast, 18 chicken wings, a whole chicken(About 1.2kg), or more than 1kg of fries.
Specifications:
Power : 1700W
Inner Chamber Capacity : 23L
Net Weight : 8.91kg
Gross Weight : 11.5kg
Dimensions : 41cm (L) x 40cm (W) x 37.5cm (H)
Performance:
Its digital touch button control makes it easy to operate. The presets aren't arbitrary as you can still adjust the timer and temperature to your liking. Users praise its even heat distribution.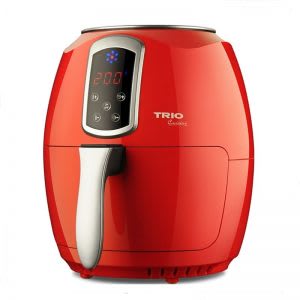 Check Trio Air Fryer TAF-827 price below:
add_circle
Temperature range from 60 to 200°C
add_circle
Suitable for warming up certain food
add_circle
Convenient handle design enhances portability
add_circle
More accurate temperature and timer settings compared to analogue control
remove_circle
Not dishwasher-safe
Countertop space could be an issue if you've got a smaller kitchen but love using many appliances (like some of the editors at ProductNation). Moreover, bigger capacity air fryers can be quite heavy and difficult to move around, especially if it's being used by older folk. The Trio TAF-827  is a great option as it'll take up minimal space.
Overview:
Among all the units in this list, this 2.6L air fryer is the only one that comes with a handle, making it easier to carry and store after use. Surprisingly though, it weighs a whopping 6kg, even with a 2.6L capacity. This makes that handle design all the more useful.
When it comes to futuristic features, the Trio TAF-827 is modern enough to have a touch screen panel but weirdly, no pre-set menus. It has the standard temperature and timer settings all other air fryers have, but that's nothing to shout about.
Specifications:
Power : 1400W
Inner Chamber Capacity : 2.6L
Net Weight : 8.91kg
Gross Weight : 11.5kg
Dimensions : 41cm (L) x 40cm (W) x 37.5cm (H)
Performance:
This air fryer has been given raving reviews on Lazada, and is given 4.7/5 stars (at time of writing). Besides being a good pick for newbies in the kitchen, users also complimented the unit on being easy to use and clean.
Promising Review:
"Amazingly worthy of the price. 10 minutes & the nuggets went from frozen to well cooked inside out. Now i can prepare breakfast box for my hubby easily in the morning."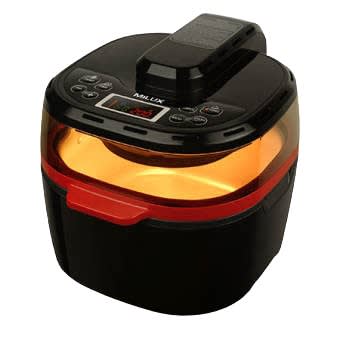 Check Milux Digital Turbo Air Fryer MAF-1360 price below:
add_circle
99-minutes timer
add_circle
Comes with accessories
add_circle
7 preset functions
Milux is a Malaysian brand established in 1977 and has since grown to be known as the household gas specialist in the South East Asian region. The Milux Digital Turbo Air Fryer MAF-1360 is our favourite pick for large families simply because of its, well, capacity.
Overview:
This 12L air fryer can cook up a storm for a large family of 5 – 8 people, maybe even 10 if you have young children in the household. This isn't to say that a smaller capacity air fryer wouldn't be able to cook for a big family, but you'd have to do so in batches which can be time-consuming.
Besides its huge capacity, it comes with 7 accessories to accommodate a wide variety of food. These accessories include chicken forks (rotisserie), a cage (for nuts and fries), a fish cage, a rack, a non-stick grill plate, skewers, and tongs. Complementing its 7 bonus accessories is a set of 7 pre-set menus for nuts, chicken, cake, skewers, steak, fries and fish & DIY.
Specifications:
Power : 1360W
Inner Chamber Capacity : 12L
Net Weight : 6.5kg
Gross Weight : 7.6kg
Dimensions : 43.8cm (L) x 33.8cm (W) x 32.5cm (H)
Performance:
Users appreciate its large capacity and love how easy it is to operate and clean.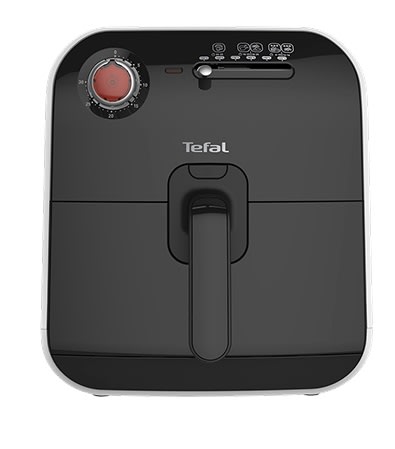 Check Tefal Fry Delight Meca FX1000 price below:
add_circle
Perfect for one person
add_circle
Dishwasher-friendly
remove_circle
Might be bulky for some
Known for their wide array of kitchen appliances and cookware (particularly their non-stick utensils), Tefal is a trusted household name in the kitchen department all around the world. 
The Tefal FX1000 is the only unit with a 0.8L capacity to be mentioned on this list.
Overview:
Now, it's important to note that an air fryer with such a capacity is perfect for a single person, but no more than that. Of course, if such a situation occurs where you'd have to cook for another person, you'd just have to cook in batches.
Like some of the air fryers mentioned here, this unit comes with a standard temperature and timer you'd have to set manually. So if touchscreen or digital control isn't your cup of tea, this model would be perfect. It also comes in a black-and-white colour combo and has a nicer, squarish design compared to most air fryers.
Specifications:
Power : 1400W
Inner Chamber Capacity : 0.8kg
Net Weight : 5.8kg
Gross Weight : 6.3kg
Dimensions : 45.2cm (L) x 34.2cm (W) x 36.7cm (H)
Performance:
Its four cooking modes; fry, grill, roast, and bake should suffice for cooking for one. 
Note that some users complain that it could be quite bulky especially if you lack kitchen countertop space.
Promising Review:
"Try to cook a few sausages from the fridge. It cooks perfectly and is very fast, takes only 5 minutes. Very simple cleanup also. Worth buying especially if it on sale." - Gajah S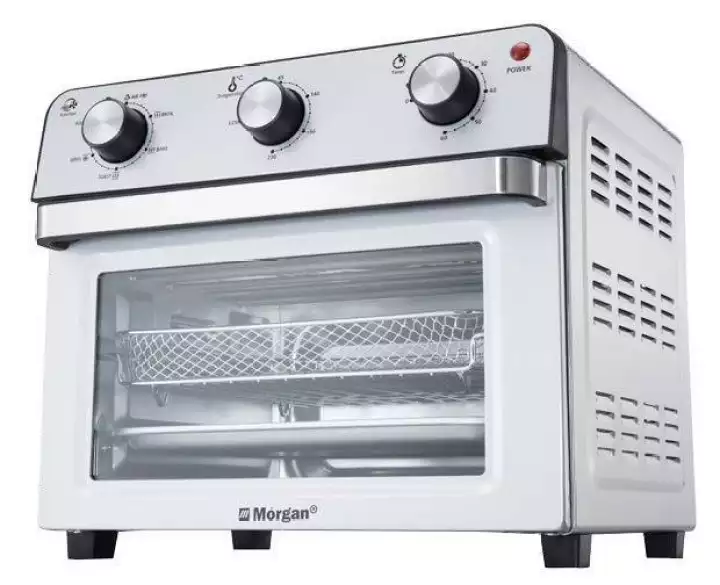 Check Morgan Air Fryer Oven MAO-VORTEX PRO 22 price below:
add_circle
Satisfactory build quality
add_circle
Wide temperature range and timer option
add_circle
Space-saving design
add_circle
Wide range of cooking functions including baking and broiling
Looking for an air fryer that can do more than just fry? This model by Morgan is a versatile device with 6 functions.
Overview:
Toaster oven air fryers tend to cook food more evenly and have more space to spread food out. Since this air fryer is also an oven, you can toast, grill, bake, and roast with it too. It automatically shuts off when the oven door is open as a neat safety precaution.
Equipped with a baking tray, wire rack, and air fry basket; you can prepare more than one type of food simultaneously; saving cooking time.
Specifications:
Power : 1500W
Inner Chamber Capacity : 22L
Net Weight : 7.52kg
Gross Weight : 8.52kg
Dimensions : 45cm (L) x 42cm (W) x 39.5cm (H)
Performance:
It has an adjustable temperature range of 65˚C to 230˚C, allowing you to control the temperature for different cooking functions. Users feel that it's a value-for-money purchase as it is multifunctional. You'll be able to dispense with the need to purchase other appliances and avoid clutter in the kitchen.
Promising Review:
"Tried the air fryer setting for fries on the day it arrived, and baking egg tart the next day, both results came out quite good." - d*****n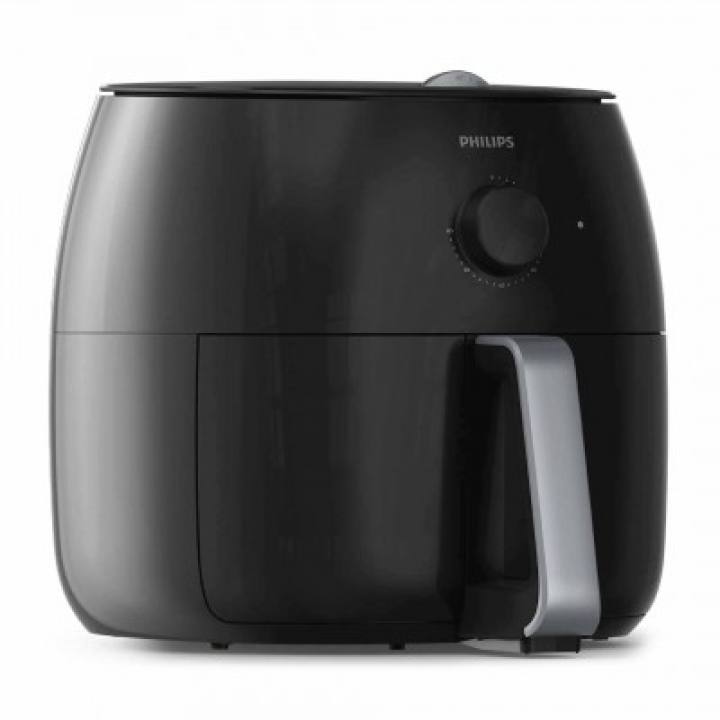 Check Philips Viva Collection Airfryer XXL HD9630/99 price below:
add_circle
Ensures thorough cooking
add_circle
Dishwasher safe
add_circle
2-year original warranty by Philips Malaysia
add_circle
QuickClean basket for easier cleaning
remove_circle
No stirring paddle
Philips is a brand that's well-known for a variety of home appliances and their air fryers are no exception.
The most tiresome part of cooking is actually the washing up. Although most air fryers are easy to clean, the basket can get dirtier as time goes by. Philips QuickClean basket has a removable mesh that makes it easier to clean thoroughly, and a non-stick coating so that less food debris gets stuck.
Overview:
This air fryer could help you whip up tons of delicious meals via frying, grilling, roasting, and even baking. It also has a reheat function to help warm up cold or refrigerated food.
You probably already know that air fryers use little-to-no oil for "frying" the food. The Philips Viva Collection Air Fryer XXL further reduces fat with its new Fat Removal technology that separates and captures excess fat. Apparently, it is the only air fryer on the market with said technology. This way, you can enjoy delicious, healthier food with maximum taste and minimum fat.
Specifications:
Power : 2225W
Inner Chamber Capacity : 0.8L
Net Weight : 7.93kg
Gross Weight : 8.93kg
Dimensions : 32.3cm (L) x 43.3cm (W) x 31.6cm (H)
Performance:
One thing you should take note of is its capacity. Unlike all the other air fryers on this list, the Philips doesn't mention its capacity. At most, we know that the device can cook 1.4kg of fries.  Upon further research though, we found that this air fryer has a 7.3L capacity and is enough to feed a medium-sized family of 3 to 5.
This is indeed a premium model that's a little pricier. You are most likely paying for its technology that doesn't seem to be available with other brands. 
Promising Review:
"Have used this product every day - and have cooked everything from frozen fries, frozen meals, tandoori chicken, roast beef, to steak and pizza! It is so easy. My one and only complaint would be that the dial isn't super accurate for timing. The fryer often stops cooking before the full time that I dialled to is up." - Smudge
---
FAQ:
- What is an Air fryer Oven?
An air fryer oven combines the recent trend of air fryers, which utilize convection heat to cook food rapidly in a tight space, with other cooking functions available, such as baking, broiling, toasting, and even rotisserie cooking and dehydrating.
It's essentially a multi-functional countertop convection oven with a motorized fan on top that directs hot air downwards instead of circulating it about the oven chamber.
---
- Is air frying really a healthy option for home cook meals?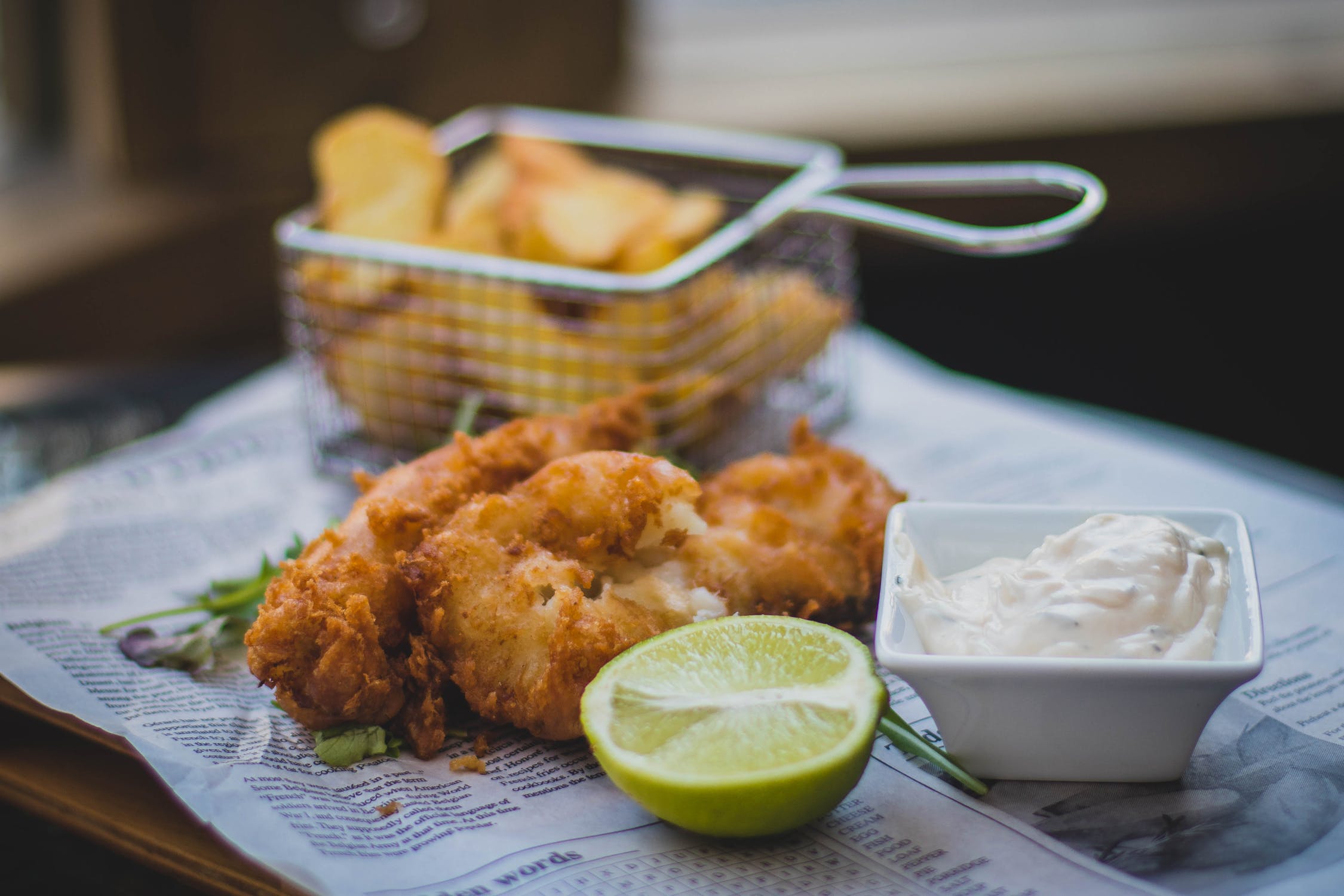 According to our expert, yes! Generally, air frying requires minimal to no additional oil. Hence, it helps to reduce the intake of oil and calories, which are the main culprit of excessive calorie consumption and obesity.
While obesity is the root cause of many chronic diseases, especially the three highs: diabetes, hypertension, dyslipidemia, cooking foods using an air fryer helps in weight management and prevention of obesity. Research has shown that the usage of air fryers can cut down the fat content in fried potatoes by 70% (about 45kcal per 100g).
 Besides, it also helps to reduce saturated fat, and trans-fat in foods by 30-50%.
---
- Is an air fryer really worth it?
Air fryers let you join the taste of fried food with only the need for minimal oil or none at all. Nonetheless, the taste and texture are uncompromised.
Besides, air fryers are a great introductory kitchen appliance for those who are newbies in the kitchen, thanks to the various presets and menus that come with many of the models on the market. Plus, they work faster than regular convection ovens, cutting down your cooking time.
But, if you are someone who is already experienced in the kitchen, an air fryer might not be necessary as this appliance isn't significantly better than the convection oven that you probably already own. An air fryer is worth getting only if you whip up fried food regularly. So, unless you fry food daily, it wouldn't be very beneficial.
---
- Benefits of an Air Fryer Oven
Air fryer ovens, in addition to having various functions, have a higher capacity than regular air fryers and are more space-efficient than circular air fryers due to their square or rectangular form.
Adjustable rack placements are also included with air fryer ovens. This allows you to move the food closer or farther away from the heat source at the top of the oven, which is useful if you want to brown anything quickly(like an air-fried rib-eye steak) or avoid over-browning an item (such as baked goods like Cheddar Cheese Biscuits).
An air fryer oven also has additional features that may not be present in regular ones. Most come with a glass window so you can keep an eye on the cooking progress of your food. They also tend to be a little quieter.
This may or may not be a decisive factor for you, but air fryer ovens can be simpler to clean than basket-style air fryers. Most ovens provide easier access to the inside and can be wiped down on the sides, back, and top.
In addition, the majority of the attachments in an air fryer oven are dishwasher safe or are detachable for easy washing.
On the other hand, air fryer baskets and drawers are a little bulkier. 
---
- Cons of an air fryer 
Pricey:
Air fryers are a few hundred Ringgit at least. While there are definitely lower-end models that are under RM200, the features won't be as extensive as that of the high-end multifunction ones that can cost over RM1000.
Food may get burnt:
Its preset cooking programmes are indeed useful, but they vary between air fryers of the different brands and are not the most accurate, resulting in burned food. Charred food might be carcinogenic. You'll need to experiment, trying out different modes and temperature settings, depending on what you're cooking.
Longer frying time:
Though faster than convection ovens, air fryers are actually 2-3 times slower than deep fryers.
---
- How to choose the best air fryer?
Let's talk about the factors you should take into account when picking an air fryer.
Firstly, consider how much counter space you have to spare when deciding what type of air fryer to go for. Air fryer toaster ovens are pretty bulky and may not be ideal for those who lack space.
Next, you'll want to look at the functions provided. What's the point of getting one that doesn't have the presets you're looking for to simplify your cooking process?
The capacity is important too. If you have a large family, you'll want one that's big enough so you won't have to cook multiple batches.
Think about your budget and narrow down your choices from there.
---
- Dietitian Explains: The downside of air frying
The main concern of air frying is the formation of acrylamide (a probable human carcinogen classified by the International Agency for Research on Cancer, IARC). Acrylamide is a by-product of the cooking process that is formed when sugar reacts with the amino acid asparagine during the Maillard reaction (Maillard reaction contributes to the browning of food). Simply put, the browner the food, the higher the acrylamide content.
The truth is that acrylamide forms when foods are cooked at 120°C and above. Hence, air-frying is not the only culprit that contributes to its formation. In addition, some studies show that an air fryer helps reduce 90% of acrylamide if compared to the traditional deep-frying method. (Note: acrylamide in other lifestyle factors like smoking, is even more potent than acrylamide contributed by foods).
In conclusion, air frying is generally safe however portion control still plays a key role in determining overall calories and nutrient consumption.
---
- Dietitian Tips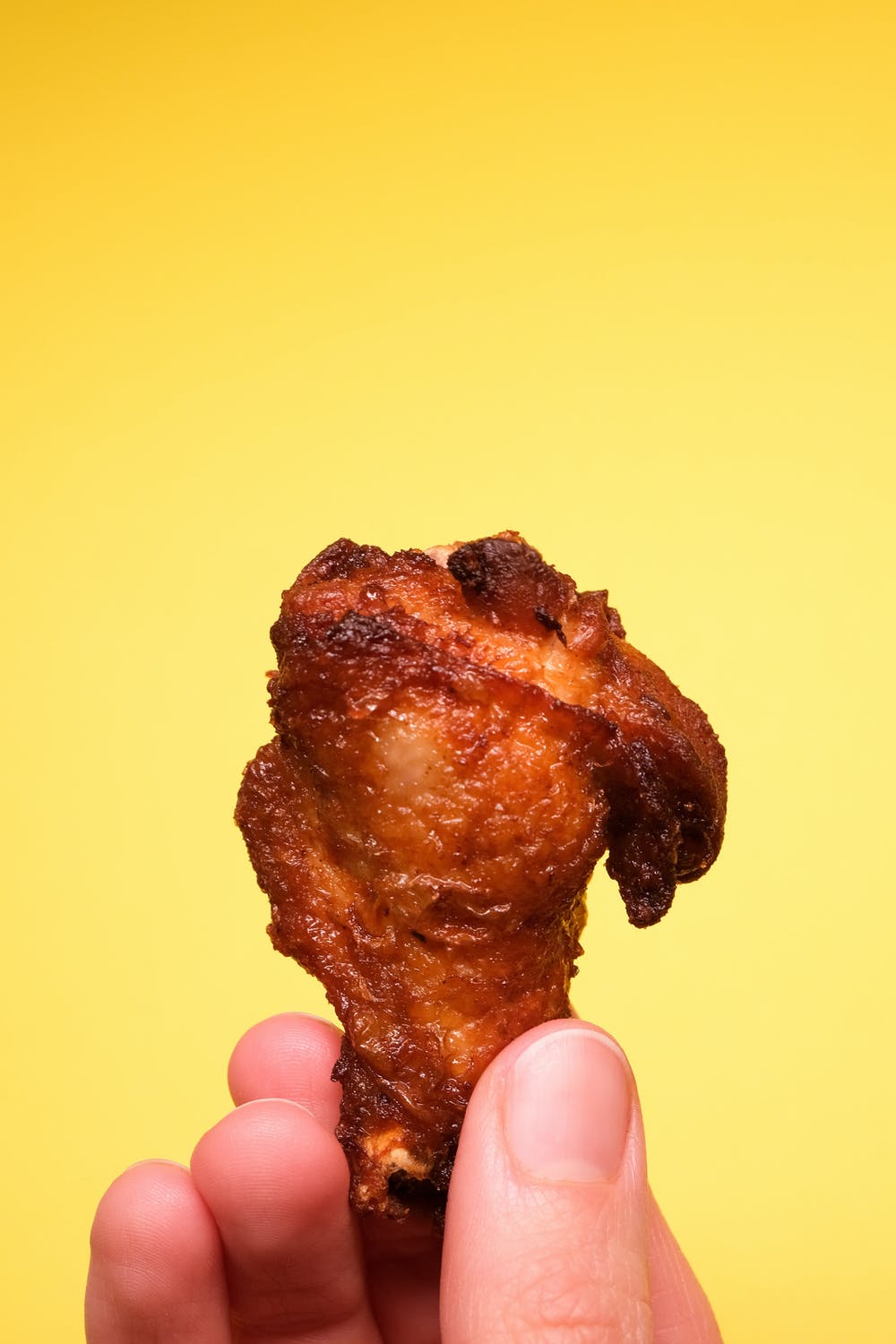 Best food to air fry
In general, all common foods are suitable for air frying. This includes protein sources like chicken, meat, fish, tofu, tempeh, French fries, fruits, vegetables, and even baked goods like cakes!
As advised by Bobo, here are how users can make good use of their appliances to make healthier food and reduce acrylamide formation:
Pre-soak raw materials
The main ingredient in the food like potatoes should be soaked in water for 15-30 minutes before cooking. Not only will it help remove starch to give them that perfectly crispy texture, but it cleans your food better too.
Ensure to cook foods with cooking methods not more than 175°C
Controlling the temperature of food is critical for ensuring that it is safe to eat and reducing the possibility of hazardous microorganisms being present. If the recipe calls for 15 minutes of cooking time, do not go beyond that as the longer the cooking time, the browner the foods, the higher the acrylamide content.
Add plants or herbs
If making baked goods, it is recommended to add plant extract or herbs like rosemary oil / dried leaves to the wheat dough. This will help reduce the percentage of acrylamide in the final product by 57-67%.
Increase glutathione (potential inhibitor for acrylamide) level in the body
To do so, Bobo exhorts people to consume and include sulfur-containing foods such as onion, garlic, and cruciferous vegetables like broccoli, brussels sprouts, and red peppers in their menu. She also suggested that cysteine-containing food like poultry, yoghurt, and eggs might help too.
Cut foods into thicker strips
This will help to reduce the surface area over volume ratio, hence lowering acrylamide formation in your food.
---
- Types of Air Fryers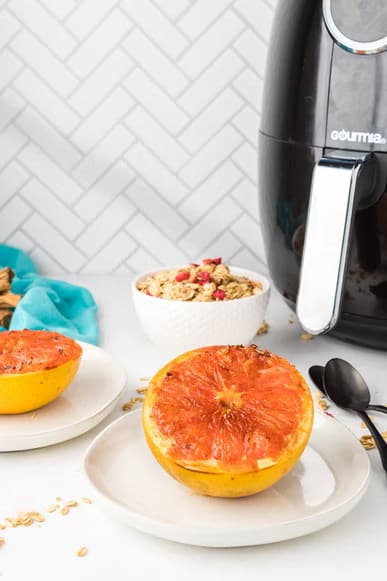 There are many air fryers on the market. In fact, you may not notice it but there are different types out there and we've narrowed them down for you.
The following are the types of air fryers.
Basket-type Air Fryers:
A basket-style air fryer, as its name suggests is a basket in which you can put food inside to cook it. The basket is perforated with small holes that allow air to enter and cook the food ingredients.
This design keeps your food from sitting in oil, but you'll still need to stir it at least once while it's cooking. One drawback of this design is that the holes make it impossible to make anything with too much gravy.
The waste trap at the bottom of the air fryer may require additional cleanup depending on the type of food you're cooking. Overall, basket-style air fryers are great for frying meats and vegetables, but they might be difficult to use for other types of food.
On the plus side, they are less expensive than paddle-style models.
Paddle-type Air Fryers:
A paddle-style air fryer, true to its rotisserie roots, is ideal for "set it and forget it" cooking. Air fryers that are cylindrical or basket-shaped may not always be able to evenly cook food, resulting in one side of the dish often being undercooked.
A paddle-style air fryer gives the user the convenience of automatically flipping the food over. The paddle inside the basket rotates across the basket, allowing for a more uniform circulation of hot air.
The paddle on this air fryer may be removed for additional cooking space to fit more food. This new air fryer has greater room and can be used to cook a variety of items, including fries, curries, risotto, and frozen meals.
Countertop Convection Oven:
The kitchen oven air fryer offers a variety of culinary functions, including baking, rotisserie, grilling, frying, broiling, and toasting – functioning silently. The oven air fryer, which resembles an oven toaster, allows the user to view their food through the glass panel.
It is also easy to clean because oven air fryer parts can be thrown into the dishwasher.
Compared to cylindrical and basket-type air fryers, the oven air fryer takes a longer time to heat up. When the pre-heating temperature rises, it may also heat the entire room.
Besides, since the oven air fryer is bigger than the cylindrical basket fryer, it takes up more space on the kitchen countertop area. However, its bigger size translates to a larger capacity.
---
- Air Fryer vs Microwave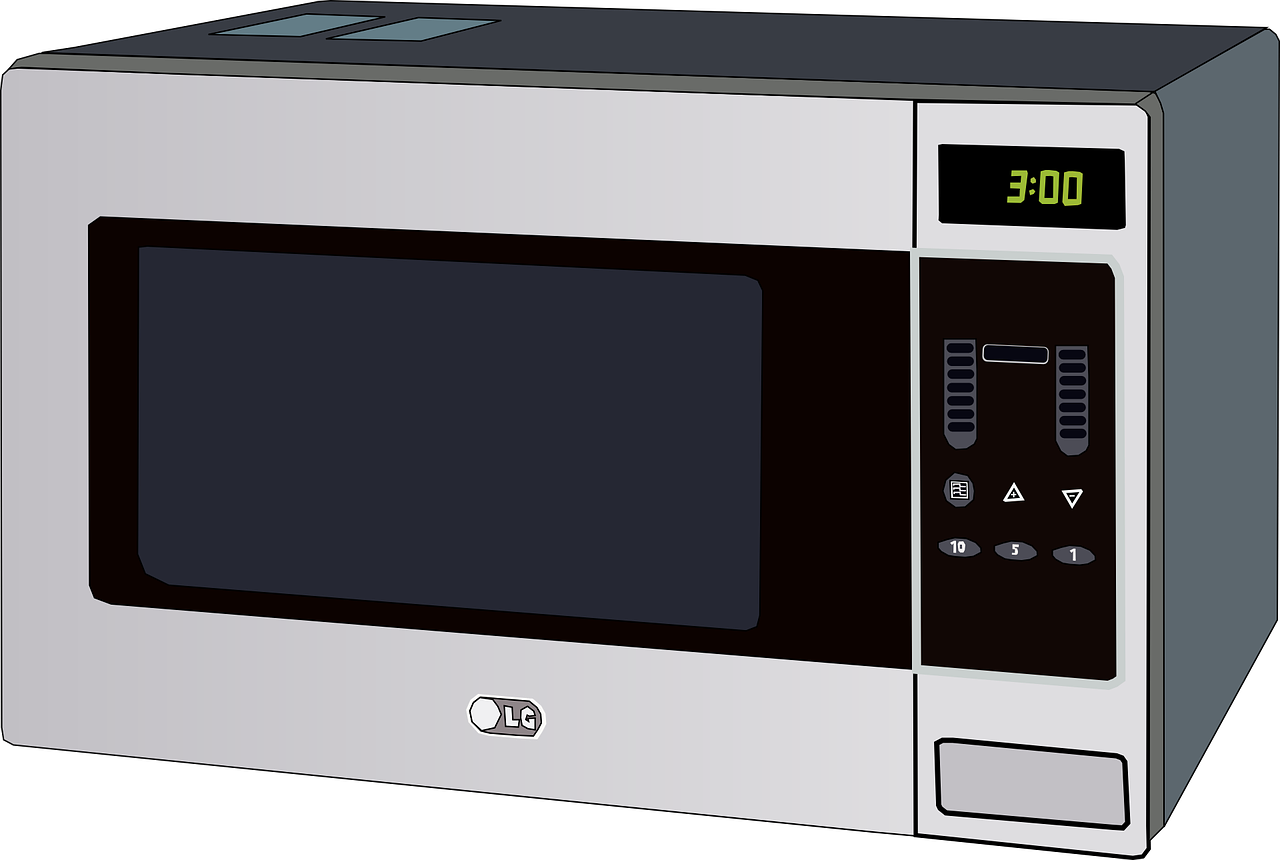 Air fryers and microwaves are both kitchen tools that help us save time and make cooking simpler, but which is ideal for you? The primary distinction between microwaves and air fryers is that microwaves heat and reheat food, but air fryers alter the way food is cooked.
If your aim is to heat or reheat food, you'll need a microwave; but if you want to cook food by frying but without all that oil then go for an air fryer.
Aside from the noticeable differences in style and aesthetics, there are other significant distinctions between air fryers and microwaves that you should be aware of before picking between the two.
The primary distinction between air fryers and microwaves is their heating mechanism. Simply explained, air fryers use convection heat. The currents heat and circulate air, hence the term air fryer. What a creative kitchen appliance! Air fryers have a built-in heating coil that warms up first.
After the coil heats, the air fryer's onboard fan begins to spin, blowing the heat created by the coil across the food inside the frying basket, and evenly cooking it.
Microwaves use electromagnetic radiation within the microwave frequency range to heat and prepare food. What causes this to happen? Microwaves produced by your microwave vibrate the water molecules in the food, causing heat to be produced.
Given that each gadget brings a new culinary technique, it stands to reason that they will each introduce their own set of challenges. And because each appliance does a fantastic job of addressing and overcoming the shortcomings of the other, owning both is desirable.
---
- Air Fryer vs Oven
The size difference between a stand-alone air fryer and an oven is the most evident. An air fryer is a countertop device that cooks one meal at a time, whereas an oven is a full-sized appliance that can handle numerous dishes or bigger servings. The second important distinction is their function. An air fryer cooks and crisps a variety of foods by quickly circulating hot air. A traditional, non-convection oven cooks food using still air.
This oven features extra capabilities such as broil, bake, and roasting. However, if you have a convection oven, you may get identical results to an air fryer because they employ similar technology.
However, when it comes to capacity, an air fryer cannot substitute a normal oven. You'll still require a full-sized oven in your kitchen if you routinely create multi-dish dishes or huge quantities.
To maintain a crispy surface on food, an air fryer rapidly circulates hot air throughout the cooking cavity. For a great, all-around fried finish, use a perforated basket to help expose all sides of your food to the air.
Non-convection ovens employ heating elements on the top and bottom of the cooking chamber, but the air remains relatively static, making it difficult to remove moisture from the outside of the food and get a crispy outcome. Some air fryers allow you to bake, however, most conventional ovens do not allow you to air fry.
---
- Safety tips an air fryer owner should know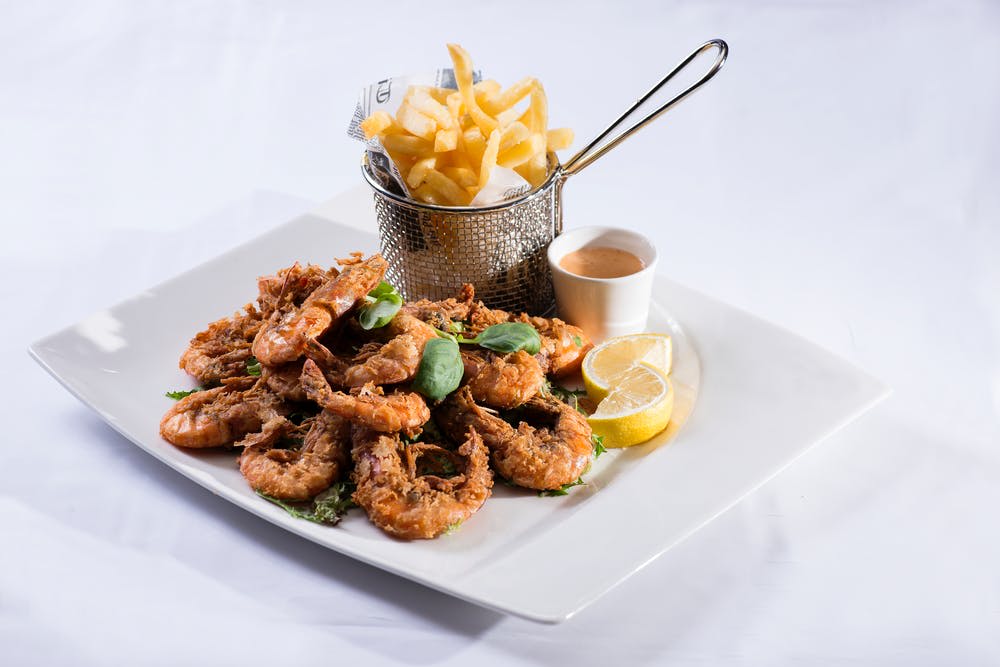 1. Preheat your Air Fryer
To achieve uniform cooking, most air fryer companies recommend that the air fryer be warmed. If your air fryer doesn't have a preheat setting, just set it to the correct temperature and let it run for 3 minutes before adding your food.
2. Grease your Air Fryer Basket
Even if your meal does not require oil, lubricate your air fryer basket at the very least. Bottom grates are greased by rubbing or spraying a small amount of oil on them. This will prevent your food from sticking to the basket, making cleaning up more tedious.
3. Don't overcrowd the basket
If you want your fried meals to be crispy, make sure you don't overload the basket. Overfilling the basket will prevent your food from achieving that crispy texture and browning. To avoid this, cook your food in portions or get an air fryer with a larger capacity.
4. Adjust the temperature for different types of food
It might be tempting to set the heat for the Air Fryer to the maximum setting just to let it run, but be cautious since some foods can dry up rapidly. The rule of thumb is to change the temperature and time from what you would normally set the oven. Perhaps, lower the temperature by about 15 degrees and shorten the time by roughly 20%.
For example, if you bake brownies at 175˚C for 20 minutes in the oven, reduce the temperature to 160˚C in the air fryer and cook for around 16 minutes.
5. Be aware of smaller items in the air fryer
Each air fryer comes with a strong fan mounted on top. As a result, certain light food may get swept up in the fan, which can be harmful. Ensure that the power is turned off before attending to the problem. These strong mounted fans may cause injuries when attempting to solve the issue.
---
Related articles: