Having an oven in your modern kitchen is almost as essential as having a rice cooker (an absolute must-have in a Malaysian home) as it expands the range of cuisines you can prepare.
Thanks to the rapid development of oven technology in recent years, an oven now offers endless cooking possibilities. Whether you're looking for one to help you roast a whole chicken, make homemade pizzas, oven-baked salmon, or air fry your favourite snack, here are the top kitchen ovens in Malaysia you can buy.
---
Table Of Contents
---
Top 8 Kitchen Ovens In Malaysia
More: Conveniently Toast and Grill with These 7 Toaster Ovens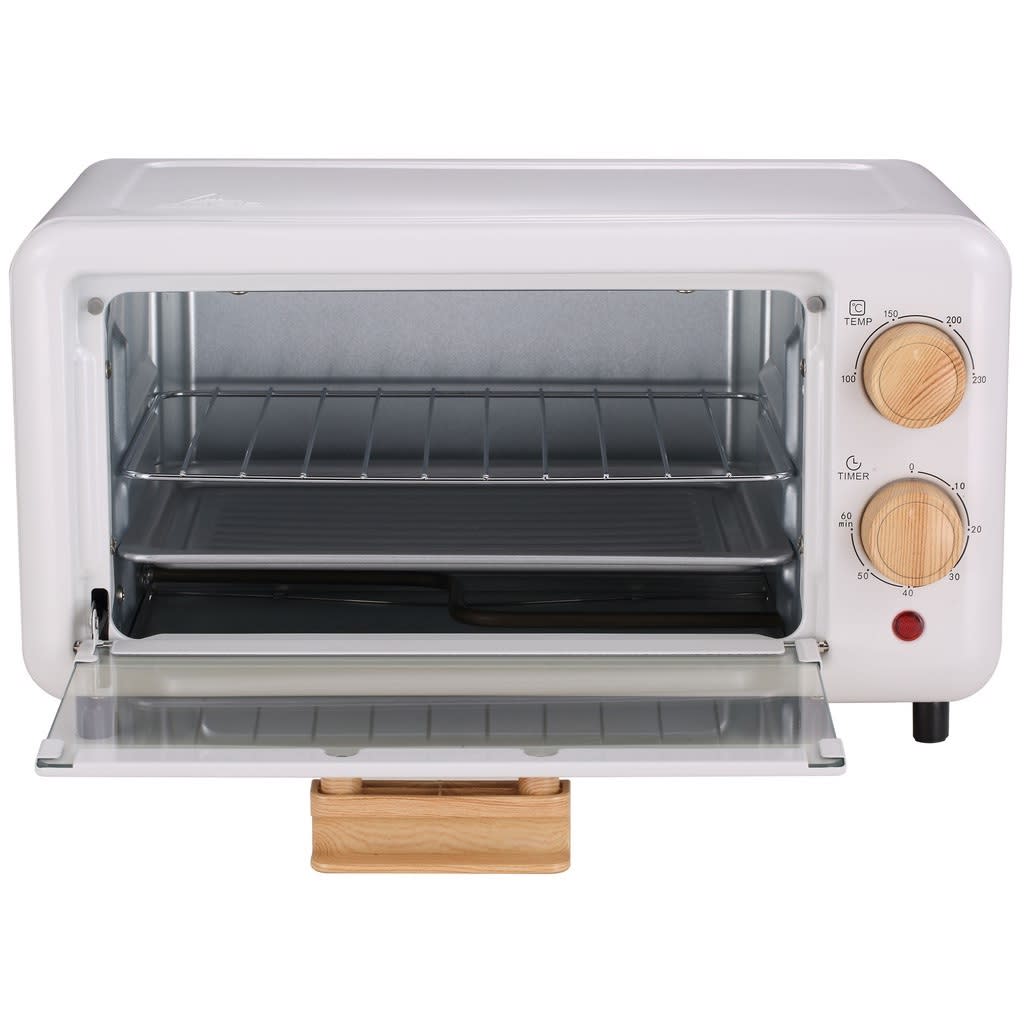 add_circle
Small and compact design to fit any space
add_circle
Better energy efficiency
remove_circle
May be too small to fit a whole chicken
Why It's Our Top Pick:
"This oven is for those with limited counter space and who are looking for a basic oven.
The Hanabishi Toaster Oven HA611T offers easy-to-use controls and good toasting functions in a small package. At an affordable price, this oven is our top pick for its user-friendliness and simplicity."
Features:
However, due to its petite profile, the toaster oven can toast and reheat food very quickly without using too much energy. Featuring a 60-minute timer with a bell and a temperature range of 100 - 230°C, this oven is easy to operate and should be sufficient for baking and toasting. While this oven lacks fancy presets and settings you'd find in more expensive models, the HA611T is a small and energy-efficient unit that gets things done quickly.
Performance:
User reviews praise the Hanabishi Toaster Oven's cute compact Muji style design that offers just the right size to bake a few buns and smaller dishes. Hence, making it a top pick for those who want a simple toaster oven that does not hog up too much kitchen space. However, this compact toaster oven is not a great replacement for your traditional oven as it can't fit a whole sheet of cookies nor food for more than a few people.
---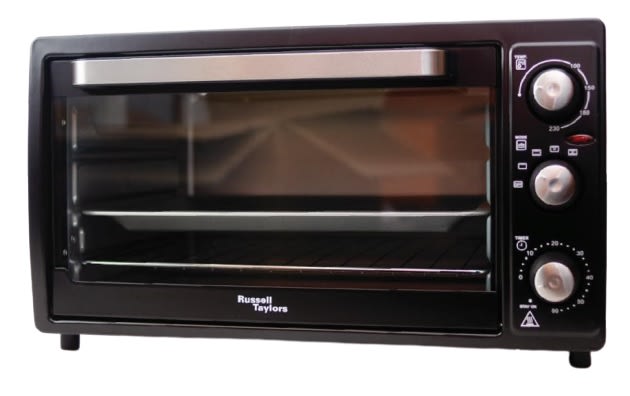 add_circle
Comes with toast, bake, broil and keep warm settings
add_circle
30-minute timer with auto shutoff so you don't have to keep watch constantly
add_circle
Small and compact space means you don't need to heat unnecessary space, ultimately helping you save plenty of energy.
add_circle
Dual position rack to offer better versatility
remove_circle
No interior lighting for visual checking on food
The Russell Taylors 23L Oven Toaster OT-23 is a smart choice if you're looking for a toaster oven with conventional controls and a slightly larger capacity.
Features:
In addition to toasting the perfect slice of bread for a hearty breakfast, this toaster oven is also good at broiling, baking, reheating, and keeping food warm.
The OT-23 Oven Toaster comes with four types of settings, a 30-minute timer with auto shutoff, and temperature adjustment of up to 230°C to give you the best possible cooking experience. Apart from that, the oven uses a highly efficient quartz heating element to deliver precise and stable cooking with even heat distribution. Packed with 1300 Watts of power, the toaster oven can heat up quickly to get your meals to the table in no time.
Unfortunately, this unit does not feature interior lighting for clear visual monitoring. But this is not necessarily a deal-breaker as you could easily use the torchlight function in your smartphone to have a peek at the progress.
Performance:
Overall, the Russell Taylors 23L Oven Toaster OT-23 is an ideal medium-sized model that does well across various cooking tasks. Though it may be a little bulky for small kitchens, its spacious interior allows you to comfortably fit all kinds of food for your family.
---
More: 7 Fantastic Turbo Ovens That Cooks Your Food With Less Electricity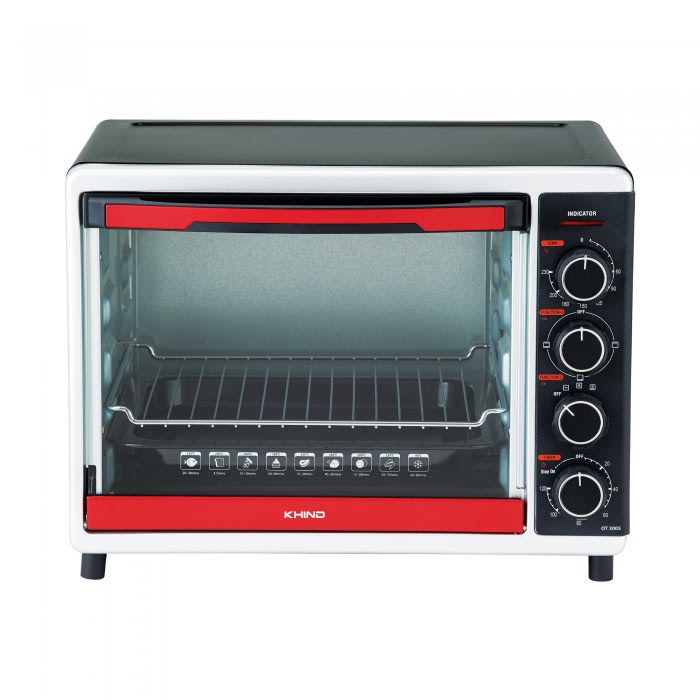 add_circle
Large capacity to fit a whole chicken.
add_circle
Versatile appliance to let you bake, broil, and roast food.
add_circle
Convection function works great to distribute heat evenly throughout the oven for baking
add_circle
Lightweight and easy to move around
Brushing up on your baking skills? This oven is just what you need.
Features:
Aside from a large capacity, the Khind OT5205 Electric Oven comes with a full range of menu options allowing you to heat, toast, bake, broil, and roast your meals.
With 2200W of power, this electric oven heats up quickly to help speed up the baking process. Not only that, but this versatile electric unit also features a 120-minute timer with a bell signal, temperature control, and a rotisserie function to help you prepare the perfect meal for your family and guests in no time. Furthermore, you even have an option to turn on or off the convection fan in the oven – a feature that bakers will truly appreciate!
What we love about the OT5205 is that it comes with an interior light to make it easier for you to monitor your food's progress and the helpful suggested cooking times listed on the door will help reduce plenty of time wasted on trial and error. Additionally, you even get a whole range of useful accessories in one package which includes a wire rack, baking tray, tray handle, rotisserie spit, and a rotisserie spit handle.
Performance:
Khind has long been known for its consistently high-performing kitchen products, and the OT5205 Electric Oven is no exception. With plenty of useful features, this model is well-equipped to cook food quickly and perfectly. Whether you're looking to spend less time in the kitchen or put food on the table in record time, this oven will get the job done ASAP.
---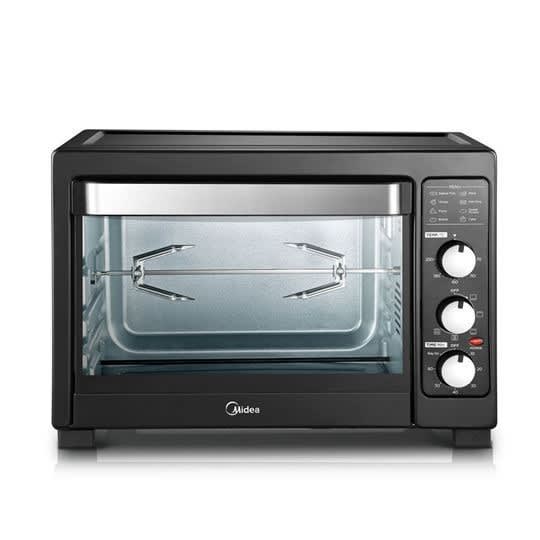 add_circle
5 heating function to help you cook all kinds of food
add_circle
Large capacity with 3 layers of square bake tray and wire rack to fit different food and quantities.
remove_circle
Appliance may be a bit large
Convection ovens have a wide range of uses, but if you plan to bake cookies or buns in this appliance, then you'll need a model like the highly-rated Midea 42L MEO Electric Oven.
Features:
Featuring rotisserie and convection functions, this model is similar to the Khind OT5205 reviewed above, but with a smaller capacity.
Nonetheless, this kitchen appliance can easily replace your full-size oven thanks to its unbeatable performance that lets you bake, broil, roast, toast, and reheat food quickly and consistently with its efficient metallic heating element tubes. Despite the smaller size, this convection oven comes with three square oven racks and baking trays to let you prepare and bake a variety of buns and muffins in one go. At a very reasonable price, this versatile electric oven even boasts rotisserie and convection functions to make it a wonderful addition to your kitchen.
Performance:
If you want a fitting substitute for a regular oven, then this is a good countertop option. Knowing that this well-designed unit comes from a reputable brand like Midea, you can certainly be sure of its top quality. Though suitable for baking cakes, one user said that the oven temperature isn't stable, requiring a higher temperature and timer setting than stipulated in the recipe.
---
More: 8 Best Steam Ovens For Cooking and Baking Healthy Meals!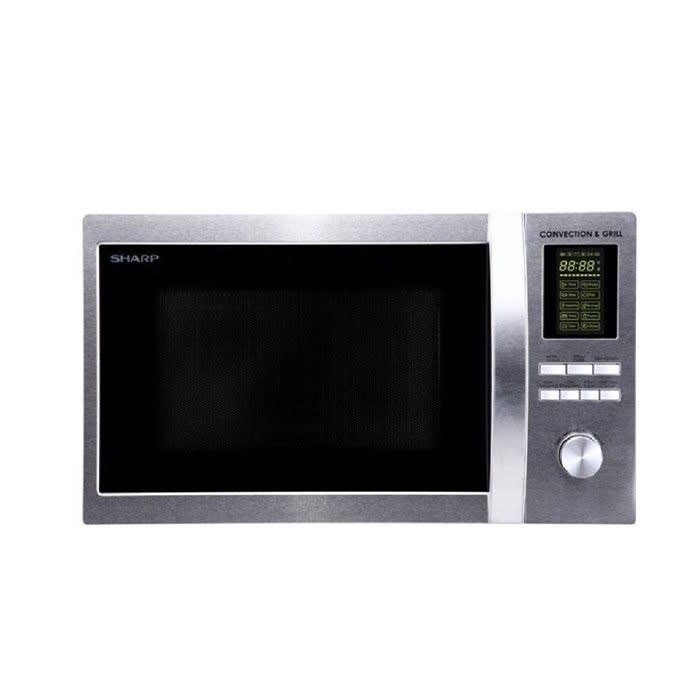 add_circle
Has 10 auto menus
remove_circle
Hefty price tag
A microwave oven is a versatile appliance, making it a staple in most kitchens.
The Sharp R954AST is a convection-type microwave oven that will let you do all sorts.
Features:
Featuring a turntable measuring 345mm, it can be used to bake a 6-inch pizza. You can even roast a whole chicken. It has 10 presets that make it easy to steam, bake, grill, etc. Besides, its LED display is easy to read and the dial allows you to set the temperature and timer by simply rotating it.
This oven allows you to adjust a wide temperature range, between 140°C to 230°C. The Child Lock is a nifty safety feature that will prevent any tampering and accidents.
Performance:
We can't find much fault with this microwave oven other than the steep price that may make it unattainable for some.
---
More: 8 Microwave Ovens to Ensure Your Food is Always Warm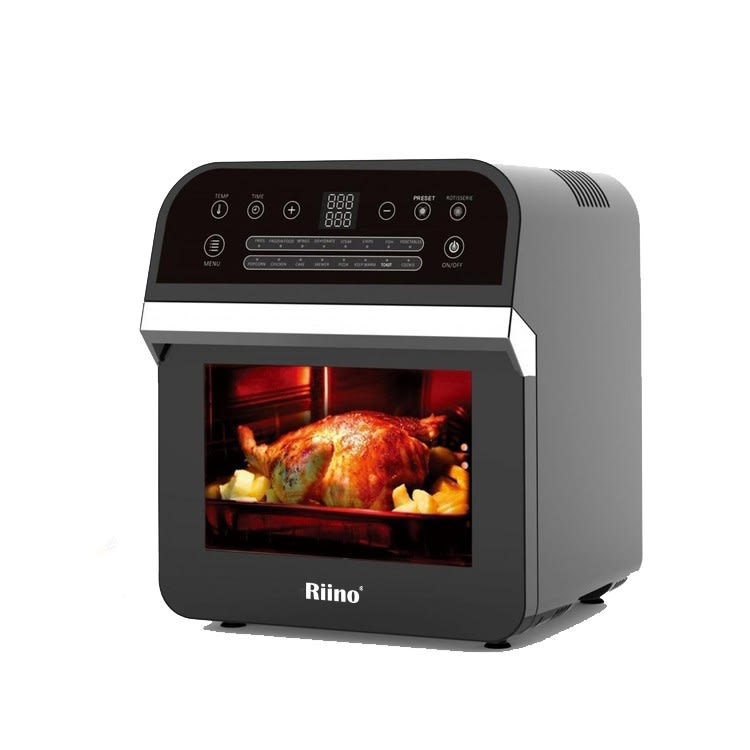 add_circle
Fits a whole chicken
add_circle
16 presets+rotisserie
remove_circle
Heats up quickly and may burn food easily
Looking for a versatile appliance? This air fryer oven by Riino is for you.
Features:
The first thing you may notice about the Riino AF510T Air Fryer Oven is that it does not come in an oddly shaped huge egg or space capsule. Rather, it features a large boxy shape that will fit more neatly on your kitchen countertop or cabinet.
Other than that, this air fryer toaster comes with all the necessary features needed such as menu function selection, temperature and timer settings for you to cook almost anything your heart desires. Best of all, it even comes with 17 pre-set menu functions to help you prepare fuss-free hearty meals with just a push of a button.
Despite the name, the AF510T does more than air frying and baking; the kitchen appliance even has a rotisserie function to help to perfectly roast a small-sized chicken for your family to enjoy.
Performance:
One thing worth noting though is that the air fryer oven heats up very quickly and your food may burn easily if you forget to check up on it. However, several users suggest reducing the temperature by 10 to 20°C for the same cooking duration to prevent burnt food. Several customers have also commented that the button noise can be a little loud, but otherwise the Riino AF510T oven is a great buy for its versatility.
---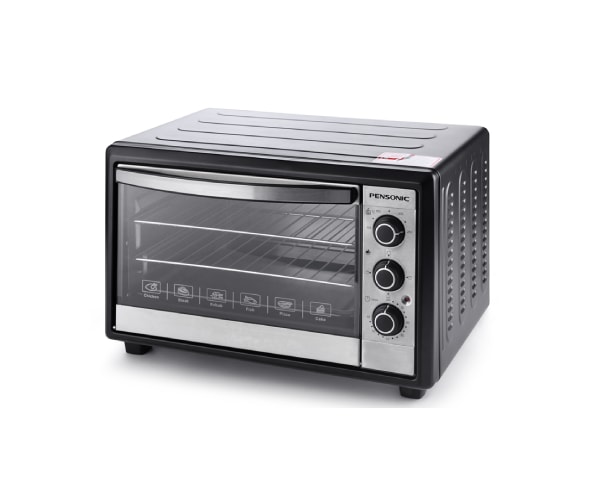 add_circle
Comes with toast, bake, and grill functions in one appliance
add_circle
Function selector to turn on lower, upper, or both heating elements to better cook your food
add_circle
Easy-to-use manual knob
remove_circle
May need to place aluminium foil above the baking tray to cook food
High-end electric ovens can cost up to a few thousand ringgit, but the Pensonic PEO2305 Electric Oven is a more affordable option if you want to test out the technology. Although the model is below RM150, it does come with several useful features and a 23L capacity to help you prepare all kinds of food.
Features:
This electric oven can be used to toast, grill, and bake food - simply the basics for newbie cooks. It also features adjustable racks, a 60-minute timer with chime and auto-shutoff, up to 250°C temperature control, and a function selector for lower, upper, and both heaters to offer a wide range of cooking options.
Other than that, the electric oven comes with 4 pieces of stainless-steel heating element to quickly heat your food while the interior light makes it convenient for you to monitor your food's cooking progress.
With an easy-to-use manual knob and a good range of settings, the Pensonic 23L-capacity electric oven is a great choice for beginners. Not only that, but it also comes packaged with a baking tray, two-wire racks, a tray handle, and a rotisserie fork set making it an excellent buy.
Performance:
Reviewers have plenty of positive things to say about this electric oven, noting that all the settings work well and the exterior is attractive too.
---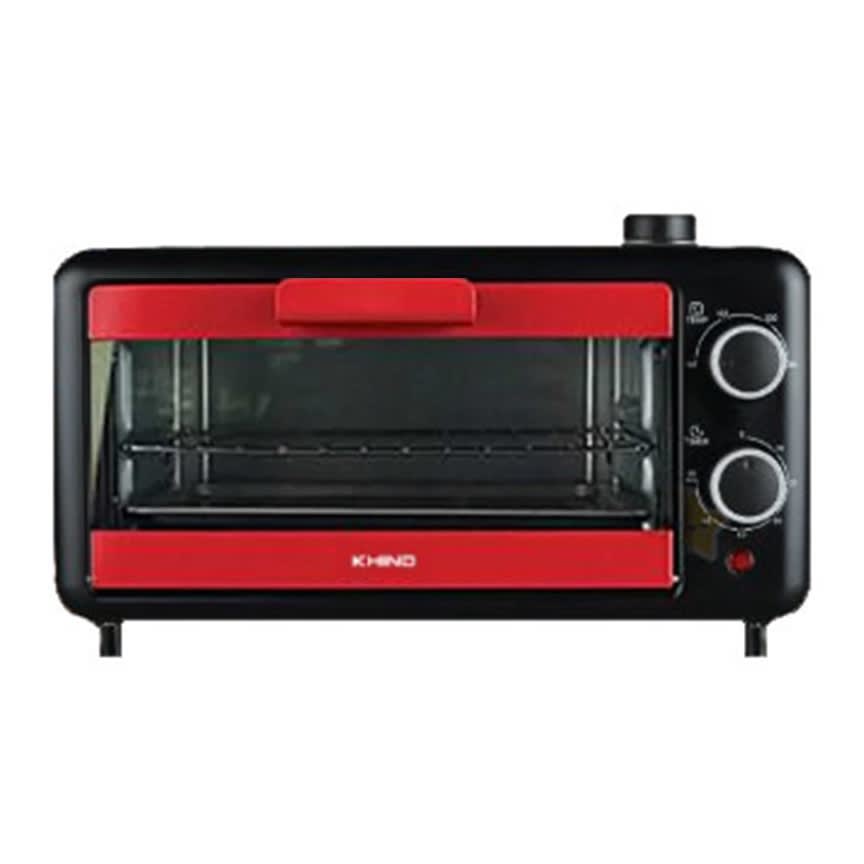 add_circle
Auto shut-down
remove_circle
Not heavy duty
If you're looking for a compact toaster oven that can toast your bread and heat your pizza without breaking the bank, then the Khind Electric Oven Toaster OT11H certainly fits the bill.
Features:
With 11L of capacity, this unit can toast up to four slices of bread at a time and has enough space to fit a 9-inch pizza.
While the Khind Electric Oven Toaster lacks many of the features included in high-end models, such as digital controls and cooking presets, it can toast and bake food evenly using only a small amount of energy. There are also manual knobs for adjusting time and temperature, plus a timer bell to let you know when your food is ready.
Performance:
Overall, reviewers are happy with the oven's simple design and easy-to-use control setting. Furthermore, the compact size also makes it a great choice for cramped kitchens and smaller apartments.
This cleverly designed oven is notable for its simplicity and reasonable price. The Khind Electric Oven Toaster OT11H is a no-frills model that gets the job done. That being said, it's not a good replacement for your full-sized oven.
---
Related articles: