Bread is a delicious and nutritious staple that quite frankly does not deserve the flack it gets for being a carb. There are all kinds of bread of different textures, crusts, flavours and fillings. While there's nothing wrong with bakery-made bread, nothing beats the taste of fresh homemade bread. Shop our picks of the best bread makers below.
---
Table Of Contents
---
Top 9 Bread Makers In Malaysia
Check Russell Taylors Bread Maker Large 2.0LB price below:
add_circle
Non-stick inner pot makes it easy to clean
add_circle
19 preset programs
add_circle
User-friendly and uncomplicated operation system
add_circle
Programmable timer
remove_circle
Not precise enough to bake dense big loaves
Why It's Our Top Pick:
"The Russell Taylors Bread Maker is our top pick as it allows you to make your own bread with minimal fuss in the kitchen. Its built-in kneader and 19 presets simplify the process to the push of a button."
Features:
This bread maker offers a 15 hours programmable delay timer with an additional 60 minutes warm-keeping function. Set your clock to the preferred hour to enjoy warm freshly made bread!
Performance:
Users love how user-friendly it is and how well it functions. It's a value for money model especially since it's so versatile and includes presets such as defrost, yogurt, and sticky rice.
---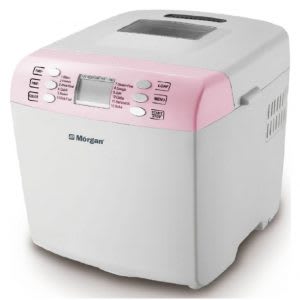 Check Morgan Bread Maker MBM1020 price below:
add_circle
Non-stick bread pan
With an array of digital programmes and memory functions, the Morgan Bread Maker MBM1020 is certainly a convenient choice for home baking. It's ideal for both amateur and master bakers. This Bread Maker is a smart option for those who are space-conscious due to its compact design.
Features:
Featuring a plastic body, it has 12 digital program menus, allowing you to use it to make jam and cake too. It even lets you pick between a light, medium, or dark crust.
Performance:
Users praise how easy it has become to make bread with this bread maker. First-time bakers will appreciate how user friendly it is.
---
Check Panasonic Bread Maker SD-P104 price below:
add_circle
Can also be used to make dumpling skin
add_circle
Results in soft, fluffy bread
remove_circle
Very expensive
The Panasonic Bread Maker SD-P104 is sensitive to the bread baking processes. With a temperature sensor and an auto yeast sensor, the bread-making process is automatic without having to keep an eye on the process. Just add your ingredients in and select a preset-programme of your choice.
Features:
The auto ingredient dispenser ensures even distribution of ingredients into the mixture. Besides, the 13-hour digital timer lets you turn the machine on for up to 13 hours so you can look forward to warm, freshly baked bread in the morning.
Performance:
According to users, its high price tag does translate to superior performance compared to its lower-end counterparts.
---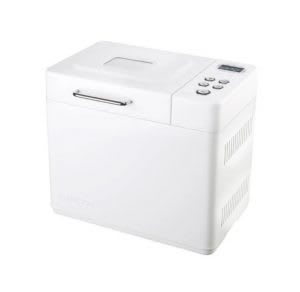 Check Kenwood BM250 Bread Maker price below:
add_circle
500g/750g/1kg loaf size
add_circle
Non-stick coated bread pan
add_circle
15 hours delay timer
add_circle
3 crust settings
The Kenwood BM250 Bread Maker delivers multiple special functions. Ranging from the preparation of bread to pasta, you can easily use the bread maker to assist you in organizing an appetizing homemade meal. This is undoubtedly a versatile kitchen helper to prepare the dough for any cuisine.
Features:
With 12 presets, you can try out different recipes such as French, gluten-free, and whole wheat among others. Bake a fresh white loaf in 58min thanks to its rapid bake feature. The push button control panel is uncomplicated
Performance:
Despite its slightly high price, this remains to be a relatively popular bread maker due to its high quality and ease of operation.
---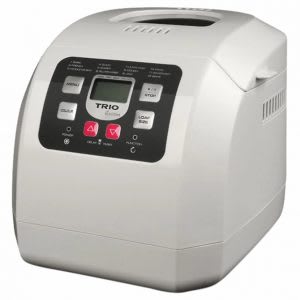 Check Trio Bread Maker TBM-111 price below:
add_circle
Non-stick inner pot
add_circle
13 hour delay timer
add_circle
60 minute keep warm function
remove_circle
Only 900g capacity
The Trio Bread Maker TBM-111 is both high in quality and reliable.
Features:
With its basic bread-making functions, you can opt for one of its 12 automatic programmes and expediently prepare bread of any kind for your family. It can be used for preparing dough, cake, and bread, and has multiple crust settings.
Is large viewing window allows you to monitor the progress of your loaf.
Performance:
Given its small capacity, this is ideal for those of you who want to bake break for personal consumption. Users appreciate its user-friendliness and the convenience that it offers.
---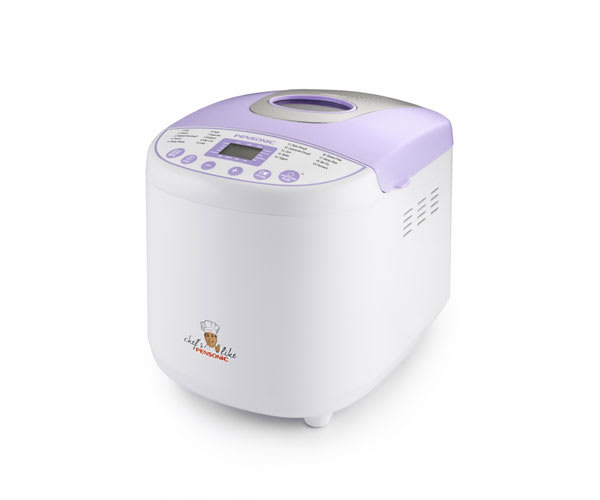 Check Pensonic Chef's Like Bread Maker PBM-2000 price below:
add_circle
Easy to operate
add_circle
Gets you fresh bread every other day
add_circle
19 pre-set programs
Produce bakery quality bread in your kitchen with the Pensonic Chef's Like Bread Maker, just click on the display programmes and prepare bread like a master baker. Read recipes and create delicious assortments of bread from any flour of your choice without any prior cooking lessons.
Features:
Customise your loaf by alternating between sizes of 1.0LB, 1.5LB, and 2.0LB and three crust settings; light, medium, and dark. It's extremely user-friendly as you'll have 19 preset programmes at your disposal including a natural sourdough one. The non-stick bowl makes clean up a breeze.
Performance:
Users are pleased with how simple it is to use as all you have to do is pop the ingredients in and let it wokr its magic. They find that it's good value-for-money.
---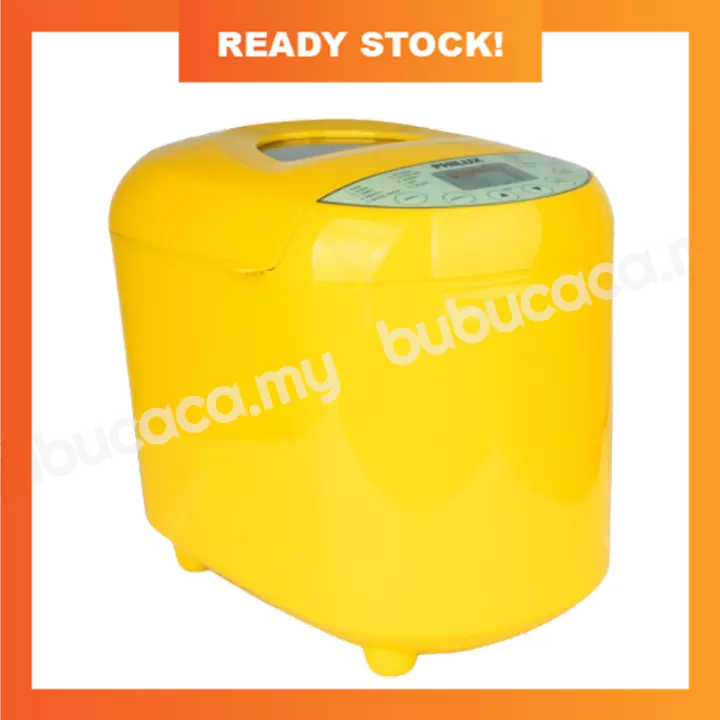 Check Philux Bread Maker (1kg/2 lbs) PL-BM1000 price below:
add_circle
Reasonably priced
add_circle
60 minute keep warm function
This model is pretty popular for good reason.
Features:
With 19 preset programmes, this bread maker is versatile and user-friendly, featuring a digital LCD display. You can choose between a light, medium or dark crust setting according to your preference. Plus, its viewing window lets you monitor the progress of the bread-making process. It comes with non-stick coated bread pan, a mixing blade, measuring cup, and plastic spoon.
Performance:
It's powered with a 550W DC motor that is apparently the low noise type. Overall, users are satisfied with its performance and how their baked bread has turned out.
---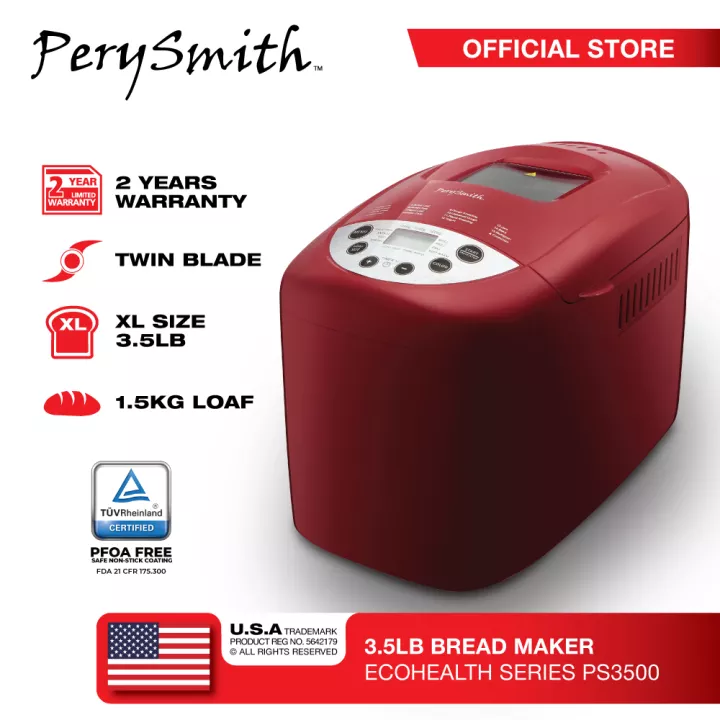 Check PerySmith 3.5LB Bread Maker [XL Size] Ecohealth Series PS3500 price below:
add_circle
Non-stick coating
add_circle
Keep warm function(60 minutes)
If you have a large family then you'll want a bread maker to match.
Features:
This one by Pery Smith is extra large with a 3.5LB capacity. It features a tin kneading blade structure with 3 loaf sizes and 3 crust settings to choose from. The inner pot has a food-grade non-stick Diamond Fluorine coating that makes it easy to clean. Besides, the multi-layer cool to touch body makes it safe to handle.
Performance:
Users are satisfied with the quality of the product and are thrilled that they no longer have to manually knead the dough.
---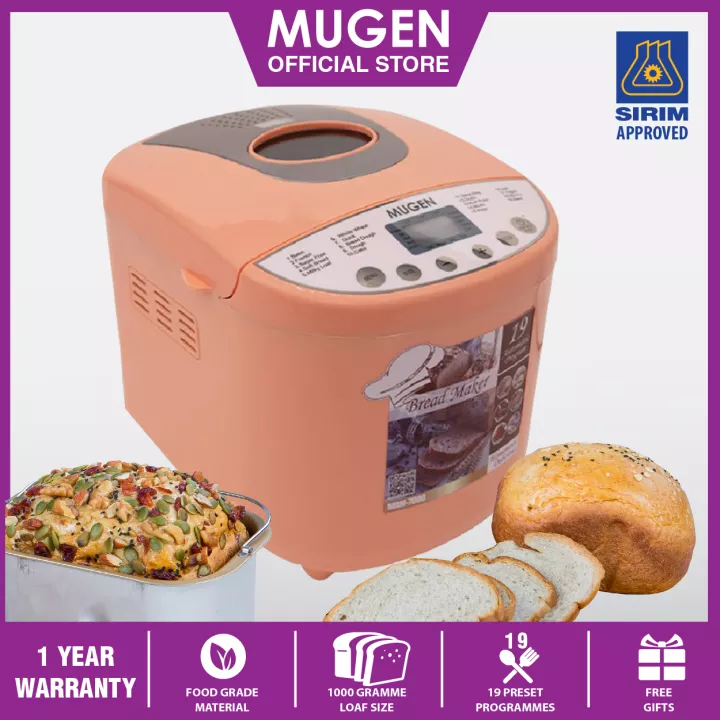 Check MUGEN Smart Bread Maker V2 MBM-7000 price below:
add_circle
Localised presets
add_circle
15-hour delayed timer
add_circle
Non-stick bread pan
Want your bread to be nice and warm for breakfast? This Mugen bread maker is just what you need.
Features:
You can preset the delay timer for up to 15 hours. That's more than sufficient for leaving it on overnight. Of its 19 presets, there are 5 localised ones that you won't find with other bread makers. The presets are 'dodol', 'kuih pulut', 'mochi', 'kaya', and 'serunding'.
Performance:
This is bread maker versatile and is unlike the others, with a delayed timer of 15 hours while it's usually 13 hours. It works well for making donuts too.
---
How To Choose A Bread Maker?
Here's what you should consider when buying a bread maker:
Capacity
It's important to look at the size of the pan. A larger family that consumes bread regularly would require a bread maker of a larger capacity to avoid the need to bake multiple loaves.
Delayed timer
This is a nice feature to have as it means that you can put all the ingredients into your bread maker and set the timer to have it start baking at a time of your choosing. For instance, you could set it to bake in the middle of the night so you can wake up
Viewing Window
If you like monitoring the progress of your loaf, you'll definitely want to look for models with a viewing window. It'll allow you to check on your loaf without you having to open the lid, which would allow heat to escape and disrupt the baking process.
Presets
Settings and programmable functions offer convenience and give you full control of the settings. Presets will let you bake different types of bread easily and you'll also get to control how brown the crust turns out.
---
Ultimately, think about what you need and how much you can spare. From there, you should be able to narrow down the options further.
Related articles: