Rice is a staple in many Asian households and we take our rice very seriously. Nothing beats a warm bowl of rice served with yummy homemade dishes. Every grain must be cooked perfectly. Who would want undercooked or crunchy grains in between bites?
Here are some of the best rice cookers you can buy.
---
Table Of Contents
---
Top 9 Rice Cookers In Malaysia
---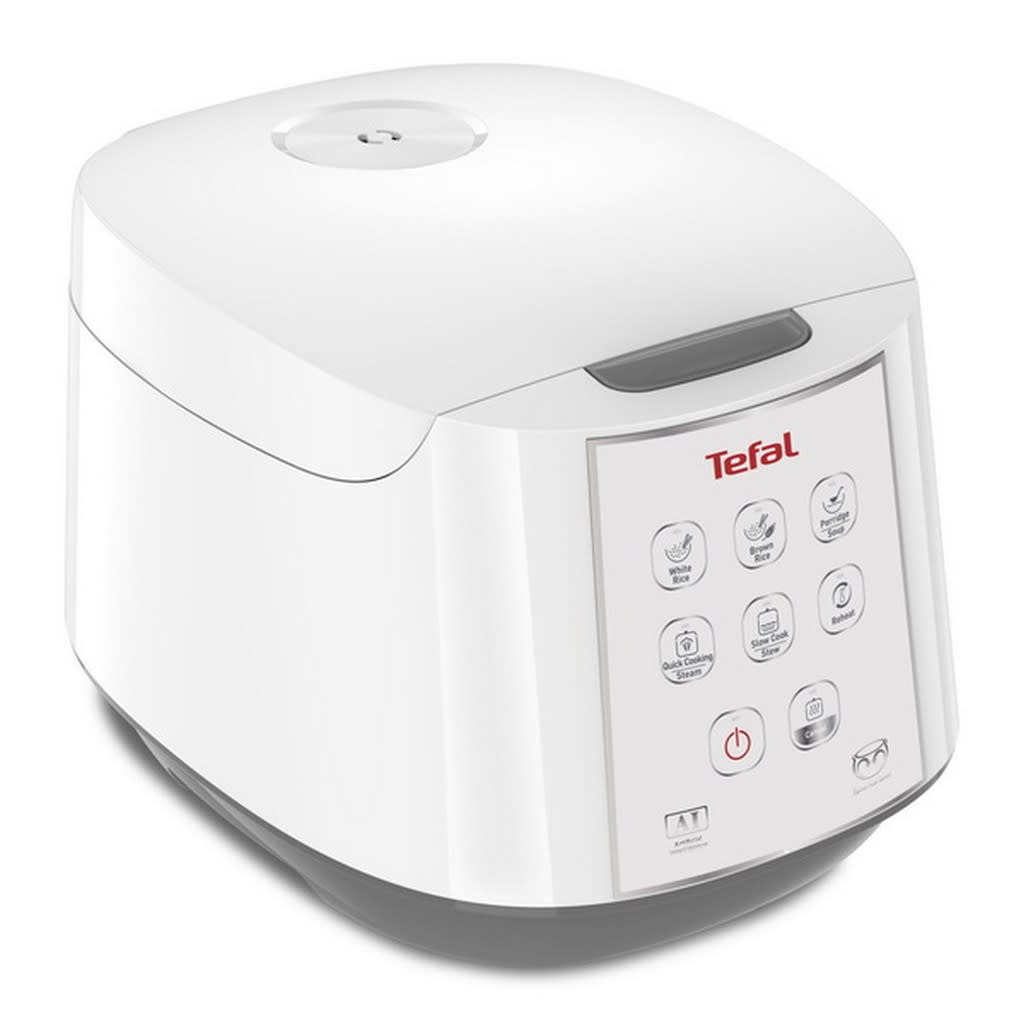 add_circle
Dishwasher-safe removable parts
add_circle
Large capacity(10 cups)
remove_circle
Rice pot is prone to scratches
Why It's Our Top Pick:
"The Tefal Fuzzy Logic Rice Cooker RK7321 beat out the other devices as our top pick due to its intuitive adjustment of cooking time and temperature for optimal cooking performance thanks to its fuzzy logic article intelligence. We also love its large capacity and user-friendliness."
Features:
This cooker is perfect for family use as it can cook up to 10 cups of rice. It has a total of 8 presets for you to choose from; white rice, brown rice, porridge/soup, etc. You can even use this to steam which is an awfully useful function to have.
The rice pot is made of aluminium and is built with 4 layers of coating, one of which is a non-stick coating, thus making it extremely durable. Another feature that makes it a good buy is its heat circulation, which results in evenly cooked rice.
Performance:
It is user-friendly, owing to the one-touch buttons that make it simple to operate. The non-stick rice pot surface works well according to users. Despite its otherwise excellent performance, users have shared that the rice pot is prone to scratches. If you can ignore this minor flaw, this is a device that's worth your money, given the fact that it has more than one function.
---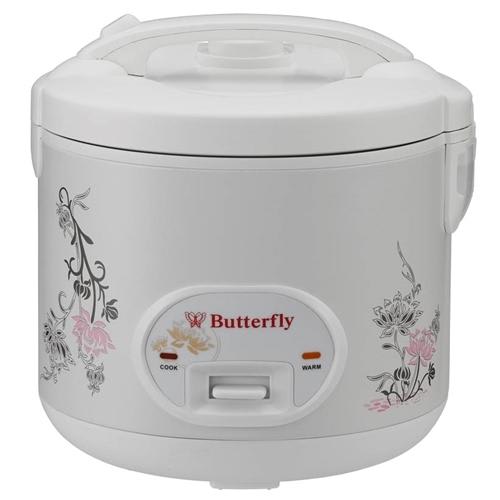 add_circle
Cooks 8 servings
If you prefer an electric rice cooker over a digital one, you could consider the Butterfly Electric Rice Cooker BRC-JS6018. With its 1.8L capacity, it can cook up to 8 servings of rice.
Features:
The inner rice pot is made from stainless steel, which won't rust or react to acidic foods. Said material also makes clean-up quick and easy. Thanks to its keep warm mode you'll be able to keep your rice warm till you're ready to eat.
Performance:
Overall, the Butterfly has gained a good reputation among users for and its decent capacity and for being easy to operate. However, some reviewers have complained that the pot tends to move around when rice is being scooped out as it is very light.
---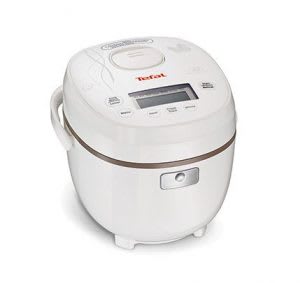 add_circle
Convenient presets
Small and handy, the Tefal Mini Fuzzy Logic Rice Cooker RK5001 is the sibling of the RK7321 model. It's ideal for light cooking, with a capacity of 0.5L or 4 cups of rice.
Features:
Built with an LCD display, you can easily monitor check the cooking progress of your meal.
Despite its petite size, this cooker has 11 cooking functions for simple and convenient use! The timer enables you to set the time of cooking in advance. In other words, you can set the timer in the morning, let it start cooking at a specific time and return home to a warm and freshly-cooked meal.
The Tefal rice cooker's built-in induction technology is its strongest selling point, making it efficient and precise in its cooking. Thanks to its compact size, this rice cooker won't take up much space in your kitchen.
Performance:
Its small size by no means diminishes the performance of this rice cooker. Reviews say that the rice turns out perfect and love the quick cook function that cooks the rice in about 30 minutes!
---
More: 8 Best Mini Rice Cookers Below RM 100 Perfect for Students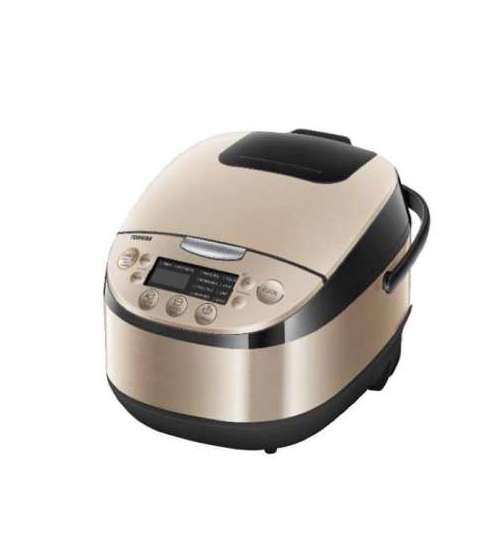 add_circle
Multifunctional
add_circle
Keep warm function
add_circle
Dual heat technology
With its multiple cooking modes and settings that make it versatile, the Toshiba Rice Cooker RC-18DR1NMY is a piece of high-quality kitchen equipment that can be used to prepare various types of food such as rice, congee, soup, sushi, and cake.
Features:
This Toshiba rice cooker is unlike others as its 8-layer and 4mm-thick inner pot is made from Japanese Bincho Charcoal which enhances the natural flavour of rice. Further, it's powered by dual heat technology, enabling uniform heating from the top to the bottom of the rice cooker, thus achieving excellent cooking results.
Not to mention, it can keep rice warm for up to 12 hours so that you never have to worry about consuming stale, cold rice.
Similar to the Tefal Mini Fuzzy Logic Rice Cooker RK5001, it has a 24-hour preset timer that allows you to set the time at which you wish to cook your meal in advance.
The Toshiba rice cooker is renowned for cooking fluffy and tasty rice due to its induction cooking technology. Not surprisingly, this rice cooker has garnered quite a number of positive reviews online, with a majority of the reviewers rating it 5 stars.
---

add_circle
Multifunctional
add_circle
Reasonably priced
Look no further than the Russell Taylors Fuzzy Logic Smart Rice Cooker ERC-30 if you need a multifunction smart rice cooker.
Features:
Rusell Taylors developed an intelligent 6-step cooking process whereby the steam valve and inner pot preserves steam and heat, resulting in fluffy rice.
Featuring various presets and a menu, food preparation is made easy with the click of a button. Just dump in your ingredients and sit back and relax. With a 1.8L capacity, you'll be able to prepare 2-10 servings.
Performance:
This is a wildly popular model due to its versatility and affordability. Users also love that rice doesn't stick to the pot, making washing hassle-free!
---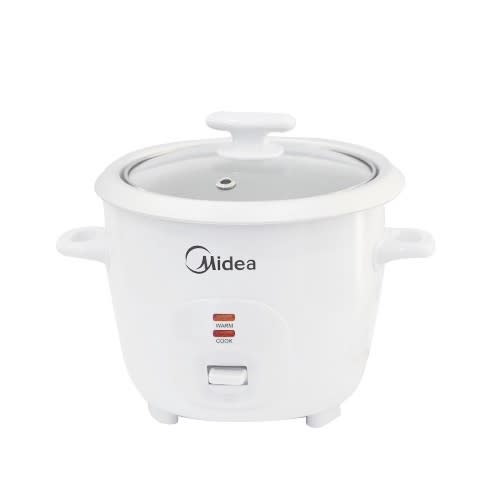 add_circle
Keep warm mode
remove_circle
Only 0.6L capacity
Despite its low price, the Midea Conventional Rice Cooker MG-GP06B works just like any other conventional rice cooker. In addition to cooking just rice, it's also capable of making savoury soups, stews, and other dishes.
Features:
The Midea rice cooker is easy to operate as there is only one button to press. There is no need for other buttons as the rice cooker automatically switches to 'keep warm' mode once the rice is cooked. On top of that, it is built with a cool-touch handle that ensures safe usage and aids in easy portability.
Performance:
This is an affordable, small rice cooker that truly works as intended. Looking at user reviews, it is highly rated due to its good use and value. However, do note that it is not meant for heavy-duty tasks as the rice pot can only handle a small capacity of 0.6L. One particular user also commented that water may overflow and escape from the lid when cooking rice.
---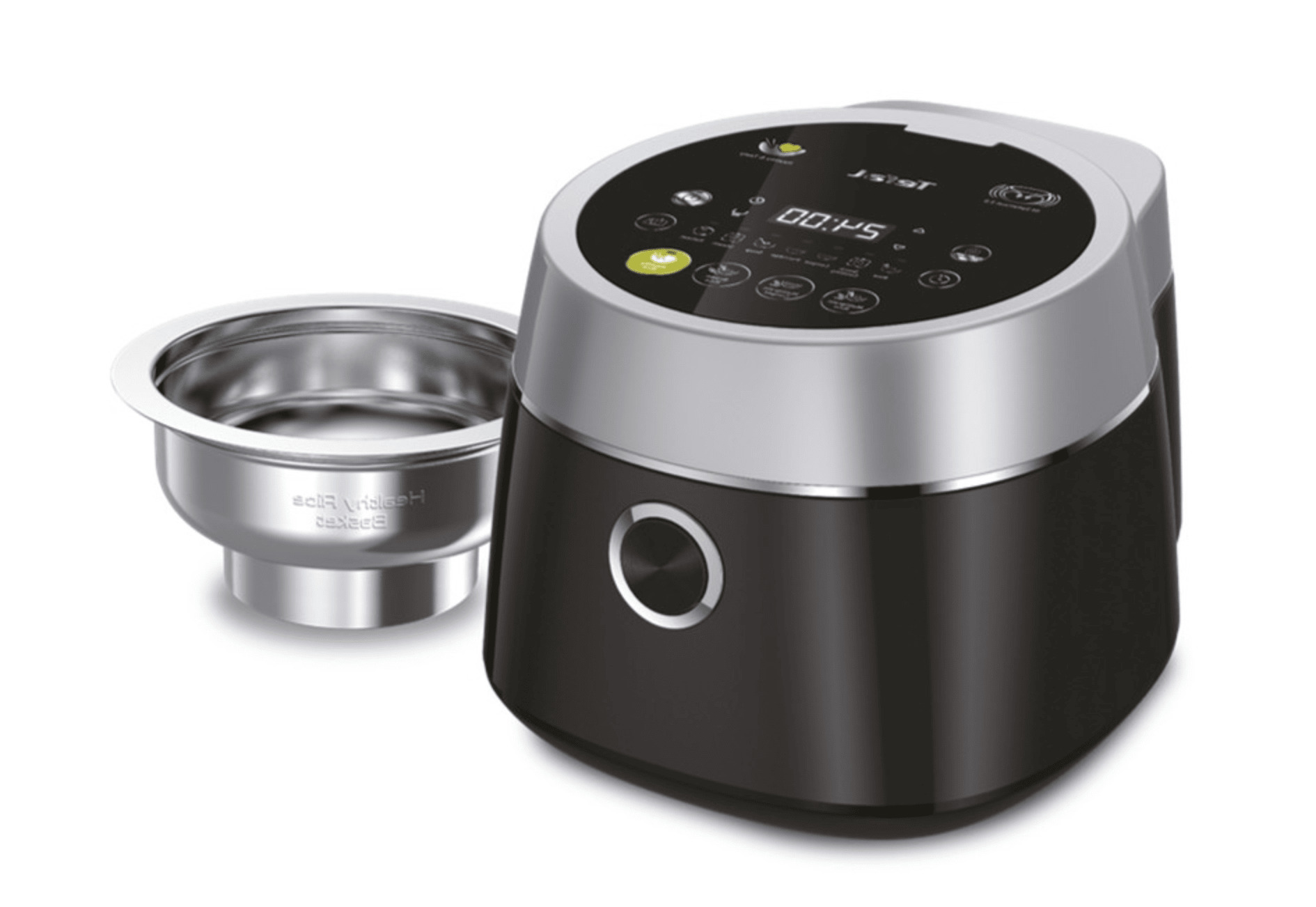 add_circle
Isolates starch
add_circle
Auto keep-warm function
As its name suggests, the Tefal Healthy Rice Cooker RK8608 literally cooks healthy rice for those who are health-conscious. This is made possible due to its 2-step cooking process, complemented by a 'healthy rice' basket which is designed to isolate starch from white rice during the cooking process.
Features:
In addition to its healthy rice features, the Tefal rice cooker is equipped with induction technology that ensures precise cooking time and temperature in order to achieve optimal results. Its stainless steel steam basket and inner pot also mean an easier time in cleaning the equipment.
The rice cooker comes with multi-functional cooking programs including a quick-cooking function. Applying its dual cooking method to all the programs, you can cook rice using either the usual method or the steaming method, thus providing various rice-cooking options.
Performance:
This rice cooker is well-known for its unique cooking technology that removes starch from white rice while maintaining its fluffiness. However, it is known to consume more electricity compared to other rice cookers as the Tefal cooker requires a longer time to cook rice.
---
Read also: Brown Rice vs White Rice: The Truth Behind These Grains

add_circle
Removable steam vent
add_circle
Non-stick inner pot
Size doesn't matter as proven by the Midea 1.0L LED Digital Rice Cooker MB-FS10-GN/PK. This model is perfect for small families.
Features:
With 8 presets, meal prep is a breeze. This rice cooker utilises smart fuzzy logic technology and a honeycomb inner pot design to ensure even cooking.
The Midea is built with an easy-to-read LED screen. Apart from that, the rice cooker has an automatic keep-warm function. The removable steam vent releases steam safely out of the rice cooker and can be easily detached for quick cleaning.
Performance:
Its inner pot that's coated with a non-stick surface works brilliantly as reported by many reviewers, making clean up convenient. Overall, this model is a value-for-money rice cooker, in terms of function and performance.
---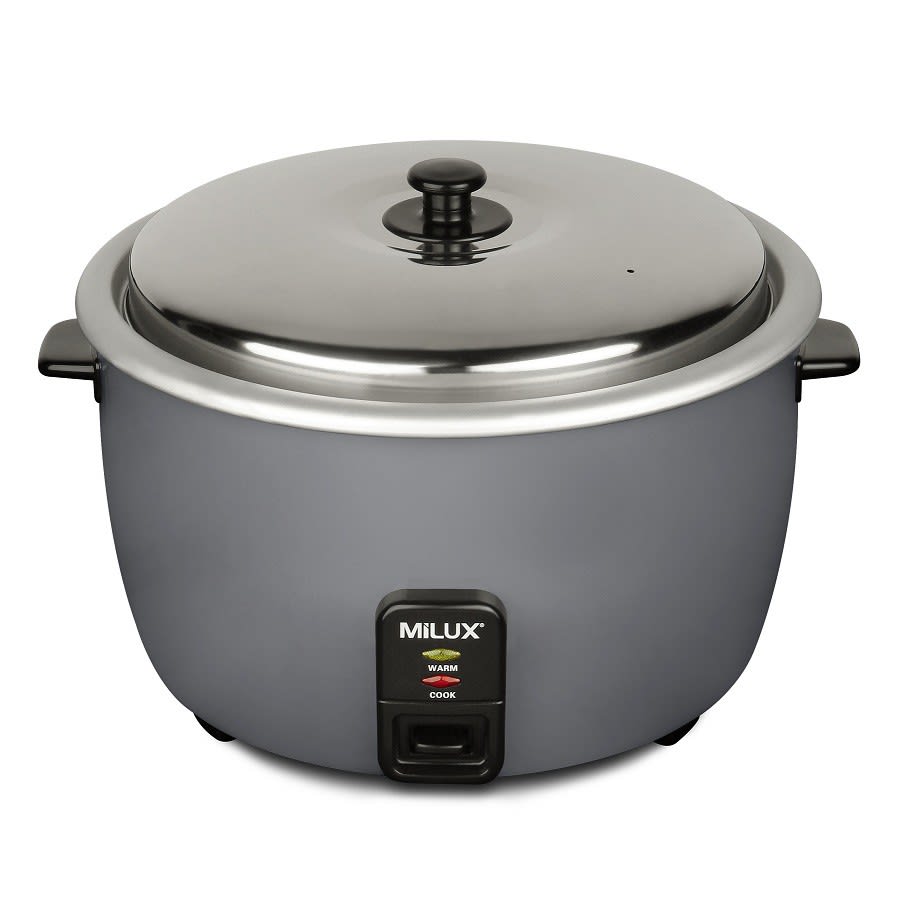 add_circle
Cooks large portions well
add_circle
Auto keep warm mode
remove_circle
Doesn't have other functions
If you have a big family to cook for, the Milux Rice Cooker MRC-545 would be ideal. With an impressive 4.5 litre capacity, it can cook 25 cups of rice; large enough to feed 25 people.
Features:
The Milux rice cooker comes with a durable non-stick aluminium pot, making it easy to clean. On top of that, the rice cooker possesses a great heating element, complemented with a high-quality thermostat for the purposes of cooking your rice with precision. Once the rice is cooked, the cooker automatically switches to keep warm mode.
Besides, the rice cooker maintains a cool surface during the cooking process and has side handles for safe handling.
Performance:
Although it's simple, this Milux rice cooker is pretty good value for money. Indeed it's a no-frills rice cooker that serves its purpose. There aren't any of the extra preset features that come with other rice cookers but if you're buying it for the sole purpose of cooking large portions of rice then there isn't much to complain about. There is no mention of it being good for cooking other dishes such as soups and porridge.
---
How a rice cooker works
Ever wondered about the mechanics of a rice cooker? How does it produce fluffy rice and how does it know when it's cooked? Well regarding the latter, rice is considered cooked when the internal temperature of the rice cooker reaches the appropriate set point, which is when the rice has absorbed the precise amount of water.
Basically, a rice cooker works by applying the water to rice ratio. Once the temperature of the built-in thermometer reaches 100°C and the boiling water has turned to steam, the rice cooker either switches to 'keep warm' mode or shuts off once it detects that the water has been absorbed.
Related articles: