Rice is a staple food in most Asian countries, and it is no wonder that the rice cooker is a staple kitchen equipment as well. Whether electric or digital, big or small, a good rice cooker will definitely simplify your everyday meal preparations.
Here are some of the best-recommended rice cookers, with many being top-rated online. If you'd like to, there's a quick guide to choosing the best rice cooker for yourself after this list.
---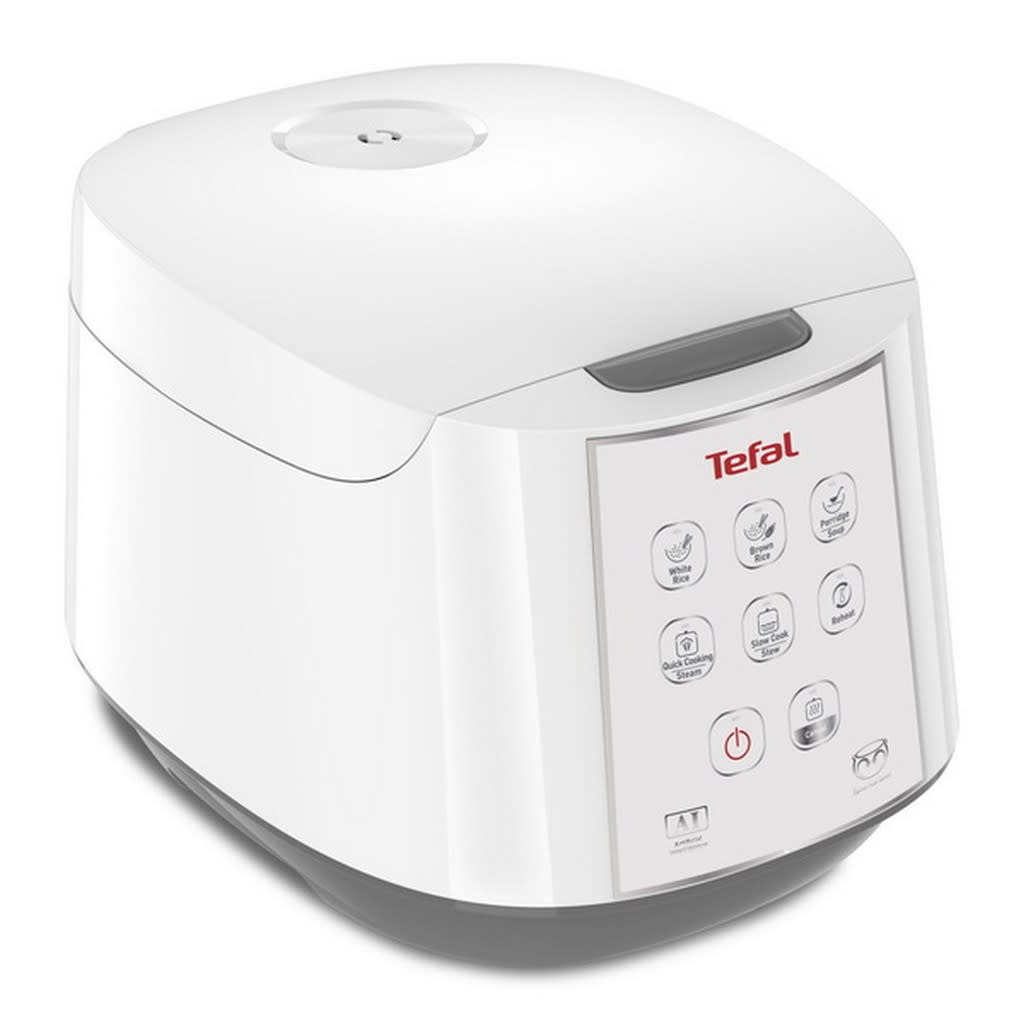 Equipped with fuzzy logic article intelligence, the Tefal Fuzzy Logic Rice cooker RK7321 is able to automatically adjust the cooking time and temperature, achieving optimal cooking performance. It has a total of 8 cooking programs for you to choose from: white rice, brown rice, porridge/soup, and quick-cooking/steam, among others.
Although there's quite a number of programs, this cooker remains quite user-friendly, owing to the one-touch buttons that make it simple to operate.
The Tefal is perfect for family use as it can cook up to 10 cups of rice, or 1.8 litres of useful capacity. Additionally, the rice cooker includes an aluminium rice pot built with 4 layers of coating, one of which is a non-stick coating, thus making it extremely durable.
One feature that makes it quite a good buy is due to its splendid heat circulation, thus achieving rice that's perfectly cooked. The non-stick rice pot surface is also reportedly working well. Do note that however, despite it being of good quality, users have shared that the rice pot is easily subjected to scratches.
---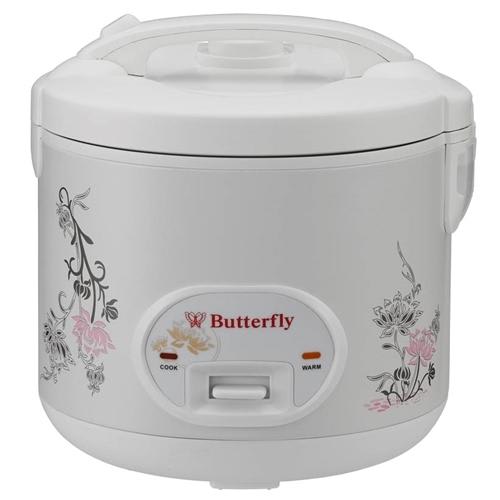 If you prefer an electric rice cooker over a digital one, you could consider the Butterfly Electric Rice Cooker BRC-JS6018. With its large capacity, it can cook up to 8 servings of rice.
Unlike many other electrical rice cookers, this one has 4-speed levels to choose from plus an additional 'pulse' level. For better precision in your cooking measurements, you can also utilise the measuring cup that comes together with the rice cooker.
The inner rice pot is made from stainless steel, which is extremely beneficial as it allows you to cook rice without the risk of being exposed to toxic chemicals. Said material also provides a quick and easy clean-up.
Overall, the Butterfly is extremely straightforward to use. With its good capacity and 4 cooking speeds to select from, it has gained quite a good reputation amongst users. However, some reviewers have complained that the pot tends to move around when scooping out rice as it is very light.
---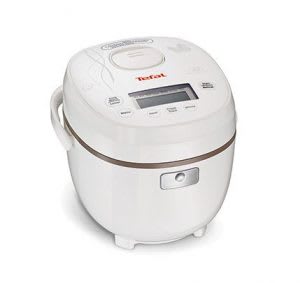 Small and handy, the Tefal Mini Fuzzy Logic Rice Cooker RK5001 is ideal for light cooking, with a capacity of 0.5L or 4 cups of rice. As a FuzzyLogic rice cooker, it is built with an LCD display that lets you check the cooking status of your meal as well as do presets.
Despite its small size, this cooker has 11 cooking functions for precise cooking. One of the 11 functions is an adjustable timer, which enables you to set the time of cooking ahead. In other words, you can prepare your meal in the morning, let the Tefal start cooking at a specific time, and return home to a warm and freshly-cooked meal.
The Tefal rice cooker's built-in induction technology is its strongest selling-point, being efficient, convenient and precise in its cooking results. With its compact size, the rice cooker also easily fits into any small spaces in your kitchen. Of course, because it's so small, the rice cooker is not meant for large families due to its small capacity.
---
More: 8 Best Mini Rice Cookers Below RM 100 Perfect for Students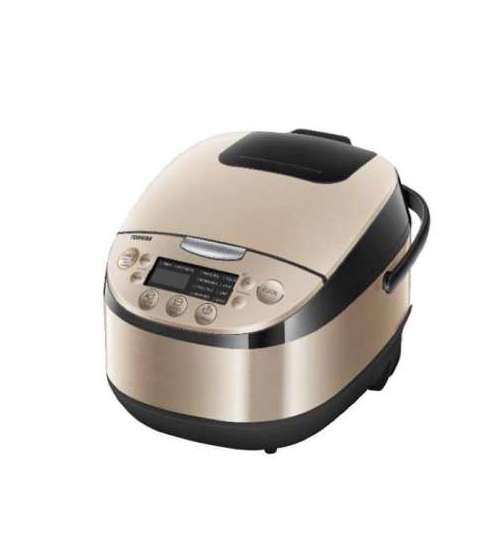 With its multiple cooking modes and settings that make it so versatile to use, the Toshiba Rice Cooker RC-18DR1NMY is a piece of high-quality kitchen equipment to prepare various types of food such as rice, congee, soup, sushi, and cake.
There are more unique reasons as to how this Toshiba rice cooker is unlike others. First, its 8-layer and 4mm-thick inner pot are made from Japanese Bincho Charcoal which enhances the rice's natural flavour. Secondly, it is powered by dual heat technology, enabling uniform heating from the top to the bottom of the rice cooker, thus achieving excellent cooking results.
Not forgetting, it has the ability to keep rice warm for as long as up to 12 hours so that you never have to worry about consuming stale, cold rice.
Similar to the Tefal Mini Fuzzy Logic Rice Cooker RK5001, it has a 24-hour preset timer that allows you to preset the time at which you want to cook your meal, making it ideal for office workers.
The Toshiba rice cooker is renowned for cooking fluffy and tasty rice due to its induction cooking technology. Not surprisingly, this rice cooker has garnered quite a number of positive reviews online, with a majority of the reviewers giving it 5 stars.
---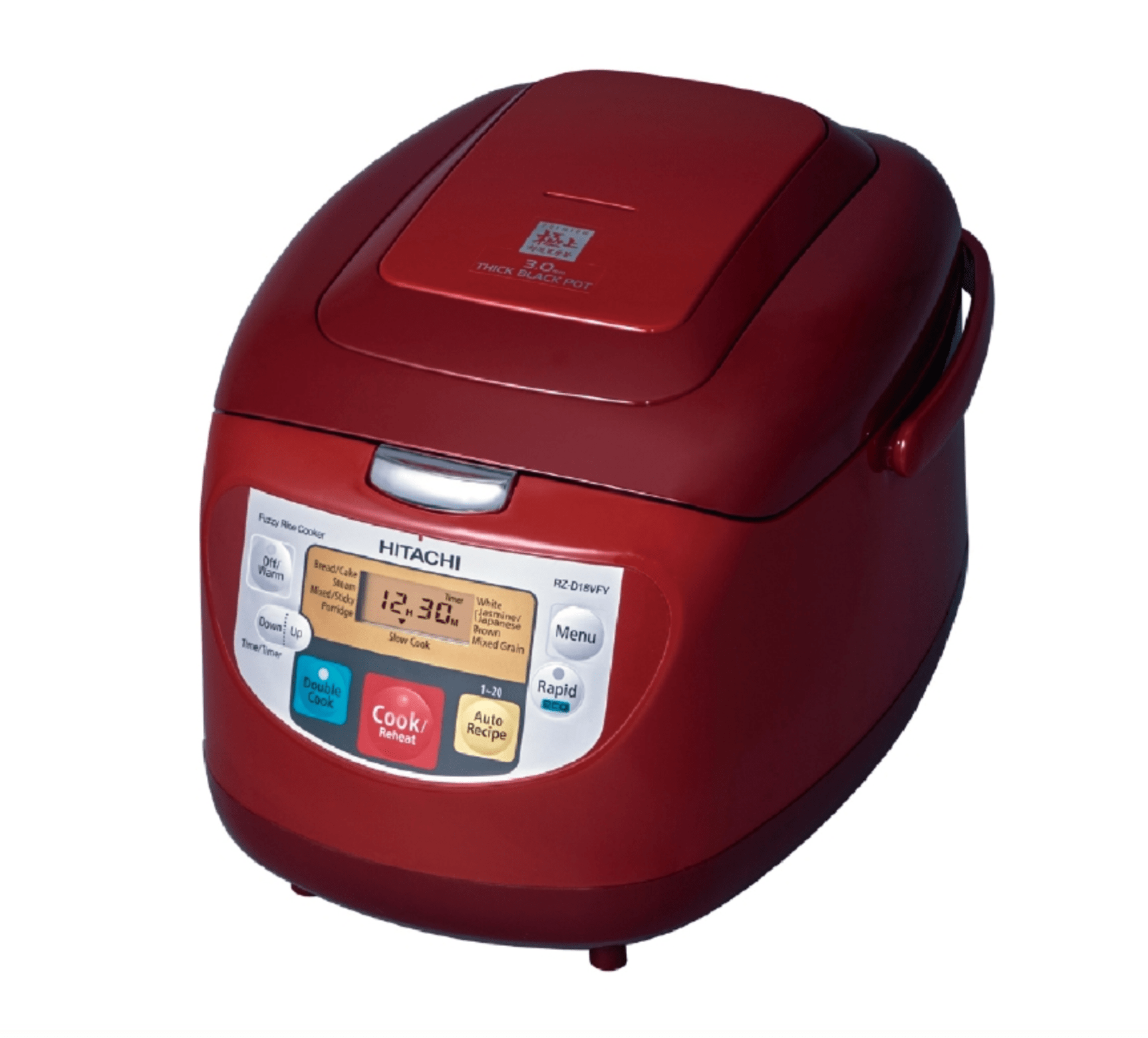 Like the Toshiba Rice Cooker RC-18DR1NMY, the Hitachi 1.8L Microcomputer Rice Cooker RZ-D18VFY is another high-quality rice cooker. In addition to cooking fluffy rice, it is great for making bread and cakes too.
What distinguishes it from other rice cookers is that it has an auto recipe mode which allows you to choose from 20 recipes in the instruction booklet. This means if you want to follow a certain recipe from the said booklet, all you have to do is select the recipe number, press the cook button, and simply wait for it to cook your favourite dish.
On top of that, the equipment is built such as that buttons you'll need to commonly access are larger and located in the centre, making it very user-friendly.
The Hitachi is undoubtedly special because of its multiple cooking functions, which includes the double cook, slow cook, rapid cook, and super rapid cook programs. On the downside, the rice pot is quite easily subjected to scratches.
---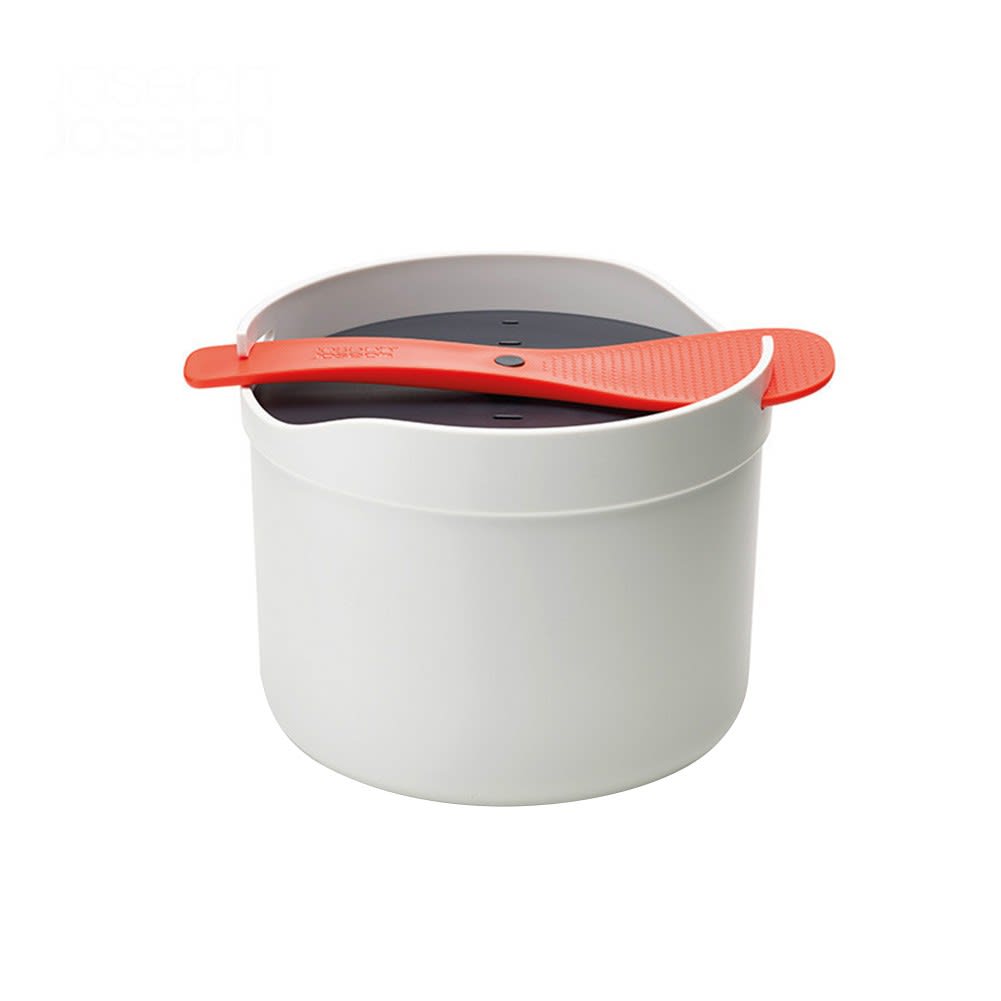 If you're looking for an alternative to digital and electric rice cookers, you can opt for the M-Cuisine Microwave Portable Rice and Grain Cooker Pot.
Without any mechanical parts, all you have to do is pour the rice into the inner pot and pop it into the microwave, as simple as that. Not to worry as the rice cooker pot is carefully designed to be compatible with all power ratings in microwaves.
This rice cooker is perfect for anyone with any kind of budget. Not only is it extremely affordable, but it's also compact and made from durable materials. The cooker is supposedly ideal for cooking various grains such as rice, oats, and quinoa. It's also great for steaming or defrosting vegetables.
To add, with a multi-purpose rice paddle that locks the pot lid while at the same time, serves as carrying handles, the M-Cuisine is a very convenient tool to have.
Although you must rely on a microwave to cook rice using the M-Cuisine, this is offset with the fact that it is so simple to use. The cooker is reported to have adequate capacity for 2-3 pax. On the flip side, there is no 'keep warm' function to warm the rice once you have taken it out from the microwave.
---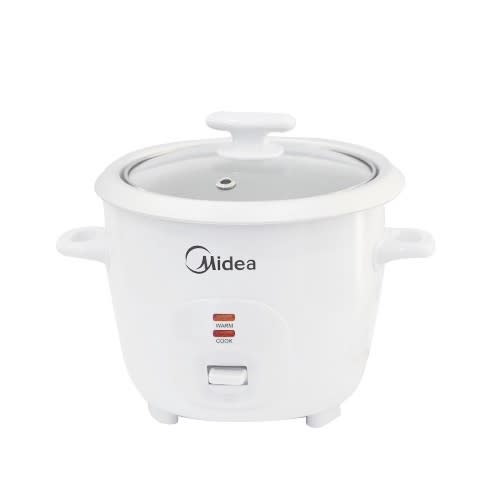 Despite its low price, the Midea Conventional Rice Cooker MG-GP06B works just like any other conventional rice cooker. In addition to cooking just rice, it's also capable of making savoury soups, stews, and other dishes.
The Midea rice cooker is easy to operate as there is only one button to press. There is no need for other buttons as the rice cooker automatically switches to 'keep warm' mode once the rice is cooked. On top of that, it is built with a cool-touch handle that ensures safe usage and aids in easy portability.
Like the M-Cuisine Microwave Cooker Pot, this product is another affordable, small rice cooker that truly works as intended. Looking at user reviews, it is highly rated due to its good use and value. However, do note that it is not meant for heavy-duty tasks as the rice pot can only handle a small capacity of 0.6L. One particular user also commented that water may overflow and escape from the lid when cooking rice.
---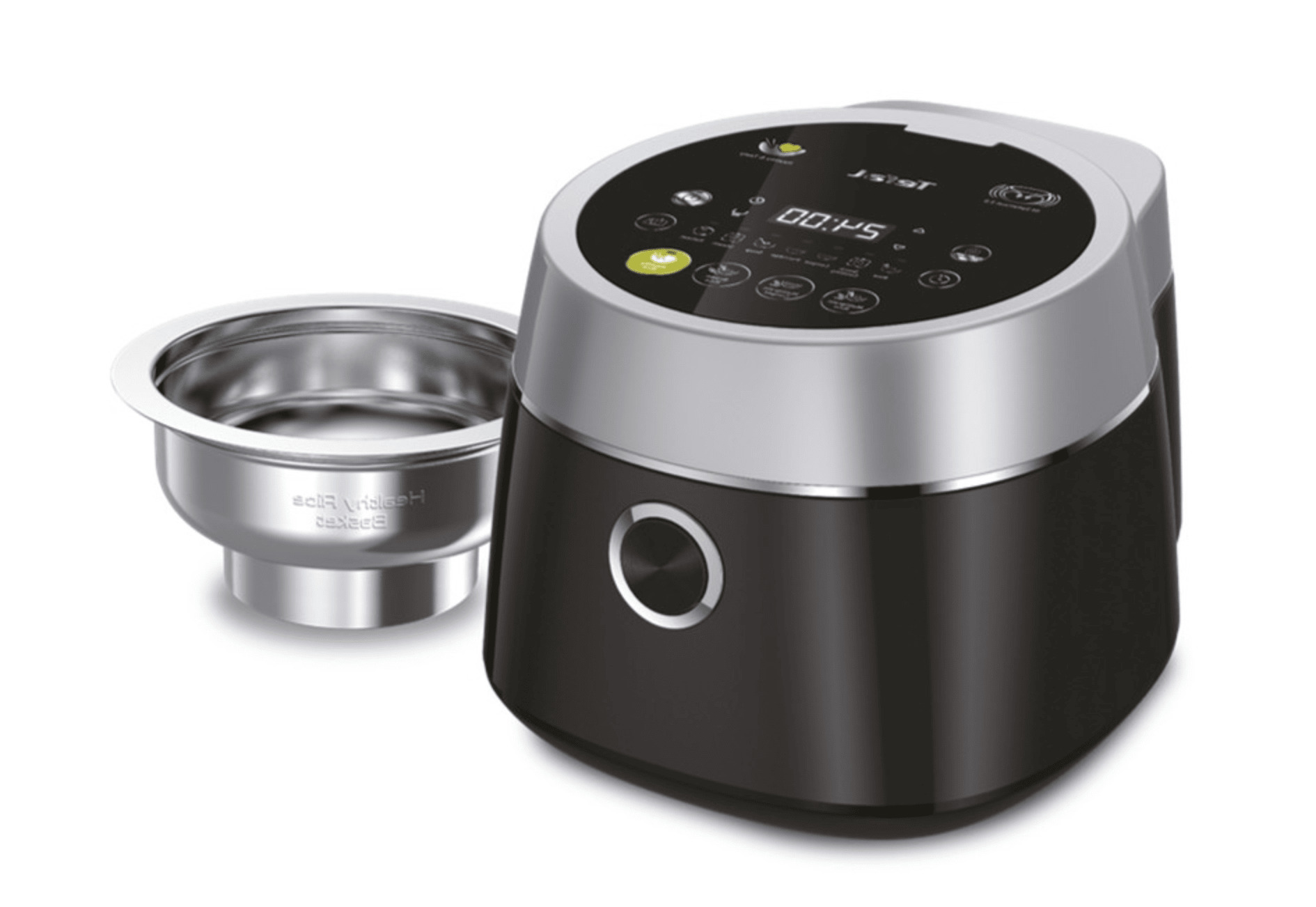 As its name suggests, the Tefal Healthy Rice Cooker RK8608 literally cooks healthy rice for those who are health-conscious. This is made possible due to its 2-step cooking process, complemented by a 'healthy rice' basket which is designed to isolate starch from white rice during the cooking process. With that, the rice cooker is able to cut down carbs in white rice by an astounding 20%.
In addition to its healthy rice features, the Tefal rice cooker is equipped with induction technology that ensures precise cooking time and temperature in order to achieve optimal results. Its stainless steel steam basket and inner pot also mean an easier time in cleaning the equipment.
The rice cooker comes with multi-functional cooking programs including a quick-cooking function. Applying its dual cooking method to all the programs, you can cook rice using either the usual method or the steaming method, thus providing various rice-cooking options.
This rice cooker is well-known for its unique cooking technology that removes starch from white rice while maintaining its fluffiness. However, it is known to consume more electricity compared to other rice cookers as the Tefal cooker requires a longer time to cook rice.
---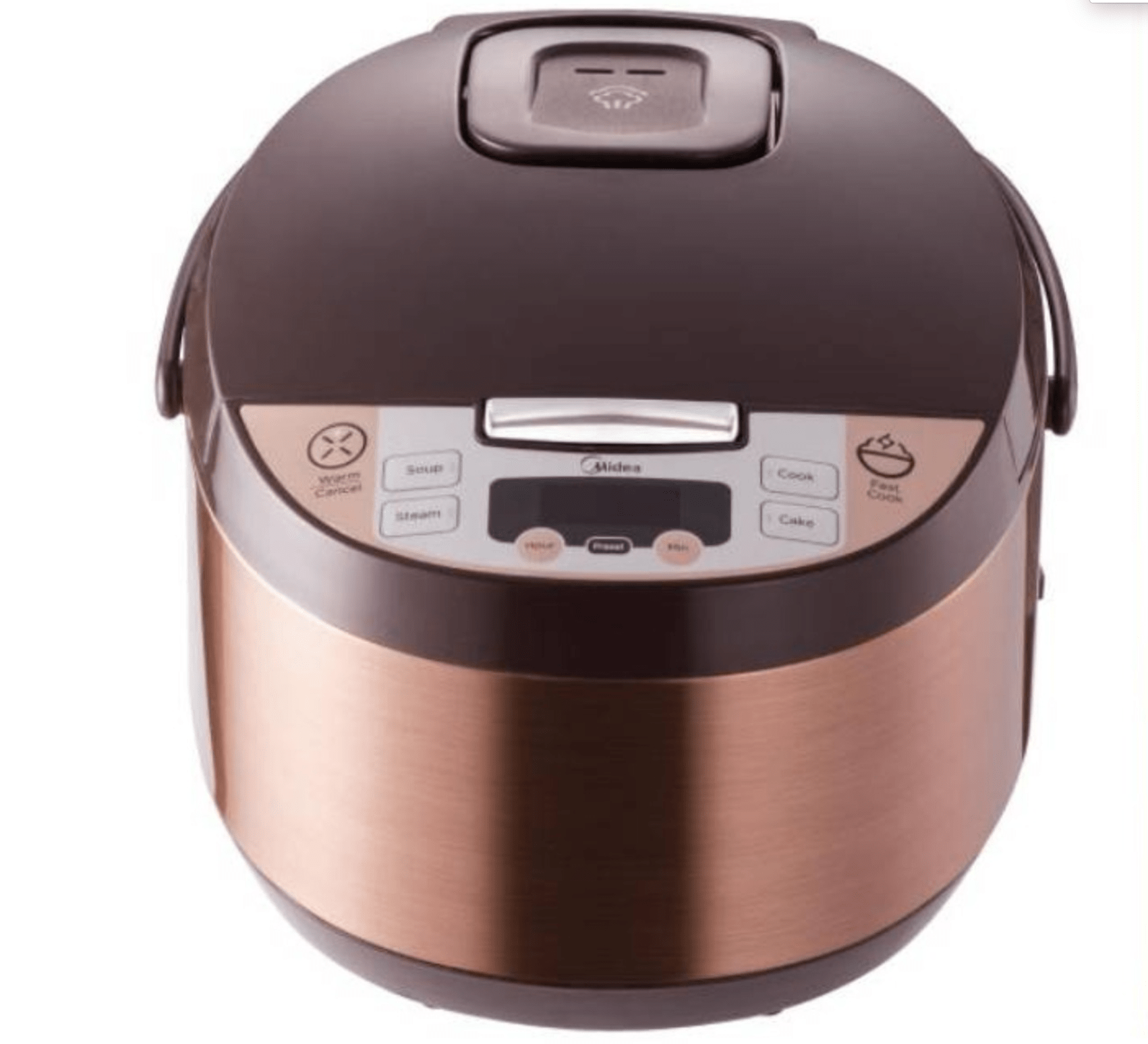 Cook for your small family with ease using the Midea 1.0L LED Digital Rice Cooker MB-FSE10. With 5 cooking modes that include soup, steam, cook, fast cook, and cake, it is truly a versatile and multi-functional cooker.
The Midea is built with an easy-to-read LED screen and a touch screen button panel that's super easy to use. Apart from that, the rice cooker is built with heat insulation to keep the rice warm for up to 10 hours so that you can even enjoy a warm meal late into the night.
The rice cooker comes with a removable steam vent that releases steam safely out of the rice cooker instead of water spilling out. And since it is removable, it can be easily disassembled for quick cleaning.
A cool feature to this cooker is its golden inner pot that's coated with a non-stick surface, which is confirmed to not be a gimmick and works as intended, as reported by many reviewers. Overall, the Midea rice cooker has extremely good value in terms of functioning perfectly, and for a good price too.
---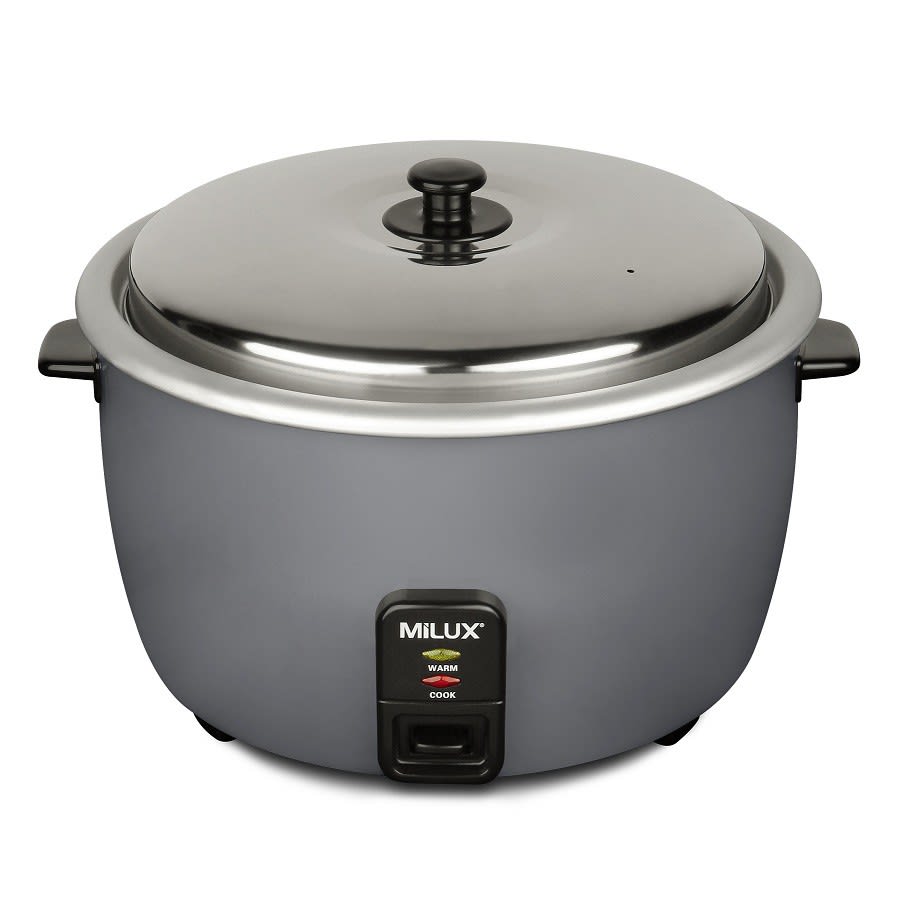 If you have a big family to cook for, the Milux Rice Cooker MRC-545 would be ideal. With an impressive 4.5 litre capacity, it can cook 25 cups of rice; large enough to feed 25 people.
The Milux rice cooker comes with a durable non-stick aluminium pot, designed such that users will find it very easy to clean. On top of that, the rice cooker possesses a great heating element, complemented with a high-quality thermostat for the purposes of cooking your rice with precision.
Even during the cooking process, the rice cooker maintains a cool surface to ensure safe handling. In addition to that, there are also side handles, making it convenient to move the rice cooker around.
Even though it is simple, this Milux rice cooker is quite good in value. However, considering its large capacity, it would take up a considerable amount of space in your kitchen. Also, to date, there is no mention of it being good for cooking other dishes such as soups and porridges.
---
Here, we will guide you in your journey to buying the perfect rice cooker, taking into consideration of our own research as well as users reviews online.
Choosing a rice cooker based on type:
Conventional
A conventional rice cooker doesn't have fancy functions like quick cook, double cook, or slow cook. Instead, it is a piece of straightforward cooking equipment, with just a rice pot and a lid.
Despite its basic functions and lack of preset capabilities, however, it still does an excellent job of cooking rice. Moreover, these types are likely to last longer compared to electrical rice cookers.
Electric/Mechanical
An electric rice cooker is somewhat similar to the conventional type, also lacking many advanced functions. However, electric rice cookers automatically switch to the 'keep warm' mode once the rice is cooked so you don't have to constantly check on the rice. You can consider an electric rice cooker if you want a piece of simple equipment that is easy to use.
Fuzzy logic/Microcomputer
A fuzzy logic (digital) rice cooker is distinguishable from other rice cooker types due to its digital interface. Unlike conventional and electric rice cookers, fuzzy logic cookers have a timer and programming function with several menu settings. This is ideal if you prefer a multi-functional rice cooker that cooks a variety of food other than rice.
Induction heating
Compared to the other types, an induction heating rice cooker is by far the most efficient. Induction technology allows for excellent heat distribution by heating up the entire pot while minimising heat loss.
With induction heating cookers, the temperature during the cooking process is automatically and precisely regulated, contributing to a substantially reduced cooking time. On the other hand, as with most digital devices, these types are prone to breaking down compared to simpler, conventional cookers.
Disclaimer: The pricing shown is just a good indication of how much these products are worth. The prices could change based on the e-commerce promotions that are going on. If some of the products are not available, do email us at [email protected] Thank you!