Air fryers are all the rage these days among home cooks. The appliance "fries" food by circulating hot air around an inner chamber to create the crispy effect that we associate with deep frying. These machines are a healthier option as it involves at most, a tablespoon of oil.
Another reason for their popularity is that they do more than just "fry" foods. Several models today can grill, roast, and even bake. Best of all, budget-friendly options are aplenty!
However, most of the air fryers listed here have capacities of around 3.8L to 6L. So, if you're looking for anything bigger than that, it's best to explore air fryers at a higher price range.
---
Table Of Contents
---
Top 10 Budget Air Fryers In Malaysia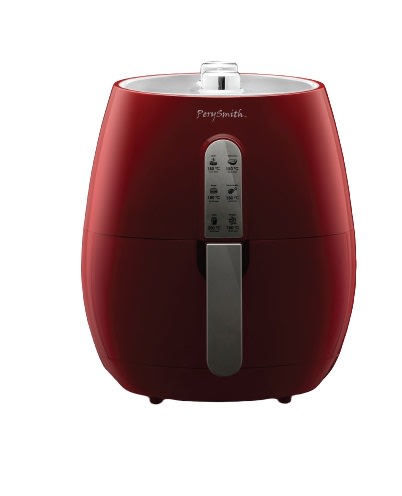 add_circle
PFOA-free coating
add_circle
Two-year warranty
add_circle
Temperature range of 80 to 200°C
remove_circle
Not dishwasher-safe
Why It's Our Top Pick:
"Compared to the other air fryers on our list, the PerySmith 3D Air Fryer Ecohealth Series PS152 has a relatively larger capacity at 4.8L while still being reasonably priced.
This PerySmith air fryer is our top pick because of the high-quality design, affordability, and convenience it offers."
Features:
Impressively enough, both surfaces of the basket and the pan have a layer of diamond coating. This translates to even heat distribution so that the risk of food getting stuck to the surface is lowered. None of the components is labelled as dishwasher-safe but the food basket is removable which makes cleaning up easier.
Other features include a 30 minutes timer and several cooking modes such as fried chicken and burgers.
Performance:
Don't just take our word for it; this air fryer is rated an impressive 4.9/5 on both Shopee and Lazada. Its users overwhelmingly praised the air fryer's ease of use, its ability to deliver consistent, delicious results as well as its stunning red finish.
However, a minority of the users reported the appearance of dents on the pan and defects on the exterior of the air fryer. However, this could just be a courier service issue. Apart from that, this air fryer has a two-year warranty which is longer than most of the other competing models.
---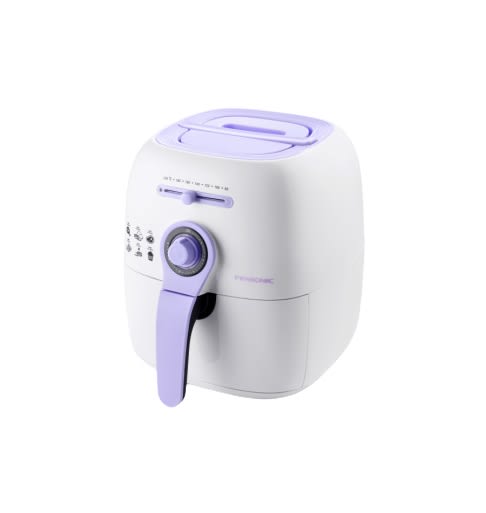 add_circle
No burnt-plastic smell during cooking as claimed by reviewers
add_circle
Cool-touch housing
remove_circle
Not dishwasher-safe
Here's an option for the solo home chef. The capacity of the Pensonic Chef's Like Air Fryer PDF-2201 is 2.2L; ideal for those who live alone and want to prepare single portions conveniently without any leftovers.
Features:
This air fryer sports the common temperature range of between 80-200 degrees Celsius, while its cooking timer can be set for up to 30 minutes. It's more than adequate to cook several types of food be it your favourite fried drumsticks or french fries.
Safety-wise, this air fryer comes with an auto shut-off feature to prevent it from being left on by mistake and a cool-touch housing so it does not get hot on the outside.
Performance:
The air fryer has received near-perfect ratings on several online stores. A user commented that their experience of frying chicken turned out perfect while another user mentioned that their batch of fried nuggets had a very crunchy exterior. One user even praised that the air fryer does not emit a burning plastic smell which is common with many other air fryers.
---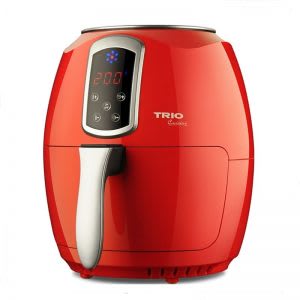 add_circle
Convenient handle design enhances portability
add_circle
Temperature range from 60 to 200°C
add_circle
Suitable for warming up certain food
add_circle
More accurate temperature and timer settings compared to analogue control
remove_circle
Not dishwasher-safe
The Trio Air Fryer TAF-827 is a great pick if you're looking for an air fryer that is compact and easy to handle.
Features:
Its portability can be attributed to its convenient handle at the top for when you need to move the appliance.
Boasting a sleek profile, the TAF-827 features an easy-to-use touch screen display with precise temperature and timer settings. This is unlike most air fryers in the price range that use analogue controls and allows for a more accurate cooking setting. The air fryer has a capacity of 2.6L and has a 60-minute timer. Meanwhile, its temperature settings range from 60 to 200°C, making it easy to heat food and adjust to suit your needs.
Performance:
The unit is described as being very easy to clean as the basket is detachable. Some helpful pointers by past users include using the timer as a reminder to flip the contents of the basket for more even frying. As there's no mention of a non-stick coating, some users suggest using baking paper to line the basket when frying meat.
It isn't clear if a cookbook guide is provided, as some have said that trial-and-error cooking is needed. Nevertheless, successful recipes include fried chicken, French fries, roasted nuts, as well as even reheated pizza slices, pieces of bread, and pastries.
---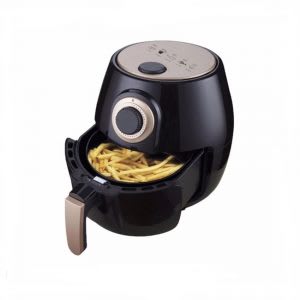 add_circle
Highly rated among users
add_circle
Comes with a cookbook
remove_circle
Markings on the timer dials may fade off over time
remove_circle
Non-stick coating may flake off
An air fryer can be handy for whipping up snacks or meals quickly when you're chasing deadlines. If you're strapped for cash, the AMGO 3.8L Capacity Air Fryer is a reliable, budget-friendly option.
Features:
This model has a modest capacity of 3.8L and isn't too bulky which is perfect for students who would like to prepare 2-3 portions to share with housemates or for just making a quick snack. It has a temperature range of 80 to 200°C and a 30-minute timer.
Performance:
This air fryer received mostly positive reviews online. Several users mentioned that they've tried frying nuggets and the results turned out "very good" where the food was "crispy on the outside" while being "soft and tender inside".
A common gripe among the low star ratings was the fading of the marking on the timer dial after only a few days of use. Some users also disagreed with claims that the frying basket is non-stick.
---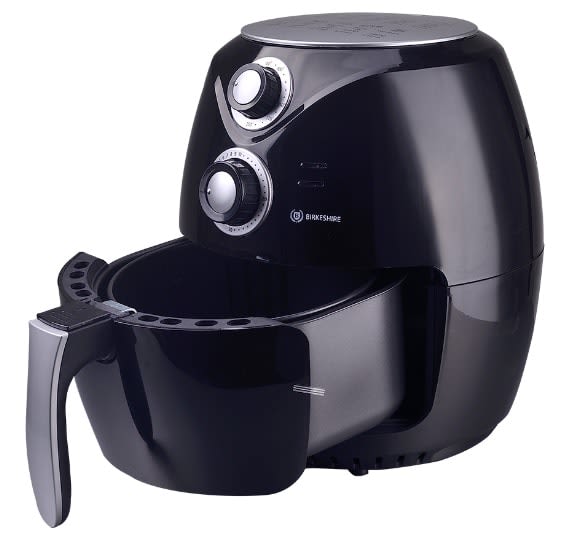 add_circle
SIRIM and Suruhanjaya Tenaga certified
add_circle
Multi-use besides just frying
add_circle
Minimised odour cooking
remove_circle
Only 2.6L capacity
This air fryer by Birkeshire is versatile as it also lets you grill, roast, and bake.
Features:
It comes with overheating protection so you'll never have to deal with cleaning out a burnt air fryer. Speaking of which, the air fryer comes with a cool-touch handle which will definitely reduce the risk of burning yourself when handling its 2.6L basket. Moreover, there's an auto cut-off feature to ensure that the air fryer doesn't cause any mishaps if you forget to switch it off.
It apparently functions quietly and efficiently thanks to its 1400W motor. Birkeshire claims that it uses updated air circulation technology that ensures faster cooking time and less lingering odour.
Performance:
Customers have attempted to use this machine for a large variety of food ranging from French fries to keropok lekor. Most claim that results turned out great with one customer saying that it tastes even better than conventional deep frying. But several have stressed the importance of turning flat food over to ensure even browning.
---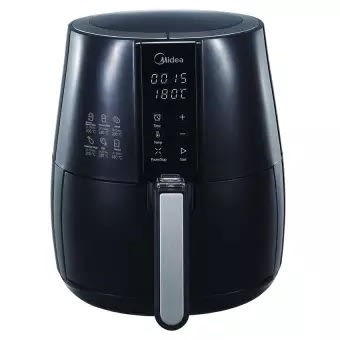 add_circle
LED touch control panel
add_circle
More accurate temperature and timer settings compared to analogue control
remove_circle
Small capacity
If you're getting a budget air fryer, you may think that you have to compromise on the durability of the appliance. Fortunately, the Midea Air Fryer MAF-CN20A proves you can get the best of both worlds as it's made entirely of 304 stainless steel. Plus, its aesthetically pleasing accents would make a seamless addition to any modern kitchen.
Features:
For ease of use, there's a digital display that lets you easily check on the cooking status and make timing and temperature adjustments. The former can go up to 60 minutes whereas the latter can go as hot as up to 200 degrees. Unfortunately, its capacity of 2.0L makes it suitable for only cooking small portions.
The best attribute of this air fryer is how easy it is to use. Its removable basket and the fact that it's dishwasher-safe should make clean up convenient. Although the inner lining of the frying basket is of non-stick material, you have to bear in mind that it does not have a scratch-resistant coating. Luckily, there does not appear to be any complaints of the non-stick coat flaking off.
Performance:
It has received generally 4 to 5-star reviews on both Shopee and Lazada. According to one review, it is a must-have item for your kitchen. However, the reviewer also mentioned that cleaning the mesh may take some time though it isn't a dealbreaker.
---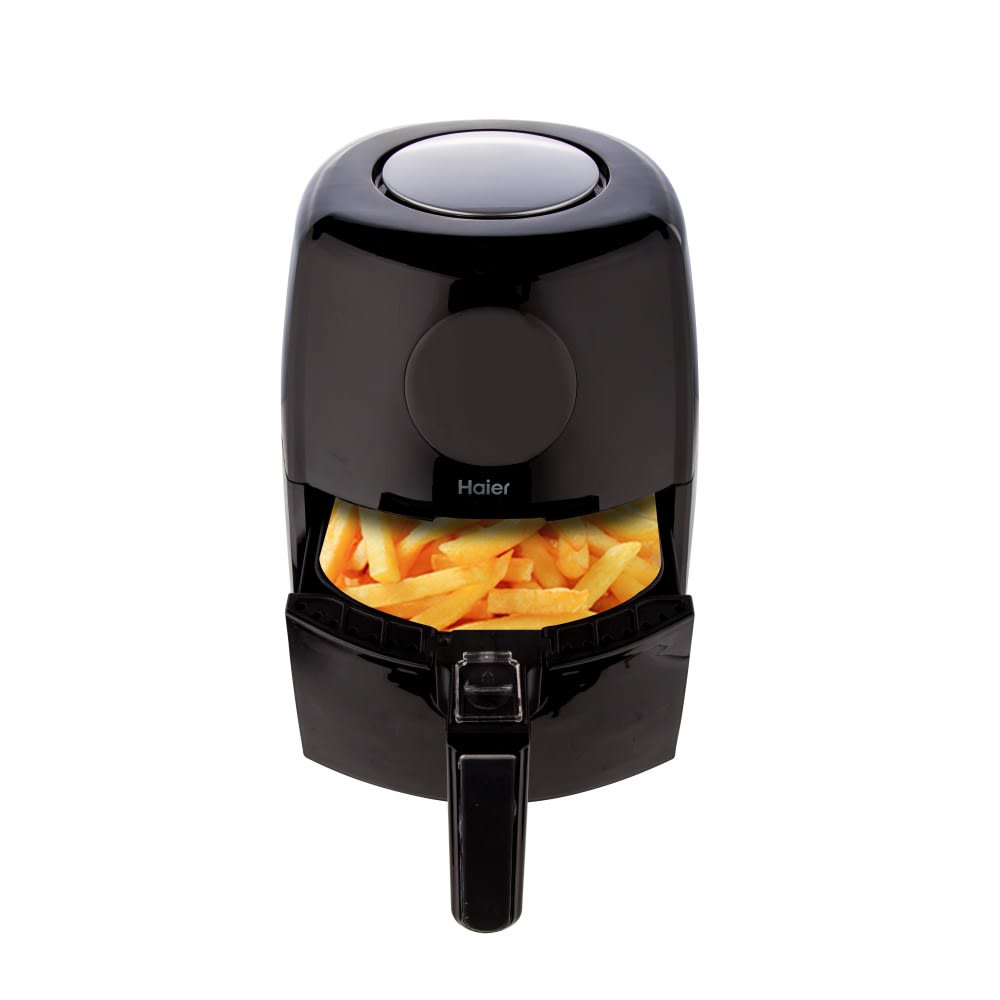 add_circle
Built-in air filter
add_circle
Easy to operate and control
remove_circle
Not dishwasher-safe
While air fryers generate little to no grease at all, sometimes, there is still a lingering smell. This won't be an issue with the Haier Digital Air Fryer HA-AF253.
Features:
To combat the problem, the brand has an integrated air filter to minimise lingering food smells. Aiding the minimisation of odour, the air fryer also uses Rapid Heatwave Technology to quickly cook your food, which means it will lessen the chance of food smells lingering around much longer.
Besides, it can accommodate the ideal settings for many food types thanks to its adjustable temperature range of 80 to 200°C alongside its 60-minute timer.
Performance:
According to reviews, this air fryer cooks food quickly and efficiently. Fried chicken is said to be crispy and tender, while some even managed to grill some fish and gained tasty results. Many even mentioned that washing the air fryer was easy and that the mini cookbook is handy.
---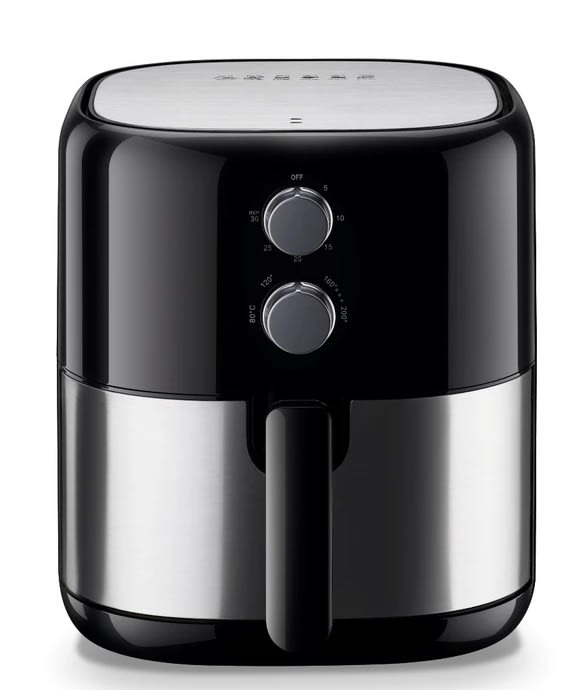 add_circle
Automatic shut-off
add_circle
Non-stick basket and pan
add_circle
Has cooking presets
A fan of Japanese made appliances? Enjoy some healthy meals prepared with the reliable Samu Giken Rapid Air Fryer SG-AFA35SSB.
Features:
This unit is hassle-free as both the pan and food basket are finished with a non-stick, Teflon coating, making it easier for you to remove grease residue or burnt food from these components. Furthermore, both the said parts are also dishwasher-friendly for convenient cleanup.
Aside from the analogue temperature dial that goes from 80 to 200°C and the 30-minute timer, this air fryer features 8 presets such as chips, fish, mushrooms and drumsticks. The preset features are definitely a bonus over the many budget air fryers on this list that do not have it. And because of that, it's perfect to help you get started on cooking with an air fryer for the first time.
Performance:
Most have complimented how the fryer manages to consistently cook evenly while retaining moisture in the food. And because of the preset buttons available, it didn't take long for many to learn the ways of this air fryer.
---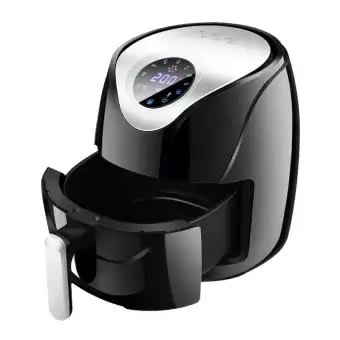 add_circle
One of the largest capacity at this price point
add_circle
Comes with five free accessories
add_circle
Has cooking presets
add_circle
Can cook fish with the grill pan
remove_circle
Safety features are not clear
remove_circle
Instruction manual only available in Mandarin
Looking to get the most bang for your buck? The Giman 5.5L High Capacity Air Fryer (AK-8005) features a huge capacity of 5.5L that is practically a steal at this price range. This means that you get to prepare delicious dishes that you can share with ideally three to five people. Past users have even commented that it's big enough to fit a whole chicken.
Features:
Capacity aside, the air fryer features a digital panel that lets you control the settings easily. It has presets for you to choose from based on the types of food such as meat, vegetables and even cakes.
Adding on to this unit's value is the five free accessories that come with it. You'll get a 3-pin plug converter, a pair of oven mitts, a pair of stainless steel kitchen tongs, a cooking manual, and a grill pan for meat, fish, and vegetables.
Performance:
All in all, the air fryer should offer quite a good balance in features for anyone of different culinary skills. Unfortunately, as highlighted by a reviewer, this air fryer does not seem to be equipped with safety features such as an automatic shut-off for the cooker. Another downside is the only available language for the instruction manual is Mandarin.
---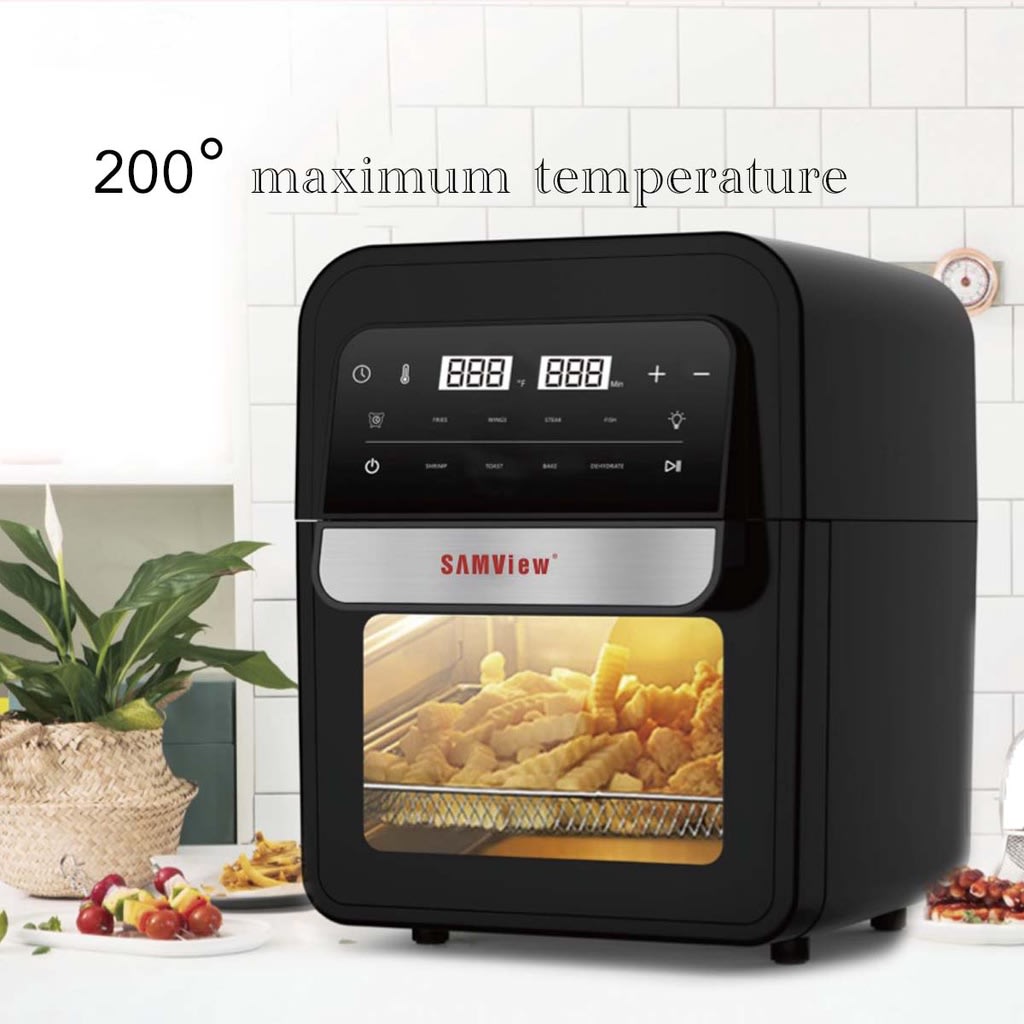 add_circle
Viewing window
The SamView digital air fryer oven is an easy way to make rotisserie chicken on a budget thanks to its 360° rotary function. There's even a 'dehydrate' function.
Features:
This air fryer oven is equipped with a drip tray, mesh tray, and a wire rack.
It's extremely versatile with 8 presets that include toast, fish, steak, fries, among others.
This is the only model on our list that features a semi-transparent double-layer window that is able to withstand heat and that allows you to monitor the cooking progress easily. Most air fryer ovens retail for more than RM300 so this one is a major steal.
Performance:
The stainless steel internal cavity makes it easy to clean and the touch control panel is user-friendly. This is also the air fryer with the largest capacity on this list at 6L.
---
Cheap air fryer vs expensive
As a conscious consumer, you're probably wondering if there's any difference between a cheap air fryer and an expensive one. Does a higher price correspond to higher quality?
All air fryers operate the same way. Hot air is circulated via convection, developing a crispy exterior and cooking the inside.
Expensive models typically have more power, therefore, cooking more efficiently. They also tend to have a larger capacity which is suitable for preparing more servings without having to do a few rounds; ideal for families or those who entertain guests frequently.
Besides, expensive ones tend to be more versatile and have more presets which makes cooking convenient as you won't have to worry about temperature settings and cooking time. Plus, it's more multifunctional.
Whether you go with an expensive model or a more budget-friendly option depends on your needs and budget. Don't be distracted by the bells and whistles of the higher-end models. An affordable model might fulfil your needs just as well.
Related articles: