When it comes to cooking, the right kitchen utensils and appliances can help elevate and enhance your cooking experience. So instead of just your cooking skills, reliable tools that give consistent results are important, and one of them is your cooker.
Especially for non-landed houses; many users have switched to induction cookers because they are more environmental-friendly than gas cookers and don't take up as much space. Compared to ceramic users, these ones are also made with many more safety features such as heat protection and better power wattage.
Looking to change your stove to a more energy-efficient one? Below is a list of the best induction cookers in Malaysia.
---
Top 9 Induction Cookers In Malaysia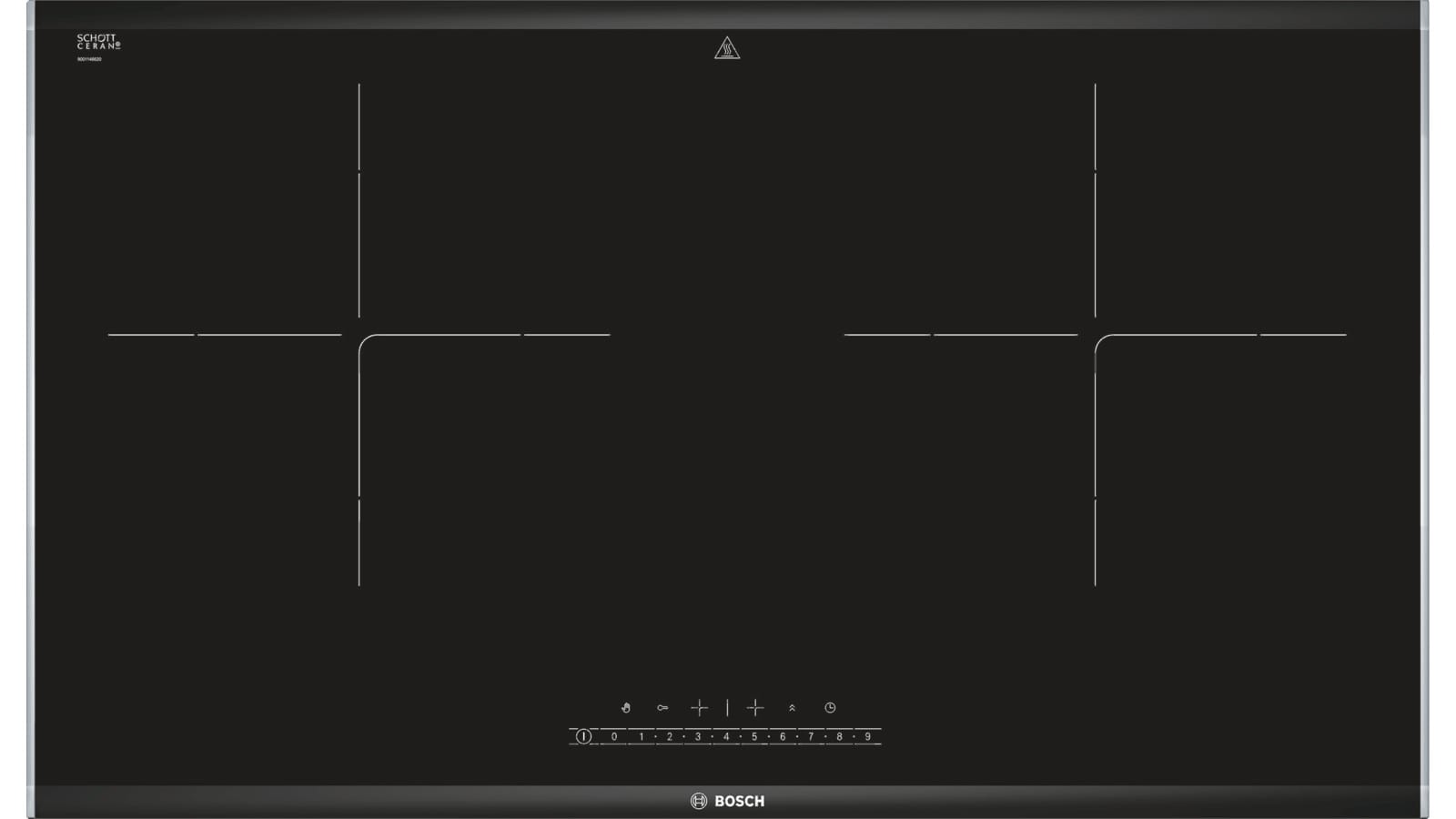 Check BOSCH PPI82560MS Serie 8 Built-in Induction Hob price below:
add_circle
Modern features to enhance speed
add_circle
Choose from 9 levels of heat
add_circle
Safety features ensure no accidents of burning yourself when cooking
Why it's our top pick:
If you can afford to change your main cooking hub, an induction cooker like this from Bosch is a good pick. The brand has been hailed by many online (regional and international) to be a brand with quality that stands to withstand time.
After all, buying a proper induction cooker to do all of your heavy cooking should not be a walk in the park.
Overview:
Diving deeper into this induction hob station; the Bosch PPI82560MS Serie 8 is designed to be safe to use, offering "Precise power control... complete with a cool cooking experience".
For starters, this induction cooker offers 9 power levels, activated by Precise Touch Controls, to let you be flexible with your cooking be it frying or sauteeing vegetables and meats alike. To make cooking truly seamless, the cooker has a Pan Detection feature as well as residual heat indication in order to avoid any incorrect heating to occur.
Additionally, the 2-zone induction hob is designed with an improved PowerBoost function to speed up the cooking process. How this system works is that if switching to one hob to be used, other hobs will lend their power to the remaining active hob.
In fact, Bosch says that the induction cooker can boil 2 litres of water almost three times as fast as a conventional glass-ceramic hob.
Specifications:
Power: 3500W
Voltage: 220-240V
Gross Weight: 10kg
Dimensions: 780mm (w) x 59mm (H) x 450mm (D)
Key Features:
Induction heating, no high temperature and exhaust gas suffering
"DirectSelect" touch control, 1-9 power level selection
Residual heat indication
Auto pan recognise system - Fast and effective, save more than 20% time than the traditional gas hob, enjoy more free time
Performance:
If you want to safe-proof your home with a reliable induction cooker, the Bosch PPI82560MS bodes well for most heavy cooking. Designed to be safe, fast and accurate; one will be pleased at this modern yet efficient piece of work.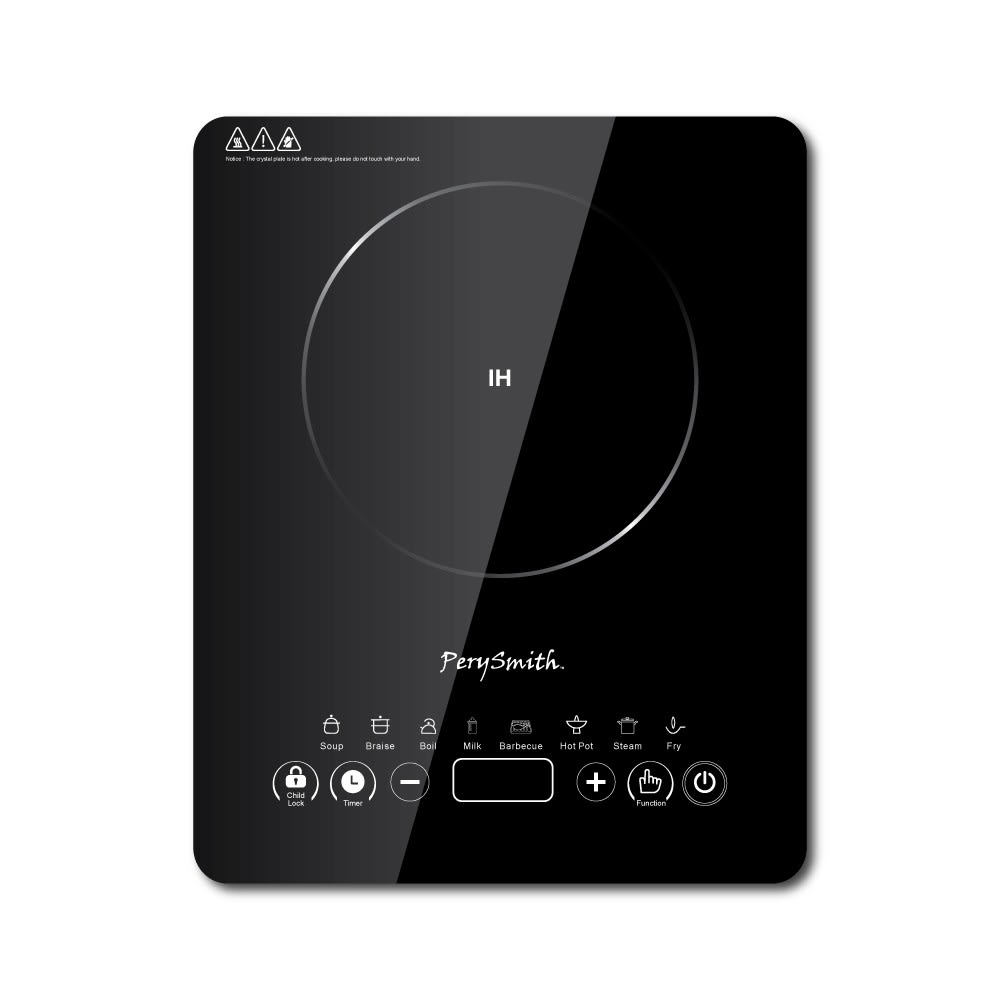 Check PerySmith Induction Cooker 2500W PS2310 price below:
add_circle
High heat performance
add_circle
Very good value for money
add_circle
Highly portable
remove_circle
Some say it's a bit loud
The PerySmith Induction Cooker 2500W PS2310 is one of the best and most affordable induction cookers out there.
Decently powered with 2500W, the cool-to-touch surface makes it safe and easy to operate. Despite being fairly cheap, it is versatile and is of pretty good quality. 
Overview:
With its sleek design and high power output, the Pery Smith Induction cooker uses electromagnetic induction to quickly heat up faster than a traditional cooktop does. 
With 8 presets for a multi cooking function and 8 different power options to suit your various cooking needs, it can do most things from boiling to frying.
To ease your user experience, the induction cooker comes with a touch-sensitive panel that allows for seamless operation with the cooker which also includes a child lock! Moreover, the cooker also features an efficient cooling system and a crystal glass panel that is sturdy and scratch-resistant.
It is small and space-efficient, so you can store this away if you are not using it. Besides, its compact build is perfect for bringing along with you to a potluck to cook or keep your food warm. Some users have said that the product is so lightweight, that it almost feels like a toy!
Specifications:
Power: 2500W
Voltage: 240V
Gross weight: 2.5kg
Dimensions: 35cm x 42cm x 12cm
Key features:
Crystal glass panel
Scratch-resistant
Multiple cooking functions
Touch-sensitive sensor panel
Performance:
Overall, it works well though some reviews have mentioned that its operation is a little loud.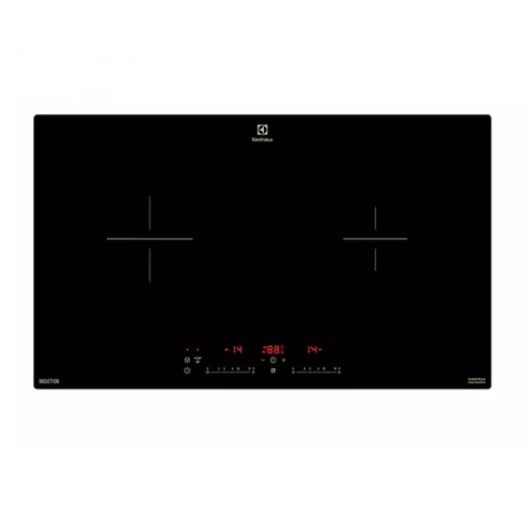 Check Electrolux Built-in Induction Hob EHI7260BA price below:
add_circle
Rated energy efficient
add_circle
Controlled temperature option
add_circle
Fast boiling times
Well known for its quality and efficiency, the Electrolux Built-in Induction Hob EHI7260BA cooker becomes the next best option after your sturdy gas stove, or if you have some money to spare. Electrolux as a brand is known for its induction cooker that delivers precision and performance.
And like most Electrolux products, this 2300W induction hob is energy efficient, rated being 55% more energy efficient than regular gas stoves as well as 20% more efficient than ceramic hobs. 
Overview:
Sometimes, to achieve a certain result for a dish, precise temperature control is needed, and that's what this induction hob has to allow for a smoother cooking experience similar to gas stoves. If anything, induction hobs also heats up faster than gas. This one boasts a boiling speed of 1 litre in just 3 minutes!
Additionally, it helps that you can fit pots of up to 70cm in circumference on the stove without any issue.
Specifications:
Power: 3200W
Voltage: 220 - 240V
Gross weight: 8kg
Dimensions: 55cm x 70cm x 42cm
Key features:
Multiple safety controls
Convenient to use
Easy to clean
Safety auto-lock
Child lock function
Power booster
Performance:
Overall, this Electrolux induction cooker is well celebrated and well-received, with user comments commonly related to its good built quality.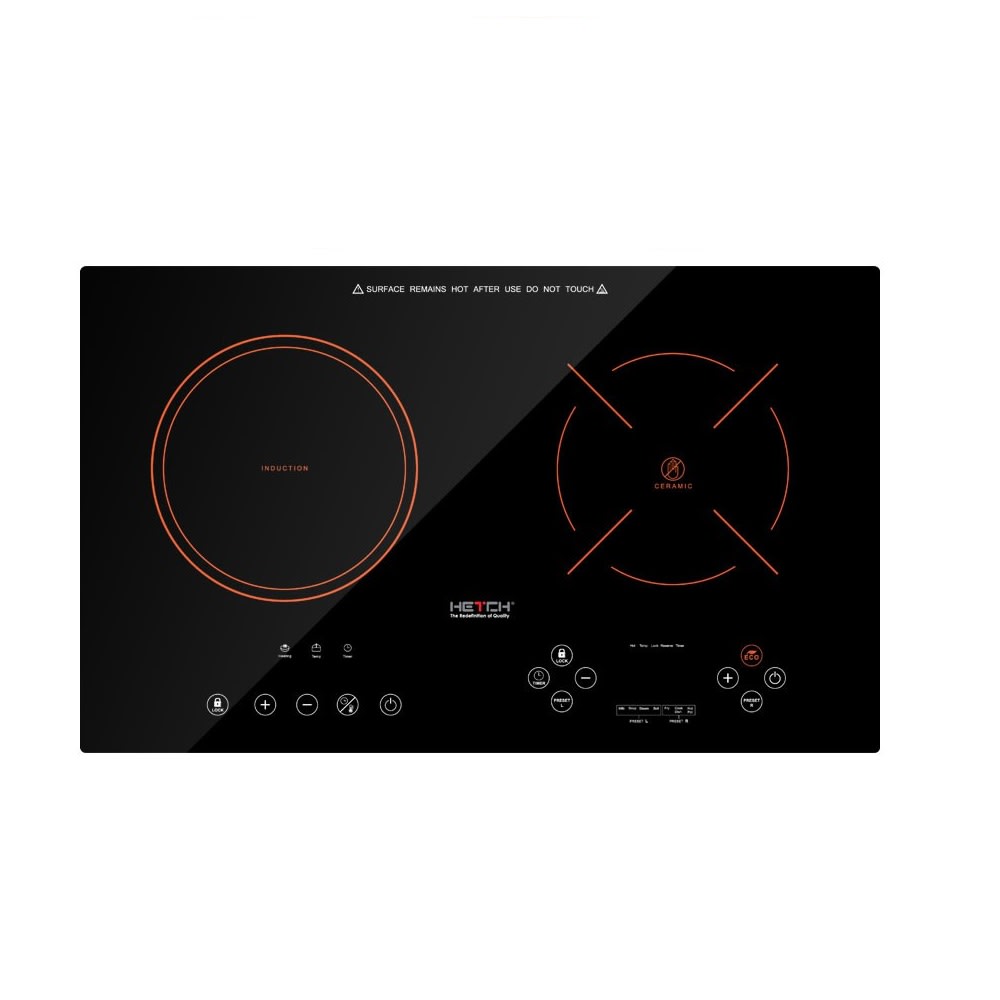 Check HETCH 2-in-1 Induction + Ceramic Cooker (ECO/3000W) IFC-1706-HC price below:
add_circle
3 hour timer setting
add_circle
High heat and scratch resistant
add_circle
Suits most types of cookware
Two cooking zones allow you to prepare more than one dish at a time.
Overview:
This induction cooker has an Eco mode that results in minimizes smoke and saves energy thanks to its "automatic temperature control system".
The buttons on this control panel are easy to control thanks to its "soft touch" and presets such as soup, fry, and steam make cooking that much easier.
The Child lock mode is a great safety feature to prevent the little ones from accidentally turning it on and harming themselves.
Moreover, the cooker is built with durable tempered glass which allows for extensive usage of all types of cookware.
Specifications:
Power: 3000W
Voltage: 220 - 240V
Gross weight: 7.4kg
Dimensions: 69cm x 42cm x 77cm
Key features:
Easy to clean
Durable black tempered glass
Multifunction control panel and indicators
Performance:
Users are pleased with its quality and how well it functions. It is high heat and scratch resistant too.
Check Midea Induction Cooker C16-RTY1619-BK price below:
add_circle
Has auto shut-off feature
add_circle
Straightforward operations and settings
add_circle
Portable, compact design
When it comes to wanting portability and power, there is the Media Induction Cooker C16-RTY1619-BK to consider. It combines a compact design, lightweight build and more importantly, easy-to-operate settings.
Overview:
Built with an anti-scratch panel, the stove employs a knob hob that's user-friendly. In contrast to fancy LED displays, using knob hobs ensure a faster, more precise and straightforward set-up for cooking. Which, you can set the power setting up to 1600W; that translates to just above 100°C.
Additionally, despite the simplicity, this induction cooker has safety features such as an "automatic shut off switch" and "high-temperature protection.
Specifications:
Power: 1600W
Voltage: 220 - 240V
Gross weight: 2.1kg
Dimensions: 28cm x 28cm x 65cm
Key features:
8 stage power settings
Knob control
Anti-scratch panel
Fast cooking
Automatic shut off
Free stainless steel pot
Performance:
This portable induction cooker promises durability and portability given its price point. Reviewers have especially praised it for being a good stable functioning product at such an affordable price range.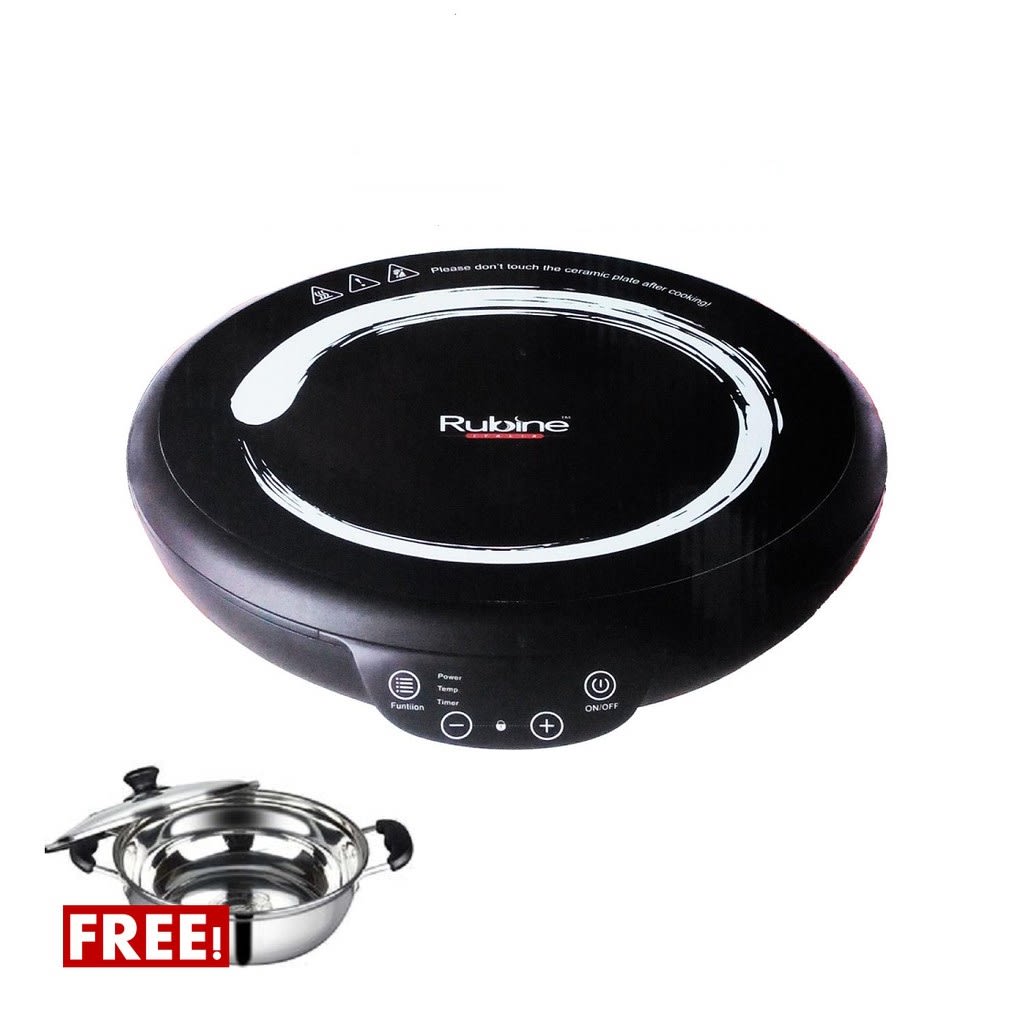 Check Rubine Electric Ceramic Induction Cooker RIH-ENSO-BL price below:
add_circle
Ceramic plating for better induction
add_circle
Made with inflammable material
add_circle
Comes with a pot - very good value for money
One easy-to-use portable induction cooker is the Rubine Electric Ceramic RIH-ENSO-BL Induction cooker. 
Overview:
Of course, aside from the convenience built, the cooker boasts a high power rating of up to 2000W. It also features an easy LED display with slide and touch controls that are easy and stress-free to operate with when cooking. 
Making sure that the cooker is not restricting your cooking process due to its 29cm in circumference size, it is fitted with ceramic plating to give better induction to your stainless-steel pots and pans. Moreover, that also means an easier time to maintain and clean the cooker. And finally, ensuring safe use for all your cooking, the cooker is made with inflammable materials only.
Specifications:
Power: 2000W
Voltage: 220 - 240V
Gross weight: 3.1kg
Dimensions: 33cm x 18cm x 35cm
Key features:
Easy to read LED display with slide and touch control
Made from non-flammable materials
Cooling system
Child lock
Performance:
To further add to its value, you get a free cooking pot with every purchase of this induction cooker. It's definitely a great way to save some money, as evident by the number of reviewers and even some students who vouched for its affordability and portability.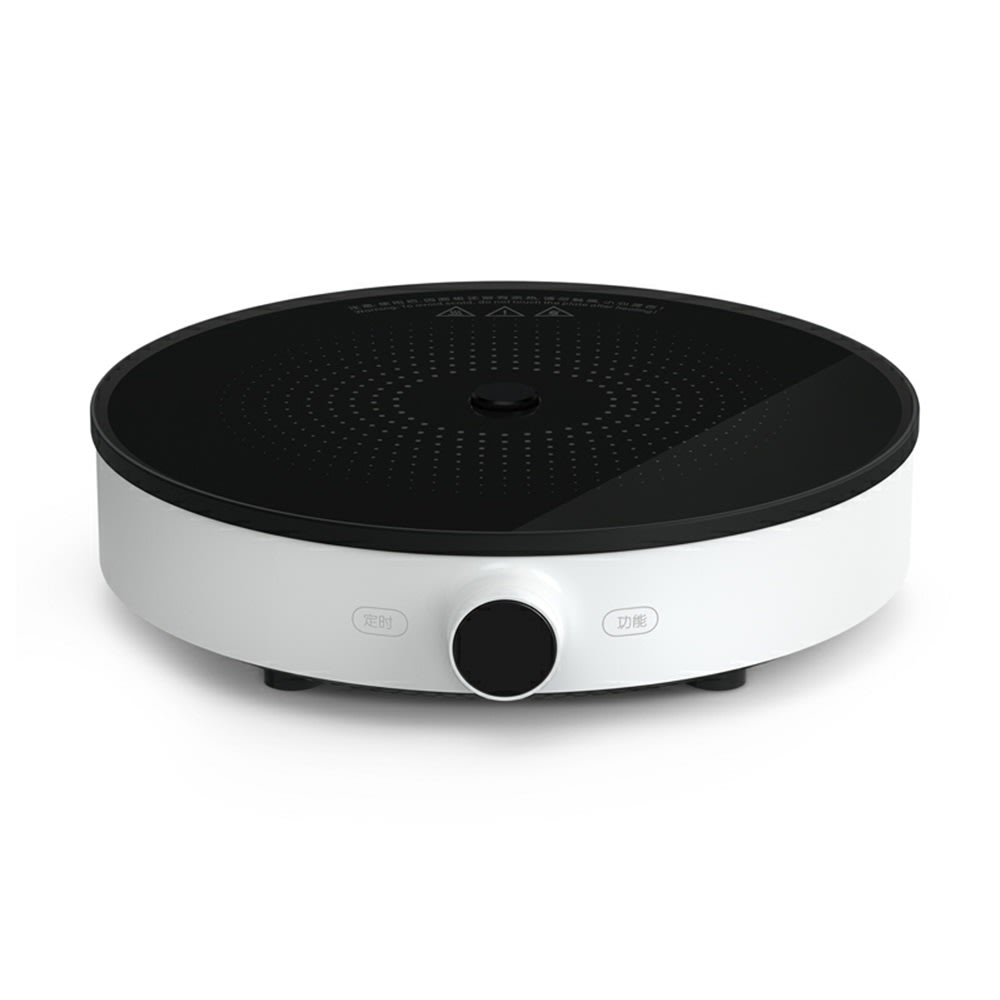 Check XiaoMi Mijia Smart Induction Cooker price below:
add_circle
Over 100 cooking modes
add_circle
Has "slow cook" mode
remove_circle
Not the cheapest
The XiaoMi Mijia Smart Induction Cooker is the future of cooking. And if you are looking for an induction cooker that can fulfil all of your cooking, especially for steamboat needs, look no further! 
Overview:
This induction cooker promises to heat up all of your food, stews and soups evenly and quickly. Utilising its dual-frequency heating technology, this cooker is able to achieve heat similar to explosive fire which can benefit several types of cooking. 
But perhaps, the best reason to own this induction cooker especially for your steamboat is that it has a slow cooking feature that you can lock in for longer cooking periods.
Unlike other induction cookers, this one is built with a smart sensor to prevent overheating, as well as allow for precise cooking temperatures with up to 9 different fire levels. Not forgetting its best feature of all; you can connect to this induction cooker using the Mi Home App, and explore as well as switch between 100 over cooking modes freely. 
The build quality on this product is well thought after by most users and is sturdy for long term use. A likeable feature is also the built-in temperature sensor, which accurately measures the temperature of the pot being used to ensure a more precise cooking experience. 
Specifications:
Power: 2100W
Voltage: 220V
Gross weight: 2.1kg
Dimensions: 28cm x 26.5cm x 70cm
Key features:
Dual protection
LED intuitive display
Built-in temperature sensor
Gas-cooled air duct separation
Performance:
Users find that it is easy to use as all you have to do is switch it on and select your preferred temperature level.  One reviewer mentioned that it isn't noisy and that it heats up quickly. 
Do not that you might have to get an adaptor.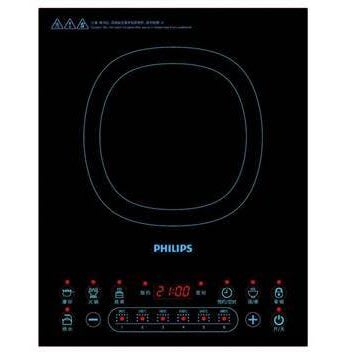 Check Philips HD4931 Induction Cooker price below:
add_circle
Comes with a pot
add_circle
120-minute timer
remove_circle
Most settings are fixed for a certain type of cooking
if you cook one-pot meals, this single induction cooker is perfect for you.
Overview:
With a cooking timer of up to 120 minutes and 2100W of power, you can have seamless steamboats that will cook with speed as well as retained nutrition in your food. 
Philip's own induction cooker comes with 5 healthy menus and unique heating programmes for several types of cooking. Ensuring a safe cooking journey, the A-grade glass panel is solid and durable for long term usage.
To make do with time and energy-saving purposes, it is engineered to cook with a shorter span of time, taking only 1/3 of the cooking period as compared to regular gas cookers. Not to worry, as the cooker also comes with a child lock for reduced risk of accidents. 
Plus, it comes with a free pot.
Specifications:
Power: 2000W
Voltage: 220V
Gross weight: 3kg
Dimensions: 33.2cm x 21.2cm x 39.2cm
Key features:
Sensor touch
A-grade glass panel
Sensitive sensor touch operational panel
Child safety lock function
6 power levels
Performance:
Although this is a good product, some reviews have shown that some of the heat levels are not adjustable for some of the functions. This may cause the heat levels to be really high and dry out liquids like soups or curries.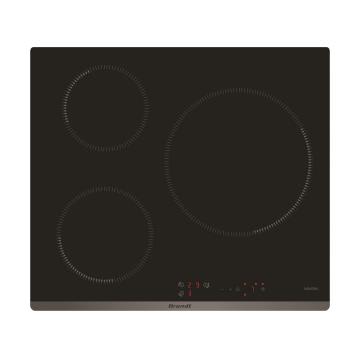 Check Brandt 3 Zones Induction Hob BPI6314B price below:
add_circle
Very high power rating (3100W)
add_circle
10 safety features
add_circle
Well-planned layout
add_circle
Easy-to-clean surface
The Brandt 3 Zones Induction Hob BPI6314B is a reliable electric induction cooker that's ideal for heavy-duty cooking at home. 
Overview:
For starters, the built-in cooker is made with a vitroceramic glass with an intuitive electronic touch-sensitive display and 9 power levels as well as additional boosters. With all of that, you're definitely in for a seamless cooking experience.
We also recommend this option due to the three-hob induction cooking space to accommodate multiple pots and pans at the same time. Of course, this increases cooking productivity and efficiency for family meals and such.
To add, the induction hob has a 99-minute cooking timer, which is convenient especially when cook soup and stew. No more worries about burning your food! 
Specifications:
Power: 7200W
Voltage: 220 - 240V
Gross weight: 11kg
Dimensions: 58cm x 51cm
Key features:
9 power levels
3 cooking zones
Vitroceramic glass
Booster power level
Red LED digit display
Electronic touch-sensitive controls
Performance:
With its well-built and simple yet convenient functions, this is a solid induction cooker to last you a really long time. 
Its operation is simple enough for amateur and professional cooks alike who are looking to elevate their cooking experience.
FAQ

:
- What is induction cooking?
Induction technology has been used in cooking since the early 1900s, and it has only recently acquired widespread popularity. Induction comes from the term 'electromagnetic induction' as it electricity is generated using magnetism.
Instead of utilising an electric or gas-heated element, induction cooktops heat pots and pans directly. It preheats up to 50% faster and keeps the temperature constant and accurate. The surface itself doesn't get hot so spills and the the occassional boil-over don't burn onto the cooktop, making cleanup quick and easy as no scrapping will be necessary.
Plus, you won't run the risk of an accidental burn should you touch the surface.
Induction cooking utilizes magnetic induction to heat pots and pans directly using electric currents. These induction cookers warm the cooking pot itself almost instantaneously, rather than requiring thermal conduction or gas.
A magnetic current is created throughout the cooking pan with the passing of an electric current through a coiled copper cable beneath the cooking surface, warming it directly. Little heat is lost, and the contents are then cooked through conduction and convection.
---
- Induction vs Electric vs Ceramic cooker
Despite achieving the same outcome, these cookers each take a different route to get there. What are the distinctions between ceramic and induction cooktops, as well as electric ones? Read on to learn more.
Induction Cooker:
As mentioned earlier, high-frequency electromagnets are mostly used in induction cookers. A magnetic field is produced and rapidly heats up the pan with minimal loss of heat, decreasing cooking durations.
Induction cooktops only function with certain types of cookware, such as cast iron and stainless steel. Cookware functionality with induction cookers may be tested by placing a magnet on the bottom of the pan and if the magnet clings onto the bottom of the cookware, it is safe to use with an induction cooker.
Electric Cooker:
On the other hand, electric cooktops supply consistent heat to your pots and pans. There is an electrical current flowing via a metal coil beneath the surface of the glass (or ceramic). Due to the good electrical resistance, this coil gets heated and starts igniting. This can then use infrared energy to transport heat through the glass (or ceramic).
Because of the properties of infrared energy, the transferred energy uniformly heats the burner holding your pot or pan. The heat transfers from the cooktop to the pot or pan, and then to the food which then cooks your meal.
When you switch off the burner, the glass (or ceramic) cooktop will remain hot - even after the electrical power has been turned off. It emits residual heat for an adequate amount of time. Most electric cooktops (particularly those made nowadays) contain an indicator light that indicates when the burner has cooled down.
Ceramic Cooker:
Ceramic cookers utilize heating components that are electrically heated to the right temperature behind tempered ceramic glass. The heating element then heats the ceramic glass surface, which consequently heats the cookware.  
The heat transmission between both the ceramic glass surface and the cookware may also result in heat loss. Ceramic cookers are versatile and may be used with a variety of cookware, including glass, clay pots, ceramic, stainless steel, and more.
Flat-bottomed cookwares function better with ceramic cookers because they stimulate the production of the pan in contact with the heated surface, minimizing cooking durations further.
---
Related articles: