Did you know that even indoor air is full of germs, allergens, smoke, and other airborne contaminants? Just because it's invisible to the naked eye doesn't mean it's not a threat.
Air purifiers filter the impurities in the air via a filtration system that traps small and large airborne particles and also help to eliminate odour in the room. With a plethora of options in the market, such as Blueair, Levoit, and Philips, you're probably overwhelmed. That's why we've curated a list of the best air purifiers for your consideration. 
Related: Best Budget-Friendly Air Purifiers
---
List of 13 Best Air Purifiers in Malaysia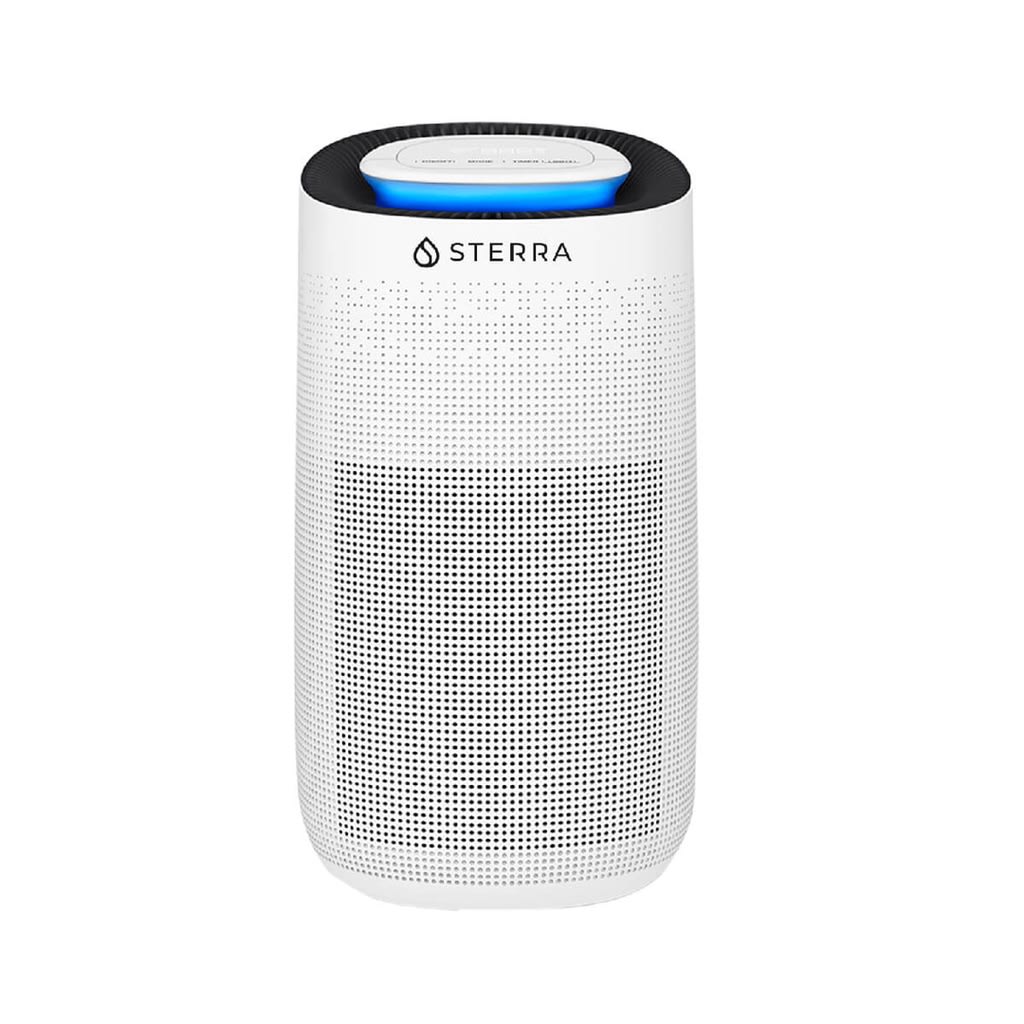 Check Sterra Breeze™ Air Purifier price below:
With clean air being of utmost importance to maintain a healthy body, it is not surprising that air purifiers like the Sterra Breeze have become some of Malaysia's best-rated air purifiers. 
The Sterra Breeze Air Purifier has star features that most Malaysians would love. It has a silent motor, a high filtration percentage and even a night light toggle to ease anyone into a peaceful sleep.
Overview
Designed with a medical-grade True HEPA-13 filter; this air purifier utilises its TotalCleanse Filter System™ to clean up to 99.95% of airborne particles and cover spaces of up to 80m or 400m3/h CADR. 
In fact, the purifier is nearly 100% efficient against particles with a diameter larger than 2.5 μm, which is what hospitals use in their rooms to help decontaminate and clean the air. Not only that, but because it can run as silently as 20dB (a library noise level is 40db), the Sterra Breeze Air Purifier is perfect to be used in sizeable bedrooms and living rooms as well. 
A bonus to the air purifier is the fact that it releases healthy ions that aid in binding viruses, dust particles, free radicals, and pollen in the air; essentially clearing particles that are harmful to allergy sufferers. 
Alternatively, those who want to take it a step further can upgrade the Sterra Breeze Air Purifier with UV Tech which employs a UV-C light to trap and destroy bacteria as well as viruses in the air. 
Those who are big on saving electricity would really appreciate the UV upgrade as it'll consume about 40% less energy, taking 52.2% less footprint compared to other similar products in the market.
Details & Highlights - Sterra Breeze™ Air Purifier Specs
Features a patented Pre-filter fabric to filter out hair, dust, lint, and animal fur

Able to neutralize odours & absorb formaldehyde with its Activated Carbon filter layer

Releases healthy ions to bind viruses, dust particles, free radicals, and pollen in the air 

Utilises a Silent-VX Motor which offers a silent performance as low as 20dB

Has a Smart Touch Panel and 4 Speed Modes including a Silent mode

Easy to use and maintain; has long-lasting filters and a built-in Filter Replacement Reminder
Who is this for?
Featuring a smart touch panel and a minimalistic design, the smart air purifier is highly recommended for those who do not want to fuss over using a complicated air purifier. As this is a silent air purifier, babies who'd want a night light can also safely use the product.
Need more reasons? The air purifier has also satisfied many Malaysians and their families, notably for its overall performance, silent motor and improvement in air quality. Rest assured that the product is also pet-friendly so your furkids can enjoy clean air too!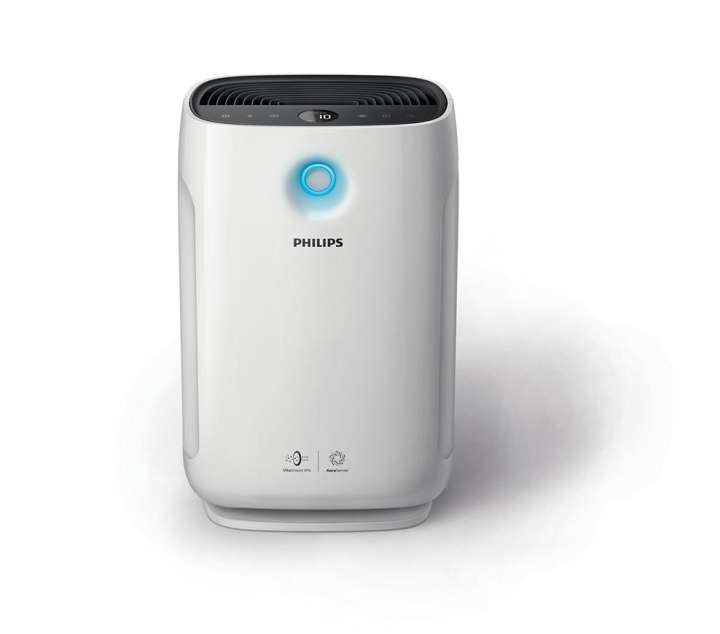 Check Philips Air Purifier AC2887/30 price below:
add_circle
Allergy-friendly
add_circle
Air quality sensor
add_circle
Smart Filter indicator
add_circle
Smart Light control
add_circle
Multiple operation modes
Why It's Our Top Pick:
"The Philips Air Purifier AC2887/30 is one of the best air purifiers on the market. It has gotten the stamp of approval from Malaysians and won the international iF Product Design Award.
This air purifier is super user-friendly with its Smart Filter indicator and Smart Light control. It notifies users of the filter lifetime for easy maintenance and even allows users to dim its display light if it is too bright. On top of that, this device scores extra brownie points for being energy-efficient and allergy-friendly. Sharing is caring which is why we're letting you in on this deal!"
Overview
To begin with, the device is rapid in action thanks to its high Clean Air Delivery Rate (CADR) of 333m3/h. It has a three-layer filtration system that consists of a pre-filter, a NanoProtect HEPA filter, and an activated carbon filter, which in combination, captures both large and small airborne particles.
The filtration technology helps to reduce the symptoms of asthma and allergies with up to 99.9% of efficacy. In fact, the device is approved by ECARF (European Centre for Allergy Research Foundation) as allergy-friendly.
Despite being powerful, it ensures low energy consumption by utilising only 56W power when running at maximum speed. It also keeps track of the air quality and reports it in real-time.
Performance
According to reviews, this air purifier is "the perfect blend of price, features, and performance". Users like how it comes with 3 auto modes — General, Allergen, and Bacteria & Viruses — and 5 speeds, which makes the device relatively easy to operate. 
Max. coverage: 850 sq ft
Min. noise level: 20.5 dBa
More: Keep The Air Fresh for Your Baby with These 7 Best Air Purifiers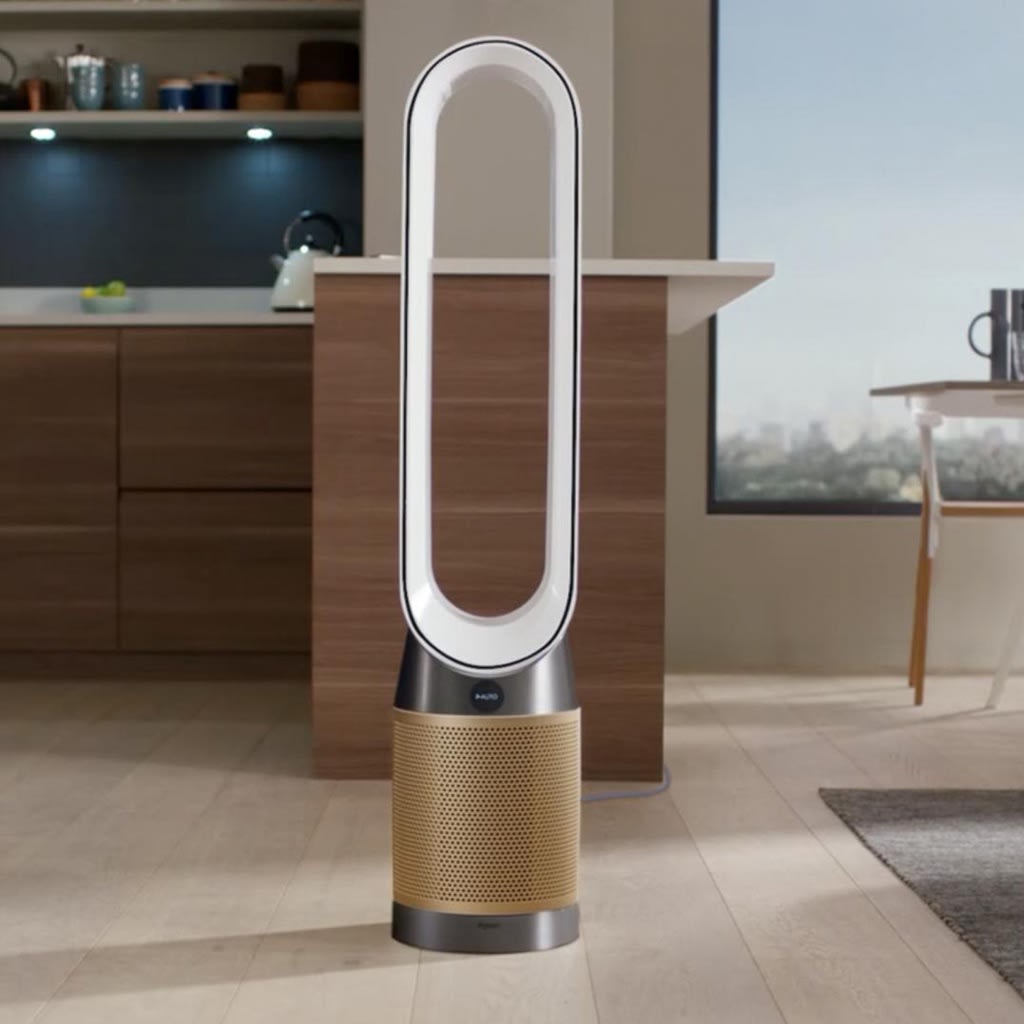 Check Dyson TP09 Purifier Cool™ Formaldehyde price below:
add_circle
Sensor to detect formaldehyde molecules
add_circle
20% quieter than its predecessor
add_circle
Analyses air quality
add_circle
Easy filter care
BONUS: Extra RM100 OFF Dyson Flash Sale
Dyson Malaysia is having a sitewide flash sale with up to a total savings of RM500! Make sure to checkout with our promo code below:
Promo code: EXTRA100PN
Use promo code at checkout
Useable on Dyson Malaysia Official Website only
Valid from 26 – 30 September 2022
Overview:
One thing Dyson TP09 stands out from many other advanced air purifiers is that it can detect and eliminate formaldehyde which is usually present in paint, mattresses, air fresheners, furniture, and plywood. Behind its filtration power lies with its HEPA H13 filter which can remove 99.95% of particles as tiny as 0.1 microns.
Not only that, but the air purifier is able to double as a bladeless fan thanks to its powerful stream of purified airflow. Best of all, it's 20% quieter than the previous model thanks to acoustic engineering that reduces turbulence.
Specifications:
Weight: 4.85kg
Height: 1050mm
Width: 220mm
Cord length: 1.8m
Warranty: 2 years
Key Features:
App control
Voice control
Oscillates up to 350 ̊
Performance:
Keep note that Dyson's TP09 air purifier's main objective should be to purify the air at home rather than cool down your space. But at least that's still useful given how hot Malaysia is. Most existing users have purchased it for its ability to destroy formaldehyde.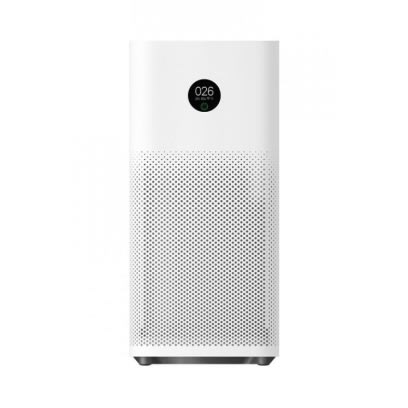 Check Xiaomi Mi Air Purifier 3H price below:
add_circle
Fast connection to the Mi Home app
add_circle
Supported by Google Assistant and Amazon Alexa for voice control
add_circle
OLED touch screen display
add_circle
Affordable for a smart air purifier
The Xiaomi Air Purifier 3H is an upgrade of the brand's second-generation air purifier, 2s. Compared to its predecessor, this new model covers a larger space and offers a higher CADR.
Overview
By pairing the device to the Mi Home app, users can control the device and monitor the air quality of their space using their phones. On top of that, this device is supported by Google Assistant and Amazon Alexa for advanced AI voice control.
Its three-layer HEPA filter doesn't just eliminate dust and pollen, but also dander, smoke, bacteria, and formaldehyde. It also comes with several operation modes which are accessible via its OLED touch screen display.
Performance
According to users, the air purifier is easy to set up and works seamlessly with the Mi Home app. They also like how it doesn't take up much space as its base is only as large as an A4 paper.
Max. coverage: 484 sq ft
Min. noise level: 32 dBa
More: Protect Your Home from The Coronavirus with These 11 HEPA Air Purifiers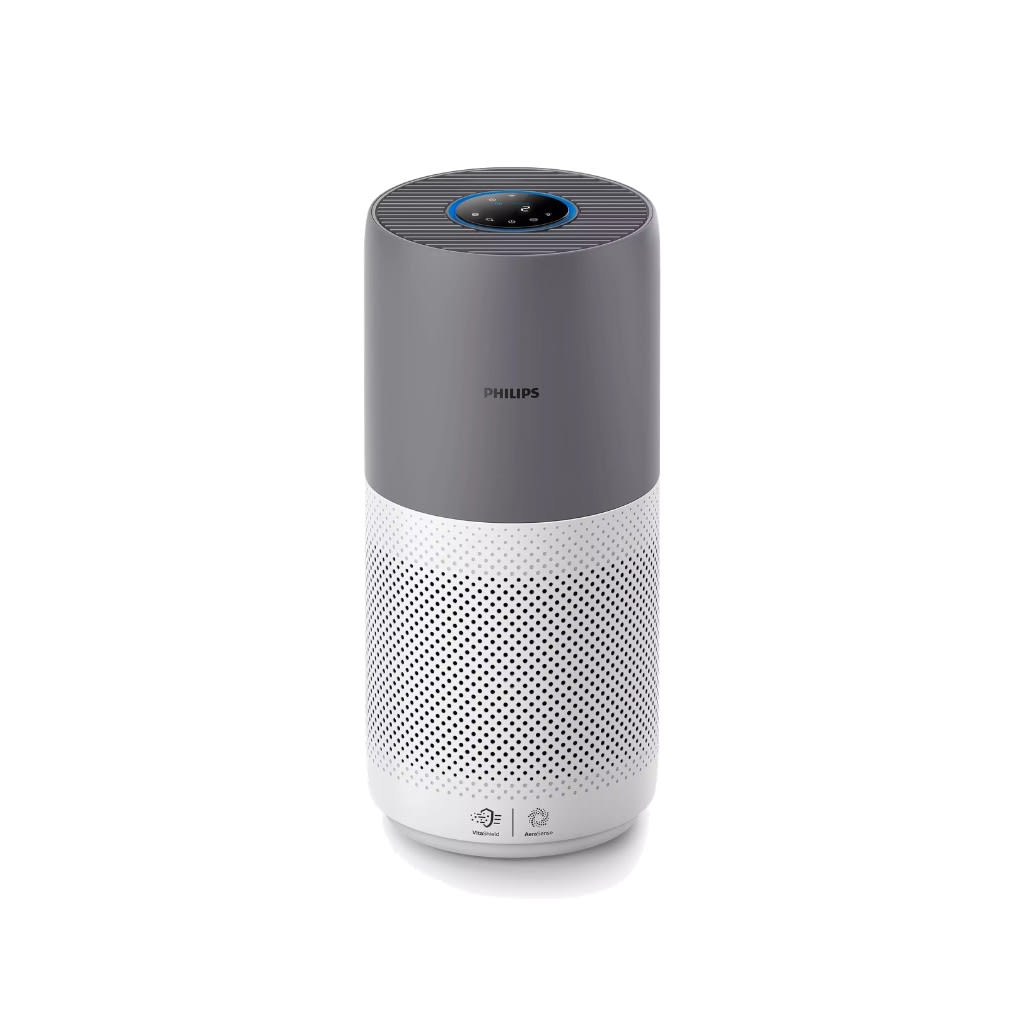 Check Philips Air Purifier 2000i AC2936/33 price below:
add_circle
Covers a large area
add_circle
High performance with 380m3/h CADR
add_circle
Smart brightness adjustment
add_circle
Filter lifetime displayed for easy maintenance work
add_circle
Remote control is possible via the app
remove_circle
Large in size (274cm (L) x 274cm (W) x 585cm (H))
Is it possible to purify the air in your entire house in just 8 minutes? With the Air Purifier 2000i from Philips, that's a "Yes".
Overview
This device is capable of purifying the air in a space as large as 1054 sq ft, which is equivalent to the size of a 2-bedroom apartment. Its filtration system consists of a pre-filter, a HEPA filter, and a carbon filter that removes dust, pollen, and bacteria from the air.
What's even more amazing about this device is that the brightness of its display automatically adjusts according to the ambience so you won't need to fiddle with the settings. To control it remotely, users can pair it with Philips's Clean Home+ app.
Performance
According to users, this air purifier results in remarkable improvement in their air quality. Many of them were "sceptical at first" but were soon "taken by surprise at how great it works". They especially like its Smart Filter indicator, which displays the filter lifetime that you can track and replace accordingly.
Max coverage: 1054 sq ft
Min. noise level: 30 dBa
More: Put Your Asthma At Ease with These 8 Best Air Purifiers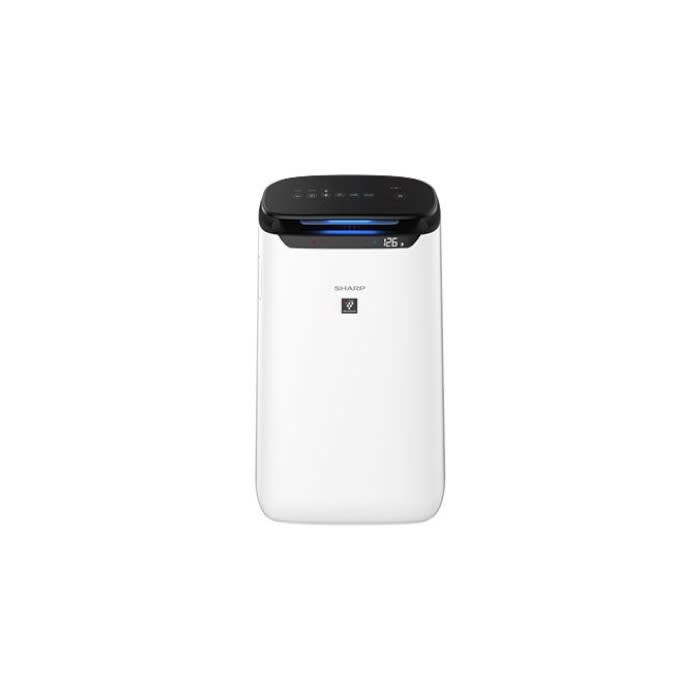 Check Sharp Air Purifier FPJ60LW price below:
add_circle
Plasmacluster ions collect haze particles and keep air humidity level stable
add_circle
Built-in sleep mode for the device to operate even more quietly
The FPJ60LW from Sharp effectively sterilizes the air with its advanced Plasmacluster technology. It leaves the air, contaminant and microbe-free.
Overview
HEPA and mesh filters are used to purify the air, capturing germs, pollen, mould, dust, and more. When the Haze mode of the device is turned on, both negative and positive ions will be released into the air to remove any existing smoke particles.
This device comes with a low noise level that ranges from 15 dBa to 43 dBa. When Sleep mode is on, it will operate at the minimum noise level and its display light will be off. Users can set the timer on the device for up to 12 hours and get uninterrupted sleep as there is no need to wake up in the middle of the night just to turn it off.
Performance
With its amazing features and positive performance, users claim that this device is "a great machine to add to the house". 
Max. coverage: 516 sq ft
Min. noise level: 15 dB
More: 7 Budget-Friendly Air Purifiers That Won't Break Your Bank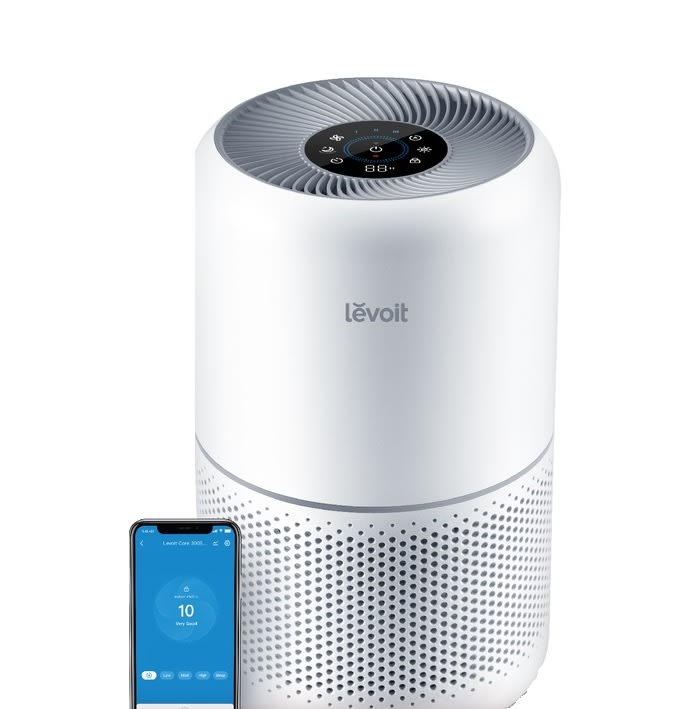 Check Levoit Core 300S price below:
add_circle
Has built-in programmable timer; can customise schedules
add_circle
'Undisturbed Operation' mode lets you turn off the display light automatically
The Levoit Core 300S is an award-winning product with over 30,000 5-star reviews worldwide. You'll want it in your home.
Overview
Don't underestimate it due to its compact size as its VortexAir Technology provides a CADR of 195m³, refreshing a 41 m²/431 sq. ft space twice within an hour. Filter changes are customisable to meet your specific needs and are recommended every 6-8 months for optimum performance.
Don't worry about soaring electricity bills as its operation utilises less electricity than three lightbulbs combined. You'll also find that the settings can be easily controlled via the Vesync App on your phone. Plus, there are 4 timer options so you can set it to turn off at an interval of your choosing.
Performance
The reviews are in and the consensus is that the Levoit Core 300S is great for small spaces. It operates silently even at the highest speed without affecting its efficiency. According to one review, their sinus and hay fever symptoms reduced significantly within a week of using this air purifier.
Max coverage: 41 ㎡ / 431 sq. ft
Min. noise level: 22 - 47dB
More: Breathe Comfortably with These Top 6 Air Humidifiers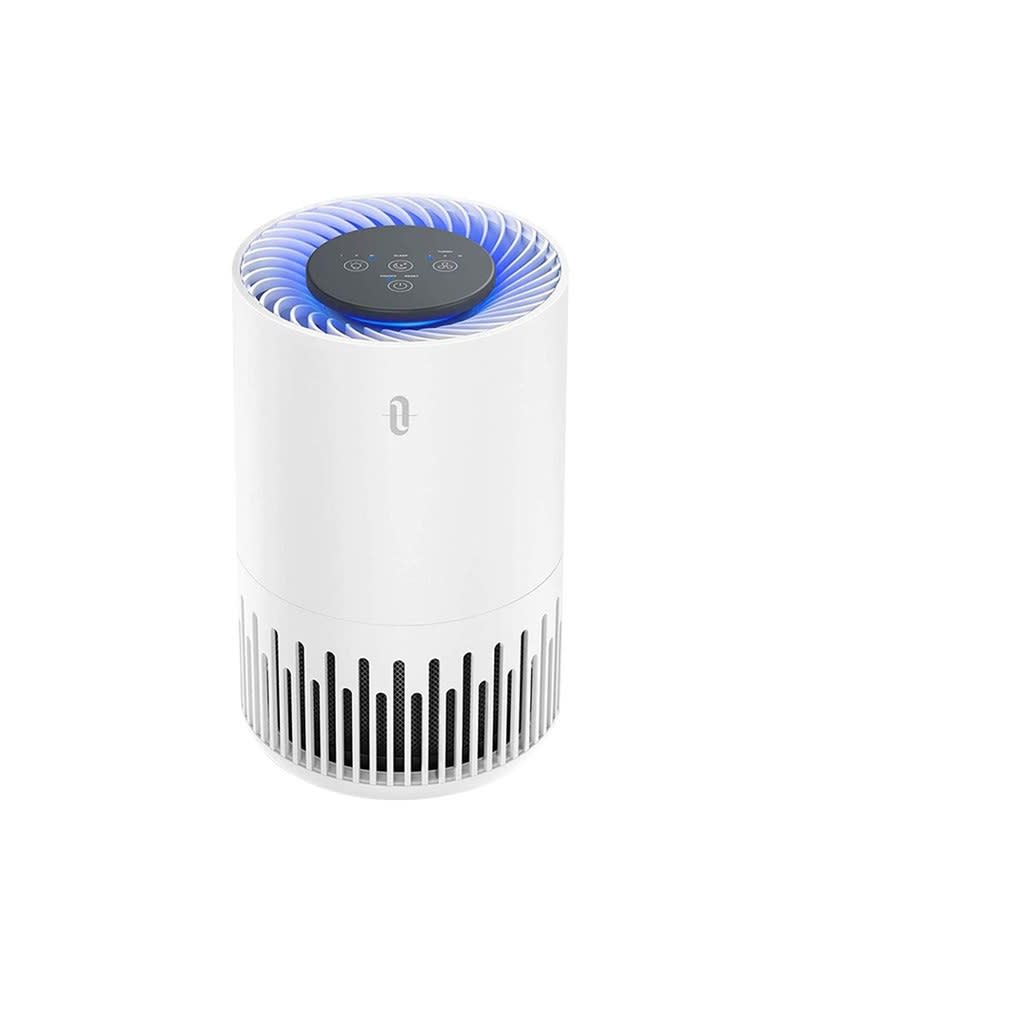 Check TaoTronics Hepa Air Purifier TT-AP001 price below:
add_circle
Small and lightweight
add_circle
Easy to bring along
remove_circle
Fairly simple with no advanced smart features
The TT-AP001 air purifier from TaoTronics might be small in size, but its quality is pretty good.
Overview
The device uses a HEPA filter to capture any impurities in the air, including germs and particles as tiny as 0.3 microns. It offers a CADR of 70cm3/h and 4 fan speeds; Low, Medium, High, and Turbo.
Additionally, the device is small and is a good option if you want to place it by your bedside or at your desktop. As it weighs only 1.5kg, it is also travel-friendly.
Performance
The air purifier operates quietly, especially when its Sleep mode is on. Based on reviews, it is easy to set up and its filter is easily replaced. 
More: 10 Best Air Purifiers That Eliminates Smoke From Your Home Right Away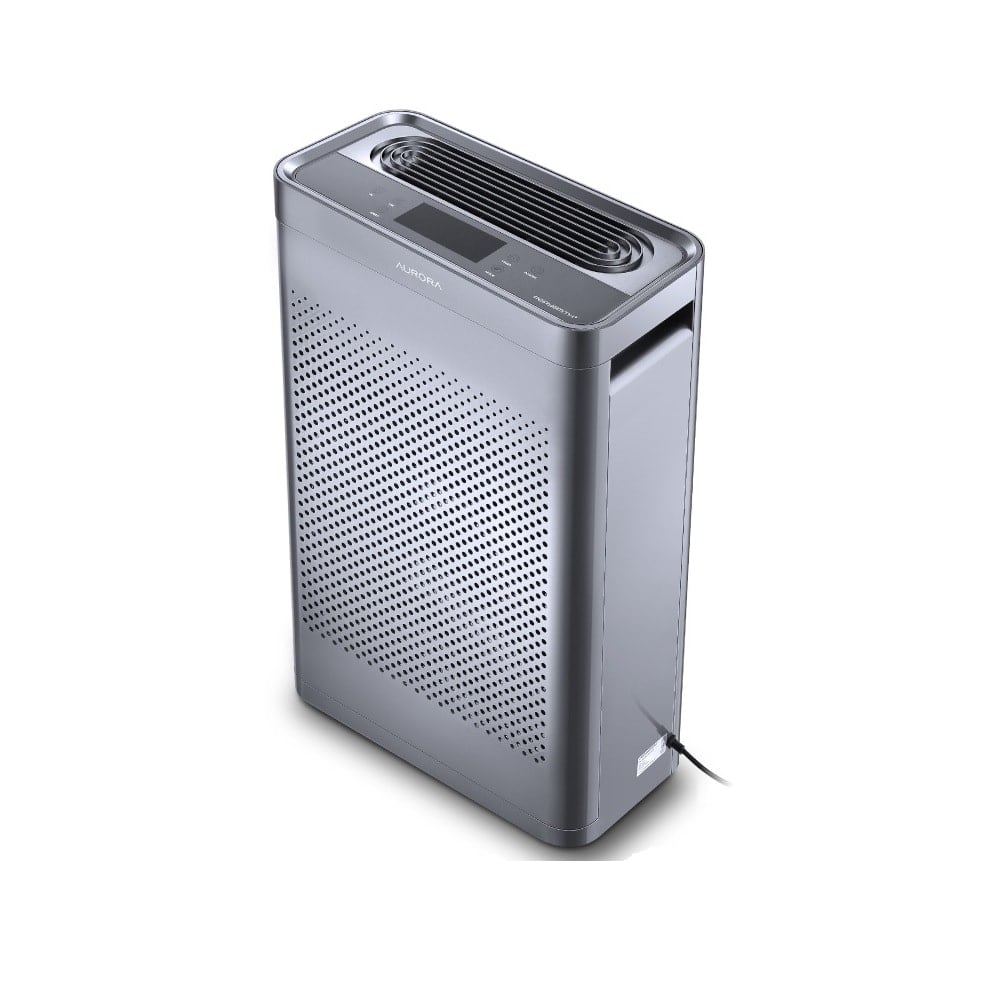 Check PerySmith Air Purifier AURORA Series H13 price below:
add_circle
Low noise level
add_circle
Good control panel interface
add_circle
Equipped with ionizer and UV light
remove_circle
Short filter replacement duration
Protect yourself and your loved ones with PerySmith's AURORA Series H13 air purifier. It is the ultimate air solution that will have you kissing germs and air pollutants goodbye. 
Overview
The 4-layer anti-H12 high-efficiency particulate air filter removes up to 99.5% of particles while the Aurora UV light kills 99.9% of pathogens. It features a responsive LCD control panel that displays the air quality via the PM2.5 indicator. Besides, there's a negative ion generator that clears airborne allergens.
Performance
Users are pleased with the PerySmith Air Purifier AURORA Series H13 as it effectively removes odour and smoke. It also gets rid of dust and helps with pet hair, reducing sneezing if that's an issue for you. This air purifier operates silently too.
Max coverage: 20 ㎡ / 215.3 sq. ft -  40 ㎡/430.6 sq. ft 
Min. noise level: 25dB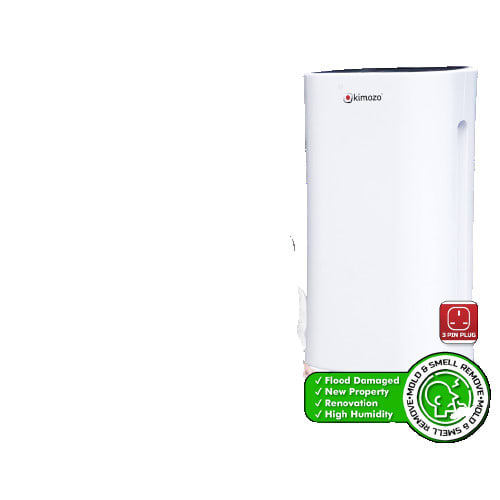 Check KIMOZO Air Purifier price below:
add_circle
Has a Honeycomb Activated Carbon filter that removes 88.9% of formaldehyde and other harmful chemicals
add_circle
99.7% of PM2.5 filtered by the HEPA filter
add_circle
Purifying Efficiency of up to 180m³/h
add_circle
5 modes to cater to different needs
add_circle
User-friendly LED panel
add_circle
Works pretty quietly
remove_circle
Cable is short
If you find yourself constantly struggling with nasal allergies or trying to get rid of the pet dander at home, you might appreciate the KIMOZO Anion Air Purifier.
Overview
With 5-layer filtration, up to 99.8% of microorganisms can be eliminated.  Its HEPA filter and non-woven filters effectively remove hair, dust mites, pet dander, pollen, etc. It's equipped with 5 modes including haze mode and sleep mode.
Besides, on auto mode, KIMOZO's built-in particle sensors are sensitive to air quality changes, automatically choosing the best settings accordingly. On top of that, it has negative ion air purification and a UV light that removes bacteria and viruses.
You'll get plenty of use out of it as the filter only needs to be replaced every 375 days(with 8 hours of use per day). Depending on your usage, you may be able to
Performance
Users have reported that the use of the KIMOZO Air Purifier has reduced their asthma symptoms. One user also reported improvement in sinus symptoms. Regarding the latter, said user has 3 cats so it can be deduced that this air purifier is indeed effective.
On another note, one review pointed out that the cable is a little short, necessitating placement near a plug point.
Max coverage: 30㎡ - 50 ㎡
Min. noise level: -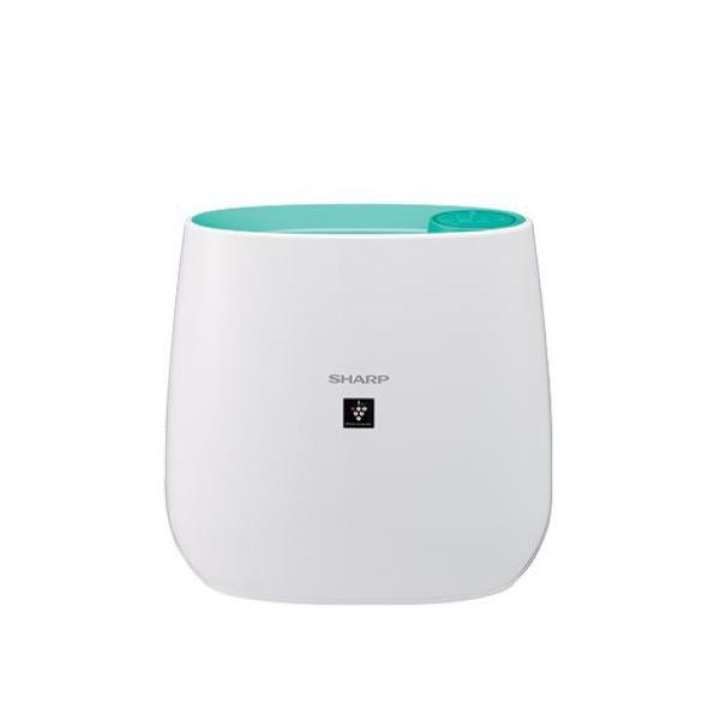 Check Sharp Air Purifier FPJ30LA price below:
add_circle
Compact, good for limited space
add_circle
Comes with useful features
remove_circle
Fairly simple without any smart or advanced features
Despite being way cheaper than a lot of other models, the FPJ30LA from Sharp doesn't compromise on its functionality. You don't have to break the bank with this option available.
Overview
This device is capable of removing mould, dust, viruses, and allergens in the air, with its HEPA filter and Plasmacluster technology. Its powerful air suction and unique airflow allow it to work efficiently. Users can set a timer on the device for 4 hours or 8 hours. They can also turn on Haze mode to get rid of the haze particles in the air. When the device is set to run at the lowest fan speed, it consumes very little energy at just 13 watts.
Performance
Many users love how this air purifier works decently without burning a hole in their wallets. It is simple and sufficient for small rooms.
Max. coverage: 247 sq ft
Min. noise level: 23 dBa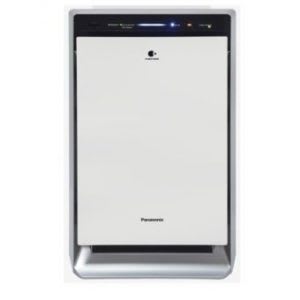 Check Panasonic Humidifying Nanoe Air Purifier F-VXK70A price below:
add_circle
Capable of capturing dust up to 30 cm near the floor
add_circle
Good filtration & humidifying system
add_circle
Energy-saving feature
add_circle
Silent operation
remove_circle
Bulky design
When looking for an air purifier, the Nanoe™ Air Purifier F-VXK70A from Panasonic is something that you wouldn't want to miss. Its high functionality gives you bang for your buck.
Overview
The device features the brand's Nanoe™ technology which eradicates 99.9% of viruses, including H1N1 and H5N1, and bacteria, like E.Coli, in the air. It also filters allergens and deodorises the space.
With its humidifying function, the device stabilises the air humidity level which can help keep skin moisturised. Users can also monitor the humidity level of their space directly via the device. The ECONVANI system helps users save electricity as the device will automatically power on only when necessary,  based on the air quality and users' lifestyles.
Additionally, the device is guaranteed to be allergy-friendly as its allergen removal capability is authorized by the British Allergy Foundation.
Performance
Users are satisfied with this product, especially its humidifying function and ECONVANI system. According to them, this product "does quite a lot of things".
Max. coverage: 566 sq ft

Min. noise level: 18 dBa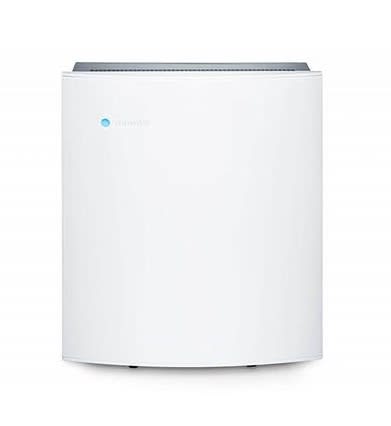 Check Blueair Classic 205 Air Purifier with Particle Filter price below:
add_circle
Energy-saving with energy consumption as low as 20 watts
add_circle
Good for rooms with limited space
add_circle
Compatible with the Blueair app and Amazon Alexa
remove_circle
No air sensor (auto mode) for the device to adjust its fan power based on the air quality
The Classic 205 from Blueair offers users clean, uncontaminated air without causing a spike in their electricity bills.
Overview
Its HEPASilent™ technology allows for more quiet and efficient filtration than traditional HEPA filters. It removes harmful airborne particles and allergens with energy consumption as low as 20 watts, which is less than a lightbulb.
Apart from being compatible with the Blueair app, the device also works with Amazon Alexa for smart voice controls. Simply by connecting the device to WiFi, users will be able to control it remotely.
Performance
Based on users' reviews, Classic 205 is a high-quality mid-range air purifier. Many approve of its efficient cleaning power and like how it is small in size and is thus suitable for rooms with limited space. Despite that, they wish it could have come with an Auto mode.
Max. coverage: 279 sq ft
Min. noise level: 32 dBa
| | | | | | | | | | | | | |
| --- | --- | --- | --- | --- | --- | --- | --- | --- | --- | --- | --- | --- |
| Product Picture | | | | | | | | | | | | |
| Product Name | Sterra Breeze Air Purifier | Philips Air Purifier AC2887/30 | Panasonic Humidifying Nanoe Air Purifier F-VXK70A | Sharp Air Purifier FPJ30LA | Xiaomi Mi Air Purifier 3H | Blueair Classic 205 Air Purifier with Particle Filter | Philips Air Purifier 2000i AC2936/33 | Sharp Air Purifier FPJ60LW | TaoTronics Hepa Air Purifier TT-AP001 | Levoit Core 300S | PerySmith Air Purifier AURORA Series H13 | KIMOZO Air Purifier |
| Specialty | Great for bedroom; also for pet lovers | Best rated air purifier | Best worth-the-money air purifier | Best budget air purifier | Best smart air purifier | Best energy-saving air purifier | Best air purifier for large spaces | Best silent air purifier (low noise) | Best mini, portable air purifier | Best small air purifier-suitable for babies and kids | Best air purifier for health | Best air purifier for asthma, pets |
| Filtration | 3-in-1 HEPA  | 3-layer HEPA | HEPA | HEPA | High-efficiency Filter | HEPASilent | HEPA, Active Carbon, Prefilter | HEPA, Deodorization, Fine-meshed | HEPA, Carbon Filter, Prefilter | True HEPA | H13 HEPA, Carbon Filter, Prefilter | HEPA, Carbon, Ionic, UV |
| Noise level (dB) | 20dB | 19dB | 18dB | 23dB | 33dB | 32dB | 15dB | 15dB | 25dB | 22dB | 25dB | n/a |
| Max coverage | 80m | 79m | 52m | 23m | 26m | 26m | 98m | 48m | 15m | 20m | 40m | 50m |
| Child lock | No | No | Yes | No | No | Yes | No | Yes | No | No | No | No |
| Where to Buy | | | | | | | | | | | | |
---
Differences between HEPA air purifiers & Ionic air purifiers
While both HEPA air purifiers and ionic air purifiers serve the same purpose, they work rather differently.
How it works
HEPA air purifiers use HEPA filters, which are physical filters that trap airborne particles. The air will be drawn into the device, then go through the filters, and finally, come out clean and contaminant-free.
An ionic air purifier, on the other hand, works by emitting negatively charged ions into the air to bind with the particles, which are positively charged. As they bind together, the particles will become too heavy to stay in the air and thus, fall onto the surfaces around them, producing clean air.
Some ionic air purifiers use electrostatically charged plates instead of ion emission to collect the airborne particles. As the air is drawn into the device, the particles will stick onto the plates, which results in clean air.
Effectiveness
HEPA filters are known as the best technology in the air-filtration industry. They are highly effective "collectors" that can remove up to 99.97% of impurities in the air. 
Ionic air purifiers are less effective than HEPA air purifiers as when the electrostatically charged plates become dirty, the harmful particles can pass through the plates and remain in the air — which doesn't happen to HEPA filters. Also, ionic air purifiers that work by ion emission technically do not remove the airborne particles but rather just "move" the particles to the surrounding surfaces such as the floor, furniture, and even on clothes.
Maintenance
HEPA filters need to be replaced from time to time as dust and mould collected through the filtering process degrades their air cleaning performance while ionic plates do not. Instead, ionic plates are to be washed regularly.
Which is the best?
HEPA air purifiers are usually preferred over ionic air purifiers, especially for people who suffer from asthma and allergies.
Additionally, many air purifiers available on the market these days are a hybrid of both mechanisms: they are built with a HEPA filter and an ion generator. This combo delivers even better effectiveness and performance.
---
Benefits of an air purifier 
Of all the charms we have heard about an air purifier, I bet that most of you are most familiar with its ability to produce cleaner air by filtering and trapping dust, smoke, pet fur, mould, dust mites, and germs from your surroundings. But, an air purifier does more than just that. It benefits you in other ways that you may not even be aware of until today. 
Improves sleep quality
Acknowledged by the fact that hazardous air particles are being removed from your home, air purifiers save you peace of mind and calm you down after a long day. The fresh filtered air keeps hay fever (which causes allergic symptoms like runny nose, sneezing or coughing) at bay, granting you a good night's sleep.
Neutralises unpleasant odours and smoke 
It is commonly known that inhaling secondhand smoke, be it tobacco smoke or cooking oil fume, can potentially lead to chronic respiratory problems as well as heart diseases. This is especially concerning if you have children or elderly people at home. 
That said, air purifiers with High-efficiency Particulate Air (HEPA) and activated carbon filters are effective in capturing chemicals, gases, smoke and also pet odour to circulate fresh air back in the room.
Eliminates hazardous indoor air pollutants 
The tricky part when it comes to eliminating indoor allergens is that they are invisible to the human eye. These tiny airborne particles (dust, pollen, bacteria, etc.) or harmful external pollutants do not go away just by closing the doors and windows. You could constantly be exposed to the chemical toxins from your household cleaning agents, air-fresheners and paint products. 
Leaving these pollutants suspended in the air is likely to cause breathing discomfort and trigger asthma attacks, not to mention the associated health issues in long term. 
More: Enjoy A Fresh, Clean Home with these 10 Best Air Purifiers for Dust Removal
---
How do air purifiers work?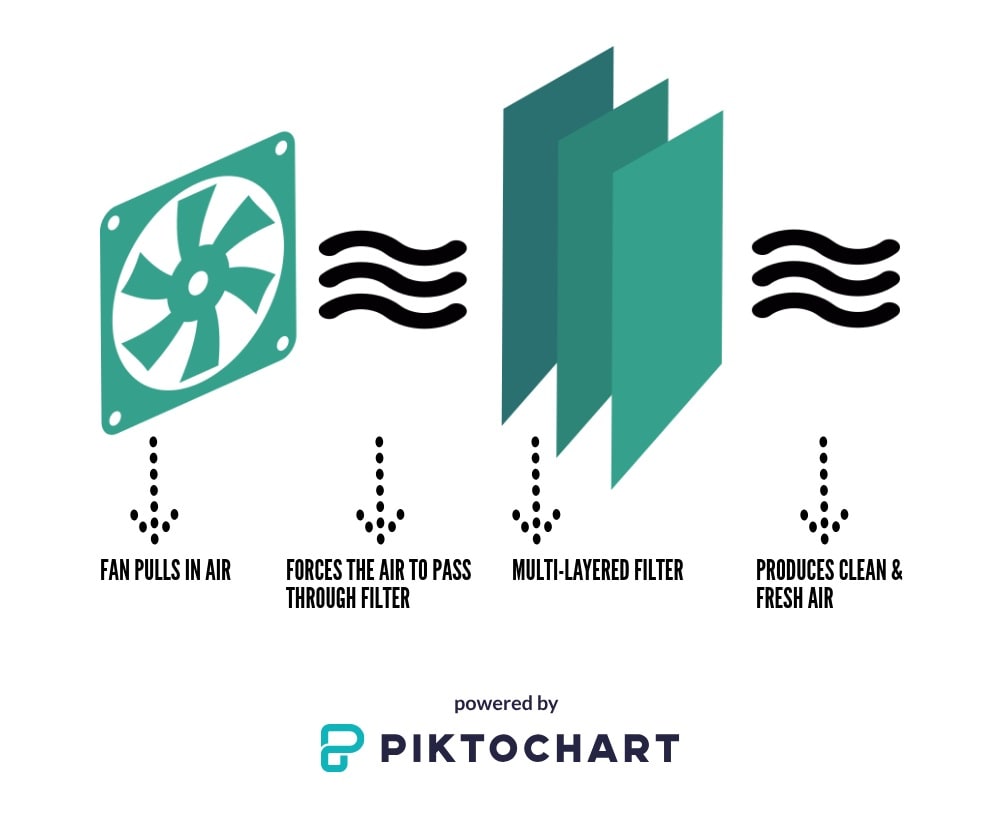 Air purifiers consist of a fan and layers of filters. The built-in fan draws in air and directs it to the filters to get rid of the contaminants. The clean air is then released back into the room to maintain healthy indoor ventilation. 
The marketed air purifiers are commonly equipped with HEPA filters which claim to capture pollutants as small as 0.3 microns – small enough to get past the tiny hairs (cilia) in our airway. However, there are other types of filters such as activated carbon, UV light, negative ion or ozone generators to suit your personal needs. 
Our take on the Xiaomi Mi Air Purifier Pro 
An average person takes 1,200 breaths an hour, 28,800 breaths a day and 10,512,000 breaths a year. Bearing in mind that you would not even drink unfiltered and dirty water, so why would you allow yourself and your loved ones to inhale stale and dirty air at home?
---
Conclusion
With all of that in mind, investing in an air purifier is ideal for a comfortable, refreshing ambience and your family's health overall. Not only that, but clean air does make your living space much more comfortable to stay at, which keeps the mind and soul healthy too. Especially if you are prone to allergies, best to treat your nose with these nifty devices!
---
Related articles