It is a proven truth that unpleasant smells in the home make people feel uneasy. And not surprisingly, many have landed themselves in this position on purpose. Who? Like pet owners who must deal with pet odours—or accidentally—perhaps an outdoor smell blown inside by the wind.
Whatever the case, it's comforting to have your home filled with a relaxing aroma. You have choices like rose, lavender, lily, or chamomile. Other popular scent that brings a crisp freshness to homes are other citrus fruits like orange, and warm amber or sandalwood.
Since air fresheners aid in removing malodours, it is a great idea to use them to get rid of unpleasant scents so that your air always smells clean and fresh. Furthermore, it covers up any foul odours before and after they appear by frequently and continuously dispersing pleasant fragrances into the air.
Here is the list of different types of air fresheners, with a wide variety of fragrances to choose from. 
Top 12 Air Fresheners in Malaysia 2023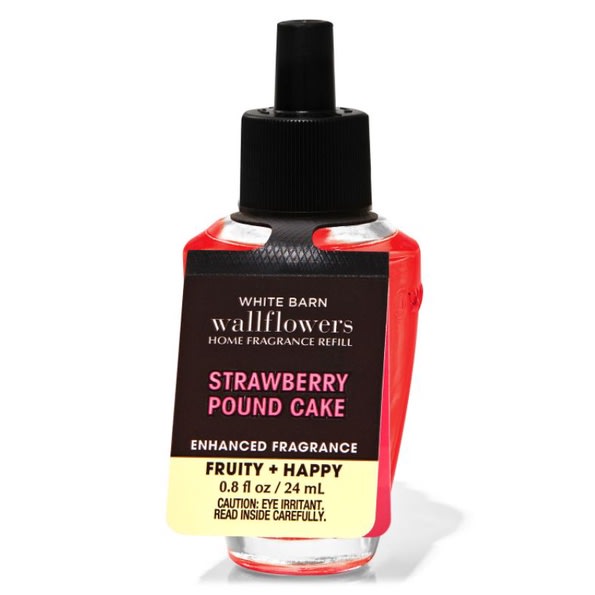 Check Bath & Body Work Wallflower Plug + Fragrance Refill 24 ml price below:
add_circle
Wide range of fragrance refill choices
add_circle
The plug is customizable (different designs available)
add_circle
Durable plug lasts up to 2 years
remove_circle
Needs constant electrical power
Why is it our top pick?
Your quest for consistently lasting fragrances and aesthetically pleasing complementing decor is satisfied with Bath & Body Work Wallflower Plug and Fragrance Refill. Aside from being easy to use, the Wallflower is at the top of our list since it is safe to keep it plugged in!
Overview
The Wallflower Plug from Bath & Body Works comes in basic conical shapes to ensure that every single drop of the formula is used. For your preference, you may choose your preferred plug design and pair it with your favourite aroma refills from around 20 options! So enjoy this scent that's ready to welcome you home for weeks.
Details
Fresh scents: Gingham, Midnight Blue Citrus, Stress Relief etc

Sweet Scents: Sweet Pea, Dark Kiss, Cactus Bloom, Thousand Wishes etc

With a built-in safety mechanism that automatically shuts off if it overheats. 
Who is this for?
This air freshener is for those who seek convenience. From the moment you plug it in until the fragrance runs out, you are continuously surrounded by a pleasant aroma since the gadget may be used as long as the perfume is there. Granted, you have to ensure there's access to electrical power and a compatible socket.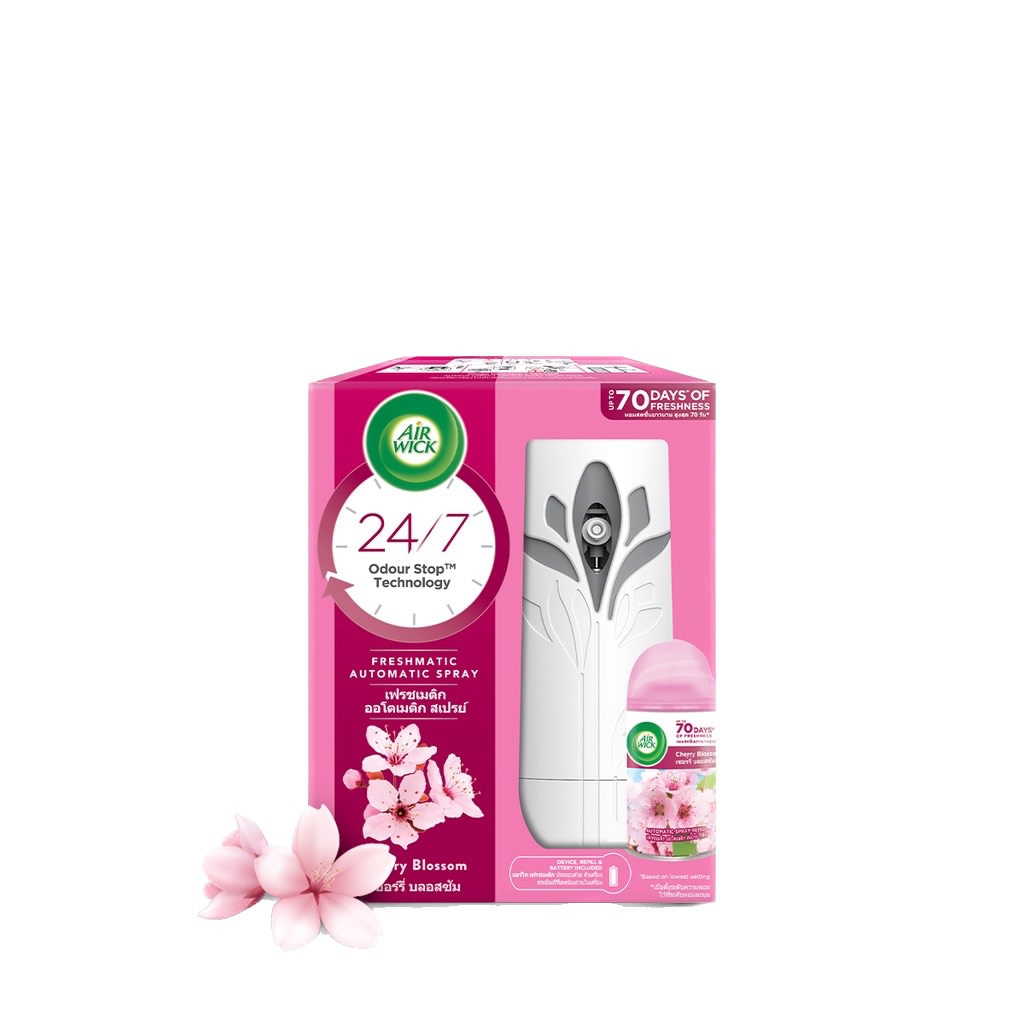 Check Air wick Automatic Air Freshener Spray Starter price below:
add_circle
Versatile can be used in any rooms
add_circle
Four different fragrances to choose from
add_circle
With intensity control
remove_circle
Limited placed location (out of children's reach)
Overview
Air Wick Freshmatic Automatic Air Freshener sprays to keep your home consistently scented with a pleasant aroma. With it, foul odours are permanently eliminated by thanks to its 24/7 Odour Stop Technology! Moreover, its intensity option lets you control the scent level you want in your bed, kitchen, living room, or office space.
Details
Each refill lasts 60-70 days on low setting

Interval time between sprays: 9 mins, 18 mins or 40 mins

Fragrance: Lavender, Cherry Blossoms, Aqua Floral, or Citrus
Who is this for?
If you feel that you need more control over gel air fresheners since they are left on all the time, this automated one is made just for such a case.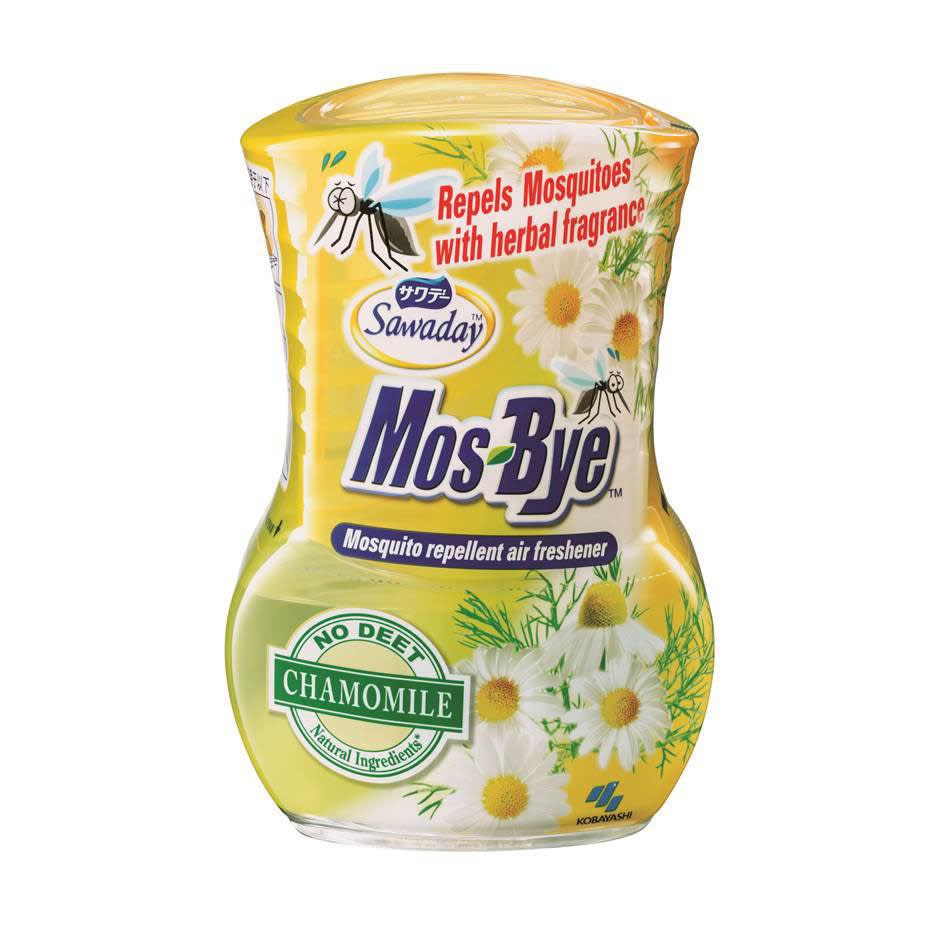 Check Sawaday Mos-Bye Mosquito Repellent Air Freshener - Chamomile price below:
add_circle
Does not contain deets
add_circle
Safe for babies, children and pregnant women
add_circle
Made with natural ingredients
remove_circle
Liquid spillage may cause discolouration on a particular material
Overview
Do you wish for a pleasant herbal-scented, mosquito-repelling air freshener? You can opt for the Sawaday Mos-Bye which is made with chamomile fragrance to freshen the air in nearly every nook and cranny of your room. At the same time, it uses natural herbs to deter mosquitoes. Also, the fragrance lasts up to 60 days!
Details
A liquid air freshener and deodorizer

Consistent fragrance for up to 1-2 months

Made with chamomile extracts as the key ingredient
Who is this for?
Mosquito repellants are usually either odourless or has strange chemical smells. Therefore, for those seeking the best of both worlds, here is a liquid air freshener with a lovely herbal scent that keeps mosquitoes away. Let's take a two-for-one deal every time!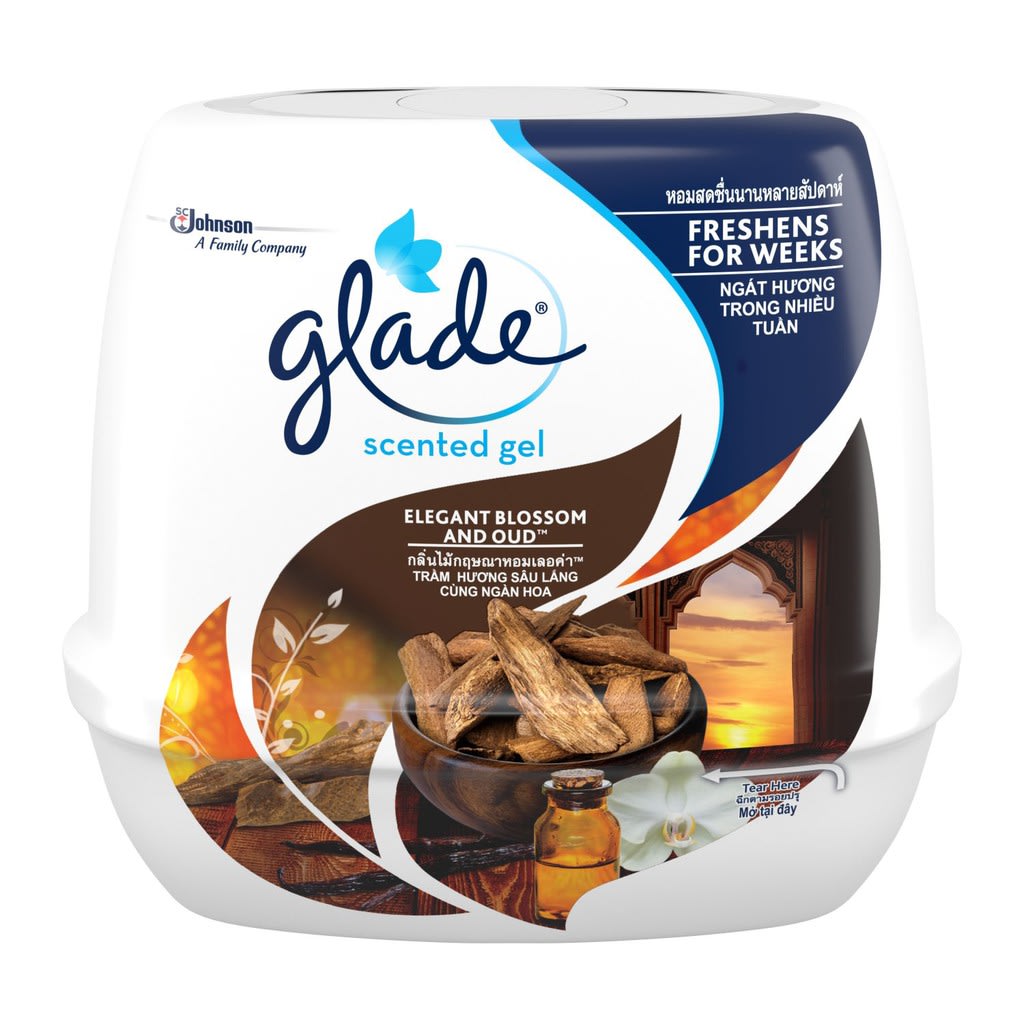 Check Glade Scented Gel Elegant Blossom and Oud 180g price below:
add_circle
Concentrated formula
add_circle
Great lingering smell
remove_circle
Only took roughly 30 days to dissolve
Overview
The Glade Scented Gel offers a wide range of opulent fragrances at a fantastic price. Offering a unique blend is its fragrance with notes of jasmine blended with warm amber and oud. Aside from its luxurious smell, the air freshener has a simple operation that only requires you to twist and lock the cap to activate it!
Details
Continuous action gel air freshener

Fragrance control by raising and lowering the lid

Fresh smell for up to 30 days 
Who is this for?
This gel air freshener is a must-have if you seek a distinctive scent to liven up your house. With the scent of soothing Jasmine, warm amber, and creamy oud together with other exotic spices and therapeutic components, this air freshener unquestionably provides you a peaceful mind at home.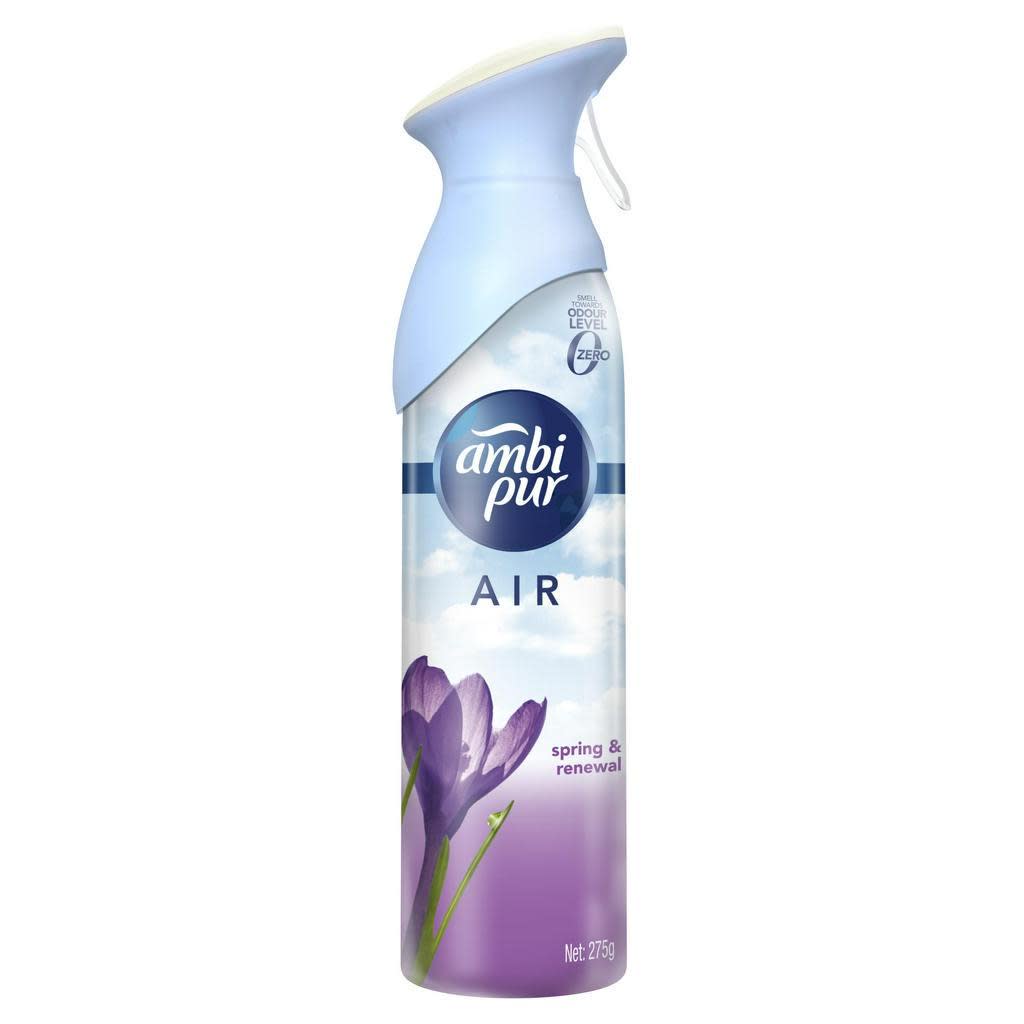 Check Ambi Pur Air Effect Air Freshener Aerosol Spring & Renewal 275g price below:
add_circle
Eliminate odour and foul smell
add_circle
Sleek and stylish design
add_circle
Good product amount
remove_circle
Careful bottle disposal needed
Overview
Given that it contains 5x the amount of odour-fighting ingredients, Ambi Pur Air Effects is one of the most effective fast fixes to help you battle offensive odours. With its Odour Clear Technology, cutting-edge propellant technology removes malodors. Then, it replaces them with a gentle, natural scent while dispersing fragrance in the guise of a natural mist.
Details
Fragrance: spring & renewal scent

It can be used anywhere in the home (bedroom, bathroom, office)

With propellant technology for even dispersion
Who is this for?
This spray-style air freshener is for people who don't like being surrounded by lingering scents all the time (cough, scented gel!) and want more choice over when and where to freshen the air. It is precisely crafted from fragrant ingredients to fill your home with a relaxing spring scent!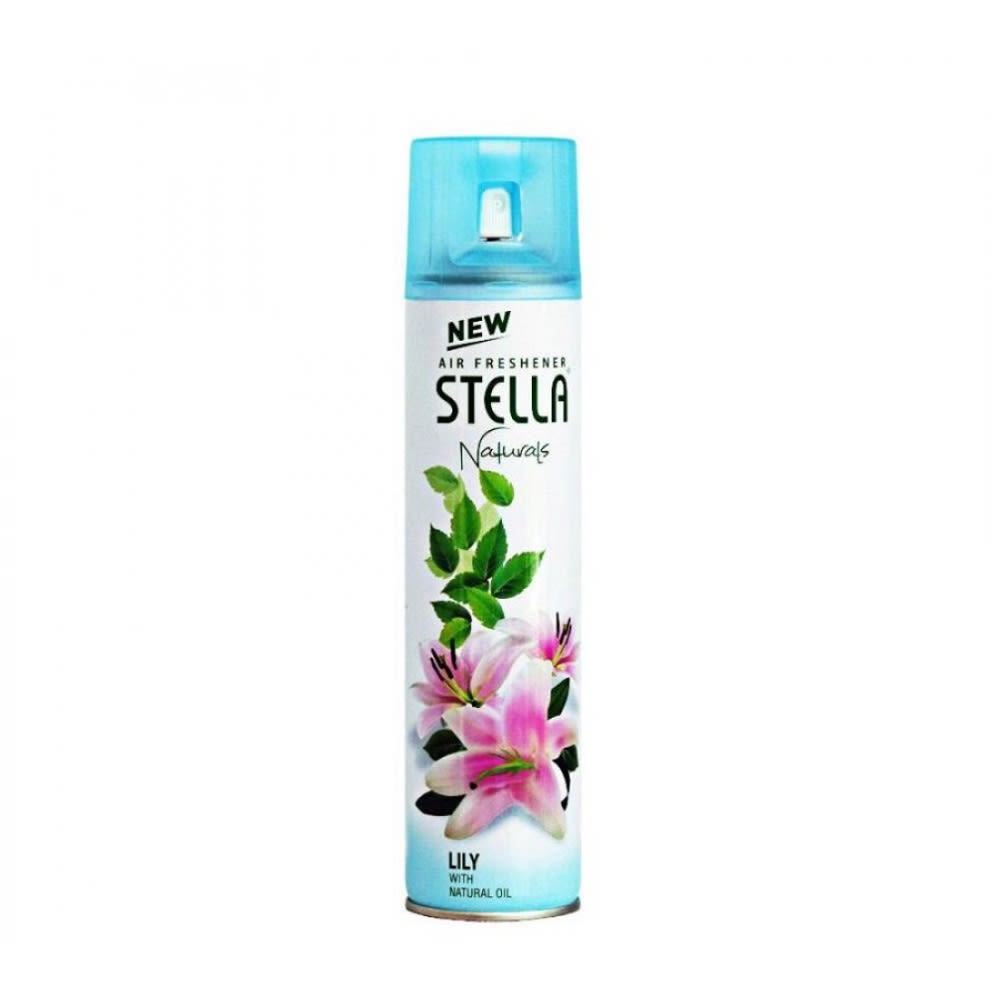 Check Stella Aerosol Lily 250ml price below:
add_circle
Practical and easy to use (spray-head)
add_circle
Wide variety of long-lasting fragrances
add_circle
Price-worthy product
remove_circle
Limited accessibility (mostly sold in online stores)
Overview
The Stella aerosol is made with natural oil of lily extracts and is contained in a spray-style air freshener to freshen up your space. When nasty odours become overwhelming, a burst of lily scent will mask it and help you get through the day. Besides, it is portable and can be stored anywhere!
Details
Infused with a natural oil for a long-lasting effect

Made without harsh chemicals that will not leave harmful residue
Who is this for?
Air fresheners can be dangerous when inhaled over an extended length of time. However, this will be fine if you use a natural spray air freshener like Stella's natural! Moreover, it's perfect for refreshing your air safely since it has no hazardous chemicals or residue features.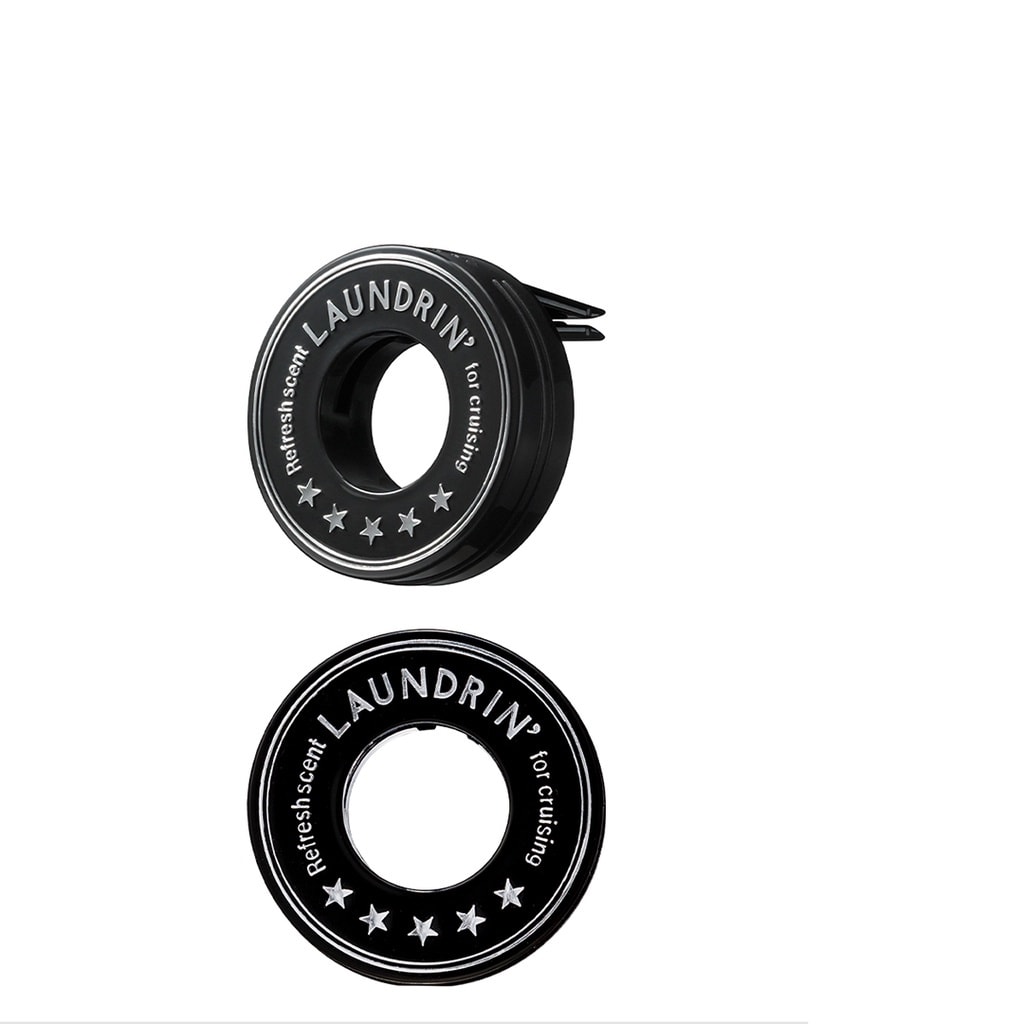 Check Laundrin Fragrance For Car No.7 24g price below:
add_circle
Sleek vent stick design
add_circle
Affordable pricing
add_circle
Convenient to use (clip-type)
remove_circle
Limited availability (fast-selling)
Overview
Laudrin's fragrance for car no.7 is what you need to enhance your car's ambience. It has a stylish, clip-type design that matches any vehicle and a comforting scent to make your driving experience a more comfortable one. Besides, the pure ocean greens-inspired scent carries a transparent, subtle sweetness that deodorizes your car.
Details
Each unit lasts approximately 30 days

With pure ocean-green-inspired scents

Made in Tokyo, Japan
Who is this for?
toLaudrin air fragrances can help drivers who frequently drive eliminate the foul odours which may develop in vehicles for various reasons. In addition, with aromas reminiscent of the seaside, it may release a gentle and relaxing atmosphere in your car, adding a sense of tranquillity to your daily commute!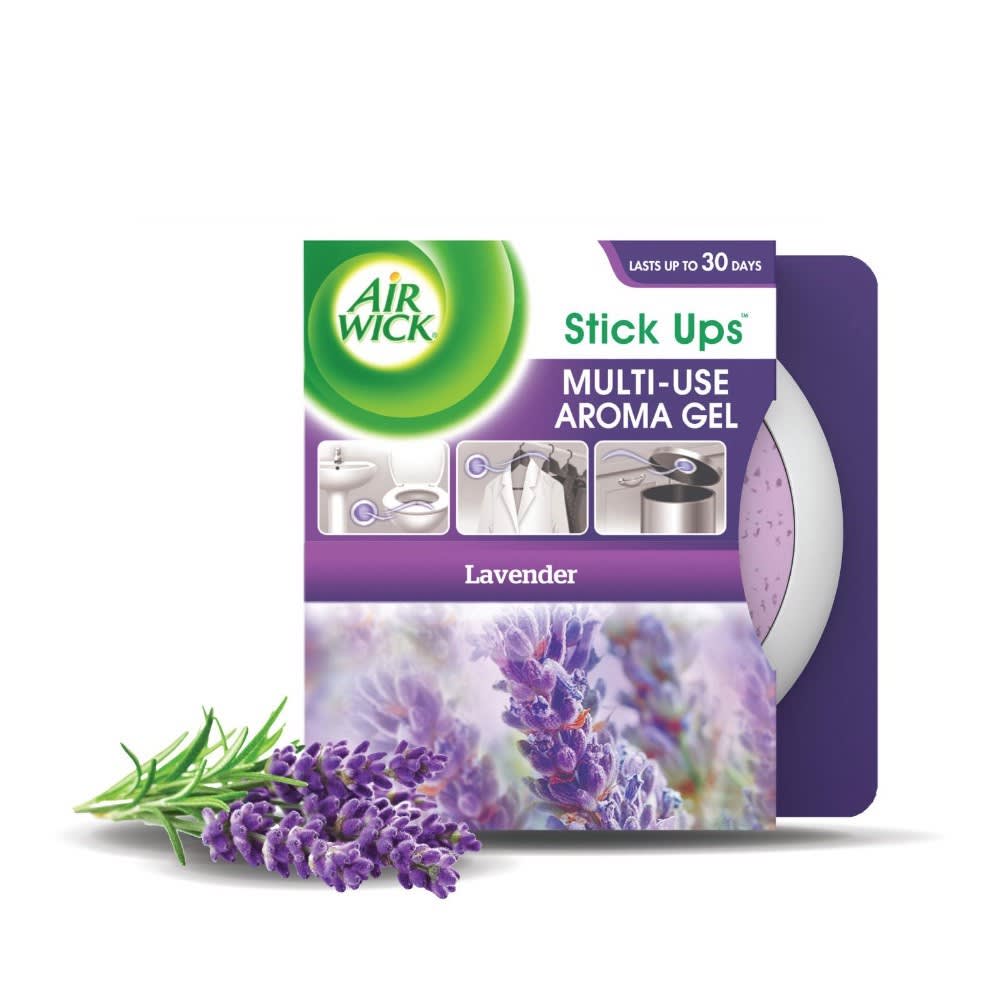 Check Air Wick Air Freshener Stick Ups Lavender Gel price below:
add_circle
Convenient, stick-up type
add_circle
Portable, mini size
add_circle
Value pack; 2 per pack
remove_circle
Not for wallpaper, painted wallboard or drywall
Overview
When placed at the source of a terrible odour, Air Wick's air freshener stick-ups can refresh the air in a minute, making it a fantastic option to counteract nasty smells in a jiffy. Its Lavender scent also produces relaxing fumes and lasts up to 30 days, ensuring infinite relaxation at a reasonable price. Plus, it is small in size with unlimited potential!
Details
Fragrance: Lavender scent
Suitable for kitchen, car or small spaces

30 days of continuous goodness
Who is this for?
This compact stick-ups air freshener is designed for small places, making it ideal for use in your closet. Your garments may not smell as wonderful after laundry, so use this air perfume to fend off any malodour and make your clothes smell as fresh as new!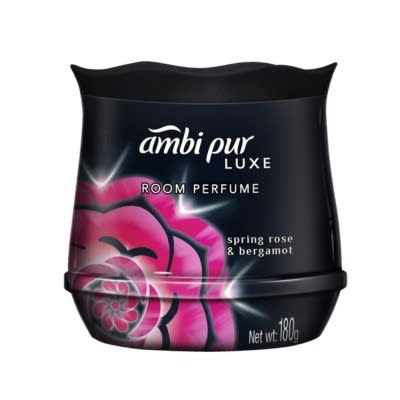 Check Ambi Pur Luxe Room Air Freshener Gel Perfume 180g price below:
add_circle
Concentrated formula
add_circle
Suitable for large spaces and room
add_circle
Long-lasting lingering scents
remove_circle
Quite pricey compared to other scented gel
Overview
Ambi Pur Luxe's spring rose, and bergamot room perfume allows you to bring your favourite spring aromas into your own space! They are perfect for removing odours from smoking, eating, or other activities. This helps to maintain the entire workplace clean and sanitary.
Details
Fragrance: Spring Rose, Bergamot and Green Tea 

Level the lid to control fragrance intensity

Simple yet sleek black design (black and pink)
Who is this for?
This perfume-scented gel is excellent for use in the office or business. It will help you relax thanks to the springtime scents of rose, bergamot, and green tea. With a calm mind, ideas flow more quickly, and productivity rises. It goes beyond merely cleaning the air!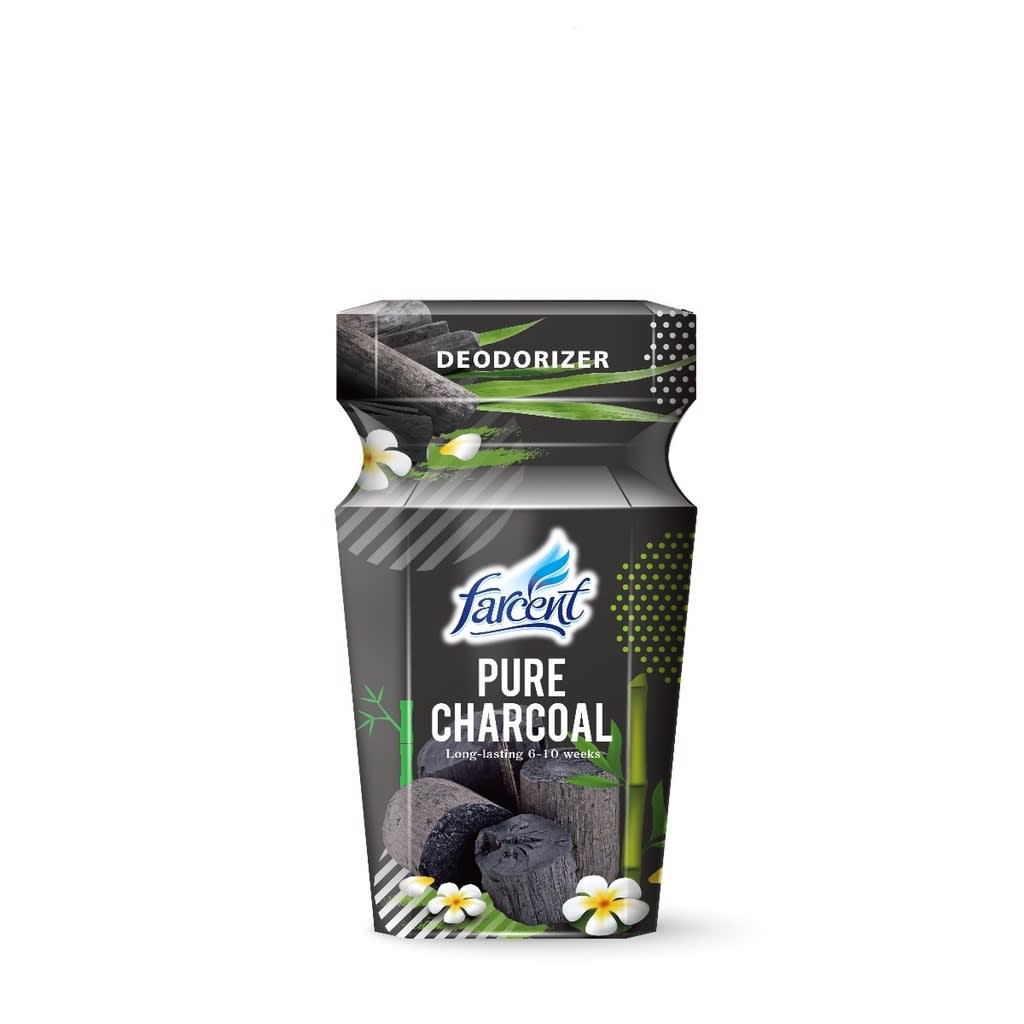 Check Farcent Deodorizer Charcoal Large Space Long Lasting price below:
add_circle
Unique design (tall-diamond-like)
add_circle
Odour elimination technology
add_circle
Last up to 6-10 weeks
remove_circle
Vertically placed only
Overview
Farcent's deodorizer, with its innovative Japanese plant deodorization derived from natural extracts like charcoal and bamboo, purifies the air for up to 6 weeks! Moreover, it neutralises the odour and efficiently absorbs it; hence suitable to place in tricky places like the bathroom or toilet. So the next time you need to use the bathroom, the unappealing odour won't stop you!
Details
Japan plant deodorization technology

Blend with natural essential oil for lasting scents

For large spaces like bathrooms, living rooms and house entrance
Who is this for?
The lavatory is used more regularly in your personal bathroom or a shared workplace restroom, increasing the likelihood of smells. Farcent's air freshener assists in eradicating unpleasant odours, ensuring that your bathroom always smells fresh and clean!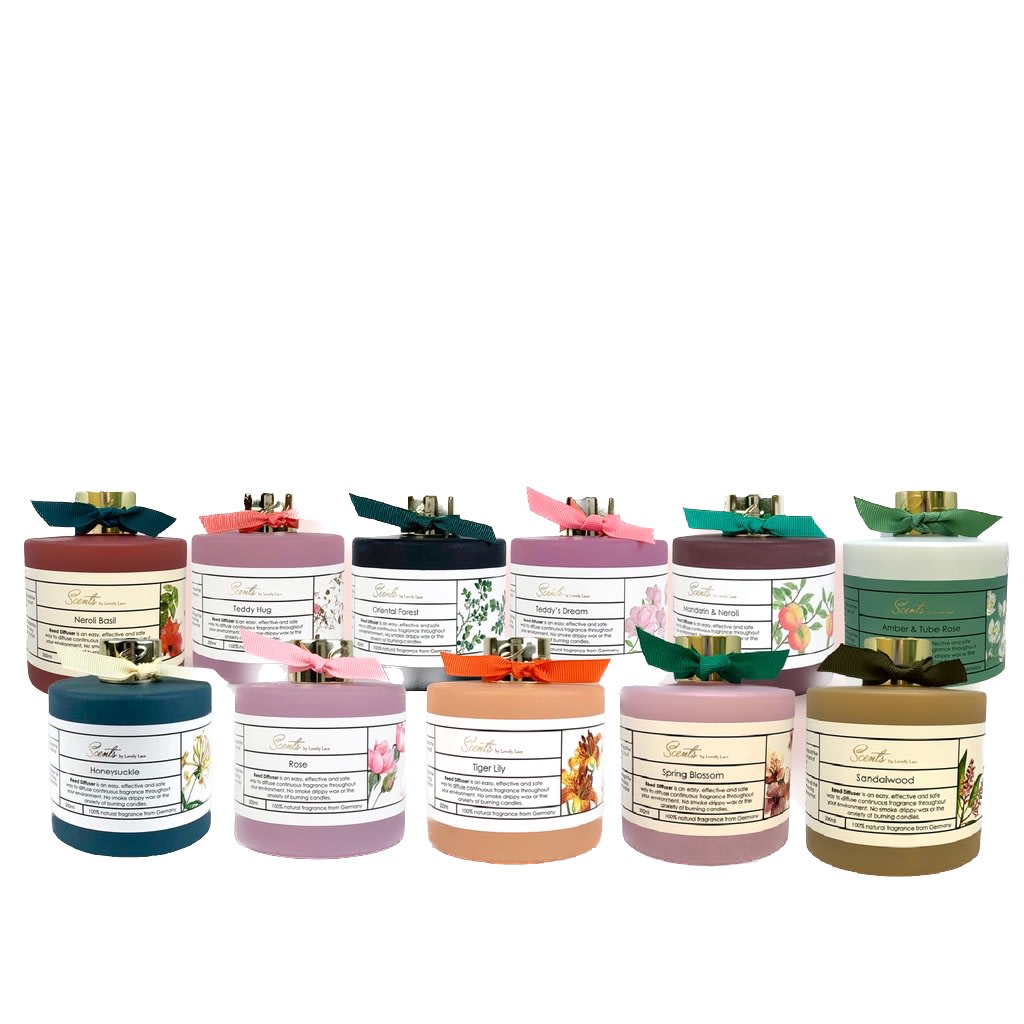 Check Lovely Lace Reed Diffuser price below:
add_circle
Decorative glass bottle
add_circle
Environmentally friendly formula and material
add_circle
No fire hazards
Overview
Teddy's Dream by Lovely Lace is a scent that lifts your mood and improves focus and clarity, living up to the brand's mantra of "surround yourself with aromas of happiness every moment." Additionally, it lasts a very long time as well, so you'll get a lot for your money!
Details
Fragrance lasts up to 2-3 months

Green floral musky scent (Teddy's Dream)

100% natural fragrance from Germany
Who is this for?
This is unquestionably the reed diffuser for you if you're looking for one that cleanses the air while still being lovely and aesthetic enough to serve as décor. Since Teddy's Dream is alcohol-free, flameless, aerosol-free, power-free, and residue-free, it is THE air freshener you will appreciate!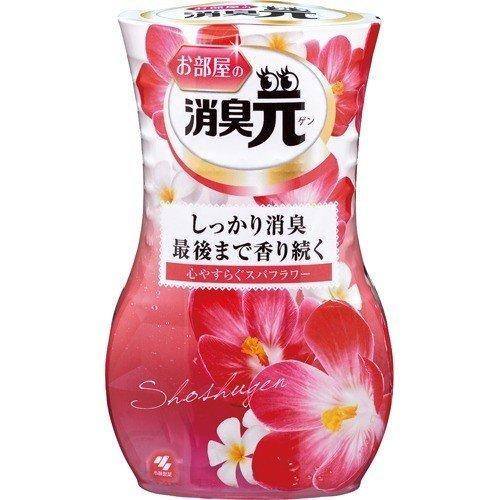 Check Kobayashi Liquid Air Freshener price below:
add_circle
Large product amount (400ml)
add_circle
Multidirectional distribution
add_circle
Transparent design, easy-to monitor
remove_circle
Quite pricey
Overview
This long-lasting, continuous scent from Kobayashi's liquid air freshener may last up to two to three months thanks to its quick removal odour system. Also, with its transparent form, that makes the product margin immediately obvious. Therefore, there is no risk of missing it and failing to purchase a replacement!
Details
Scents lasting up to 2-3 months

Fragrance options: lemon, chamomile, soap, rose, lavender etc

Suitable for toilet, bathroom, bedroom or kitchen
Who is this for?
Use this liquid air freshener to aid if you need to get rid of pet odours, restroom stench, or smoke residues. In addition, when daily ventilation is ineffective, this product refreshes the air of your home area with its multidirectional scent diffusion!
FAQ:
- What type of air freshener lasts the longest?
Plug-In Air Freshener:
A plug-in air freshener is your best option if you want an air freshener that will last for a long time. Plug-ins, such as air purifiers, deliver a constant aroma (until you need to change the essential oil). Some also have a lifespan of up to 70 days and often include many refills. This kind of product is what you should get if the longevity of the fragrance is what you are going for.
Automated Air Spray:
Another type of product to consider would be an automated air spray, which is battery-powered. The degree of fragrance depends on the timing you select, and it only depletes after the battery runs out or the bottle is empty. 
Although some scented gel air fresheners may last up to 60 days, most only last up to 30 days. 
Additionally, its dissolution is affected by temperature. However, gel air fresheners are a popular choice because they have a simple operation and are more reasonably priced than other air fresheners.