What is the best inexpensive air purifier?
Has it ever crossed your mind that the air indoor might be more polluted than the outdoor? To clear the air, you may want to invest in an air purifier. What an air purifier does is removes harmful and dangerous particles like viruses, bacteria, contaminants, allergens and dust. While they can be pricey, it's still possible to get one for less than a grand. Check out our list of affordable air purifiers for a cleaner home!
When it comes to looking for air purifiers that are the best bang for your buck, consider the long-term costs and what entails owning one. For example, HEPA filters trap particles and are considered to be the best filter but it needs to be replaced regularly; every 3 to 12 months depending on the manufacturer. 
With all the technical terms and the variety of options out there, things can get confusing. Here's a roundup of affordable air purifiers with good reviews from brands such as Levoit, Philips, Sharp, Midea, and Xiaomi.
---
Top 10 Affordable Air Purifiers in Malaysia(below RM700)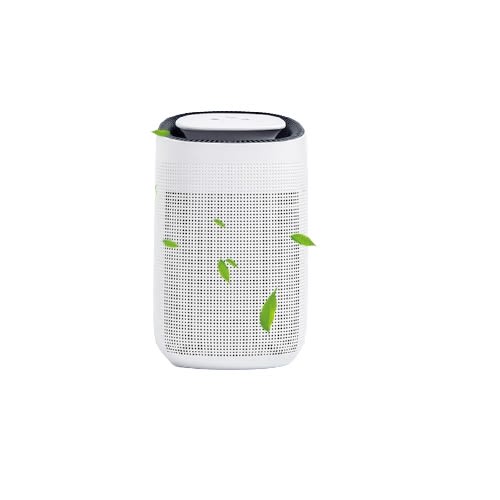 Check Xiaomi Hysure Dehumidifier Purifier price below:
add_circle
Versatile with a PM2.5 filtration feature
add_circle
3 in 1 air purifier, dehumidifier, and clothing dryer that neutralises unpleasant
add_circle
3 layer filter net is designed to eliminate gaseous pollutants such as pungent odour of smoke
remove_circle
No air quality indicator
remove_circle
No app connectivity
Overview
The Xiaomi Hysure Dehumidifier Purifier can remove both humidity and impurities in the air, leaving you with fresher and cleaner air. This two in one device saves you both money and space as you won't need to buy one more appliance. With that said, it is compact and easy to use. What's not to love?
Energy-saving, its coverage ranges from 5m² to 35m². This device has a maximum dehumidification capacity of 750ml/day and a water tank capacity of 1000ml. There is an indicator light that turns red when the tank is full you'll know when it needs emptying.
Details
Rate Power: 45W

CADR: -

Noise level: 35dB 

Filter: 3 Stages Purification

Coverage: 5m2 - 35m2

Filter recommended usage duration: 6months
Who is this for?
This is for those who are conscious about energy saving and air quality. When the air purifier goes into standby mode, it will not generate any heat. Instead, when the water level is full, power is immediately cut off, reducing your overall usage of electrical consumption
Many users love its ease of use, although some wished it could be app-controlled. Nonetheless, they were satisfied with it as it effectively reduces humidity and removes odour as well. 
More: Breathe Better Air with These 10 Air Purifiers Available in Malaysia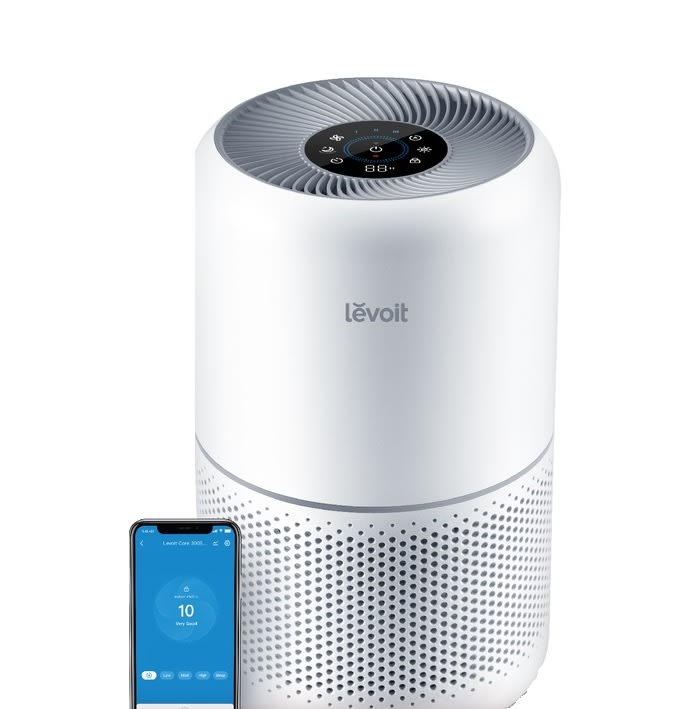 Check Levoit Core 300S price below:
add_circle
Has built-in programmable timer; can customise schedules
add_circle
'Undisturbed Operation' mode lets you turn off the display light automatically
Overview: 
This award-winning air purifier is one for convenience and connectivity.
The Levoit Core 300s features an H13 True HEPA filter along with an activated carbon filter, which traps at least 99.97% of airborne particles as small as 0.3 microns. It is energy-efficient, operating on the power of fewer than 3 lightbulbs combined, and it can be controlled using the VeSync app and Google Home. 
It features Levoit's AirSight™ Plus Technology which will analyse surrounding air quality and automatically update it. Besides, thanks to its QuietKEAP™ Technology, noise levels are kept as low as 22dB, allowing you to enjoy peaceful slumber without experiencing noise disturbance. 
Details
Rate Power: 15W

CADR: 195m³/h

Noise level: 22dB

Filter: 3 Stages Purification

Coverage: 41m2 

Filter recommended usage duration: 6 - 8months
Who is this for?
Based on reviews, this is a user-friendly air purifier with as easy setup. Even if you have trouble with the product, many have noted down the helpfulness of the online customer service available. 
Users also reported reduced allergy symptoms and recommend it if you have pets or live in polluted areas. Furthermore, while it operates silently, users say that airflow remains decent.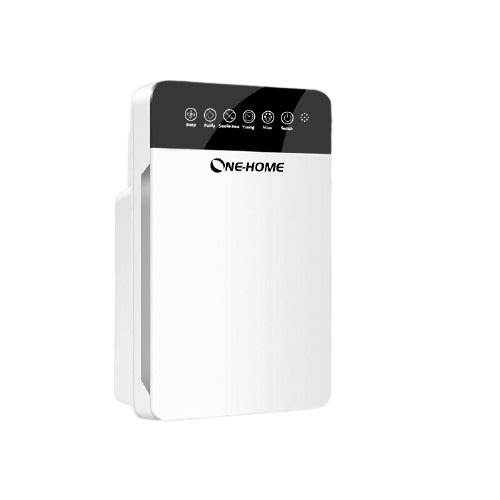 Check One Home Air Purifier price below:
add_circle
Has a remote control to adjust settings
add_circle
Designed with a portable carrying handle for portability
Overview
Although pretty cheap, the One Home Air Purifier doesn't feel so with its varied benefits. It has a couple of sleep modes and 3 wind speeds: sleep, purify, smoke-free, with noise levels of not more than 28dB. The 8H scheduled shut down is also useful for saving electricity if you forget to turn it off earlier.
This purifier has a 3-in-1 filtration system that traps PM2.5 particles, composed of a melt-blown cloth filter screen, a HEPA filter, and a honeycomb activated carbon filter. In essence, the features make the One Home Air Purifier efficient against dust and odour.
Details
Rate Power: 35W

CADR: -

Noise level: 28dB

Filter: -

Coverage: 40m2

Filter recommended usage duration: 12months
Who is this for?
This has helped users reduce night coughing. Despite its low price, it does not lag behind its more expensive counterparts in terms of suction speed, according to reviewers. 
All in all, it is an air purifier below RM100 that can help you achieve better air quality.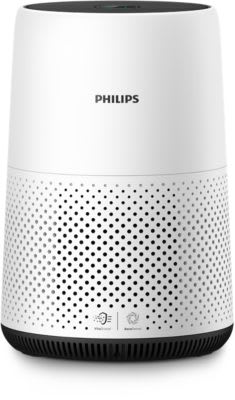 Check Philips Air Purifier 800 Series AC0820/30 price below:
add_circle
12 month filter replacement period
add_circle
Filters 99.9 % of the H1N1 Virus
add_circle
Filters99% of bacteria
add_circle
99.5% removal of 0.3μm particles
Overview
The Philips Air Purifier 800 Series AC0820/30 has a one-button control that makes its operation a no brainer. Boasting intelligent auto purification mode, it can detect air particles as well as indicate the air quality through an LED indicator on top.
Compact in size, you can easily place it on your bedside table. Besides, its quiet operation won't disrupt your sleep cycle though it is louder when on Turbo mode. Suitable for rooms of up to 53sft in size, it can remove ultra-fine particles as small as 0.003 μm. 
Details
Rate Power: 20W

CADR: 190m³/h

Noise level: 35 - 61dB

Filter: -

Coverage: 49m2

Filter recommended usage duration: 12months
Who is this for?
Users report positive experiences with the Philips 800 series AC0820 purifier. Many mentioned that it is responsive when it comes to determining the air quality via the LED indicator.
Overall, many have found it helpful for reducing sneezing and the discomfort of a blocked nose, effectively removing odour and collecting dust. However, the removal of cigarette smoke takes a little while.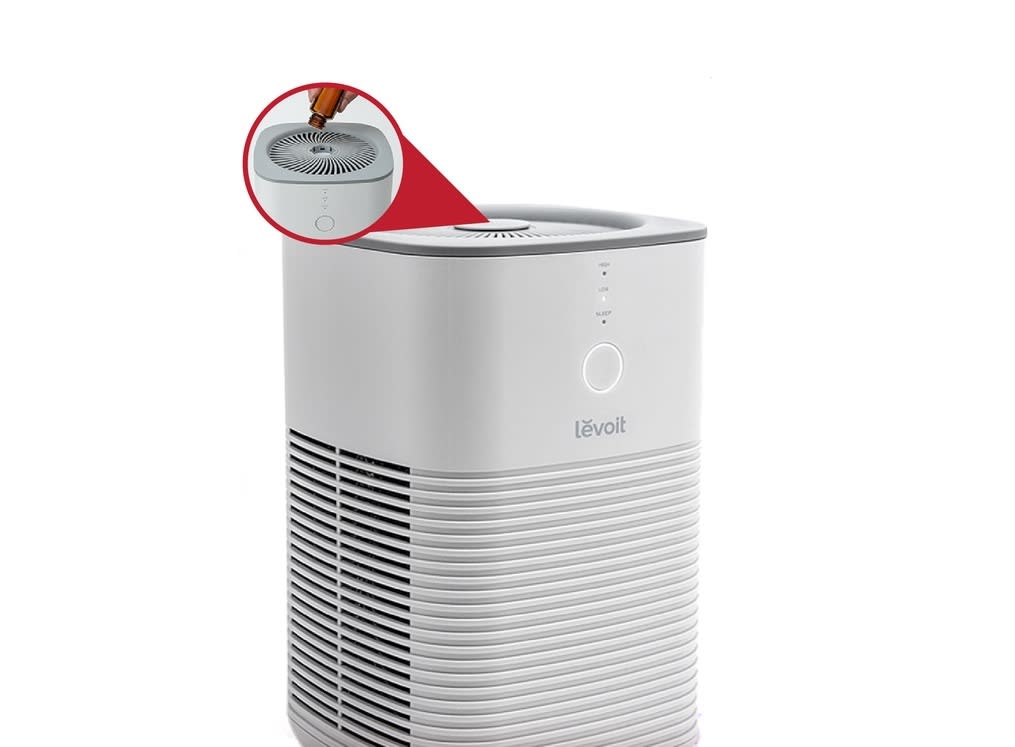 Check Levoit LV-H128 Desktop Air Purifier price below:
add_circle
2-year warranty
add_circle
Quiet operation
add_circle
Low energy usage
add_circle
3-stage filtration includes an activated carbon filter
Overview
Smells can change the way you live in a social space, and that applies to work spaces.
Being a 2-in-1 device, the Levoit LV-H128 Desktop Air Purifier doesn't just purify the air with its 3-stage purification but also leaves your space smelling nice and fresh thanks to the inclusion of an aroma pad. It works to eliminate odours while simultaneously clean the air whether you choose to add on essential oils or not.
In Sleep mode, it operates at just 24dB so it won't bother your colleagues. Moreover, this purifier doesn't consume much energy as it operates at just 10W. As this functions as an air purifier and diffuser, it's great value for money. 
Easy to use; all you have to do is add 2-3 drops of your favourite essential oil to the aroma pad and it'll start diffusing the scent once the purifier is on. 
Details
Rate Power: 10W

CADR: 68m³/h 

Noise level: 24 dB

Filter: 3 Stages Purification

Coverage: 15m2

Filter recommended usage duration: 
Who is this for?
As pleasant as this product sounds, it is technically a desktop air purifier, so the coverage is only 15m² or 161 sq ft, making it best for smaller spaces. As such, it is perfect for placing at your workstation.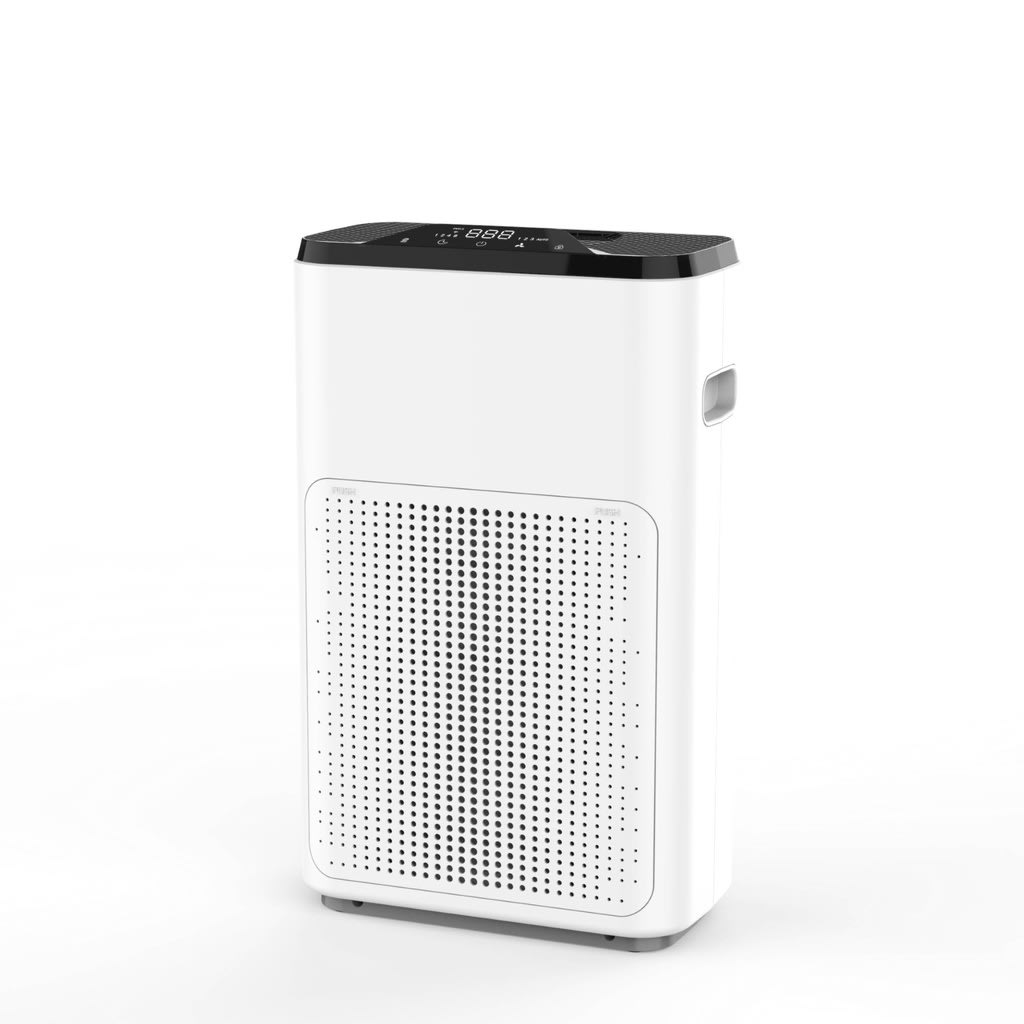 Check Haier Smart Air Purifier HA-HAPA3B price below:
add_circle
Long filter lifespan
add_circle
Has a pre-filter and HEPA filter
add_circle
1 Year warranty with Haier Malaysia Official
remove_circle
No activated carbon filter
Overview
Your baby is technically more sensitive to bacteria and pollutants in the air, so why not protect them with the Haier Smart Air Purifier HA-HAPA3B ?
Rest assured that PM2.5 and pollutants such as gas particles and microorganisms will be removed thanks to its multi-stage purification. It also has a child lock, making it appropriate for use as your child gets older.
One can also conveniently control it via remote or app apart from the usual touch control, and keep track of the PM2.5 level too.
Details
Rate Power: 43W

CADR: 200m³/h

Noise level: 18.8dB

Filter: -

Coverage: 14m2 - 24m2

Filter recommended usage duration: 24months
Who is this for?
The dust collection filter lasts up to 2 years, much longer than its counterparts. In addition to its silent operation, this air purifier has a high CADR rating, making it a good choice for living with a baby.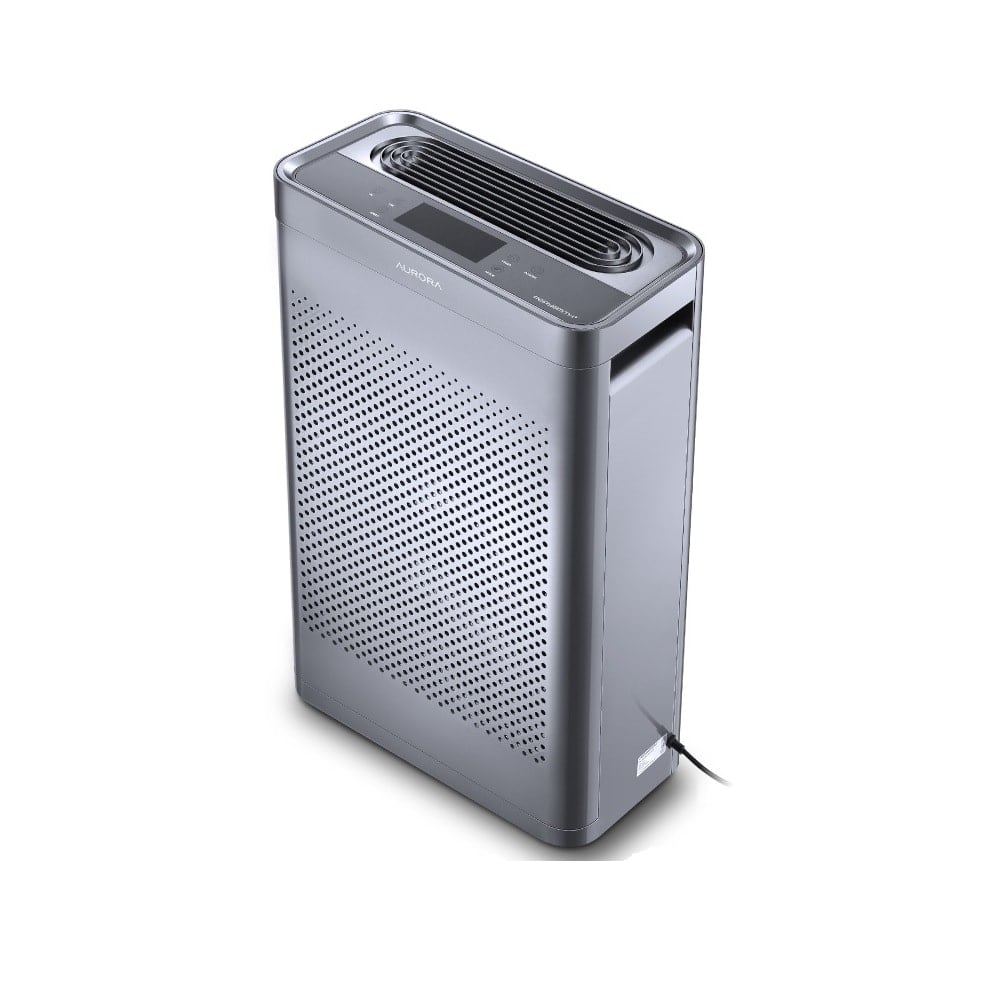 Check PerySmith Air Purifier AURORA Series H13 price below:
add_circle
Low noise level
add_circle
Good control panel interface
add_circle
Equipped with ionizer and UV light
remove_circle
Short filter replacement duration
Overview
If you want a simple air purifier for your home without breaking the bank, try PerySmith's. Keeping it simple yet practical, this device has a digital control panel that displays information such as temperature, air quality index, and features a PM2.5 indicator. 
It also has 4 stage-purification that includes a pre-filter, a medium filter, an activated carbon deodorization filter, and an H12 0.3 micron HEPA filter. Additionally, there's a UV light feature that kills up to 99.9% of various bacteria, pathogens, and viruses.
What makes this purifier even more unique despite the cheap price is the AURORA Intelligent A12 sensors. With this built-in air quality indicator, it automatically adjusts its settings in response to the current air quality hence, explains why this air purifier is a standout amongst others in its field.
Details
Rate Power: 45W

CADR: -

Noise level: 25dB

Filter: 4 Stages Purification

Coverage: 20m2 - 40m2

Filter recommended usage duration: 3 - 6months
Who is this for?
Featuring a sleek and modern design, its LCD touch screen is responsive and it operates quietly. According to reviews, it effectively removes odour and cigarette smoke. For a no-fuss device, this is for you. It is also safe for newborns to sleep with peacefully due to its responsive Silent Operation mode.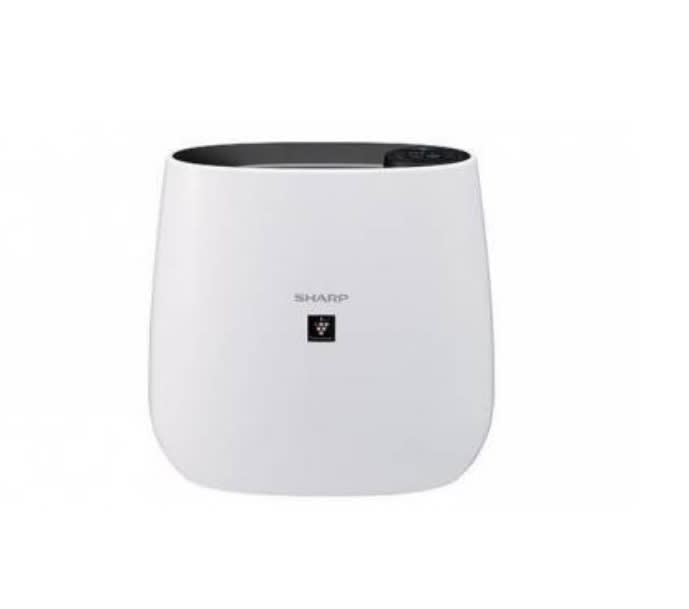 Check Sharp Plasmacluster Air Purifier FPJ30LB price below:
add_circle
Plasmacluster® Ion Technology eliminates microscopic pollutants that other filters cannot trap
add_circle
Dust collection filter lasts up to 2 years
add_circle
Quiet Night mode
add_circle
Compact design
Overview
Pet dander can cause allergy despite you having lived with them for awhile. To not worsen any allergy situation, you should consider getting an air purifier such as the Sharp Plasmacluster Air Purifier FPJ30LB. 
This device stands out due to its unique shape but will blend well into any living space. It has powerful suction and unique airflow to pick up dust and remove mold, viruses, allergens, odour, and static electricity. 
A notable feature is Sharp's Plasmacluster® Ion Technology which can deodorise surfaces and objects and reduce static electricity. It is also able to eliminate airborne microbes and mould. As such, the function is useful for pet owners.
Suitable for small areas of up to 23m², it features a pre-filter and a HEPA filter. It also has a Haze mode, and you've got the choice between a 4 or 8-hour timer. 
Details
Rate Power: 50W

CADR: 180m³/h

Noise level: 44dB

Filter: 2 Stages Purification

Coverage: 23m2

Filter recommended usage duration: 24months
Who is this for?
A popular model, reviews say it brings a difference in the air quality and effectively collects a lot of dust and pet dander in a matter of days. It is not noisy and also helps relieve symptoms of sinus and asthma. 
Even if you don't have pets, the purifier has a Haze mode, which would come in handy if the 2016 Malaysian haze makes a recurrence, to effectively capture haze particles and keep the indoor air clean and fresh.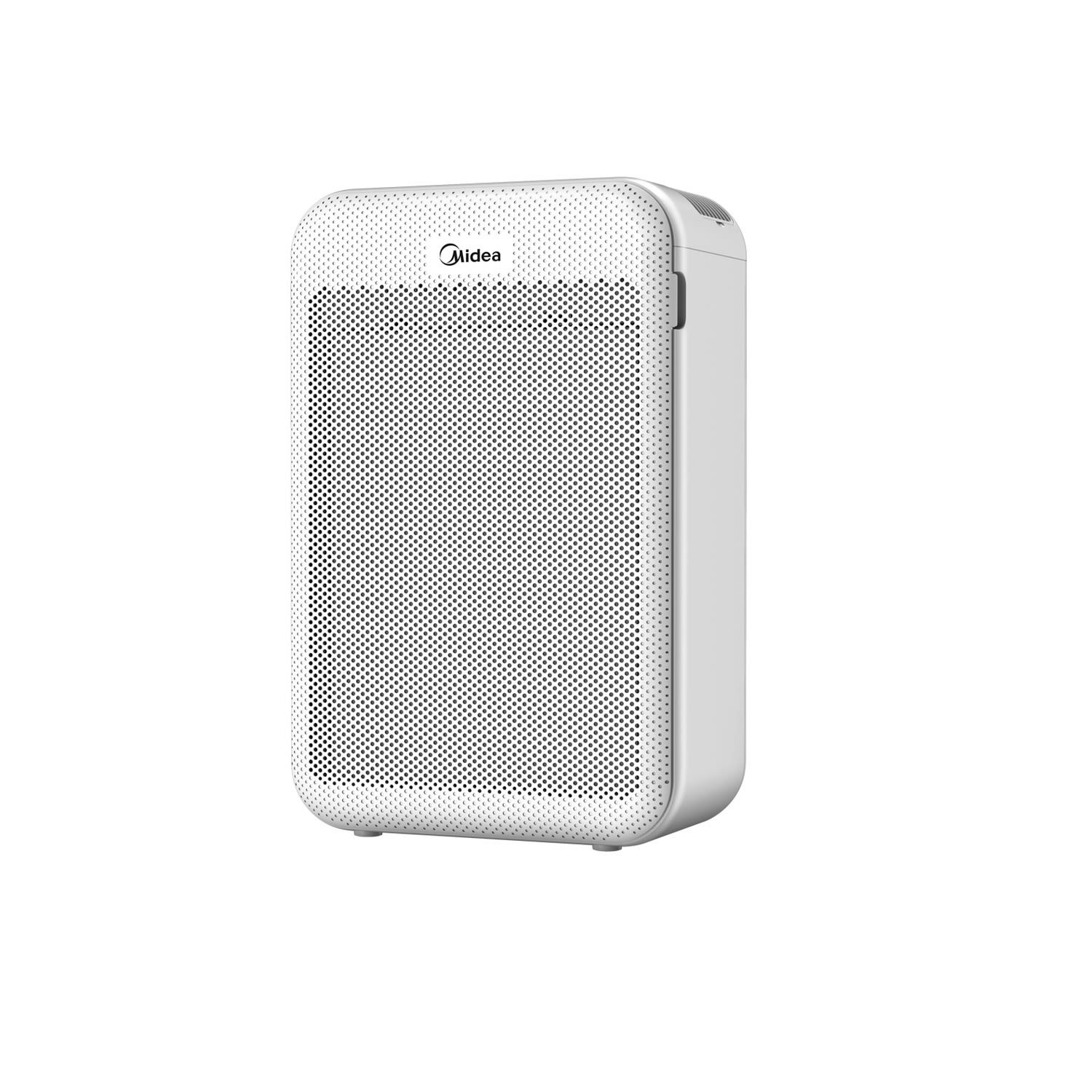 Check Midea MAP-28BD Air Purifier price below:
add_circle
Screen shuts off automatically on Sleep mode
add_circle
360° All-Round Purification
add_circle
Filter replacement indicator; PM2.5 air quality indicator
add_circle
Air quality sensor
Overview
It features 5 stages of purification at a rate of 380m³/h—the highest purification rate on this list. The layers comprise a pre-filter, anti-bacteria PET layer, activated carbon layer, True HEPA Filter, followed by a nylon mesh filter.  In fact, the air purifier can effectively deodorise tobacco smells too.
Of course, it also removes bacteria and viruses, pet dander, pollen, dust, and more in the air.
Ideal for rooms of up to 43m² in size, there are 4 timer options: - 1H, 2H,4H or 8H that you can set. Its noise level is as low as 32dB on Silent mode, and it also features a filter replacement indicator.
Details
Rate Power: 50W

CADR: 380m³/h

Noise level: 32dB

Filter: 5 Stages Purification

Coverage: 43m2

Filter recommended usage duration: 
Who is this for?
Based on a review, it effectively filters odour and the smell of vape. Opinions on the air quality indicator are varied. One says it can even detect kitchen fumes. On the other hand, it's not very accurate according to another.
All in all, users can expect an efficient performance as it notably works without a hitch and air quality has been said to feel better after use.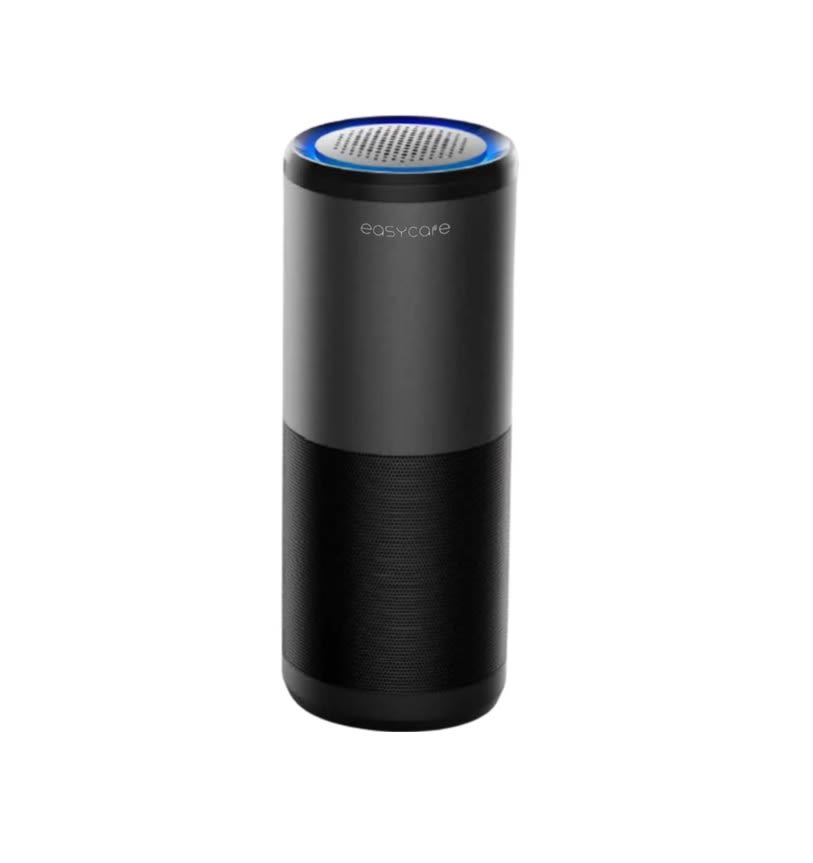 Check EASYCARE Original Portable Air Purifier price below:
add_circle
99.99% UVC sterilisation
add_circle
10000 hours of UV lamp life
add_circle
2 levels of fan speed
add_circle
Single-touch operation
add_circle
HEPA H13 filter
remove_circle
Needs charging
remove_circle
Not ultra-silent
Overview
Featuring a sleek aluminium alloy body, this micro USB purifier has 3-ply high efficient filtration; an initial grade filter screen, an activated carbon filter screen, and a HEPA coating. As such, particles as small as 0.3 microns can be removed, including PM2.5, odour, and bacteria, among others.
An additional eco-friendly UV disinfection LED lamp feature is also included to sterilise up to 99.99% of bacteria, viruses, and mould spores
Moreover, you can enjoy aromatherapy with this purifier by adding a few drops of essential oil to the cotton pad. Besides, this purifier has an extra USB output for charging multiple devices such as your phone, tablet, etc.
A bonus here; if you ever find yourself in a situation where you'd need to recharge your mobile phone, this air purifier has a USB connector. That may be useful to charge the purifier in the event of an emergency.
Details
Rate Power: 3W

CADR: -

Noise level: 38dB

Filter: -

Coverage: 50m2

Filter recommended usage duration: 12months
Who is this for?
With a single touch operation, it claims to purify the air in your car within 10 minutes with coverage of 10m³. It can also diffuse the scent of your choice and charge a device. 
Not only that, but it has been advertised that with 1 hour of use a day, the filter will last you more than a year as its filter lifespan is about 500 hours.
One review did mention that airflow is slow. Some have also said that the fan is a little noisy though it's supposed to operate at a noise level of less than 38dB.
However, on the whole, buyers are satisfied with this purifier.
---
FAQs
- Are cheap air purifiers worth it?
Yes, especially for targeted areas of the house ranging from 15 to 50m². Clean air need not be a luxury.
While you may be tempted to go for notable brands like Coway and Cuckoo. High-end air purifiers come with monthly instalments that can come up to RM2800. 
Though it does include free monthly maintenance, the more affordable air purifiers nowadays are easy to maintain at little to no cost. Hence, "cheap" air purifiers are great value for money. 
---
- Do air purifier machines really work? How?
Allergens and air pollutants like dander, dust, smoke, and moulds could originate from both outside and inside of homes. 

If a person's health isn't immediately affected by a single or repeated exposure to these pollutants, the effects may become evident in a few years. 

Therefore, the best way to increase the ventilation rate in your home is to eliminate polluting sources by getting yourself an air purifier. 

Behind the science of how they work is that it consists of a fan that draws in air. 

When air flow through a purifier's filters, which are often made of paper and fibres such as fibreglass or a mesh, would catch and neutralise any pollutants or particles when air flows through them. Clean air is then recirculated into the living space.
---
- How to choose an air purifier?
Before getting one, ask yourself, where will I put them? Check whether they'll fit in the designated spot. And if they don't, you can always keep browsing on the internet to find the one that fits. 

Besides that, look for specific pollutants in your home or health needs. For instance, tobacco smoke, pollen, pet dander, mould and mildew. 

Apart from that, Look out at the Clean Air Delivery Rate (CADR) ratings, which will give you an idea of how rapidly the air purifier can clean the air. 

Also, do remember to choose air purifiers that use a High Efficiency Particulate Air (HEPA) as allergens and air pollutants like dander, dust, smoke, and moulds. Keep in mind that HEPA filters need to be changed often so as to not cause any blockage or possible buildup in the filter. 

Furthermore, check the product specifications for the noise levels, which are usually given in dB, as you would want a more quiet unit for your air purifier depending on the environment in which you plan to use it. 

Last but not least, determine how much it will cost to operate and maintain the air purifier in addition to the amount of money you will spend on the services.