You don't have to be a professional chef to own a good set of knives. A good knife is essential in every kitchen and you don't need to spend a fortune to get yourself a good set. 
Ahead, a list of the best kitchen knives to add to your kitchen.
---
Top 8 Kitchen Knives In Malaysia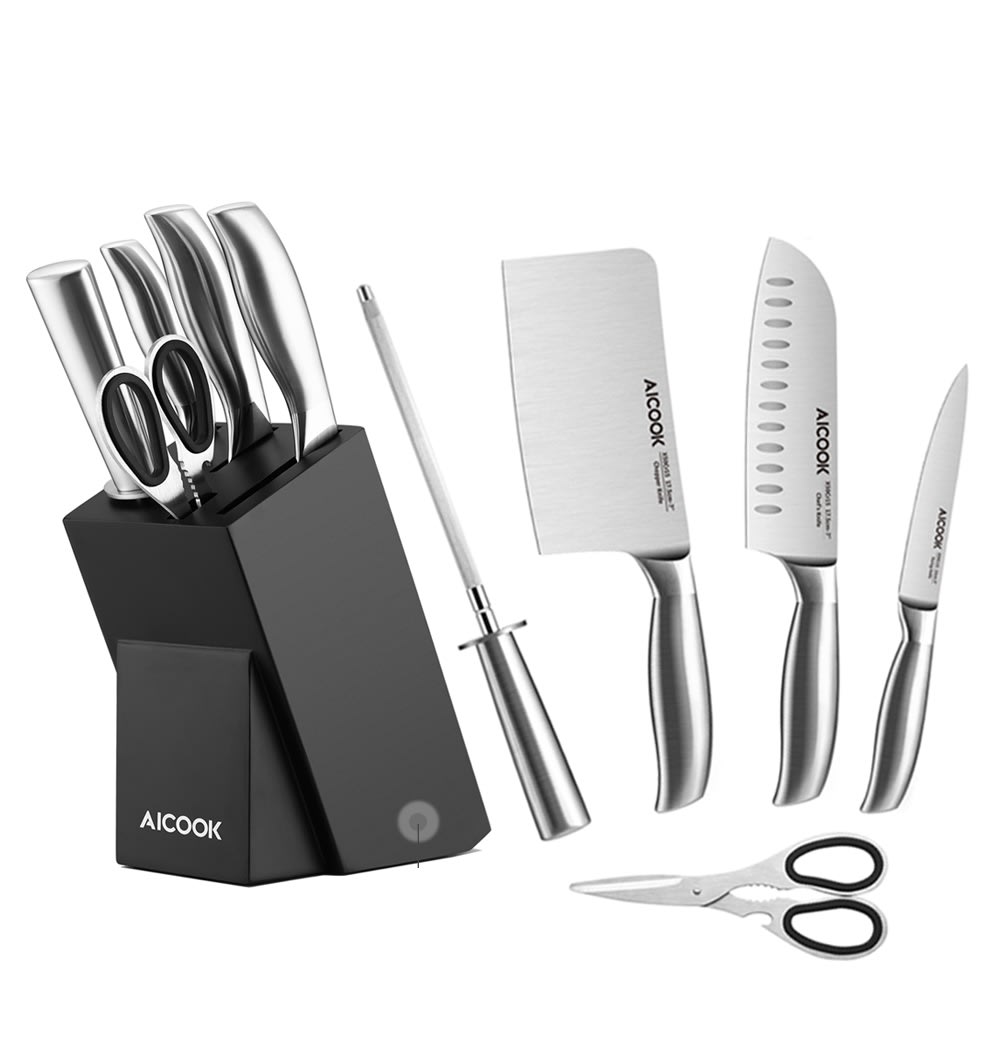 Check Aicook KFH001 Premium 6 in 1 Kitchen Knife Set price below:
add_circle
Doesn't easily wear out and become blunt
add_circle
Stain resistance
remove_circle
Not dishwasher safe
remove_circle
Do not use a scouring sponge when cleaning
What's in the Box: 
1 x 7.5'' Shear Scissors, 1 x 5" Paring Knife, 1 x 7" Chef Knife, 1 x 7" Chopper Knife, 1 x 8" Sharpening Steel, 1 x Wooden Knife Block Stand
Description: 
The ergonomically curved handle allows for a firm grip and effortless use of cutting, slicing, mincing and chopping. This blade is strong and durable from its tip to end, ensuring that it will remain razor sharp even after heavy use from fruits, vegetables, and meat. 
Due to the hollow design of the handle, even prolonged usage reduces the risk of hand fatigue from cutting.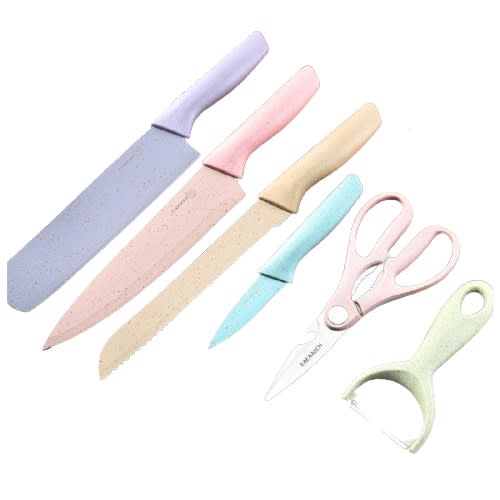 Check 6 Pc High Quality Stainless Steel Kitchen Knife Set price below:
add_circle
Lightweight, stainless-steel blade
What's in the Box: 
1 x Meat Knife, 1 x Bread Knife, 1 x Chef Knife, 1 x Fruit Knife, 1 x Peeler, 1 x Scissors
Description:
Quickly cut through beef and chicken breast into thin slices without it clinging onto the blade without sticking due to its non-stick coating that keeps food from clinging onto the blade. It has a non-slip, comfortable grip handle to give accuracy and control to your food prep.
Additionally, it comes in aesthetically stunning pastel colours that combine the fun and accuracy of the rainbow into a single cutting tool that is perfect for slicing through bread, meat, and fruits.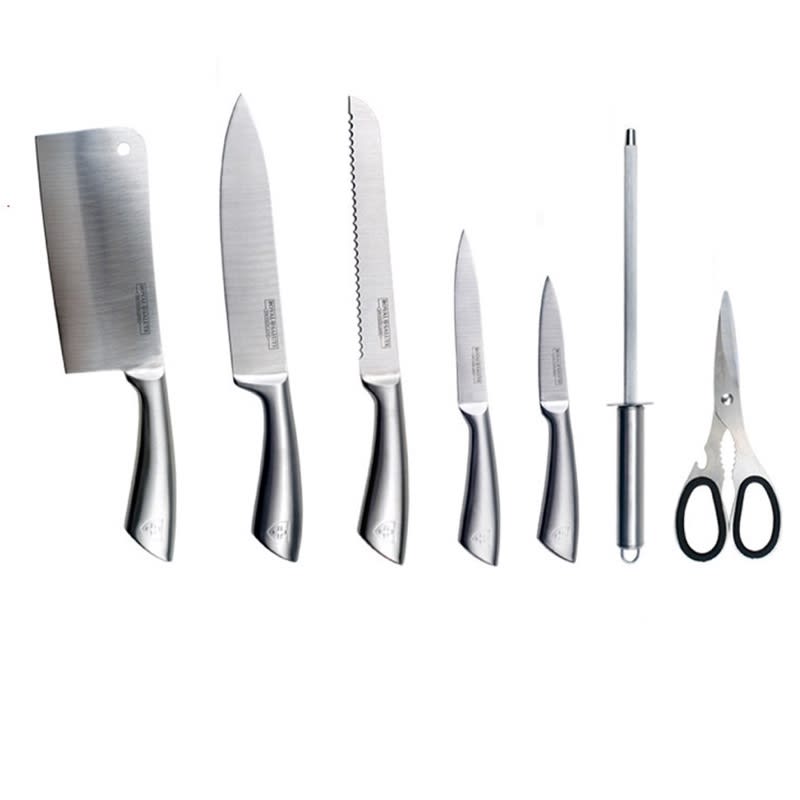 Check Royal Salute Premium Stainless Steel Knife Set price below:
add_circle
Knife stand helps keep knives organised and in one place
add_circle
Durable and resistant to deformation
remove_circle
Based on reviews, the included pair of scissors have thin handles and not suitable for cutting thick foods
What's in the Box: 
1 x 6.5'' Meat Chopper, 1 x 8" Chef Knife, 1 x 8" Break Knife, 1 x 5" Utility Knife, 1 x 3.5" Paring Knife, 1 x Kitchen Scissors, 1 x 7.5" Sharpener, 1 x Arylic Stand 
Description:
Honed and heat-treated for its durability, this knife set was forged to produce stability and control to quickly glide through raw meat, hard fruits and vegetables. It comes in a Taper Grind Edge Technology for maximum sharpness, making notoriously difficult foods easy to work with and allowing you to work frustration-free.
A handful of uses is all it takes for certain steels to lose their edge, and the additional strain needed to utilise them may lead to hand fatigue. The knife sharpener included makes it much simpler to get edge retention in maintaining the knives' razor-sharp edges.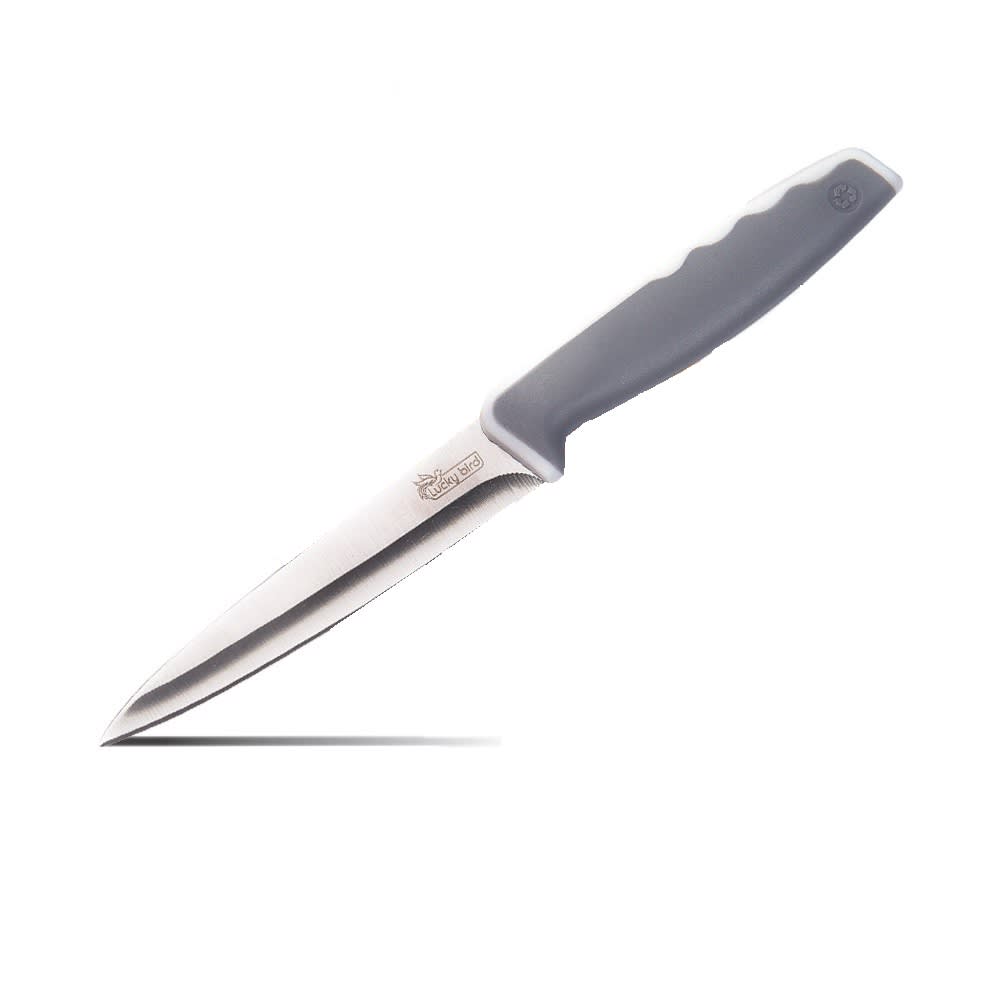 Check Elianware Multipurpose Stainless Steel Kitchen Knife price below:
add_circle
Sharp and precise
add_circle
Grey and brown knives are available in a range of earthy hues to fit any kitchen aesthetic
remove_circle
According to customer feedbacks, the handle and blade are not securely merged onto one another
What's in the Box: 
1 x 23cm Elianware Fruit Multipurpose Stainless Steel Kitchen Knife 
Description:
The odourless blade is designed to eliminate the build-up of trapped and strong odours. Thanks to the ergonomic handle, you can manoeuvre easily and cut fruits and vegetables without fatigue, reducing the potential for accidents and injury. It is made from 100% stainless steel and the blade is corrosion-resistant.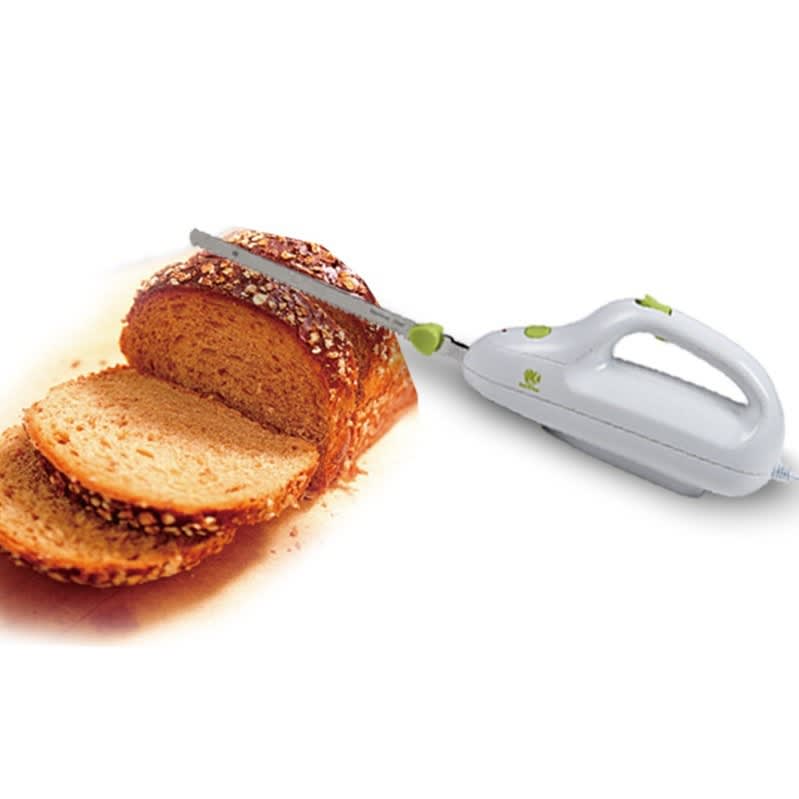 Check Electric Bread Knife price below:
add_circle
ABS body material handle making it less likely to rust
add_circle
Easy to set up by only plugging in the blade, turn the switch on, and you're good to go
remove_circle
Due to the two pin plugs, it might be tricky since its common for Malaysians to have three-pin plugs in their homes, unless with the help of an adapter
What's in the Box: 
1 X Meat knife, 1 x Cake knife, 1 x Bread knife
Description:
Slice loaves of bread in half and cakes into layers in one glide without squishing and destroying its shape. It requires less back-and-forth motion to get through the thickest crust to achieve a minimal effort clear-cut with its stainless-steel double blade. 
A simple sawing action will power through even frozen meat! The super sharp blade glides without sticking and easily cuts through the bones as well. Its detachable blade comes in handy to assemble and dismantle, making cleaning easier.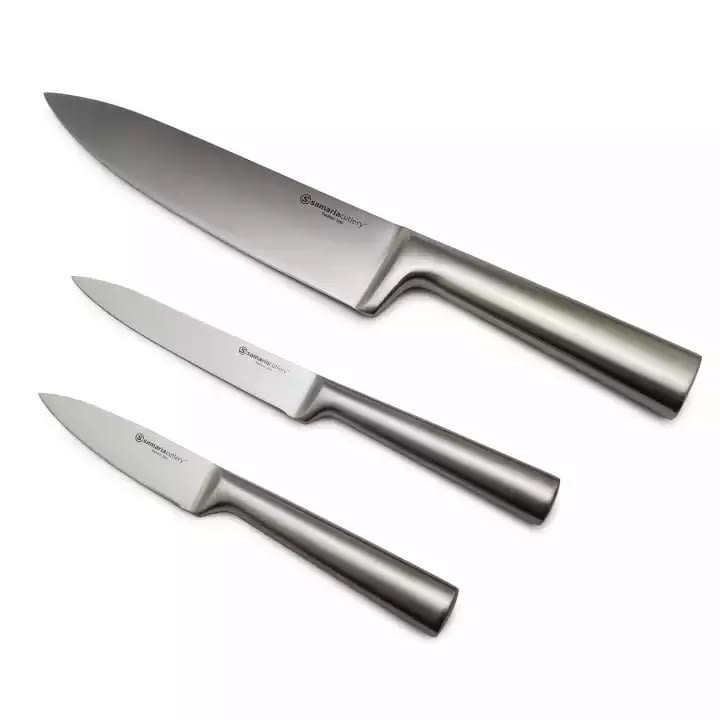 Check Profine Stainless Steel Knife Set (3 pcs) price below:
add_circle
Less prone to gunk build ups around the handle, due to the knives being entirely made of a stainless-steel material
add_circle
Lightweight, despite the fact that it is made of stainless steel
remove_circle
Corrosive effects on the blade may be caused by prolonged contact with acidic and salty substances
What's in the Box: 
1 x 8" Chef Knife, 1 x 5" Utility Knife, 1 x 3.5" Paring Knife
Description:
With these incredibly sharp paring knives, you can effortlessly chop meat and peel fruits and vegetables quickly with accuracy. The ergonomically designed stainless steel handle ensures comfortable and safe gripping. Because of the sturdy material, you'll benefit from long-lasting sharpness without any maintenance required that can withstand repeated usage for significantly greater shelf life.
Check Profine Stainless Steel Knife Set (6 pcs) price below:
remove_circle
Reviews stated that the knife holder is a little loose and might need a little tightening
What's in the Box: 
1 x 6.5″ Chopper Knife, 1 x 8" Large Cook Knife, 1 x 5" Utility Knife, 1 x 8″ Sharpener, 1 x 7" Kitchen Scissors, 1 x 9" Acrylic Stand
Description:
The transparent acrylic block knife holder adds a touch of minimalist decor to your kitchen countertop and acts as a shield to prevent scratching on any of your new knives.
Instead of tossing away your dull blades, save your money by sharpening them with the included kitchen tool sharpener so you can continue cutting your meat, fruits, and vegetables right away after.
When not in use, peek at the chopper knife since it has a hole in the handle to be hung to prevent it from cutting you or dulling over time if stored in a kitchen drawer.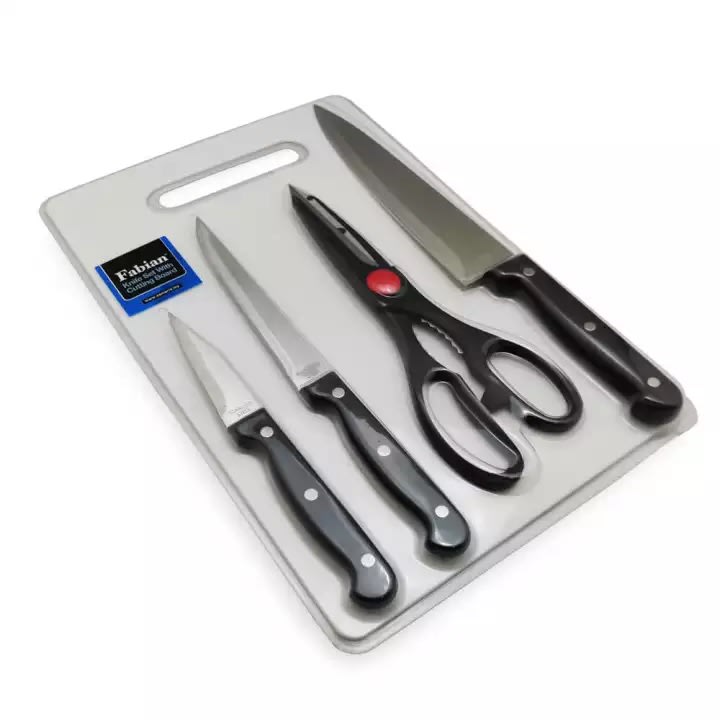 Check Fabian Stainless Steel Knife with Cutting Board price below:
add_circle
Effortlessly cuts through produce with its sharp knife blades
remove_circle
As mentioned in the reviews, the cutting board is undeniably thin and a difficult surface to work on
What's in the Box: 
1 x 7" Cook Knife, 1 x 5" Slicer Knife, 1 x 3" Paring Knife, 1 x Kitchen Scissors, 1 x PP Cutting Board
Description:
It's polypropylene-shaped handle prevents it from slipping out of your hands - even when wet - for a firmer grip. There are three different-sized knives included, so you may choose the one that works best for you while utilising the chopping board that comes with it. 
The high-quality kitchen scissors blades can perfectly snip through herbs, cut open food packaging and break down poultry. This lightweight tool delivers enough cutting power for precise cutting to easily slice through fruits and vegetables or peel tomatoes and other produce.
---
FAQ
Factors to consider when choosing kitchen knives 
It would be best if you looked forward to its ergonomics when shopping for a kitchen knife. Polypropylene or ABS handles with an anti-slip material will provide a better grip and prevent your wrists from becoming numb and causing back pain.
Look for ones that fit your budget and needs, including understanding its strengths and weaknesses. For instance, ceramic blades are less expensive and very sharp when they are first used. However, its thin edges are fragile and tend to chip after quite some time.
How often should you sharpen kitchen knives?
A kitchen knife is the backbone for any food preparation, whether a professionally trained chef or a regular home cook. You'll need to know a few things to keep your kitchen knives in good condition.
Maintain your knife edges and delay the dulling process to extend their shelf life by using a steel honing rod or whetstone every 2-4 uses at home. The reason is that working with dull blades gives you a higher chance of getting injured. 
It is also recommended to use an electric sharpener to achieve faster results and save your expenses.
Which knives are best for different types of food?
It's a good idea to start with a chef's knife, from chopping to slicing and mincing. Nevertheless, remember that heavy-duty jobs like cutting through bones or splitting fruits with hard rinds in half are a major no-no, but somehow, this one shines at mincing, precise vegetables, and on fish and meat prep.
Besides that, regarding versatility, a serrated knife has one of the handiest and most practical designs. Its saw-like appearance of the blade's edge can cut through bread, cake, and fruits such as pineapples and melons without ruining them.
For delicate tasks cutting foods in your hand while holding them, or when you can't find a peeler to peel your favourite fruit or vegetables, a small paring knife can get the best clean cut without your food ending up looking mushed and juices spilling everywhere.
What are some basic types of knives to have in your kitchen?
There are numerous types of knives out there, with each one actually designed to be used for a type of food. So, it's important to know your knives and find out which sorts of food and tasks each one is best suited for.
Chef/Cook knife
One of the most versatile knives in the kitchen; the curved blade of a chef knife allows it to rock back and forwards on a chopping board, making it perfect for chopping and dicing vegetables like potatoes or onions. If you can only afford one knife, this is it.
Utility Knife
Similar in shape to a chef knife, it is smaller and slimmer, making for good chopping of smaller foods and vegetables or any other job that requires precision. This is a handy knife to have but isn't necessary if your Chef knife is sufficient.
Paring Knife
Short, slim and evenly sized blades allow this mighty knife to cut, chop and slice fruits as well as vegetables. It's also great for harder foods and will do well to peel, trim and remove seeds from fruits and vegetables.
Bread Knife
A bread knife is long, with evenly sized blades and a serrated edge. Used on pastries mostly, it can also be used to slice cakes with a soft and fluffy texture. Its jagged edges allow can cut a waxy texture that other knives may have problems with.
Cleaver/butcher knife
These knives have a flat, rectangular-shaped blade and are used to chop up raw meat to divide it into smaller portions before cooking.
Santoku Knives
These knives are great for precision cutting, dicing and mincing. Their sharp, straight edges and drop-point tips make them an important tool for cutting fish, sometimes even being an effective alternative to chef or utility knives. 
These are some types of knives that are needed in the kitchen area for everyday use, but it doesn't stop there. Once you've found your perfect knife, you'll need to maintain it by sharpening it regularly.
Related articles