Back in the 1950s, hair tonics were vanity products for men hair styling. However, that eventually got replaced when hair gels and mousses hit the market. Now, hair tonics are experiencing a renaissance as people come to realise that hair tonics can also bring benefits to hair and scalp health for everyone.
Every hair tonic has its very own blend of ingredients that targets the specific needs of every user. With that said, there is a wide range of hair tonics in the market and it may be challenging to choose the right one. 
Worry not as here is a list of the best hair tonics in Malaysia that may suit your needs. 
---
List of Best Hair Tonics in Malaysia 2023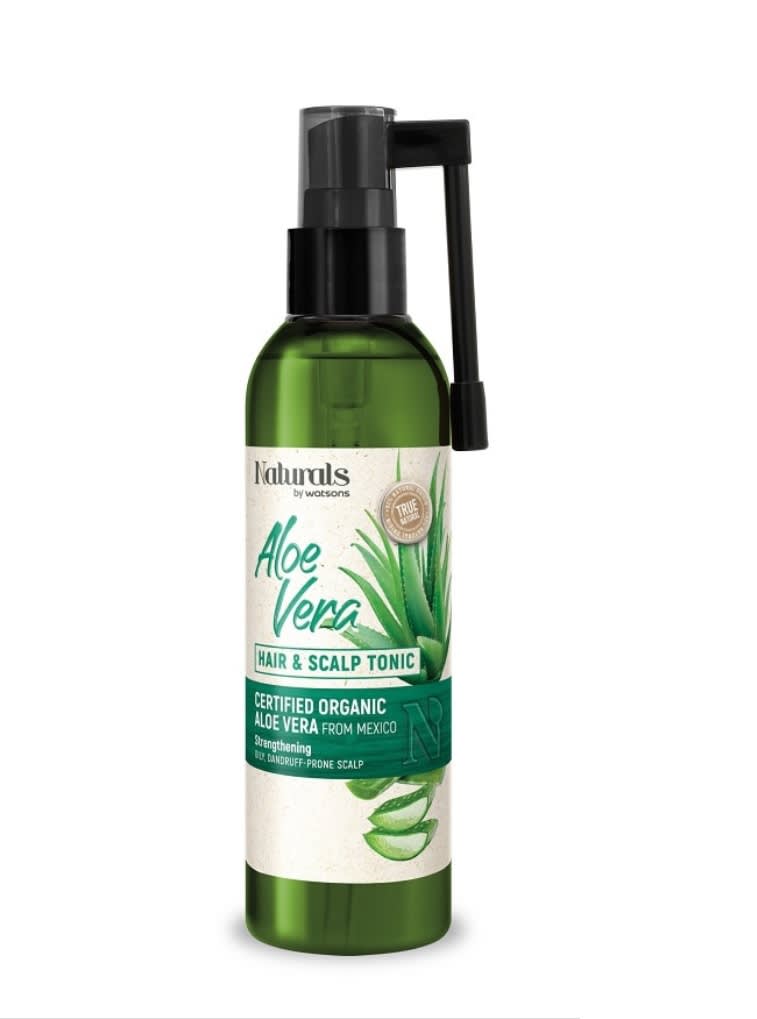 Check Naturals by Watsons Aloe Vera Hair & Scalp Tonic price below:
add_circle
Regulates sebum production for both oily and dry scalp
add_circle
Cruelty-free and vegan formula
remove_circle
Small amount
Overview
Aside from aloe vera which is one of the most soothing ingredients in the beauty market, this hair and scalp tonic also contains a refreshing formula with Piroctone Olamine as the tonic's star ingredient. That's because Piroctone Olamine is a highly sought after ingredient in hair tonics for its anti-dandruff property and that it combats oily scalps well at the same time.
Besides that, the formulation is dermatologically tested and most importantly does not contain 10 harsh ingredients that most consumers are wary of such as parabens, artificial fragrance, sodium lauryl sulphate and phthalates.
Details
Contains aloe vera to soothe the scalp

Utilises Piroctone Olamine to clear dandruff and combat oil scalps

Leaves a refreshing feeling upon application

Free from harsh ingredients  likes parabens and artifical fragrances
Who is this for?
This hair tonic is for those who wants a more shiny mane without breaking their bank. Reviewers have also vouched that this product helps with hair fall. Even though it comes in a small bottle, the results are huge.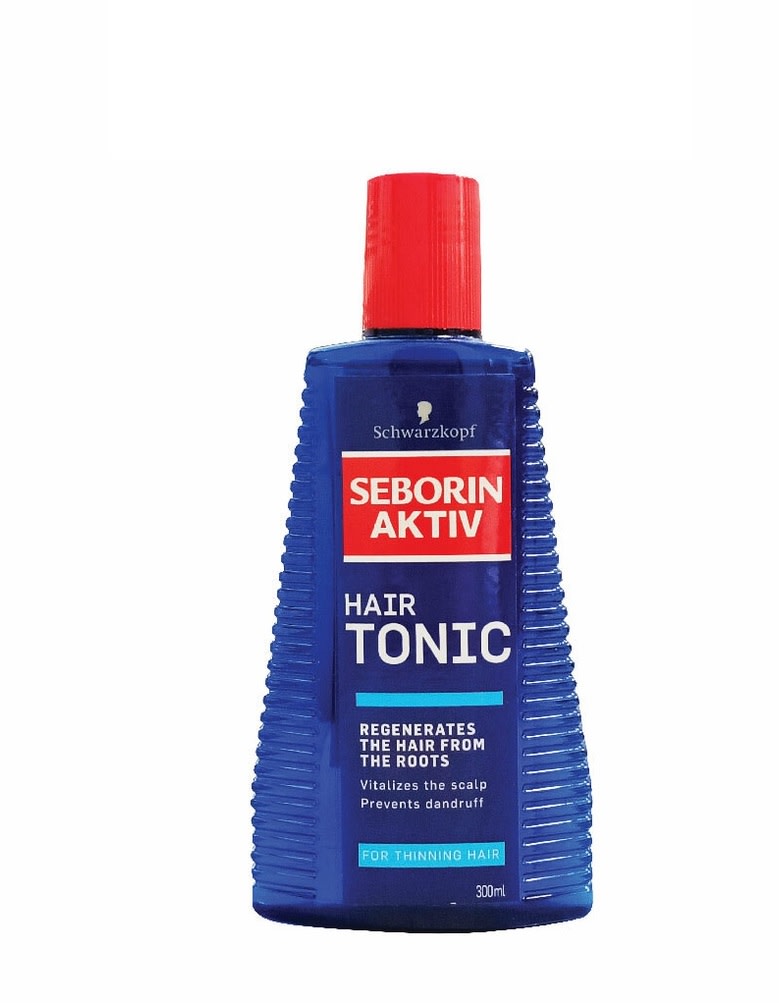 Check Schwarzkopf Seborin Aktiv Hair Tonic price below:
remove_circle
Countless application
Overview
A healthy scalp is a key to promoting hair growth for a head full of healthy and shiny hair. As such, the Seborin Active Hair Tonic contains vitamin B5 and ginger root extract which help users to achieve desirable hair volume by attaining a healthy scalp.
The Vitamin B5 ingredient in the formula penetrates the roots and hair to repair damaged strands from the roots to the tips. On the other hand, its ginger root extract works wonders in strengthening and vitalising the scalp which leaves a volume look for users. Moreover, it also reduces the buildup of flakes on the scalp.
Details:
Reduce build up and flakes

Has regenerative properties
Who is this for?
If you are on a quest to conquer hair fall and longing for a tonic that surprises expectations, the SCHWARZKOPF Seborin Aktiv Hair Tonic emerges as a top choice. The formula can cater to diverse hair types, and this tonic proves its effectiveness in nurturing healthier, more resilient hair.
Pro-Vitamin B5 is added to this tonic, which makes it a must-have for people who want less hair loss, a well-nourished scalp, and a revitalised scalp. Ginger root extract also has rejuvenating benefits.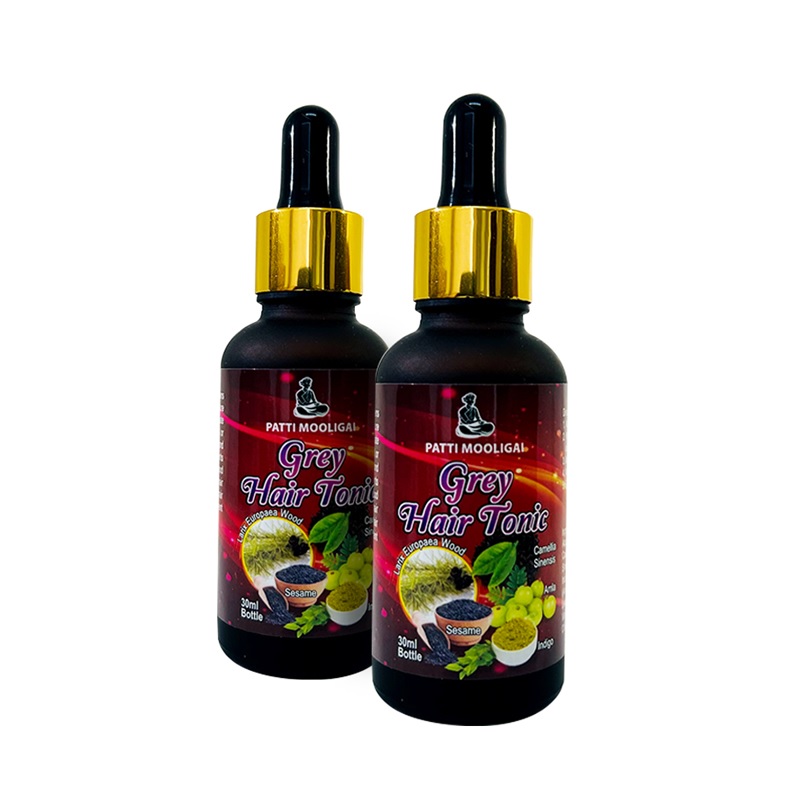 Check Patti Mooligai Grey Hair Tonic price below:
add_circle
Stimulates hair growth
add_circle
Improves blood circulation
Overview
Say hello to the Patti Mooligai Grey Hair Tonic, your key to achieving thick hair and graceful ageing. Comes in a water-based texture, this hair tonic fortifies the scalp and hair and addresses premature pigment loss, which is mainly beneficial for those with grey hair concerns.
Enriched with the goodness of Sesame, Indigo, and Camellia Sinensis, it's a nourishing concoction that stimulates hair growth by enhancing blood circulation in your scalp.
Details
Water-based tonic

Strengthens the scalp and hair

Reduces premature pigment loss
Who is this for?
If you are searching for a solution to encourage hair growth and combat the challenges of grey hair, this Patti Mooligai Grey Hair Tonic product has come to the rescue! Whether you notice premature pigment loss or wish to invigorate your hair's natural growth process, this tonic offers a multifaceted approach.
It is an ideal choice for individuals who want to promote hair vitality and embrace their changing hair colour with grace.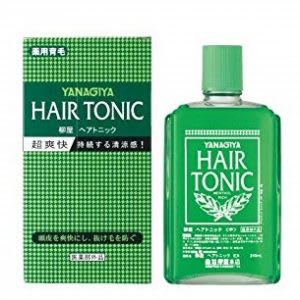 Check YANAGIYA Hair Medicated Hair Growth Tonic 240ml price below:
add_circle
Reduce hair loss and thinning
add_circle
One stop solution for hair
remove_circle
A bit pricey
Overview
Established in 1615, Yanagiya has almost 400 years of experience in developing and manufacturing effective hair care products. Known especially through this one product; their Medicated Hair Growth Tonic prevents hair loss, improves blood circulation, repairs and protects damaged hair from the harsh environment.
Details:
Cocktail treatment essence for all-round hair health

Formulated with natural organic plant extract

Nourishes and stimulates scalp for blood circulation to promote hair growth
Who is this for?
This product is best for strengthening fragile hair, covering bald patches, moisturising and eliminating dandruff. Another plus point is that this Yanagiya's hair tonic helps to prevent an oily and itchy scalp. In short, it is a crowd favourite as it targets most hair problems.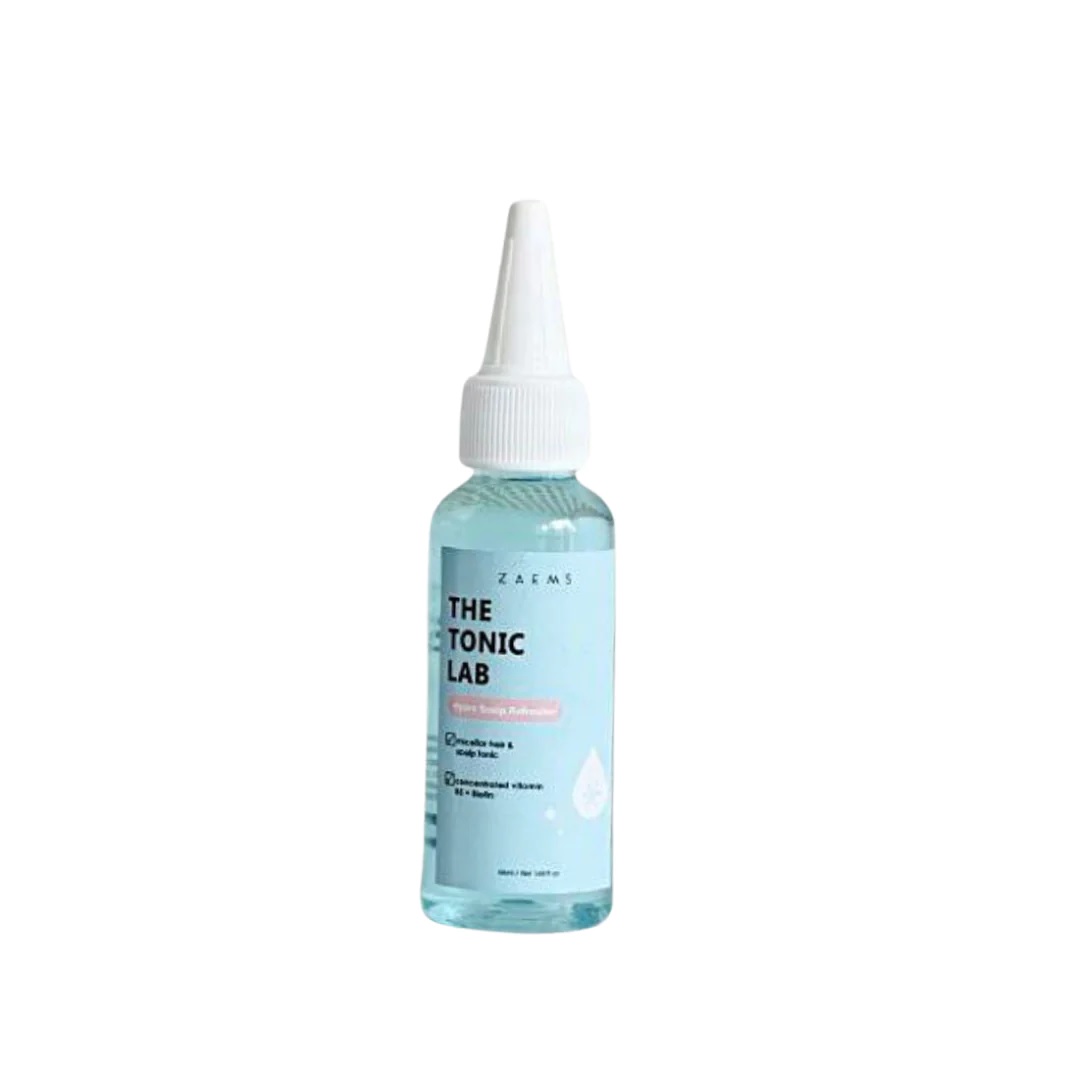 Check ORIGINAL The Tonic Lab Zaems price below:
add_circle
Lightweight and refreshing scalp tonic
add_circle
Stimulates hair growth and enhances hair health
Overview
Look no further if you seek an effective solution for those persistent flakes on your scalp. This toner by ORIGINAL The Tonic Lab is meticulously designed to combat dandruff and uplift your hair game. Moreover, this lightweight tonic offers more than an anti-dandruff solution as it is packed with nutrients that invigorate your scalp, foster hair growth, and promote overall vitality.
Upon each application, relish the refreshing sensation of a cooling 5°C embrace while your tresses gleam with lustrous brilliance and your hair roots grow stronger with consistent usage.
Details
Provides a cooling sensation of 5°C upon application

It contains Vitamin B5 and Biotin for a strong and hydrated scalp

Long-term use improves hair structure and resilience
Who is this for?
Are you tired of battling dandruff, itchy scalp, and hair fall? Worry no more as the ORIGINAL The Tonic Lab Zaems can solve your problems. Packed with the goodness of Vitamin B5 and Biotin, this hair tonic caters to individuals seeking to nurture their hair roots, maintain a hydrated scalp, and say goodbye forever to hair fall worries.
You will achieve a healthier scalp, stronger roots, and hair that exudes resilience and radiance with constant usage.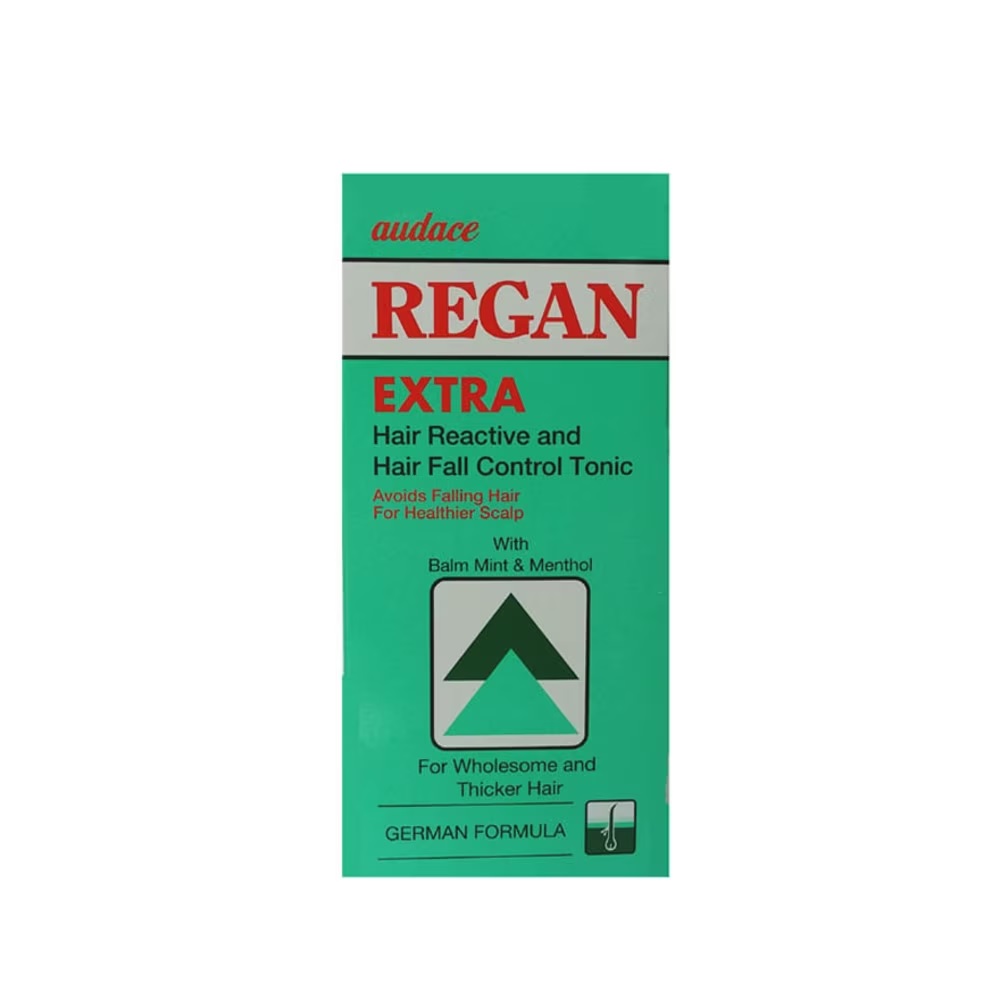 Check Audace Regan Extra Hair Reactive and Hair Fall Control Tonic price below:
add_circle
Reducing hair fall
add_circle
Maintaining healthy scalp
Overview
Unlock the secret to healthier, revitalized hair with Audace Regan Extra Hair Reactive and Hair Fall Control Tonic. A true gem from the drugstore shelves, this tonic culminates in extensive research and development in Germany.
It is made to nourish the scalp, breathe new life into your hair, and effectively manage premature hair fall as it is infused with a potent blend of vitamins, nutrients, minerals, and antioxidants. With an easy application process and no need to rinse, this tonic offers a convenient and hassle-free solution for those seeking to improve their hair's resilience and vitality.
Details
Formulated with essential vitamins, nutrients, minerals, and antioxidants

Easy application: massage onto the scalp for 3 minutes. No rinsing required

Includes a variety of natural extracts for comprehensive hair care
Who is this for?
If you're on the hunt for a reliable and effective hair tonic, Audace Regan Extra Hair Reactive and Hair Fall Control Tonic should be at the top of your list. Whether dealing with premature hair fall or simply aiming to revitalize lacklustre hair, this tonic can be your trusty companion. Embrace its nourishing blend and welcome the opportunity to promote healthier, more resilient hair.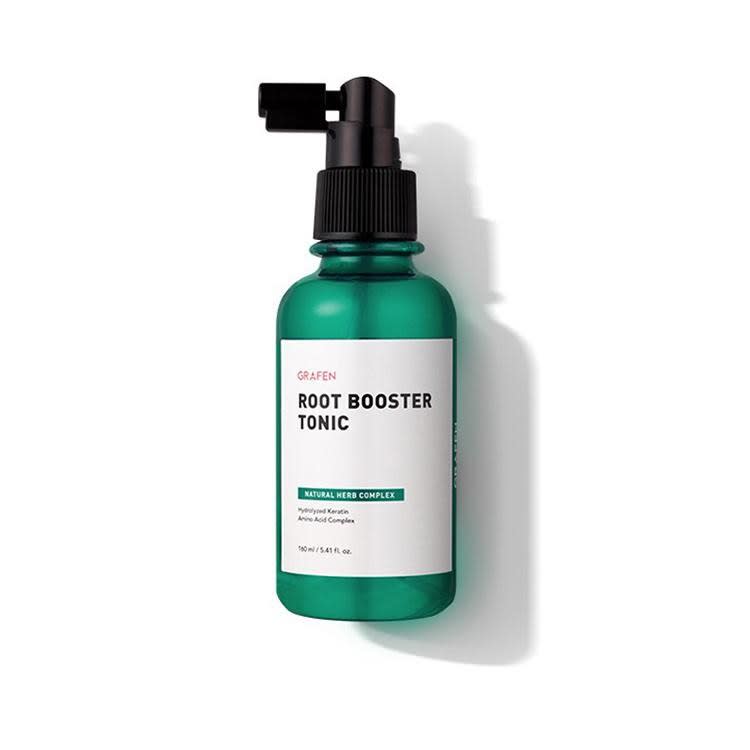 Check GRAFEN Root Booster Hair Tonic price below:
add_circle
Cools down heated scalp
add_circle
Prevents flakes and itchiness
add_circle
Contains keratin for stronger hair
remove_circle
The smell may be too strong for some
Overview
This hair tonic by GRAFEN is formulated with natural herb extracts and amino acids which help cool down the scalp by 20 degrees. It can also reduce sebum and irritation and prevent itchiness. Additionally, the formula also contains keratin, an ingredient known for strengthening hair to prevent loss and breakage.
Details
Contains natural herb extracts and 17 amino acids to cool and clean the scalp

Contains keratin to strengthen the hair and stimulate hair growth

Free from artificial pigments and fragrances
Who is this for?
If you suffer from inflammation or even itchiness, this tonic is great because it contains ingredients that help cool down the scalp, control sebum production and reduce flakes. It's also recommended for those with thin or weak hair because the tonic contains keratin that can strengthen hair and stimulate growth.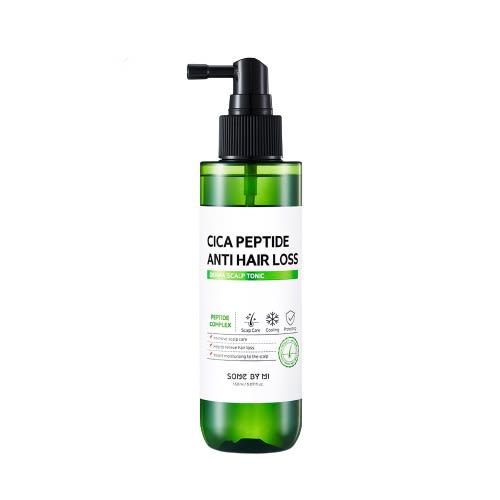 Check Some By Mi Cica Peptide Anti Hair Loss Scalp Tonic price below:
add_circle
Provides elasticity, moisture and strengthens the scalp skin barrier
add_circle
Comes as a spray form with a fresh finish without stickiness
Overview
The Some By Mi Cica Peptide Anti Hair Loss Derma Scalp Tonic is a popular hair tonic option for being able to deliver ample hydration and promote an overall healthier scalp. Its ingredients are thoughtfully selected to combat the causes of hair loss like heat and irritants.
Furthermore, the formulation contains a complex with 11 types of peptides as well as Biotin and vegetable proteins to provide nutrients for strong hair and a healthy scalp.
Details:
Contains

menthol ingredient to provide a cooling sensation to the scalp heat

Has concentrated CICA to calm down the scalp
Who is this for?
Some By Mi Cica Peptide Anti Hair Loss Dema Scalp Tonic contains high-quality formulation to combat the primary causes of hair loss. You can now say goodbye to hair loss days with this hair tonic.
---
FAQ:
- What is a hair tonic?
Hair tonics are typically formulated to help stimulate hair growth by reinvigorating the scalp. Because the hair in its bad state would usually be thinning, breaking apart at the ends, or falling off more than usual. 

In that case, general hair tonics give a boost in moisture to protect the scalp as well as hair follicles. 

Most often than not, the tonics are made with herbal ingredients to ensure that the scalp does not suffer from further irritation

The end result for many hair tonics are usually to increase moisture for dry hair, lubricating a dry scalp, dandruff control and reducing split ends or broken hair.
Related articles: