Your hair goes through multiple phases throughout the day which may have damaging effects such as hair fall. It can also cause your hair to become frizzy and dry if proper care is not given. If anything, it is just as crucial that you give your hair the same care as you would to your face and your body. 
Longing for your hair to look as vibrant and fresh out of a hair salon? Hair serums can lend a helping hand in fixing distressed locks, helping you to achieve and maintain luscious-looking tresses. They mimic the function of a hair supplement that boosts hair growth whilst ensuring a healthy mane. 
Read on to know our quick reviews on the best hair serums that will help your hair gain back its natural lush! 

---
9 Best Hair Serums in Malaysia 2023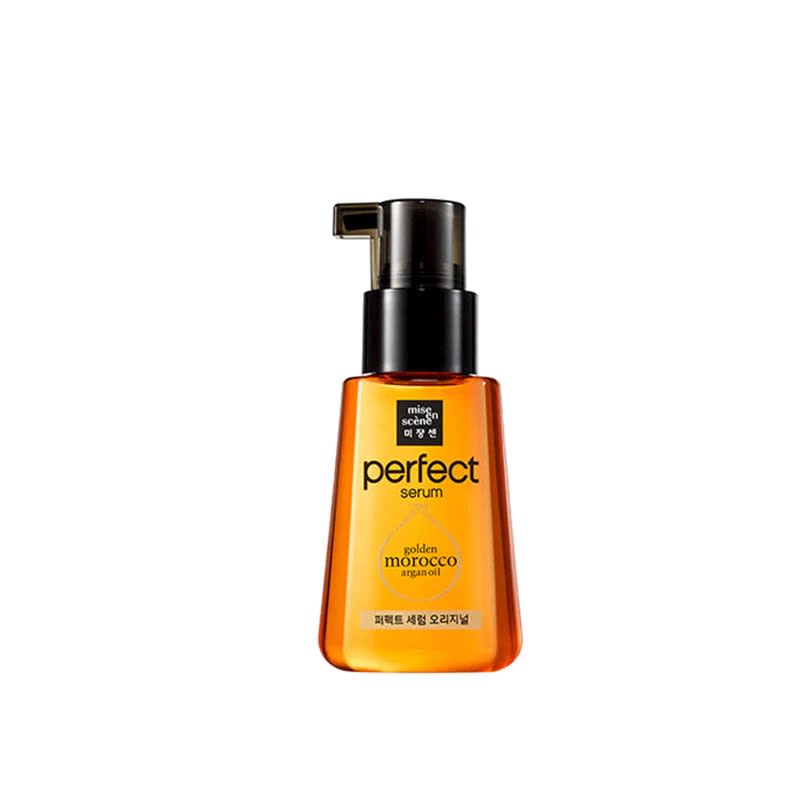 Check Mise En Scene Perfecting Serum price below:
add_circle
Deeply nourishing
add_circle
Protects hair against the Sun
add_circle
The high user satisfaction rate
add_circle
Awarded by Beauty Awards and Elle Girl
remove_circle
The smell is preferential
Having a daily routine of being outdoors can cause your hair to be exposed to the environment's harsh elements. This can cause damage to your hair which in turn, leads to stubborn tangles and brittle ends. 
The Mise En Scene Perfect Serum Repair solves these problems by repairing and reviving damaged hair. It further protects your hair by enhancing its strength so it can be less susceptible to further damage. 
Although the concoction is oily, users of the serum found after-results to be impressive especially due to its lightweight that does not cause the hair to limp. The serum absorbs quickly into the hair without leaving a greasy effect. Additionally, many found that their hair feels much softer, smoother, healthier and frizz-free right away after applying the serum.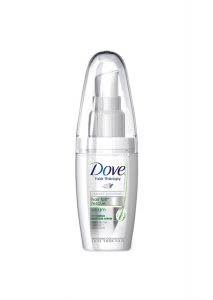 Check Dove Nutritive Solutions Hair Fall Rescue Serum price below:
add_circle
Proven to work well
add_circle
Protects hair from friction caused by brushing
add_circle
Nourishes hair
Dove's Nutritive Solutions Hair Fall Rescue Serum works best in treating hair fall concerns. The serum's formula nourishes your strands to reduce and repair hair damage, leaving it stronger and resistant to hair fall, thanks to its MicroMoisture Serum. 
An uncommon feature in hair serums, this formula also protects your strands from friction caused by frequent brushing. 
A result you can achieve with this serum is smoother and shinier hair that is more vibrant due to its lightweight and non-greasy formula. Not only that, but serum also has been proven to reduce hair fall by 98%. So, yearning for beautiful, healthy and more radiant-looking hair that protects against hair fall? Look no further!
Reviews vouch for the serum's effectiveness in smoothening and softening their hair. This hair growth serum also has a long-lasting effect in detangling hair and thus, avoiding hair fall.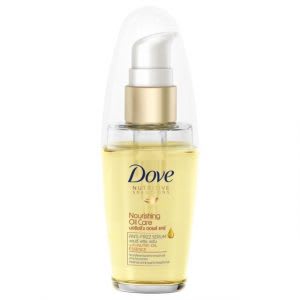 Check Dove Nutritive Solutions Nourishing Oil Care Dry Hair Serum price below:
add_circle
Adds a healthy shine
Ever desired for a naturally glossy hair? Look no further! Dove's Nutritive Solutions Nourishing Oil Care Dry Hair Serum promises to boost your hair in looking healthier and shinier! All it takes is just a few drops of this non-greasy formula, and work it through your hair. The effect is smoother strands of hair with added shine and improved manageability.
The serum penetrates into each strand while protecting the surface, then leaving it nourished and silky smooth with lesser flyaways, thanks to its compact moisturizing lipids. A bonus is that the serum is filled with fresh fruit and floral fragrance. Shinier hair with an effervescent scent? Why not?
Users found that the serum helps immensely for dry hair that goes through a lot of tangles. The affordable product also adds a healthy shine and smoothness to the hair. If one is interested, many do agree that the serum works best before blow-drying or straightening.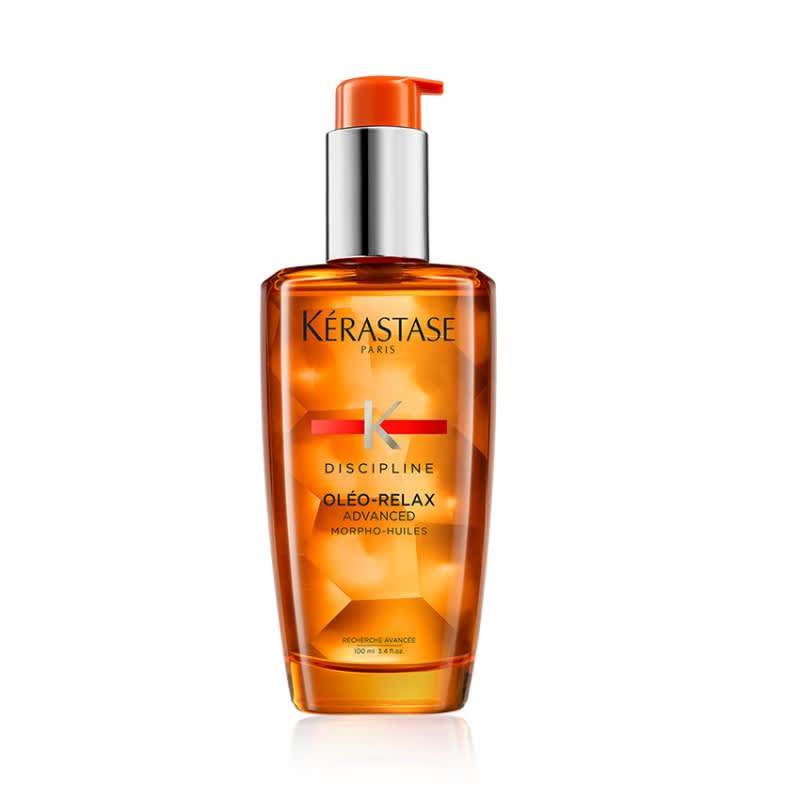 Check Kerastase Discipline Oleo Relax Serum price below:
add_circle
Reduces volume and tangles
add_circle
Tames rebellious hair
add_circle
Leaves hair glossy and soft
remove_circle
Contain silicone derivatives
Contrary to a popular belief, curly hair is actually one of the most fragile hair types to have. They lack moisture, explaining the natural curl. And with the lack of moisture, extra care is needed. 
So if you're looking for a serum to tame your curly locks, look no further than the Kerastase Discipline Oleo Relax Advanced Serum. The serum minimizes unnecessary hair volume and detangles hair knots. It also provides smoothness to your strands that are also guaranteed long-lasting frizz protection while leaving hair looking glossy and soft. 
Most have found that their hair feels softer and more manageable, with some even claiming that their hair feels lighter and silky-smooth after application. However, some have noted that the serum should suit those with finer hair the best, as it does little to condition and control frizz for thicker hair.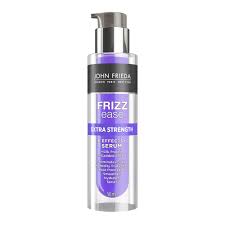 Check John Frieda Frizz Ease Extra Strength Serum price below:
add_circle
Highly-rated for effectiveness
add_circle
Conditions hair well for future protection
John Frieda Frizz Ease Extra Strength Serum is known for instantly eradicating the hair of its frizziness, amongst many other benefits. 
With just a coin-size of the amount of serum that is to be applied onto wet hair, it prevents damage from heat styling, wards off humidity, smoothens the strands, hydrates and controls flyaways. In its concoction of silk proteins and seaweed extract, the serum works to transform unmanageable tresses into gorgeous and silky tresses.
The serum has garnered positive reviews in protecting hair against heat damage and dry ends. It also protects hair from being anti-frizz and thus, conditioning it to look sleeker and shinier.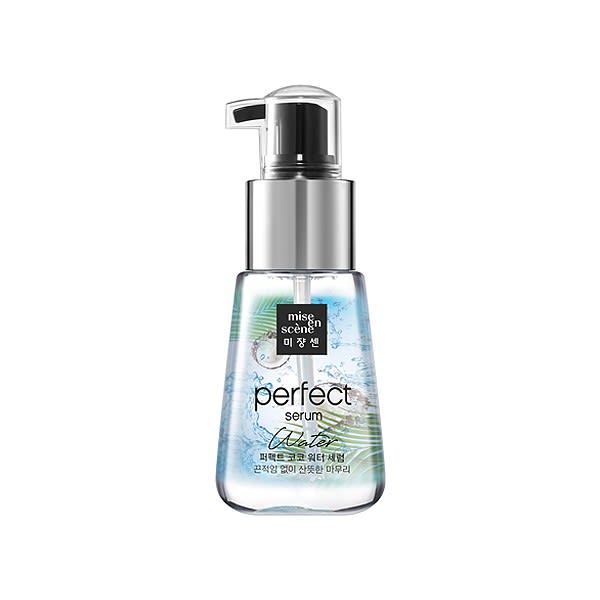 Check Mise En Scene Perfect Coco Water Serum price below:
add_circle
Hydrating and moisturising
add_circle
Lightweight formula
add_circle
Easily absorbed
add_circle
Non-greasy finish
Mise En Scene Perfect Coco Water Serum is a water-based serum that's designed to improve damaged hair without any tinge of stickiness. Useable before or after hair-styling, this serum works through the hair like water, reducing the risk of oily, limp hair after application. 
Instead of other rich oils, this serum contains 200 times the amount of coconut water as compared to Mise En Scene's Original Perfect Serum that works best for intensive moisturizing purpose. To top that, the serum also leaves behind a fresh aqua floral scent that'll last all day.
For those who wish to have a serum with ultra-light texture, this serum fits the said context. Users have found that the watery and non-sticky consistency truly does not weigh the hair down. 
With that, it's highly suitable for our tropical humidity. Despite its high content of coconut oil, this serum for dry hair does not bear any coconut scent. Rather, there's a refreshing and aquatic-floral scent instead.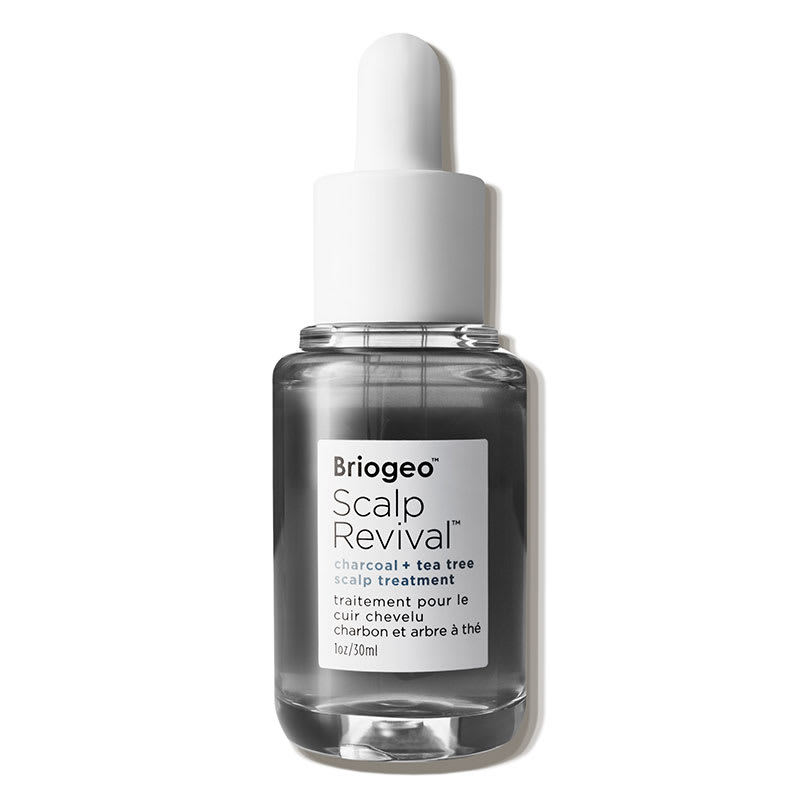 Check BRIOGEO Scalp Revival Charcoal+Tea Tree Scalp Treatment Serum price below:
add_circle
Safe for colour-and keratin-treated hair
add_circle
Relieves scalp itch
add_circle
Uses many natural ingredients
add_circle
Helps to nourish the scalp
Dandruff is usually caused by a dry scalp or hair that's not shampooed enough. This annoying issue also causes major itchiness and irritation too. In this case, you'll need a product to help restore health to that scalp.
This hair serum is a unique blend of charcoal-infused scalp that detoxifies, soothes and balances the scalp to achieve optimal scalp health. Utilising on Binchotan charcoal, it withdraws the impurities from the scalp and hair follicle to eradicate build-up. 
Ensuring a comfortable user experience, the cooling mix of both peppermint and spearmint oils in the formula helps to decrease scalp itchiness. Meanwhile, its tea tree oil capabilities grants antiseptic and healing properties for the scalp to reduce scalp irritation and inflammation. 
Finally, there's Witch Hazel water too, which helps normalize the oil production to minimize occurrences of an oily scalp. Other key ingredients include sodium hyaluronate and aloe for hydration and super-vitamin Biotin to nourish hair follicles.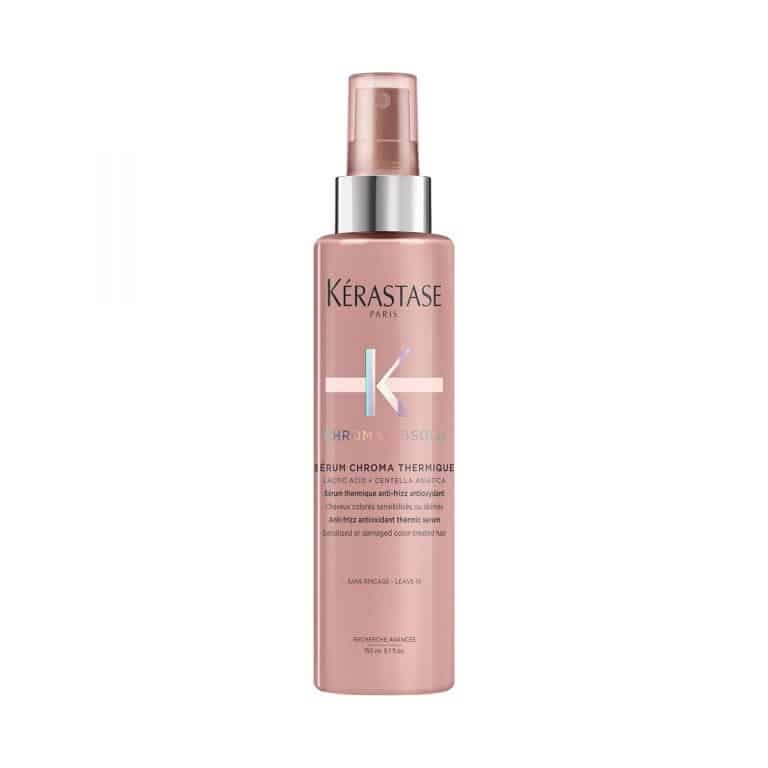 Check Kerastase Chroma Absolu Serum Chroma Thermique price below:
add_circle
Lightweight formula
add_circle
Helps protect colour from fading
The Kerastase Chroma Absolu Serum Chroma Thermique is specially formulated for colour-treated hair. It's an anti-frizz, antioxidant thermic leave-in serum that helps to preserve the colours in your hair and shield it from external aggressors like UV rays, heat, and humidity.
The formula contains lactic acid which helps to smoothen and seal the surface of the hair fibre, making it more manageable and less frizzy. There is also Centella Asiatica in the serum which helps to repair the individual hair strands to prevent breakage.
Besides adding moisture to the hair, this serum also dissolves dulling deposits that can make your hair look lacklustre. Some users say that it also works as a heat protectant so you can style your coloured hair without worry.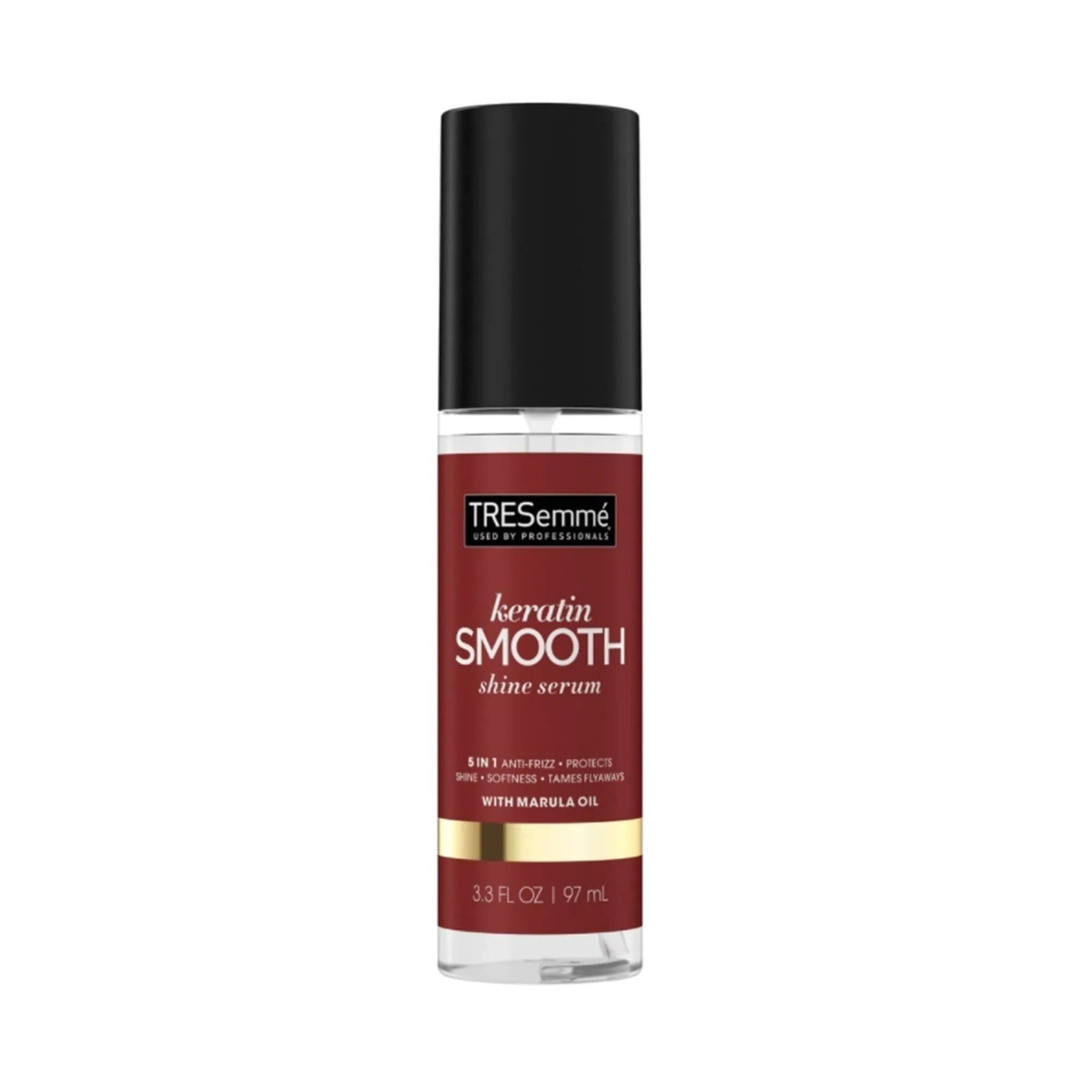 Check Tresemme Keratin Smooth Serum price below:
add_circle
Has a non-greasy formula
remove_circle
Contains a silicone derivative
Keratin is a protein that is found naturally in our hair and nails and it's responsible for preventing breakage, frizz and heat damage. This Tresemme Keratin Smooth Serum is a great way to apply keratin directly to your hair to smooth any frizz and add additional softness.
It's designed with a non-greasy formula so it's lightweight and won't leave your hair looking oily or feeling heavy. If you have super dry hair, you'll like that this serum can instantly hydrate your hair and leave it smooth all day long.
Some users swear by this serum, especially those who have dry and frizzy hair because it can tame the frizziness and leave hair soft for a long time. As a bonus, the serum also leaves a nice fragrance on your hair after application.
FAQ:
-
Tips on how to use hair serum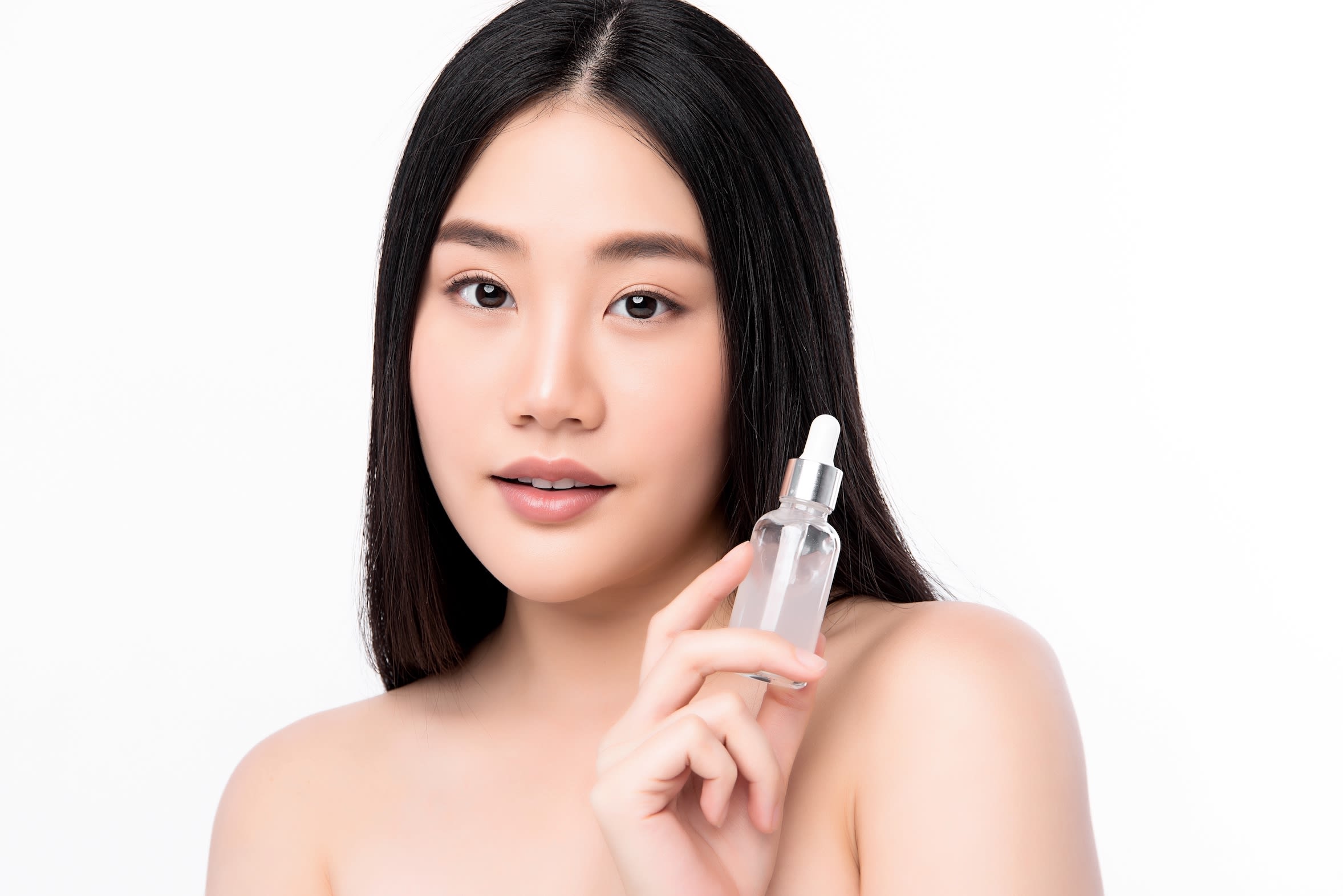 Hair serums contain active ingredients that penetrate deep into your hair. These ingredients can help to control frizz, repair hair damage, aid in achieving various hairstyles and shield your hair from environmental stressors. Below is a list of tips on how best to use hair serums.
Choose and Pick:
The first and most important step is to know your hair type and concern. Only then, will you be able to choose the right hair serum and thus, allowing your hair to reap the utmost benefits that the particular serum has to offer. 
Most hair serums are technically silicone-based products that work to smooth out coarseness and flyaways. Therefore, it is important that you choose a hair serum that suits your hair type perfectly.
Wash:
The next important step is to ensure that you give your hair a good wash before you apply the serum. If serum is applied to unwashed hair, it defeats the beneficial properties of the serum since they are used to protect clean hair from the harsh effects of the environment. Thus, remember to shampoo and condition your hair first prior to applying the serum.
Smother:
Last but not least, it's time to apply some hair serum! It's important to not apply too much, so you can start with about a 50mm size puddle for chin-length hair. 
It's best to start from the ends of your hair and slowly work your way up towards the mid-section of your hair. Do not apply the serum onto your scalp as it will cause your hair to look limp and oily. Fluff your hair for volume after, if you wish.
Now that your hair is looking as shiny and glossy as those models on the covers of fashion magazines, go ahead and style your hair accordingly and you are ready to run the town!
---
- What to Look For In a Hair Serum For Your Hair Type?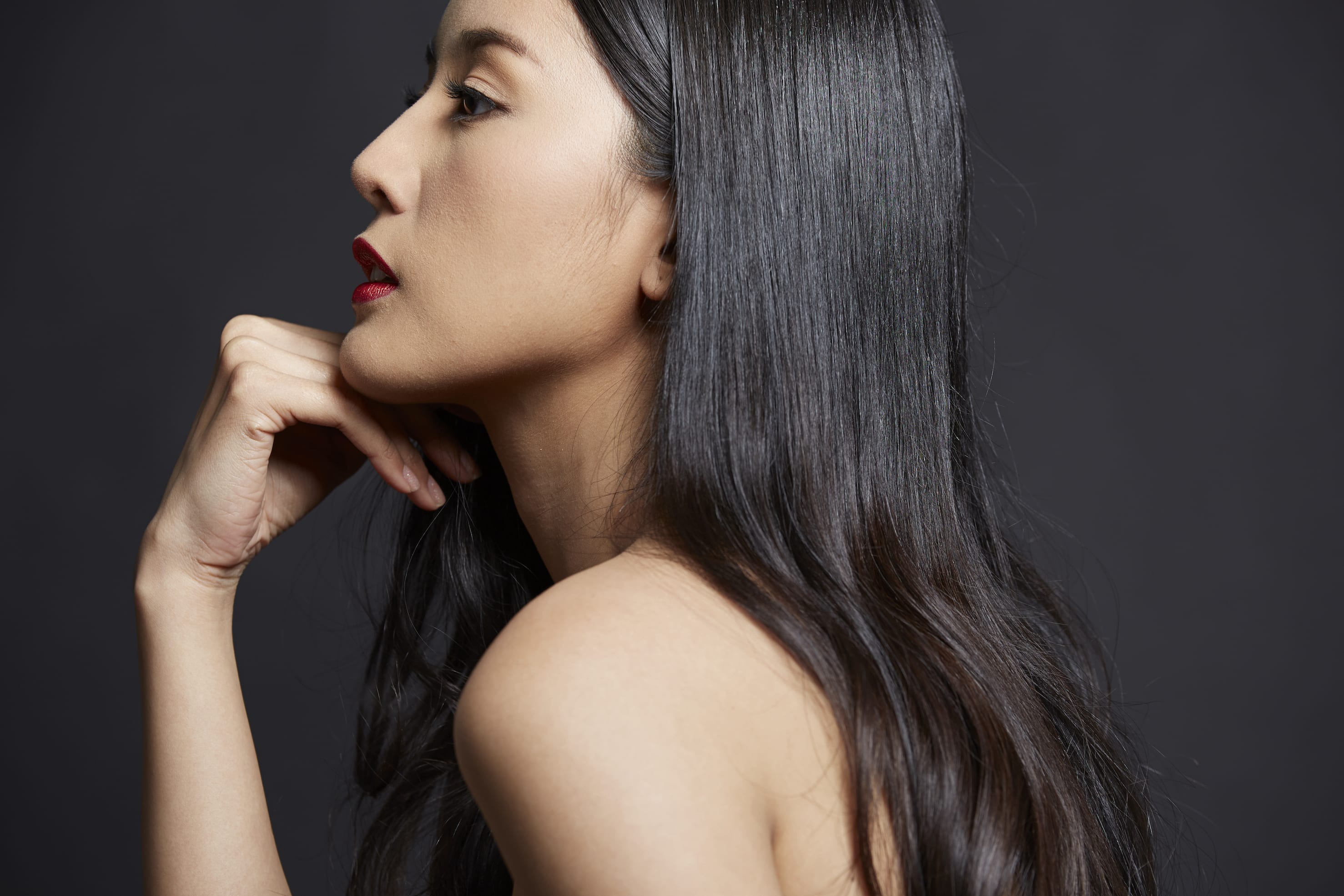 As there are plenty of hair serums with the same purpose, it may get confusing as to which serum to pick for your hair concerns. Here is a list of features to look for in a hair serum for your hair type.
Thin, limp and frizzy hair:
With volumising in mind, it is important to choose a serum that doesn't weigh your hair down as thin hair typically faces problems like flat hair in need of some serious volume.
Skim through the ingredient list for Cyclomethicone, a lighter silicone option that will not weigh thin hair down and avoid heavier silicones like amodimethicone or dimethicone. 
You can also look out for formulas with hydrolysed proteins as they play a role in keeping the frizz away. These proteins counteract static change which makes it a good alternative if you want to exclude silicones from your hair care routine. 
Curly hair:
Hydration is key to giving your locks a healthy shine.
Similar to individuals with thin, limp and frizzy hair, a lightweight formula would be the formula of choice to ensure a natural bounce to your curls.
The additions in the formula for this hair type are hydrating, moisturising and nourishing ingredients that will give your mane a healthy glow from within. 
Dull hair:
If you have lacklustre hair, nourishing formulas would be able to bring dull hair back to life as well. 
It's usually in need of some healthy shine, which means it is important to choose a hair serum with ingredients like Argan and Almond oil. These oils help to add shine and smoothen hair. 
Besides that, you can opt for Vitamin E capsules that can be used in hair serum. This helps to boost your hair's vitality, allowing your mane to look more nourished and healthy.
Dry and frizzy hair:
Besides thin and limp hair, dry hair types are also prone to frizz. Hydration and ample moisturisation are important for dry hair types.
First of all, individuals with this hair type should choose shampoos that are not excessively drying such as formulas without SLS. Haircare should be done carefully from washing to styling and care should be given to more fragile hair types. 
Moving on to serums, choose a silicone-based hair serum because it is a thick sealant that acts as an occlusive that prevents water loss and locks in hydration in your hair.
Coloured or damaged hair:
Again, it is imperative to choose shampoos and other hair care products that will prevent further damage to already weakened or damaged hair. So, choose hydrating and nourishing formula for your shampoo, conditioner and hair serum and you're good to go! Treated hair requires hydration and moisturisation. 
If you have thicker hair, choose cream-based formulas that would help bring shine to your hair.
For individuals with normal to thin hair, nourishing oils will be the best option to maintain your hair healthy and keep the colour vibrant for a longer duration.  
---
Related articles