We have to admit, genetics isn't a fair game for all. Some of us are blessed with a great physique, and some are fortunate with an overall attractive appearance while others aren't so lucky. One of the most notorious genetically-linked traits is alopecia (spot baldness) which terrorises both men and women today.
However, we know better than to sit around and accept our fate. Today, there is a lot of modern medicine and technology with ready-made solutions that are packaged into small containers awaiting our consumption for our hair. That's right, hair supplements for hair loss are here to help. 
Here is a list of some of the best-rated hair loss supplements in Malaysia.
---
7 Best Hair Loss Supplements in Malaysia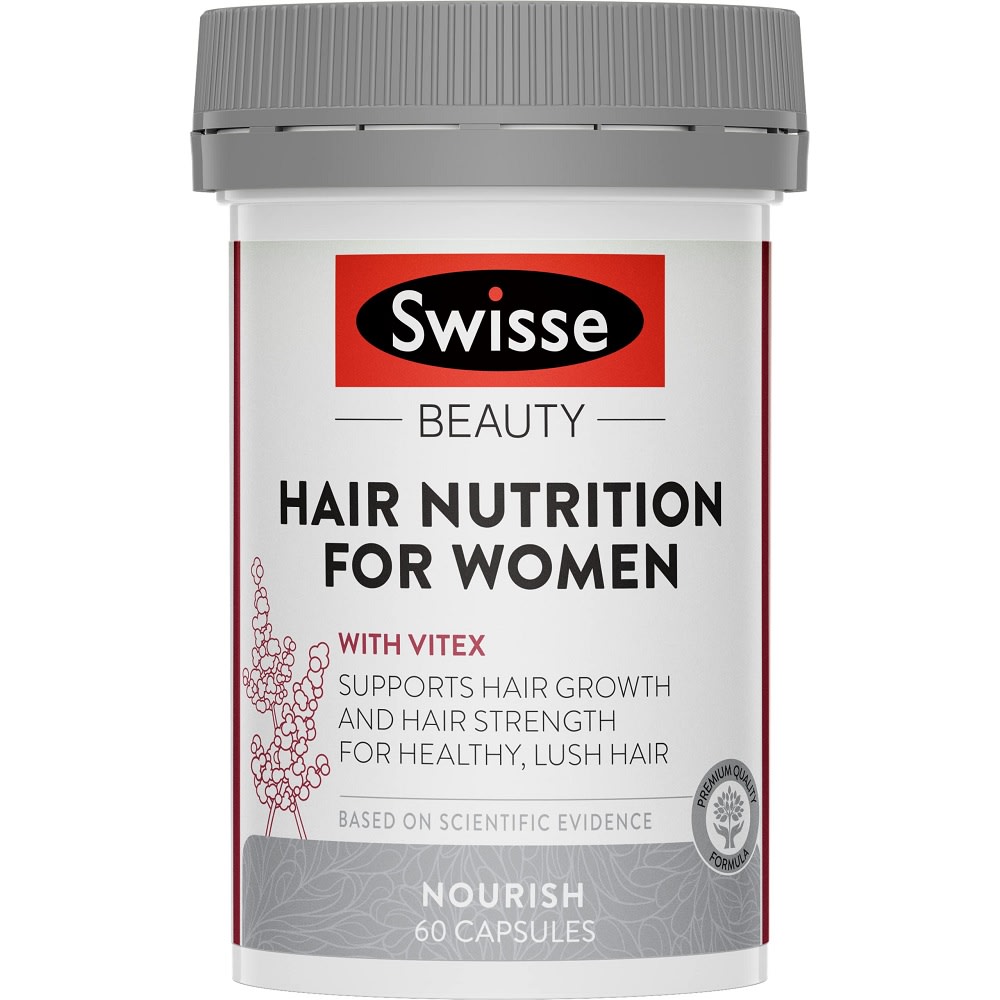 Check SWISSE Hair Nutrition for Women price below:
add_circle
Extensive formulated ingredients
Why It's our top pick
Embrace your hair's full potential with Swisse Hair Nutrition for Women. Made with meticulous care and armed with a diverse array of hair-boosting ingredients, it stands as the ultimate choice for individuals aiming to reclaim their hair confidence.
Transform your hair and nails from within and discover a newfound radiance that speaks volumes.
Overview
For the best healthy and lush-looking hair, the Swisse Hair Nutrition for Women supplement has a formula that contains some of the best ingredients for promoting hair growth and strength.
It has Vitex and Grape Seed extract among the ingredients, as well as other minerals and vitamins that have excellent hair growth properties, so ladies who are self-conscious about their hair can take these supplements to gain more self-confidence!
Details
Amount: 60 capsules

Highlighted Ingredients: Vitex extract, Grape Seed, Vitamin A, Vitamin B5, Vitamin B12, Vitamin C, Vitamin E, Copper, Biotin, Iodine, Iron, Manganese, Selenium, Silicon, Zinc

Dosage: 2 capsules daily, during or immediately after a meal 

No added lactose, gluten, yeast, egg or artificial flavours
Who is this for
The ingredients in this supplement are not only good for hair growth but also nail growth. Those who know they lack these vitamins in their bodies can consider taking these supplements for healthier nails.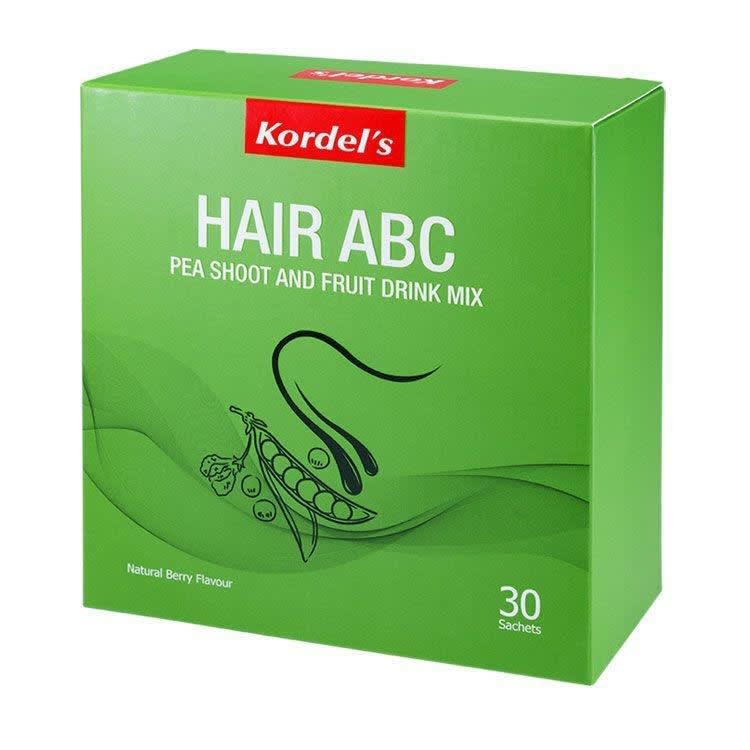 Check Kordel's Hair ABC price below:
add_circle
Is Halal-certified
Overview
If pills or gummy supplements don't sound appealing to you, try out the Kordel Hair ABC Drink Mix instead. It's made from pea shoot extract, which is a natural hair growth enhancer, as well as 5 other essential hair nutrients.
Stimulate hair growth and reduce hair loss by consuming this soluble pea shoot and fruit beverage to rebalance your hair cycle for healthier hair.
Details
Amount: 30 sachets

Highlighted Ingredients: Pea shoot extract, L-cysteine HCL, Bamboo extract, Zinc, Biotin, Vitamin C, Pantothenic acid 

Dosage: 1 - 3 sachets a day, mix with cold water

Naturally flavoured, Sugar-free, Certified Halal by JAKIM
Who is this for?
If you are battling thinning hair and seeking a supplement that provides efficient results, Kordel's Hair Abc 30 Sachet is the ideal choice. The clinical study that involves 21 men and women made by the company has shown the supplement capable of reducing hair loss after 8 weeks.
Plus, combining vitamins such as B5, C, Biotin, and Zinc helps maintain overall healthy hair, supports hair follicle growth, and increases keratin building in the hair. You will only need to consume 2 sachets a day to achieve the best result for the beauty of your hair and get that confidence again!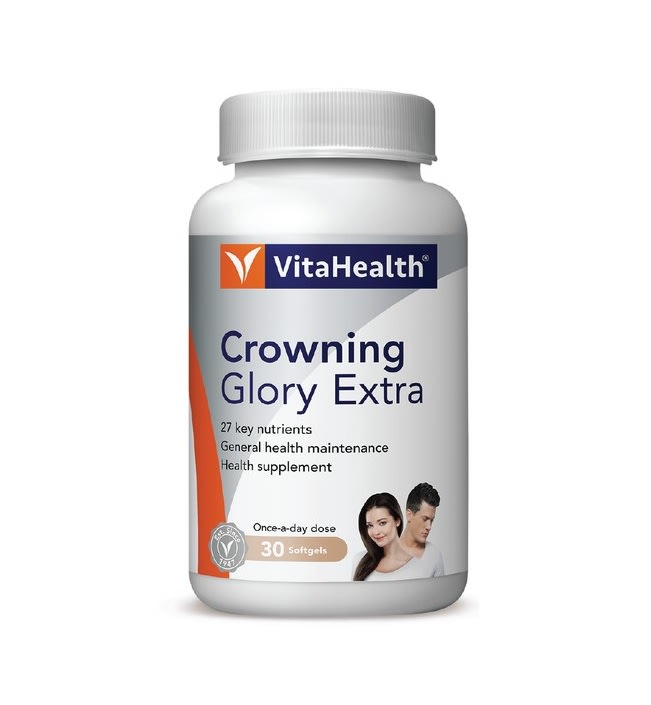 Check VitaHealth Crowning Glory Extra price below:
add_circle
Contains cod liver oil
add_circle
Promotes healthy shiny hair
add_circle
Suitable for men and women
Overview
Hair loss is a universal issue that affects both men and women today. VitaHealth is here to help affected individuals with hair thinning and loss by introducing their complete hair formula with 27 essential nutrients.
It comes in easy-to-swallow soft gels, and each serving consists of a blend of healthy nutrients to combat deficiencies that cause hair problems such as thinning, loss, slow hair growth, scalp dryness, and itchiness. Haircare from root to the shaft is made possible by crucial ingredients such as Selenium, zinc, copper, PABA and silica.
VitaHealth Crowning Glory contains cod liver oil, an excellent vitamin A source. This supplement also allows ample hair growth while promoting shiny-looking hair as it assists healthy scalp sebum production.
Details
Amount: 120 capsules

Highlighted Ingredients:  Vitamin C and E, vitamins A and D (Cod liver oil), linoleic acid (Safflower oil),

Dosage: 1 capsule daily, during or immediately after a meal 
Who is this for?
Are you sick of taking showers and seeing a clump of hair in the drain? Fear not, you may reduce hair loss by consuming this supplement by VitaHealth! It contains 27 essential nutrients: vitamins B, C, and E, Zinc, and many more.
Infused with Selenium, zinc, copper, and PABA, it promotes stronger, healthier, and more vibrant hair from the roots to the shafts. Moreover, it helps prevent damage that is caused by free radicals in your body, such as skin ageing and works as an overall health booster with its Vitamin B.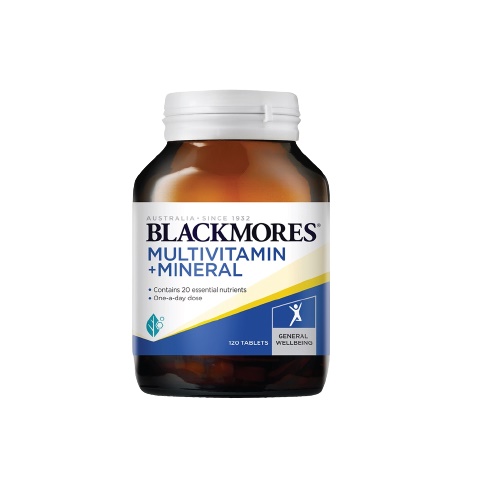 Check Blackmores Multivitamins + Minerals price below:
add_circle
All-round nutritional support
add_circle
Popular and trusted brand
Overview
Do you often get hair loss during the time of the month? Bid goodbye to hair loss as this supplement from Blackmores contains 5mg of Iron to prevent Iron deficiency anaemia, a common cause of hair loss in women. Furthermore, it has other essential vitamins such as Vitamin A, B, C, E, Biotin, and Zinc which are crucial in promoting a healthy scalp, more robust hair for lesser hair loss, and hair regrowth.
The essential multivitamins included in each capsule help to balance out an unbalanced diet in a one-a-day dose, thus making you healthier and contributing to your overall well-being.
Details
Amount: 120 capsules

Dosage: 1 capsule daily, during or immediately after a meal 

No added yeast, gluten, wheat, milk derivatives, preservatives, artificial flavours or sweeteners
Who is this for?
These multivitamins by Blackmores are ideal for women experiencing hair loss due to iron deficiency or hormonal changes, particularly during their menstrual cycles. Apart from women, it is also suitable for individuals who seek comprehensive nutritional support to maintain overall health.
Whether you are aiming for stronger hair or improved well-being, this supplement caters to a diverse range of needs.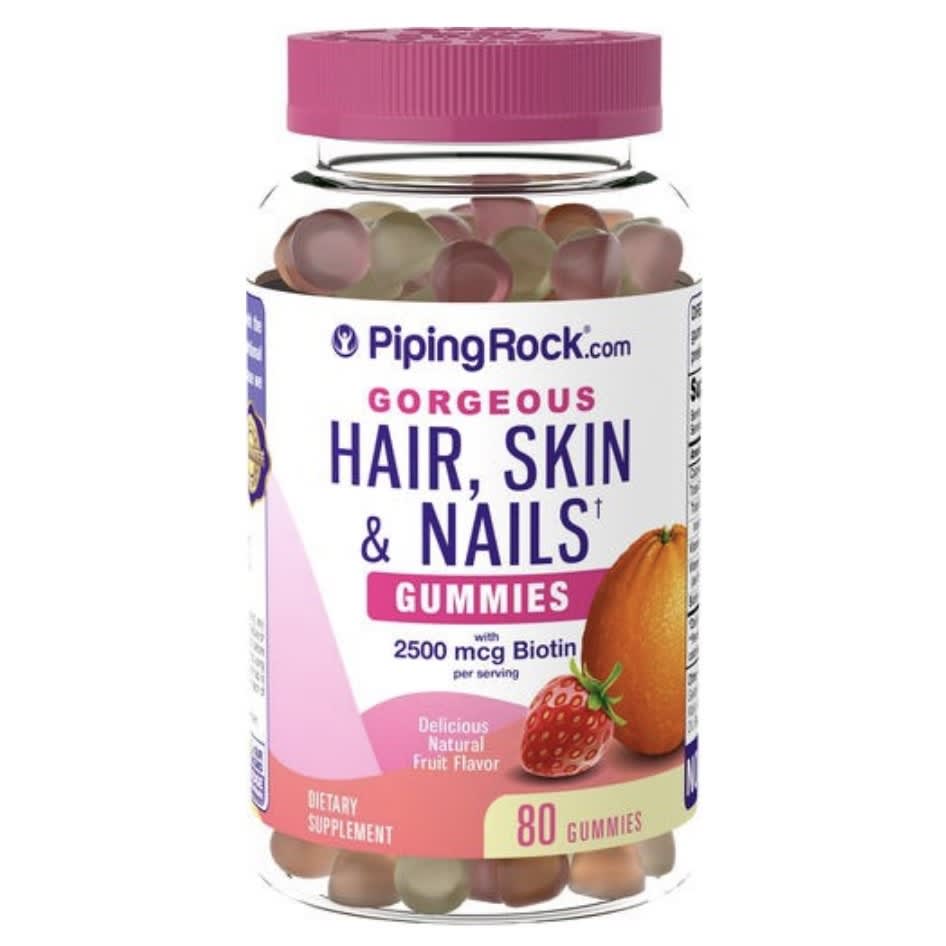 Check Piping Rock Hair, Skin & Nails Supplement price below:
remove_circle
Not suitable for pregnant women
Overview
Hormonal changes can be troublesome to deal with, especially for women who face menopause. Unsurprisingly, changes in menopause can also cause abrupt hair growth. Worry not, as Piping Rock's Hair, Skin, and Nails supplements are packed with nutrients to combat unwanted consequences of menopause.
Each capsule is infused with 5000mcg of Biotin and Moroccan Argan Oil to ensure quality keratin infrastructure of the hair, skin, and nails and play a role in anti-ageing, cholesterol control, and wound healing for better overall health.
Details
Amount: 165 capsules

Highlighted Ingredients:  Vitamin H, B vitamins

Dosage: 3 quick soft gels daily, preferably with a meal 
Who is this for?
If you are looking for a supplement that can enhance your beauty at an affordable price as you need to consume daily, this supplement by Piping is the answer. The brand is famous within the community for being consistent with its supplement performance while keeping its products at a reasonable price.
The supplement is infused with multiple vital vitamins such as minerals, herbs, and other beautifying nutrients, and each capsule has been formulated to deliver smooth, supple skin, luscious locks, and strong nails.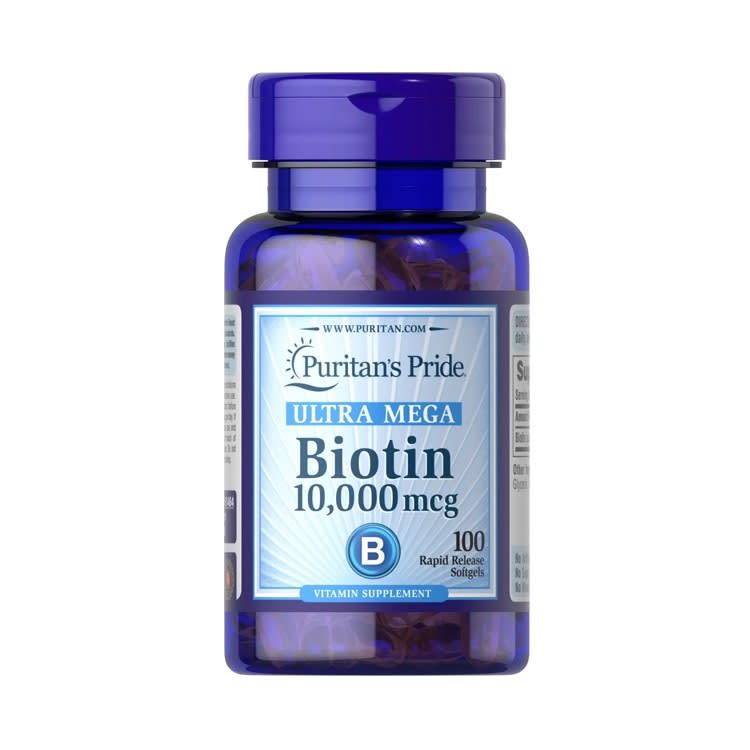 Check Puritan's Pride Biotin price below:
add_circle
Vegetarian friendly
add_circle
Promotes healthy hair, skin and nails
remove_circle
Not suitable for pregnant or lactating women
Overview
Finding the right supplement that aligns with your morals can be tricky. However, vegetarian capsules are in demand these days, and more companies are rising to satisfy consumers' needs with good quality products. Puritan's Pride Biotin is one of the leading vegetarian capsules that combat hair loss and support healthy skin and nails.
This vitamin combats hair loss and secures nail and skin health by improving the body's keratin infrastructure. On top of that, there is a whopping 7500mcg of Biotin in Puritan's Pride Biotin, which is higher than other brands.
Details
Amount: 100 capsules

Highlighted Ingredients: Vitamin H, B vitamins

Dosage: 1 capsule daily, during a meal 

No added Artificial Color, Flavor or Sweetener, Preservatives, Sugar, Starch, Milk, Lactose, Soy, Gluten, Wheat, Yeast, Fish, and Sodium Free
Who is this for?
You may have brittle nails if your nails crack, peel, or just simply weak. There are various reasons why you have nail problems, such as signs of ageing or you polish your nails too often. But do not worry, as this supplement from Puritans has come to the rescue!
Formulated with a high concentration of Biotin, it helps to support hair, skin, and nail health, and as a result, you achieve healthy-looking hair, skin, and nails!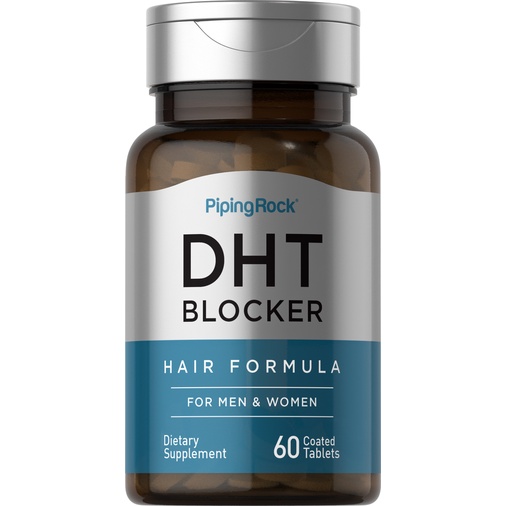 Check Piping Rock DHT Blocker for Men & Women price below:
add_circle
Stimulates hair growth for thicker and healthier hair
add_circle
Easy to swallow
remove_circle
Smells slightly unpleasant
Overview
Some of us struggle with hair loss and need something to thicken our precious crown, whether you are a man or a woman. Worry no more, as Piping Rock has produced a supplement formulated to combat hair loss effectively.
Also, this supplement harnesses the power of science to provide a comprehensive lineup of ingredients, including the potency of Saw Palmetto and Pumpkin Seed. The convenience of coated tablets makes integrating this supplement into your routine effortless. Notably, this supplement is made to be naturally free of gluten, wheat, yeast, milk, lactose, artificial colour, and flavouring, and it proudly bears the non-GMO label.
Details
Amount: 60 capsules

Highlighted Ingredients:  Mineral Support with Zinc and Selenium, Saw Palmetto, Pumpkin Seed

Dosage: 1 capsule daily, preferably with a meal

No added Gluten, Wheat, Yeast, Milk, Lactose, Artificial Color & Flavoring & Non-GMO
Who is this for?
If you're on the lookout for a potent DHT blocker supplement to address hair loss concerns, this supplement from Piping Rock is the ultimate answer. Its meticulous formulation ensures suitability for both genders, enhancing its appeal to broader consumers. Further, with its convenient coated tablets and a commitment to natural purity, this supplement can seamlessly become an essential part of your daily regimen.
---
- Which vitamin is suitable for hair loss/ hair growth?
There are several of them: Vitamin A, Vitamin B family, Vitamin C and Vitamin E; all are important in promoting healthy hair. 
Vitamin A:
They increase the speed of cellular regeneration and synthesis which promotes quicker hair growth for those who suffer from balding.
Vitamin B:
This group of family consists of Niacin, Pantothenic Acid, Biotin, Folic acid and Cobalamin. 
Niacin aids in improving blood circulation to the scalp which nourishes hair follicles for better hair growth. 

Similarly, Cobalamin promotes the synthesis of red blood cells and healthy blood flow which aids in maintaining a well-perfused scalp. This is key to a healthy and nourished scalp for hair growth.

Next, Biotin is popular for its effects on strengthening keratin's infrastructure throughout the whole body. They are essential to maintain healthy nails and skin too. 

On Pantothenic Acid, it combats dandruff and itchy skin to achieve a healthier scalp. 

Meanwhile, Folic acid prevents greying and improves blood flow which is vital for hair growth and prevention of hair fall.
Vitamin C:
They play a role as a stimulant for hair growth after hair loss. 

As a well-known antioxidant, Vitamin C protects the scalp against free radicals, allowing a conducive environment for cellular regeneration and hair growth.
Vitamin E: 
The vitamin is also known to benefit hair health thanks to its antioxidant property. This reduces cellular damage and improves hair growth. 

Furthermore, the fat-soluble vitamin helps support a healthy scalp via its antioxidant property that assists with maintaining hair growth. 

Vitamin E also reduces oxidative stress and free radicals that cause the degeneration of hair follicle cells on the scalp. To add, a small research study done in Dec 2010 shows Vitamin E as an effective supplement in the aid to prevent hair loss.
- Benefits of Vitamin E for hair
The benefits of Vitamin E stems directly from its potent antioxidant property which gives rise to a healthy scalp for better hair growth and lesser hair fall. 

Aside from inducing a head full of hair, Vitamin E also helps to replenish shine to the hair as it facilitates the healthy production of sebum for glossy, healthy-looking hair.
- How does DHT affect your hair?
Dihydrotestosterone (DHT) is a sex hormone that naturally exists in both sexes. 

The variation in its levels results in apparent changes in every individual. Male pattern or female pattern hair loss occurs when there is an excess of DHT production.

High DHT levels can affect the hair follicles as it interferes with the hair growth cycle by shrinking hair follicles and shortening the hair. That also results in easier hair fall and causes difficulty in regrowth.
---
Related Recommendations: