Collagen is a type of protein found in our body that gives our skin the youthful glow and elasticity that we love. Unfortunately, as we age, the production of collagen depletes. Cosmetic procedures can help boost collagen back to our bodies, but a more feasible method would be consuming collagen drinks! Check out this list of the top collagen drinks available on the market!
---
What are the benefits of taking liquid collagen?
By consuming collagen, it can directly provide your body with the essential amino acids it needs to repair connective tissues of the skin. Collagen also helps kickstart the production of collagen again, which affects firming the skin for a more youthful complexion overall. That means a lower chance of wrinkles forming easily!
Other benefits also include easing joint pains as collagen maintains the tissues that protect your joints and boosts strength in your bones. Your hair and nails will also be fortified as you lower the chances of having weak, brittle hair and nails. Some even say that you promote faster growth of them too!
More: 8 Retinol Products Not To be Missed In Your Skincare Routine
---
11 Best Collagen Drinks in Malaysia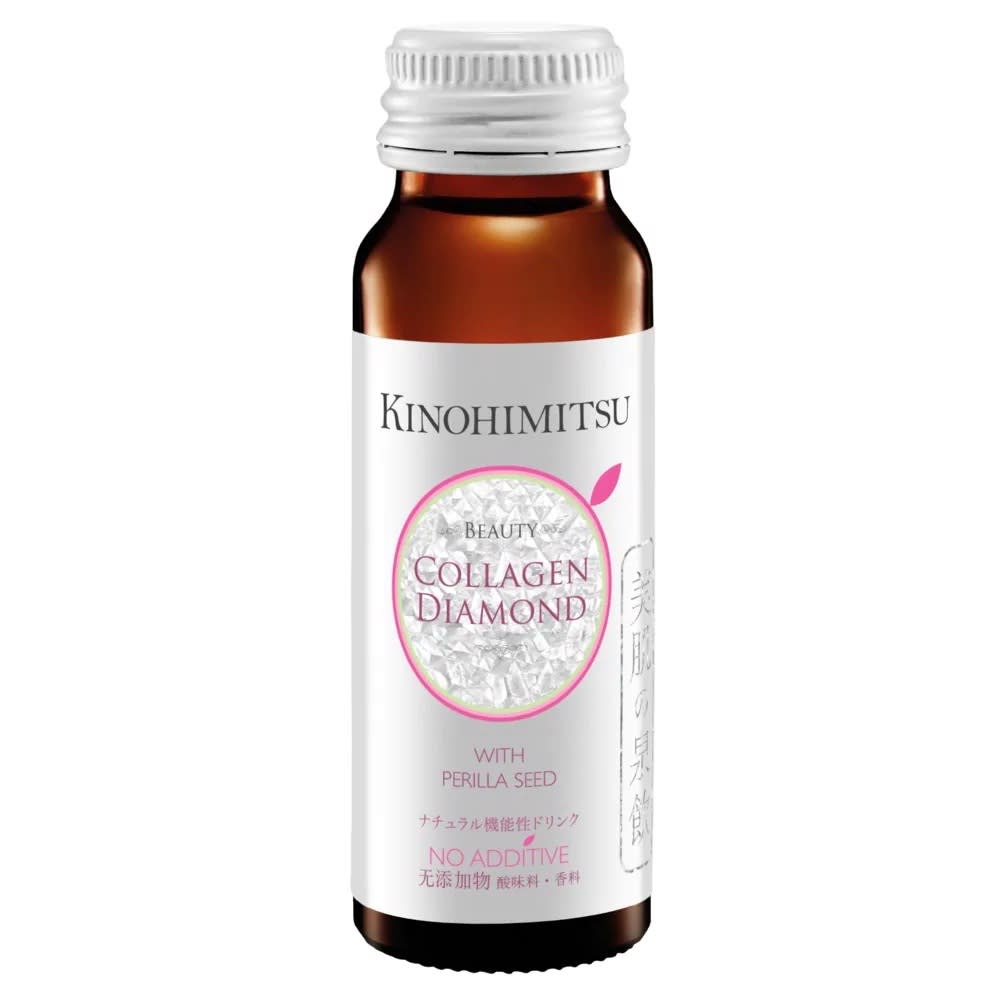 Check Kinohimitsu Japan Collagen Diamond 5300 Drink price below:
add_circle
Proven results in 2 weeks
add_circle
Improve skin dryness overall
add_circle
Strengthen skin barrier from free radicals
Hydrolysed collagen, also known as collagen peptides, are amino acids that have been broken down to be more easily absorbed by your body as compared to taken other sources of collagen such as certain meat. And if you'd like to improve mainly your bones and joints, collagen is proven to reduce joint pain commonly caused by osteoarthritis.
Of course, for the ladies, collagen has many benefits to the skin and hair. You can look to consuming the Kinohimitsu Collagen Diamond 5300 drink. It's quite popular as it contains collagen peptides with a shorter molecular structure for better absorption. Moreover, there's lychee and perilla leaves infused into the drink. Both ingredients work in tandem to promote resistance against free radicals from the skin and better digestion.
This collagen drink works to promote collagen production and reduce the appearance of wrinkles and skin dryness.
Details:
50ml x 16 bottles (RM8.8 per bottle)

Promote collagen production and repair collagen fibres
Reduce the appearance of wrinkles and skin dryness
Promising review: "After two weeks, I find that my skin feels softer to the touch and that my overall complexion looks brighter and more awake." - Aimee Phan, Daily Vanity SG.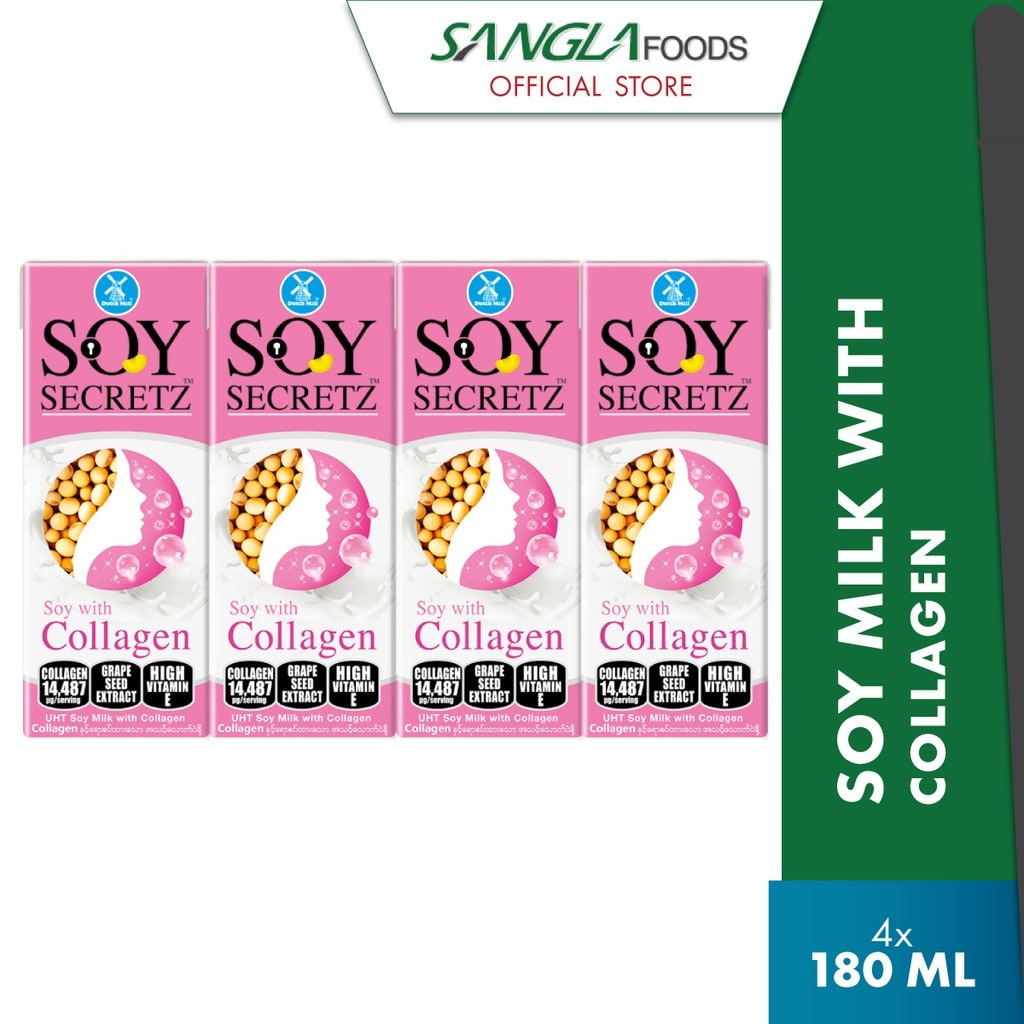 Check Soy Secretz Soy Milk with Collagen price below:
add_circle
Free of dairy, gluten, and trans-fat
add_circle
Non-GMO soybeans
add_circle
Low cholesterol
add_circle
Halal certified
The best part about this collagen soy milk is that it is very affordable, despite having quite a high content of collagen per box, amounting to 14,487 micrograms! It's vegan-friendly as the collagen is derived from carrots, and is combined with healthy components such as grapeseed oil and vitamin E. These ingredients are excellent for skin cell regeneration and health; brightening and hydrating the skin.
This is also suitable for those who are lactose intolerant.
Details:
4x180ml
Protects skin cells
Strengthens and builds skin structure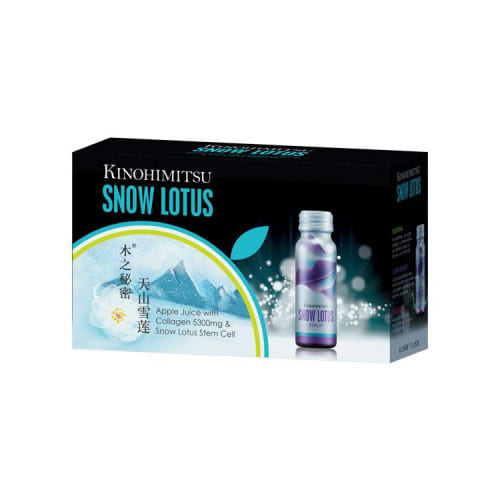 Check Kinohimitsu Snow Lotus StemCell Drink price below:
add_circle
Rich in anti-oxidants
add_circle
Many skin benefits
add_circle
Some reviewers experienced results in just 1 week
remove_circle
Taste is subject to preference
Did you know that we start losing collagen as early as in our twenties? While it's true that we can get our dose of collagen from many other sources such as meat and bone stew, they are mostly not convenient for intake in terms of portability. 
Made with Kinohimitsu's patented Snow Lotus Stem Cell as its active ingredient, this drink is rich in antioxidants and anti-radiation ingredients that aids in the efficiency of cell production. Formulated with advance biotechnology, the ingredients in this bottle works to defend our cells overall from free radicals. 
Other ingredients include collagen peptides for better collagen absorption, as well as chicken cartilage to help promote and lock-in moisturisation for the skin.
Of course, many other benefits that come with this drink mainly includes anti-ageing benefits. Not only does the skin and hair will see visible results, but also better immunity as well as bones and joints. Not forgetting, the drink is made with apple juice for a minty and refreshing aftertaste.
Details:
50ml x 10 bottles (RM10.9 per bottle)
UV damage protection
Reduction in dark spots as well as wrinkles
Improvement in mental alertness
Promising review: "Taste good. And can see the result very fast. Love the moisturise skin feel after taking this." - Christina, HomeTesterClub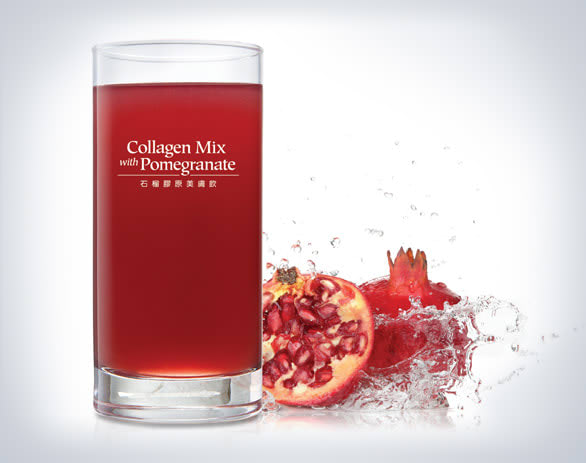 Check BEAUXLIM Collagen Mix with Pomegranate price below:
add_circle
Great value for money
add_circle
Whitening/brightening benefits
add_circle
High in anti-oxidants and vitamins
add_circle
100% water-soluble for easy preparation
remove_circle
Not ready-to-drink; requires you to mix with water
Thank the skies for Vitamin C; this natural ingredient not only helps to keep our immune system healthy and strong, but also helps with formation of collagen, iron absorption, wound healing as well as maintain healthy bones including your teeth.
If you're lazy to take your citrus fruits, BEAUXLIM Collagen Mix with Pomegranate can give you an instant vitamin C fix. Packed with punicalagins, this pomegranate-derived peptide is high in antioxidants, vitamin C and D to protect and repair your skin from sun damage.
As it comes in a sachet, the mixture is 100% water-soluble for easy preparation as well as easy absorption.
Its ingredient list is a mixture of high-quality marine collagen, pomegranate extract and tea polyphenols. Marine collagen itself is known to have a lower molecular weight and better absorption rate. Meanwhile, pomegranate extract is high in antioxidants and is effective in protecting the skin cells against UVA and UVB rays. It also helps to delay photoaging and suppress melanin production.
Lastly, Tea polyphenols provide the skin extra protection from harmful UV exposure as well as free radicals. With UV defence, whitening and repairing benefits, your skin will thank you for choosing this option.
Details:
15g x 45 sachets (RM2.3 per sachet)
UV protection
Skin whitening and repairing
Promising review: "The product taste good and i have been consuming it for a month. Can see the changes of my skin complexion as well." - Lazada customer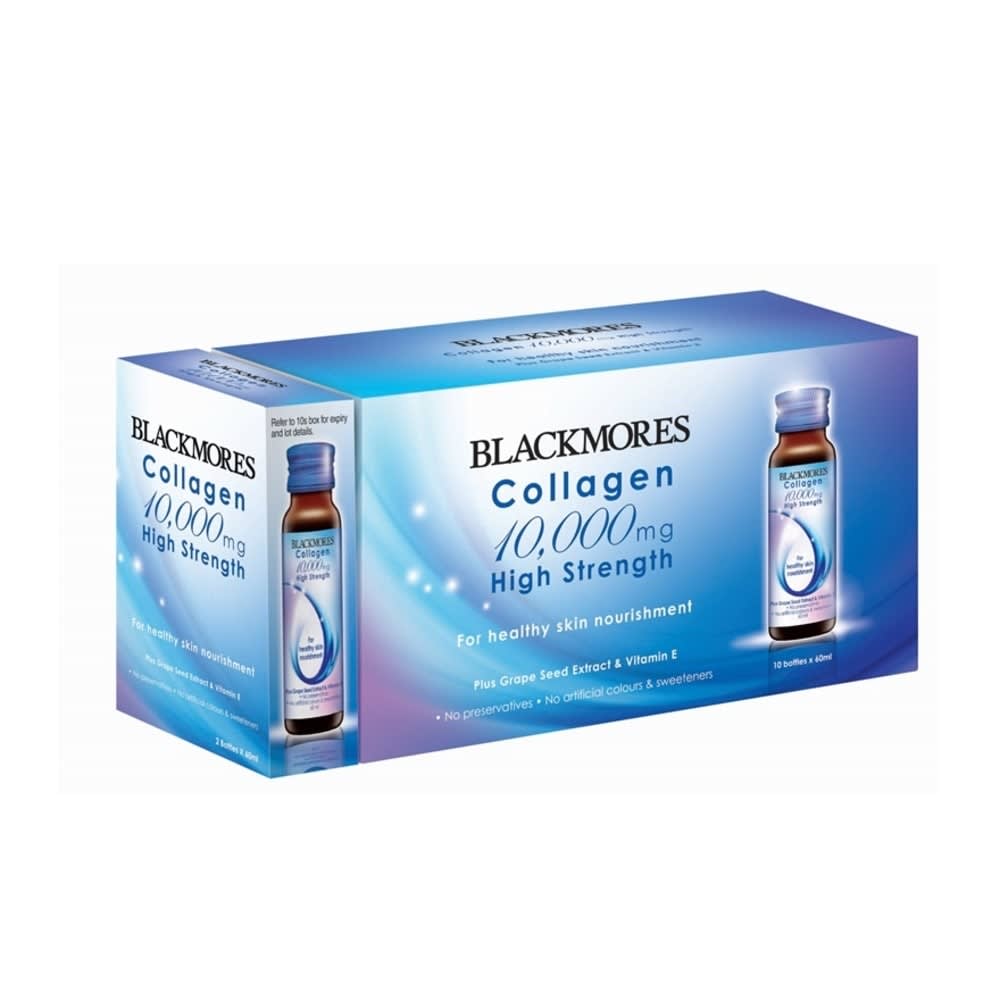 Check BLACKMORES Collagen 10000mg High Strength price below:
add_circle
High in collagen - 10g
add_circle
No fishy taste (said to taste nice, like apple)
add_circle
No preservative or additives
remove_circle
Earliest results are in 6 weeks...
Fish collagen can seem discouraging because it may leave many with an aftertaste of fishiness. Not to worry, this collagen drink from BLACKMORES uses a high-quality fish collagen extraction technique to provide your skin and body with the nourishment and protein it needs, minus the fishy taste!
Every bottle contains a blend of 10,000mg hydrolysed marine collagen extract, grape seed extract and Vitamin E to help boost collagen production in the skin and protect it against factors that might cause collagen to be broken down. 
That grape seed extract and vitamin E helps to promote skin regeneration and fight free radicals for a youthful glow. The grape seed extract is also rich in antioxidants and effective to soothe inflammation, support the skin's collagen structure and prevent the darkening of the skin.
Not forgetting, but Vitamin E also eliminates free radicals and protects cell membranes from damage. Other ingredients include amino acids which help to produce protein, collagen and elastin.
Due to the high amount of collagen, we highly recommend taking one bottle per 2 days.
Details:
60ml x 10 bottles (RM7.6 per bottle)
Promote new cell growth for firm and radiant skin
Protect cells from free radicals
No fishy taste; has a fruity taste
Promising review: "Makes skin healthy and glowing. Nice packaging. Happy to take everyday." - Sabapathy D., Lazada MY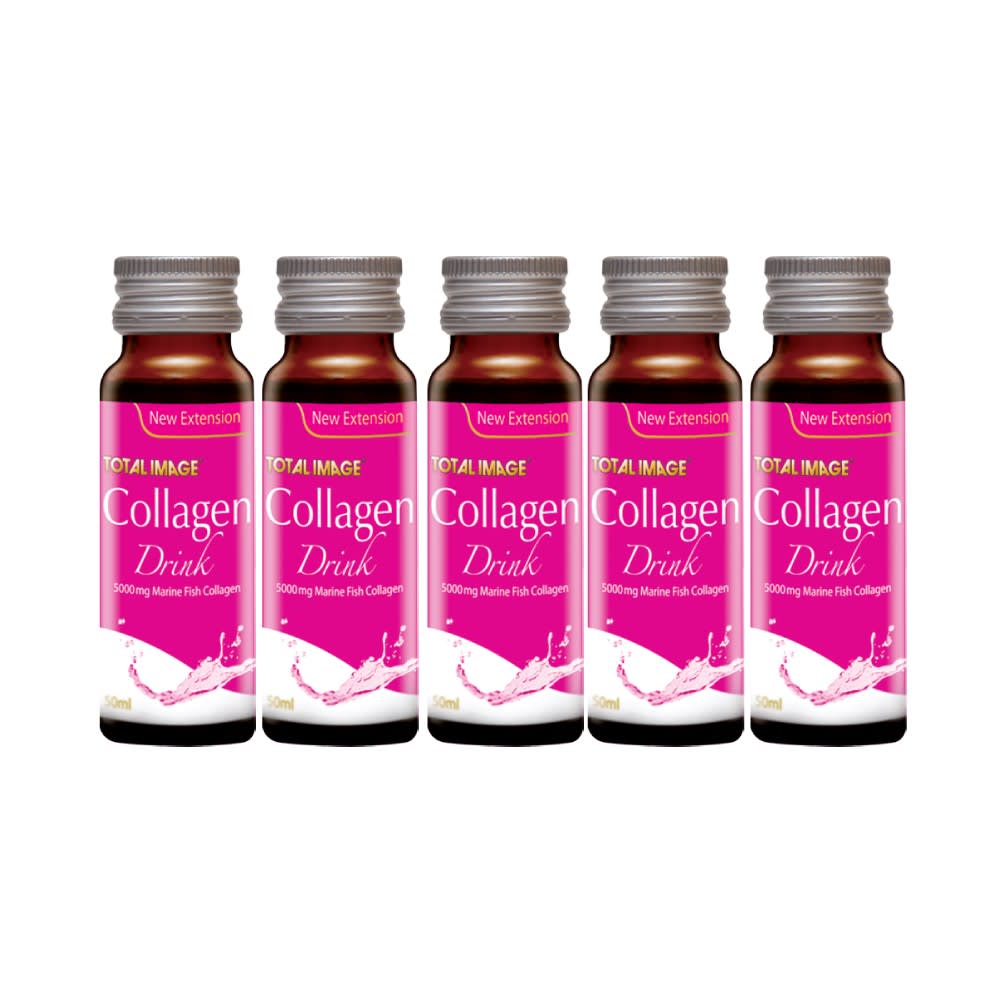 Check Total Image Collagen Drink price below:
add_circle
Has whitening/brightening benefits
add_circle
Ingredients to maintain skin radiance and youthfulness
remove_circle
Has a hint of fishiness
Painful joints especially when you're aging, is always not a good sign. They're our everyday-tools to help us achieve our tasks and dreams.
So instead, try Total Image's Collagen Drink. It is enriched with 5,000mg Deep Sea Marine Fish Collagen, traditional herbs and natural extracts for maximum benefits. Each serving is designed to not only help your joints but also nourish your skin from within and restore it to a youthful state. 
Packed with 5000 mg marine fish collagen, the Total Image Collagen Drink reduces the appearance of fine lines, saggy skin and undereye bags to promote a youthful outlook.
Fish collagen is known to have high moisture-retention properties, such as aiding the skin in absorbing water and increasing its elasticity. The result is radiant, smooth and healthy skin. Furthermore, it doesn't just work to repair your skin's health and strength but is highly effective to promote hair and nail growth too.
Other supporting ingredients include Wolfberry extract for a restful sleep, Poria for whitening the skin, mixed berries for antioxidant benefits and sunflower seed extract to help maintain youthful skin.
Total Image's Collagen Drink has been certified Halal by Jakim and only needs to be consumed once every two days. For best results, consume at night before bed for better and more restful sleep. 
Details:
50ml x 15 bottles (RM7 per bottle )

Strengthen joints

Nourishes skin, hair and nails

Lighten pigmentation

Improve sleep quality
Promising review: "(Translated) I can see changes in my skin in just a week's time." - Lazada customer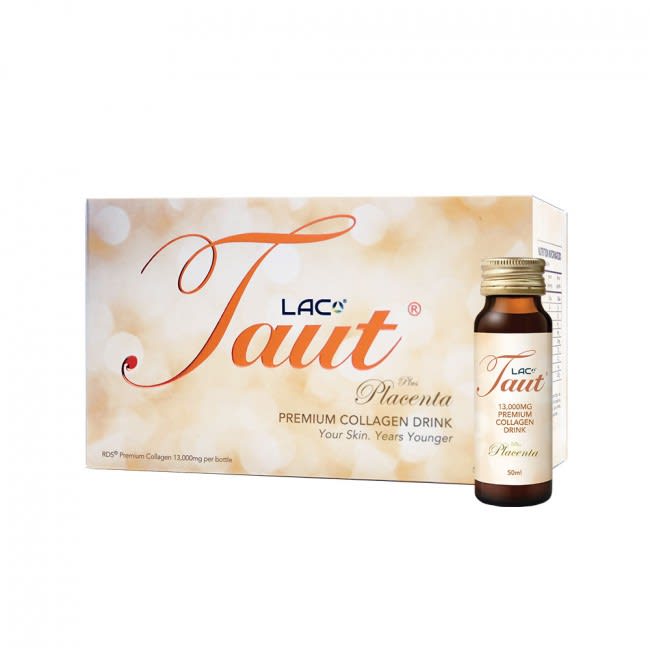 Check LAC Taut Collagen Drink price below:
add_circle
Very high in collagen (13g)
add_circle
Super high in several types of vitamins including Vitamin E, B and A (Retinol)
add_circle
Contains luxurious ingredients
remove_circle
Very expensive
For youthful and hydrated skin, the LAC Taut Collagen Drink is your best bet. It may seem very pricey at first, but hear us out. This collagen drink is made with many high-quality, expensive ingredients including collagen derived from fish, shark cartilage extract, hyaluronic acid and vitamins to moisturise the skin from within.
Moreover, it's rich in amino acids which helps to repair and restore the skin barrier to reveal youthful skin.   
This premium collagen drink is made with a proprietary collagen formula which contains RDS® (Rapid Delivery System) collagen. What it does is that it ensures the body is able to absorb the maximum benefits of the drink rapidly and easily. Not only that, but the drink is also enriched with a list of other essential vitamins along with Coenzyme Q10 to keep your body energised and revitalised throughout the day. 
The many vitamins include Vitamin E (Tocopherol), Vitamin B-1 (Thiamin), Vitamin B-2 (Riboflavin) and Vitamin B-6.
Another interesting ingredient is Beta-Carotene, a natural pigment from orange fruits and vegetables such as carrots. This ingredient converts into Vitamin A, which is Retinol. And we all know that this helps with our eyes as well as our skin.
Now, with so many rich and high-quality ingredients, is this premium collagen drink worth your money? We cannot say. But unlike many other collagen supplements, this drink only needs to be consumed 2-3 times a week (1 every 2 to 3 days, 8 per month). For best results, consume at night so that your body can do the reparative work while you sleep. 
Details:
50ml x 8 bottles (RM28 per bottle)
Loads of anti-ageing benefits
Keeps body energised throughout the day
Nourishes, firms and moisturises the skin
Promising review: " I have been taking Taut Collagen for the past few months, and, for the first time in my life, I have SHINY and HEALTHY hair! My skin is flawless, and, I look and feel great!" - Fran T, RenewalAlliance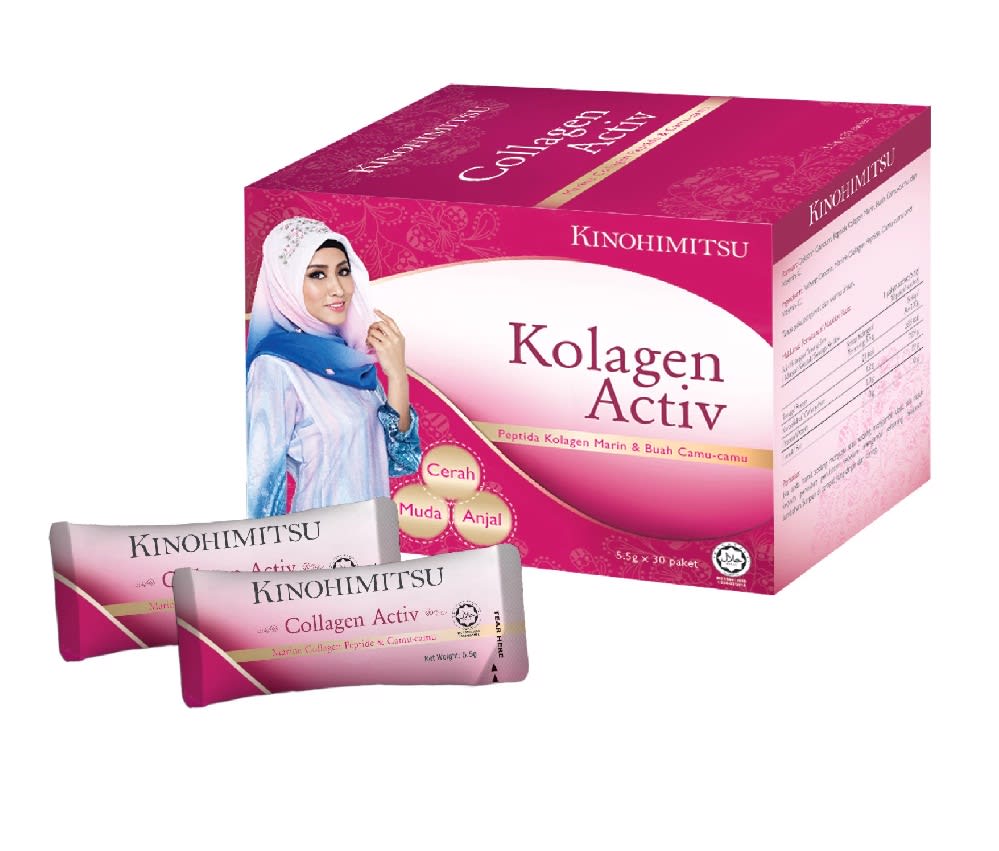 Check Kinohimitsu Collagen Active price below:
add_circle
Very high in marine collagen
add_circle
Sugar-free, flavourless
add_circle
Contains wheat dextrin to help regular blood sugar
add_circle
Can be mixed into any drinking liquid
Dealing with brittle nails, split ends and dull skin? The Kinohimitsu Collagen Active is a sugar-free collagen drink that fixes that! Formulated with marine collagen, camu-camu and wheat dextrin, this drink will give you radiant and healthier-looking skin as well as stronger hair.
The former ingredient is known to improve the health of our hair and nails. In this pack, each sachet contains 30,000mg of highly potent marine collagen peptide which will rebuild the skin's foundation by stimulating collagen synthesis. Additionally, marine collagen also helps to restore density to the skin and regain its resilience.
Meanwhile, the camu camu is a fruit that's high in antioxidants and is loaded with vitamin c. This popular ingredient contributes to strengthening the skin's defence system and protect it against UV rays and sun damage while helping the skin to stay radiant.
Lastly, the wheat dextrin in the drink promotes healthy digestion and stabilize blood sugar, which makes this collagen a good supplement for type-2 diabetic patients.
Details:
5.5g x 15 sachets (RM2.4 per sachet)
Promotes and maintains healthy, radiant skin
Smoothens out wrinkles and fine lines
Promising review: "Bought this product as a tryout as I was out partying constantly and my skin condition turns quite bad despite applying all the serums and lotions. It helps to provide collagen to my inner body and show it to my skin. My makeup stays better now also, it gave me a shine." - Syairah, BeautyInsider SG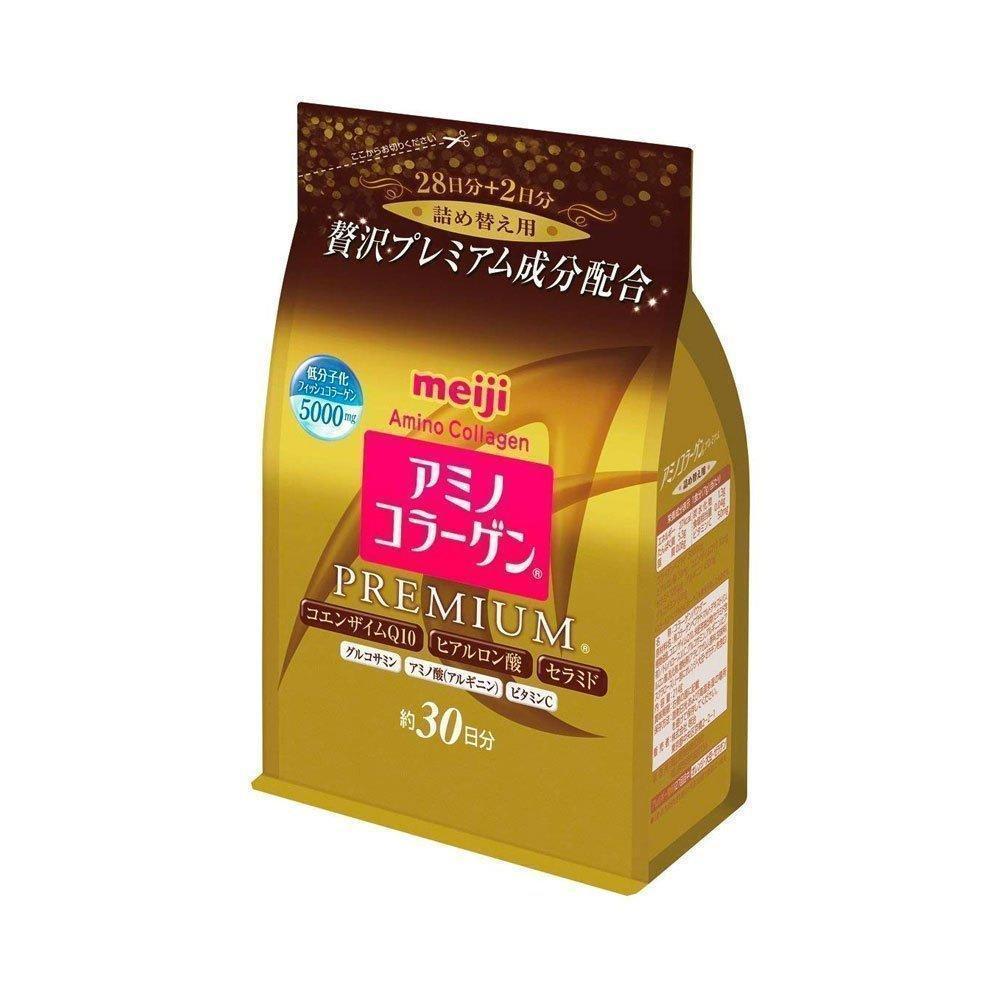 Check Meiji Amino Collagen Powder Premium price below:
add_circle
Many skin benefits
add_circle
Tasteless - can be mixed into many types of drinks
add_circle
Refill pack is large
Raved and hyped by many beauty enthusiasts as well as being the #1 best-selling powdered collagen, Meiji's Amino Collagen Powder Premium is an easy way for you to achieve beautiful and young skin. The collagen is packed with a superior formulation consisting of amino acids and protein like marine collagen, arginine, coenzyme Q10 and hyaluronic acid.
The marine-based collagen in question is low-molecular fish collagen, which is a type of collagen that'll easily be absorbed by our bodies. This way, it ensures that our body takes in all the goodies. Speaking of goodies, the collagen also has ceramides which helps to capture moisture and suppress transpiration, ensuring that your skin's hydration-levels are well maintained.
Furthermore, the hyaluronic acid helps to retain water while Coenzyme Q10 is highly effective in preserving the health and vitality of our bodies, ensuring that you have enough energy to keep you going the whole day. Another great ingredient is Vitamin C, which keeps our skin cells protected from UV damage. 
If great skin is all you want, this collagen pack should be high up on your list!
Details:
214g per pack, about 30 servings (RM5.3 per serving)

Helps with energy regeneration

Restore and balances skin moisture

Firms skin wrinkles and fine lines

Protects and strengthen the skin from sun damage
Promising review: "My skin looks smoother and almost glowy now. It is taut and I noticed the dry lines on my forehead (something that was with me for a long long time) were gone!" - jjoyis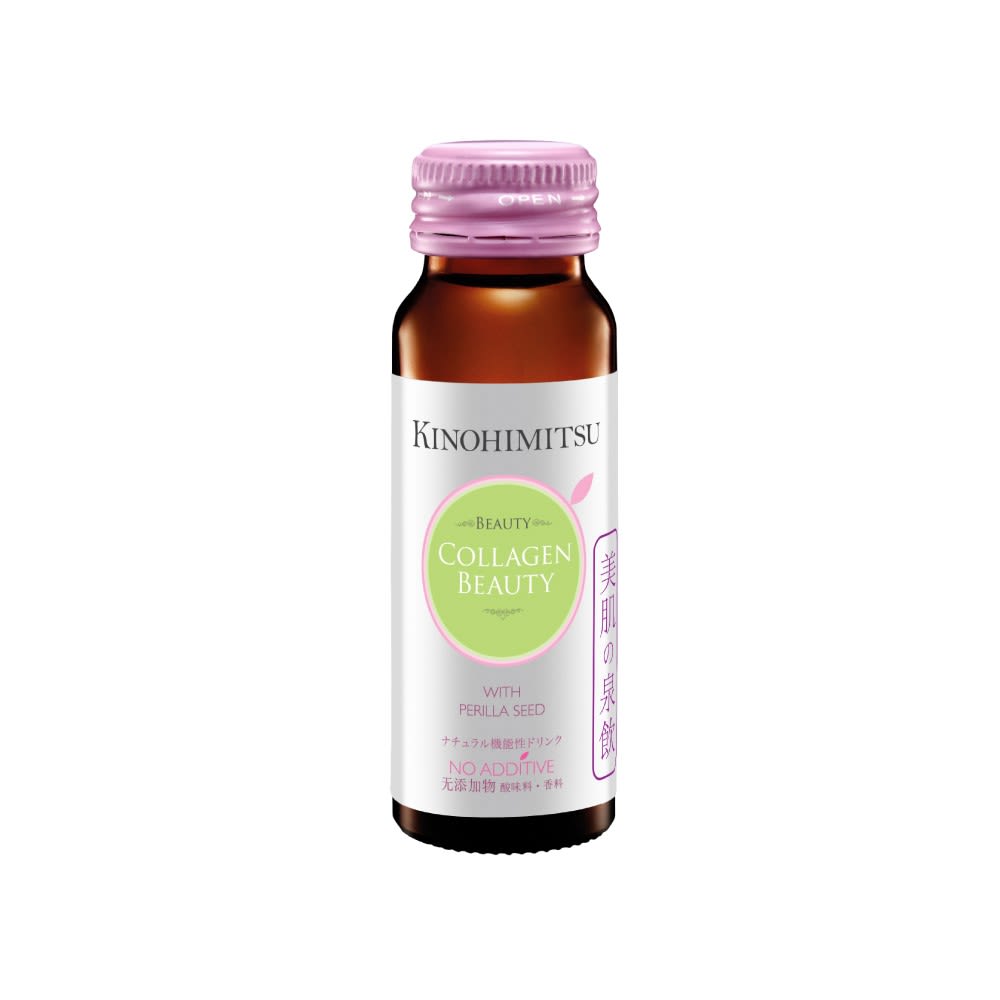 Check Kinohimitsu Collagen Beauty Drink With Perilla Seed price below:
If your skin products aren't doing anything for you, you may want to try drinking this collagen drink instead.
The Kinohimitsu's Beauty Drink is infused with Perilla Seed extract, malic acid and silk protein. Its marine-based formula works to plump up the skin, whereas Perilla Seed Extract is rich in protein, amino acids, vitamins and minerals which are essential for skin renewal. 
Apart from helping to nurture your skin, this Beauty Drink also contains hydrating properties with the help of silk protein to lock-in moisture and help the skin to produce collagen and elastin. It also repairs the skin and improves the appearance of scars, rejuvenates and brightens it by lightening pigmentation. 
Not forgetting; its other special ingredient is Soy Isoflavone, which boosts the production of collagen and elastin as well as control melanin production to prevent the excess formation of dark spots.
Filled with fruits such as apple, lemon and lychee, the vitamin C packed drink truly helps to lighten scars, hyperpigmentation and uneven skin tone!
Details:
50ml each bottle, from RM6.2 per bottle

Control melanin production to prevent more formation of dark spots

Has Vitamin C to help lighten scars and pigmentation

Helps to lock-in skin-moisture
Promising review: "I do notice that the acne scars had lightened a bit and became clearer. Lines on my forehead were less obvious (although my lines are still there) as compared to 28 days before I started drinking Kinohimitsu J'Pan Beauty Collagen Drink. I also find that my makeup adheres better on my skin these days." - Sharon and Her Adventures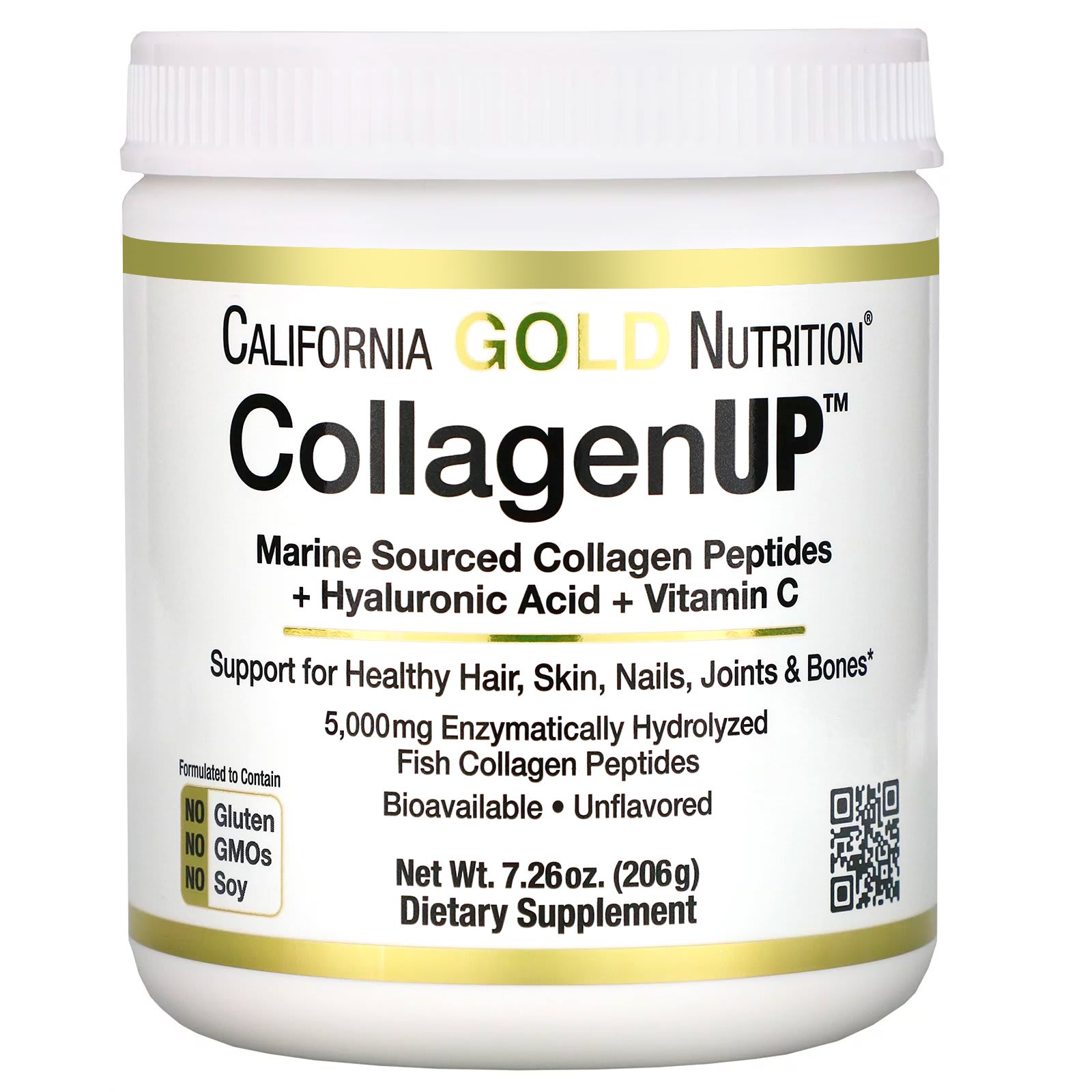 Check California Nutrition Gold Collagen UP price below:
add_circle
Scientifically produced
add_circle
Zero fishy smell and taste
Beauty is skin deep, therefore you should only take the good stuff for your skin, and they can be found just from our sea.
There are already many marine-based (fish) collagen available. But for those who'd love to only focus on the goodness of marine collagen should consider this option. It is fortified with hyaluronic acid, Vitamin C and specifically collagen peptides that are scientifically researched on. 
The collagen drink doesn't only work to maintain healthy, beautiful skin but also provides supports for stronger bones, healthy joints, shiny smooth hair and nails too. Moreover, the collagen is hydrolyzed in order to help with optimum absorption of it.
And because this pack is fortified with Hyaluronic Acid, it also ensures that your joints will be well lubricated and that your skin contains enough moisture to repair itself.
Our recommended intake is 1 scoop into your drink daily.
Details:
5.15g per serving x 40 (RM1.7 per serving)
Promotes and maintains skin moisture
Supports healthy nails, joints and hair
Promising review: "This product is amazing. I take it in my smoothie each morning. It has improved the feel and thickness of my hair. Some spots filled in that were thinning." - Sandra, Walmart
More related recommendations: