If you're on a quest for the best anti-aging skincare, then chances are you might have heard of retinol. Before you hop on the retinol train, there are a few things you should know.
What does Retinol do for your skin?
First of all, retinol is a type of vitamin A derivative that can exfoliate the skin and stimulate collagen production. It's the only anti-aging ingredient that's scientifically proven to work, hence why it's placed in a high pedestal in the skincare realm.
Moreover, retinol has also been effective in fighting against dull skin, acne and scars due to its brightening abilities.
Can Retinol harm your skin?
Although highly effective in minimizing fine lines, retinol can be drying and damaging for those with skin sensitivity. Therefore, it's important to look for gentler formulas or better yet, consult with your dermatologist before diving into retinol.
If you're ready to incorporate this powerhouse anti-aging treatment into your arsenal, check out our list of recommended skincare products that are packed with retinol to promote young, beautiful skin.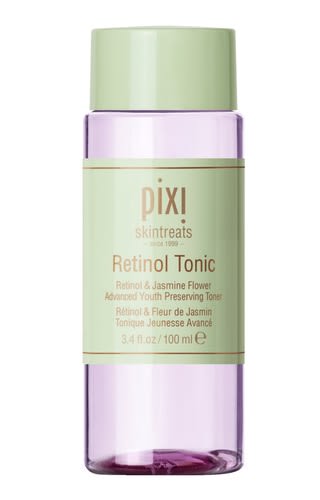 add_circle
Gentle formula
add_circle
Natural, pleasant fragrance
add_circle
Effective results within a week
If you've never used retinol before, it's not recommended to jump straight into a strong retinol cream. Instead, let your skin slowly build some tolerance to the potent ingredient with the Pixi Retinol Toner.
Aside from retinol to help fight fine lines and dull skin, the toner is formulated with jasmine flower and evening primrose extract to help soothe the skin. Also found in the tonic is glycerin to gently hydrate your skin. Rest assured that there's a low dosage of retinol, so this is a perfect entry-level retinol product for beginners.
Promising review: "Value for money, easy and light on the skin as the acid content is low. Good for first-time users. Absorbs into akin quickly and doesn't leave skin feeling sticky." - Ashwiini
---
More: Top 14 Toners in Malaysia to Prep Every Skin Type
add_circle
Reasonable price
add_circle
Free of minerals, fragrance and alcohol
remove_circle
Some users did not see any effect
You'll want to include an essence if you do not want to change your current cleaner, toner, and /or moisturiser. So instead, you can opt for this drugstore option - Hada Labo Retinol Firming Essence.
Besides retinol, the essence also contains hydrolyzed collagen and 4 types of hyaluronic acid to effectively hydrate dry skin. This then plumps up saggy skin and deep lines to bring out a more youthful complexion. Another added bonus is the fact that the formula is pH-balanced. It's also free of minerals, fragrance and alcohol to suit a wider range of skin types.
Promising review: "Very very nice firming essence and some of my fine lines disappeared after using it for a while." - yling
---
More: Yummy Goodness for Your Skin in These 11 Collagen Drinks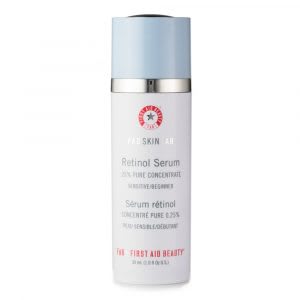 add_circle
Applies onto skin easily
add_circle
Lightweight and not sticky
Thanks to FAB's Skin Lab Retinol Serum 0.25% Pure Concentrate, your skin can reap the benefits of retinol even if it's prone to sensitivity or irritation. In fact, the brand has labelled for the product to be safe for beginners and sensitive skin users.
This gentle and soothing serum is formulated with a low dose of retinol and advanced peptides to fight aging and rebuild your skin's barrier. It also contains soothing ingredients such as allantoin, hyaluronic acid and colloidal oatmeal to attract and maintain moisturisation while protecting your skin against dryness and irritation.
Promising review: "Used it on and off for a month and every time I wake up after using it at night my skin looks softer and pores seems smaller. It really works! Will continue using." - Ng
---
add_circle
Free of fragrance, parabens and phthalates
add_circle
Suitable for all skin types
remove_circle
Way of using the product must be precise or else effects won't be apparent
remove_circle
Limited time to use once opened
Looking to amp up your plain moisturiser in just a week? Clinique's Fresh Pressed Daily Booster kit comes with two vials of booster serums, whereby one has vitamin C for day time and pure vitamin A (retinol) for night time. Both boosters work hand in hand to brighten your skin, fight free radicals and minimise fine lines.
For a clearer picture, Vitamin C 10% helps to brighten up the skin by toning and smoothing your skin's texture, working to gently exfoliate and clear off dead skin. This essentially fills in fine lines while minimizing the look of skin issues such as sunspots and dark acne scars. Meanwhile, Vitamin A (Retinol) will penetrate deeply into the skin in order to deliver moisturisation to the skin better.
Promising review: "I really see the effect after using it for only 1 week. it really brightened my skin. the product was not sticky, no smell and easy to use and bring when travelling." - Yunitasari
---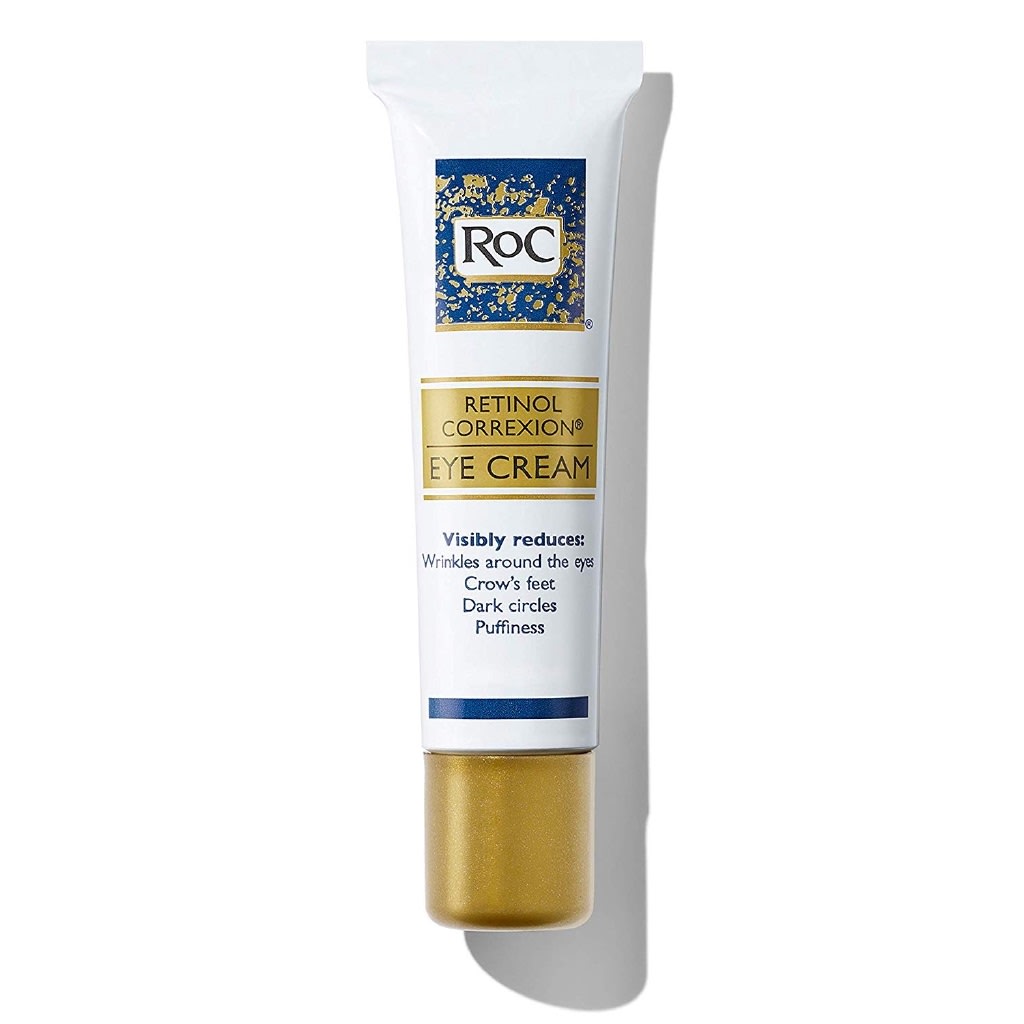 add_circle
Combats 3 signs of ageing - dark circles, puffiness, fine lines
add_circle
Hypoallergenic
add_circle
Treats crows feet
remove_circle
Retinol ingredient may cause stinging in the eyes when used
Although the formation of laugh lines is inevitable, with the right product, you can greatly minimise the appearance of the lines around your eyes and mouth. One of the most popular anti-aging eye creams you can get is RoC's Retinol Correxion Anti-Aging Eye Cream.
Like most eye creams with Retinol, the eye cream is best used at night. This cream is hypoallergenic and non-comedogenic, making it suitable for those who are prone to acne.
Its formula contains a mineral complex to help with firming those fine lines and wrinkles effectively. Moreover, it tackles puffiness and dark circles as well. Some users have even reported successfully smoothening of their under-eye milia situation.
Promising review: "I've tried tons of eye creams over the years, but RoC's Retinol Correxion Eye Cream truly offers the whole package." - Sarah Han (Allure)
---
More: 8 Best Eye Creams That Are Gentle On Users With Sensitive Skin
add_circle
Capsule package makes it travel-friendly
add_circle
Potent formula that's clinically-safe
Longing for a bright and even skin tone? With Skin Doctors Potent Vit. A Ampoules, hyperpigmentation is a thing of the past.
Each capsule contains 0.15% of pure clinical retinol, cyclopentasiloxane and dimethicone crosspolymer that work together to recondition and revitalise even damaged skin. It works by promoting the skin's collagen production and skin cell renewal system to reveal smooth, bright and firm skin.
While it seems little, many have happily reported experiencing only good results against their stubborn spots and pigmentation. This is truly thanks to the fact that each capsule is potent with a dose of the Vitamin-rich formula.
Promising review: "...using these capsules helped maintain my clear skin which is a massive achievement especially considering I travelled on quite a few planes which can cause havoc on my skin." - Rachel Beauty Style
---
add_circle
Nourishing formula
add_circle
Effective against scars and blemishes
remove_circle
Not recommended for beginners (due to the 1% vegan Retinol)
It can be scary to have a Retinol-based cream on your whole face, what's more leaving it on your face. Luckily, there's Drunk Elephant to rely on.
The infamous Drunk Elephant A-Passioni Retinol Cream works to repair and reverse signs of aging. This potent cream contains 1% of vegan retinol and vitamin F to eliminate deep wrinkles, saggy skin, hyperpigmentation and scars.
It's also packed with several botanical ingredients such as jojoba oil, passionfruit and apricot; all of which are hydrating agents and antioxidants to help revitalize and nourish your skin.
Promising review: "...after using it for 1.5months, my skin has improved soooo much with fading acne scars, firm skin, less fine lines and radiant skin." - RNanz
---
More: Hydrate Your Skin with these Top 17 Face Moisturisers for Every Skin Type
add_circle
Works as a gentle acne treatment
add_circle
Prevent the skin from drying
The Kate Somerville EradiKate Overnight Lotion combines the best of both worlds; salicylic acid and retinol to bring you this powerful anti-acne and anti-aging concoction!
This nighttime lotion is able to penetrate your pores and exfoliate clogged pores to get rid of excess sebum and dirt. And the results? Clearer, younger and brighter skin! It basically works to balance out the microbiome in your body to not cause any crazy breakouts and likewise.
In order to prevent dryness which can be caused by both retinol and Salicylic acid, the formula contains sodium PCA and sodium hyaluronate to help prevent dryness on the skin.
Promising review: "After using this product for over 2 months, my skin has never been this clearest for the longest time! If I were to get break outs." - Irfana
---
More: These 8 Best Acne Skin Care Products Are Great For Your Stressed Out Skin
Disclaimer: The pricing shown is just a good indication of how much these products are worth. The prices could change based on the e-commerce promotions that are going on. If some of the products are not available, do email us at [email protected] Thanks!