According to the usual skincare routine including the famous Korean 10-step Skincare Routine, toner is the first product that we should apply after facial cleansing. Due to how its consistency resembles water, many have found it unnecessary and even skipped it in their skincare routine. However, people should know that it does contribute to our beauty game!
What does a toner do to your face?
Toners are especially helpful to those who seek to not only balance the skin's pH levels but also prep the skin for better product absorption as well as mildly exfoliate dead skin cells. Hence, it is what you should be using right after cleansing and before your serums or moisturisers so that the skin can absorb the subsequent products better. This is usually done by applying the toner on a cotton pad and wiping it gently across the face.
There are a wide variety of toners on the market these days, targeting people with different skin types and skin concerns. Many of them now are based on natural ingredients such as plant extracts and flower oils. So, adding a facial toner to your skincare regimen is sure to improve your appearance, leading to brighter skin.
Can I use toner everyday?
For an even skin tone and to get a boost off your serums and moisturisers, it's highly recommended that you use toners every day. As mentioned, use toners after cleansing and before your serum or moisturiser. Do take note that if you use them before a day's out, wear sunscreen as the skin will be quite sensitive to UV rays after using toner.
Get the most out of your toner by getting one that will cater to your skin's needs. In this article, we have selected - in our opinion - some of the best toners recommended for you. Anyone can, and should, use a toner!
Best Toners in Malaysia - Top 14 Recommendations
Thayers Witch Hazel with Aloe Vera Astringent
Naturie Hatomugi Skin Conditioner
Pixi Glow Tonic
Sothys Clarity Lotion
Garnier Pure Active Toner
Nature Republic Soothing & Moisture ALOE VERA 90% Toner
Mario Badescu Glycolic Acid Toner

OLAY

Total Effects Pore Minimizing Toner
Beyond The Remedy Rootrition Toner
Innisfree Jeju Volcanic Pore Toner
Hada Labo Whitening Lotion
DRGL Toner Oil Control
Klairs Supple Preparation Toner
Himalaya Gentle Refreshing Toner
More: 10 Best Toners That'll Make Those Pores of Yours Almost Invisible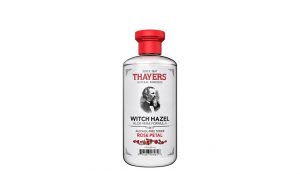 add_circle
Hypoallergenic
add_circle
Free from artificial fragrance
add_circle
Improves skin complexion
add_circle
Suits most types of skin
remove_circle
Sensitive skin users may want to go for the unscented (original) version instead
There's a reason as to why this toner has a loyal following. Aside from their toners and astringents having several formula types with different ingredients to suit different skin issues, users also fawn over its gentle, water-based formula.
The original formula contains Aloe Vera for moisturization and Witch Hazel for general skin protection. Meanwhile, its other variants include another main ingredient, namely Rose Petal for skin softening, Lavender for inflammation and Cucumber for reduced swelling. There's also Coconut Water for detoxifying, Lemon for brightening, and finally Unscented for extra sensitive skins.
All of the aforementioned variants work to clean and prep without drying the skin. For those with acne and oily skin types however; if the recommended original formula is too mild for you, then you'd have to settle for Thayer's Astringent series which contains alcohol.
Additionally, for those who are sensitive to fragrance, you may want to stick with the original formula (even though all fragrances are natural). Otherwise, the formulas hardly caused any troubles as evident in its thousands of reviews online. A plus point to this toner option is the amount of product you get for its price.
Customer Review: This is my favorite toner! It makes my skin feel so soft and clean after using it. I originally bought this because I saw everyone raving about it on the internet and it definitely exceeded my expectations." - Tori.T
---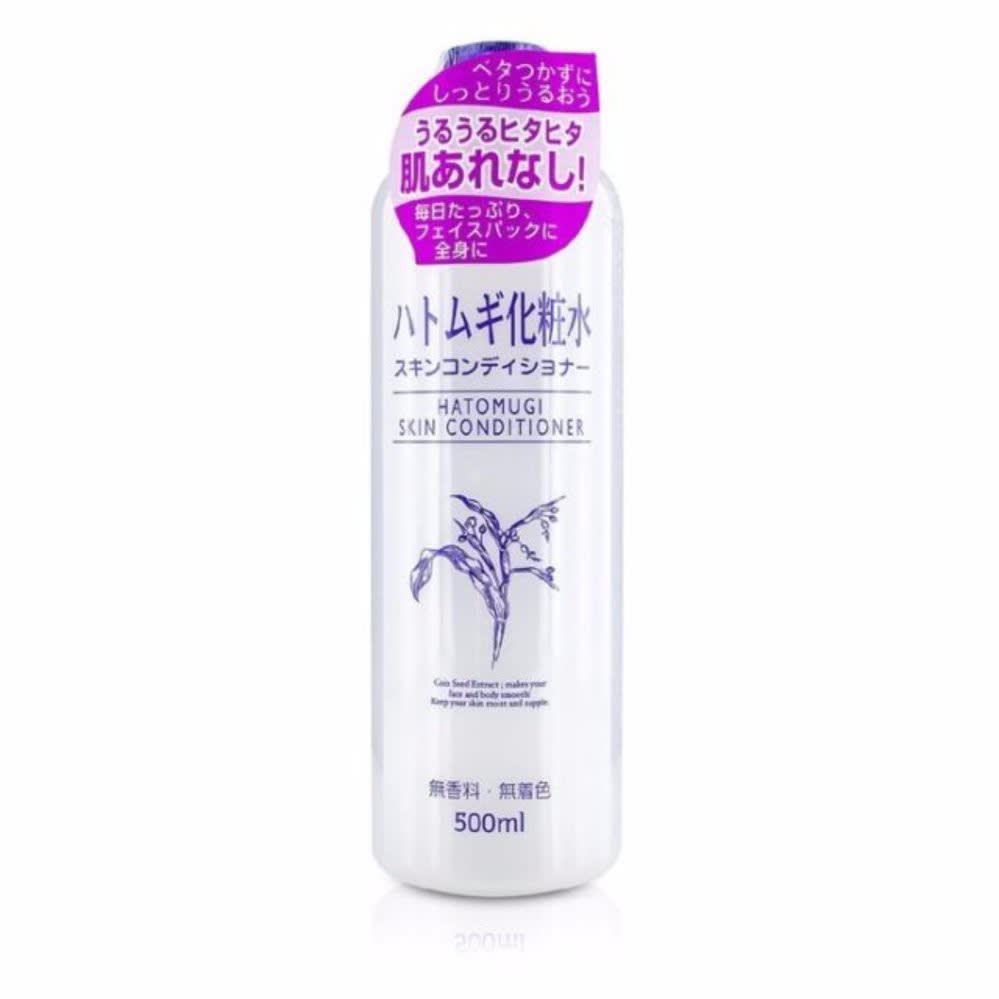 add_circle
Hydrating & non-sticky
add_circle
Suitable for sensitive skin
add_circle
Can be used as mask; soothes redness and replenish moisture
add_circle
Free from fragrance and artificial colouring
remove_circle
Not much benefits beside moisturising
Hatomugi is known as coix seed in English, more commonly known as Chinese barley. With that, the formula contains coix seed extract and it's what makes this toner stand out among others.
Containing Vitamin B1 and B2, the said extract targets to reduce skin hyperpigmentation and skin dullness. Besides deeply moisturizing the skin, it also helps in improving skin texture and restoring skin firmness. Through clinical studies, coix seeds are proven be able to reduce free radical activity on our skin and thus, slow down our skin's ageing process.
An interesting thing about this toner is that you can also only treat it as a skin conditioner, such as using it for a simple facial mask to quench the thirst of our skin right away. Just soak some cotton pads with the product, place them on the face and wait for a few minutes before removing them. It is that quick and easy!
Brownie points to the product is that it does not contain any fragrance and artificial colouring. If you're concern, the milky white colour is derived from the natural colour of Hatomugi. Moreover, with such generous amount sold at such affordable price point, it is simply a good bargain.
Customer Reviews: "An amazing multi-purpose toner. Soothing enough on sunburnt skin and goes well with other products too. Definitely recommend it!" - Amy
---
More: Be Forever Young with These 11 Anti-Aging Skin Care Products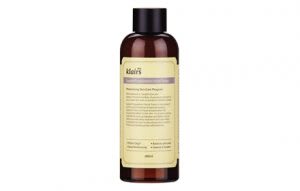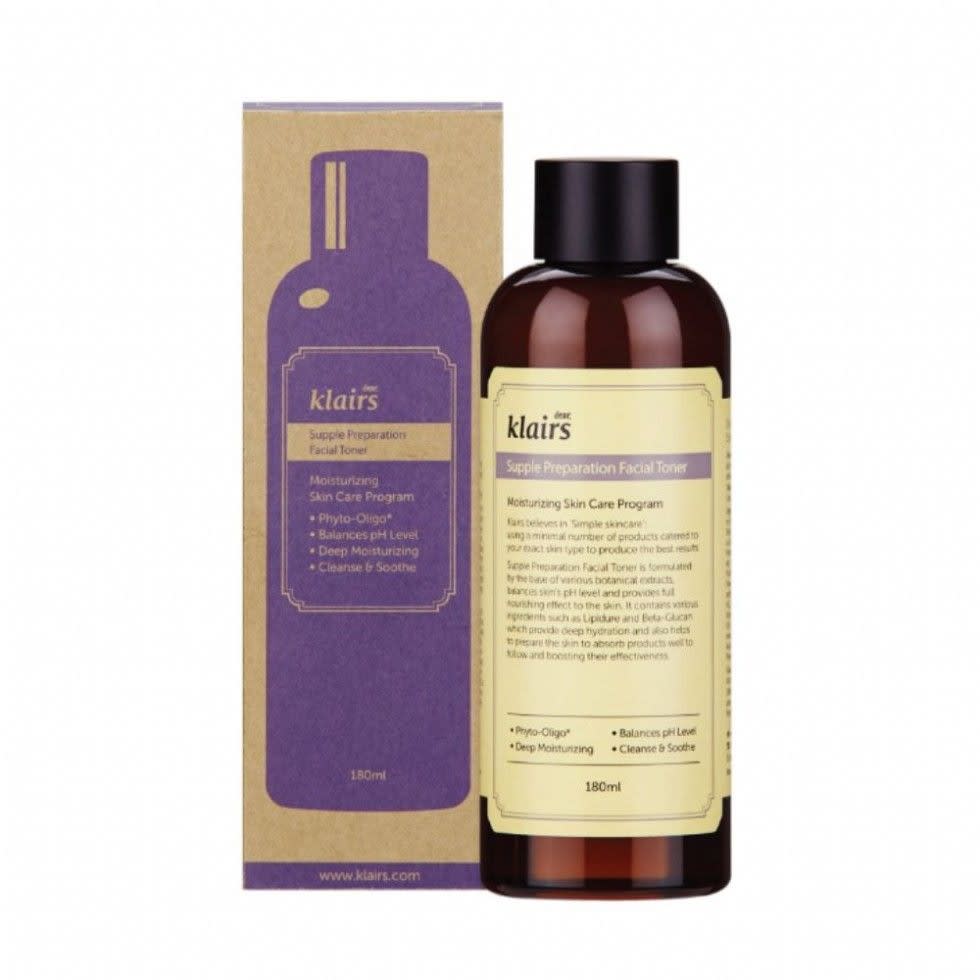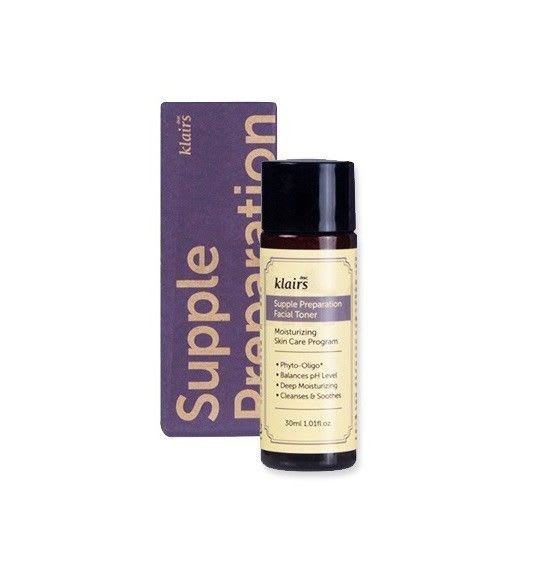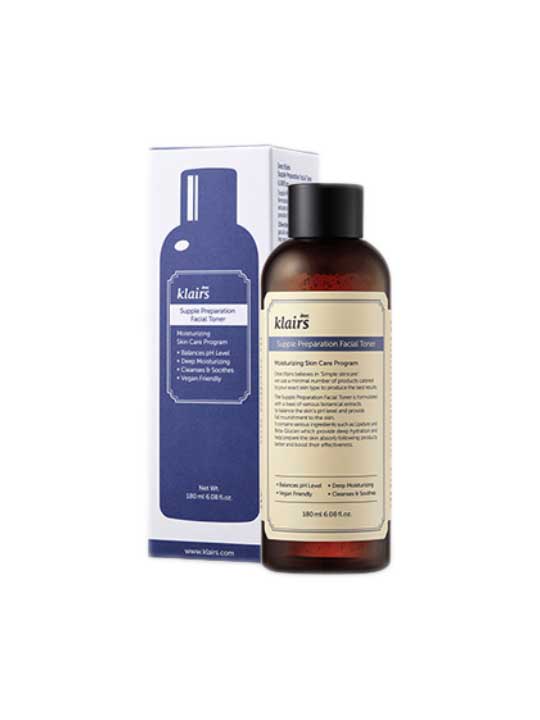 add_circle
Absorbs well into the skin
add_circle
Gentle formula
add_circle
A blend of natural plant extracts with soothing, wound-healing properties
add_circle
Unscented version is fragrance-free and more sensitive-skin friendly
add_circle
pH level of 5, good for the skin
add_circle
alcohol-free, good for sensitive skin
remove_circle
Dry skin users may need to use more product for hydrating effect
remove_circle
Original version contains a lot of fragrant essential oils
remove_circle
Original version feels a tad bit sticky for some people, causing uncomfortable sensation
Being one of the brand's best-selling items, this supple preparation toner from Klairs is a holy grail for many people. It is packed with several natural plant extracts like Licorice Root Extract, Centella Asiatica Extract and Purslane Extract. To note, Licorice is a great skin-lightening ingredient whereas Centella Asiatica and Purslane are both traditional medicines best known for their promising wound-healing and anti-inflammatory abilities.
Furthermore, the toner contains Phyto-Oligo which is extracted from Aloe Vera to tackle skin dryness and inflammation. This toner claims to be fast-absorbing and moisture on the skin and that it also suits all skin types. What's more, it is alcohol-free.
There are actually two versions to the toner: Original and Unscented. Both versions are generally the same, except that the unscented version is free from all fragrant essential oils found in the original version. This fact makes it more sensitive-skin friendly and lighter in texture.
That being said, the release of the unscented version is definitely a wish come true for people who don't prefer strong fragrance in their skincare products!
Customer Reviews:
"This is my second purchase. It keeps my skin hydrated. However, since my skin is quite sensitive, I will try the unscented version next time." -Mar
---
More: 9 Face Serums to Get Rid of Dry, Parched Skin

add_circle
A blend of luxury rose oils, rose water and rose fruit extracts which are beneficial to the skin
add_circle
Deeply hydrates the skin, even during winter season
add_circle
Keeps skin supple all day
remove_circle
Strong rose scent
remove_circle
Rose petals get stuck at the opening, making it difficult to get to the liquid toner
This deep hydration toner from Fresh is all about roses. It contains Rose Water, Rose Fruit Extract, Rose Flower Oil and Real Rose Petals. Yes, all in one bottle!
Just as how its name suggests, the toner penetrates the skin and hydrates it deeply from within. It works to keeps the skin dewy and supple, so it's best for people who suffer from skin dryness and dehydration (dull skin).
With the combination of Angelica Keiska Extract and Rose Flower Oil, these two ingredients are antimicrobial and antioxidant in nature. Thus, they contribute to the toner's ability in leaving a soothing and calming effect on the skin too. Besides providing deep hydration, the toner gets rid of impurities on the face and tightens the pores in return. An effect to this is that it keeps the face feeling fresh and soft.
However, due to the luxurious list of ingredients such as rose oil and rose extract, this toner is quite expensive. Several customers have mentioned that while the product is good, the price leaves many uncertain. It is also frequently commented that there are more rose petals in the bottle than the toner itself, making it inconvenient to get to the liquid toner as the petals tend to gather at the opening.
Customer Review: "I like this toner a lot. It hydrates my skin well, keeping it soft and smooth. The only thing that has held me back from repurchasing is its high price." -Madison
---
More: Rejuvenate Your Skin with these 8 Toners for Dry Skin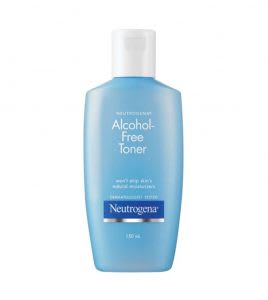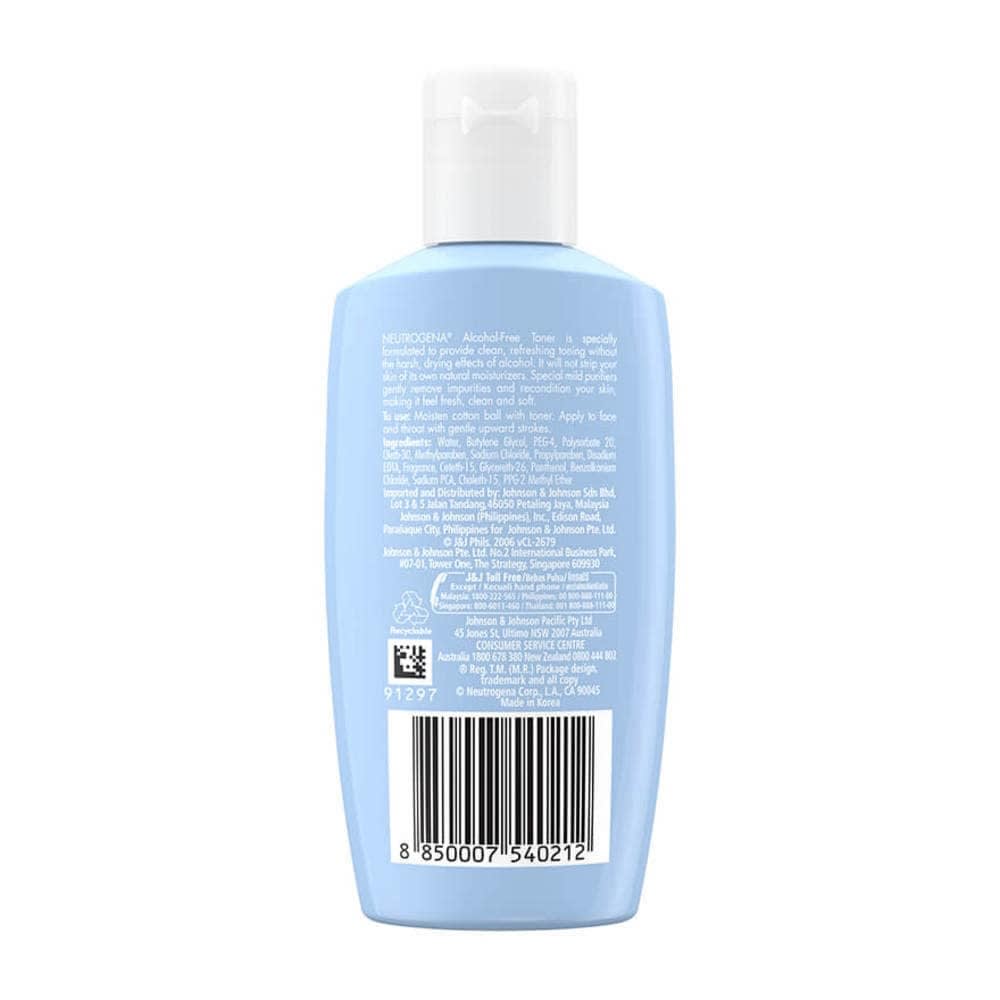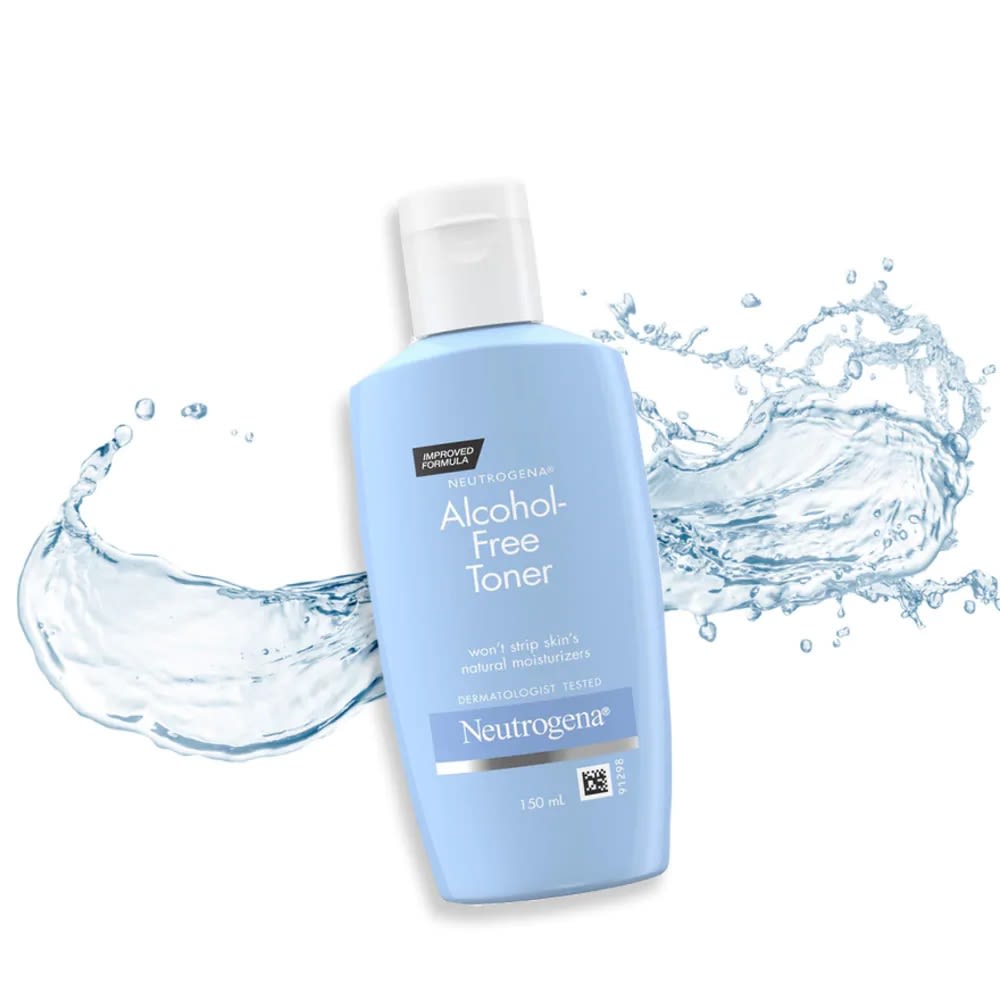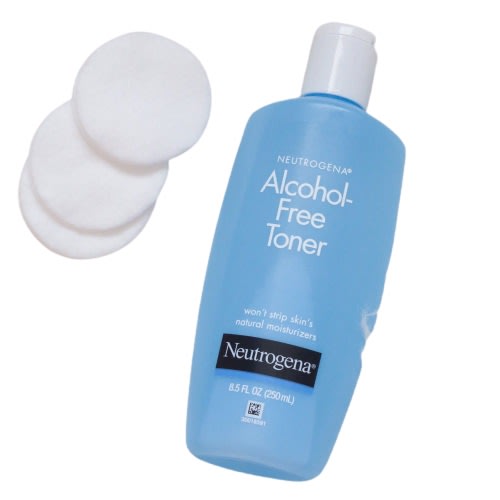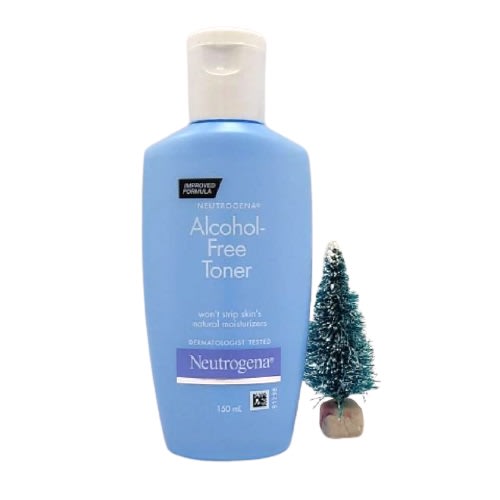 add_circle
Non-drying, stinging
add_circle
Gentle enough on sensitive skin
add_circle
Oil-free formula
remove_circle
Contains fragrance
remove_circle
Not much skincare benefits
This oil-free toner from Neutrogena is all about being basic. It promises to purify the skin without throwing its moisture level off balance. Remember how we mentioned earlier that toners can be used as a second cleansing agent? Yes, this toner focuses on getting rid of dirt that are not completely removed during cleansing of the face.
With an alcohol-free formula, it refreshes the skin without over stripping and irritating it. To enhance its moisturizing benefits, it contains humectants like Sodium PCA and Panthenol that prevent water loss from the skin. Panthenol is also a powerful ingredient that protects and soothes the skin.
Its texture is said to be light with a mild scent. And due to its simplicity, it is rated on the internet as one of the best toners that gets the job done. Plus, the affordability and ease of availability just makes it a go-to for many.
Customer Review: "True to its promises! It leaves my skin clean, fresh and soft. Just awesome." -ntheodora
---
More: Get the Best of your Skincare Routine with these 7 Toners for Combination Skin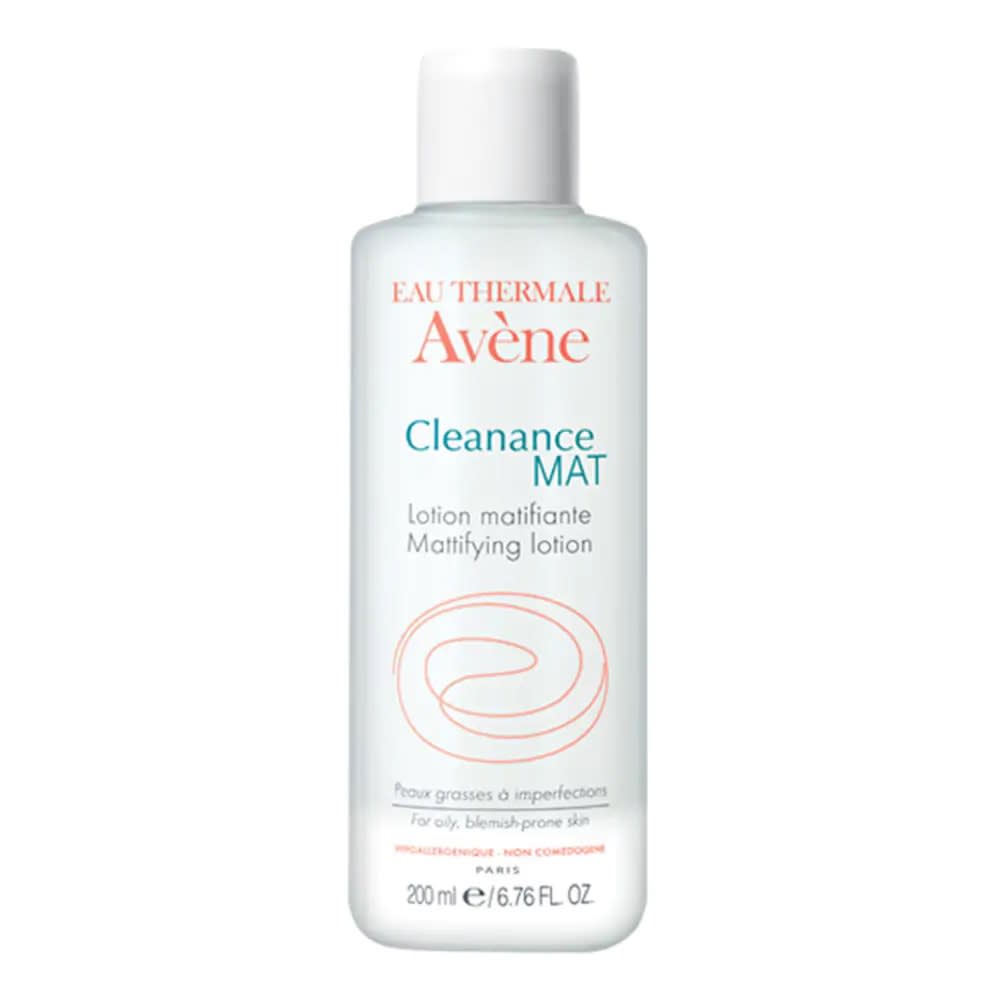 add_circle
Bi-phase formula
add_circle
Good clarifying effect
add_circle
Avene Thermal Spring Water to soothe the skin
add_circle
Salicylic acid to reduce the sign of blemishes
add_circle
Keeps skin shine-free and matte, oily-skin friendly
remove_circle
Contains fragrance
remove_circle
As it is an astringent, it should be used in moderation
remove_circle
Alcohol-based, might not be the best for sensitive and dry skin
This toner is a skin saver for those who suffer from skin oiliness and acne. Here is why.
The Avene Mattifying Toner is an astringent-toner that does a powerful job of taking away excess sebum on the face. (Do take note that astringents are alcohol-based!) It also contains Salicylic Acid which is a well-known skin exfoliant and an acne-fighter that reduces breakouts.
Also combined with Zinc Gluconate and the brand's secret ingredient, Avene Thermal Spring Water, this astringent-toner further soothes the skin, making sure that the formula doesn't feel too harsh on the face.
A major problem that oily skin users face is definitely excess grease on the face. Fret not, the Silica and Monolaurin in the formula work swell together to mattify the skin while regulating its sebum production. Soft and shine-free skin? Here we come!
To summarize, this product aims to purify oily and troubled skin as well as tighten the pores and keeping an eye on the skin's sebum production.
Customer Review: "No more breakouts after using this product. It has removed all the excess sebum from my face amazingly!" -Taylor B.
---
More: Rejuvenate Your Skin with These 8 Toners for Dry Skin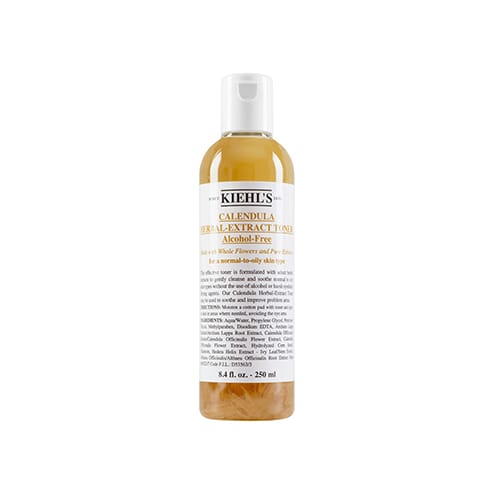 add_circle
packed with natural herbal ingredients for skin soothing and relieving benefits
add_circle
Essential-oil-free
add_circle
Artificial-fragrance-free
add_circle
not harsh and is sensitive-skin friendly
remove_circle
No transformative results
remove_circle
Calendula petals make it difficult to get to the liquid toner
Infused with Calendula petals, this toner from Khiel's soothes the skin gently but effectively. A few notable ingredients in the toner includes Calendula, Great Burdock and Allantoin. Calendula is often found in traditional Chinese medicine due to how useful it is in repairing and relieving the skin.
Meanwhile, Great Burdock is a botanical extract that moisturizes dry skin as well as eases skin inflammation. For Allantoin, which is derived from the comfrey plant, is known to comfort the skin whenever needed.
As this toner doesn't contain any alcohol and drying agents, it is especially suitable for people with dry and sensitive skin. If that doesn't sound good enough, it is also free from essential oils and artificial fragrance. Instead, the toner's fragrance come from natural herbs. To wrap up, this is a sensitive-skin-friendly, repairing toner that soothes with its jam-packed list of herbal ingredients.
Customers have shared their pleasant experience with this product and how it has made their skin stable, soft and glowing. However, while it's a favourite for many, some users find it overpriced and that it did not bring a super transformative result to their skin.
Customer Reviews:
"I am in love with this toner. It has improved my overall skin condition and the result is noticeable. Well, not a fan of the price though." - Vienteciello
---
More: Hydrate, Refresh & Set Your Makeup with these 11 Face Mists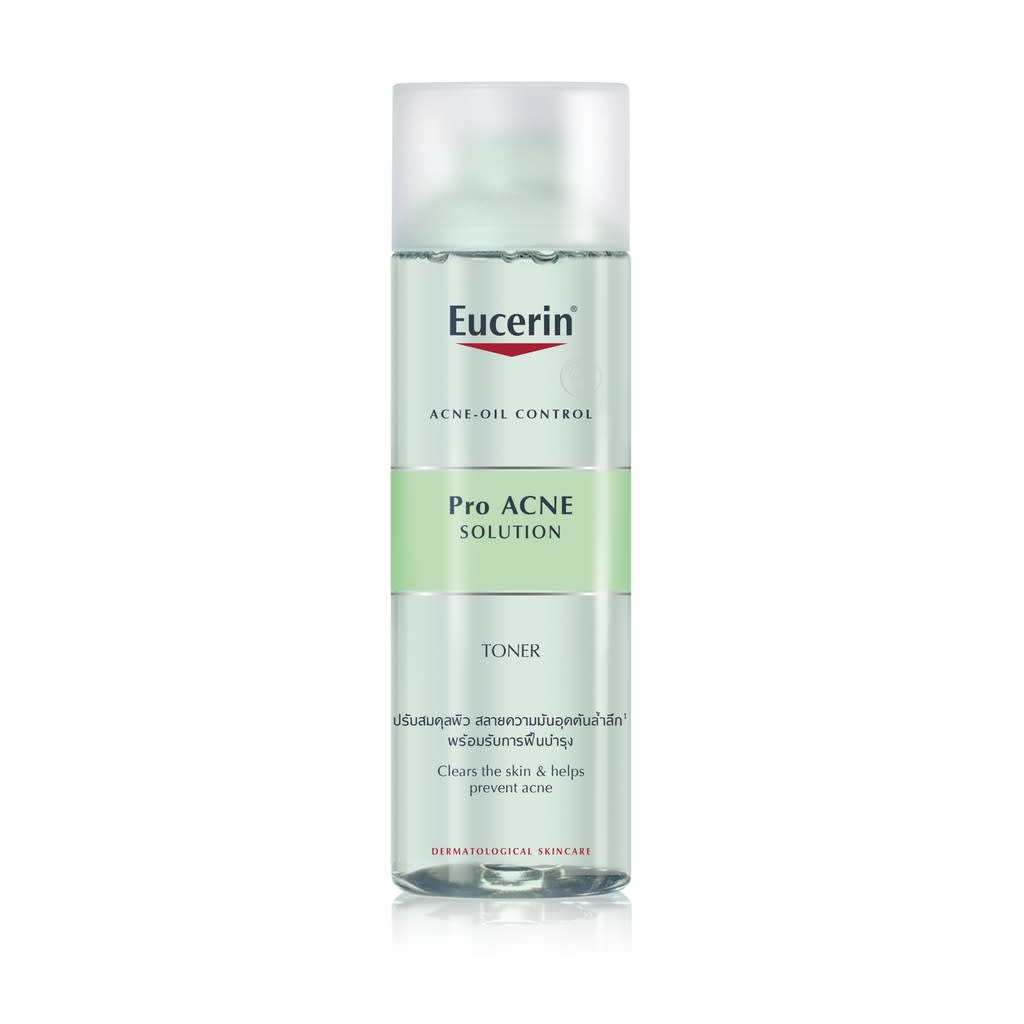 add_circle
Can be used during pregnancy
add_circle
Fast absorption
add_circle
Reduces acne and shine
add_circle
Reduce oiliness
remove_circle
Contains fragrance
remove_circle
Contains alcohol and powerful skin exfoliant which might dry out the skin when used excessively
This oil-free toner from Eucerin is specially designed to combat acne and clear the skin. The no-nonsense toner targets to treat acne vulgaris such as the common whiteheads, blackheads and cysts, as well as adult acne.
Formulated with 2% of Lactic Acid, this superstar ingredient is an effective skin exfoliant in removing dead skin cells and unclogging the pores so as to reveal the healthy skin underneath. It is also an amazing ingredient in fighting against acne-triggering bacteria.
As this toner contains alcohol and a skin exfoliant, it is naturally drying to the skin. As such, we recommend this to people with oily combination, oily and blemished skin. If you are undergoing medical acne treatment, it's best to avoid the toner or else it might sensitize the skin.
At usual times, use it on problematic areas or wherever that gets oily easily, such as the T-zone, for the best result.
Customer Review: "This product is fast-absorbing without leaving any sticky discomfort on my acne-prone skin. It has also worked well in reducing my skin breakouts. Recommended." -shimeiid97
---
More: Be Forever Young with these 11 Anti-Aging Skincare Products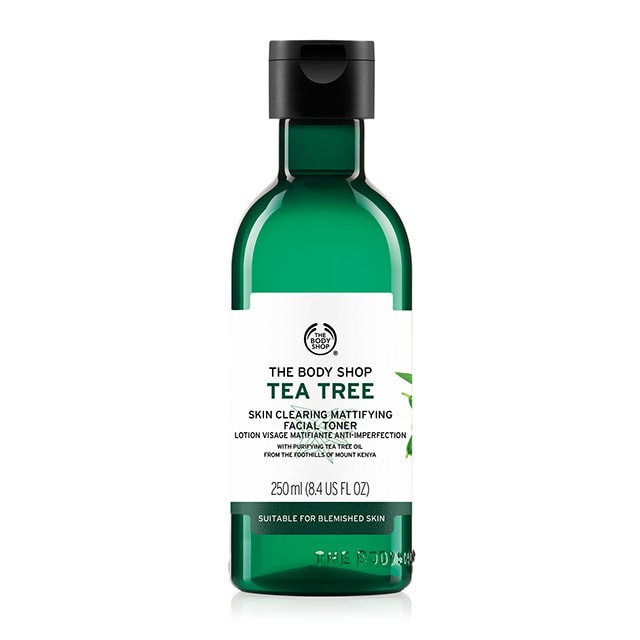 add_circle
Cooling effect
add_circle
Helps to control acne and breakouts
add_circle
Small size; great for travelling
add_circle
Combats acne naturally
add_circle
Contains soothing ingredients to protect the skin
remove_circle
Strong smell
remove_circle
Can be overly drying for certain skin types
It is claimed by The Body Shop that this is their best in-house toner for oily and acne-prone skin. Luckily, many users agree.
Infused with tea tree oil from Kenya, the toner promises to remove any unwanted grime from the face and clear the skin from blemishes. The reason why tea tree oil is used in anti-acne skincare products is that this oil is antiseptic, antifungal and antibacterial in nature. It does an impressive job in purifying the skin and keeping acne at bay.
Not only is this toner blemish-banishing, but it also contains mattifying powder that frees the skin from unwanted grease. The lactic acid in the toner further helps to eliminate dead skin cells and reduce skin congestion. Congested pores are otherwise, often the culprits of skin breakouts!
Last but not least, the toner comes with soothing ingredients like Allantoin, White Willow Bark Extract and Witch Hazel to deliver to anti-inflammatory skin benefits.
All in all, this is a toner that kills its enemies like crazy while keeping its user protected under its arms.
Customer Reviews: "Despite the scent which might not be the best, I am impressed by this toner. Best toner I have ever used." -Dali C.
---
More: Clean Out Your Pores with these 8 Clay Masks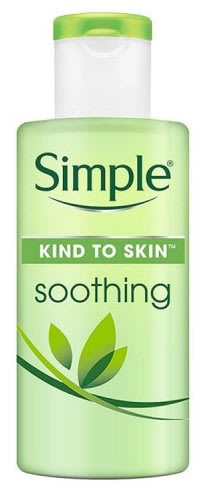 add_circle
Formulated for all skin types
add_circle
No alcohol - leaves the skin soft after
add_circle
No harsh chemicals
add_circle
Fragrance-free
remove_circle
No extra skincare benefits like anti-aging or extra nourishment
The brand Simple have always been known for how its products are 'simple' and gentle to the skin, especially for sensitive-skin types. And their soothing facial toner is no exception.
This product is specially designed to restore the optimum pH level of the skin post-cleansing by neutralizing the alkalinity of the cleansers. It helps to remove the residual dirt on the face while refreshing the skin without drying it out. To enhance its performance, the formula contains Niacinamide that does a lot of wonderful things like evening out skin complexion, regulating sebum production and strengthening the skin barrier. Apart from that, the formula also features soothing ingredients such as Chamomile and Allantoin.
So, what exactly makes it SO sensitive-skin friendly?
Well, as a toner, it is free of many things. Not only is it alcohol-free, fragrance-free and essential-oil-free, but the formulation is also free from any artificial dye and harsh chemicals. All of these substances can upset our skin in the long run and Simple is making sure that we stay from them!
Customer Review: "All-time favourite! Super sensitive-skin friendly." -Harshini K.
---
More: Win Back Flawless Skin with these 8 Best Acne Creams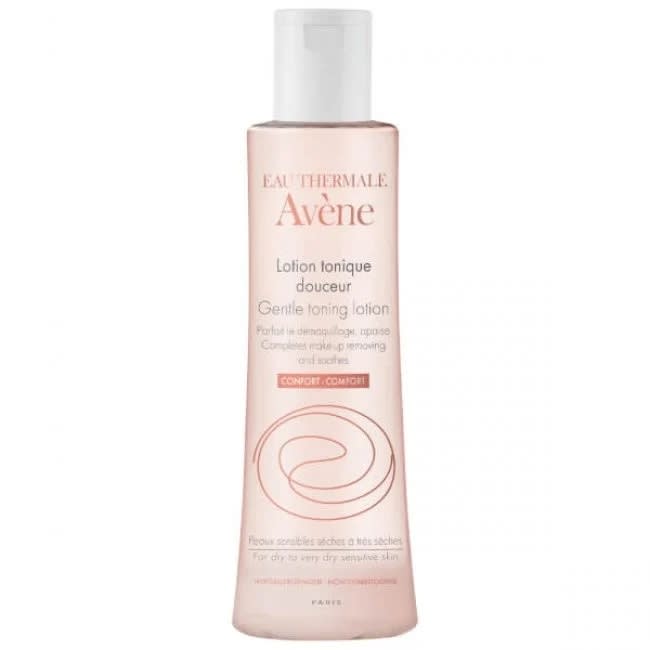 add_circle
Avene Thermal Spring Water that soothes the skin
add_circle
Lightweight texture
add_circle
Sensitive-skin Friendly
remove_circle
Contains high amount of Parfum
An alternative to the popular Simple Toner is this gentle toning lotion from Avene. The toner claims to soothe and protect the skin. It contains natural silicates to provide a protective layer to the skin, shielding the skin from harmful pollutants in the environment. And to maximise its skin-soothing action, the formula also has Avene's key-ingredient - Thermal Spring Water.
Because of the spring water's purity, this is an ideal toner for people who suffer from skin sensitivity and free radical damage. Still, the softening effects of spring water will benefit any skin types! Also formulated without any alcohol and parabens, the toner is of lightweight consistency but is also non-drying.
Many have mentioned that their moisturizer layers well with this toner and that it doesn't sting their skin.
Now, anti-fragrance people might grimace upon seeing Parfum as the second ingredient on the list. Yes, this toner is not fragrance-free. Though mentioned by the brand that the fragrance is tolerable to sensitive skin, we believe this is something worth taking note before purchasing!
Customer Reviews : "The go-to toner for something gentle on the skin. Though, it would have been nice without the fragrance." - Verified Buyer from Dermstore.com
---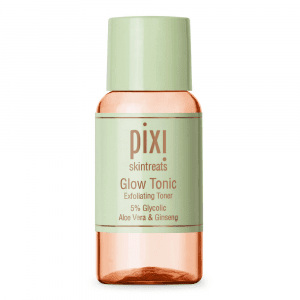 add_circle
Packaging is suitable for travel
add_circle
nice citrus smell
add_circle
potent yet gentle on sensitive skin
add_circle
A blend of botanical extracts that reenergize the skin
add_circle
Exfoliates and Improves skin texture effectively according to the reviews
remove_circle
May feel tingly on skin
remove_circle
May be over-drying and irritating for very sensitive skin
remove_circle
Contains fragrance
remove_circle
High concentration of AHA needs to be handled carefully especially on sensitive and dry skin
This is an alcohol-free, exfoliating toner that comes with 5% of Glycolic Acid, which is also said to be the soul of the tonic. Glycolic Acid is a type of AHAs that sweeps away dead skin cells and cleanses the pores thoroughly. The after-effects are improvement in skin texture, which then results skin glow as new and healthy skin cells surface. This acid is also proven to be able to enhance collagen production and improved skin firmness.
Besides the wonderful exfoliating acid, the tonic consists of a blend of Red Ginseng, Aloe Vera, Witch Hazel and Horse Chestnut. Red Ginseng is added to boost the skin's blood circulation and energize it. And when your skin is fully charged, it glows! Then, Aloe Vera and Witch Hazel are included to relieve and calm the skin. As for Horse Chestnut, it grants skin radiance!
With such sophisticated and unique formulation, it is no surprise that this tonic is the brand's hot-seller of all time.
Several customers have mentioned that the tonic leaves a slight tingling sensation on their skin which goes away after a while without causing any irritation. Most of them approves this tonic for improving their skin condition amazingly. Still, as this toner contains 5% of AHA, we won't recommend it to people with dry and sensitive skin for regular use, but only once to twice a week.
Customer review: "My go to toner for the past 3 years. Pixi glow is great for my acne prone skin! Tried to switch to others but kept coming back! Doesn't make my skin dry!" - Maheen
---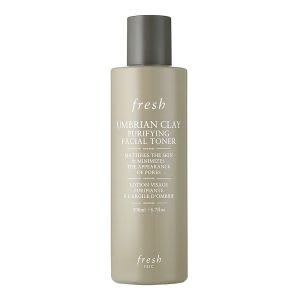 add_circle
Umbrian Clay that draws out excess sebum from the face effectively
add_circle
Effective and Instant result in minimising pores
add_circle
Amazing work in oil-control, even to oily skin
remove_circle
Contains fragrance
remove_circle
Not dry-skin friendly
This purifying toner from Fresh contains Umbrian Clay from Italy. Said clay isn't only rich in minerals but works effectively like a sponge to absorb excess oil and impurities from the face. This in turn shrinks the pores and mattifies the skin, keeping the face smooth and grease-free.
The toner is also enriched with Cinnamon Bark and Burnet Root Extracts, which carries an amazing job in purifying the skin and resolving skin problems such as acne and rashes.
As clay might dry out the skin, the formula achieves a balance with Chamomile oil, Sandalwood oil and Ginger extract. All these ingredients are great soothing components that resolves skin inflammation. Moreover, there is also glycerin to retain skin moisture level.
Last but not least, the Lavender water in the product tones and brightens up the skin, allowing us to wave goodbye to tired and dull skin!
Many customers have found this product a game-changer. It has visibly minimised their pores and kept their face oil-free throughout the day. For the best result, many have suggested focusing the toner on areas like T-zone and cheeks, which usually have a more active sebum production. As this toner generally works to tackle enlarged pores and skin oiliness, we highly recommend this to people with oily combination and oily skin.
Customer Review: "It reduces the oil on my face just as how it claims. It is quite costly but because of its performance, I think this is worth it." -SY Wong
---
More: 10 Toners to Help Keep Your Oily Skin In Check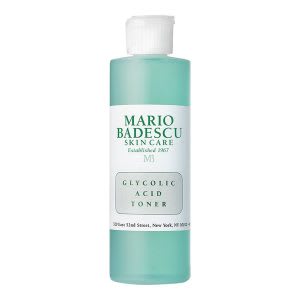 add_circle
Good performance in pore-tightening
add_circle
Good performance in Oil-control
add_circle
Exfoliates gently
remove_circle
Contains a lot of perfuming
remove_circle
Contains synthetic colorants
remove_circle
Not sensitive-skin friendly
remove_circle
Takes awhile to notice a result
Formulated with 2% Glycolic Acid, this toner from Mario Badescu works to banish rough skin texture and uneven skin tone. It exfoliates the skin gently, delivering us lively and young-looking skin. It also promises to clear away acne scars and reduce fine lines. Moreover, with Aloe Vera extract, it helps in healing the skin and promoting skin cell regeneration.
Onto several things about this toner; it includes several synthetic colourants, giving it a blue hue. It also contains quite a number of perfume ingredients.
That fact might not only concern people who prefer their skincare to be as clean as possible but also people with sensitive skin. In fact, many reviewers have mentioned how this product is a NO for them because of their sensitive skin and the toner has left their skin red and burnt. Meanwhile, reviews on the fragrance is mixed.
Despite that, many with oily or matured skin have had a pleasant experience with the product. They commented that the product has removed the grease from their face pretty well and made their pores and blemishes a lot less visible. They find it a decent product which shows results, though taking awhile.
Customer review: "I love that this glycolic acid toner isn't as harsh as other acid toners. it also smells really good but in a clean, refreshing way and not a fragrance-packed manner. the bottle cap mechanism/design is great too as it is very secure." - Chez
---
More: Nourish Your Sensitive Skin with these 14 Skincare Products
---
Picking the best toner for your skin type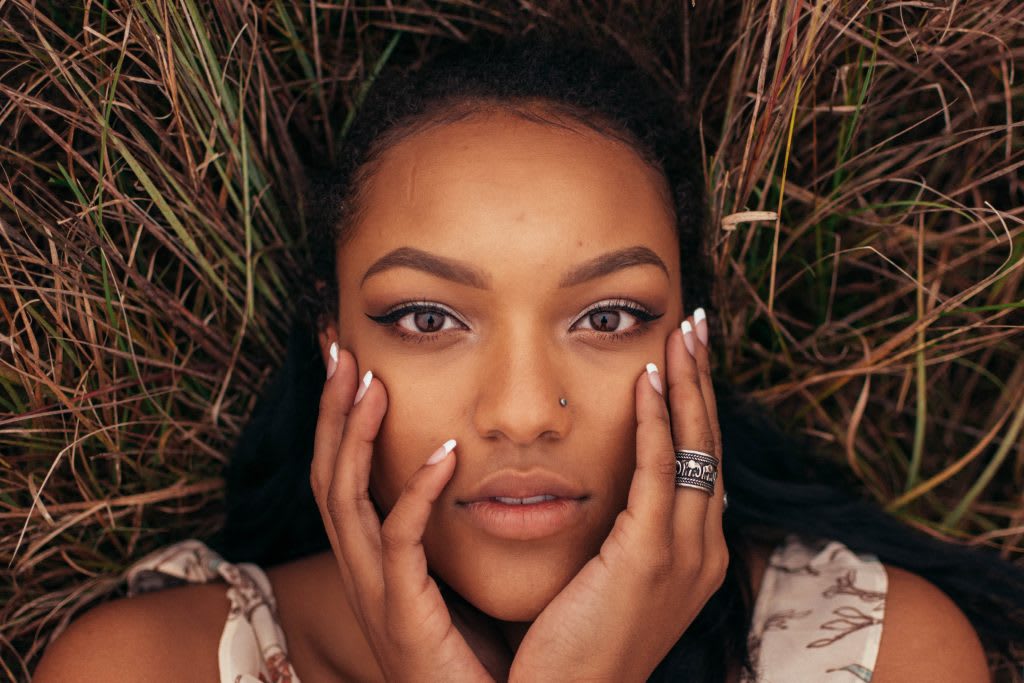 Toners that exfoliate and rebalance are the best for people with oily skin. These are such as AHA and BHA toners that are formulated with additional acids to remove dead skin cells and dirt. While AHA products are typically suitable for most skin types, BHA products are more suited for oily and sensitive skin.
If you have combination skin, you'll want a toner that clears excess oil, rebalances and moisturises instead of over-drying the skin. As a general rule of thumb, you're going to want to avoid products with ingredients that are too harsh or heavy. Instead, opt for products with natural acne-fighting properties and gentle exfoliants such as witch hazel.
It's a common misconception that people with dry skin should not be using toners. However, getting a hydrating toner might just be the hydrating boost that your skin needs to restore your skin's moisture balance and combat redness and flakiness. Always select products that have moisturising properties. Cucumber and aloe vera extracts are also helpful to soothe and refresh your skin.
Sensitive-skinned people need to be extra mindful of what they apply on their skin. Hence, it's best to opt for gentle products. Always select alcohol-free toners and those formulated with natural ingredients. Ingredients such as aloe vera are also helpful to soothe the skin.
If wrinkles and ageing skin are your primary concern, moisturising toners with the ability to balance your pH levels are your best bet. Look out for ingredients such as almond oil, glycolic acid or honey and toners that are rich in antioxidants - these help to restore suppleness and radiance to your skin.
---
Reminder: Use it at the RIGHT time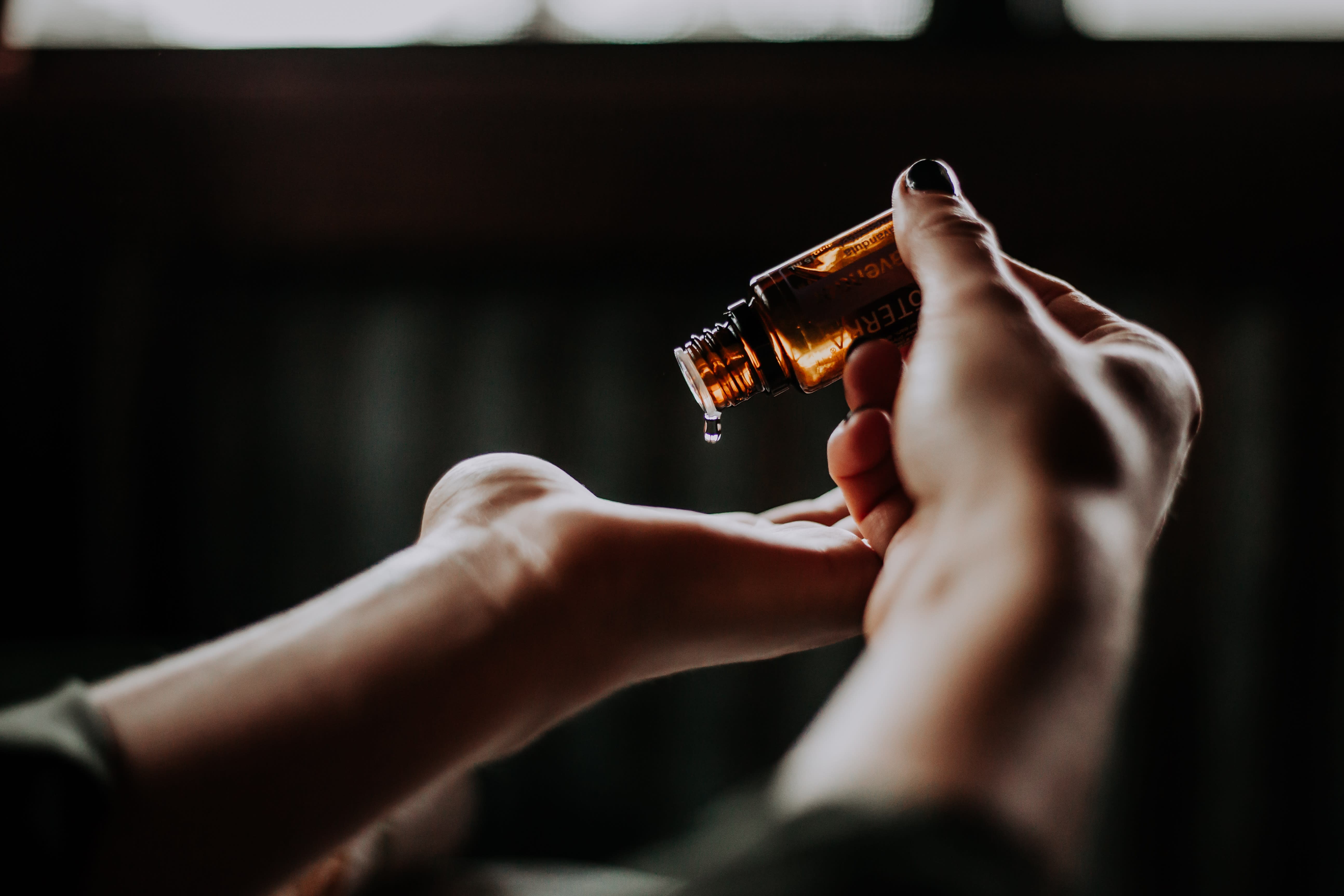 In short, people would say that a toner goes on your skin after cleansing. But, get the best of this step by making sure you are doing it correctly. This means applying it within a minute of having cleansed your skin. The molecules of your toner penetrates through your skin more effectively when your skin is moist. Do this, and trust that it will make all the difference!
Disclaimer: The pricing shown is just a good indication of how much these products are worth. The prices could change based on the e-commerce promotions that are going on. If some of the products are not available, do email us at hello@productnation.co. Thank you!