If you consider yourself a K-beauty fanatic, this must not be the first time you have heard the name "Some By Mi". 
Some By Mi is a Korean skincare brand that made its appearance in the industry years ago with a goal: "We hope Miracle goes to you". The products offered by the brand are the likes of cleansers, toners, hair shampoos and more. Yes, that's such a wide range! Anyone can grab all their daily skincare essentials from this one brand! 
Some By Mi's infamous Korean toner for all skin types
If we are to select one best-selling item from the brand, it will undoubtedly be the "30 Days Miracle Toner". In fact, for this article, we have done a quick review of the product as well as picked out some of the best Some By Mi products in our opinions for reviews. 
Let us walk you through.
More: Top 16 Skincare Products To Treat All Skin Types With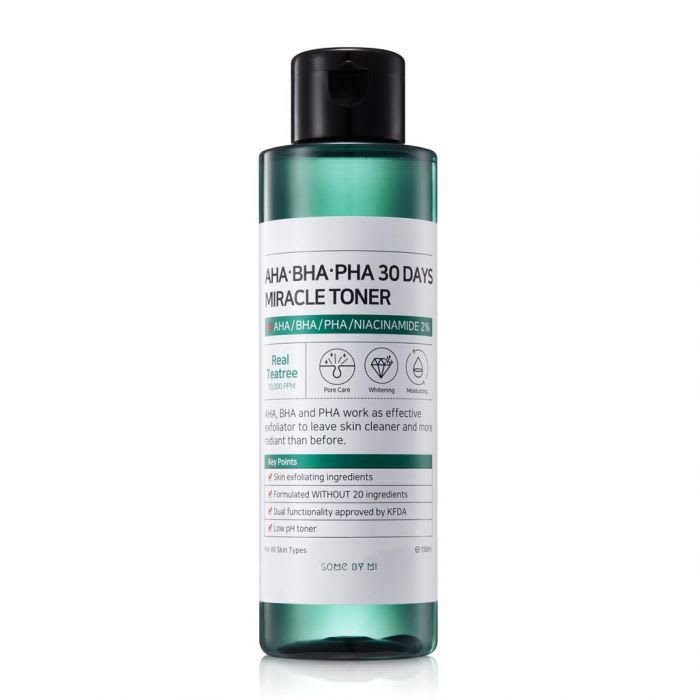 Check Some By Mi 30 Days Miracle Toner price below:
add_circle
Good for daily use
Among all the toners from the brand, this has been the chart-buster as it brings the miracle to the face. 
3 exfoliating acids are merged into a bottle to effectively slough off the dead skin debris on the skin surface and boost skin cell regeneration. Exfoliation like this helps to tackle acne especially whiteheads and blackheads. 
While one might be familiar with AHA and BHA, PHA can come out to be quite uncommon. Essentially, PHA exfoliates the skin too except that it does so more gently than the other two acids. It keeps the skin's moisture level checked during exfoliation and is kind to sensitive skin. 
Carrying 3 skin exfoliants are not the only reason why people love this toner. Some of the best ingredients for skin like Glycerin, Niacinamide and Tea Tree Oil stay high on top of the ingredient list too. The toner also contains Papaya Extract that is packed with vitamins and antioxidants to unload clogged pores and restore the skin firmness. 
This product works the best on oily, acne-prone skin. It is claimed suitable for daily use thanks to its low pH-level. 
Promising Review:
"I have oily-combination skin and suffer from skin issues like enlarged pores and acne on the cheeks. This product has helped me reduce my skin's sebum production especially the T-zone and lessen my breakouts. I have also noticed that my skin looks more plumped and glowing after using this product! Amazing." - Wendy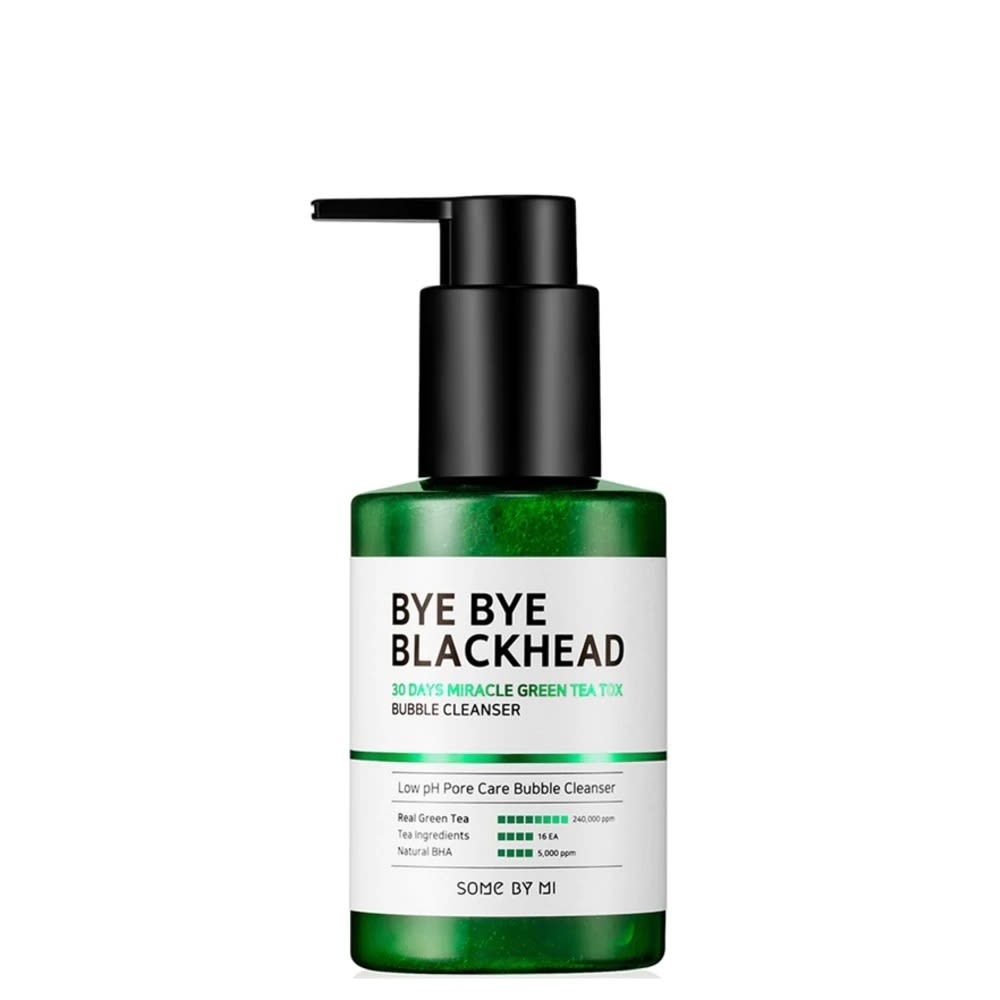 Check Some By Mi Bye Bye Blackhead 30 Days Miracle Green Tea Tox Bubble Cleanser price below:
add_circle
24% of Green Tea Water to detox the skin
add_circle
0.5% of natural BHA to exfoliate the skin, treat breakouts
add_circle
16 natural tea ingredients to soothe the skin
add_circle
Foams up easily
remove_circle
Contains peppermint oil as fragrance (might sting sensitive skin)
People who take great pleasure in massaging foam onto their face would enjoy this bubble cleanser from Some By Mi. It turns into a thick lather upon application without the need for water. 
The cleanser contains 24% of Green Tea Water that targets to mend damaged skin barrier, detoxing the skin and most importantly, slowing down the skin's ageing process. It is also formulated with 0.5% of Willow Bark Extract which acts as a natural BHA to lift the excess sebum and built-up dirt off the pores. 
On a side note, konjac granules are mixed into the product to physically exfoliate the skin. 
What makes this cleanser even more fascinating is that it comes with 16 other tea ingredients such as Pine Needle Tea Extract, Centella Asiatica Extract and Mugwort Tea Water. Not only do they help to maintain skin elasticity, but they also bring relief to inflamed and irritated skin. To sum up, this is a soothing exfoliating cleanser. 
Promising Review:
"I have been using this product every night and my bumpy nose is no longer bumpy! My pores have also become less visible. It leaves my skin feeling cool and refreshed. This turns out to be my lifesaver which is honestly unexpected. " -Jell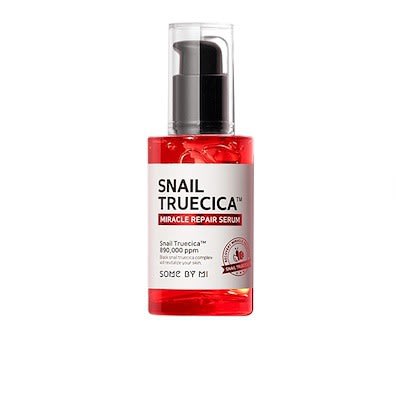 Check Some By Mi Snail Truecica Miracle Repair Serum price below:
add_circle
89% of Snail Truecica Complex to repair skin, treat acne marks and wrinkles
add_circle
Lightweight texture, non-sticky
add_circle
Fast-absorbing
add_circle
Tested to be safe on irritated skin
add_circle
Sensitive-skin friendly
remove_circle
Not fragrance-free
remove_circle
Not essential-oil free
It is undeniable that post-acne marks can be quite a pain in the arse. But fret not, Some By Mi has come out with the Miracle Repair Serum to bring back smooth and glowy skin. 
The serum is developed with 89% of the brand's Snail Truecica Complex to recover the skin barrier and fade out acne scars. Such complex essentially contains Black Snail Mucin which has been known for its amazing work in keeping the skin firm and diminishing the signs of fine lines. 
The serum also serves skin-soothing benefits with Centella Asiatica Extract, Allantoin and Sage Extract in its formulation. Besides, to enhance its performance in brightening the skin tone and treating hyperpigmentation, it is developed with Licorice Root Extract and Niacinamide. 
Despite the slimy texture of Snail Mucin, this serum establishes a watery consistency that promises to not leave any sticky finish on the skin. It has been tested to be safe on irritated skin too. 
Promising Review:
"This serum has noticeably cleared my skin after just a week! My skin appears healthier and smoother. It comes with a soothing herbal scent. Overall, its result has been impressive and beyond my expectation. Yes, I will definitely repurchase this serum." -Seuriji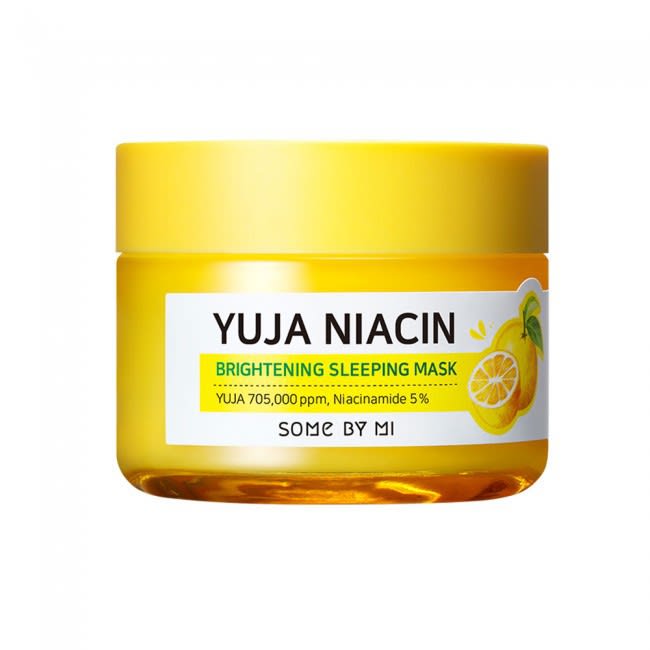 Check Some By Mi Yuja Niacin Brightening Sleeping Mask price below:
add_circle
70.5% of Yuja to brighten the skin and for anti-ageing
add_circle
5% of Niacinamide for acne control and skin brightening
add_circle
Light, non-sticky texture
add_circle
Fast-absorbing
remove_circle
Strong citrusy scent
remove_circle
No immediate result, takes time to work
Nighttime is when the skin repairs itself after a long day and "Beauty Sleep" is real. The Brightening Sleeping Mask from Some By Mi focuses on replenishing and enlivening the skin overnight. 
The formula contains 70.5% of Citrus Fruit Extract (Yuja) from Goheung and 5% of Niacinamide as its core ingredients. Yuja is a powerhouse of Vitamin C and is claimed to be 3 times more powerful than lemons. It is ideal in lightening dark spots and slowing down the skin's ageing process. 
With the help of Niacinamide, the sleeping mask fights against breakouts and further boosts skin radiance. There are also Jojoba Seed Oil, Glycerin and Arginine in the mask to pre-empt moisture loss from the skin overnight. 
Waking up with vibrant skin? Not a dream at all. 
Promising Review:
"Honestly, this product takes time to show a result. I have used it for 3 months and it works. It lightens my blemishes and I have breakouts less often these days! Just don't get dispirited and be consistent with it!" -Lina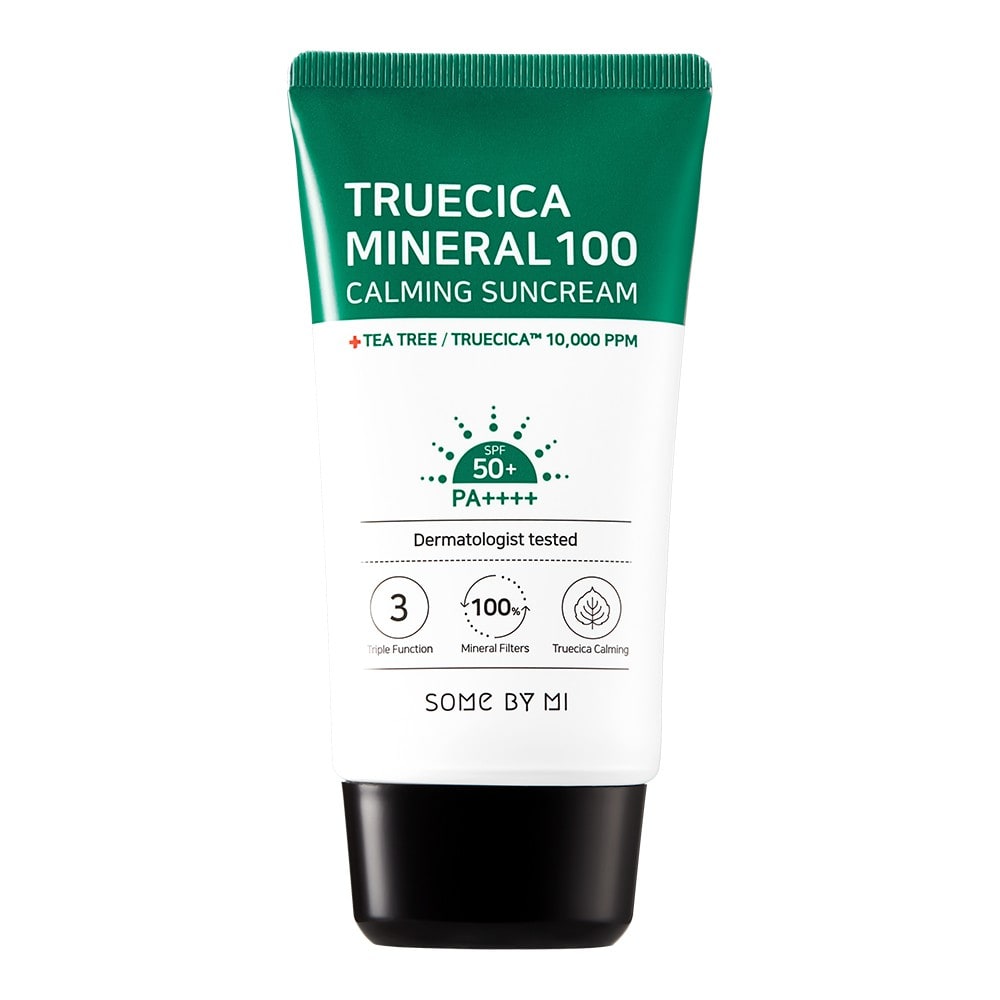 Check Some By Mi Truecica Mineral 100 Calming Suncream SPF50+ PA++++ price below:
add_circle
Contains tea tree oil to fight against acne
add_circle
Contains Madecassoside to soothe skin
add_circle
Sensitive-skin friendly
add_circle
Dermatologically-tested safe
remove_circle
Strong tea tree scent
remove_circle
Can be streaky on some skin
The sun is always the top-tier culprit that causes the premature ageing of the skin. It "burns" the skin cells and destroys the skin barrier. As such, it is important that sunscreen is included in a skincare regime. 
This Truecica Mineral 100 Calming Suncream protects the skin from both UVA and UVB rays and contains 85% of essence to keep the skin moisturized. Tea Tree Oil and Madecassoside are also incorporated into the product to further calm down irritated skin. Tea Tree Oil is especially well-known in addressing the skin concern with breakouts.
To reinforce the skin barrier, it contains Glycerin and Niacinamide as well. While Glycerin keeps water trapped in the skin, Niacinamide helps in brightening skin complexion. To sum up, this is an ideal sunscreen for people with acne-prone skin and sensitive skin. Do note that as it is a physical sunscreen, it might leave a white cast on the skin.  
Promising Review:
"This sunscreen has a lotion-like texture and it applies easily across the skin. For me, the white cast is acceptable and the finish is natural. Overall, a good one especially with such reasonable price point." -Aryn Geier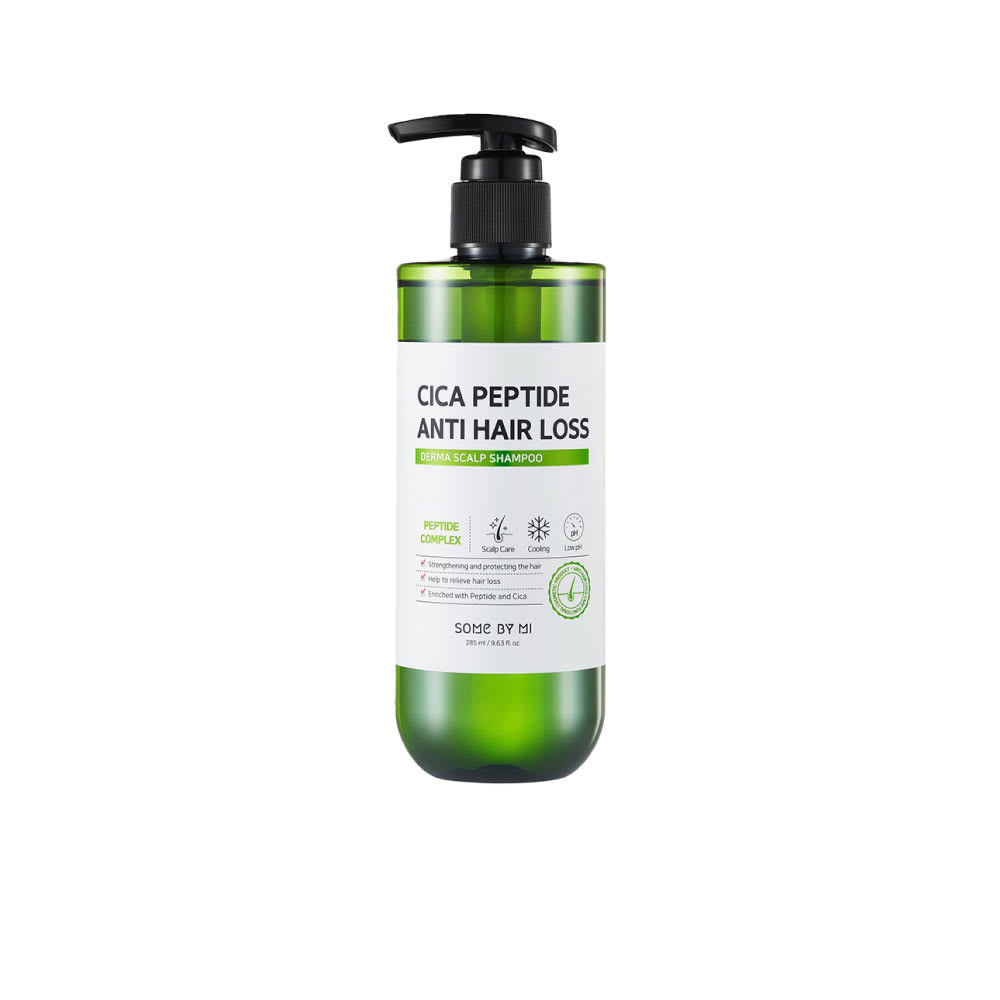 Check Some By Mi Cica Peptide Anti Hair Loss Derma Scalp Shampoo price below:
add_circle
11 peptides to strengthen the scalp barrier
add_circle
CICA to treat sensitive scalp
add_circle
Foams up easily
remove_circle
Contains fragrance
Having a healthy scalp is just as crucial as having healthy skin. The Derma Scalp Shampoo from Some By Mi targets to put a reverse on hair loss. 
The shampoo is enriched with 11 types of peptides to deeply nourish the scalp and strengthen the hair. Peptides are essential for the building of collagen. Active collagen production ensures a healthy scalp and glowing hair. 
It also combines BHA and PHA to clean the scalp thoroughly, making certain that the scalp is free from any excess sebum, dead skin cells and dirt. If you have dry and scaly scalp, this shampoo carries Centella Asiatica (CICA) to take the edge off any scalp discomfort.
Promising Review:
"This is my first time using this shampoo and the result so far has been woah-ing. I could tell that my hair loss is reduced." -Kim
About Some By Mi's Products
The products from Some By Mi can be categorized into 4 major skincare lines namely 30 Days Miracle, Yuja Niacin, Snail Truecica and Galactomyces Vitamin. Among them, the 30 Days Miracle line has been the best-selling line.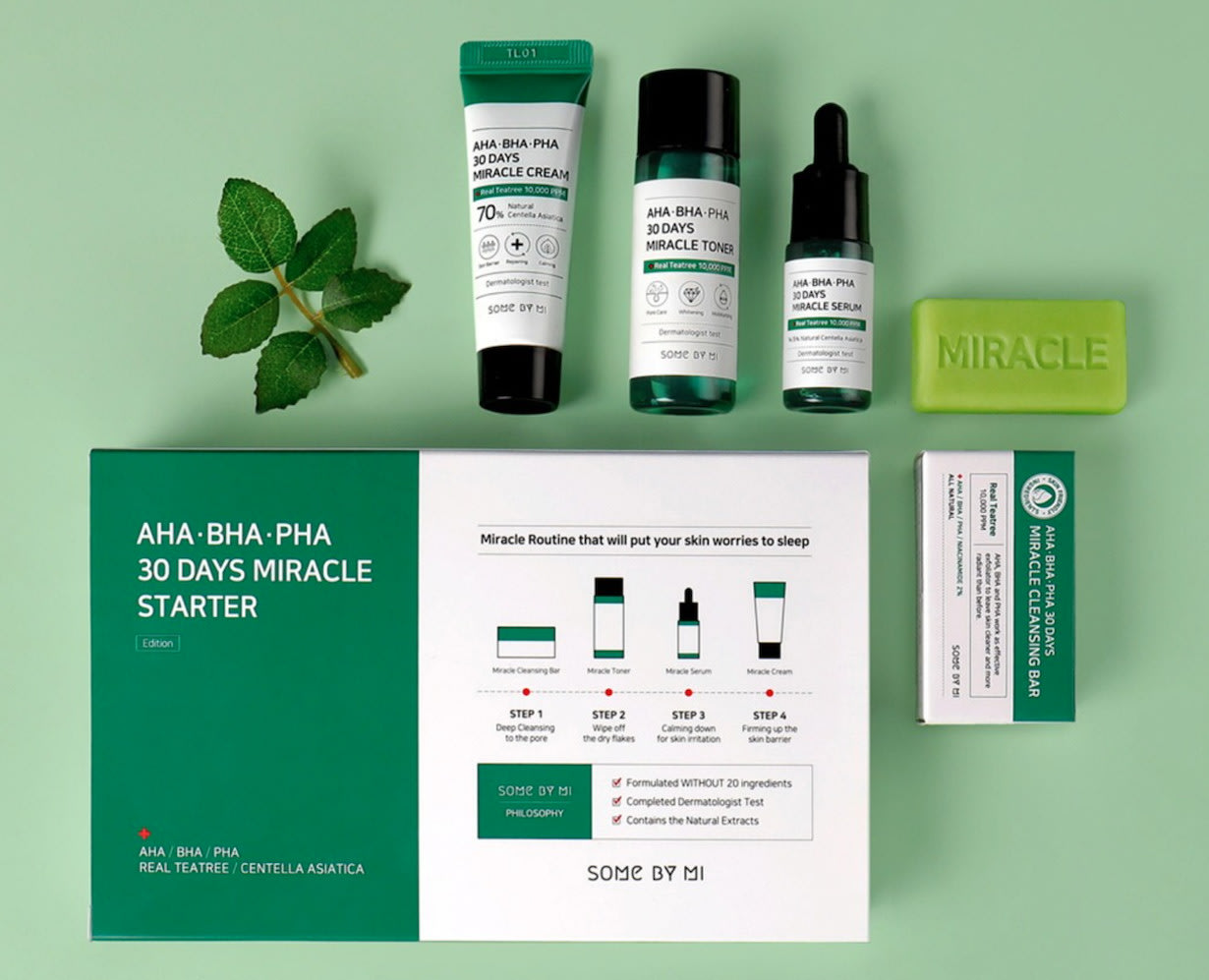 This line is particularly favoured by people as it focuses on rescuing temperamental, reactive skin. The key ingredients of the line are Tea Tree, AHA/BHA/PHA and Centella Asiatica which win the heart of those with sensitive, acne-prone skin. Such ingredients play a vital role in dealing with skin breakouts, inflammation and congestion. Customers also like how the products from this line are great in sebum-control. 
First-runner-up will be the Snail Truecica line which aims to heal the impaired skin barrier. Its core ingredient namely Black Snail Mucin is wonderful in promoting collagen production and relieving stressed skin. People have been favouring this line for its effectiveness in moisturizing their skin and bringing a transformation to their overall skin condition. 
The Story of Some By Mi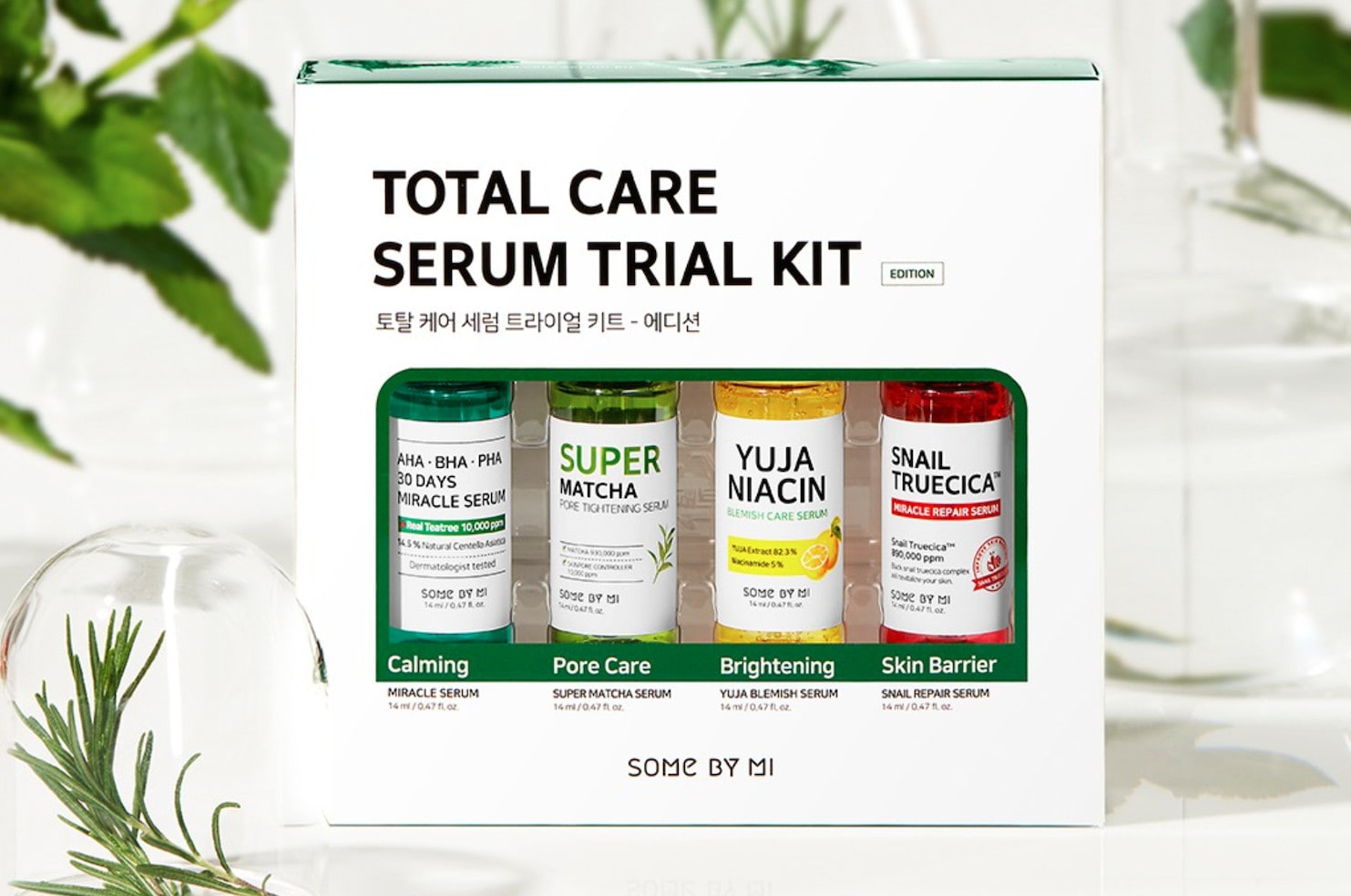 Some By Mi is founded by South Korean Lee Ji Eun in 2016. The name "Some By Mi" goes after "Something by a Miracle". Its team behind the brand believes that the pure ingredients from nature can bring a miraculous transformation to the skin. And it doesn't go for a temporary result but a promising change that lasts. 
Essentially, the brand focuses on delivering skincare solutions free from any worrisome chemical ingredients that might invoke skin sensitivity. Not just for the face, the brand has also launched products made for hair and body. What's more, all products have been tested and proven safe from skin irritation. In other words, they are sensitive-skin friendly! 
Over the years, Some By Mi has been spreading its wings across the world, including Europe, the Middle East, Asia and North America. With products that perform amazingly well yet sold at an affordable price point, it is no wonder that the brand has owned many people's favourites.  
---
More beauty recommendations: