Imagine waking up one morning and finding that your skin's a wreck. You have visible wrinkles, serious signs of ageing, and your skin feels dry. Wait, are those discoloured spots? Why does the skin feel strangely leathery? We're not trying to scare you but these are very real things that can happen if you skip out on sunscreen daily. 
Yes, we know it's not something that happens overnight but why risk looking like Freddy Krueger when you could have dewy, glowing skin for the rest of your life? All you have to do is be disciplined and motivated enough to apply a generous amount of sunscreen on your face daily. 
Whether you're indoors or outdoors, ultraviolet rays are present everywhere, unless you choose to spend your time in a dark room with no windows (We hope not?). It is for this reason you need to stop slacking on your skin and start wearing sunscreen daily. 
Let's start breaking old habits and make wearing sunscreen a part of your everyday beauty ritual. White cast? Greasy feel? Sticky to the touch? You won't face any of these problems if you stick to our specially curated list of the best sunscreens in Malaysia. After today, you officially have no excuse to skip on the right sunscreen now.
10 Best Facial Sunscreens in Malaysia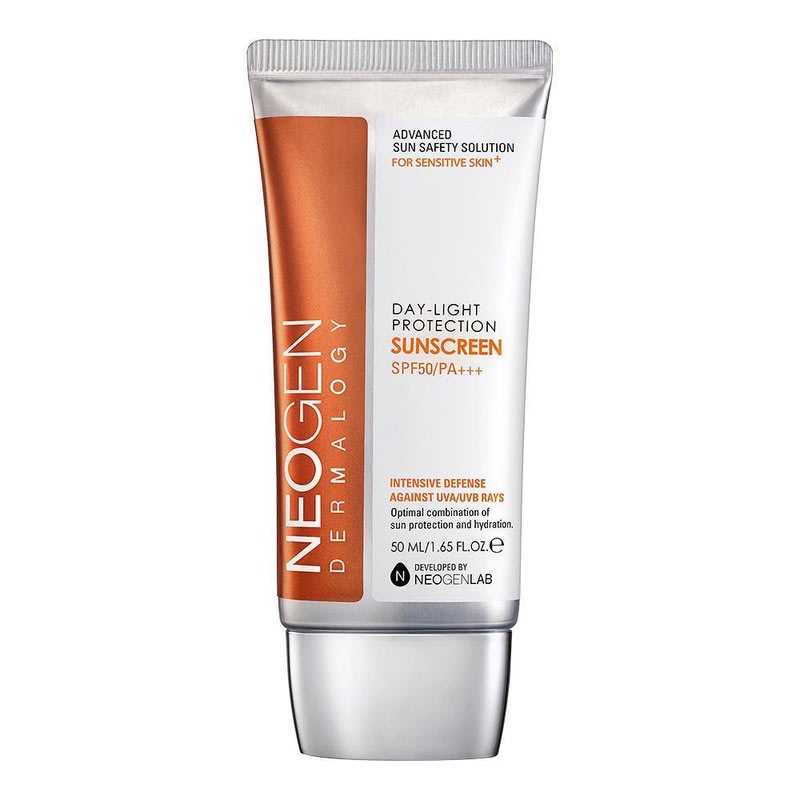 Check Neogen Dermalogy Day-Light Protection Sunscreen SPF50/PA+++ price below:
add_circle
Blend-able formula that doesn't leave a white-cast
add_circle
Hydrating and nourishing
add_circle
Contains antioxidants
remove_circle
Formulated with several essential oils
Why it's our top pick:
For simple reasons, the Neogen Dermalogy Day-Light Protection Airy Sunscreen comes up to being the top is due to the hybrid formula that constitutes it as both a physical and mineral sunscreen. This means you don't just get the properties of a lightweight mineral sunscreen but also the heavy-duty features belonging to a physical sunscreen!
Features:
The broad-spectrum formula has an SPF of 50+ and works to protect both UVA and UVB. Its formula combines both mineral and physical UV filters to offer double protection compared to other sunscreens. In the formula are titanium dioxide and zinc oxide to act as the physical UV filters, and also contains octinoxate; another UV filter that blocks out both UVA and UVB rays. 
What's beautiful about this sunscreen is that it's hydrating and contains antioxidants with its ingredients of both rose and raspberry extracts. 
Testimonies:
As introduced by several beauty reviewers, the sunscreen is said to blend well into the skin with no white cast, but instead leaves a subtle glow. Its consistency is also well-loved due to being close to both a moisturiser and sunscreen. The only downside is that it contains several essential oils, which are common irritants for sensitive skin.
Promising review:
"This formula has all the qualities you need - broad spectrum and PA+++ gives you the extra protection you need, lightweight, no white cast, easily absorb, and light pleasant fragrance. Neogen has done it again with another quality product!" - Jamie C.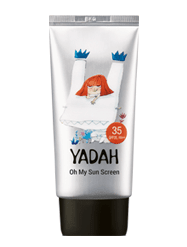 Check Yadah Oh My Sunscreen price below:
add_circle
Brightens the face
add_circle
Doesn't turn white after wearing for awhile
remove_circle
SPF is lower than most (SPF30)
This sunscreen is one of the best-rated products on Hermo, and we can understand why. From being made with natural ingredients to being comfortable to wear, the sunscreen is great for daily wear whether out in the sun or in the office.
Features:
Made with all-natural ingredients such as chamomile extract and lavender, Yadah's Oh My Sunscreen is the perfect sunblock for sensitive skin users! Thanks to its floral properties, this sunscreen also works to moisturize the face without feeling oily. Moreover, it's free from harmful ingredients like mineral oil, parabens, talc and tar colourant, which is more reason for sensitive-skin users to try it out.
Testimonies:
The creamy sunscreen is said to be gentle, soothing and moisturising to the skin without any greasy and sticky feeling, claimed by its users. Even though there's supposedly some physical brightening to the skin, it doesn't change in colour and thus, there's no need to worry about any white cast happening. A most notable comment is how lightweight the sunscreen feels.
However, this sunscreen is quite expensive. Still, it's become a favourite among many beauty lovers of all skin types including oily-skin users. There's a minority of the crowd who aren't comfortable with the "greasy" feel of the sunscreen. So if you prefer a light moisturiser, it's best to spread the sunscreen on thinly at first and gradually build up.
Promising review:
"My holy grail sunscreen!! I have combination skin. No whitecast, (is) easily absorbed into the skin & (doesn't make it) oily." - Sahila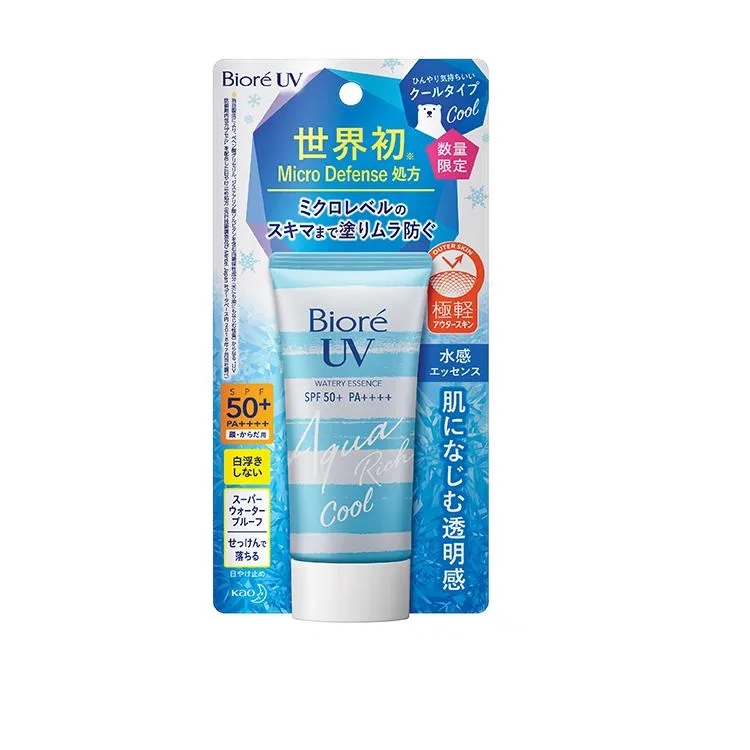 Check Biore UV Aqua Rich Water Essence Cool SPF50+ price below:
add_circle
Absorbs easily
add_circle
Suitable for face and body
This well-loved sunscreen from Japan is not just friendly in price, but also friendly and rich in its ingredients. Plus, it's quite effective and comfortable to wear for the price you pay!
Features:
First of all, this sunscreen has a chemical SPF-based formula, and also contains alcohol, so sensitive skin users may want to take try this formula with a pinch first. But otherwise, the sunscreen contains Aqua Micro Capsules which acts as a strong UV absorbing agent, protecting you from both UVA and UVB.
It's also formulated with Hyaluronic Acid and Mix Citrus Essence, with the latter to naturally help with moisturising the face while the former brightens the face, also naturally.
Testimonies:
The formula is highly loved for its lightweight and that it doesn't leave a greasy, oily feeling. Thanks to its Hyaluronic Acid ingredient which actually works to naturally attract moisture from the air, the sunscreen goes on like water and spreads easily. It's truly the perfect, non-allergy daily sunscreen!
Some users love the faint fragrance that it gives, and there are quite a number of reviewers that even claim there's no fragrance at all.
However, if you are prone to skin irritation especially from chemical-based products, do avoid this sunscreen or at least refrain from buying until you're able to do a small test underneath your chin.
Promising review: "This is my favorite sunscreen! It leaves no white cast, a good value for what you get, AND it works as an amazing primer, mattifying your skin before you put on makeup. Since I have oily skin, it really does help with control that. It smells great and it leaves your skin so soft. PLUS it's PA ++++ which means more UVA and UVB protection." - Farah.s
Check Biore UV Perfect Milk Sunscreen price below:
add_circle
Easy spreadability
remove_circle
Contains alcohol
remove_circle
Has fragrance
For oily-skin users, it can be daunting to find a sunscreen that will stay on the skin, or feel just as comfortable. Fortunately, there's Biore's UV Perfect Milk Sunscreen which is formulated to go on and look matte.
Features:
As one already knows, this sunscreen contains zinc oxide. Despite the scientific, chemical-like name, it's one of the safest beauty ingredients that help with treating mild rashes or other skin irritation. When used in sun protection products, it protects skin cells from UV damage and helps slow down the ageing process as it prevents skin dryness from happening.
Aside from that, the sunscreen also contains Biore's Aqua Shield Smooth Veil, which is highly resistant to sweat and water. Moreover, the formula is made to prevent the formation of spots and such.
Even though we recommend this for oily skin, some sensitive skin users have also tried the product successfully.
Testimonies:
Especially for those who have oily skin, the Biore UV Perfect Milk goes on matte and gives a velvety soft finish possible without drying up the skin. The sunscreen can also double up as a makeup base to prep the skin and help your makeup last all day. It's evident that this works on many reviewers, noting that the formula is not sticky and that there's a light fragrant smell to it.
Promising review: "Definitely one of the best sun screens I have used. Not oily and sticky, (leaves) a velvety-feel after use. I believe this can be used as (a) makeup base." - Jacelyn See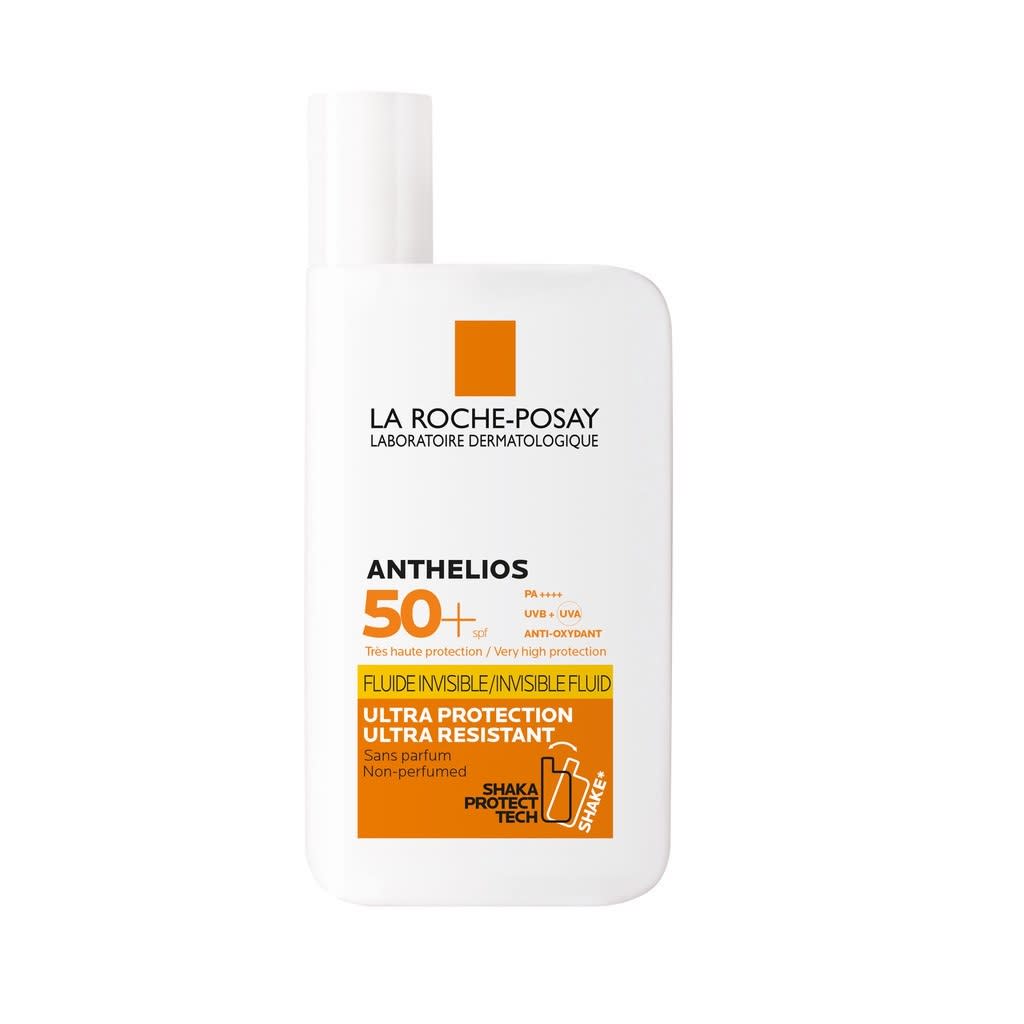 Check La Roche Posay Anthelios Invisible Fluid SPF50+ Non-Perfumed Sunscreen price below:
add_circle
Great for sensitive skin
add_circle
Non-greasy formula
Do you get acne or blackheads easily? This sunscreen from La Roche-Posay is made to fit those who have such skin. Well-loved by many despite the high price, its formula is a forgettable one that many found refreshing (and surprising to use).
Features:
Being dermatologist-tested, the formula contains the brand's patented UV filter called XL-Protect, which works to protect the skin against UVA and UVB. The said formula is also filled with antioxidants to help fortify the skin and protect it against the likes of infrared and pollution which are skin aggressors. This means it also helps with reducing sun-induced dark spots!
Another ingredient to make the formula comfortable to wear is Glycerin, which hydrates and moisturises the skin upon application. Finally, a bonus for sensitive users to consider this sunscreen is that it's enriched with thermal spring water to soothe and soften the skin. 
Testimonies:
At first glance, the formula seems to look thick, but this is where it surprises. The non-greasy formula goes on feeling light, leaving users with a velvety-finish. Besides the high UVB and UVA protection, the formula is also water-resistant. Another plus point is that the formula absorbs quickly thanks to the thin consistency and that it won't leave a white cast.
Even though the formula is lightweight, some users point out that it won't dry completely to a matte finish, so oily-users who hate the "greasy" look may want to opt for another product. Otherwise, the "greasiness" actually looks "radiant" to many users.
Promising review: "I bought this SPF before going on holidays and I really liked it. I usually get spots from other SPFs but this one didn't cause any problems. I'm now using it on a daily basis before applying makeup and it makes my skin look nice and moisturised without looking greasy." - Gabriella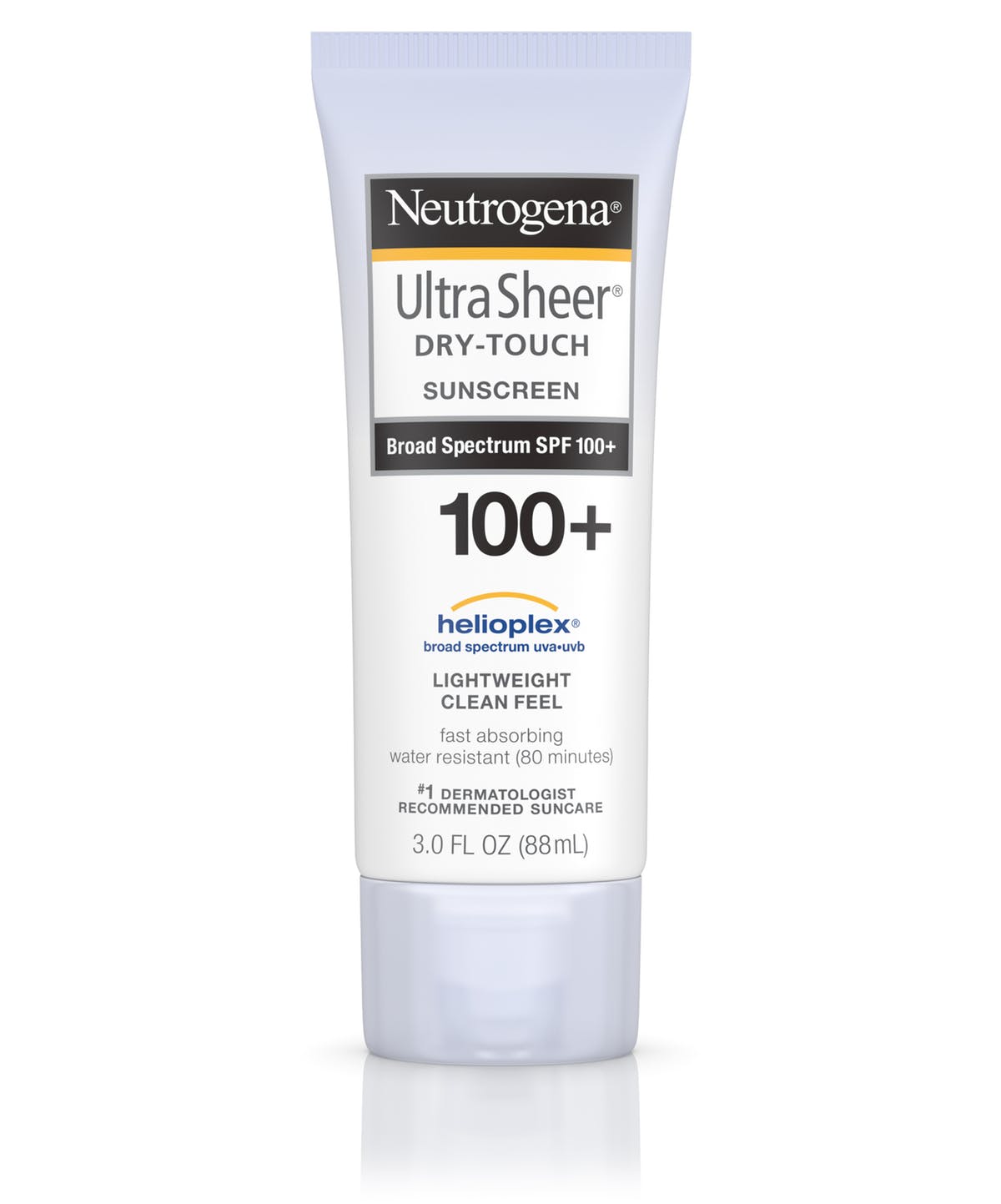 Check Neutrogena Ultra Sheer, Dry-Touch Sunscreen SPF 100+ price below:
add_circle
Water-resistant
add_circle
Sits well under makeup
remove_circle
Even though it has been tested by many sensitive-skin users, please test first before buying a whole tube
remove_circle
Moderately-priced
Those who fear not getting enough protection against the sun can opt for Neutrogena's Ultra Sheer Dry-Touch sunscreen. With an SPF 100+ protection number, the sunscreen offers a lightweight formula that will absorb into the skin quickly to create a matte finish.
With that, it leaves no chance of grease build-up which is just uncomfortable especially for acne-prone skin. Moreover, the sunscreen is water-resistant for up to 80 minutes!
Features:
This sunscreen offers a chemical-based formula that uses Oxybenzone and Homosalate to absorb UV rays. To make the formula fool-proof, it also has Octocrylene to improve the efficacy of the formula and better protect the skin.
To avoid any flaring on the skin, silica is also mixed into the formula, which is a powerful anti-inflammatory ingredient. Moreover, beeswax is added in to allow for easy blending into the skin.
And with all of that, Neutrogena takes care to make their products safe for most skin types by having it clinically tested and is labelled as non-comedogenic.
Testimonies:
It's common that many reviewers love its creamy texture which will blend in easily and dry down to a soft matte finish. This sweat-resistant formula ensures longevity and has been texted by many that it won't leave a ghastly white cast. Dermatologist even supports the formula, likewise for sensitive-skin users as well, that it does not cause any irritation. As such, this sunscreen has become a drugstore-classic favourite for many!
Even though had been hardly any big flaws with the sunscreen, this is still a chemical-based sunscreen. As such, some people have reportedly suffered irritations from wearing the sunscreen, with one reviewer even saying that making contact with chlorine water hurts. Therefore, irritation-prone skin users should still test a small portion of the sunscreen before committing. 
Promising review: "I really like this sunscreen. It doesn't feel heavy on the face and didn't cause me to breakout, I have acne-prone skin. It also did not cause irritation on my children's sensitive skin and didn't look ghostly on their skin or mine, we are of a tan - deeper complexion. I'd repurchase and recommend this." - CryH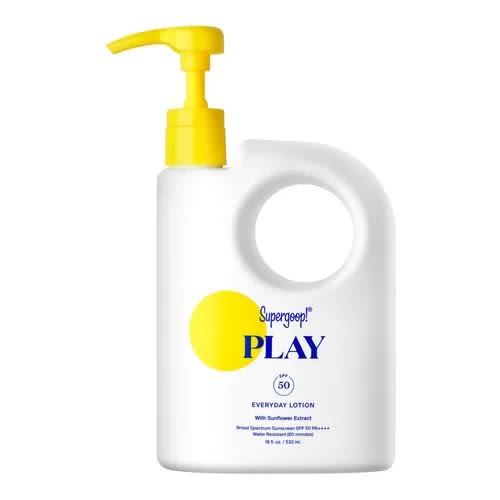 Check Supergoop! Play Everyday Lotion with Sunflower Extract SPF 50 price below:
add_circle
Lightweight formula
add_circle
Great for face and body use
add_circle
Sweat-resistant
Supergoop's Everyday Sunscreen is probably the sunscreen you never knew you needed. Apart from being oil-free, it is also sweat- and water-resistant, packed with antioxidants and doesn't leave a white cast. This formula is so fast absorbing that it has a matte effect, keeping midday shine at bay too. 
Features:
Supergoop products pride themselves on being free of sulfate, oil, gluten and fragrances. They are also made with vegan ingredients and are cruelty-free. Therefore, you can definitely use this sunscreen with ease of heart.
This sunscreen's major ingredient is sunflower extract, which contains a type of antioxidant called beta carotene. As such, it helps to protect the skin from free radicals which can cause premature ageing. Supergoop's Everyday Lotion is also formulated with rosemary leave extract which also acts as an antioxidant and calms the skin to soothe any potential irritation.
Lastly, the other major ingredient is Dimethicone, which helps with moisturising the skin.
Testimonies:
Aside from being ultra-moisturising, the sunscreen blends in fast. Application-wise, many have shared that it goes on with a dewy-finish, and that powder had to be applied to mattify the face. To combat this, some have taken to putting the sunscreen on without any moisturiser as the sunscreen is enough.
One major flaw about this sunscreen is that the smell is on the unpleasant side. Despite being "fragrance-free", several reviewers do not fancy the smell. 
Promising review: "(This sunscreen) really does feel lightweight and non-greasy, and it doesn't leave a white cast on the face at all. I also like that it has some ingredients that are beneficial to the skin." - Jerlene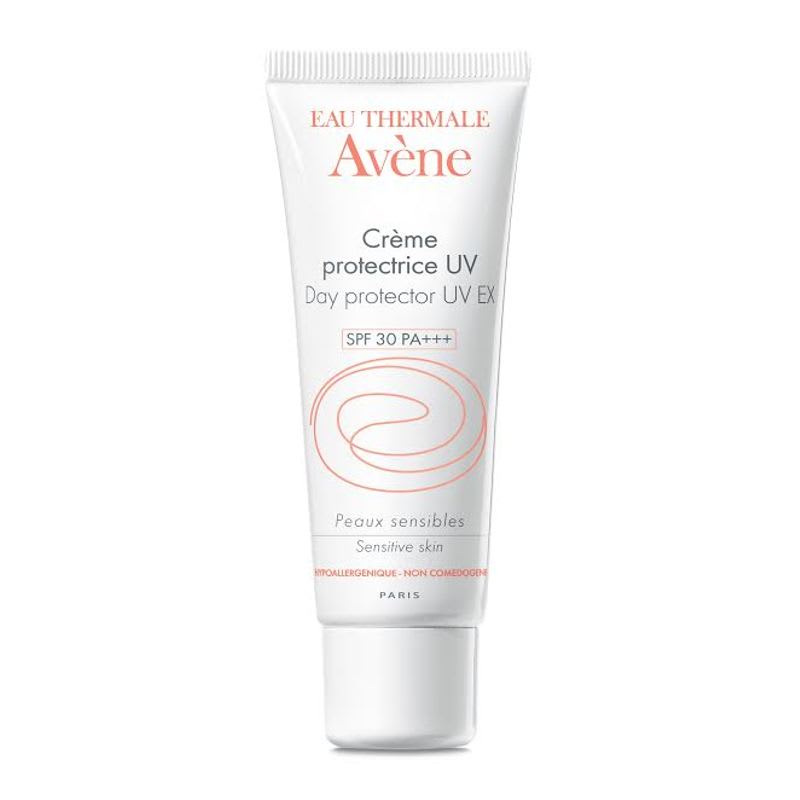 Check Avène Day Protector UV EX SPF30 PA+++ 40ml price below:
add_circle
Feels refreshing to wear
add_circle
Pleasant smell
remove_circle
Cream is dense, so best to layer thinly
It's troublesome and scary to look for a beauty product that suits your skin. Luckily, we have Avène, whose brand focus is to provide sensitive-skin girls with simple and safe products to enjoy. This particular sunscreen promises to be both protective and soothing at the same time by fighting off UV rays while hydrating the skin.
Features:
Fragrance- and alcohol-free, this sunscreen is formulated with Avène's notable ingredient which is Thermal Spring Water. The said product has soothing and softening properties. Paired with a UV filter system that contains Ethylhexyl methoxycinnamate, it helps to protect the skin from the harsh effects of UV rays by reflecting or scattering them. This prevents the skin from being directly damaged by the sun. 
Another of its key ingredient is an anti-oxidant called Pre-tocopheryl, which aids in reinforcing the skin barrier, fortifying it better against harsh environment settings such as air conditioning and pollution. 
Testimonies:
As it is a cream formula, the sunscreen will feel dense but not leave the skin feeling oily. Instead, reviewers describe that it resembles and acts like a moisturiser. Despite not being labelled as lightweight, the formula is also said to absorb well into the skin. Another bonus is that it has a pleasant smell, as well as not irritating sensitive skin as tested by many users.
Due to the texture of the sunscreen, one may not be comfortable that the formula is not totally lightweight. As mentioned before, you should try the sunscreen on without packing on moisturiser the first few times.
Promising review: "I love how (this sunscreen) helps to soothe my skin. The Avène Thermal Spring Water always comes to the rescue of my sunburns and tired skin. This is a good skincare range to try for those with eczema or sensitive skin." - Janice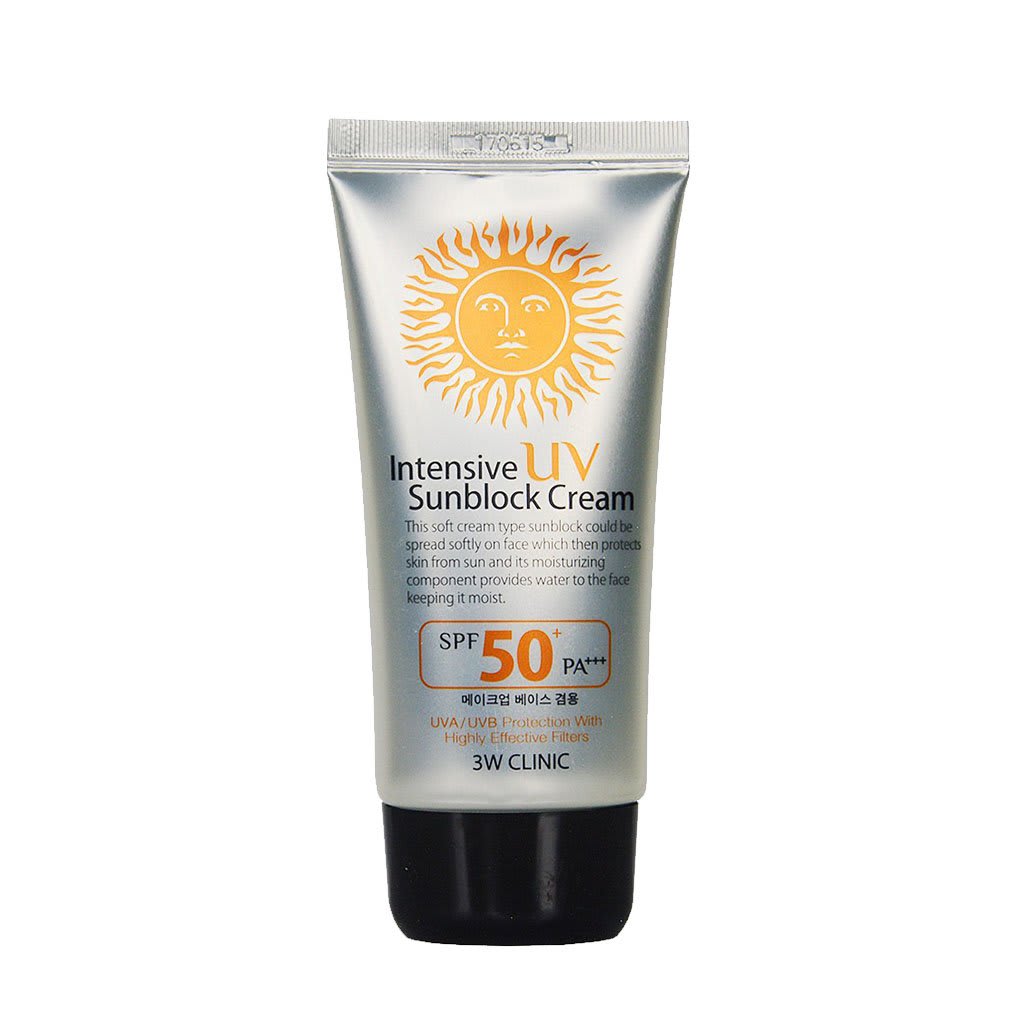 Check 3W Clinic Intensive UV Sunblock SPF50PA+++ price below:
add_circle
Very affordable, a good budget option
add_circle
Super sensitive-skin friendly
add_circle
Soothes inflamed skin
remove_circle
Will feel sticky if in contact with sweat
Looking for a really good amount of sun protection? This sunscreen from 3W Clinic is just what you need. This physical sunscreen works to form a protective barrier around your skin to shield it from harmful UV rays. It has a soft and creamy consistency for easy application with zero white casts!
And the best thing is that it's very affordable!
Features:
Titanium oxide is another ingredient that protects the skin from UVA and UVB rays and has been scientifically acknowledged that it will not irritate sensitive skin. As such, the sunscreen is perfect for anyone with sensitive skin, as well as anyone who is prone to redness.
Its other interesting ingredients include Morus Alba Bark, Aloe Vera and Red Ginseng extract, all of which have abilities to soothe inflamed skin. There's also Dimethicone, which helps to soothe and moisturise the skin, preventing it from flaking and itching.
Testimonies:
Thanks to its Dimethicone inclusion, the moisturising cream formula is easy to spread and blend into the skin. The cream is also successfully used as a makeup base without leaving a white cast. Its formula is praised for being non-sticky and comfortable to wear. Some reviewers even said that the sunscreen leaves a brightening effect overall.
A small flaw to the product is that it won't be as comfortable to use when you wear it in high-humidity areas or when you're going to be active outdoors. It can feel sticky when in contact with sweat.
Promising review: "This is my HG sunscreen! I really love it! No whitecast and it can be spread easily on my face. I love the soft texture and the smell is very nice." - Ika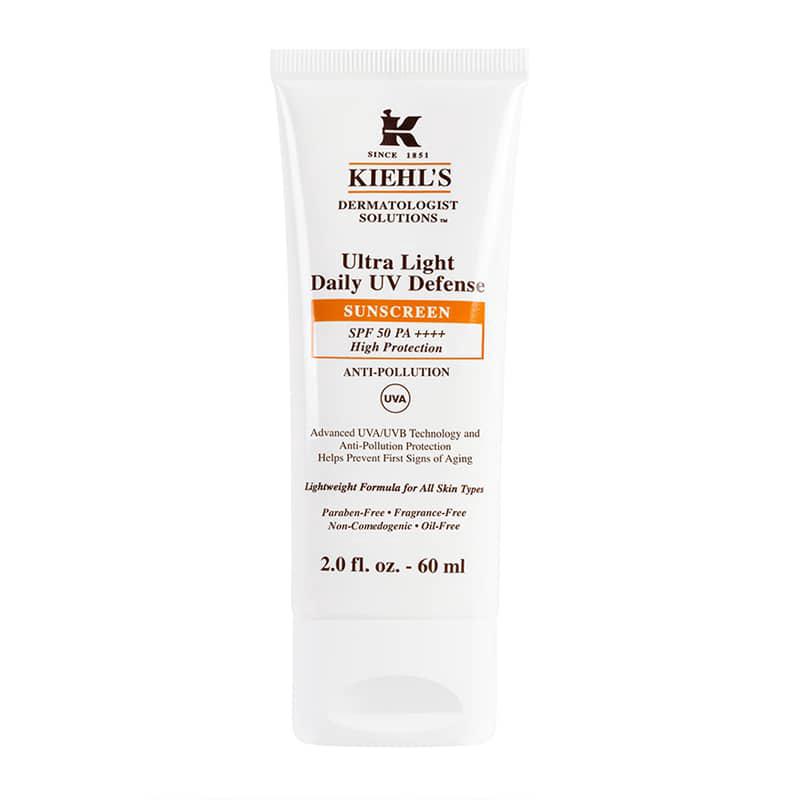 Check Kiehl's Ultra Light Daily UV Defense SPF 50 price below:
add_circle
Broad-spectrum protection
add_circle
Non-comedogenic
add_circle
Lightweight texture
add_circle
Blends well with skincare and under makeup
remove_circle
Contains alcohol as a solvent so might be sensitive to very specific skin types
You've definitely heard of Kiehl's. Known for striving to give customers a healthier and much more radiant appearance, this old-world apothecary brand is well-known for its wide range of effective skincare products. And its Ultra-Light Daily UV Defense SPF 50 PA++++' sunscreen is a top favourite for many who claimed that this is certainly worth every penny! 
Overview: 
This non-comedogenic sunscreen promises to provide all-day hydration, absorbing effectively into your skin to leave a matte finish. Its ultra-light texture also means that it is extremely lightweight and will not feel greasy on your skin. Moreover, this also means that it spreads evenly and wears well under makeup. 
Furthermore, with advanced UVA/UVB technology, this sunscreen will provide optimum protection against harmful UV rays and pollution. Likewise, it will also form a protective barrier against other environmental aggressors unbeknownst to the naked eye. You can rest assured that this sunscreen by Kiehl's will have your skin feeling safe and looking its best. 
Additionally, the Kiehl's Ultra-Light Daily UV Defense is a broad-spectrum sunscreen which means it guarantees long-lasting thorough protection. With SPF 50 PA ++++, you can spend hours in the sun and not worry about getting sunburned. Not forgetting, the formula is also sweat-resistant, so you don't have to apply it as often throughout the day. 
Testimonies: 
Despite being on the pricier side, this sunscreen reportedly feels just like a facial moisturiser. It is  said to be effectively, gentle, and unscented, as well as easily absorbs into your skin. Fans of Kiehl's have raved about the effectiveness of this sunscreen whereas most new users became instant fans within a few uses. 
Some users even claim that you just need to use a little of this sunscreen as it goes a long way and is extremely long-lasting. Moreover, if you have acne-prone skin, worry not as the lightweight texture will prevent breakouts. 
Furthermore, it is also claimed that this sunscreen will not clog your skin or alter the appearance of your skin colour. It blends in perfectly and does not leave a white residue. 
Promising review: 
'I really love the texture of this sunscreen. It feels like a lightweight lotion and is super easy to be absorbed by the skin. It just sinks in immediately within several pats. It doesn't leave any tacky, sticky or unpleasant finish on the skin. There is no white cast either. Easily the best sun cream I have ever used! And you know it offers sufficient UV protection despite its lightweight texture.' – Carolyn 
FAQ:
- What are UVA and UVB?
The sun actually emits three types of Ultraviolet (UV) rays: UVA, UVB and UVC. "Fortunately" for us, UVC is fizzled out by the earth's ozone layer (that's why we should do our part to protect the earth!).
So we have to watch out for these two: UVA and UVB.
UVA - The scarier one out of the two; these rays have a longer wavelength, and are able to penetrate deeper into our skin to cause premature ageing. Why this is scary is because of the fact that UVA effects will not show on the skin until it's too late.
UVB - This ray type is more immediate. They graze upon the skin and are the cause of sunspots, burns and hyperpigmentation. Because these rays are more immediate, the effects can also be treated (to a certain degree) with treatments like serums and essences.
---
- Which is better, sunscreen or sunblock?
The main difference between sunscreens and sunblocks is in their name itself.
Sunscreens
Generally referred to as "mineral/chemical sunscreens", they absorb into the skin and form a sort of chemical protection to absorb UV rays.
With that, they don't usually leave a white cast but aren't generally coral reefs safe.
While they are lighter in weight, the formula tends to break down and have its effectiveness degrade (gradually) when exposed to UV rays after about an average of 2 to 3 hours. 
Sunscreens are great for oilier skin types and darker skin tones due to their lightweight and no white-cast wear respectively.
Sunblock
Also referred to as "physical sunscreens", these ones form a physical layer on top of your skin and block UV rays from penetrating it.
They are the stronger of the two and can stay out much longer in the sun as they reflect UV rays from touching the skin.
The downside is that they need more work to blend into the skin since they 'sit' on your skin.
Sensitive skin types may opt for sunblocks as they are usually formulated with zinc oxide and titanium dioxide which are less irritant.
If you are going to be outdoors often, it's also better to take physical sunscreens.
---
- How long can I stay under the sun (also, what is SPF)?
Aside from UVA and UVB features, you'll need to take into account the Sun Protection Factor (SPF) number. Basically, the higher the SPF, the longer it can stay effective in protecting you from burning under the sun.
To calculate how long an SPF product will work, just take the SPF number and multiply it with how long you can avoid sunburn.
So if you usually take 15 minutes to get a sunburn (without protection), then you'd get:
SPF 50 x 15 minutes = 750 minutes (12 hours of protection!)
A thing to note is that the minutes calculated above is the maximum time that any protection is found in your sunscreen. Also, SPF generally means protecting you from UVBs.
Ideally, you should be applying sunscreens/sunblocks every 2 hours to get full SPF protection. Any duration after that, your sunscreen's efficiency slowly lowers from 100% protection.
---
- So, what is PA+++?
TLDR – the more plusses there are, that means the better the protection it gives. 
With such a wide range of products available, it's crucial to look for a sunscreen that offers just the right amount of protection you need. 
You're most likely familiar with the SPF label but modern technology has led to the creation of newer protective substances and rating systems. This includes a rating that reads 'PA+++'. Let's decode what exactly PA+++ is…
Established in Japan, it is a rating system adapted from the Persistent Pigment Darkening (PPD) method that tests just how long it takes for UVA radiation to cause persistent skin darkening/tanning. 
Theoretically, a sunscreen with a PPD rating of 10 for instance should enable an individual 10 times as much UVA exposure. A PPD rating can range from 2 to 16 or higher. This means; 
If a product's PPD is 2 – 4, then the PA= PA +

 

If a product's PPD is 8 – 16, then the PA= PA +++
If a product's PPD is 16 or more, then the PA = PA ++++
The increased '+' indicates increased protection. However, sunscreens with these sorts of labels can only be seen in East-Asian countries (as they aren't approved in the USA and EU). 
---
- What is "Broad Spectrum"?
Since the PA+ grading system isn't accepted in the USA and EU, the term "Broad Spectrum" is utilised instead. It essentially offers 'broad' protection against both UVA and UVB rays. In short, it's pretty similar to the PA+ grading, except it doesn't specify exactly how much protection it offers. 
However, here's what matters. If a product is labelled 'broad spectrum', it means that the UVA protection offered is equivalent to that of the UVB protection. So, that means the higher the SPF in the sunscreen, the higher the UVA protection, and the higher the broad spectrum. 
---
- Sunscreen mistakes to avoid
You wait until you're outdoors to apply sunscreen:
The rule of thumb is to apply sunscreen at least 20 minutes before you step outdoors as it takes that long for your skin to absorb the protection ingredients.

 

Good to know: UV rays can also pass-through glass windows.

 

This means whether you're in your car or at home, you need to have sunscreen on as UV rays can still penetrate through your skin.
You forget to reapply your sunscreen:
Sunscreen won't protect you forever so the golden rule is to reapply it at least every two hours. Furthermore, you need to do so even more if you sweat easily or do water activities. 
Despite being labelled as "water-resistant", it is said that such sunscreens only maintain their SPF protection for up to 80-minutes and going in water means even less. So, don't skip on reapplying.

 

Likewise, don't miss on important areas such as your eyelids, lips, hairline, and neck. What's more, don't forget to spread your sunscreen smoothly, going over areas you might miss multiple times for optimal coverage.

 
You neglect the expiration date:
Expiration dates are not a mock-up for you to buy a new bottle of sunscreen each time. They're real and you should take note of them. 
Despite the FDA noting that sunscreen should remain good for use for at least three years, you must take note of the expiration date and keep track of it.

 

Persistent use of expired sunscreen will harm your skin and may cause a gnarly sunburn. It could also increase your risk of developing skin cancer.

 

If you've had that bottle for a while and can't remember when you bought it, it might be a good time to throw it out and invest in a new one.

 
---
- How much sunscreen should you apply to your face?
Based on recommendations by Healthline:
1/4 – 1/3 of a teaspoon

 

1 – 2 millilitres

 

1 – 2 grams

 

A fingertip (about two pea-size amounts)

 

Just enough to fill only the bottom of a shot glass

 

The size of a five-cent coin

 
---
- Do you need different sunscreens for your face and body?
Short answer - Yes. 
Sunscreen products that are formulated for the face are different as opposed to the ones formulated for the body. To simply put, facial sunscreens are designed to feel lighter and absorb much more easily into the skin. This is done to enable your makeup and skincare to blend perfectly into your skin even with sunscreen on. 
It is not recommended to use body sunscreens on your face. As the skin on your face is much thinner, body sunscreens have a high chance to lead to breakouts on your face. General sunscreens are often thicker and more comedogenic. 
However, if you dislike the feeling of 'body' sunscreen because of its consistency and may have even faced breakouts on your body, then you should consider using facial sunscreen instead. It is a little pricier and you may need to apply significantly more but the effects of it are certainly beneficial.  
---
More beauty recommendations
---
Beauty brand recommendations: