Judging from its minimal appearance which looks just like plain water, you probably think a toner is simply an extra step to be included in your daily beauty routine. In fact, this little addition can work wonders on the skin, be it on combination, acne-prone or even sensitive skin.
Facial toners are not worthless if you get the right type. The key is, know what ingredients your skin desires, and look for the toner that has it.
Toner or astringent for oily skin?
Oftentimes, toners and astringents are thought to be the exact same thing. Well, both of them do share the same functions of serving as a pH-balancing step after cleansing. But, they vary significantly at some point in terms of the formula. 
Toner
A toner is a fast-absorbing liquid which has a consistency similar to water. It is used to replenish your skin with a hydration boost after the regular facial wash. In other words, it acts as an extra cleansing step to prep the skin to be more receptive to moisturisers or serum.
As the beauty community evolved, toners now are packed with lots of skin-loving ingredients such as rosewater, glycolic acid, and tea tree oil to offer extra skincare benefits. That being said, toners are ideal for normal to dry, sensitive skin. 
On the downside, overusing toners can dry your skin out and cause unwanted redness. This is especially true when it comes to products formulated with active ingredients which is sometimes used to exfoliate the skin. Thus, toning your face more than twice a day will not double the effectiveness but further irritates the skin and cause breakouts. 
Astringent
Like toners, astringents are liquid-based formula used to clean the skin surface. The chief difference between both is that astringents are mostly formulated with a high concentration of alcohol to sweep away excess oil trapped inside pores. This helps to refine the appearance of large pores too. 
Besides its deep pore cleansing ability, astringents also deliver antibacterial benefits to fight off acne. The result is a clearer and smoother complexion. Thus, astringents are said to be more beneficial for oily, acne-prone skin.
Having said that, astringents usually contain potent ingredients like salicylic acid and witch hazel, which are more likely to over-dry the skin. This may later lead to skin-peeling or further breakouts. So keep this in mind and carefully incorporate astringents into your skincare regimen according to your condition. Most importantly, use it only once a day at most.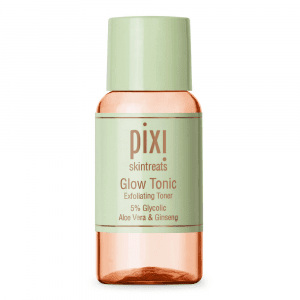 Check Pixi Glow Tonic price below:
add_circle
Packaging is suitable for travel
add_circle
Nice citrus smell
add_circle
Potent yet gentle on sensitive skin
add_circle
A blend of botanical extracts that reenergize the skin
add_circle
Exfoliates and Improves skin texture effectively according to the reviews
remove_circle
May feel tingly on skin
remove_circle
May be over-drying and irritating for very sensitive skin
remove_circle
Contains fragrance
remove_circle
High concentration of AHA needs to be handled carefully especially on sensitive and dry skin
If your goal is to have glowy, healthy-looking complexion, this pick from Pixi is one of the most highly raved product to keep your midday shine under control. 
Glycolic acid, the star ingredient found in its potent formulation, is a water-soluble alpha-hydroxy acid (AHA) that is best known for its exfoliating benefits. 
A 5% concentration of it aids the Glow Tonic to slough away dead skin cells and effectively remove dirt and grime. Despite the slight tingly feel, it works to even out the overall skin tone and bring dull skin back to life. 
Many users praised the hypoallergenic formula as it's gentle enough for sensitive skin. This is all thanks to the nourishing botanical extracts infused in it, namely aloe vera and ginseng. The ingredients help to comfort the exfoliated skin surface and essentially soothe dry patches or redness on the skin.  
On the other hand, some cautioned that irritation or dryness may occur if you have extra sensitive skin. Thus, it is recommended to switch up your toner use every other evening instead of using it on a daily basis. Another thing to take note is, remember to put on your sunscreen after applying as the acid will increase your skin's sensitivity to sunlight.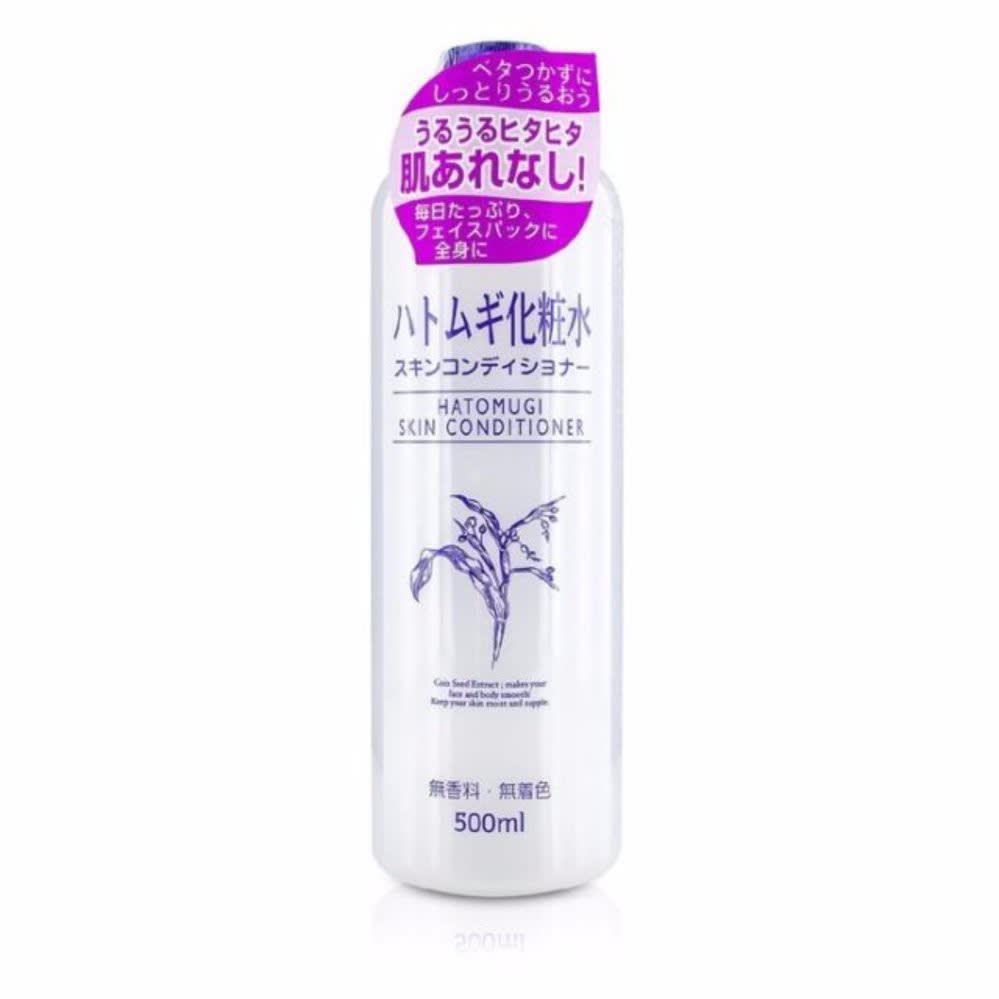 Check Naturie Hatomugi Skin Conditioner price below:
add_circle
Hydrating & non-sticky
add_circle
Suitable for sensitive skin
add_circle
Can be used as mask; soothes redness and replenish moisture
add_circle
Free from fragrance and artificial colouring
remove_circle
Not many special benefits beside moisturising
Ever wondered how much it costs to get beautiful skin? If you're concern, then look into this Skin Lotion from Hatomugi. This pick is becoming the new skincare darling for oily skin all thanks to its multi-action treatments that comes along with an incredibly affordable price tag. 
Named after its key ingredient, Hatomugi (a barley-like grain), this non-sticky lotion is widely known for its moisturising properties. It can be used as a toner to restore skin's acidity, a face mask to soothe redness and irritation, or a moisturizer for extra hydration. The natural formula is also said to be gentle enough for all skin types even if on the most sensitive skin. 
Not only that, but the Japanese brand bottles up a variety of skin-loving ingredients into a generous 500ml to ensure your skin receives all the TLC it deserves. Hence, this makes it ideal for daily use. To boot, it contains Vitamin B1 and B2 to help treat acne and uneven skin tone. 
Overall, users agree that this pick is one of the best value products amongst its competitors given its multiple functions and budget-friendly price point.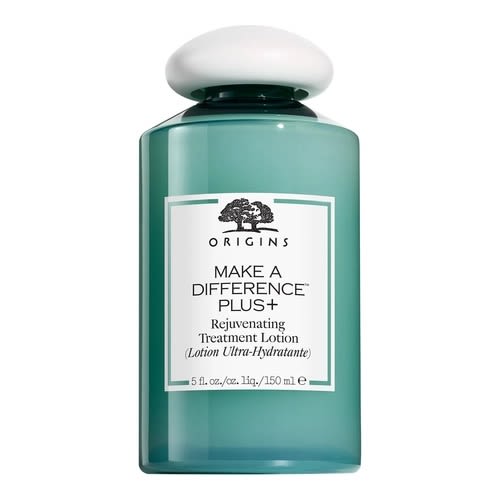 Check Origins Make A Difference Plus+ Rejuvenating Treatment Lotion price below:
add_circle
nice citrus scent
add_circle
light, refreshing & hydrating
add_circle
works well on dry and senisitive skin
remove_circle
Slow absorption
remove_circle
Leaky packaging
Dealing with oily skin can be a pain, but the most frustrating part is certainly gunk staying in your large pores! Thankfully, the all-natural brand Origins is here to make a difference. 
This toning lotion cleans and purifies congested pores to leave you with soft and supple skin that bounces. It'll gently remove traces of dirt and impurities to prep the skin for subsequent skincare products. With that being said, this pick received a lot of positive feedback for that, as well as that it works great on dry, sensitive skin too.
A powerful lineup of Rose of Jericho, Lychee, and Watermelon is fortified in this rejuvenating treatment lotion. These ingredients work together to create a refreshing mix which will plump your skin up with a large dose of hydration. As an added bonus, the formula is made without potential irritants such as parabens, sulfates, mineral oil and more.
Best of all, it comes in a pleasant citrus scent which many users are in love with!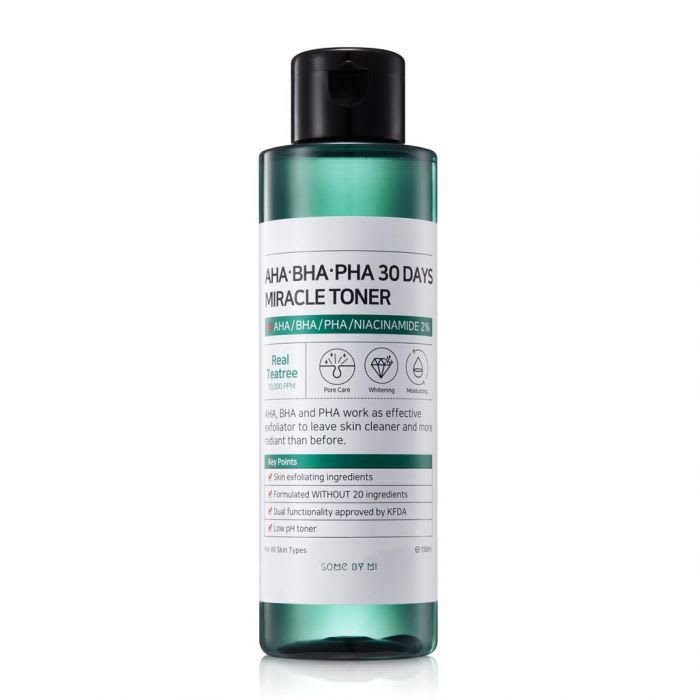 Check Some By Mi 30 Days Miracle Toner price below:
add_circle
Good for daily use
Forget about the 10-steps Korean skincare routine. Renowned K-Beauty cosmetic brand Some By Mi, cuts all the drama to give you dreamy, glass-like skin in just 30 days.
This Miracle Toner is powered with three actives; AHA to de-flake dead skin cells, BHA to eliminate dirt and grimes accumulated in the pores, and PHA to seals in the skin's moisture. Together, it clears up pores and treats acne.
Furthermore, it is infused with a slew of natural extracts such as tea tree, witch hazel, lotus, papaya, and lentil seed. The ingredients combine to deliver skin-purifying and soothing benefits in general, revealing a radiant complexion. So fret not; reviewers assured that this one doesn't irritate the skin at all and that it'll smoother your skin's overall texture. 
On top of that, some users reveal that this toner has a brightening effect, crediting it to the 2% Niacinamide found in the formula. Many treated this as a bonus as it helps to lighten their acne marks!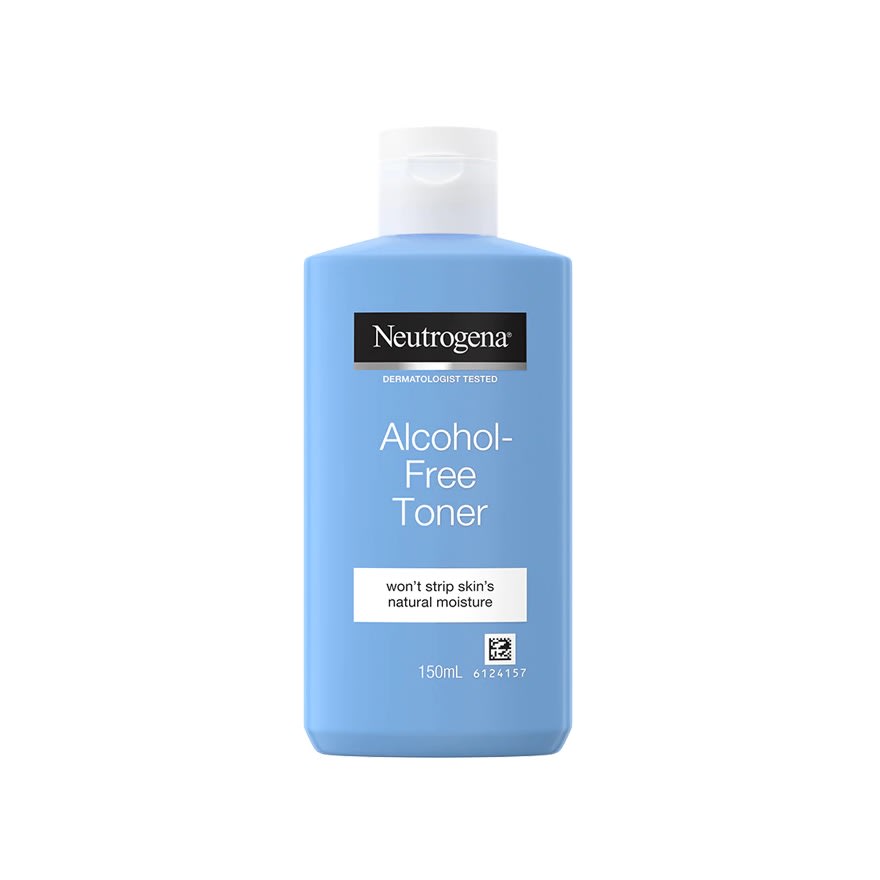 Check Neutrogena Alcohol Free Toner price below:
add_circle
Skin pH friendly
add_circle
retain 99% moisture
add_circle
gentle on skin
remove_circle
Has fragrance
remove_circle
Best used with soap free cleansers
If you have been skipping toners all this while, the Neutrogena Alcohol-Free Toner will leave you with no more excuses. Aside from clearing the skin, this simple solution serves as a daily dose of hydration for your skin and is easily available in drugstores. 
Also, this face toner is labeled as non-comedogenic, meaning it is free from ingredients that can clog your pores. As it contains no oil or alcohol, it's truly a suitable toner to soother the skin without any unfavourable burning or tingly sensation. Additionally, the absence of alcohol means this toner will not strip the skin's moisture.
That being said, this pick works well on sensitive skin too. And it'll gently remove dirt as well as prep a cleansed face before your moisturisers or serums. 
For those who are looking for something easy, this one is an ideal solution to incorporate in your day-to-day skincare routine. However, some say that this toner doesn't offer extra skincare benefits other than the basic toning action.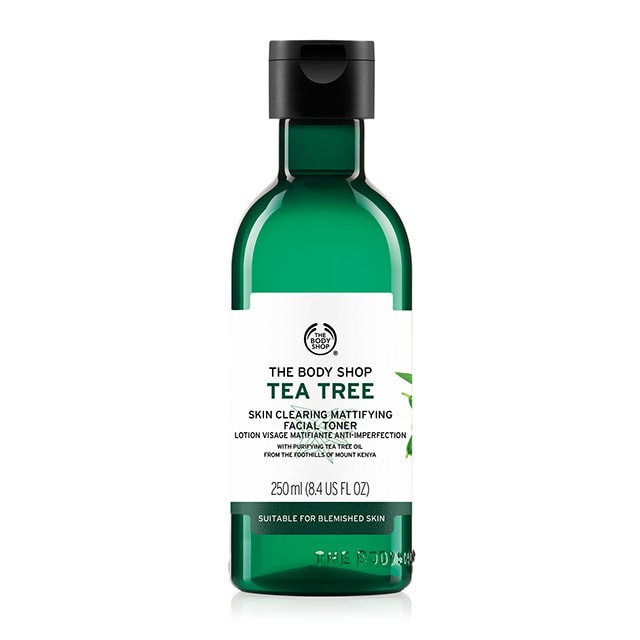 Check The Body Shop Tea Tree Skin Clearing Mattifying Toner price below:
add_circle
Cooling effect
add_circle
Helps to control acne and breakouts
add_circle
Small size; great for travelling
add_circle
Combats acne naturally
add_circle
Contains soothing ingredients to protect the skin
remove_circle
Strong smell
remove_circle
Can be overly drying for certain skin types
Here's the thing: Excessive oil production on the face will cause oily skin, and this can lead to congested pores which then contributes to the development of acne. Thus, to banish acne, you must first handle the root of the problem. 
Being the core ingredient formulated in this mattifying toner, tea tree oil helps to regulate the skin's overall sebum excretion as well as refining pores. The result is a clean, shine-free complexion accompanied by breathable skin. 
Other than that, the natural ingredient also offers anti-bacterial and anti-inflammatory properties. This indicates that it disinfects your skin and treats acne and blemishes without causing any undesired irritation. Concerning user experience, the toner comes with a strong smell that may not be accepted by everyone. 
In general, users of the product agree that this purchase is value for money as it cleared their acne. The convenient packaging of this toner is also a plus for traveling too!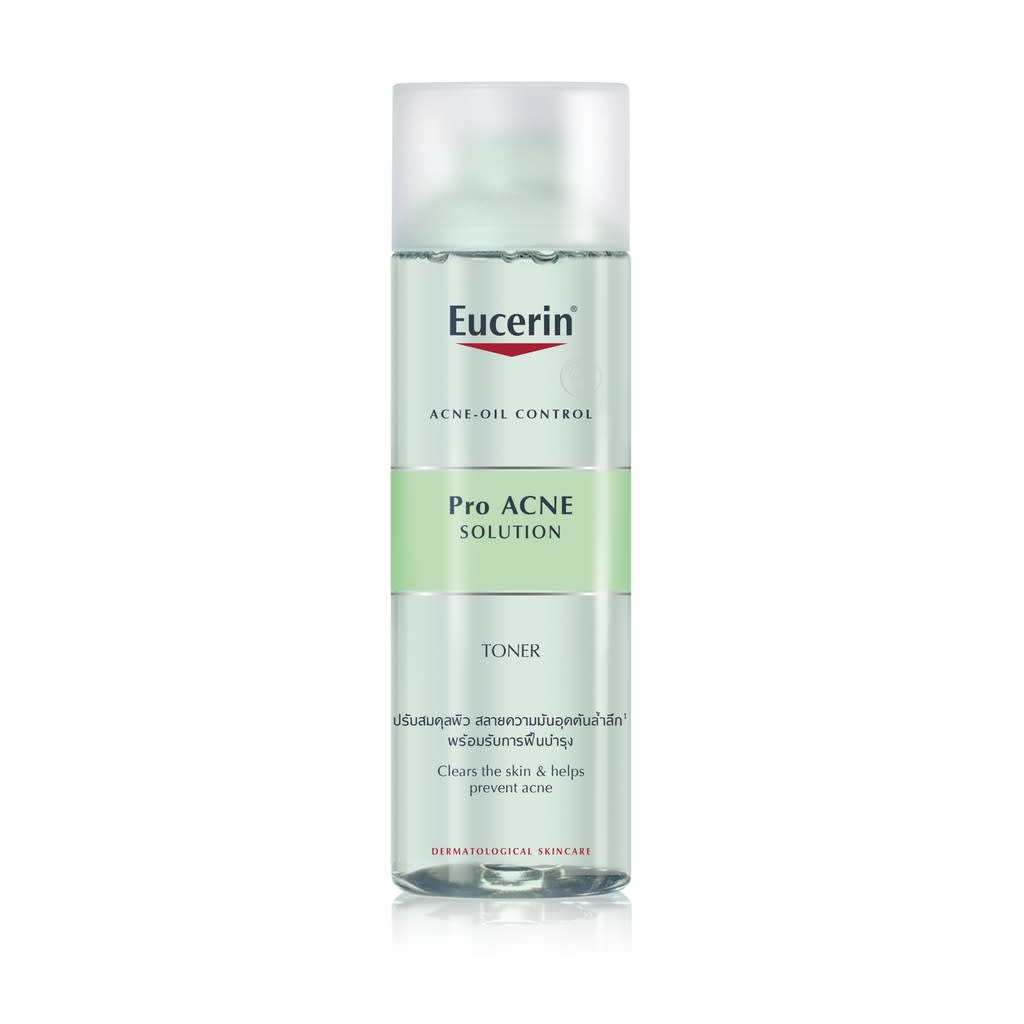 Check Eucerin Pro Acne Solution Oil Control Toner 200ml price below:
add_circle
Clinically tested and proven
add_circle
Mid-size toner, suitable for daily usage
remove_circle
Contains alcohol
Looking for a pro solution in treating acne? You've come to the right place. This Eucerin's ProACNE Solution Toner targets oily shine and pesky blemishes to promise you clear skin in return.
Its main power ingredient, lactic acid, is expertly infused in the formula to deliver a clarifying effect. The acid is of 2% concentrated whereby it works on the skin's surface to perform mild exfoliation. This helps to unclog pores gently and most importantly, improve the overall skin texture. 
Additionally, lactic acid helps to retain the skin's vital moisture and keep your face feeling hydrated. Unlike any other AHAs, this active ingredient is a lot gentler to be incorporated in your daily skincare regimen. This fact makes it perfect for sensitive skin as well.
Due to its effectiveness, the formula of this toner is said to be also quite effective when using on the oily T-zone or as an acne spot treatment. And not to worry about how it feels, as the formula is reportedly moisturising too.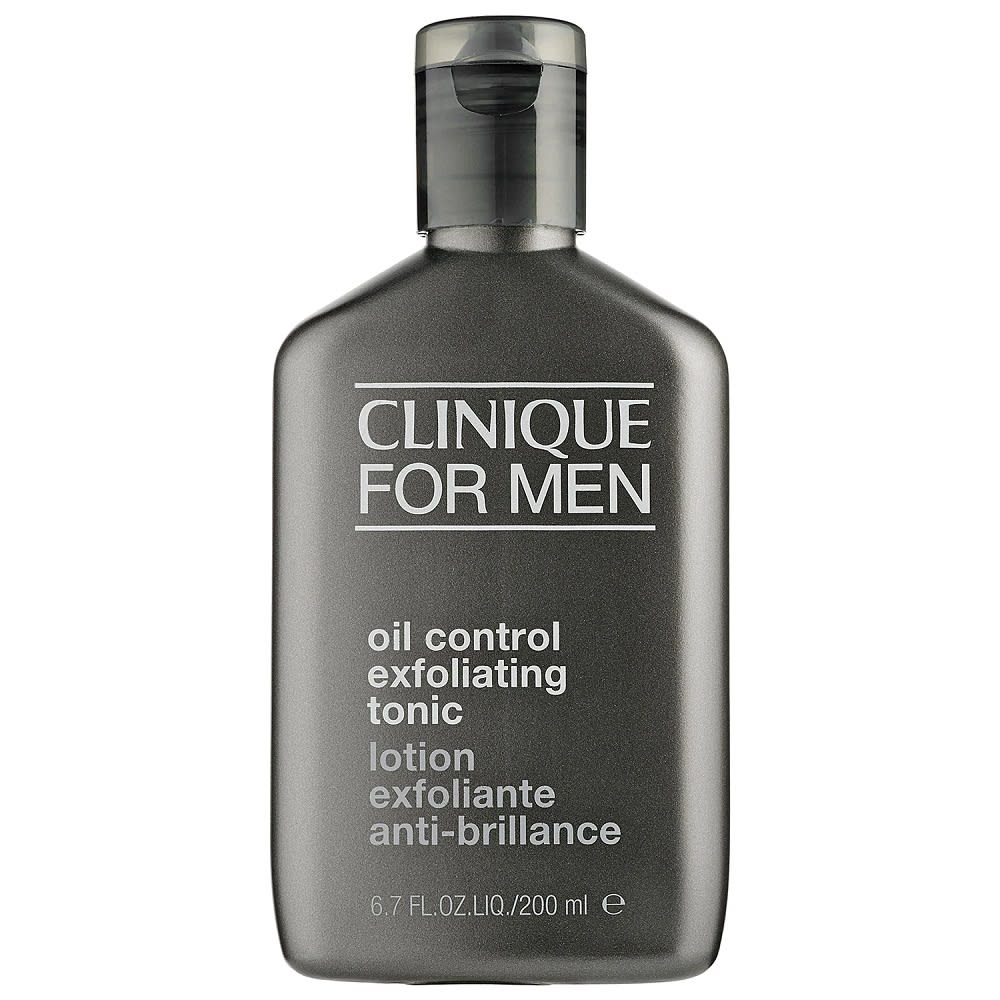 Check Clinique for Men Exfoliating Tonic price below:
add_circle
Gentle exfoliation
add_circle
Clear up dirt and impurities
remove_circle
Contains alcohol; can be irritating for certain skin types
While the beauty industry mainly targets female consumers, here's an exclusive skincare solution for men who are struggling with oily skin. 
Tailor-made for men who generally have thicker skin than women, this exfoliating tonic from Clinique contains deep pore cleansing ingredients like salicylic acid (BHA). The acid acts as a mild chemical exfoliator to keep pores clear, and consequently reduces the associated acne problems.
Another added benefit to the toner is that the toner works to eventually minimize oil build up so as to control risk of breakouts.
For an enhanced solution, Witch Hazel is added to the formula due to its soothing benefit. The said-ingredient helps to ease inflammation which makes it especially useful in calming delicate skin after exfoliation. 
However, Witch Hazel is often mixed with alcohol, and it's the same for this one. So do be careful about overusing as the toner can be overly drying and sensitizing to the skin over time.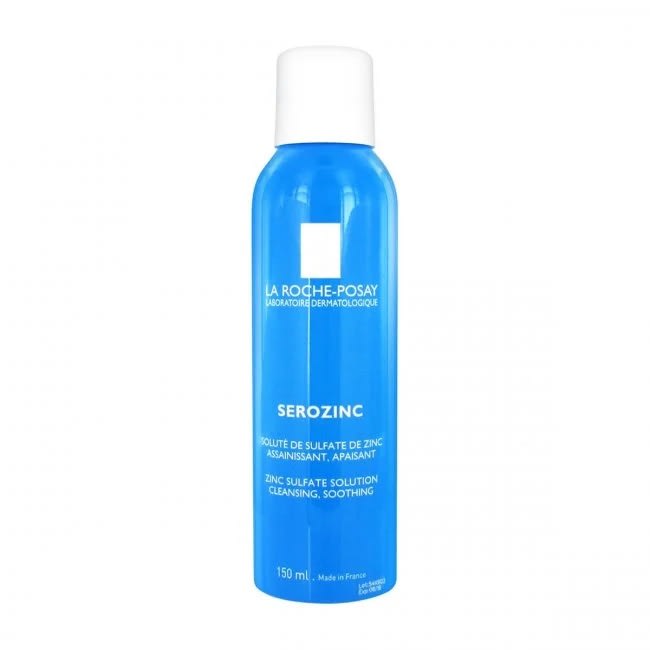 Check La Roche Posay Serozinc Solution price below:
add_circle
Hypoallergenic formula
add_circle
Convenient packaging
add_circle
Calms redness or irritation gently
add_circle
Smoothens skin texture
remove_circle
Some users experienced no significant improvement on acne problems
Attention to all victims of sensitive oily skin; your endless search for the right skincare solution is officially over. We'd like to introduce you to this refreshing mist toner from La Roche Posay. 
Being a versatile solution, the toner keeps everything minimal and is crafted with only three simple ingredients: water, zinc sulphate (0.10%), and sodium chloride (0.75%). 
All of those ingredients work together to flush away excess oiliness and keep your face matte throughout the day. For a quick midday refresh, just a spritz is all it takes to revive your tired skin with a boost of hydration! 
With a relatively simple formula, users are amazed by its effective yet calming effect on the skin. Some even vouched that the hydrating mist helps to improve the overall look of their skin texture over time. Nonetheless, most users didn't find it useful in treating acne like what the product claimed to do.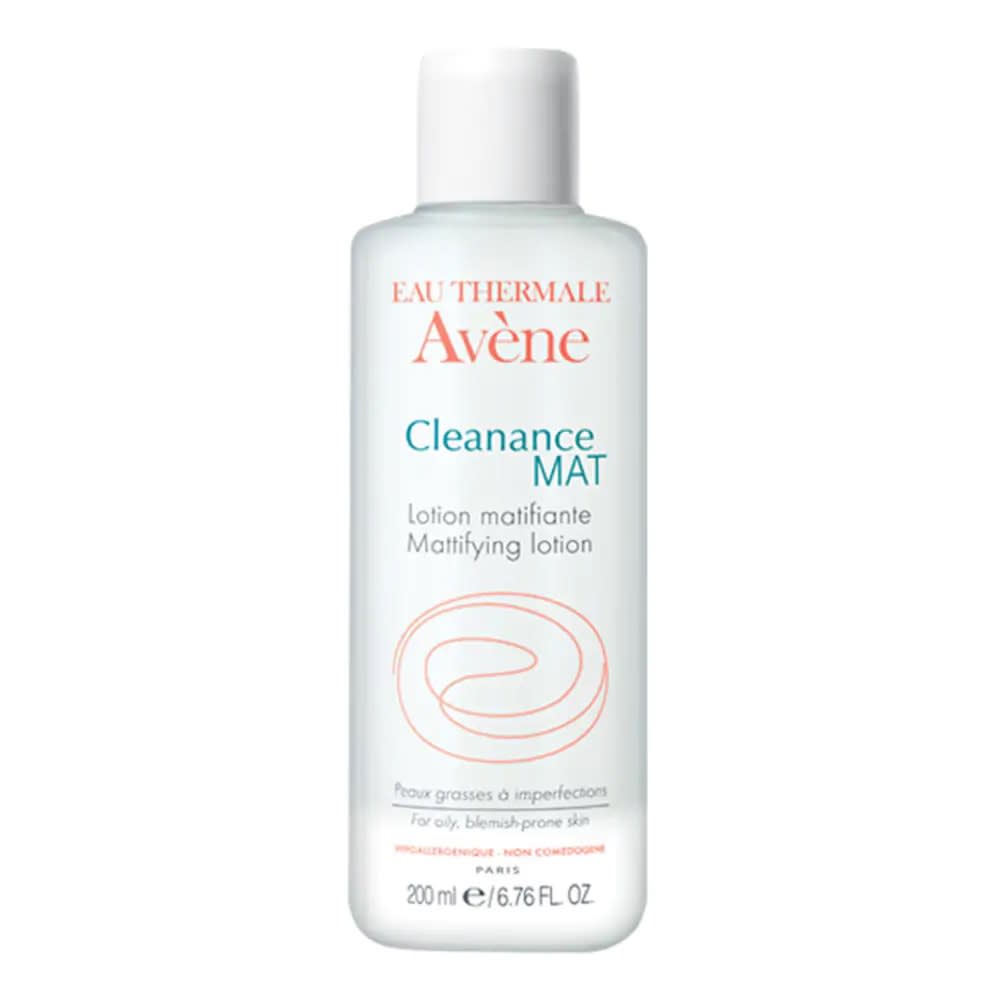 Check Avene Cleanance Mat Mattifying Toner price below:
add_circle
Bi-phase formula
add_circle
Good clarifying effect
add_circle
Avene Thermal Spring Water to soothe the skin
add_circle
Salicylic acid to reduce the sign of blemishes
add_circle
Keeps skin shine-free and matte, oily-skin friendly
remove_circle
Contains fragrance
remove_circle
As it is an astringent, it should be used in moderation
remove_circle
Alcohol-based, might not be the best for sensitive and dry skin
Complete your skincare regimen with the Avene Cleanance Mat Mattifying Toner. This bi-phase toner has a gentle yet effective formula to perform dual-action of purifying your oily skin while treating it. 
Revealing the secret behind its formula, is that this pick relies on a mild astringent which helps to control excess sebum production. For a mattifying result, it works together with silica absorbent powders to soak up any excess residuals of oil. 
Another star ingredient is the brand's proprietary Thermal Spring Water, which helps to calm sensitive skin and pamper it with a relaxing toning experience. This particular ingredient will eventually provide a softening effect to rough skin which is common for acne sufferers.
In addition to its remarkable clarifying effect, this one wins the customers' hearts with the light scented fragrance it leaves behind after each use.
More: Top 10 Toners in Malaysia to Prep Every Skin Type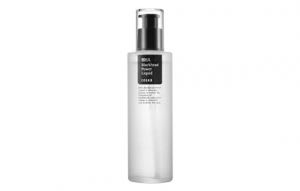 Check Cosrx BHA Blackhead Power Liquid price below:
add_circle
Hypoallergenic & Dermatologist Tested
add_circle
Free from Parabens, Phthalates, Sulfates, Alcohol & Artificial Fragrance
add_circle
Smooth and even out skin tone
remove_circle
Not recommended to be used during pregnancy and breastfeeding
There's just something about blackheads that makes you want to dig everything out. Aside from them being annoying, aesthetically, blackheads can also lead to clogged pores which will then cause acne. 
If you have been rummaging through the internet for a blackheads solution and the frustration of nothing works begins to overwhelm you, well, don't give up just yet. The Cosrx's BHA Blackhead Power Liquid is coming to your rescue!
Instead of AHAs, the power liquid is formulated with 4% of Betaine Salicylate (BHA) to treat existing blackheads, whiteheads, and blemishes. This is due to the powerful oil solubility of BHA which can penetrate deep inside the pores and draw out the most rebellious gunk. It gently exfoliates the skin and smooths out uneven skin tone to reveal a healthier complexion from within. 
Although the toner is free from harsh chemicals such as parabens, phthalates, sulfates, alcohol, and artificial fragrance, it is still not advisable to use the toner during pregnancy and breastfeeding, given that there's penetrating properties in BHA.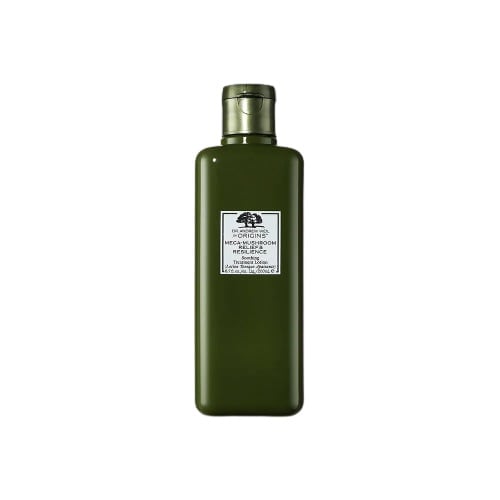 Check Origins Mega-Mushroom Relief & Resilience Soothing price below:
add_circle
Therapeutic scent
add_circle
Calms sensitivity and irritation
add_circle
Works very well on sensitive skin
add_circle
Botanical-based formula
remove_circle
Contains essential oils which may cause breakouts on certain skin type
Whether it is makeup or skincare products, a green solution is always a greater option. Introducing the Origins' Mega-Mushroom Relief & Resilience Soothing Treatment Lotion; this gentle product will be a boon in battling annoying oily shine.
Containing a refreshing formula, this toner-lotion comes with a chock full of natural ingredients. The one that stands out, as the name suggests, is the heaps of skin-friendly mushrooms infused in the formula. With a perfect blend of Reishi, Fermented Chaga, Coprinus Mushrooms, and Sea Buckthorn, they are used to endorse the skin with a burst of hydration and instantly calm visible redness. 
That being said, it gives the toner an irresistible therapeutic scent that customers adore. So if you have sensitive, acne-prone skin, this one works a charm on managing breakouts too! Moreover, the non-sticky formula absorbs fast into the skin, and soothes inflammation as well as balances out everything to offer you spotless skin in return.
The downside to this pick is that it contains a lot of organic essential oils which may cause further breakouts on certain skin conditions.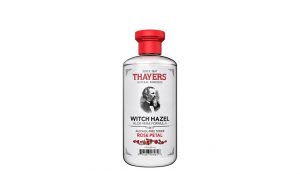 Check Thayers Witch Hazel with Aloe Vera Toner price below:
add_circle
Hypoallergenic
add_circle
Free from artificial fragrance
add_circle
Improves skin complexion
add_circle
Suits most types of skin
remove_circle
Sensitive skin users may want to go for the unscented (original) version instead
Alcohol is notorious for its moisture-stripping capabilities on your delicate skin. With that, you may want to skip this nasty ingredient when you're looking for a toner (or any other skincare products).
So if you're looking for an alcohol-free toner, Thayers specially formulated this one without it and instead, uses Witch Hazel. This ingredient is notable for its potent antioxidant properties as well as offering anti-inflammatory benefits. 
Another secret behind to this toner is its improved formula of hydrating rosewater and aloe vera which emphasis on pore cleansing as well as moisture supply.
More colloquially, it possesses a clarifying effect which helps to effectively remove excess oils and impurities as well as being skin-soothing. Thus, it can be easily found in skincare solutions these days especially acne products.
Speaking of which, users are happy to see a visible improvement of their acne problems. Some even claim that it reveals a clearer and smoother complexion after usage.
Disclaimer: The pricing shown is just a good indication of how much these products are worth. The prices could change based on the e-commerce promotions that are going on. If some of the products are not available, do email us at [email protected] Thank you!