A vacuum cleaner is an essential household cleaning appliance. However, they can be quite pricey.
So you're probably looking for wallet-friendly options without missing out on important features.  
To help you make sense of the endless number of reviews and options available, here's our list of the best budget vacuum cleaners in the market. We've covered a wide range of vacuum cleaners, reviewing them based on the type -- robot vacuum, cordless, etc. and function, for example, a vacuum for pet hair.
---
Table Of Contents
---
Top 10 Budget Vacuum Cleaners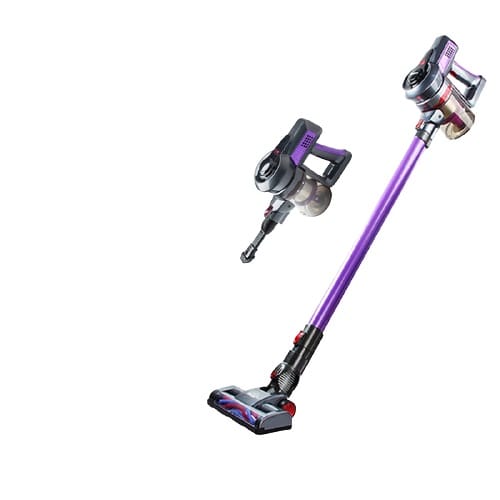 From

RM259.00
Check Airbot iRoom Cordless Vacuum Cleaner price below:
add_circle
Dual speed control
add_circle
2 suction pressure levels -- Eco and Turbo
add_circle
Washable stainless steel filter and HEPA filter
Why It's Our Top Pick:
"Cordless handheld vacuum cleaners such as the Airbot iRoom are one of the most user-friendly types of vacuum cleaners out there.
We love the compact design that makes it easy to clean even the nooks and crannies. Besides, thanks to its double-sided exhaust valves, you won't have to worry about overheating.
It's efficient, easy to manoeuvre, and is worth the price."
Overview:
With 19000 Pa of suction power, this vacuum weighs just 1.9kg which makes it easy to handle. Equipped with a motorised fluffy roller brush and cyclone technology that effectively compresses dust and debris, your space will be squeaky clean.
It has two-speed levels; low -- for quick and energy-efficient cleaning and high for deep floor cleaning.
The LED light bar indicates the battery level and makes it easy to monitor the charging status.
Specifications:
Weight: 1.9kg
Noise: 50-60db
Power: 150W
Suction power: 19000Pa
Run time: Low spin (15-34mins), High spin (10-15mins)
Charging time: 3.4-4 hours
Accessories: Vacuum handheld unit, removable battery, dust cup, stainless steel filter, cyclone filter, disk HEPA filter, windpipe, slim fluffy floor brush, soft brush, crevice nozzle, wall mount bracket, adapter power cord (UK 3-pin), user manual
Key Features:
Removable battery
Grip handle design
Noise-cancelling features
Ergonomic cordless vacuum
Performance:
It is best suited for cleaning sofas, curtains, and mattresses, among others.
Users agree that it is indeed powerful and light.
---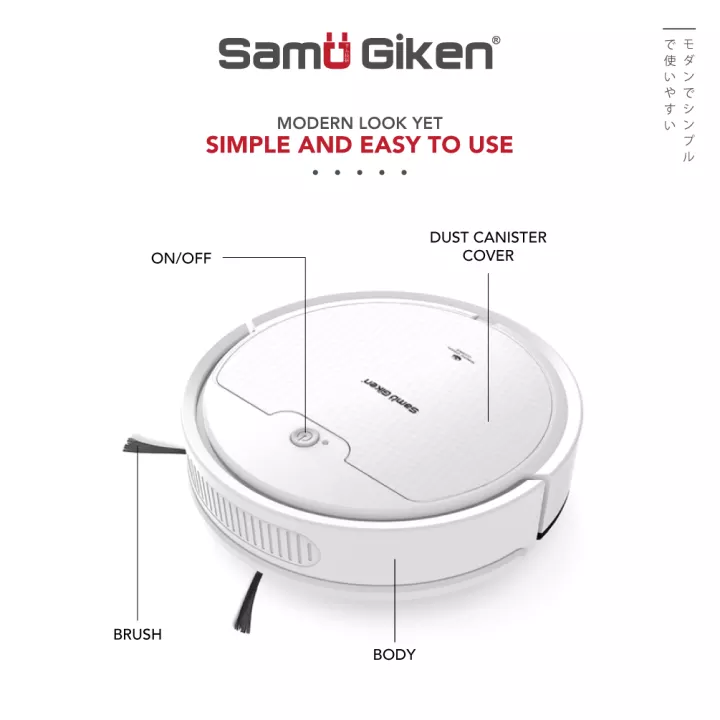 From

RM129.90
Check Samu Giken 3 in 1 Robotic Vacuum Cleaner with App Control - RVCOB8(S) price below:
add_circle
Can be operated via the app
add_circle
Pocket-friendly
remove_circle
Average cleaning performance
Here's an affordable robot vacuum cleaner. Sit back, relax, and let it do the work.
Overview:
A 3-in-1 multifunctional machine, the Samu Giken RVCOB8(S) can sweep, mop, and vacuum. With 1200PA of suction power, it can be used on vinyl, marble, and tiled floors as well as carpets.  
It cleverly changes direction to avoid obstacles while cleaning and can be controlled remotely via the SDJ application.
Specifications:
Weight: 565g / 1.25 pounds
Noise: <40dB
Power: 3W
Suction power: 1200PA
Run time: 70 mins
Charging time: 150-180 mins
Accessories: Smart sweeping robot, USB charging cable, hairbrush, cleaning cloth/fabric, lithium battery, instructions manual book
Key Features:
Automatically changes direction
70-100 minutes timer
68mm ultra-thin
Noiseless
Performance:
With 70-100 minutes of battery life, its run time is pretty decent.  Given it isn't as heavy-duty as its higher-end counterparts, it might not work as well on thick carpets. Nonetheless, its cleaning power is satisfactory especially given its price.
---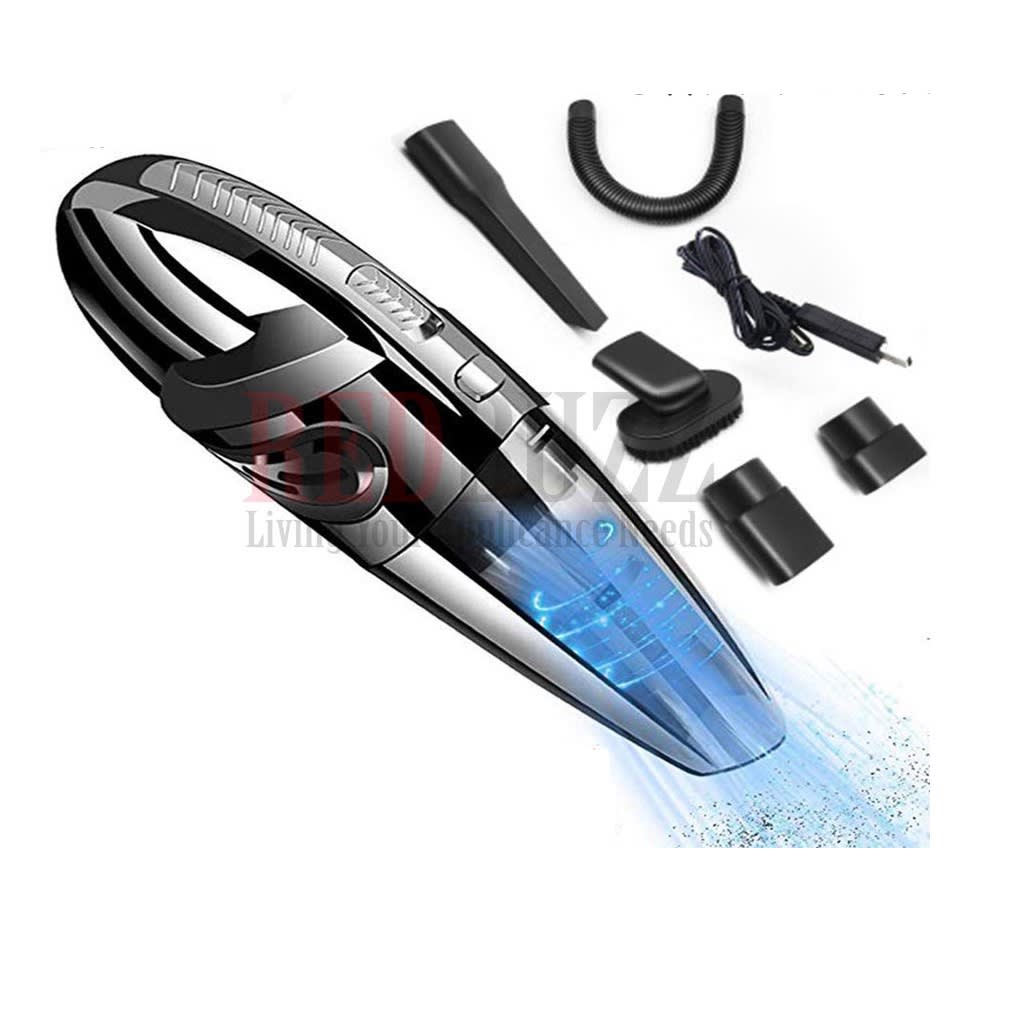 From

RM38.96
Check Redbuzz Rechargeable Portable Vacuum Cleaner 120W  price below:
add_circle
5 kinds of nozzles
add_circle
Can be used to vacuum dry and wet substances
remove_circle
3-4 hours of charging time
Compact and handy, the Redbuzz Rechargeable Portable Handheld Car Household Vacuum Cleaner is highly suitable for cleaning your car interior, or any tight spaces.
Overview:
It comes with 5 types of nozzle accessories which you can easily switch in order to clean different types of surfaces. On top of that, it has both dry and wet functions, so spilt liquids are not a problem!
Specifications:
Weight: 0.720kg
Noise: about 65dB
Power: 120W
Suction power: 3500Pa
Run time: 40 mins
Charging time: 3-4 hours
Accessories: Dust cup for preventing reflux, strainer, turbocharging fan, dust cap, auxiliary connector, brush, long suction tube, charger, & soft long tube
Key Features:
Strong suction
Quieter system
Deep cleaning
Performance:
Overall, this is a light, portable, and hassle-free vacuum cleaner. Unfortunately, you have to charge it for 3 to 4 hours for just 20 minutes of usage.
---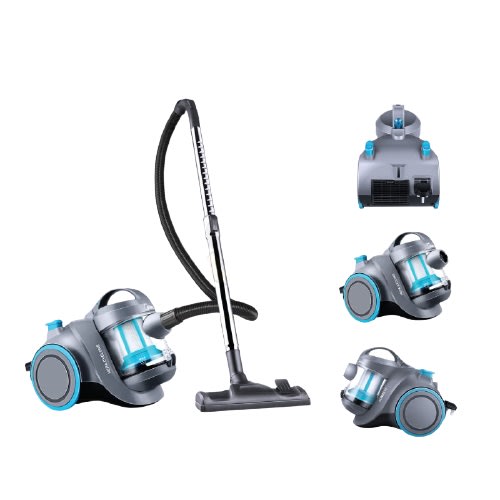 From

RM149.00
Check Midea Vacuum Cleaner MVCV12KGR price below:
add_circle
Ergonomic handle
remove_circle
Suction power is average - not for deep cleaning
remove_circle
Slightly noisy
Bagless vacuum cleaners have been gaining popularity since they are easier to use, clean, and maintain as there is no need to replace any bags. The Midea MVC-V12K-GR Bagless Vacuum Cleaner is an example of one such vacuum cleaner.
Overview:
Designed with an ergonomic handle for easy handling, it has strong suction power of 130W. 
Specifications:
Weight: 8.199kg
Power: 1000W
Suction power: 130W
Run time: 30 mins
Cord length: 5m
Key Features:
HEPA filters
Automatic cord rewind
Main brush for both floor and carpet
Performance:
Although it has a bulky appearance, many users have praised how lightweight it is, making it easier to manoeuvre around. All in all, this bagless vacuum is eco-friendly and has good value for money. 
---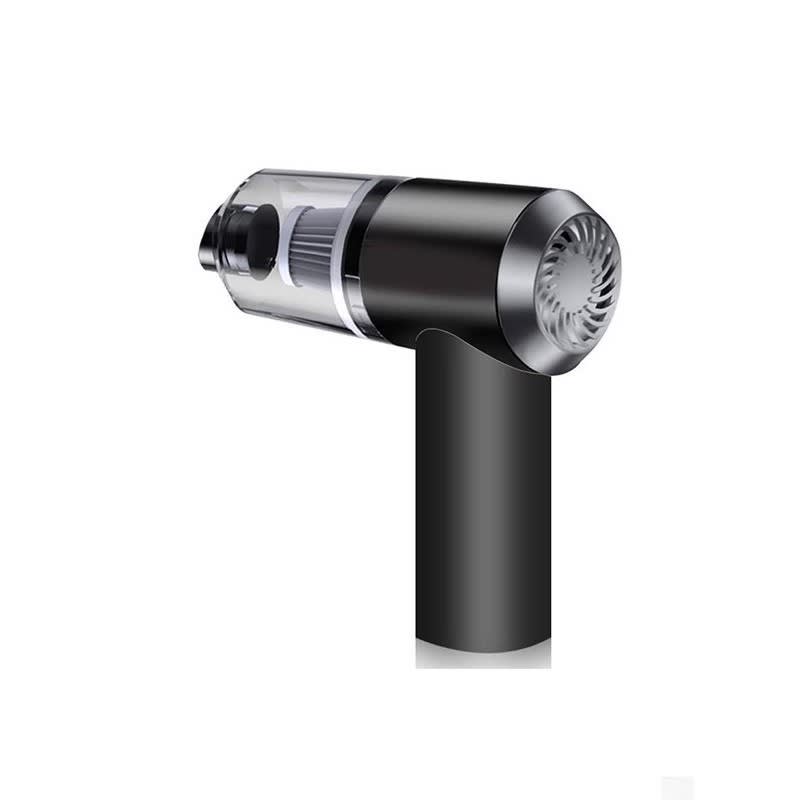 From

RM33.90
Check OEM 5500Pa Mini Cordless Vacuum Cleaner price below:
add_circle
Tiny and compact
add_circle
Absorbs both solid and liquid contents
add_circle
Cleans numerous types of surfaces
Most vacuum cleaners are used to clean floors, beds, stairs, and other large surface areas. But not the Mini Handheld Cordless Vacuum Cleaner 5500Pa. Equivalent to the size of a hairdryer, it's better suited for cleaning keyboards, cosmetics bags, books, stoves, picture frames, etc. The list is endless.  
Overview:
It absorbs both solid and liquid debris, so there's no need to worry about cleaning up after liquid spills.
Specifications:
Weight: 400g
Noise: about 65dB
Power: 60W
Suction power: 5500Pa
Run time: 30 mins
Accessories: Vacuum cleaner, filter element, dust cup, long nozzle, brush handle nozzle, charging cable, manual
Key Features:
Wireless design
Long battery life
Not tiring to hold
Performance:
Considering its size, many reviewers have raved about how easy it is to hold and store it. However, for something so tiny, the vacuum is definitely louder than expected.  
---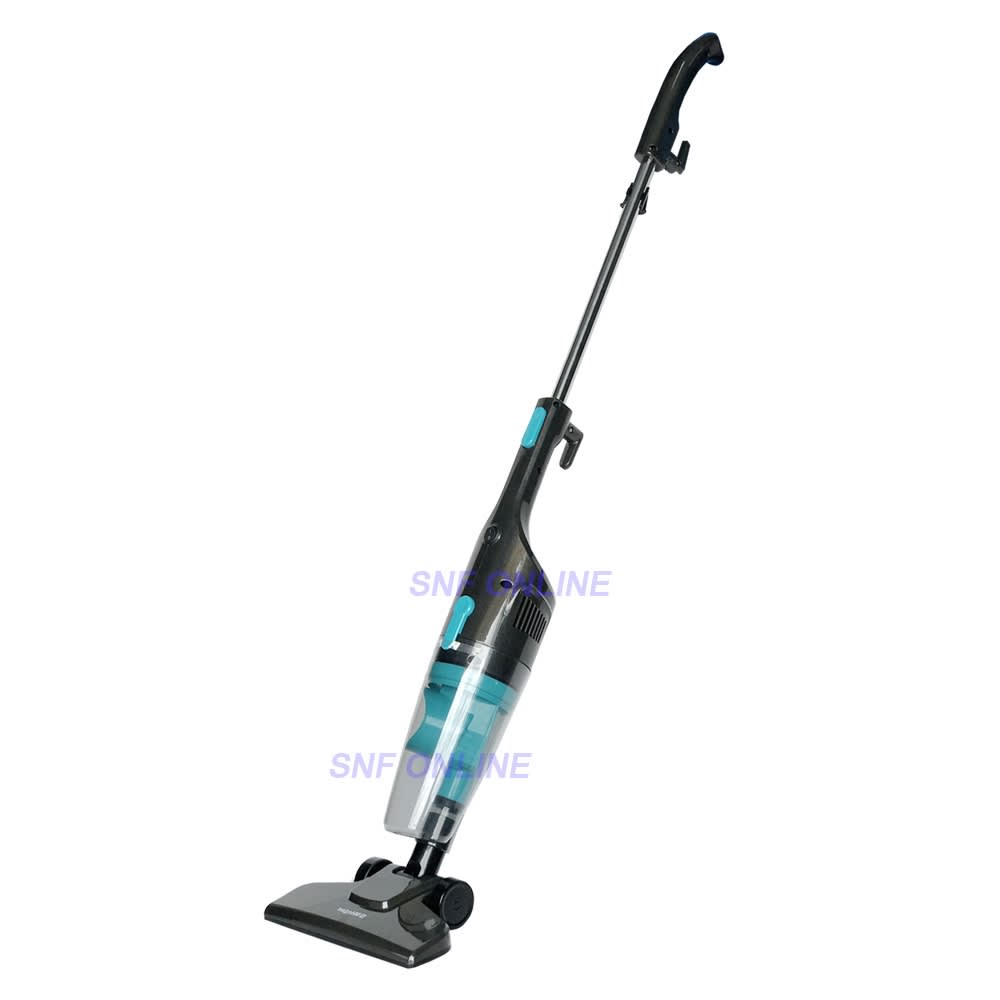 From

RM94.90
Check Morgan MVC-Cyclone 60 Upright Vacuum price below:
add_circle
Has a washable cyclone filter
The Morgan MVC-Cyclone 60 Upright Vacuum is kind to your backbone, preventing you from bending down whenever using it.
Overview:
It has a washable cyclone filter that separates dust and dirt, resulting in more optimal performance. 
Furthermore, it can be converted to a handheld stick vacuum cleaner so that you can easily clean fabric surfaces as well as tight spaces. This is supported by its crevice tool that effortlessly cleans small and tight places. However, do note that it's quite heavy, which means that it's better suited for cleaning floors. 
Specifications:
Weight: 3.1kg
Power: 600W
Cord length: 5m
Suction power: 16Kpa
Accessories: Swivel floor brush, crevice tool, ellipse tool
Key Features:
Convenient cord storage
Cyclone filter with more powerful technology
Performance:
Users say its build is of good quality and love how easy it is to handle. According to one review, its suction power is strong and suitable for cleaning pet hair. 
---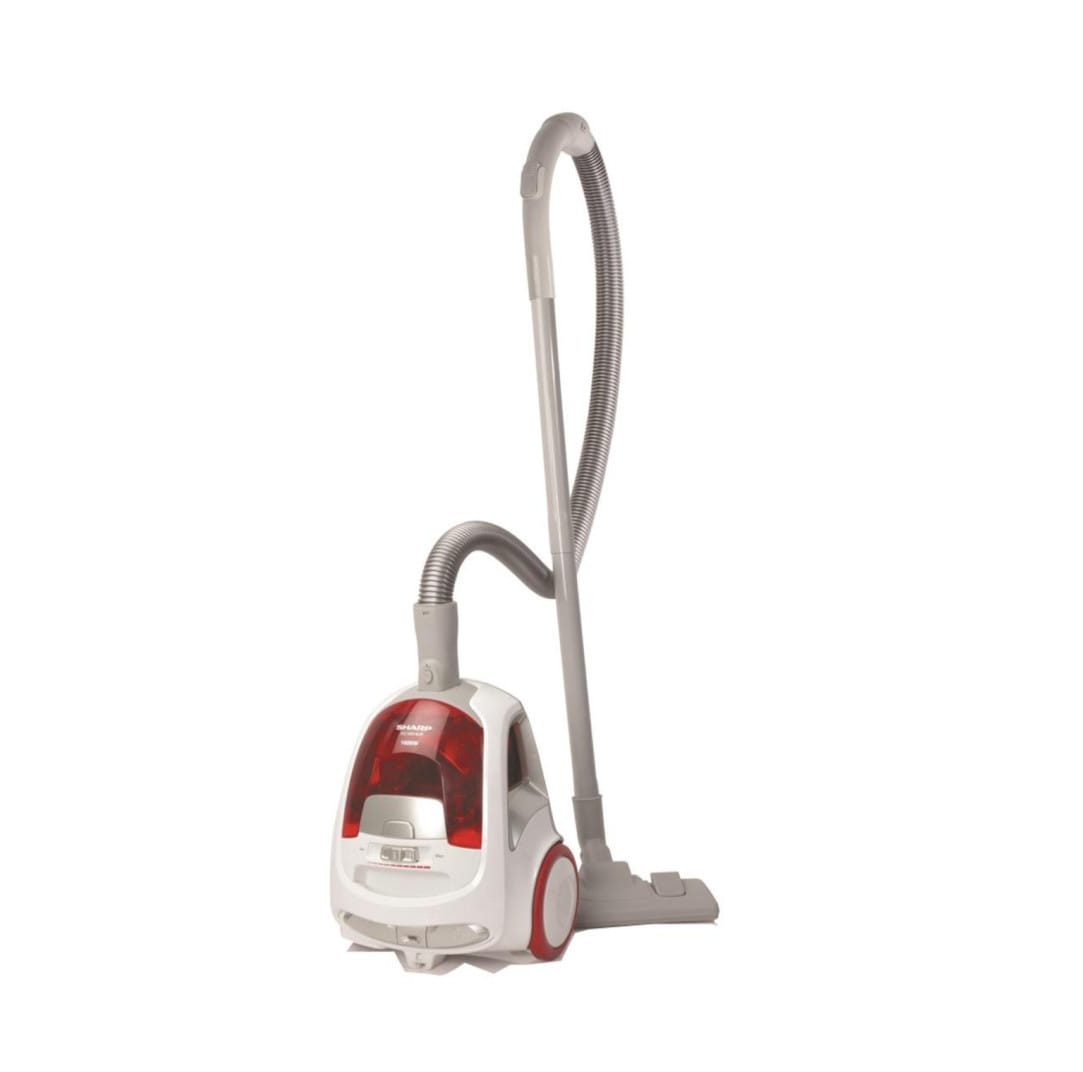 From

RM209.00
Check Sharp 1.0L Bagless Vacuum Cleaner ECNS16 price below:
add_circle
Suction power can be adjusted
add_circle
Has HEPA filter
remove_circle
Heats up easily
remove_circle
Small capacity
Cylinder vacuums are usually bagless and upright, and they normally come in a transparent casing so you can see the dirt building up inside them. The Sharp 1.0L Bagless Vacuum Cleaner ECNS16, a cylinder vacuum, comes with a high-efficiency particulate air (HEPA) filter that traps harmful particles like dust mites, smoke, pet dander, and pollen. 
Overview:
It's extremely easy to disconnect the dust tank and empty the contents; all you need to do is push a button. On the flip side, it has a rather small dust tank, with only a capacity of 1.0L. Thus, you'll need to empty the dusk tank rather frequently.
Specifications:
Weight: 5.3kg
Power: 1600W
Cord length: 5m
Power control: Yes (stepless)
Accessories: Crevice tool, small brush, dusting brush
Key Features:
2-way floor head
Cyclonic action
Performance:
Users love its adjustable suction power and how easy it is to carry around while cleaning. According to reviews, it's not very noisy despite how powerful it is. 
---

From

RM521.00
Check Karcher WD3 Wet and Dry Vacuum Cleaner price below:
add_circle
Strong suction
add_circle
Large 17L capacity
add_circle
Cartridge filter for both wet and dry jobs
remove_circle
Filter needs to be dried before being used after wet spills
remove_circle
Bags can sometimes become detached
The Karcher WD3 is a wet and dry vacuum that's is powerful yet energy-efficient. 
Overview:
Boasting a capacity of 17L, it's the perfect vacuum for heavy-duty usage. With a power consumption of just 1000W, it's energy-efficient too.
It comes with a floor nozzle (ideal for cleaning carpets and smooth surfaces) and a suction hose for effective cleaning. When vacuuming is not ideal, there is a blowing function to supplement your cleaning process. Further, its  ergonomic carrying handle makes it easy to carry around.
Specifications:
Weight without accessories: 5.5kg
Noise: 75dB
Power: 1000W
Suction power: 200 Air Watts
Power cable: 4 m
Accessories: 1 x WD 3 Vacuum Cleaner, 1 x 2 Meter Suction Hose, 2 x 0.5 Meter Suction Tubes (35mm), 1 x Wet & Dry Floor Nozzle, 1 x Crevice Nozzle, 1 x Paper Filter Bag, 1 x Cartridge Filter
Key Features:
Ergonomically shaped carrying handle
Practical cable and accessory storage
Lightweight, easy to carry around
Has a floor nozzle & suction hose
Practical parking position
"Pull & Push' locking system
Removable handle
Blower function
Performance:
The Karcher WD3's high suction power and excellent cleaning performance have been praised by users. Besides, its "pull & push" lock system allows for easy opening and closing of the container. This vacuum  provides multi-purpose cleaning and is good value for money. 
---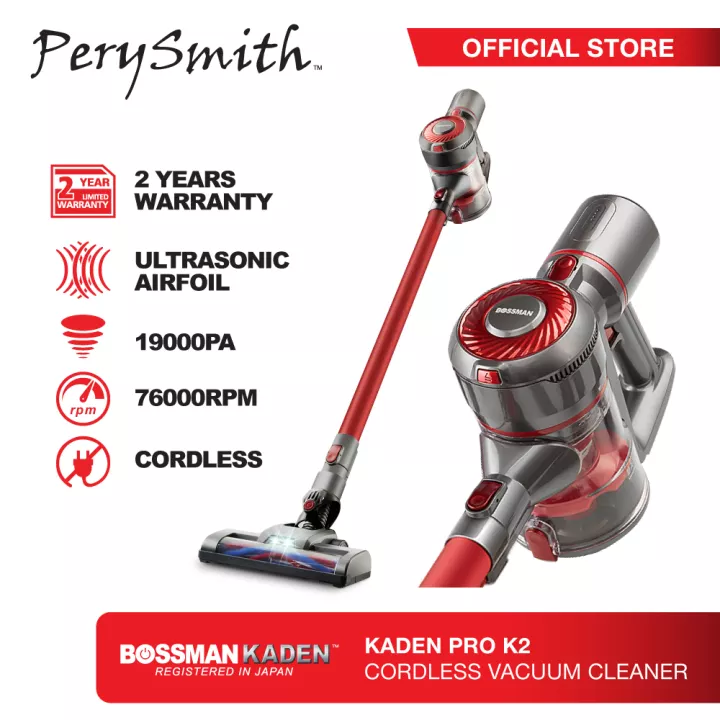 From

RM287.00
Check PerySmith Cordless Vacuum Cleaner X Bossman Kaden PRO K2 price below:
add_circle
Detachable brush
add_circle
Up to 45 minutes run time
remove_circle
Not heavy duty
This is a reliable option for keeping your home clean.
Overview:
The PerySmith Cordless Vacuum Cleaner X Bossman Kaden PRO K2 is highly efficient thanks to its smart inverter motor, generating up to 19000PA of suction power.
Weighing just 1.3kg, it's super lightweight and can be easily held up to vacuum curtains and high places. Its swivel steering allows it to manoeuvre furniture and avoid obstacles.
The HEPA filter can capture 99.5% of dust and mites, ensuring a cleaner environment.
Specifications:
Weight: 1.3kg
Noise: 72dba
Power: 250W
Suction power: 19000Pa
Run time: 45mins
Accessories: Aluminium pipe, motorized floor brush, sash nozzle, crevice tool, power pack charger, HEPA filter, wall docking
Key Features:
Cord-free vacuum cleaner
Low noise design
Dynamic wall dock
2V HD Li-ion battery
LED vision guide light
Waterproof filter component
One-click dust removal
Performance:
Users are satisfied with its efficient cleaning power and confirm that it isn't very noisy when in use. It's lightweight and user-friendly though one user commented that it isn't for heavy-duty use. Perhaps this is best suited for those with small homes.
---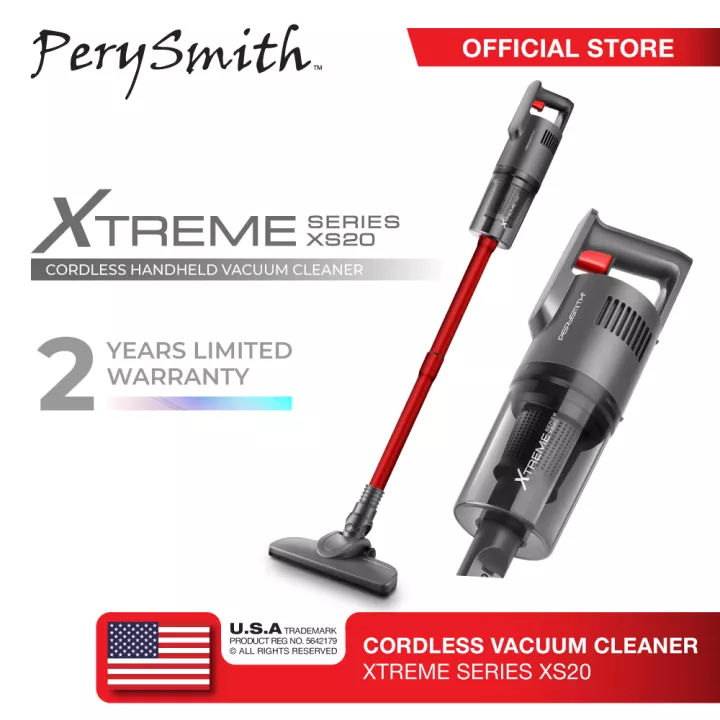 From

RM197.00
Check PerySmith Cordless Vacuum Cleaner Xtreme Series XS20 price below:
remove_circle
Run time of only 30 min
remove_circle
Average cleaning performance
A lot of pet dander around your house? This PerySmith model will do just the trick.
Overview:
With 18000PA of suction power and a multi-stage filtration system, this vacuum will efficiently pick up pet hair. It has a 4-way adjustable brush and has a dust capacity of 0.8L so you won't have to keep emptying the dust container in between cleaning. Weighing just 1.3kg, its lightweight body is easy to handle.
Specifications:
Weight: 1.3kg
Noise: 70dBA
Power: 150W – 200W (max)
Suction power: 18000Pa
Run time: 30 mins
Charging time: 4 hours
Key Features:
Can be converted into a handheld vacuum
Cord-free vacuum cleaner
Powerful Li-ion battery
One button design
200W boost motor
Swivel steering
Performance:
Frankly, its performance is merely average but acceptable given its affordability. While 30 minutes of operation is decent, it isn't the best.
---
>What to look for in a cheap vacuum cleaner?
If you're looking for a vacuum cleaner but aren't sure which one is best for you, think about the sort of flooring you have at home. This is because some vacuums are only good for certain types of floors, such as hardwood or laminate.
Besides, there is a range of vacuum cleaners for your every need, including robotic vacuums, upright vacuums, canister vacuums, stick vacuums, and portable vacuum cleaners. Every vacuum has a different application for each of them.
Apart from that, checking the product specifications such as features, noise, power, size, and filters can assist you in determining which vacuum is right for you. It would also be good to look out for ones with warranty so you won't have to worry should any technical difficulties pop up.
---
How long should a vacuum last?
To be clear, vacuum cleaners do not last forever. You can regularly deep clean it, but eventually, you'll have to time to toss it out and buy a new one.
Vacuum cleaners have an average lifespan of eight years. Some will last a few years less, while others will endure for longer. Not only does the lifespan differ among brands but also depending on the usage and how well you maintain it.
Related best vacuum cleaner articles: