The right vacuum cleaner could be just what you need to achieve a sparkly clean home. With handheld vacuum cleaners, most of which are cordless, cleaning is made easier since it's portable so you never have to worry about tripping over wires or finding plug points in close proximity. 
Handheld vacuum cleaners are ideal for cleaning the interior of your car too. Below, the best handheld vacuum cleaners, from high-end models to affordable ones for your everyday cleaning needs. 
---
Table Of Contents
---
Top 12 Handheld Vacuum Cleaners In Malaysia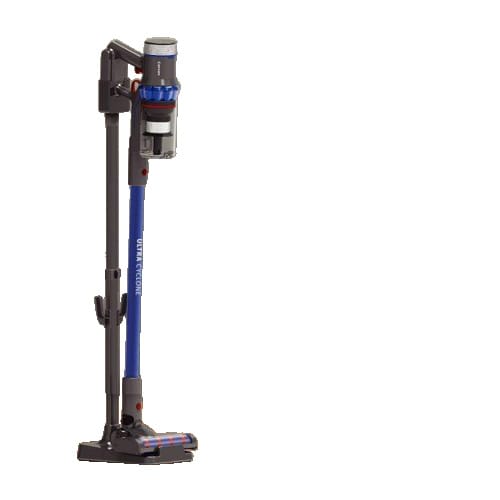 From

RM1,288.00
Check Corvan K18 Vacuum & Mop price below:
---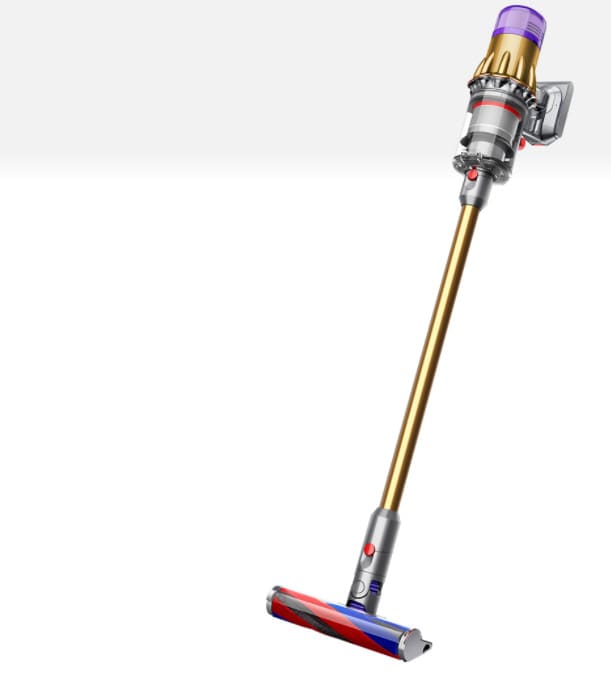 From

RM2,999.00
Check Dyson Digital Slim™ Fluffy Pro vacuum (Gold/Iron) price below:
add_circle
Intelligent real-time reports
add_circle
Advanced, whole machine filtration
add_circle
Comes with multiple tools for different cleaning tasks
add_circle
Made from high-tensile ABS for strength and lightness
add_circle
Slim Fluffy™ cleaner head is now 40% smaller and lighter
Overview:
A powerful 3-in-1 cleaning tool, the Dyson Digital Slim™ is a stick vacuum that can be transformed into a handheld one, allowing you to complete various cleaning tasks with just one device. Its versatility makes it a good investment in the long run. 
Weighing 1.9kg, it's 30% lighter than the Dyson V11™. Its Slim Fluffy™ cleaner head can capture large debris with soft woven nylon, and sweep fine particles from hard floors thanks to the black anti-static carbon fire filaments. In addition, it comes with a crevice tool with LED lights, for easy cleaning of dark spaces.
Though lightweight, don't underestimate its power. Equipped with a Dyson Hyperdymium™ motor, it spins at up to 120,000rpm to generate 100 Air Watts of powerful suction. Its 11 scrolled cyclones are designed to remove fine dust and dirt from the airflow.  On top of that, the Dyson Digital Slim™ has a 5-layer filtration system that captures dust and allergens. 
In terms of battery, this vacuum has up to 40 minutes of run time which puts it at the top of the spectrum as the average battery life of vacuums is between 15-40 minutes, though there may be outliers that can push a little longer than that. Further, the 3.5 hour charge time isn't really a concern as you just have to leave it at the wall dock while it charges.
It has an LCD screen that allows you to receive filter maintenance reminders which takes the guesswork out of things and is helpful if you're too busy to remember when it needs to be changed. It also displays the performance, settings, and blockage reports in real-time. 
Key features of the Dyson Digital Slim™ Fluffy Pro vacuum (Gold/Iron):
Smooth bin emptying - The ejection mechanism with rotary catch enables no contact emptying of the bin 
Easy maintenance - The components can be easily washed and wiped to keep them clean
Removable battery -  Battery can be replaced with an additional click-in one(sold separately) to instantly double the run time
The difference between the Gold/Iron variant and the Purple/Iron colourway is that the former is a direct exclusive to the Dyson Demo store and www.dyson.my, and it includes an additional floor dock.
---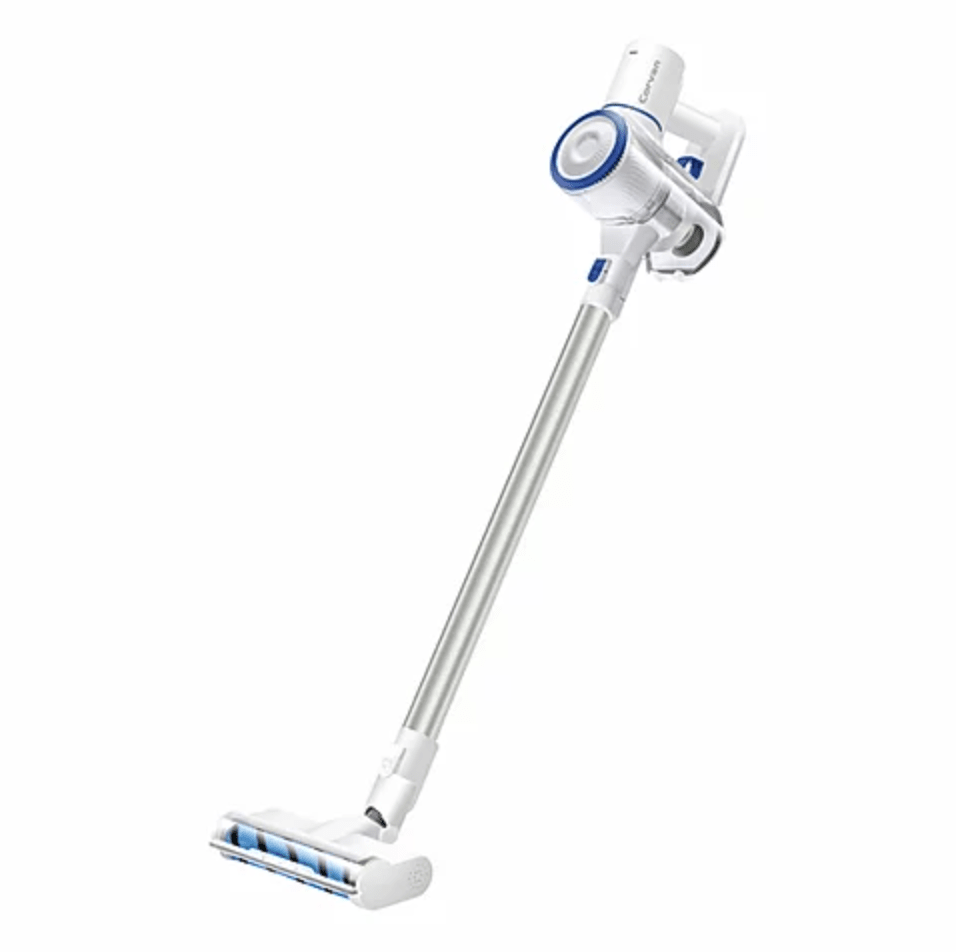 From

RM598.00
Check Corvan Cordless Anti-tangle Vacuum Cleaner price below:
add_circle
1 press operation
add_circle
Extra high reach
add_circle
Has a HEPA filter
add_circle
Charges faster than other vacuum cleaners
remove_circle
Does not work as a mop
remove_circle
Slightly short battery life
If you've got hair and pet dander all over the floor, the Corvan Cordless Anti-tangle Vacuum Cleaner is your new best friend.
Its anti-tangle motorized brush is its star quality and why we love it. You'll no longer have to struggle with disentangling human and pet hair from the vacuum brush whenever disposing of the contents. The ergonomic handle provides a comfortable grip that makes vacuuming a breeze.
Overview:
This vacuum cleaner has a smart charging function that auto-stops once fully charged, thus saving precious energy. Unlike most vacuum cleaners that require 4-5 hours of charging time, the Corvan requires only 2-3 hours to be fully charged. You will also love its narrow crevice tool that allows easy access to tight spaces, such as under the furniture or in a car interior.
Performance:
The Corvan is well-received mainly due to its anti-tangle feature that works wonders in picking up hair and fine dust. This makes the vacuum cleaner a piece of fine equipment for pet owners. One thing to note though; the battery power depletes quickly when running on turbo mode. 
Power: 170W
Weight: 1.4kg
Capacity: 0.6 L
Airwatts: 115Airwatts
Run Time: 40 minutes
Input Voltage: 230V
---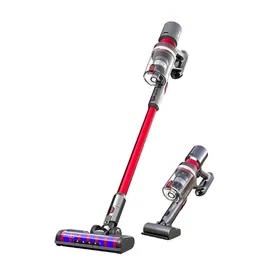 From

RM698.00
Check Dibea F20 Max price below:
add_circle
Has an eco-friendly mode to save energy
add_circle
Powerful yet lightweight
add_circle
Easy to assemble
remove_circle
Floor brush isn't very smooth when used
The Dibea F20 Max holds the title 'best rated' for good reason. It is an upgraded version of the company's flagship product, Dibea F20, but made with newer technology and reinvented with 60% improvements on its power and motor, extending the vacuum's lifespan by a whopping 5 times. 
Overview:
It includes three speed controls that pick up different kinds of debris: the eco-friendly mode is best for vacuuming dust and hair whereas the standard mode is used for picking up food crumbs. Meanwhile, the powerful mode has the ability to vacuum debris such as nuts and rock candy. Supporting its suction power is the vacuum's wide-angle duct design that gives the brush head a double cleaning effect.
If you're one of those people who view vacuuming as a vigorous physical exercise, you will particularly love how effortless it this vacuum cleaner feels. The Dibea f20 Max comes with a roller brush head that naturally drives forward, even when you push it with a light touch.
Performance:
Without too hefty a price tag, the Dibea F20 Max possesses good suction power that cleans most floor surfaces well. Reviewers have praised its easy operation. The only catch is that the floor brush isn't very smooth when used.
Power: 400W
Weight: 2.5kg
Capacity: 0.5L
Run Time: 50 minutes
Input Voltage: 29.6V
Suction Power: 25000Pa
---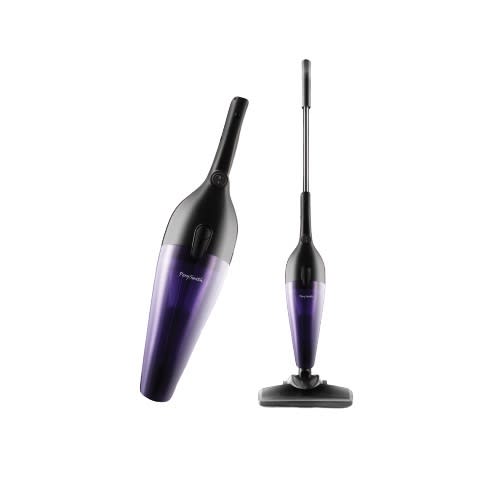 From

RM75.00
Check PerySmith 700W Handheld Vacuum Cleaner Storm Series PS7000 price below:
add_circle
Powerful suction
add_circle
Very affordable
remove_circle
Heats up easily
Light and affordable, the PerySmith 700W Handheld Vacuum Cleaner Storm Series PS7000 is an option you should seriously consider.
Overview:
This budget vacuum cleaner doesn't disappoint with 700W and a HEPA filter system. HEPA filters are an advanced and highly efficient filtration system that removes 99.97% of particles that are only 0.3 microns in size. On top of that, despite being so light, it has the capacity to hold up to 0.6L of dust and particles. 
Performance:
We are impressed by its powerful suction, a feature not common in most budget vacuum cleaners. However, many users have mentioned that it can be very noisy. It also tends to heat up very quickly; you may notice a temperature rise in the equipment even within 5 minutes of operating it.
Despite that fact, the vacuum is still safe to use, but we recommend not relying on it for long cleaning sessions.
Noise: 68dB
Power: 700W
Weight: 1.50 kg
Capacity: 0.6L
Suction Power: 10000Pa
---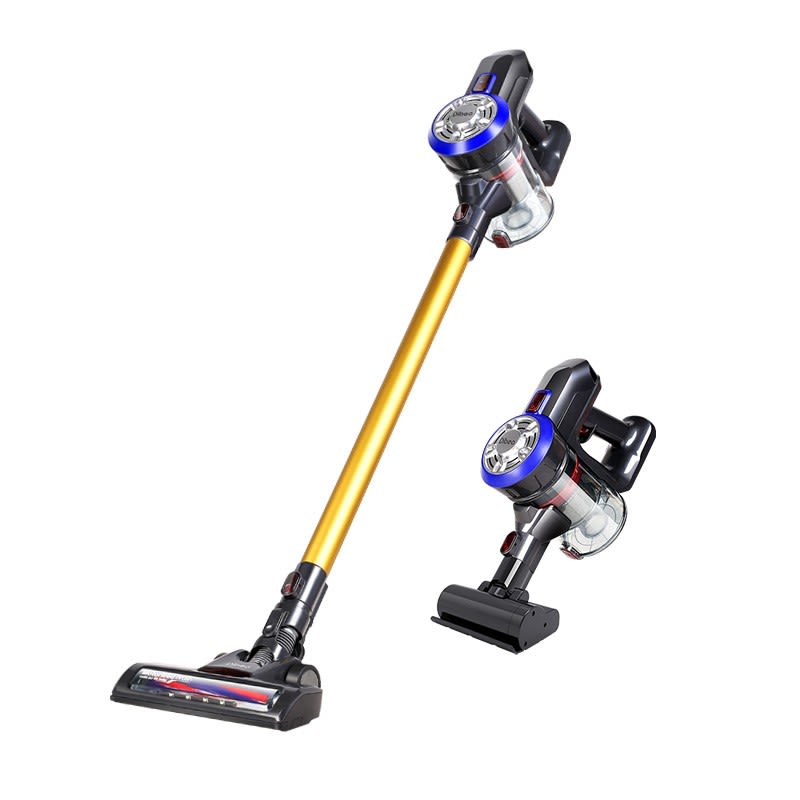 From

RM305.00
Check Dibea D18 Cordless Vacuum Cleaner price below:
add_circle
Perfect for larger homes
add_circle
Has a large dust bucket
remove_circle
No HEPA filter
The best.
Features:
Beautifully built with an ergonomic handle, the Dibea D18 Cordless Vacuum Cleaner easily removes dust and particles from furniture surfaces, beds, car carpets, and tile floors. It can be placed almost horizontally to the ground, allowing it to flexibly clean the difficult-to-reach area under most furniture. 
Its multistage filtering system absorbs all debris with its high-precision cotton filter. The particles then go through the cyclone separation system that separates dust from the other particles. Lastly, the stainless-steel metal filter collects larger pieces of particles. 
Other interesting features include the LED lights firmly placed on the main tube that provide a better view of the floor and particles while you are vacuuming. Additionally, the indicator power lights in bars easily show you the battery percentage so that you'll know when it needs to be charged. 
Performance:
Overall, the Dibea D18 is somewhat similar to the Dibea F20 Max, but with weaker suction power. Do note that, in addition to being less suitable for carpeted floors, the D18 has been critiqued as having less-than-optimal battery life. Nonetheless, its performance is satisfactory at this price point. 
Power: 120W
Weight: 2kg
Capacity: 0.5L
Run Time: 45 minutes
Input Voltage: 22.2V
Suction Power: 9000Pa
---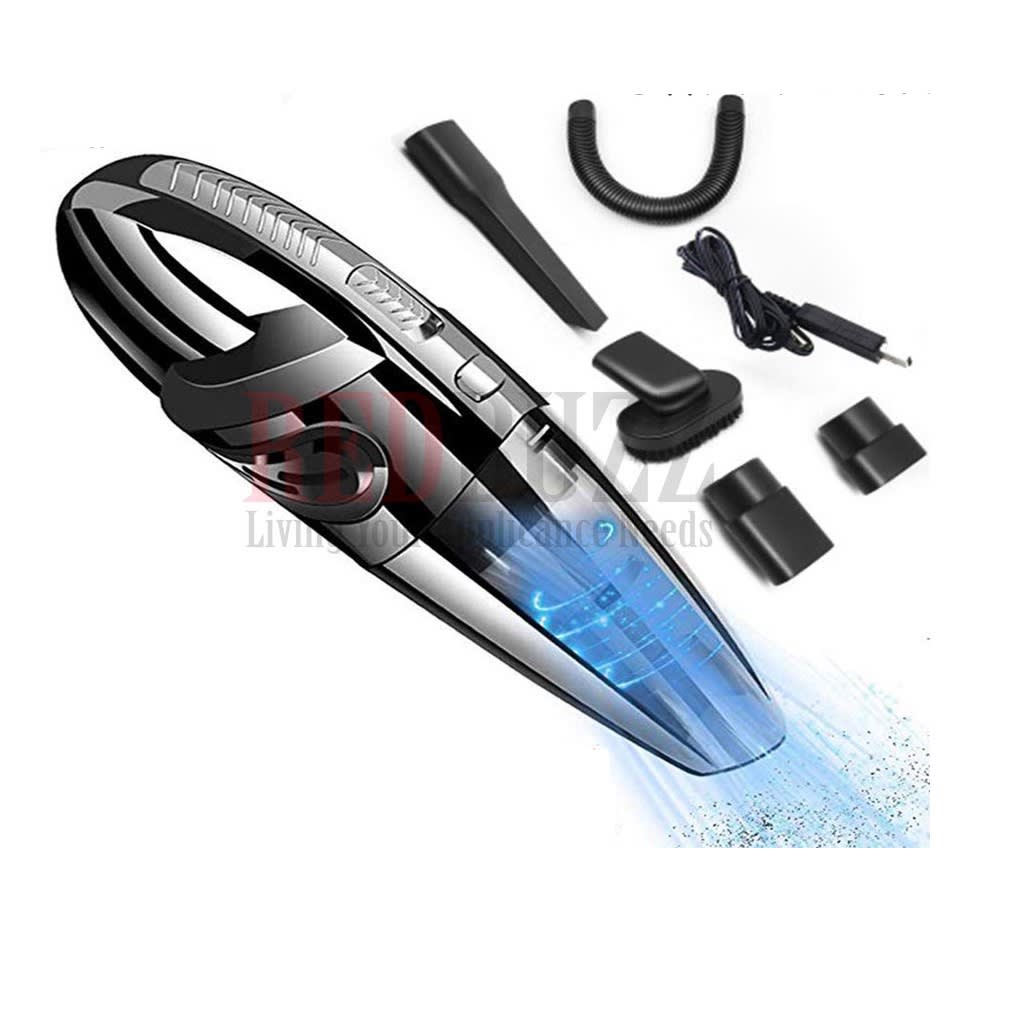 From

RM38.96
Check Redbuzz Rechargeable Portable Vacuum Cleaner 120W  price below:
add_circle
5 kinds of nozzles
add_circle
Can be used to vacuum dry and wet substances
remove_circle
3-4 hours of charging time
This Redbuzz Rechargeable Portable Vacuum Cleaner is ideal for cleaning the interior of your car.
Overview:
Unrestricted by a cord, this vacuum is lightweight and portable. Coupled with its ergonomic design and user-friendly one button operation, vacuuming your car feels like less of a chore. Equipped with 5 different nozzle accessories, you'll be able to reach those nooks and crannies.
Besides, you could even use it to vacuum small spills or random hard-to-reach spots in your home. With noise reduction technology, it will be fairly quiet so as not to cause disturbance.
Despite its low price, its got decent battery life though it's not advisable to keep it running for over 30 minutes. With that said, a full charge takes 3-4 hours. On top of that, its got dry and wet functions, allowing you to even vacuum spilled liquid substances.
Performance:
This is a wildly popular vacuum with offering good value for money. According to reviews, its suction power is great for vacuuming sand, crumbs, hair, etc. Lightweight, it's easy to clean too. Users are satisfied, especially at this price point.
Power: 120W
Capacity: 0.5L
Run Time: 20 minutes
Input Voltage: 220V
Suction Power: 3500Pa
---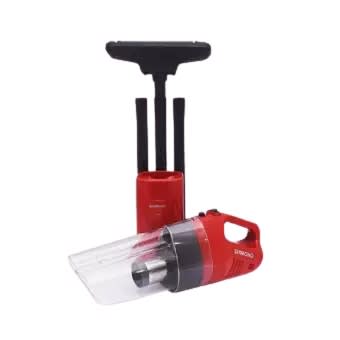 From

RM199.00
Check Shimono Pro-Cyclone Rocket Handheld Vacuum price below:
remove_circle
Heats up quickly
Thanks to its tiny size, the Shimono Pro-Cyclone Rocket Handheld Vacuum can be easily stored anywhere in your home, saving valuable space.
Overview:
It has an extra-long ergonomic handle. This is especially useful for reaching deep into small crevices and cleaning the surfaces between small corners.
The handy vacuum cleaner surprisingly has high suction power, an attribute not commonly seen among small vacuum cleaners. Its pro-cyclone technology separates dust and air extremely effectively in one go; this explains why it's so easy to clean the appliance.
Performance:
The Shimono has always been popular among netizens, having a reputation of being small yet powerful. Unfortunately, the vacuum cleaner is not cordless, and there is no mention of it being able to connect via a USB cable. Also, unlike many other small vacuum cleaners, it is rather noisy and heats up quickly.
---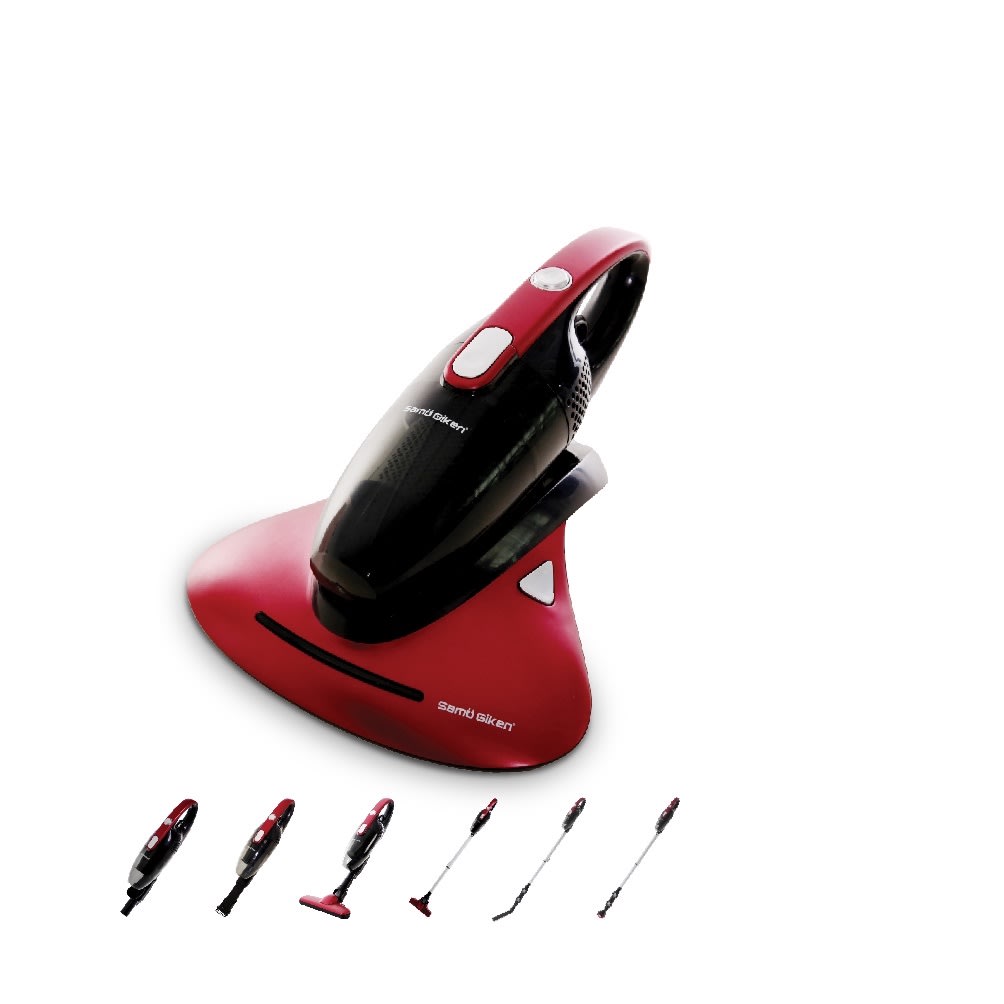 From

RM274.90
Check Samu Giken UV Vacuum Cleaner Dust Mite Killer price below:
add_circle
Large dust tank capacity
add_circle
Sterilising function that kills bacteria
add_circle
Suitable for cleaning fabrics
remove_circle
Not as powerful for heavy-duty floor-cleaning
Here's a value-for-money recommendation. 
Overview:
As its name suggests, the Samu Giken UV Vacuum Cleaner Dust Mite Killer effectively removes mites, bed bugs, E. coli, salmonella, and other airborne allergens in your home. This is only possible because of its Germicidal UV Light Technology which can kill up to 99.9% of bacteria. UV lights are scientifically proven to kill bacteria by emitting radiation, thereby causing critical damage to the bacteria's DNA.
Therefore, the vacuum cleaner is perfect for cleaning fabric surfaces on sofas, curtains, and mattresses; home to a myriad of harmful bacteria. 
This handheld vacuum has a long stick body that makes it ideal for cleaning floors. Its desktop vacuum feature allows for easy cleaning of tabletops, cabinets, and wardrobe interiors.  
Performance:
The Samu Gilken has received mixed reviews for its suction power; note that it's not the strongest. Overall, many recommend it especially for those who are suffering from asthma or are allergic to dust mites as it can be used to eliminate the environmental triggers.
Power: 400W
Weight: 3kg
Capacity: 1.2L
Run Time: 60 minutes
Input Voltage: 220V
Suction Power: 10000Pa
---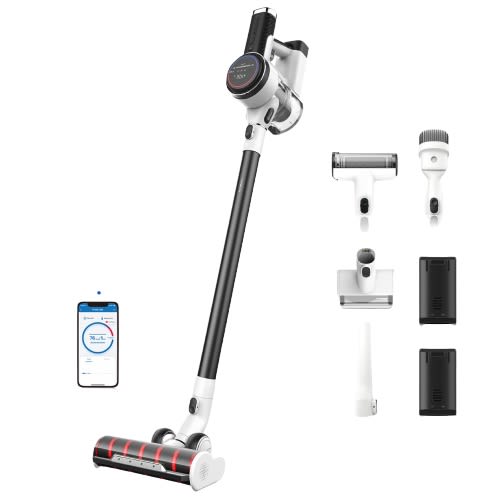 From

RM1,549.00
Check Tineco S12 Ex Smart Cordless Stick Vacuum Cleaner price below:
add_circle
Auto adjustment of suction power
add_circle
Self-cleaning filter
add_circle
Can be integrated with app for easy monitoring
add_circle
Premium material
remove_circle
difficult to manoeuvre due to its bulkiness
A great investment for your home.
Overview:
What makes the Tineco S12 Ex Smart Cordless Stick Vacuum Cleaner so fascinating is its iLoop smart sensor technology that senses dirt in real-time and automatically adjusts suction power according to the varying dirt amount.
Because of its smart battery management system, the Tineco has an impressive runtime of up to 100 minutes whereas most vacuum cleaners have a runtime of only 45 minutes.
The vacuum cleaner can even be integrated with a mobile app to receive real-time updates, set cleaning reminders, and keep track of your cleaning reports. Up to 99.97% of particles are captured with its stringent 4-stage filtration system, consisting of a HEPA filter that expels non-allergenic fresh air, a pre-filter that blocks fine dust, a mesh filter that blocks hairs and dust, and finally a cyclone system that separates large particles.
Performance:
Users are impressed with its superior battery life, premium material, and top-notch smart technology. However, because of its weight, the vacuum cleaner is rather difficult to manoeuvre, especially in tight spaces like in-between chair legs.
Power: 500W
Weight: 3kg
Capacity: 0.6L
Airwatts: 145 Airwatts
Run Time: 100 minutes
Suction Power: 26000Pa
---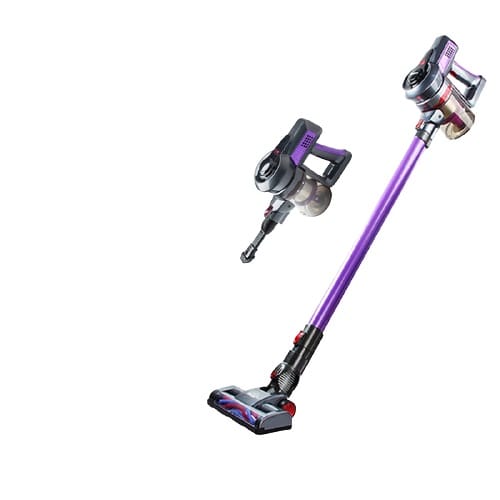 From

RM259.00
Check Airbot iRoom Cordless Vacuum Cleaner price below:
add_circle
Dual speed control
add_circle
2 suction pressure levels -- Eco and Turbo
add_circle
Washable stainless steel filter and HEPA filter
A lightweight vacuum makes cleaning easier as you won't have trouble lugging it around.
Overview:
Say goodbye to blind spots in cleaning, because the Airbot iRoom CV100 Vacuum Cleaner has a slim and flat design that easily cleans corners. It helps that the vacuum also comes equipped with smooth wheels for ease of manoeuvring.  
In addition to its slim design, the Airbot is almost feather-light; weighing just 1.9kg. 
One interesting feature is that the Airbot has double-sided exhaust valves that cool the equipment easily, ensuring heat dissipation and preserving efficiency. This feature ensures that there's no need to worry about the vacuum cleaner heating up excessively.
Performance:
The Airbot is frequently praised for being light, versatile and easy to manoeuvre. On the downside, the battery isn't very long-lasting and its suction is rather weak. With that said, the Airbot is best for light usage only.
Noise: 50-60dB
Power: 150W
Weight: 1.6kg
Capacity: 0.6L
Run Time: Lowspeed: 30-45 minutes; High speed: 10-15 minutes
Suction Power: 19000Pa
---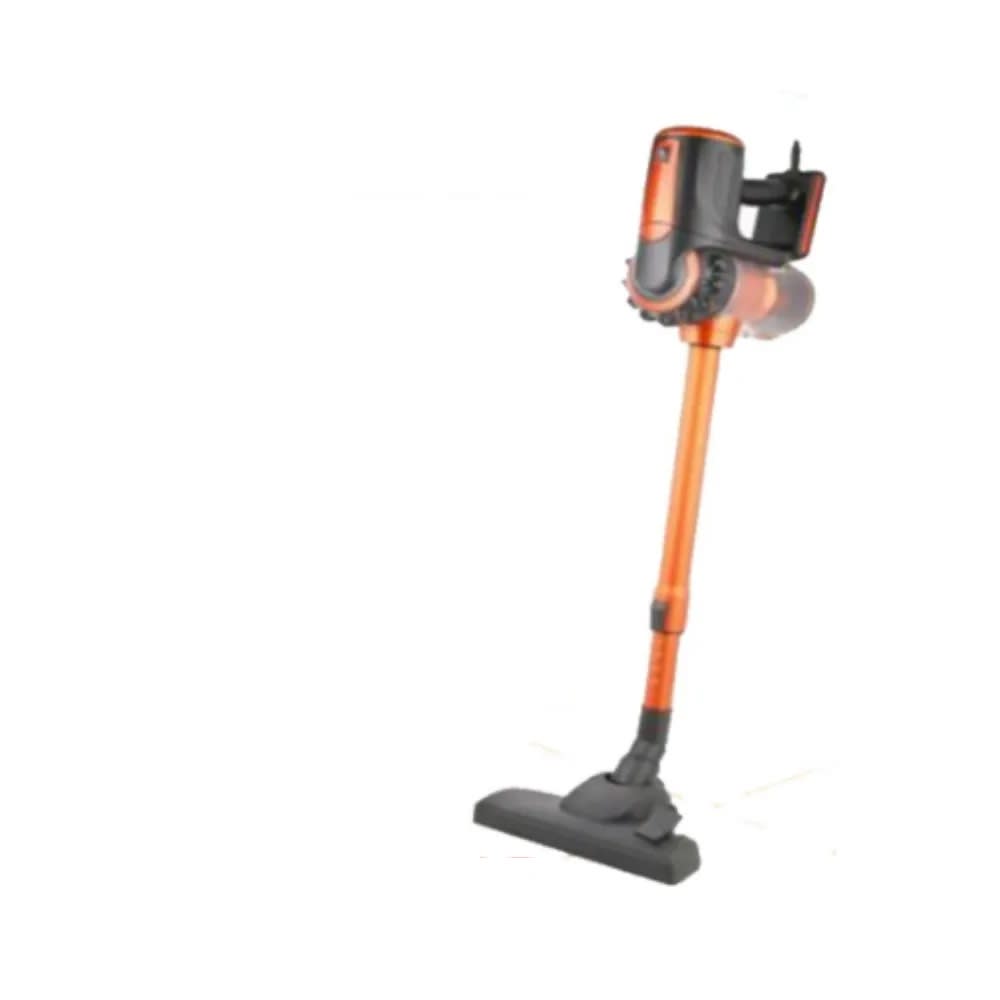 From

RM149.90
Check Pensonic PVC-1000H Corded Handheld Vacuum Cleaner price below:
add_circle
Strong suction
add_circle
Easy to assemble
remove_circle
On the heavier side for handheld vacuuming
For those who prefer a corded, handheld vacuum with strong performance, the Pensonic PVC-1000H is for you.
Overview:
Made with an aluminium telescopic tube in a beautiful orange colour, it is fairly easy to assemble; its main body and dusk tank can be swiftly disassembled to clear out debris in the tank.
Its 4.5-metre-long cord makes cleaning easy as you won't have to frequently plug it into different power points to clean another part of the room. The wall-mounted hook is convenient as enables the vacuum to be kept neatly in an upright position; no more struggle with reassembling the vacuum cleaner every time you need to use it.
Performance:
While the Pensonic has been largely complimented for its good value, it is rather heavy for handheld vacuuming although only at 5.4kg. Several have said that they get tired easily from lifting it. Therefore, it is recommended for vacuuming floors instead of walls and other upright surfaces.
Noise: ≤80dB
Power: 600W(Max: 690W)
Weight: 4.9kg
Capacity: 0.5L
Input Voltage: 220-240V
Suction Power: ≥15000Pa
---
How To Choose A Handheld Vacuum?
Here are some considerations when choosing a handheld vacuum:
Capacity
You'll want to take note of the dust capacity of the vacuum. A larger one would mean it wouldn't need to be emptied as often. This means you can go about vacuuming without having to stop to empty it.
You could even get a vacuum with an ejection mechanism so that no contact is necessary to empty the container.
Battery life
If you live in a large house, runtime should be particularly important to you as you would have a lot of ground to cover and wouldn't want to have to stop in between to recharge your vacuum.
Most handheld vacuums have a runtime of up to 30 minutes before needing to be charged.
Size
You'll want a vacuum that's comfortable to handle and is lightweight so that it's easy to carry around the house. Plus, vacuuming will be easier, unrestricted by a cord as you won't need to have a power outlet nearby. This will allow you to vacuum hard-to-reach spots too.
Related articles: