Hate cleaning? As in sweeping and mopping the floors? Yeah, we know how you feel about performing such a mundane and tiring task where you should be doing something more important. Moreover, these tasks are not exactly the fastest chores to do.
But thank God for a certain value-added invention that uses robotic technology. These are called robot vacuum cleaner or simply a robot vacuum.
Here are several top-rated robot vacuums from high-end to the affordable varieties that we highly recommend. For more tips on choosing a robot vacuum, scroll all the way down!
More: 9 Best Vacuum Cleaners That Are Highly-Rated for Different Uses
add_circle
Advanced mapping technology
add_circle
Strong suction power that can pick up hair
add_circle
Large water tank that's detergent-friendly
add_circle
Advanced settings via app available
add_circle
More value-for-money than similar competitors
remove_circle
Cannot fit into spaces narrower than 13 inches
remove_circle
May get stuck on rough, elevated flooring such as carpets
As a way of living now with the COVID-19 Pandemic, floor-disinfecting and cleaning is more crucial than ever. And regular cleaning is already time-consuming on the daily. Here's when picaBot comes to the rescue.
Priced from RM1800, Corvan picaBot comes in 3 models; Lite+, Elite+ & Pro+. The series sweeps, vacuums, mops and disinfects your entire floor, all in one go! Simply run the robot or use its smart-home app TuyaSmart to control it from anywhere in the world.
Via said app, you can set cleaning areas, no-go zone, cleaning schedules and view cleaning records. For further adjustments, you can set suction power and even the dampness level for mopping dampness. As expected from a smart robot vacuum; should battery level deplete during cleaning, the robot will return to its charging dock to recharge. It'll then resume cleaning from where it left off until it completes its cleaning schedule.
That's not all; the jewel of the crown is its laser mapping system which scans and maps the surroundings precisely. Interestingly, you can see the cleaning path on a real-time basis via TuyaSmart app. Not forgetting; the robot vacuum enlists its double spin brush and super strong suction to pick up small and large particles such as very fine dust, cat's litter and hair strands.
A rare feature for a robot vacuum is the picaBot's mopping system which allows you to mix in any disinfecting floor detergents like Ajax or Dettol. The result: a squeaky clean floor that is free of viruses and bacteria.
One thing to note: this robotic vacuum might not be able to squeeze itself through tiny gaps narrower than 13 inches. Instead, some users have taken to make small adjustments on their furniture setting just so the robot cleans the floor spotlessly.
---
More: 8 Best Robot Vacuums That'll Intelligently Clean Up After Your Pet's Hair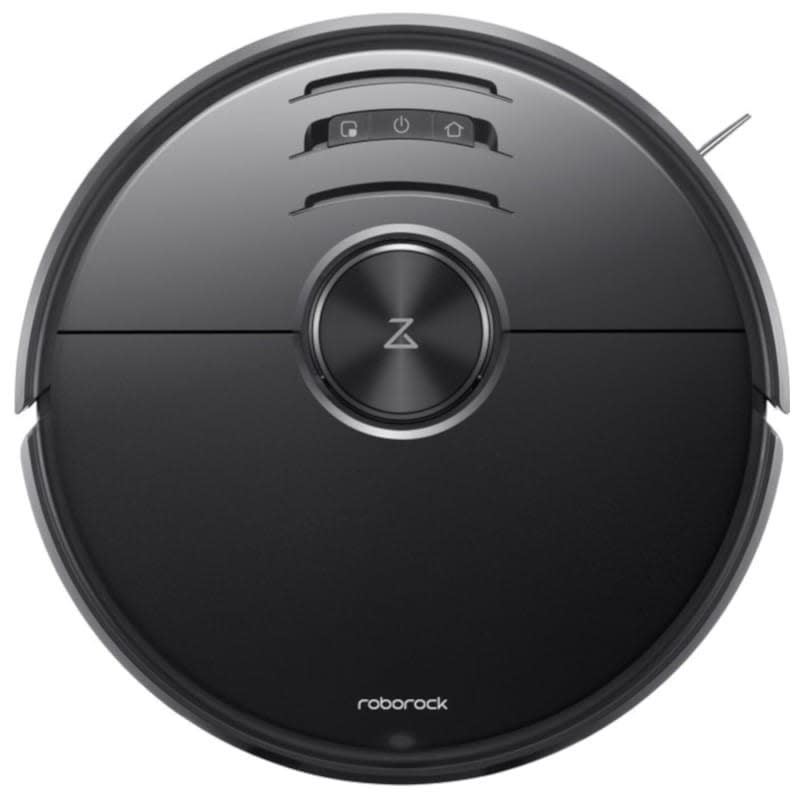 add_circle
Strong suction power
add_circle
Has vacuuming and mopping functions
add_circle
Long battery life
remove_circle
Hard to differentiate upon choosing the different cleaning modes
remove_circle
Some obstacles can't be avoided entirely
The feature-packed Roborock S6 MaxV combines vacuum and mopping functionality designed to make your life cleaning chore easier. It has a strong suction capable of capturing even finer dust and debris of up to 25% more powerful than the previous model no matter on hard floors or carpets.
For convenience, you can assign the Roborock S6 MaxV to perform the cleaning task accordingly using the Roborock app, which is available for download on Google Play and AppStore.
There are a few things you can do with the app, namely creating virtual No-Go and No-Mop Zones so that the robot vacuum will know which designated areas to avoid. And if you happen to have different floors/levels in your home, the app allows you to save up to four maps.
The Roborock S6 MaxV also allows you to choose five different cleaning modes. This includes Balanced, Gentle, Quiet, Turbo and Max, which in theory, sounds like it's a no-frills choice you can pick according to your respective needs.
However, some users find these otherwise handy choices hard to differentiate between each of them. In fact, don't be surprise if you'll occasional prefer the safer route instead, which is the Balanced mode.
When comes to the mopping part, many users agreed that the Roborock S6 MaxV did a splendid job cleaning and free the floors from the likes of smudges and grimes. But do note there's a limit on what this robot vacuum can do. For instance, it might be difficult for the robot vacuum to mop away stubborn stains.
Not to mention it makes the mopping work a breeze, thanks to its large water tank that can store up to 300 ml. Unfortunately, it's worth noting that this robot vacuum doesn't automatically avoid carpets during the mopping session. Instead, you have to instruct it accordingly by choosing the No-Mop Zone.
The Roborock S6 MaxV is blessed with a huge battery at a whopping 5,200mAh capacity, which can last up to 3 hours in a single charge. As a result, this comes in handy for the robot vacuum to perform two or three times cleaning if necessary.
Finally, there's a nifty Proprietary ReactiveAI obstacle avoidance, which uses a dual-camera mode (let's call them as "eyes") to spot and avoid obstacles on the floor. It sure sounds like a great idea but the robot vacuum isn't entirely smart as it claimed to be. Depending on the situations, there are times where it fails to avoid.
According to a test, the robot vacuum has a tough time avoid knocking over a dog toy while another test pinpoints its inability to prevent itself from hitting a cat bowl lying on the kitchen floor.
Overall, if you can look past some of its shortcomings, the Roborock S6 MaxV remains a worthy investment for your cleaning needs.
Our Review
Aside from the Roborock's S6 MaxV strong suction power which can pick up small dust particles and fine hair, cleanliness was notably top-notch in just one sweep. The app is also quite intuitive which lets you map areas to clean as well as to avoid, along with multi-level mapping. In conclusion, if you have the budget, it is a robot vacuum worth investing in.
Read Full Review
---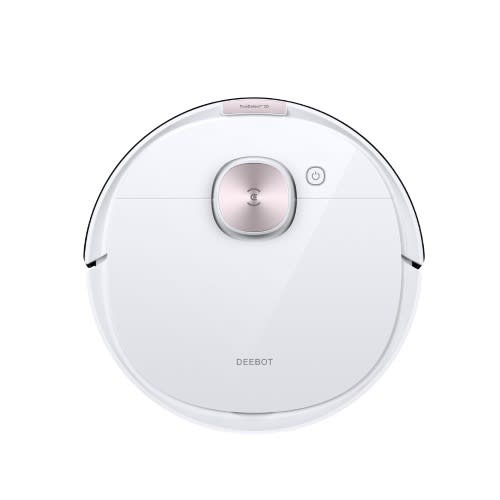 add_circle
Has an AIVI technology that automatically identify and avoid obstacles
add_circle
Capable of detecting different types of flooring seamlessly
add_circle
Long-lasting battery life
remove_circle
Only supports water for mopping
The Deebot Ozmo T8 may come with a premium price tag but it's sure packed with loads of features that help to simplify your cleaning routine. Among them includes an AIVI (artificial intelligence and visual interpretation) technology, which allows the robot vacuum to automatically detect and avoid obstacles.
This robot comes with a Visual Butler feature where you can monitor live footage of your home no matter where you are, as well as a carpet-detecting sensor. The latter basically works by avoiding the carpeted area during the mopping process. According to a test, it actually performs as it should; the robot vacuum recognises a carpeted area and then turns the other way around.
Another good thing about the Deebot Ozmo T8 is the seamless detection capable of sensing different types of flooring (e.g. hard floors) and carpets. Best of all, the maker behind the Deebot Ozmo T8 recognises such an annoying fuss by streamlining its dual operations (vacuuming and mopping). That means you can rest assured that the robot vacuum will do the job, knowing if the area is wet or dry.
The biggest downside about the robot vacuum's mopping part is its inability to support cleaning solutions as it only mops with water. According to Ecovacs, users are advised to fill the water tank with softened or purified water to extend its lifespan.
Back to the AIVI technology, it may pull off a great job distinguishing larger obstacles such as tables, chairs and shoes. But the otherwise smart technology isn't all that "smart" when it doesn't respond well against any item that is fewer than 2 mm tall.
Finally, the battery life is exceptionally great which can last up to 170 minutes (around 3 hours) on a single charge if you operate the Deebot Ozmo T8 in an auto cleaning mode. That's good news, particularly for those who stay in a big house.
---
More: 15 Mops Which Clean Like a Dream for Every Floor Type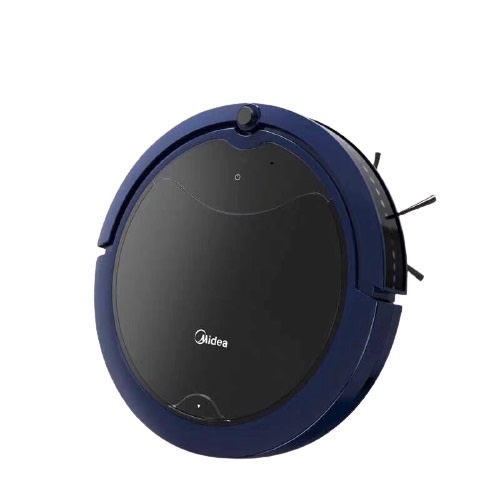 add_circle
Short build allows passing under the furniture easily
remove_circle
Average battery life
While robot vacuums are generally a costly investment, that doesn't mean you can't own one. Take the Midea R3TCN, for example: a robot vacuum that doesn't cost you a fortune (read: paying four figures). It may lack the bells and whistles found in the high-end robot vacuum but it does the job as long as you are not expecting too much.
This includes an automated vacuuming function capable of covering up to 120 square metres while its body, measuring at only 8 cm tall, allows the robot vacuum to pass under furnitures like beds, sofa or cupboards with relative ease.
Other highlights you can expect from the Midea R3TCN includes a 250ml water tank capacity for the mopping function and four different cleaning modes to choose from. Depending on your cleaning needs, you can pick Comprehensive mode that allows the robot vacuum to clean all over the area(s) or select Focus if you want it to target on the specific mess.
And to make things easier, a remote is included for easy controls. On the downside, battery life is far from the best as it only lasts at 60 minutes max. So, you might find yourself recharging the robot vacuum more often if you have a bigger house to perform a thorough cleaning process.
---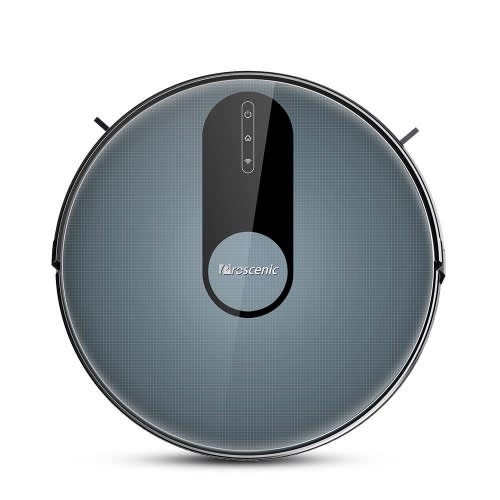 add_circle
Multiple control functions
add_circle
Durable battery life
add_circle
Larger dust bin capacity
remove_circle
Only supports 2.4GHz Wi-Fi
remove_circle
Tend to struggle with finer debris
Here's another budget-friendly robot vacuum that comes highly recommended. The Proscenic 820s has a sleek and minimalist design that looks like it costs twice the price. It can be controlled wirelessly using a smartphone app by downloading the Proscenic Home via Google Play or App Store.
From there, you can assign the robot vacuum to schedule a cleaning map and customising your preferred cleaning mode. The only biggest downside about controlling the robot vacuum using the app is that it doesn't support dual-band wireless network. In other words, you have to make do with the standard 2.4GHz Wi-Fi.
Alternatively, you can also use the bundled remote control to operate the robot vacuum or even voice commands when you pair it with Google Assistant or Amazon Alexa. The Proscenic 820s is also notable for its slim and compact form factor, meaning it can pass under the cabinet or bed to clean dark, hard-to-reach area.
Performance-wise, it does a decent job of cleaning different debris such as rice and cereal. However, the robot vacuum struggles with finer debris, say spilt sugar or salt, particularly on hardwood floors and dense carpets.
For the latter, some users found the Proscenic 820s to have a hard time perform cleaning on the carpet. The suction power, in the meantime, is adequate and one shouldn't expect too much, given its inexpensive price point.
When it comes to the battery capacity, the Proscenic 820s can sustain for about 2 hours+ and will recharge automatically with the help of a bundled charging base in a wireless mode.
Another highlight worth mentioning here is the larger dust bin, which can hold up to 600ml capacity. That way you don't have to regularly remove and empty the bin each time the robot vacuum finishes its cleaning duty.
---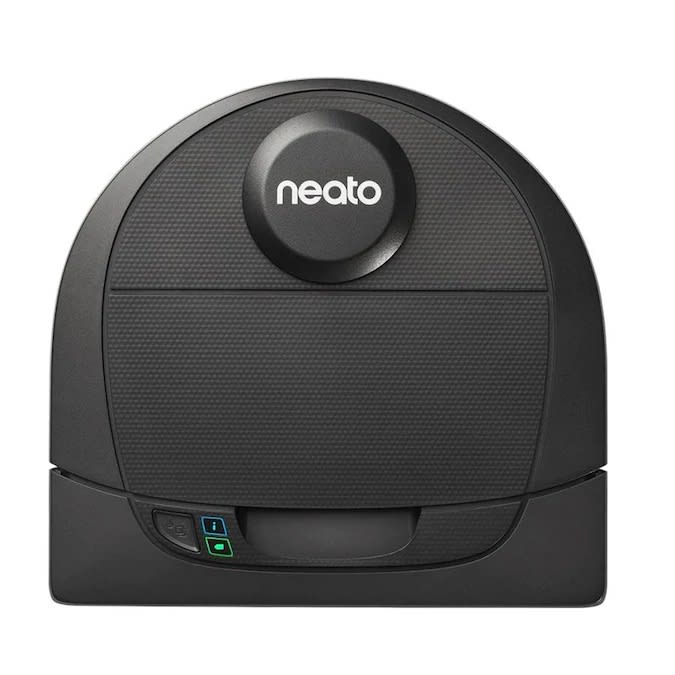 add_circle
Capable of picking up pet hair efficiently
add_circle
Versatile controls via app or voice commands
add_circle
Good battery life
remove_circle
Struggle to clean around the edges and corners
Those who own a pet, notably long-fur cats and dogs, can be a nuisance at times. Because pets shed fur all the time and all over the place, sweeping them up can be a real chore. With a robot vacuum like the Neato Robotic D4, your problem is solved with its powerful Advanced SpinFlow Power Clean System to pick hair and fur efficiently in each pass.
Aside from hair and fur, this robot vacuum performs quite well on collecting dust and debris. According to a test, the Neato Robotic D4 works the best when it picks up the likes of cereal pieces and kitty litter at an average score of 91.3%. Unfortunately, it only scores a less-than-impressive 72.9% cleaning rate when it comes to vacuuming kitty litter on the carpeted area.
The Neato Robotic D4 can be mostly controlled wirelessly using the company's app called Neato Robotics (downloadable on Google Play and App Store). Once downloaded into your smartphone, you can make use of the app to create a cleaning map or set up a "no-go" zone.
Moreover, the latter simply works by keeping the robot vacuum from moving to a certain area. You can also start and pause the robot vacuum using different voice commands including Google Home Assistant and Alexa.
While the Neato Robotic D4 does a good job of picking up pet hair as well as different types of debris and dust, it somehow falters when it comes to performing effective cleaning around the edges and corners due to the lack of side brushes.
In terms of its battery life, the Neato Robotic D4 provides sufficient juice to cover around 500 square feet's worth of floor plan. Not to worry though, as it comes bundled with a portable charging base where the robot vacuum will return and automatically recharges itself. And for that, it takes about 2 1/2 hours for a full recharge.
---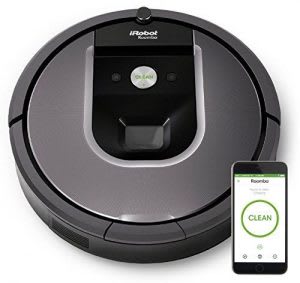 add_circle
Compatible with a smartphone app and voice assistant
add_circle
Different cleaning modes available
add_circle
Has a built-in camera to avoid obstacles
remove_circle
Doesn't perform well on thicker rugs or carpets
There are lots to love about this iRobot Roomba 960. Made compatible with your smartphone or even Alexa, it allows you to operate the robot vacuum easily in a wireless mode. It can last up to 70 or 75 minutes on a single charge but don't worry about battery running low since it will return to its dock for a full recharge before continuing on its assigned cleaning task.
You can also tell the robot vacuum how to clean the floor accordingly using one of the three cleaning-pass selections in the app. This includes one-cleaning and two-cleaning passes, with the latter particularly useful for those who own a pet regardless of long or short hair.
Alternatively, you can simply settle with the Automatic mode, where the robot vacuum will "determine" how many passes it needs to make according to the size of the area. If that's not enough, there's even an "Edge Clean" mode where it'll clean along the edges such as walls as well as chair and table legs.
With the combination of iRobot's patented AeroForce 3-Stage Cleaning System and Advanced Dirt Detect Technology, it does a good job moving across different floor types to perform its cleaning duty. The built-in camera helps too, allowing the robot vacuum to navigate its path easily while avoiding common obstacles such as banging into table legs.
If there is a flaw about the iRobot Roomba 960, it's that some users find the robot vacuum not being able to adapt to a certain carpet-cleaning performance. This is especially true if you have a thicker carpet or rug in your home.
---
More: Clean Your Home Freely with these 7 Cordless Vacuum Cleaners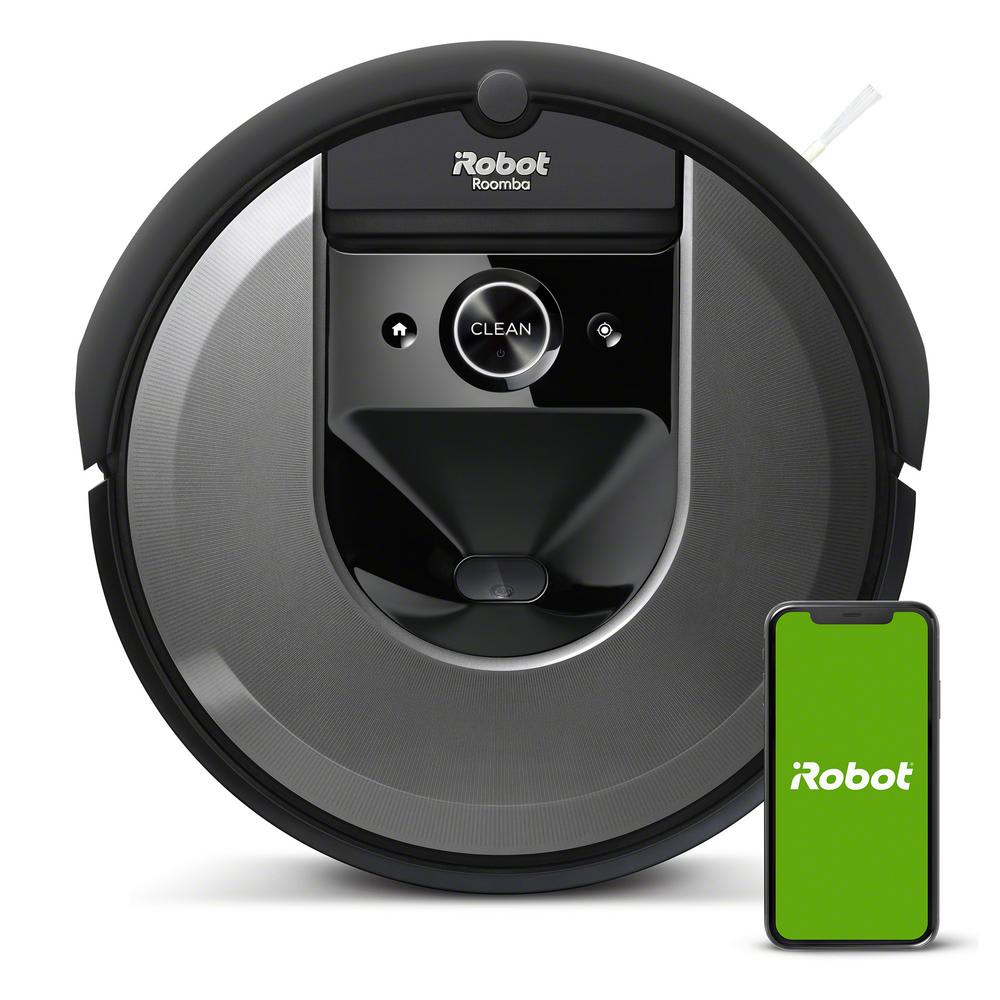 add_circle
Can be operated via smartphone app or voice commands
add_circle
Has a nifty Dirt Detect function that cleans dirty spots multiple times
add_circle
Can map up to 10 different floor plans using the Smart Mapping system
remove_circle
Very expensive
remove_circle
Surprisingly average battery life for such a price
The high-end iRobot Roomba i7+ is clearly not for everyone, given its hefty price tag for a robot vacuum. We have to admit that it's very expensive, but if you are willing to pay for such a price, you will naturally expect a little thing called perfection.
Well, the iRobot Roomba i7+ has some minor flaws, namely a loud Clean Base that is actually a combination of automatic self-emptying bin and a charging stand. But the good thing is, the Clean Base can hold up to 30 bins' worth of dirt and debris.
Other than that, the iRobot Roomba i7+ scores high points in terms of its features and performances. For the former, you can map a maximum of 10 different floor plans a.k.a. Smart Mapping system and even get to tell how the robot vacuum should perform its cleaning task.
For instance, you can choose the robot vacuum to specifically focus on the bathroom floor. All this can be done using the iRobot app. It also comes equipped with a cool Dirt Detect feature, where the robot vacuum can automatically identify the dirty area in your home and clean the particular spot multiple times.
Apart from operating the robot vacuum remotely using the smartphone app, it also responds to the voice commands via Google Assistant or Alexa. Battery life, in the meantime, can only sustain approximately 75 minutes on a single charge. Given the fact that it costs so much to own one, it's fair to expect that the iRobot Roomba i7+ should come with larger battery capacity.
---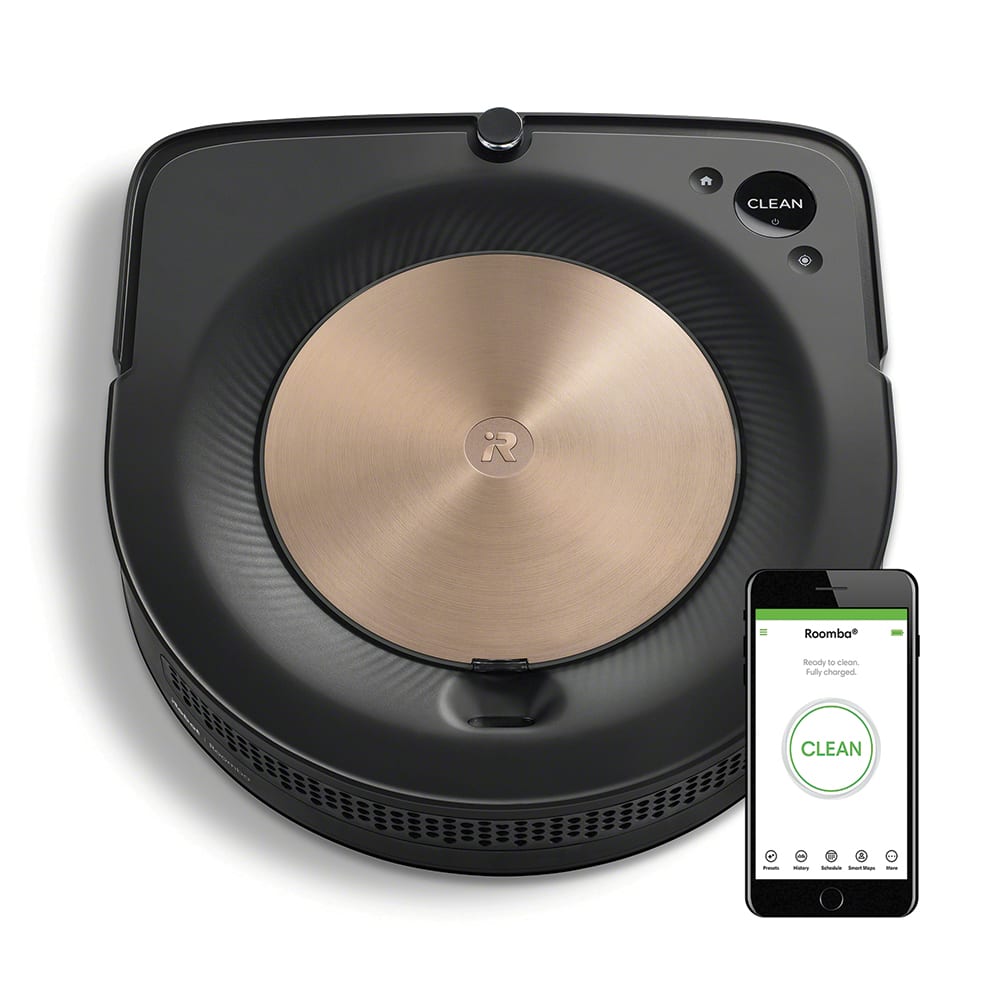 add_circle
Front sensor ensures better and accurate mapping functionality
add_circle
Compatible with smartphone app and voice commands
add_circle
Excellent suction power
add_circle
Long battery life
remove_circle
Doesn't work that well on hard floors and laminated surfaces
If budget isn't an issue, consider investing the iRobot Roomba S9 - a high-end robot vacuum that has plenty of features you can count on. It has a front sensor that makes the mapping system all the more accurate upon its targeted cleaning process.
When it comes to its spot cleaning abilities, this robot vacuum can cover an area in your home over 12 sq. ft. It does a good job cleaning multiple rooms and you can make use of the downloaded app (iRobot Home App) to assign certain "no-go" zones for the robot vacuum.
If that's not enough, the iRobot Roomba S9 is also made compatible with smart home systems and voice commands including Google Home Assistant and Alexa.
Speaking of cleaning, the iRobot Roomba S9 has a great suction power of up to 40x stronger. It's good enough to pick up pet hair regardless of soft, hard or carpeted flooring. For the latter, the robot vacuum scores high in a test when comes to the carpet cleaning. What's more, it can successfully collect up to 30% more pet hair than most like-minded robot vacuums.
Apart from pet hair, the test shows exceptional results at picking up different debris like rice, flour and oats. Other notable highlights include a PerfectEdge technology capable of detecting dirty edges and corners that needs to be vacuumed.
The battery life is worth mentioning as well, as users love its longevity that can sustain up to 5 hours on a single charge.
Despite its good points, there's a mixed feeling regarding the robot vacuum's performance on the hard floors and laminated surfaces. This is particularly evident during a test where it somehow misses some of the leftover rice and oats on the aforementioned floors.
---
Tips To Choosing A Robot Vacuum
Unlike purchasing a broom and a mop, a robot vacuum typically comes with a higher price tag, even though there are few brands out there selling budget-friendly varieties. Before you spend your hard-earned money on a robot vacuum, here are several things you need to take into consideration:
a) Size Matters
Here's the thing about robot vacuums; not every one of them is created equal. Depending on the brand and model, you will find that some are short while the others have a taller build. For instance, those with a short-built are more capable of moving under furnitures (e.g. bed and cupboard or storage cabinet with legs).
You also need to consider the size of your living space as well. For example, if you live in a big house, investing in a robot vacuum that carries a larger dustbin and a long-lasting battery life would be a better choice.
b) Know Your Floor Type
Again, we want to stress that not all robot vacuums are the same. This is especially true for when it comes to the floor type of your home. Are your floors layered in the likes of hardwood, tile or laminate? It is highly advisable to find a robot vacuum that can perform efficiently on one of them or perhaps both.
Don't forget about the carpeted area(s) as well if you have any at home as some robot vacuums do not clean carpet well. This is because vacuuming on such floor covering requires not only a good suction power but also the ability to move and pass smoothly on the surface. If possible, look for the one that can deal with floors and carpets as well.
c) Choose The One That Can Map Your Home
You simply want your robot vacuum to perform efficiently as it should. Cheaper models might only clean the area in a random pattern, and there's nothing wrong about settling for such a robot vacuum. But if you want your robot vacuum to perform a thorough clean, look for one with a mapping function.
Mapping is a setting commonly found in the vacuum's app, in which you can download it on your Android or Apple smartphone. From there, you can map your home and save them accordingly. Doing so will determine which area you want your robot vacuum to clean in a more organised manner.
d) Your Pet(s)
As cute as they may seem (read: cats and dogs), among the most dreaded things about them is that they are shedding hair all over the place. So if you happen to own one (or more) of them, choose a robot vacuum that can pick up pet hair easily and efficiently with the brush function that does not crumple or tangle them all around.
e) Battery Life
Since robot vacuums run wirelessly, that means they rely on the battery capacity to perform their cleaning duties. Depending on the size of your home and the areas you want to cover, a typical robot vacuum operates a minimum 60-75 minutes to a whopping 3 hours on a single charge. For the latter, investing in such a robot vacuum with a longer battery life would able to cover more floors without the need of returning to its dock and do a full recharge.
Disclaimer: The pricing shown is just a good indication of how much these products are worth. The prices could change based on the e-commerce promotions that are going on. If some of the products are not available, do email us at [email protected] Thank you!