A good vacuum goes a long way, and it's certainly not an item for temporary usage as it can last very long once purchased. With so many brands out there like Dyson, Dibea or Midea, we understand if you feel confused on what type of vacuum cleaner to buy. Don't worry! No matter your budget, we've got you covered on pro vacuums ranging from cordless and handhelds with good suction to even fully automatic robot vacuum cleaners! 
Here's a good range of some traditional and bagless vacuum cleaners we've looked into to help you decide which one is perfect to clean your house and even your car.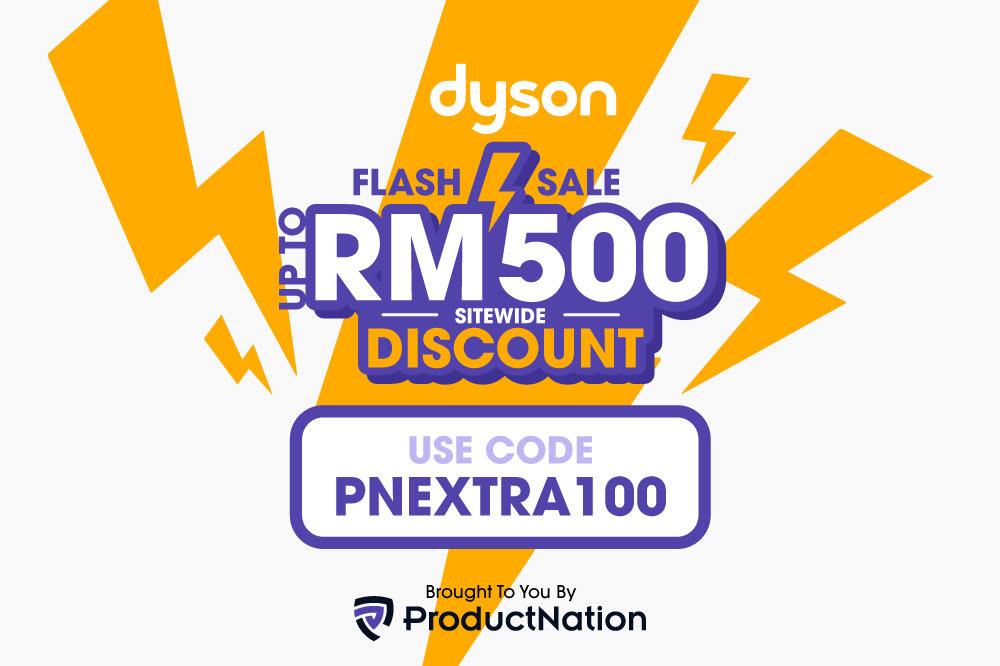 ALERT: Up To RM500 OFF - Dyson Malaysia Sale Sitewide
Always wanted a high-quality Dyson vacuum or air purifier? Dyson Malaysia is having a sitewide flash sale with up to a total savings of RM500! Make sure to checkout with our promo code below:
Promo code:

PNEXTRA100

Use promo code at checkout
Useable on Dyson Malaysia Official Website only
Valid from 26 – 30 September 2022
---
Top 11 Vacuum Cleaners In Malaysia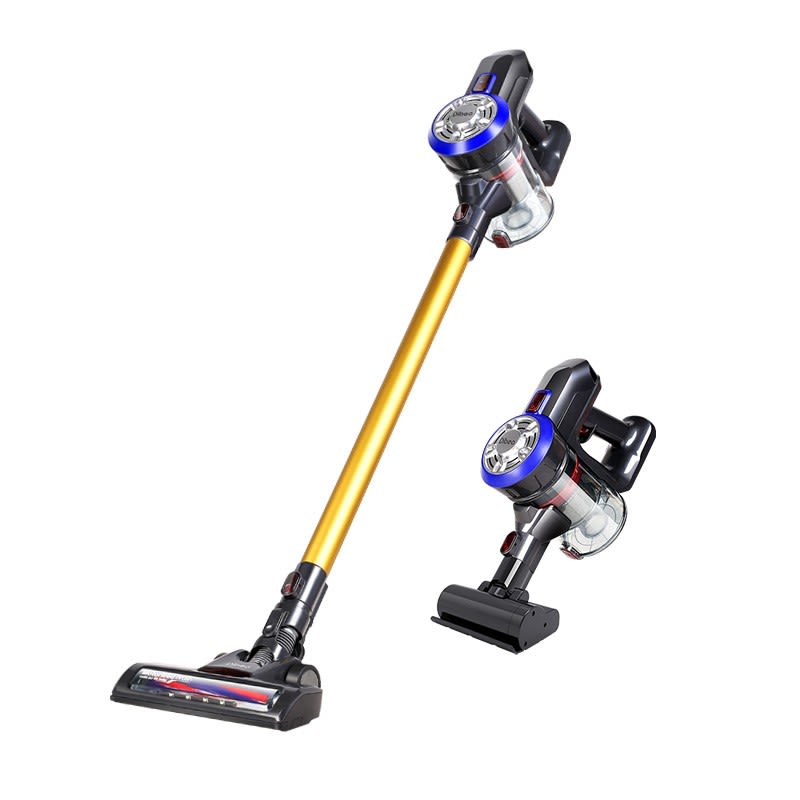 Check Dibea D18 Cordless Vacuum Cleaner price below:
add_circle
Perfect for larger homes
add_circle
Has a large dust bucket
remove_circle
No HEPA filter
Why It's Our Top Pick:
"The Dibea D18 is our top pick as it can be easily converted to a handheld one, and is reasonably priced. It gets the job done with a 2-in-1 soft brush, allowing for vacuuming on hard floors as well as short hair rugs. Besides, it even has LED lighting and its ergonomic design makes it comfortable to hold. You'll also be able to easily track battery life with the indicator power supply lights bar."
Overview:
Designed to remove dust and particles from hardwood floors, tiles, carpet and laminated floor, the Dibea comes in two functions mode. On the standard mode, it's designed to pick up dust and hair from a variety of surfaces whereas the max mode will do you justice to get rid of debris like food particles. 
A feature that sets the D18 apart from many others is that even with one cleaning deck, it has two roller brushes which can be used interchangeably. With it, you can clean the likes of hardwood and multi-surface flooring separately so as to reduce the risk of damage to your brushes. 
Other cool features include the D18 having LED headlights on its electric floor head which is highly useful for cleaning under furniture and dark corners. Also, the vacuum's capacity can accommodate about 0.54L of dust particles; sufficient to vacuum without needing to halt to empty it frequently.
Specifications:
Power: 120W
Noise: 75db
Dust Capacity: 0.5L
Suction Power: 4000 - 9000Pa
Run time: 45 minutes
Charging time: 4 - 5 hours
Net weight: 2kg
Dimensions: 104cm x 24cm x 21cm
Accessories included: Main Machines, Aluminum Tubes, Electric Roller Brush, Power Adapter, Long Brush, Square Brush, Hanging Rack, Screws, Patch
Key features:
Rechargeable battery
Stainless steel mesh
Replaceable fluffy roller brush
Wide floor brush with LED lighting
Floor brush to sweep underneath furniture
Performance:
Although it is somewhat similar to the Dibea F20 Max, the D18 lacks a strong suction power and long-lasting battery life. However, the pricing makes it all the more ideal for many users. 
Best for: wooden floors, carpets, tile floors, car, bed, etc.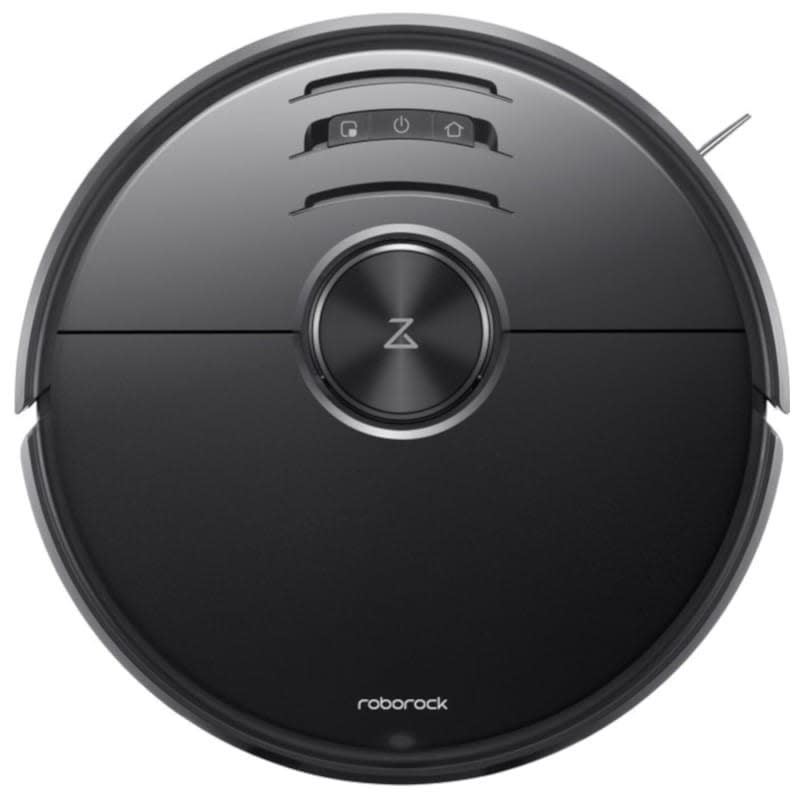 Check Roborock S6 MaxV price below:
add_circle
Silent operation
Technology, It's best to get on with the current times and own products that are powered entirely by it, such as with this robot vacuum. 
Overview:
The Roborock S6 MaxV is Roborock's most powerful vacuum cleaner yet and is recommended by nine out of ten robot vacuum users. It may cost big bucks but it reduces many hours of housework per year.
Being Roborock's first robot vacuum with LiDAR sensors and stereo cameras, the technology makes for better obstacle avoidance as well as more accurate room mapping and navigation. Built with an onboard AI that has been trained in object recognition, it can avoid things such as power cords, shoes and most importantly, pet poop. Thanks to its twin cameras, distance is also calculated more accurately. 
Moreover, the S6 MaxV provides 25% better suction power than its predecessors, which helps it to better capture fine dust off floors and deep parts of the carpet. To note, it only takes 10 minutes to set up the S6 MaxV.
As mentioned earlier, the S6 MaxV can map the house according to floor and area so it will know where it is. Also with a mop function, worry not about a dirty house as the vacuum can mop up to 2000 square feet with a single water tank.
Specifications:
Power: 1000W
Noise: 58db
Dust Capacity: 0.46L
Water tank capacity: 300ml
Suction Power: 2500pa
Run time: 180 minutes
Charging time: 6 hours
Net weight: 3.7kg
Dimensions: 35.3cm x 35cm x 96.5cm
Accessories included: Roborock S6 MaxV, Charging Station, Dust Tank, Water Tank ( digital control ), Multi-language Manual, Microfiber mop
Key features:
Smart charging
Schedule function
Uses dual camera
Washable HEPA filter
Multiple mapping systems
Precise navigation
6 Cliff sensors
Performance:
With an abundance of functions and easily removable brushes with filters and cloth, you can guess why this Roborock vacuum is one of the best out there.
Best for: hard floors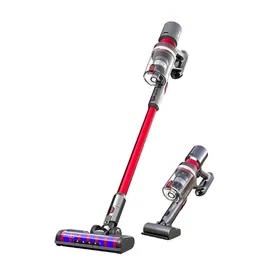 Check Dibea F20 Max price below:
add_circle
Has an eco-friendly mode to save energy
add_circle
Powerful yet lightweight
add_circle
Easy to assemble
remove_circle
Floor brush isn't very smooth when used
There's a reason why the Dibea F20 Max is the best handheld, stick vacuum cleaner on our list. With a whopping 25,000 PA true power suction, this model stretches an average vacuum's lifespan to about 5 times longer, powered by a long-lasting robust motor with 60% more improvements than the previous generation.
Overview:
What sets the Dibea F20 Max apart is its extended battery life. For your convenience, you can now select the right suction power according to different tasks. For instance, the Eco mode is best for clearing up floor debris and food crumbs while the Standard mode is ideal for general cleaning of ceiling corners and stairs. And yes, there's a Max mode -- the strongest suction setting. This is useful for tricky jobs such as removing stubborn pet hair from carpets, curtains and even furniture. 
Although the exhaust filters are washable and made of foam, the filtration system sits just below the HEPA filter which doesn't guarantee protection for users with allergies.
Specifications:
Power: 400W
Noise: 75db
Dust Capacity: 0.5L
Suction Power: 25000pa
Run time: 50 minutes
Charging time: 4-5 hours
Net weight: 2.5kg
Dimensions: 25.4cm x 11.7cm x 21.6cm
Key features:
3-speed mode
Filtering function
Power indicator light bar
Large capacity dust bucket
Bagless
Hand washing filter cotton
Multiple accessories applications
Accessories included: Dibea F20 Main Machine, Aluminium Tube, Adaptor, Nozzle with brush Tool, Long Crevice Tool, Wall mount (Hanger), Wall Screw/Sticker
Performance:
The Dibea F20 Max has received thousands of positive reviews. 
Some have commented that it is a little heavy but is extremely powerful and effective.
Best for: wooden floors, carpets, tile floors, cars, beds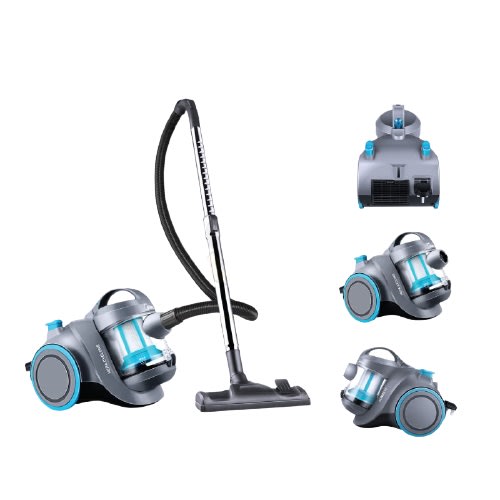 Check Midea Vacuum Cleaner MVCV12KGR price below:
add_circle
Ergonomic handle
remove_circle
Suction power is average - not for deep cleaning
remove_circle
Slightly noisy
The Midea Vacuum Cleaner MVC-V12K-GR might not be as fancy as many others, but offers quite good value thanks to its efficiency.
Overview:
With an ergonomically designed build and a bagless system, this vacuum is ideal for those who want to do general cleanings of the floor and furniture. 
It's got 18kPa suction pressure along with 1000W of power consumption and a multi-stage filtering system that includes a HEPA filter. These features ensure the removal of the deepest, toughest and smallest of particles off your rugs and carpets. 
If you don't need that kind of power, there's an eco-mode that's perfect for light cleaning instead.
As mentioned, the vacuum uses a bagless system for ease of rubbish disposal. Not that you need to do so often, as the rubbish capacity is 1.5L. Moreover, the vacuum cleaner weighs under 4kg, making it easy to carry out heavy-duty cleaning.
Specifications:
Power: 1000W
Noise: 75db
Dust Capacity: 1.5L
Suction Power: 130AW
Run time: 30 minutes
Net weight: 4.1kg
Dimensions: 31cm x 31cm x 45cm
Accessories included: Midea Vacuum Cleaner MVCV12KGR, Hepa Filter, 2-in-1 brush, Main head brush
Key features:
HEPA filter
Easy dust disposal
Automatic cord rewind
Eco version available
Performance:
Safe to be used on furniture, the Midea vacuum cleaner is well-received among users for being user-friendly and of great value. It's also compact and doesn't offer much trouble.
Best for: floor and carpet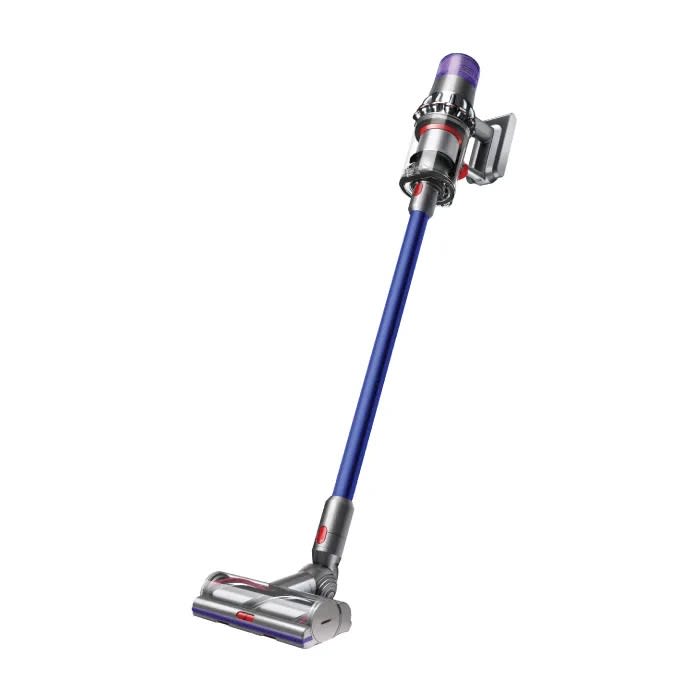 Check Dyson V11 Absolute Plus price below:
add_circle
Up to 60 min of running time
add_circle
Powerful suction
add_circle
Has a boost mode for intensive cleaning
add_circle
Has an LCD screen to report performance in real-time
BONUS: Extra RM100 OFF Dyson Flash Sale
Enjoy a total savings of RM500 when you shop with Dyson Malaysia! Make sure to checkout with our promo code below:
Promo code: PNEXTRA100
Use promo code at checkout
Useable on Dyson Malaysia Official Website only
Valid from 26 – 30 September 2022
Overview:
This smart device is equipped with Dynamic Load Sensor technology which will detect and choose the perfect motor speed based on floor and carpet types. With that, it is engineered for complete hard floor cleaning.
What's also impressive is Dyson's patented clones which fling dust into the bin without clogging the filter, so there's no loss of suction. And with 7-cell lithium-ion batteries, it provides up to 60 minutes of fade-free power.
Moreover, you can also easily choose between Auto, Eco and Boost modes on the V11 Absolute Plus to optimise the selected task at hand. It has a larger 0.76L bin and a 'point and shoot' disposal system. Besides, Dyson's fully-sealed filtration can trap about 99.97% of particles.
Apart from a drop-in dock, the vacuum also comes with a click-in battery pack, making it easier to clean the house even after an hour.
Specifications:
Power: 545W
Noise: 75db
Dust Capacity: 0.54L
Suction Power: 23AW - 185AW
Run time: 60 minutes
Charging time: 4.5 hours
Net weight: 3kg
Dimensions: 9cm x 25cm x 26.1cm
Accessories included: Soft Roller Cleaner head, Quick-release combination tool, Quick-release crevice tool, Quick-release mini soft dusting brush, Quick-release mini motorized tool, Wand Storage clip, Docking station, Charger
Key features:
Point and shoot hygienic bin emptying
Drop-in docking
Click in battery pack
Rechargeable battery
Eco-mode
Advanced whole machine filtration
Performance:
Users rave about how powerful it is. It's definitely sturdy, of good quality, and makes vacuuming a breeze.
Best for: carpets and hard floors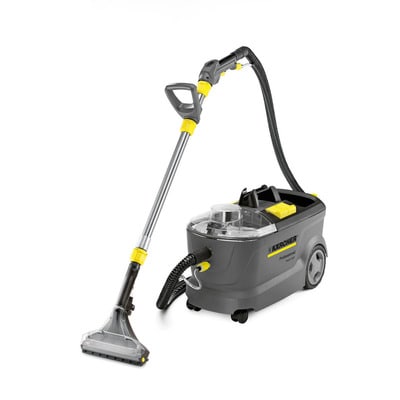 Check Karcher Puzzi 10/1 Carpet Cleaner price below:
add_circle
Powerful suction
add_circle
Ergonomically-designed
You probably already know by now that not all vacuum cleaners are created equally. While most can clean hardwood floors or tiles with ease, carpets are a different issue. For that, you would need something that has enough suction power to pull out the most stubborn dirt and debris from the protective fibres of fabric. In this case, we recommend the Karcher Puzzi 10/1 Carpet Cleaner.
Overview:
The Puzzi 10/1 comes with an upholstery nozzle and floor nozzle that is particularly suited for cleaning surfaces like home and car carpets. Also doubling as a mop, the nozzle has a 1 bar spray pressure. Which, the spray extraction machine is fitted with an integrated cable hook and a holder so you can easily handle and trigger the suction pipe. 
Moreover, thanks to the narrow floor nozzle, the machine is optimally suitable for use in confined spaces. With a turbine capacity of 1250W and a high airflow rate, hard stains on carpeted surfaces are removed instantly.
Specifications:
Power: 1250W
Noise: 74db
Dust Capacity: 37.9L
Suction Power: 40AW
Net weight: 10.7kg
Dimensions: 53cm x 33cm x 44cm
Accessories included: Puzzi 10/1-10L Spray-Extraction Karcher Profesional Carpet Cleaner, Spray hose with integrated water feed, 2.5 m, Integrated accessory storage for the hand nozzle, Upholstery nozzle, 2 cleaning agents (tablets), Additional handle, Cable hook, Narrow floor nozzle with flexible suction lip, Handle with trigger
Key features:
Perfectly suitable for everyday use.       
Adjustment of the handle without any tools
Accessory/cord fixings
Quick change from floor to upholstery nozzle.
Storage compartment for cleaning agent tablets         
Performance:
With its impressive features, the Karcher Puzzi 10/1 Carpet Cleaner is well-received by users. It makes vacuuming more convenient.
Best for: textiles surfaces and carpets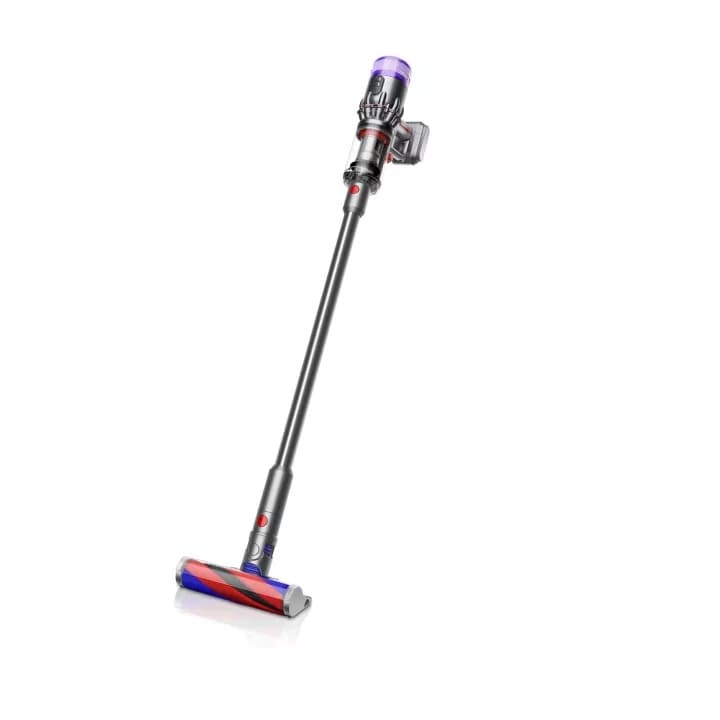 Check Dyson Micro 1.5kg Cordless Vacuum price below:
add_circle
Easily cleans the hard-to-reach places
add_circle
Good for picking up microscopic dust
add_circle
2-5 year warranty
remove_circle
Short battery life
BONUS: Extra RM100 OFF Dyson Flash Sale
Enjoy a total savings of RM500 when you shop with Dyson Malaysia! Make sure to checkout with our promo code below:
Promo code: PNEXTRA100
Use promo code at checkout
Useable on Dyson Malaysia Official Website only
Valid from 26 – 30 September 2022
---
A Dyson product has become a must-have in almost every home. If you're searching for a lightweight vacuum cleaner, the Dyson Micro 1.5kg is a great option. This vacuum cleaner, powered by a Dyson Hyperdymium motor, can spin up to 105,000rpm to pick up tiny particles and significantly larger dirt.
Overview:
The Dyson Micro 1.5kg is a slim stick/handheld vacuum cleaner. It's quite easy to manage, and switch brushes or turn into a handheld vacuum for spot cleaning. 
Equipped with a five-layer whole-machine filtration system that collects 99.9% of tiny particles as small as 0.3 microns and improves air quality, this vacuum is not too difficult to maintain. Its suction capability can be attributed to Dyson's Root Cyclone Technology, which forms eight cyclones to generate roughly 96000 g of force, and the Hyperdymium motor, which spins at up to 105,000rpm to easily suck any type of tenacious dirt.
Thanks to the ejection mechanism, dirt can be disposed of without the need to empty the bin with your bare hands.
Specifications:
Power: 92W
Noise: 75db
Dust Capacity: 0.2L
Suction Power: 50AW
Run time: 20 minutes
Charging time: 3.5 hours
Net weight: 1.5kg
Dimensions: 24.3cm x 70.1cm x 14.3cm
Key features:
Eco-mode
Edge to edge cleaning
Two-button control
Micro-fluffy cleaner head
3-in-1 cleaner
Accessories included: Soft Roller Cleaner Head, Combi-crevice tool, Mini motorized tool, Charger, Docking station
Performance:
If money isn't an issue, go ahead and acquire this gem and put it to good use! It's no wonder that this model has garnered a lot of excellent feedback. Users think it is well worth the money because it is elegant and lightweight, yet is powerful enough to tackle regular cleaning.
Best for: hard floor carpets (using fluffy head attachment), ceramic tiles, sofa, working desks etc.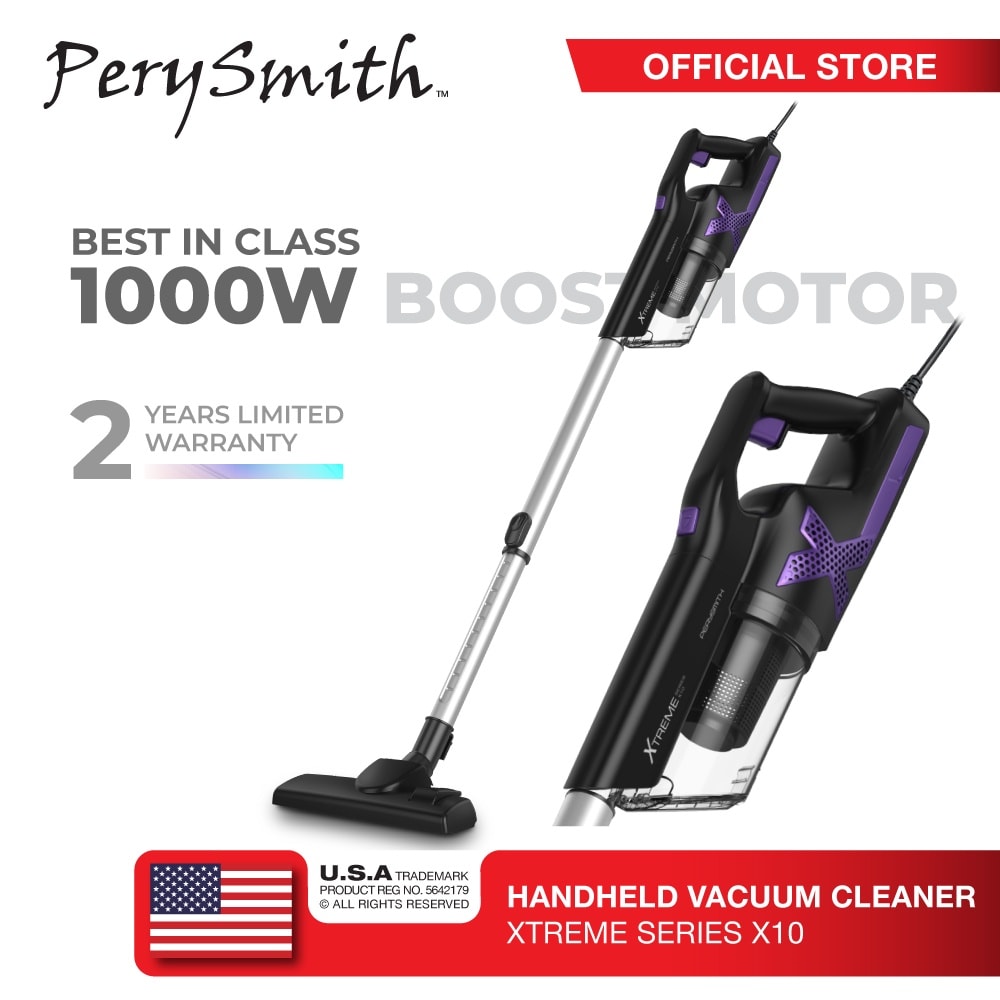 Check PerySmith Handheld Vacuum Cleaner Xtreme Series X10 price below:
add_circle
Multi-stage filtration system
add_circle
Smart overheat protection
It can be hard to find a good vacuum cleaner that's reasonably priced but the PerySmith X10 is worth considering.
Overview:
With maximum suction of 19500PA, this vacuum is light as a feather at just 1.0kg, making it so convenient to vacuum. The 4-way nylon floor brush provides stable control, allowing for efficient cleaning with just one push.
It also comes with a 2-in1 crevice tool that makes it easy to clean between small gaps.
Specifications:
Power: 1000W
Noise: 72db
Dust Capacity: 0.8L
Suction Power: 19500pa
Net weight: 1kg
Dimensions: 46cm x 18cm x 25cm
Accessories included: Aluminum telescopic tube, 4-way floor brush, Hepa Filter, Crevice Nozzle
Key features:
Multi-stage filtration system
0.25 micron HEPA filter
Smart overheat protection
One push removable dust bucket
Multi-purpose configuration
Performance:
This vacuum is good value for money and is suitable for regular cleaning but it is not recommended for more heavy-duty deep cleaning. One user commented that the lock and release button for the 2-in-1 tool is rather stiff; the elderly may have trouble with it.
Best for: carpets and hard floors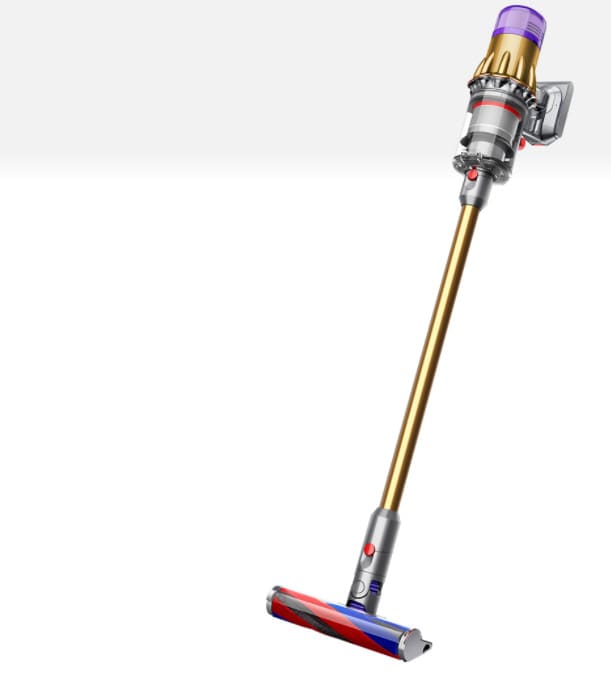 Check Dyson Digital Slim™ Fluffy Pro vacuum (Gold/Iron) price below:
add_circle
Intelligent real-time reports
add_circle
Advanced, whole machine filtration
add_circle
Comes with multiple tools for different cleaning tasks
add_circle
Made from high-tensile ABS for strength and lightness
add_circle
Slim Fluffy™ cleaner head is now 40% smaller and lighter
BONUS: Extra RM100 OFF Dyson Flash Sale
Enjoy a total savings of RM500 when you shop with Dyson Malaysia! Make sure to checkout with our promo code below:
Promo code: PNEXTRA100
Use promo code at checkout
Useable on Dyson Malaysia Official Website only
Valid from 26 – 30 September 2022
Overview:
A powerful 3-in-1 cleaning tool, the Dyson Digital Slim™ is a stick vacuum that can be transformed into a handheld one, allowing you to complete various cleaning tasks with just one device. Its versatility makes it a good investment in the long run. 
Weighing 1.9kg, it's 30% lighter than the Dyson V11™. Its Slim Fluffy™ cleaner head can capture large debris with soft woven nylon, and sweep fine particles from hard floors thanks to the black anti-static carbon fire filaments. In addition, it comes with a crevice tool with LED lights, for easy cleaning of dark spaces.
Though lightweight, don't underestimate its power. Equipped with a Dyson Hyperdymium™ motor, it spins at up to 120,000rpm to generate 100 Air Watts of powerful suction. Its 11 scrolled cyclones are designed to remove fine dust and dirt from the airflow.  On top of that, the Dyson Digital Slim™ has a 5-layer filtration system that captures dust and allergens. 
In terms of battery, this vacuum has up to 40 minutes of run time which puts it at the top of the spectrum as the average battery life of vacuums is between 15-40 minutes, though there may be outliers that can push a little longer than that. Further, the 3.5 hour charge time isn't really a concern as you just have to leave it at the wall dock while it charges.
It has an LCD screen that allows you to receive filter maintenance reminders which takes the guesswork out of things and is helpful if you're too busy to remember when it needs to be changed. It also displays the performance, settings, and blockage reports in real-time. 
Specifications:
Power: 120W
Noise: 75db
Dust Capacity: 0.3L
Suction Power: 100AW
Run time: 40 minutes
Charging time: 3.5 hours
Net weight: 1.9kg
Dimensions: 25cm x 11cm x 25cm
Accessories included: Dyson Digital SlimTM Fluffy, soft roller cleaner nozzle, narrow nozzle with lighting, 2 in 1 suction nozzle, mini motor nozzle, suction clip accessory attachment, charger, docking station
Key features of the Dyson Digital Slim™ Fluffy Pro vacuum (Gold/Iron):
Smooth bin emptying - The ejection mechanism with rotary catch enables no contact emptying of the bin 
Easy maintenance - The components can be easily washed and wiped to keep them clean
Removable battery -  Battery can be replaced with an additional click-in one(sold separately) to instantly double the run time
The difference between the Gold/Iron variant and the Purple/Iron colourway is that the former is a direct exclusive to the Dyson Demo store and www.dyson.my, and it includes an additional floor dock.
Best for: hard floors, carpets, curtain, fabrics etc.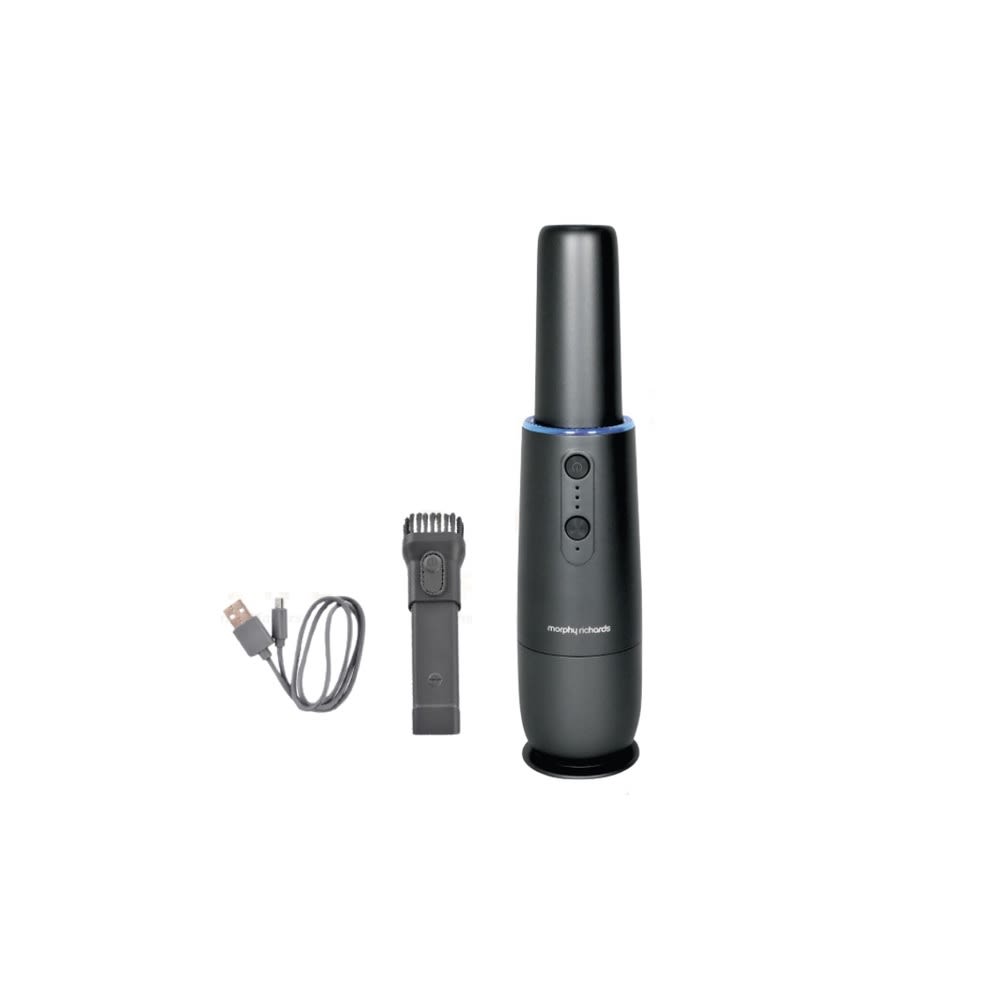 Check Morphy Richards Portable Car Vacuum (Ozone 732PV1) price below:
add_circle
Strong suction suitable for cars and desks
remove_circle
Lasted only up to 22 minutes per use
Cleaning the interior of a car may be challenging, particularly if you just have a canister vacuum cleaner, which is annoying for vacuuming vehicles owing to its bulky build. You'll need something smaller, like the Morphy Richards Ozone 732pv1 Portable Car Vacuum Cleaner.
Overview:
Designed for portability, the 12V Morphy Richards Portable Car Vacuum is a handheld vacuum that's perfect for vacuuming car seats and carpets, even in those nooks and.
Its suction power is strong enough to clear dirt from door slots and cooling vents.
Owing to its lightweight design, it is comfortable to hold and can be easily stored in your car without taking up too much space.
The Morphy Richards 732PV1 portable car vacuum cleaner even has an ozone sterilizer to improve air quality. This vacuum is equipped with some additional accessories and a 2-in-1 flat nozzle brush that makes cleaning your car a breeze.
Specifications:
Power: 70W
Noise: 60-65db
Dust Capacity: 0.15L
Suction Power: 5500 kpa
Run time: 20 minutes
Charging time: 2.5 - 3 hours
Net weight: 0.62kg
Dimensions: 7cm x 7cm x 30cm
Accessories included: Morphy Portable Car Vacuum,  2-in-1 Brush Head
Key features:
Fast charging
Washable HEPA filter
One button operation
USB rechargeable battery
Ozone feature
Performance:
This vacuum is well-liked by users, and no one has expressed dissatisfaction with it. While it is not as strong as a full-sized vacuum, it is enough for cleaning vehicles and picking up lint and hair all over your vehicle. It represents great value for money.
Best for: car interiors and small spaces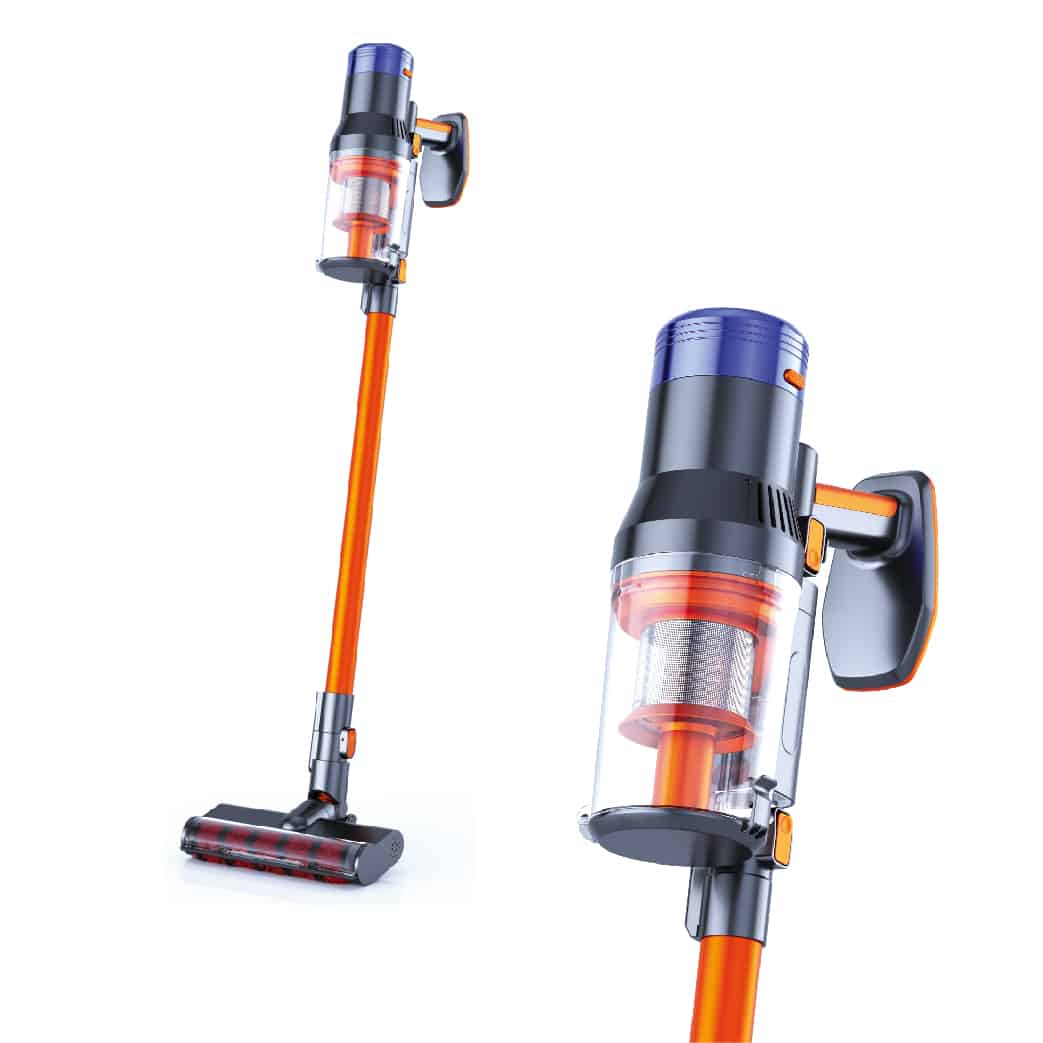 Check Nikola X50 Cordless Vacuum price below:
add_circle
Powered by CycloneMax Brushless Motor
add_circle
Has EasyMove function
add_circle
Up to 50 minutes of run time
add_circle
3 modes of suction
add_circle
LED display screen
remove_circle
Listed at a higher price than the average
remove_circle
Typical dustbin capacity
Overview:
Nikola's unique cordless vacuum boasts a streamlined design that allows customers to clean without having to deal with the trouble of regular vacuum cleaners.
Users can choose between three operation modes when using it: eco, normal, or turbo. For light cleaning, the green mode can be used for up to 50 minutes, while the turbo mode can be used for more thorough cleaning.
Nikola X50 comes with a 6-cell nickel-cobalt-aluminium battery that should last for about 50 minutes. It has a long-run life, especially since charging takes less time than other batteries.
This vacuum cleaner is lighter than other vacuum cleaners, which is beneficial to the user. The weight of a vacuum cleaner is also crucial to consider because its users should be able to move around more easily.
The Nikola X50 also comes with a manufacturer's warranty of up to 12 months as the company guarantees the vacuum's quality. 
Specifications:
Power: 250W

Noise: N/A

Dust Capacity: 0.7L

Suction Power: Up to 19000Pa

Net weight: 1.8kg

Dimensions: 111cm x 24cm x 23cm
Accessories included: Li-ion Battery, Cyclone Max Motor, HEPA Filter, Stainless Steel Filter, Handle, Tube, Electric Floor Brush, Round Brush, Crevice Tool, Electric Dust Mite Cleaner Head, Wall Hanger, Pin Malaysia Power Adapter, and Extra HEPA Filter (Add On Package)
Key features:
Cordless

Detachable Handheld

Removable Battery

Rechargeable Battery

Dust Mite Attachment Head

LED Front Light
Performance:
The Nikola X50 is a cordless vacuum cleaner with over 10,000 satisfied customers. People like this vacuum, and no one has expressed discontent with it so far.
Best for: Carpets and hard floors 
How do you choose a vacuum cleaner? 
Vacuum cleaners are more sophisticated than they used to be, equipped with various high-tech features. Looking for the right vacuum can get confusing with the plethora of features available today. Here's what you should consider when shopping for one:
Price
The price of vacuums varies according to the features it has. A cheaper one may not have built-in AI intelligence to self-charge or map the house precisely like the more expensive ones do.
As long as it has the features you need and fits within your budget, it doesn't matter if it's cheap or expensive.
Suction Power 
The higher the suction power, the better the chances are of removing particles from surfaces such as pet hair from carpets. 
In a nutshell, experts recommend vacuums with a suction power of 250-320W for small apartments. That's 25% (expected efficiency percentage) of power consumption hovering around 1000 - 1280W.
Comfort & Design 
While the design is strictly a personal preference, we encourage you to opt for one with an ergonomic handle. This makes vacuums more comfortable to hold, especially when you have a lot of ground to cover.
Floor and surface type
Hair and pet dander can be harder to pick up, especially when stuck on fabric surfaces. Look for a vacuum cleaner with a motorised or air-driven turbo nozzle, especially one that has a brush to pick up fur and even hair trapped even in the smallest corners.
Peek our list of the various types of vacuum cleaners you can buy.
---
How does a vacuum cleaner work?
The simple yet effective design of vacuum cleaners has reduced the need to sweep dust and other particles off floor and surface areas by hand, making house cleaning more quick and convenient. The vacuum collects dirt and stores it in a dust collector attached to the vacuum for disposal by using just suction.
By turning on your vacuum, the motor fan provides vacuum pressure and suction. The impeller spins at a rate of 30,000 to 35,000 RPM, which is incredibly fast. The power of a suction motor is calculated by multiplying the airflow rate and the vacuum pressure used to generate air circulation from the brush via the hose.
The brush on most current vacuums is one of several various nozzles, each of which is particularly intended to clean a certain area, surface, space, or type of dirt. Vacuuming with the proper tool may save you a lot of time and energy.
There are two types of dust collectors: one that utilizes a bag and one that does not. A vacuum cleaner with a bag is often light, but users must purchase and change the bags at regular times. The "bagless" vacuum cleaner, on the other hand, comes with a dust collector. It is simply detachable and washable.
---
Types of vacuum cleaners
Vacuum cleaners come in a wide variety of colors, forms, sizes, functions, and prices. Keeping your house warm and tidy for you and your family is a chore worth investing in the best equipment there is for it.
Handheld
Handheld vacuums can tidy areas that your upright vacuum cannot. Since they are portable and cordless, they are great for cleaning tiny spaces. These are ideal for having to clean up after kids and pets. Handheld vacuum cleaners are lightweight, silent, and simple to use. They are usually battery-powered, making them mobile and useful for cleaning up minor spills.
Stick/Sweeper
Stick vacuums, also known as sweeper vacuums, are a combination of upright and handheld vacuums. They're compact and battery-powered, with the portability of a handheld but the upright design of a standard vacuum makes them perfect for accident spills on hardwood floors. They're most typically utilized in places that need to be cleaned quickly, such as bathrooms and kitchens floors. To gather dirt and grime, most stick vacuums use a dirt cup rather than bags.
Canister
Canister vacuums function well on hard surfaces or small carpeted spaces, such as in a vehicle or a staircase. For simple mobility, they come with a suction hose and a detachable cord. These vacuums contain a separate unit for the motor and plug allowing for portability, mobility, and diversity . As a result, these vacuums are ideal for furniture and multi-surface cleaning.
Robotic
Robotic vacuums are a result of cutting-edge technology. Simply establish the sensor limits, select your settings, and let your intelligent vacuum do the rest.
These vacuums are cordless and sleek, and clean with great efficiency while saving you time. The continuous cleaning operation, while not as potent or diverse as conventional vacuums, still provides convenience. It is ideal for daily cleaning.
Upright
Upright vacuum cleaners are perfect for cleaning carpeted areas in the home. A motorized beater brush loosens and removes dirt by suction. Most sturdy vacuums include onboard attachments for versatility. Some designs are bagless, while some have bags to collect gunk.
Height adjustments can be made too, enabling a seamless transition for cleaning different floor types with the click of a button. Upright vacuums are ideal for cleaning hardwood floors and carpets.
Related articles: