A vacuum goes a long way, and it's certainly not an item for temporary usage as it can last very long once purchased. Feeling confused on what type of vacuum cleaner to buy though? Don't worry, we've got you covered on vacuums ranging from cordless and handhelds with good suction to even fully automatic robotic vacuum cleaners!
Here's a good range of some vacuum cleaners we've looked into to help you decide which one is perfect for your house type and even your car.
How do you choose a vacuum cleaner?
Vacuum cleaners nowadays are much more than what they use to be back in the day. We understand that finding the perfect one can be tricky and confusing especially with all the new features it comes with. So have a look below to get a rough idea on what you have to know before purchasing one.
Price
Pricing mainly varies for each vacuum cleaner due to the fact that functions also vary in their prices. For example, a cheaper one may not have built-in AI intelligence to self-charge or map the house precisely. But, if its suction power works great, it's perfectly fine too.
An expensive one can have the most top notch functions but at the same time may not be convenient enough for big and wide houses. All in all, pricing is not the only thing that matters; as long as the functions stated serve their purposes well.
Suction Power
To simply put it, the higher the suction power, the better the chances are of removing difficult and hard particles from difficult surfaces such as pet hair on carpets.
In a nutshell, experts recommend vacuums with a suction/useful power of 250-320 watts for small apartments. That's 25% (expected efficiency percentage) wattage of consumption power hovering around 1000 - 1280 watts.
Comfort & Design
While design is strictly a personal preference, we encourage you to opt for one with an ergonomic handle. This makes vacuums more comfortable to hold, especially when you have a lot of ground to cover.
Floor and surface type
A home with long-haired customers or pets is sure to leave hair everywhere. Especially on a fabric surface, hair is definitely harder to pick up. Therefore, for such a task, watch out for a vacuum cleaner with a motorised or air-driven turbo nozzle, especially one with a brush to pick up fur and hair trapped even in the smallest corner.
Still confused? It's okay, have a peek below at these several types of vacuum cleaners and how each one has its own unique function for every type of task!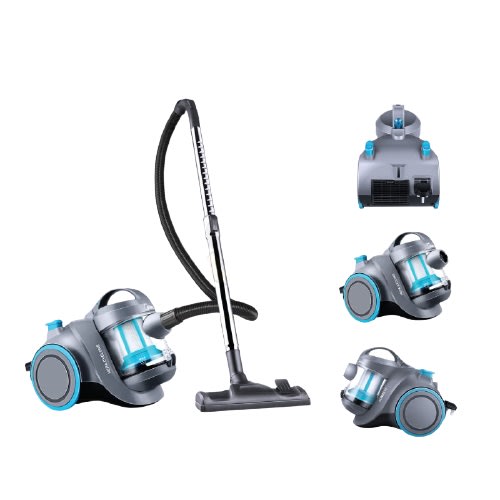 add_circle
Ergonomic handle
remove_circle
Suction power is average - not for deep cleaning
remove_circle
Slightly noisy
The Midea Vacuum Cleaner MVC-V12K-GR might not be as fancy as many others, but offers quite a good-value thanks to its efficiency. With an ergonomically-designed built and a bagless system, this vacuum is ideal for those who wants to do general cleaning such as for floor and furniture.
Supporting the vacuum is its rating of 18k pa suction pressure along with 1000w of power consumption and a multi-stage filtering system involving a HEPA filter. With such a combo of specs, the vacuum ensures removal of the deepest, toughest and smallest of particles on your rugs and carpets.
Even if you don't need that kind of power, there's an eco-mode that's perfect for light cleaning instead.
As mentioned before, the vacuum uses a bagless system for ease of rubbish disposal. Not that you need to do so often, as the rubbish capacity is of 1.5L for your convenience. Moreover, the vacuum cleaner weighs under 4kg, making it easy to carry out heavy-duty cleaning with.
Safe to be used on furnitures, the Midea vacuum cleaner is well-received among users for being user-friendly and of great value. It's also compact and doesn't offer much trouble.
---
More: Clean Your Home Freely with these 7 Cordless Vacuum Cleaners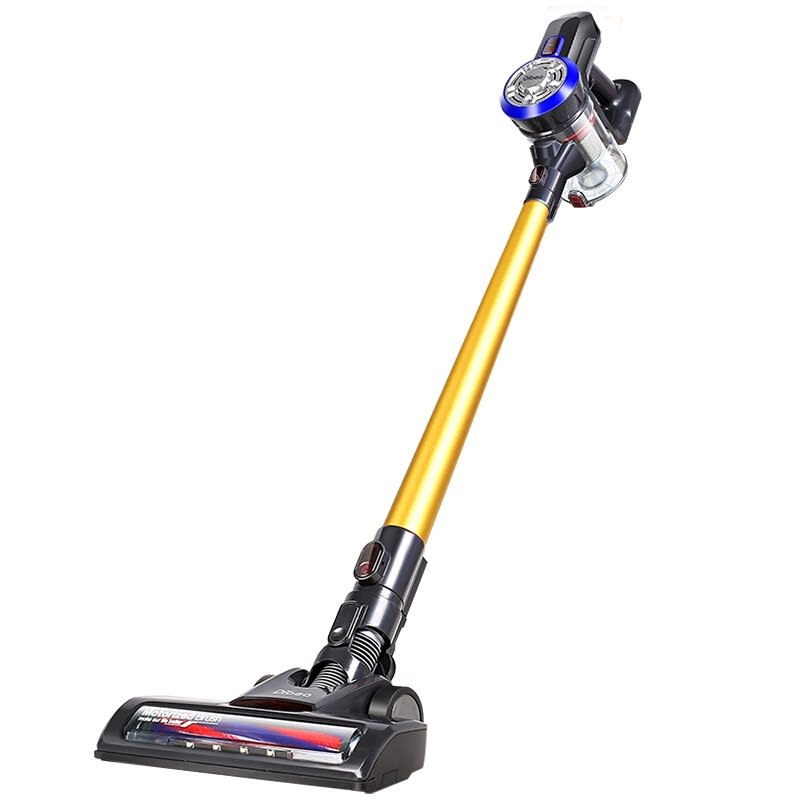 add_circle
Perfect for larger homes
add_circle
Has a large dust bucket
remove_circle
No HEPA filter
Dibea's D18 is the best cordless vacuum on here for a reason. It can easily convert between stick and handheld for a variety of useful applications and it is reasonably priced; that's definitely great news for most budgets.
Designed to remove dust and particles from hardwood floors, tiles, carpet and laminated floor, the Dibea comes in two functions mode. On the standard mode, it's designed to pick up dust and hair off a variety of surfaces whereas the max mode will do you justice to get rid of debris like food particles.
A feature that sets the D18 apart from many others is that even with one cleaning deck, it has two roller brushes which can be used interchangeably. With it, you can clean the likes of hardwood and multi-surface flooring separately so as to reduce risk of damage to your brushes.
Other cool features include the D18 having LED headlights on its electric floor head which is highly useful for cleaning under furniture and dark corners. Also, the vacuum's capacity can accommodate about 0.54L of dust particles; sufficient to vacuum without needing several stops a day to the rubbish bin.
Although it is somewhat similar to the Dibea F20 Max, the D18 lacks a strong suction power and long-lasting battery life. However, the pricing makes it all the more ideal for many users.
---
More: Keep Your Home Spick-and-Span with these 6 Robot Vacuums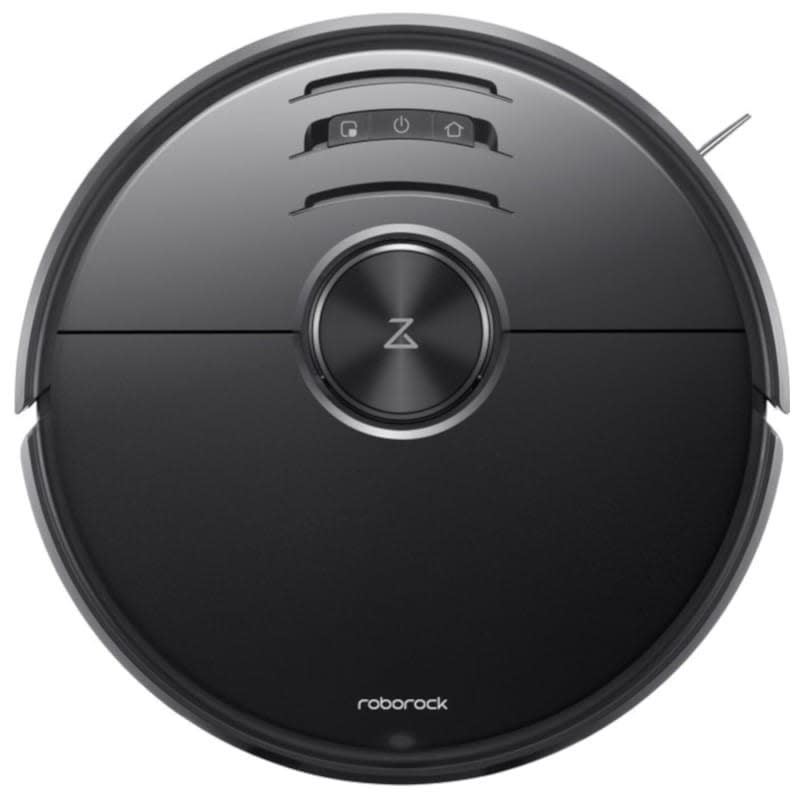 add_circle
Strong suction power
add_circle
Has vacuuming and mopping functions
add_circle
Long battery life
remove_circle
Hard to differentiate upon choosing the different cleaning modes
remove_circle
Some obstacles can't be avoided entirely
With the future being technology, It's best to get on with the current time and own products that are powered entirely by it, such as with this robot vacuum.
The Roborock S6 MaxV is Roborock's most powerful vacuum cleaner yet, and is recommended by nine out of ten robot vacuum users. They may cost big bucks but they can sure eliminate hundreds of hours in housework per year.
Being Roborock's first robot vacuum with LiDAR sensors and stereo cameras, the technology makes for better obstacle avoidance as well as for more accurate room mapping and navigation. Built with an on-board AI that has been trained in object recognition, it can avoid things such as power cords, shoes and most importantly, pet poop. Thanks to its twin cameras, distance is also calculated more accurately.
Moreover, the S6 MaxV provides 25% better suction power than its predecessors, which helps it to better capture fine dust off floors and deep parts of the carpet. To note, it only takes 10 minutes to set up the S6 MaxV.
As mentioned earlier, the S6 MaxV is able to map the house according to floor and area so it will know where it is. Also with a mop function, worry not about a dirty house as the vacuum has the capacity to mop up to 2000 square feet with a single water tank. With an abundance of functions and easily removable brushes with filters and cloth, you can guess why this Roborock vacuum is one of the best out there.
---
More: 15 Mops Which Clean Like a Dream for Every Floor Type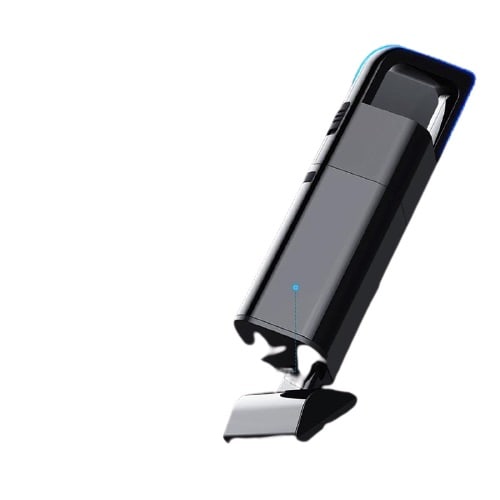 add_circle
Can be connected to a USB outlet
add_circle
Light and portable
add_circle
Long-enough cord
remove_circle
Weak suction power
Cleaning cars on the inside can be a hardening task at times. Especially if you only have a canister vacuum cleaners which is inconvenient to clean a car due to its lack in flexibility, you should get one that is handier and compact, like the 12V Portable Vacuum Cleaner.
Designed to be portable, the 12V Portable Vacuum Cleaner is perfect for vacuuming car seats and carpets, with its design to clean all your nooks and crannies.
Lightweight and also handheld, the 12V is sized perfectly that it can fit in your car's dashboard. Although the 12V is not cordless, the wire actually connects to the car's USB via the lighter outlet, making it an easy travel buddy. Also being five metres long, this helps with reaching all parts of the car, be it front or back when cleaning.
Some additional accessories equipped by the 12V Portable Vacuum Cleaner are brushes needed for different type of cleaning. These include an extender cleaner, a ground brush head and a long suction hose for cleaning under seats and pedals in between gears and smaller corners.
---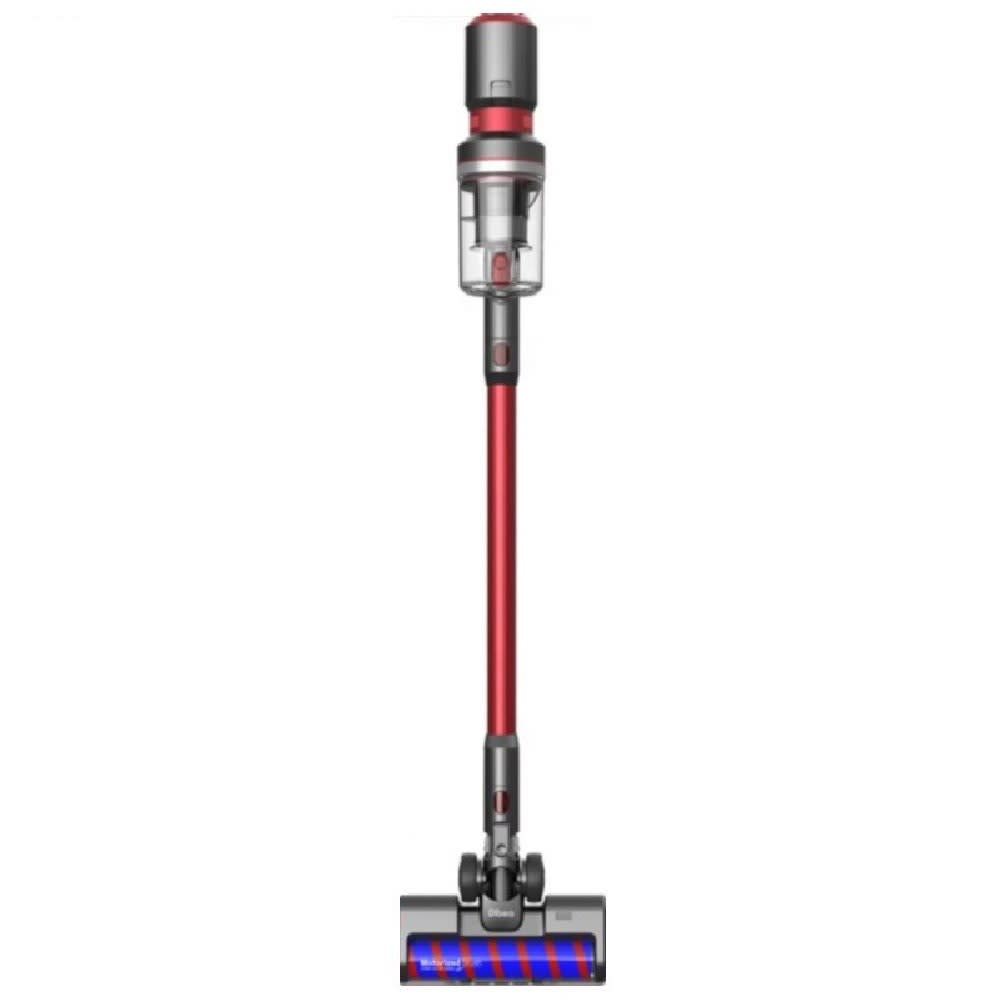 add_circle
Has an eco-friendly mode to save energy
add_circle
Powerful yet lightweight
add_circle
Easy to assemble
remove_circle
Floor brush isn't very smooth when used
There's a reason why the Dibea F20 Max is the best handheld, stick vacuum cleaner on our list. With a whopping 25,000 PA true power suction, this model stretches an average vacuum's lifespan to about 5 times more, being powered by a long-lasting robust motor with 60% more improvements than the previous generation.
What sets the Dibea F20 Max apart is its extended battery life. For your convenience, you can now select the right suction power according to different tasks. Example, the eco mode is best for clearing up floor debris and food crumbs while the standard mode is for general cleaning in places such as ceiling corners and stairs.
And yes, there's a max mode being the strongest suction setting. This is useful for tricky jobs such as removing stubborn pet hair from carpets, curtains and even furniture. Also, the F20 Max can accommodate about 500ml of trash, which is ideal for a day's worth.
Although the exhaust filters are washable and made of foam, the filtration system sits just below the HEPA filter which still makes it not guaranteed as protection for users with allergies.
---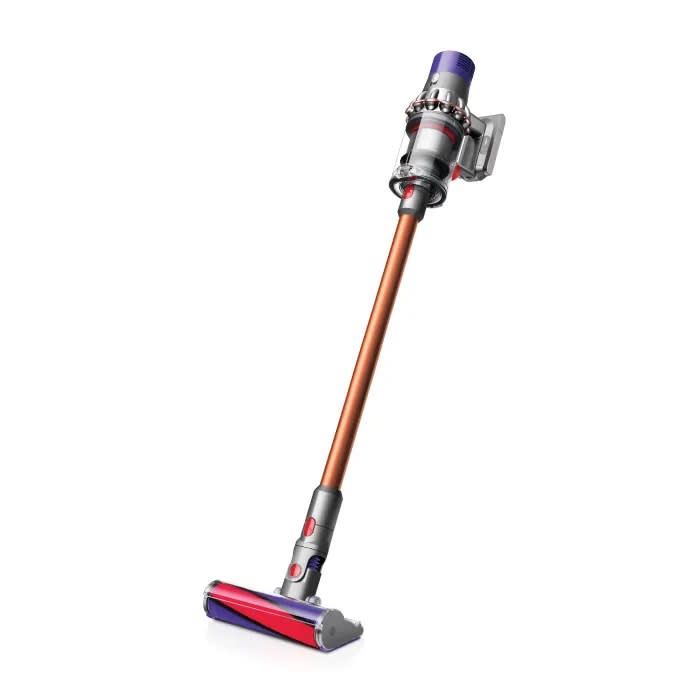 A home appliance list is never complete without a Dyson product in it, and one you should get your hands on is the Dyson Cyclone V10 Absolute. Powered by the Dyson digital motor V10, this vacuum cleaner is engineered to deep clean your house with an even stronger power of 150 AW.
Acoustically engineered to absorb vibrations and dampen sound, the Cyclone V11 Absolute has a fully-sealed filtration system to trap microscopic particles, eventually expelling dirty air. It can also transform into a handheld for usage on compact areas. With its unique 'point and shoot' mechanism, this also allows for ejecting dust and debris into your bin without needing to touch any dirt.
The Cyclone V10 Absolute also features three power modes to choose for each type of cleaning. Adding to your convenience is the steady 60 minutes of fade-free suction as well as 8 different accessories to help you clean your home easily. And once you're done with the vacuuming, just drop it into its wall-mounted dock which also doubles as a charging pod.
If money is of no concern, by all means, grab this beauty off the market and put it to good use!
---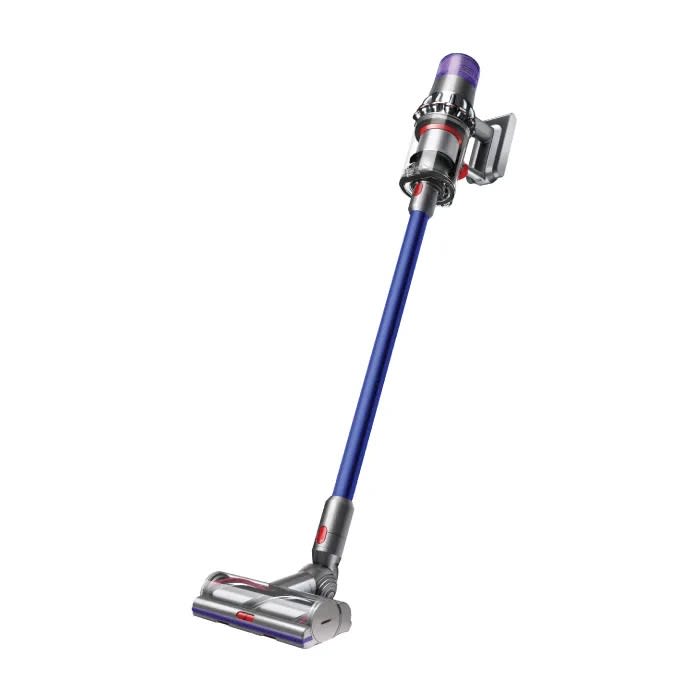 add_circle
Up to 60 min of running time
add_circle
Powerful suction
add_circle
Has a boost mode for intensive cleaning
add_circle
Has an LCD screen to report performance in real-time
The Dyson V11 Absolute Plus is the talk of the town and its here to stay. Dubbed as Malaysia's best vacuum cleaner, the V11 Absolute Plus is powerful and intelligent!
This smart device is equipped with a Dynamic Load Sensor technology which will detect and choose the perfect motor speed based on floor and carpet types. With that, it is engineered for complete hard floor cleaning.
What's also impressive is Dyson's patented clones which fling dust into the bin without clogging the filter, so there's no loss of suction. And with 7-cell lithium-ion batteries, it provides up to 60 minutes of fade-free power, being Dyson's most powerful battery yet.
Moreover, you can also easily choose between auto, eco and boost mode on the V11 Absolute Plus to optimise selected task at hand. Another time-saving feature is the larger 0.76L bin that equips Dyson's 'point and shoot' disposal system. And all of these are done within Dyson's fully-sealed filtration which can trap about 99.97% of particles.
What's also catchy is that apart from a drop-in dock, the vacuum also comes with a click-in battery pack, making it easier to clean the house even after an hour.
---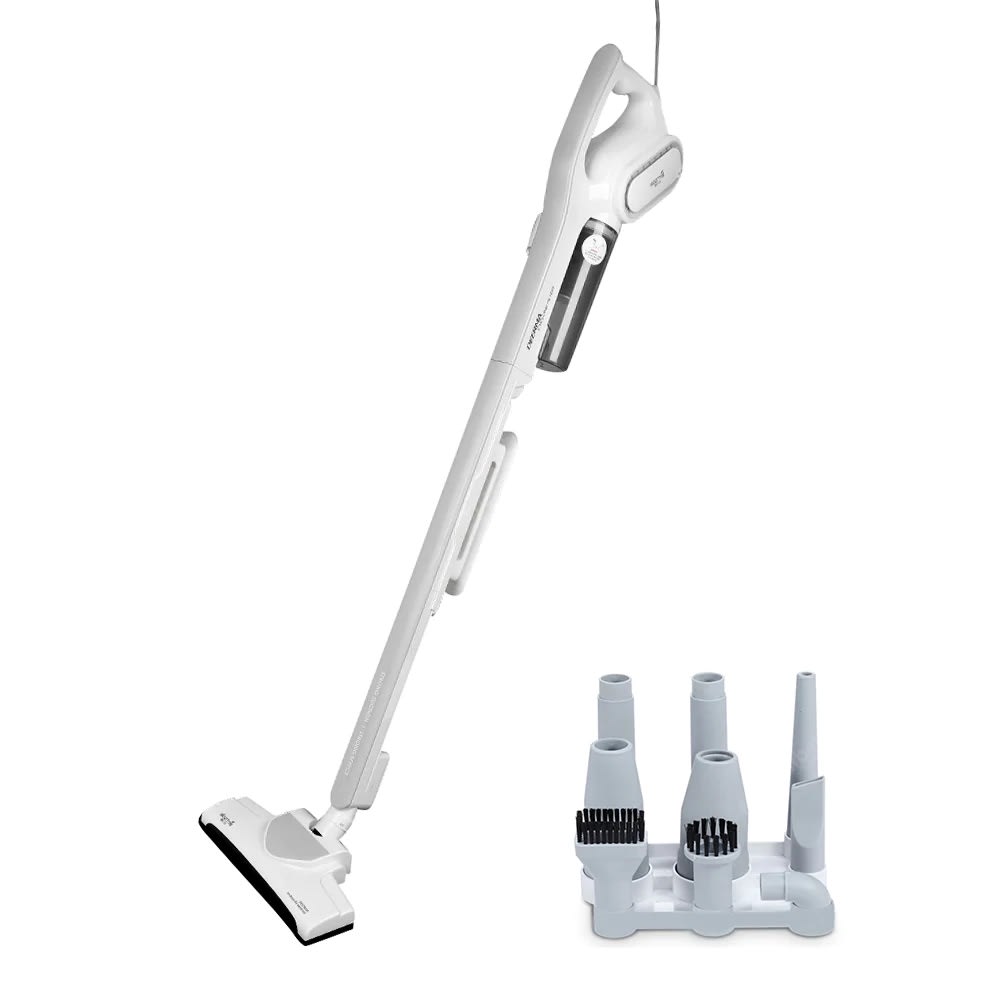 add_circle
Powerful & Lightweight
add_circle
Equipped with HEPA filter
add_circle
Not too noisy, with average sound rating of 75dB
remove_circle
Suction power is not strong enough for deep cleaning
It's hard to find a reasonably good and affordable vacuum cleaner in a market filled with overpriced ones. With that, you should give the Deerma 2 in 1 Vacuum Cleaner a try. Coming with two operating modes of handheld or hand-push, this lightweight, bagless and portable device is also a good starter vacuum for anyone.
The Vacuum Cleaner's 2 in 1 oblate suction nozzle makes it possible for cleaning small, tight places like keyboards, book racks, window sills and sofa crevices. With an ergonomic handle, it's also comfortable to hold and clean for long hours. Apart from that, it comes with a detachable dust box should you need to wash it.
One feature you should note about the Deerma 2 in 1 Vacuum Cleaner is that the working noise is up to 75dB. Therefore, it can get quite noisy (as the average silent vacuums are below 70dB). But for the price, we can forgive that.
Additionally, the vacuum is equipped with a HEPA filter for dust and debris, which give users that has allergy issues some assurance when using it.
---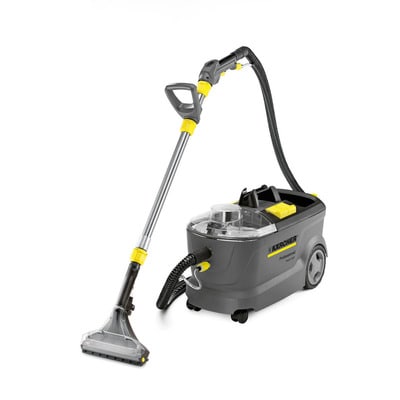 add_circle
Powerful suction
add_circle
Ergonomically-designed
You probably already know by now that not all vacuum cleaners are created equally. While most can clean hardwood floors or tiles with ease, carpets are a different issue. For that, you would need something that has enough suction power to pull out the most stubborn dirt and debris from the protective fibres of fabric. In this case, we recommend the K'archer Puzzi 10/1 Carpet Cleaner to do the trick.
The Puzzi 10/1 comes with an upholstery nozzle and floor nozzle that is particularly suited for cleaning surfaces like home and car carpets. Also doubling as a mop, the nozzle has a 1 bar spray pressure. Which, the spray extraction machine is fitted with an integrated cable hook and a holder so you can easily handle and trigger the suction pipe.
Moreover, thanks to the narrow floor nozzle, the machine is optimally suitable for use in confined spaces. With a turbine capacity of 1250W and high airflow rate, hard stains on carpeted surfaces are removed instantly.
The K'archer Puzzi 10/1 Carpet Cleaner is definitely hefty in pricing but with all its tough, never-ending functions, it quite well-received by many users.
---
Disclaimer: The pricing shown is just a good indication of how much these products are worth. The prices could change based on the e-commerce promotions that are going on. If some of the products are not available, do email us at hello@productnation.co. Thank you!