As Chinese New Year approaches, so does the rush for annual spring cleaning to commence. If you celebrate this festival, you would know how much of a hassle it is to give your home a massive deep cleaning before D-Day. 
Trust me when I say I don't look forward to turning my house upside down. Though, this year things are a little different - because I've got the Dyson Digital Slim™ Fluffy Pro to help. And as someone who owns pets, saying that I'm excited to give it a roll is very much an understatement...
---
 Key Features of the Dyson Digital Slim™ Fluffy Pro vacuum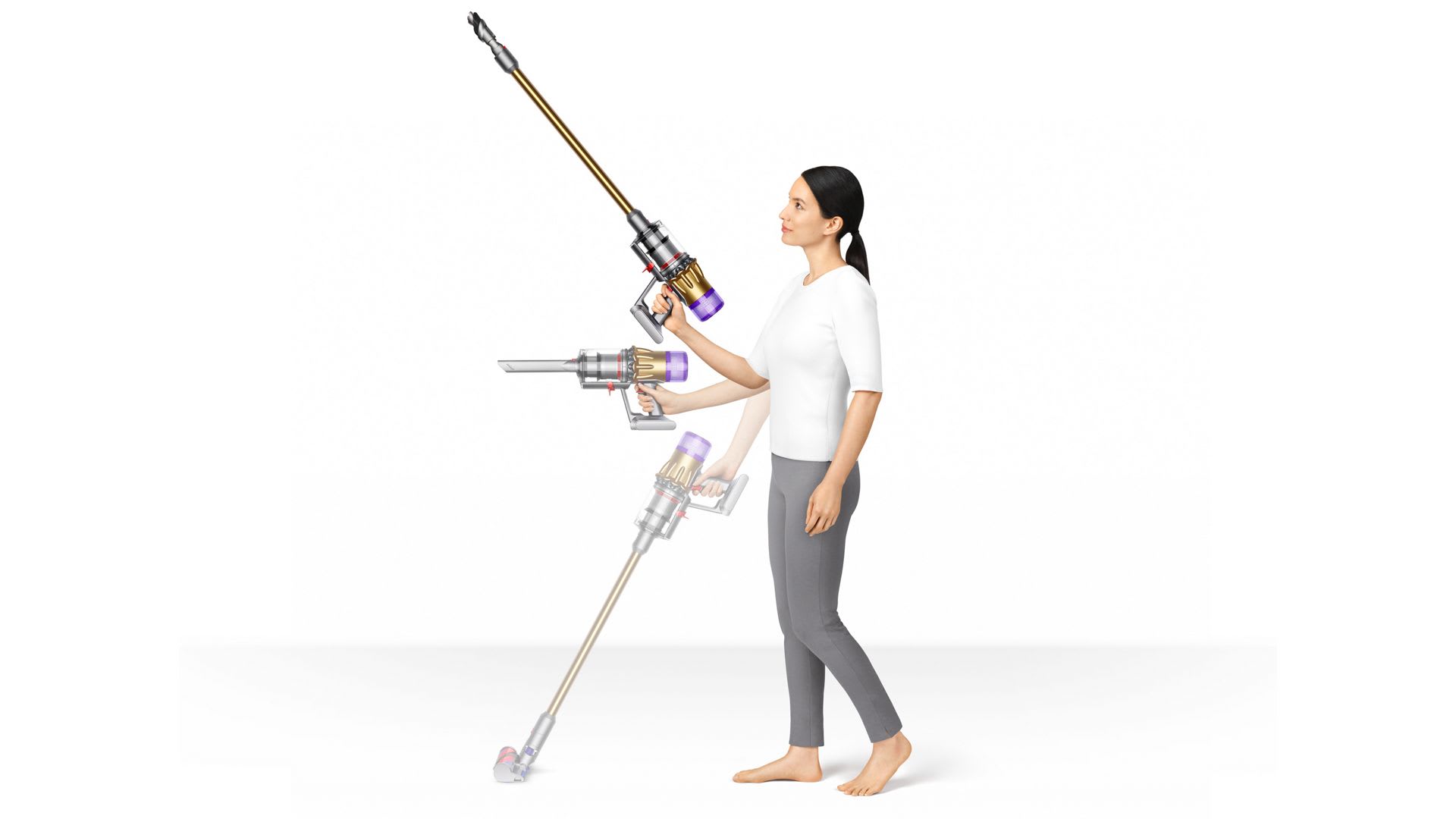 20% smaller and 30% lighter than the flagship Dyson V11™ Absolute with no loss of suction
40% lighter soft roller cleaner head
Powerful Dyson Hyperdymium™ motor
Achieves 99.97% filtration of particles as small as 0.3 microns
---
Unboxing

 As someone who owns a traditional vacuum cleaner, I would be lying if I said I wasn't intimidated by the sheer number of parts in the box. These include parts for the vacuum, docking station, and floor dock. It took me some time to figure out which parts belonged to each other but once I got that sorted, everything was a breeze.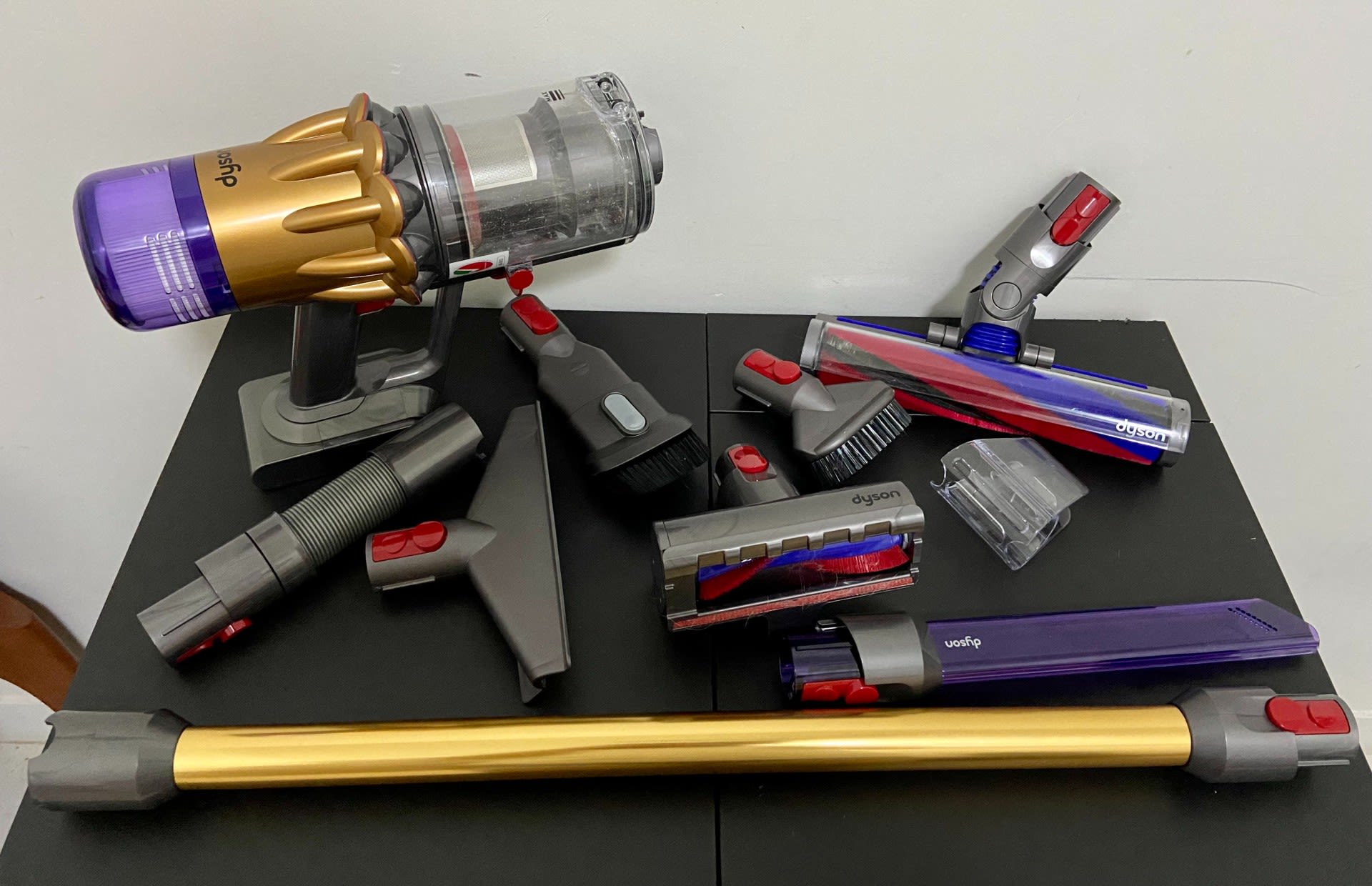 Dyson Digital Slim™ Fluffy Pro vacuum (Gold/Iron)
Slim Fluffy Cleaner Head 
Light pipe crevice tool
Combination tool
Mini motorised tool
Quick-release stubborn dirt brush
Quick-release extension hose
Mattress tool
Wand Storage clip
Charger
Tool docking station
Floor Dock
The box comes with 6 accessories for cleaning on different types of surfaces. You can buy more accessories here to complement and make the most out of your Digital Slim™ vacuum.
---
Build and Design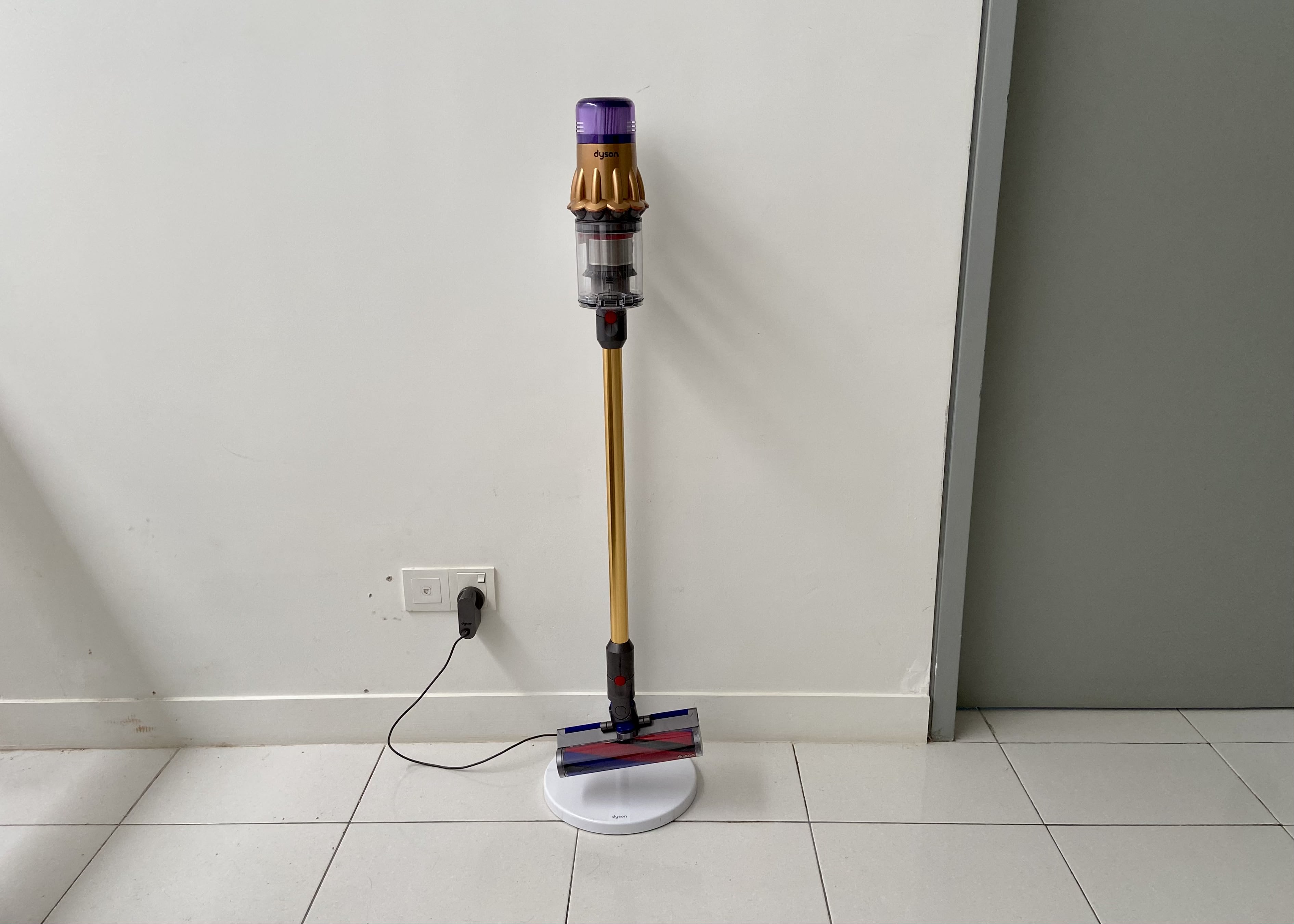 The Dyson Digital Slim™ Fluffy Pro comes in Gold/Iron colourway for Chinese New Year, something my mother appreciates as it adds a hint of "ong" to the household. It also includes an additional floor dock.
To add, this variant is a direct-exclusive to the Dyson Demo store and Dyson's official website. You won't be able to find this beauty anywhere else (yes, not even Lazada or Shopee)! We've also joined forces with Dyson to give our readers a very attractive discount on this variant, but we'd advise you to continue reading our review first.
Now, I'm not too sure about the rest of you, but the Dyson Digital Slim™ looks and feels like a Nerf gun for adults - and I love it. The fact that you have to pull a trigger to get it to start? That's fun! Additionally, its sleek design and popping colours gives the whole cleaning process more flair, making it feel less like a chore.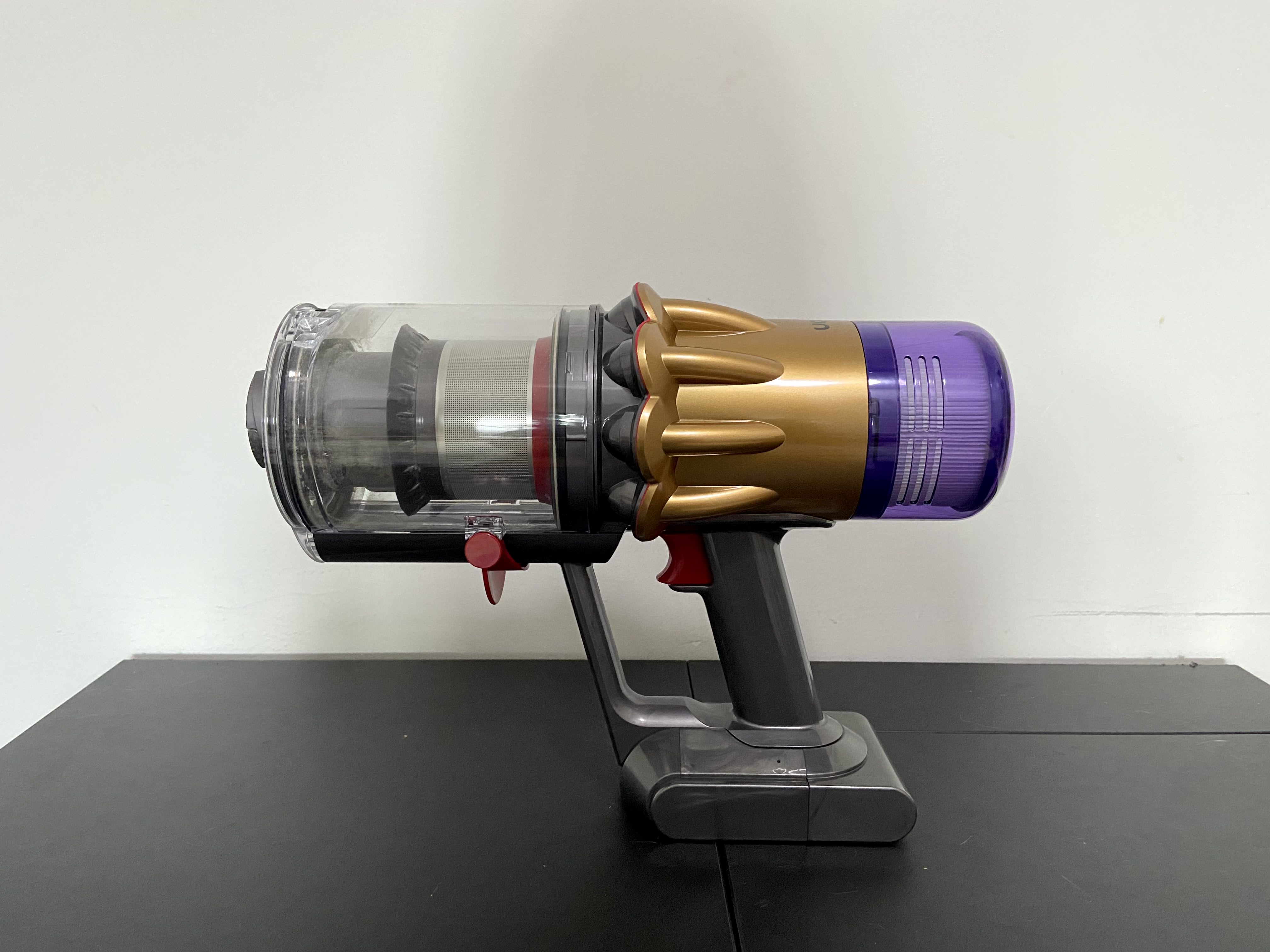 One of the things I was worried about was assembling the vacuum, but it was something not worth fussing over as it turned out effortless and straightforward. Might I add that the clicking sounds upon assembly are largely satisfying? 
For something so powerful, the Dyson Digital Slim™ Fluffy Pro is by far the lightest cordless vacuum cleaner I've laid hands on. My sister owns a cordless vacuum cleaner as well (which isn't Dyson) and a gripe I have with that vacuum is that I'm beat after just 10 minutes of cleaning with it. With the Digital Slim™, on the other hand, I barely felt a thing from start to finish (about 40 minutes of runtime). 
With all that being said, a little setback I had with the vacuum is the sensitivity of the trigger. Although I do enjoy the whole feel of pulling the trigger to start, I tend to accidentally pull on it and end up exhausting the battery unnecessarily. However, this isn't too much of an impediment and is just something I hope I would get accustomed to over time.
---
Display 
Something worth mentioning is Dyson's built-in LCD screen that shows current and real-time report performance on battery usage, run-time, power modes, filter and maintenance. This feature is something I appreciate as it helps me get an estimate of how much time I have left to clean while using specific power modes.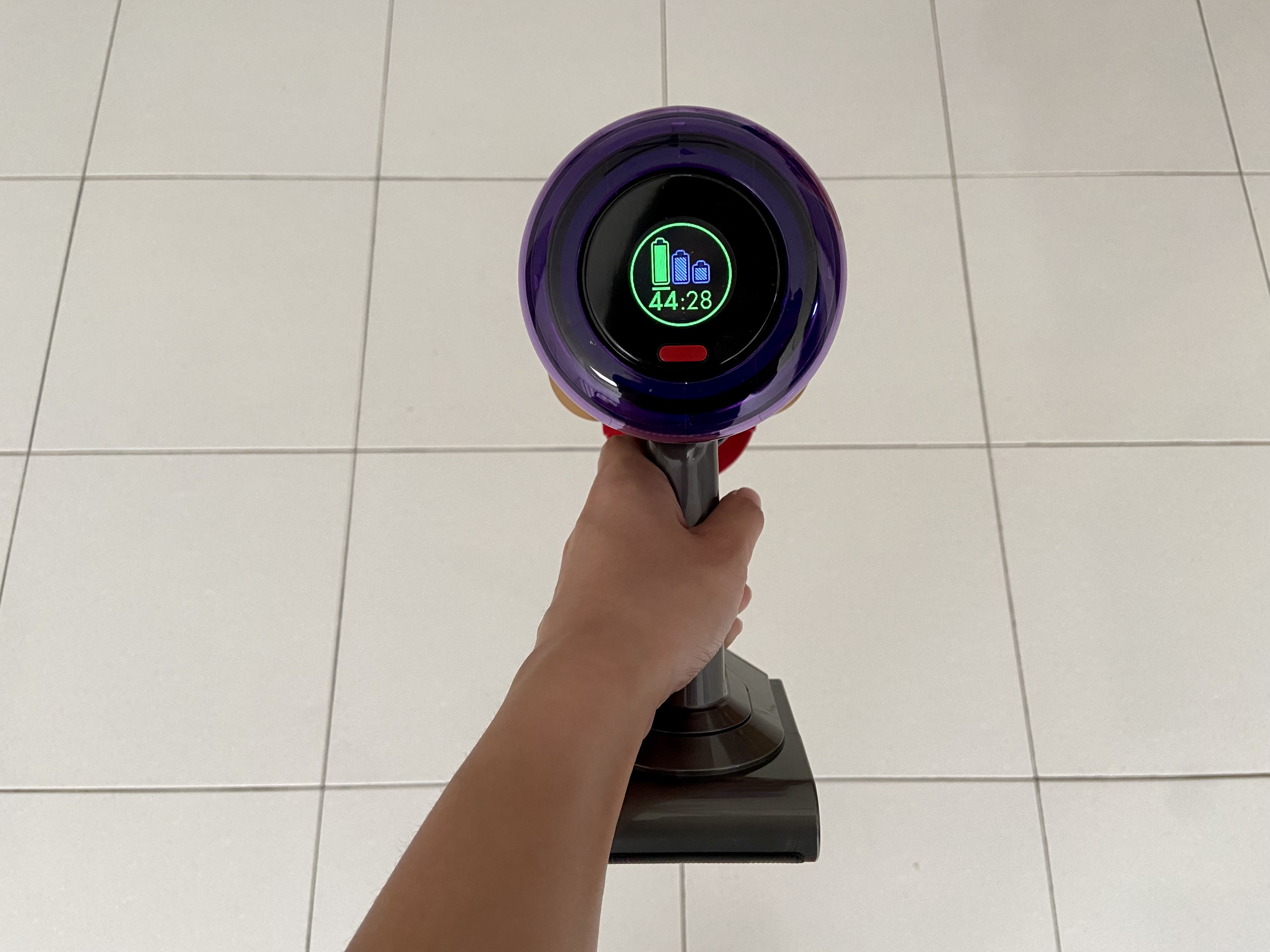 The numbers on the LCD screen show how much run-time is left for each power mode and the battery icons indicate how much battery you have left based on each power mode. Filter and maintenance notifications will appear when it's time for filter maintenance or if there's a blockage in the appliance. 
---
Performance
The Digital Slim™ Fluffy Pro vacuum is powered by Dyson's patented Dyson Hyperdymium™ motor that spins up to 120,000 rpm to generate 100 Air Watts of powerful suction. Combine this with the infamous Dyson cyclonic technology that has 11 scrolled cyclones generating over 100,000g and you have yourself a mean, lean machine that removes fine dust and dirt from the airflow, leaving your home spotlessly clean.  
To be honest, I was looking forward to cleaning just my floors but the Digital Slim™ made me realise I could do more than just that with all its extra tools.
Slim Fluffy cleaner head
Recommended Power Modes: Eco or Medium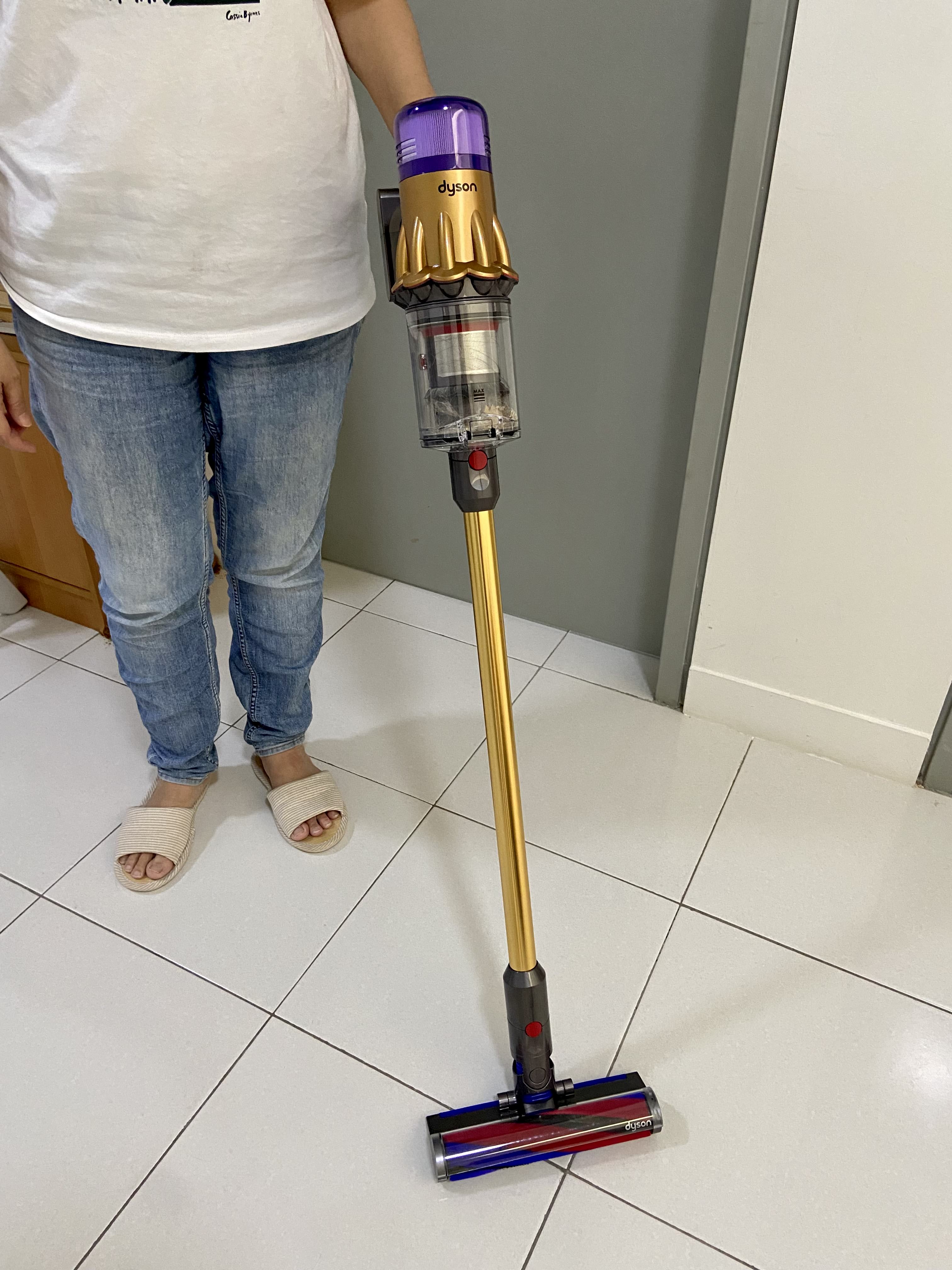 "Made from high-tensile ABS for strength and lightness, the Slim Fluffy cleaner head uses soft woven nylon to capture large debris, while anti-static carbon fibre filaments sweep fine particles from hard floors. This makes it perfect to clean hard floors. It is also 40% smaller and lighter than a standard Fluffy cleaner head."
This cleaner head is really useful for sucking up not only hair and fur but also cat litter. Because there is a motor integrated into the brush bar, it allows for uninterrupted edge-to-edge cleaning which I appreciate. Most times I would use this tool for wide areas with not much furniture or obstruction around.
Light pipe crevice tool 
Recommended power modes: Medium or Boost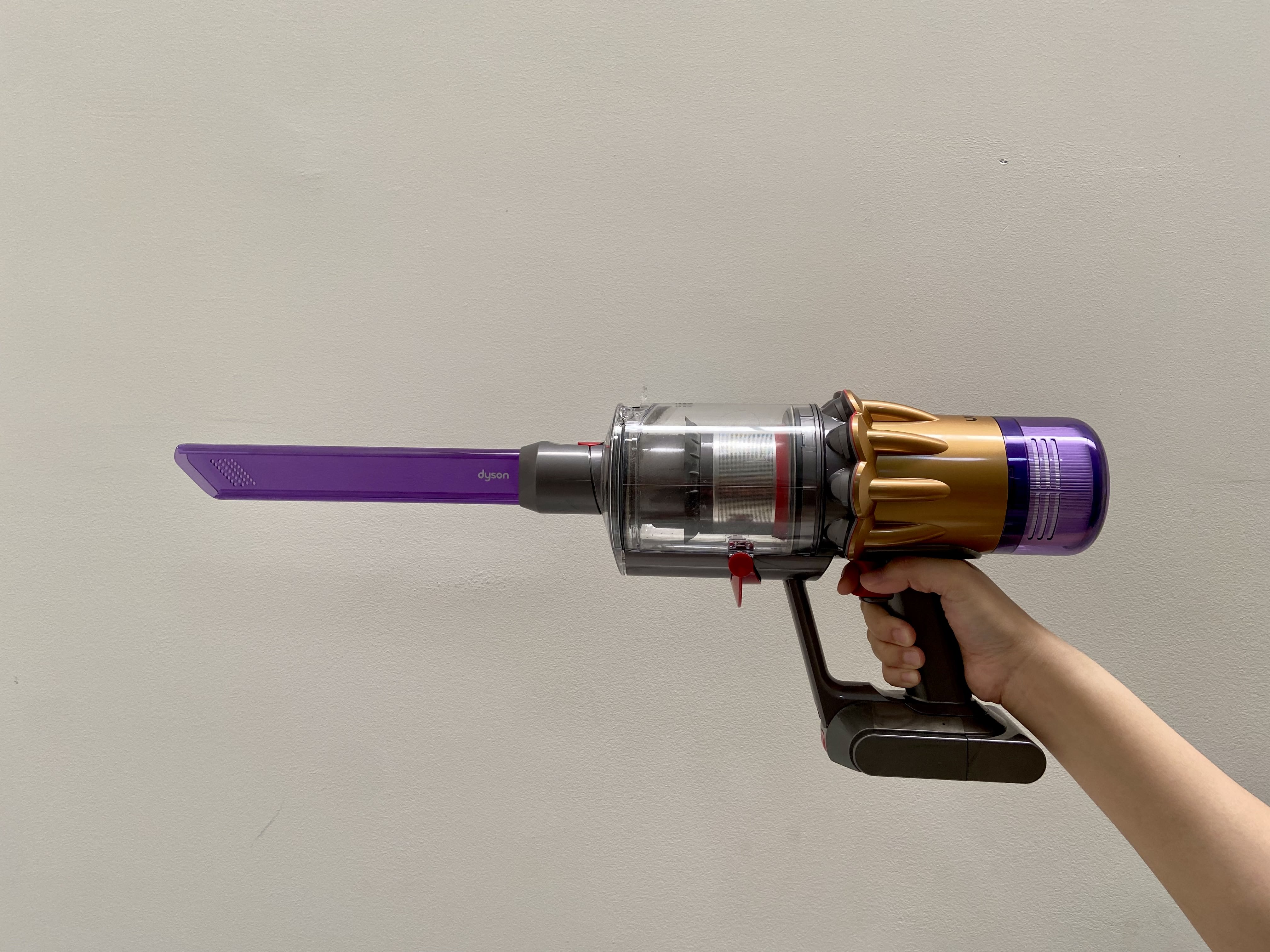 "Crevice tool with LED lights lets you reach into the dark, narrow spaces and see where you're cleaning."
This tool makes me feel like a Jedi from Star Wars. Jokes aside, it's very helpful for reaching dark and narrow spaces like between furniture. However, it's not very effective in Eco mode, maybe due to the lack of brush. Using this tool in Boost mode cleans more efficiently and certainly gets rid of those hard to reach dust bunnies. 
Combination tool 
Recommended power mode: Medium or Boost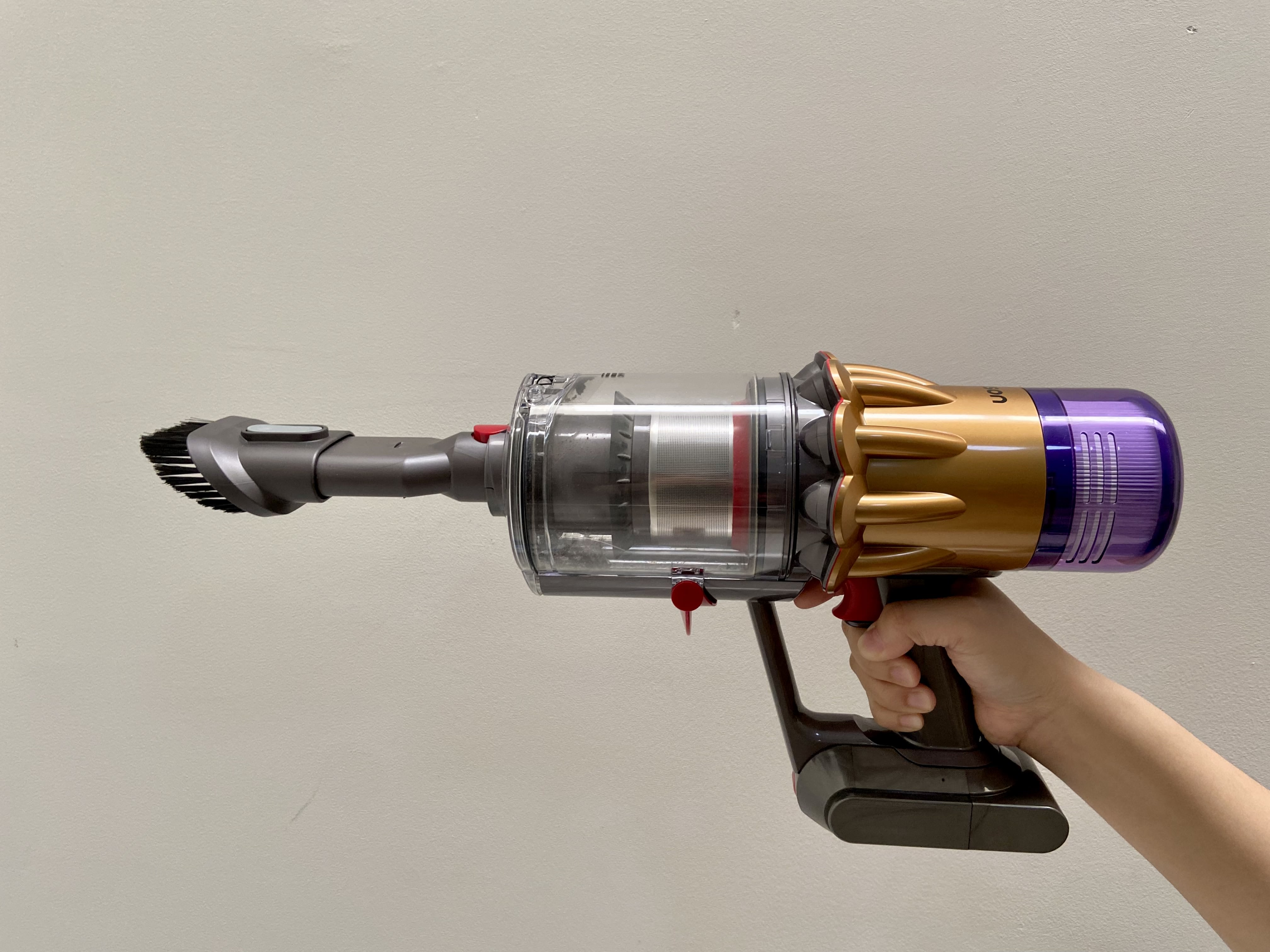 "Two tools in one - wide nozzle and brush, for quick switching between cleaning and dusting tasks around your home or car."
As someone who sends my car for a wash instead of doing it myself, I have to admit that I am considering having it done myself from now on.
I put together Dyson's Combination tool with the Quick-release extension hose to vacuum my car's carpet and am amazed at how great it works. Not only is it good for the car, but it's also effective for dusting around the house.
Mini motorised tool
Recommended power mode: Eco or Medium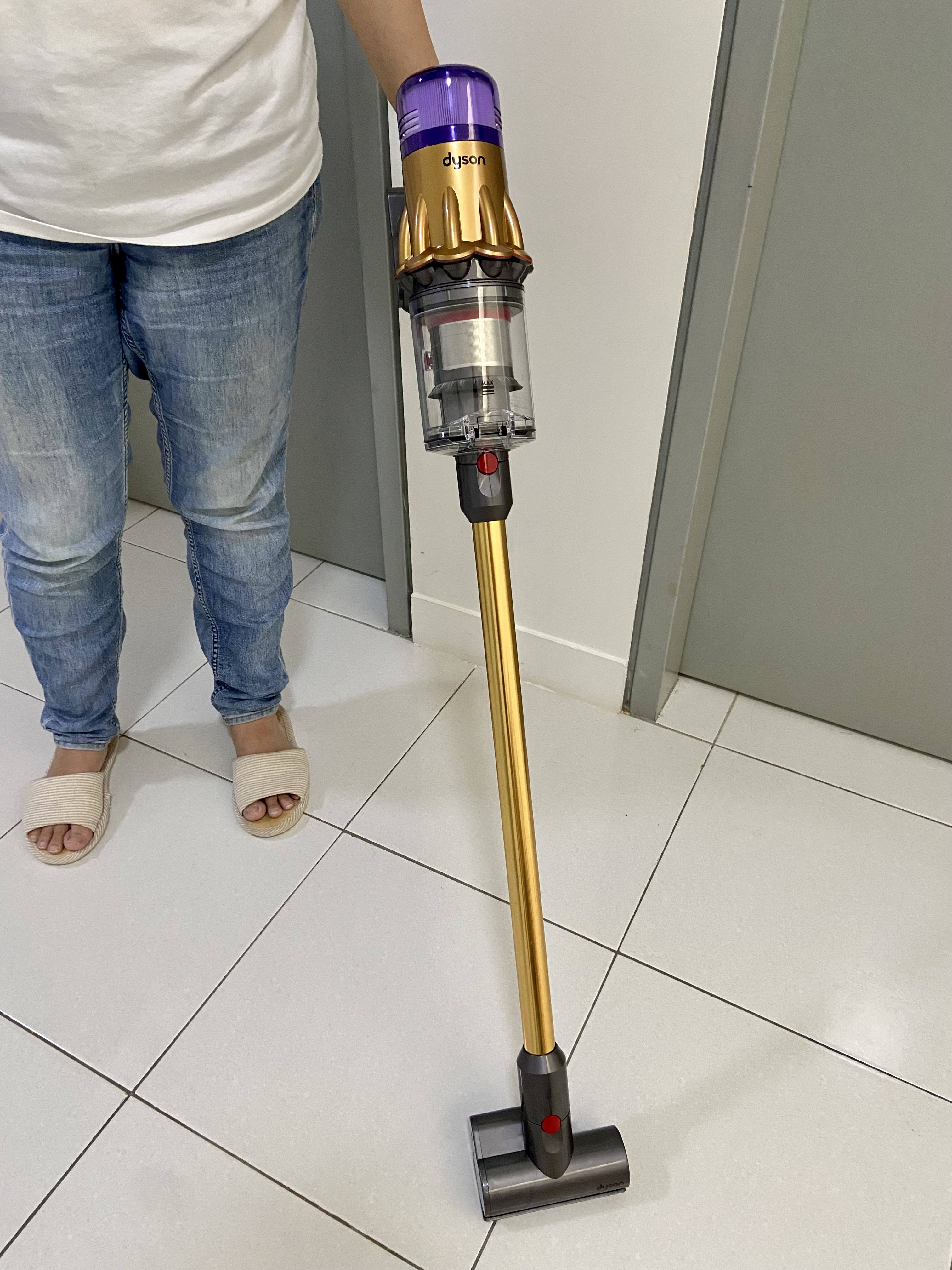 "Motorised brush bar, concentrated in a smaller head to remove stubborn dirt from mattresses, upholstery and stairs."
This is probably my favourite tool by far because it helps me clean the staircase more efficiently due to its shape. I also switch it between the Slim Fluffy Cleaner head when I need to clean areas with more furniture around. This is where the Wand Storage clip comes in handy as I can alternate between tools faster.
Quick-release stubborn dirt brush 
Recommended power mode: Medium or Boost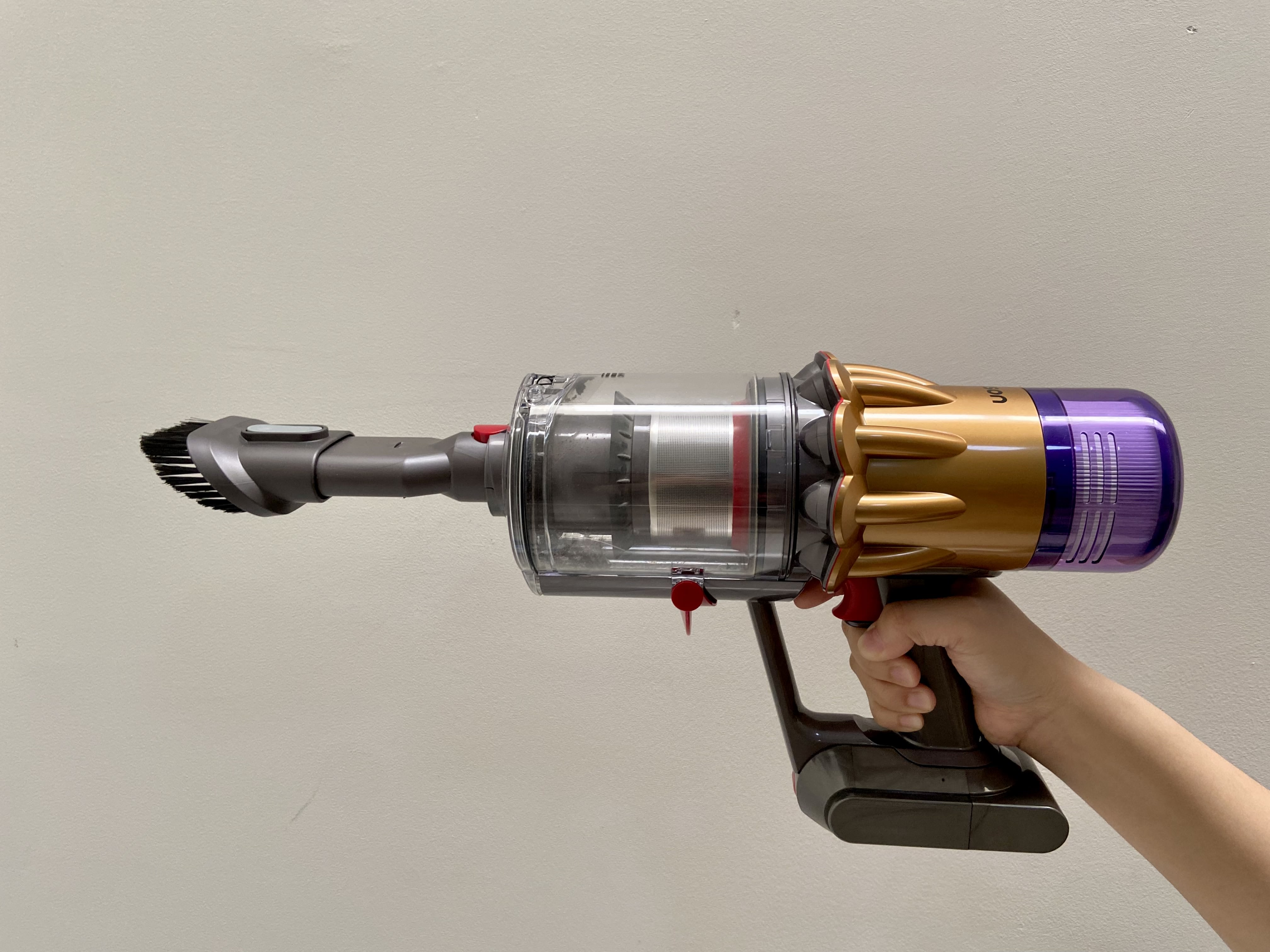 "Stiff nylon bristles dislodge ground-in dirt from coarse carpets, high traffic areas and car interiors."
Similar to the Combination tool, this can also be used to clean car interiors. However, I decided to give it a try on my floor mat. Cat litter wedged between the fibres of my floor mats are a common sight in my household and washing the mats daily is simply inconvenient. The Stubborn dirt brush manages to suck up pesky cat litter from the floor mat but is more effective in Medium or Boost mode. 
Mattress tool 
Recommended power mode: Medium or Boost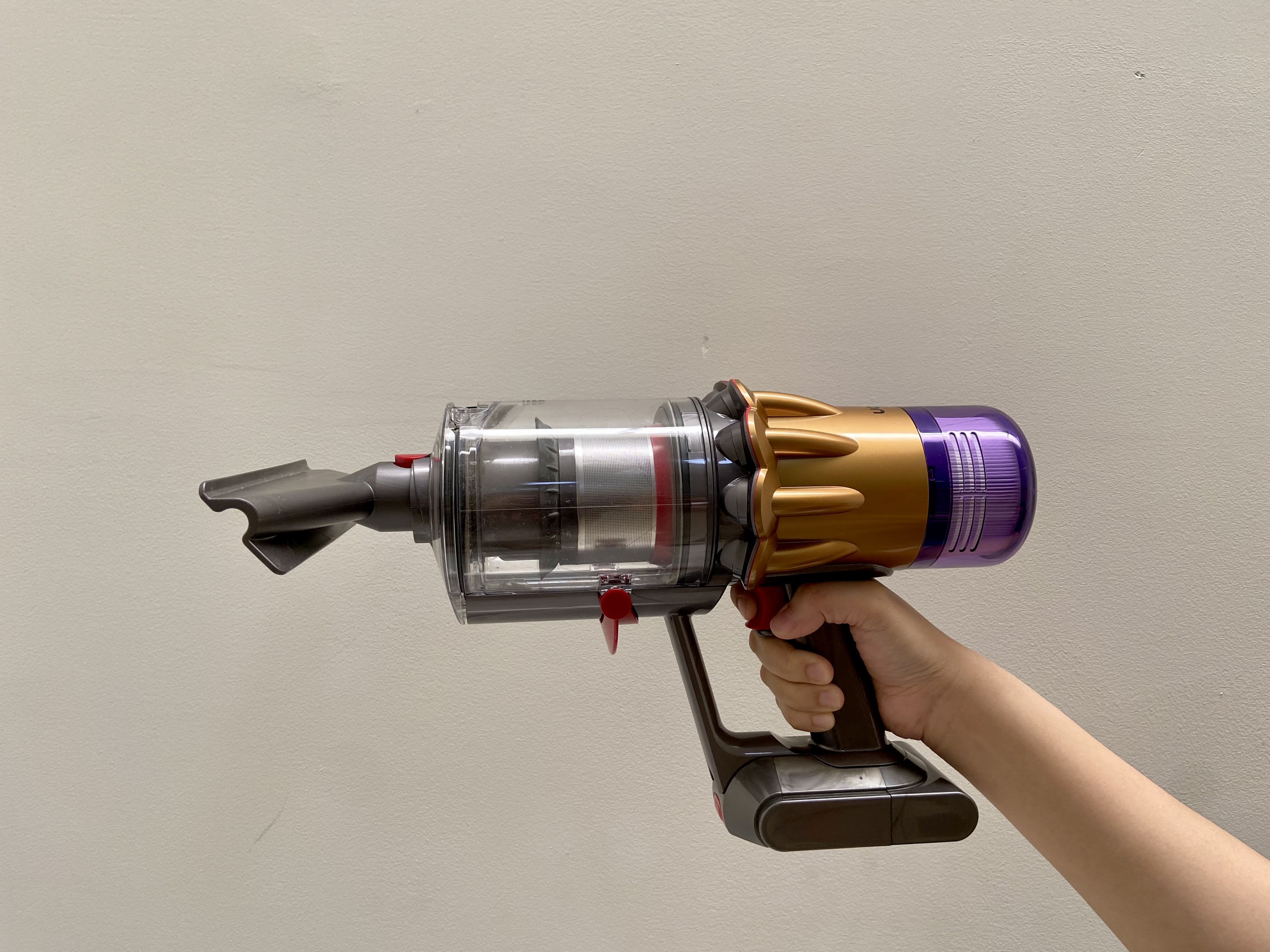 "Removes dust, dirt and allergens from mattresses and upholstery."
According to a survey conducted by Dyson, only 33% of people are motivated to clean when they spot visible dust. That same survey also reported that just 7% feel that dust on mattresses is the biggest dust problem in their home. Because we can't see the dust in our mattresses and sofas, this could pose a problem to our health.
This is why the Mattress tool is a highly practical tool during spring cleaning. As someone who allows cats on the bed, I can only imagine the horror that I'm about to see after cleaning my mattress.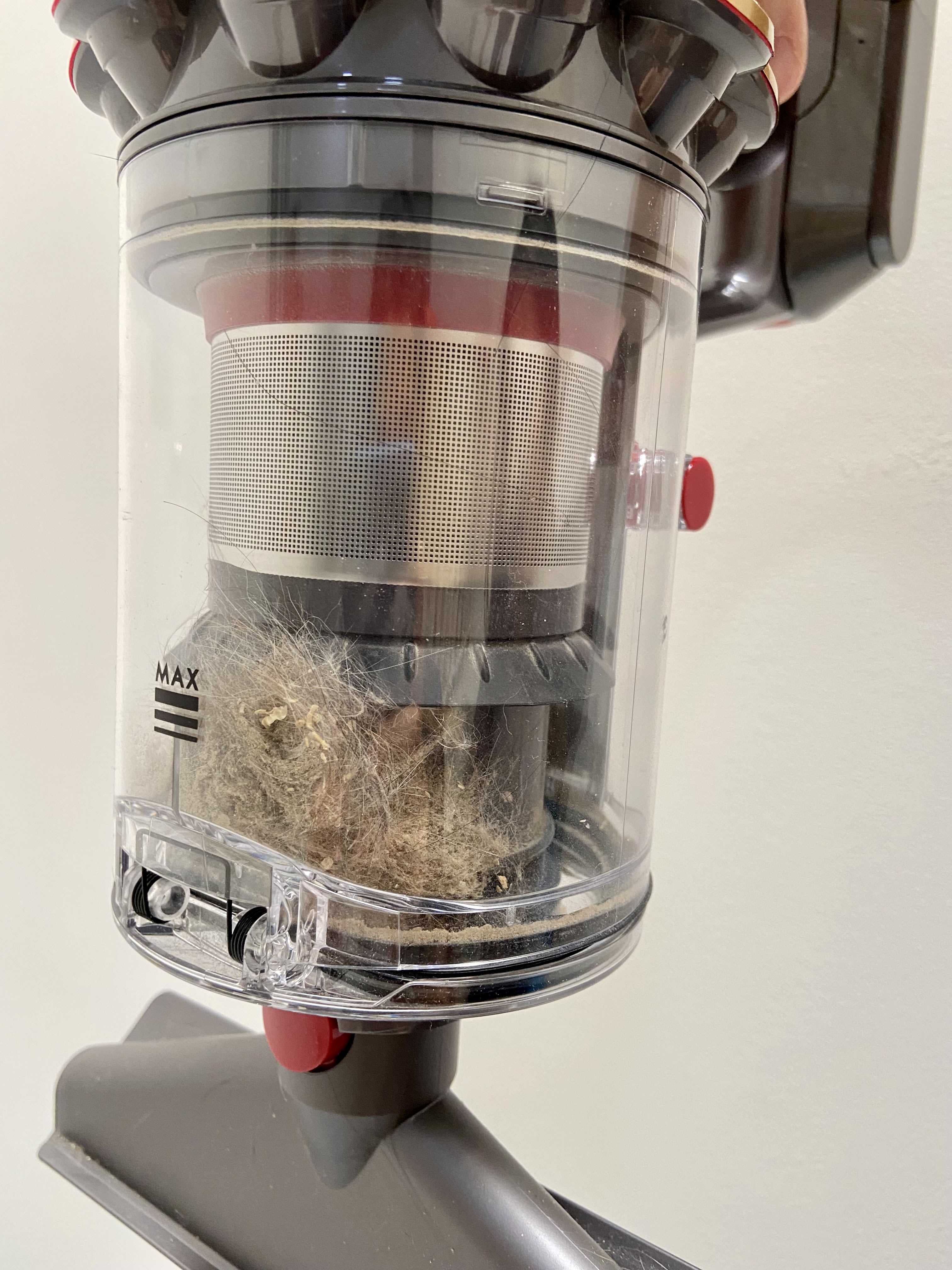 The amount of fur and dirt is unsettling as the last time I gave my mattress a deep clean was in 2019. I also vacuumed the mattress with and without the bedsheet, hence the fur.
As we spend one-third of our lives in bed, it is important to keep it clean and safe. Dyson Engineers recommend cleaning your mattress every 6-months - once when you're spring cleaning and once at the end of Dust Mite Breeding Season in May.
But of course, this depends on the mattress itself, the user and how susceptible you are to dust mites. If you have many pets like me, it's probably best to clean it once every two weeks. 
---
Runtime
I live in a double storey 4 bedroom house, and if I were to clean my entire house with just this vaccum, it would probably not be possible. After all, Eco mode gives you about 40 minutes of runtime. And that's if you don't switch between modes.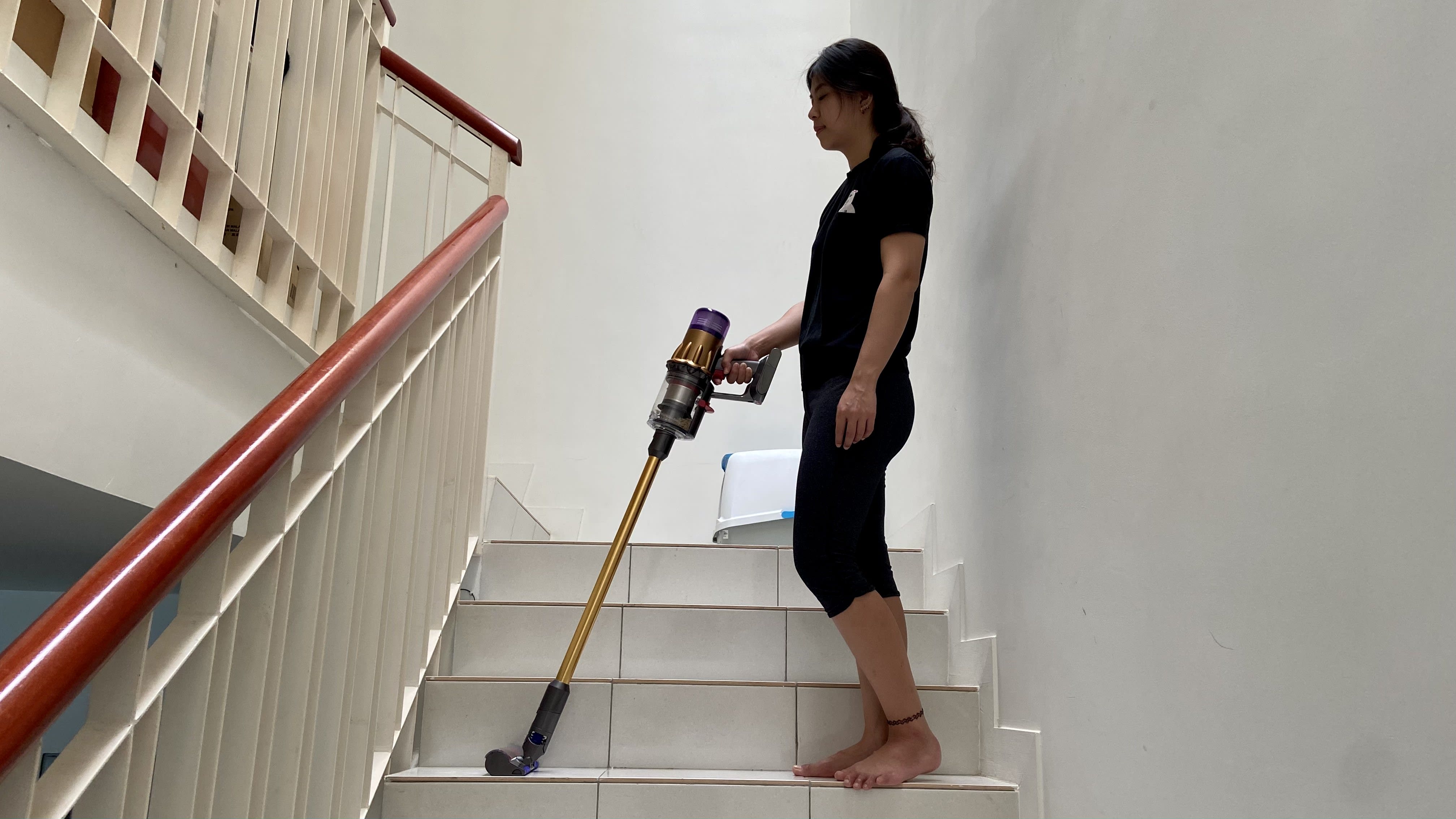 However, this isn't really an issue for me since I don't clean the entire house in one cleaning session. With that being said, for optimal runtime, this vacuum might be more suitable for a smaller home.
The charging time of 3.5 hours is long though, and this is why I avoid depleting the battery entirely when I'm on a cleaning spree. On a brighter note, you can get a Dyson Digital Slim™ Click-In Battery (sold separately) to keep you going if your battery runs out.
---
Bin Usage
The Digital Slim™'s 0.3L bin is smaller compared to its flagship V11's but it's not an issue for me as I don't mind emptying the bin often.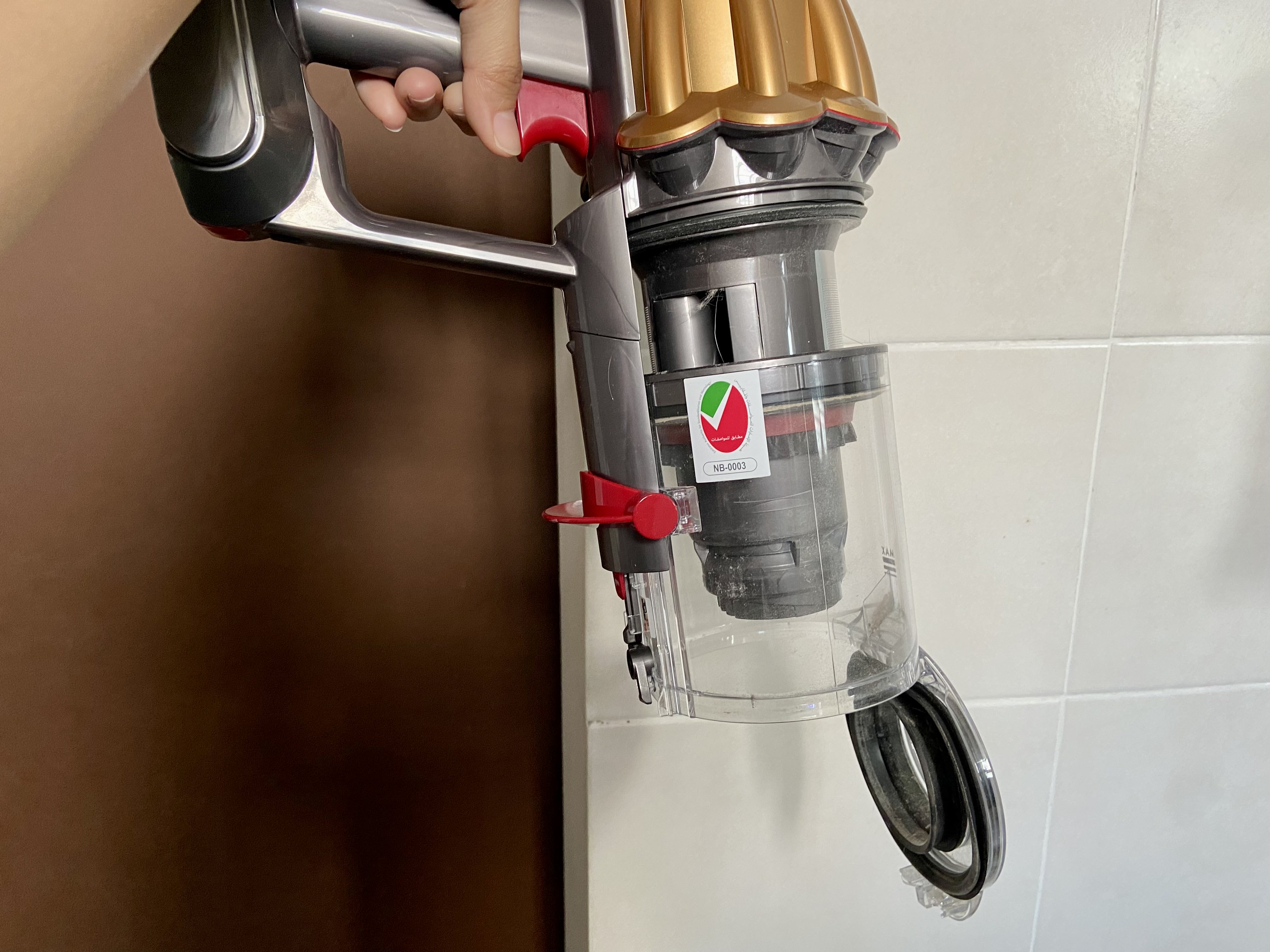 I also like how seamless it is to empty the bin. Unlike my sister's vacuum where the whole bin detaches, the Dyson Digital Slim™'s straight and slim bin has a hygienic ejection mechanism with a rotary catch to drive out dust in one smooth action. 
Washing the bin is also trouble-free. You simply need to detach it from the runner and run it under cold water. It's also vital to let it dry completely before refitting it. 
---
Verdict
Trigger sensitivity and runtime aside, I am amazed at the Digital Slim™'s versatility. Combine this with its lightweight body and powerful suction and you have yourself a must-have appliance for your home (and car!).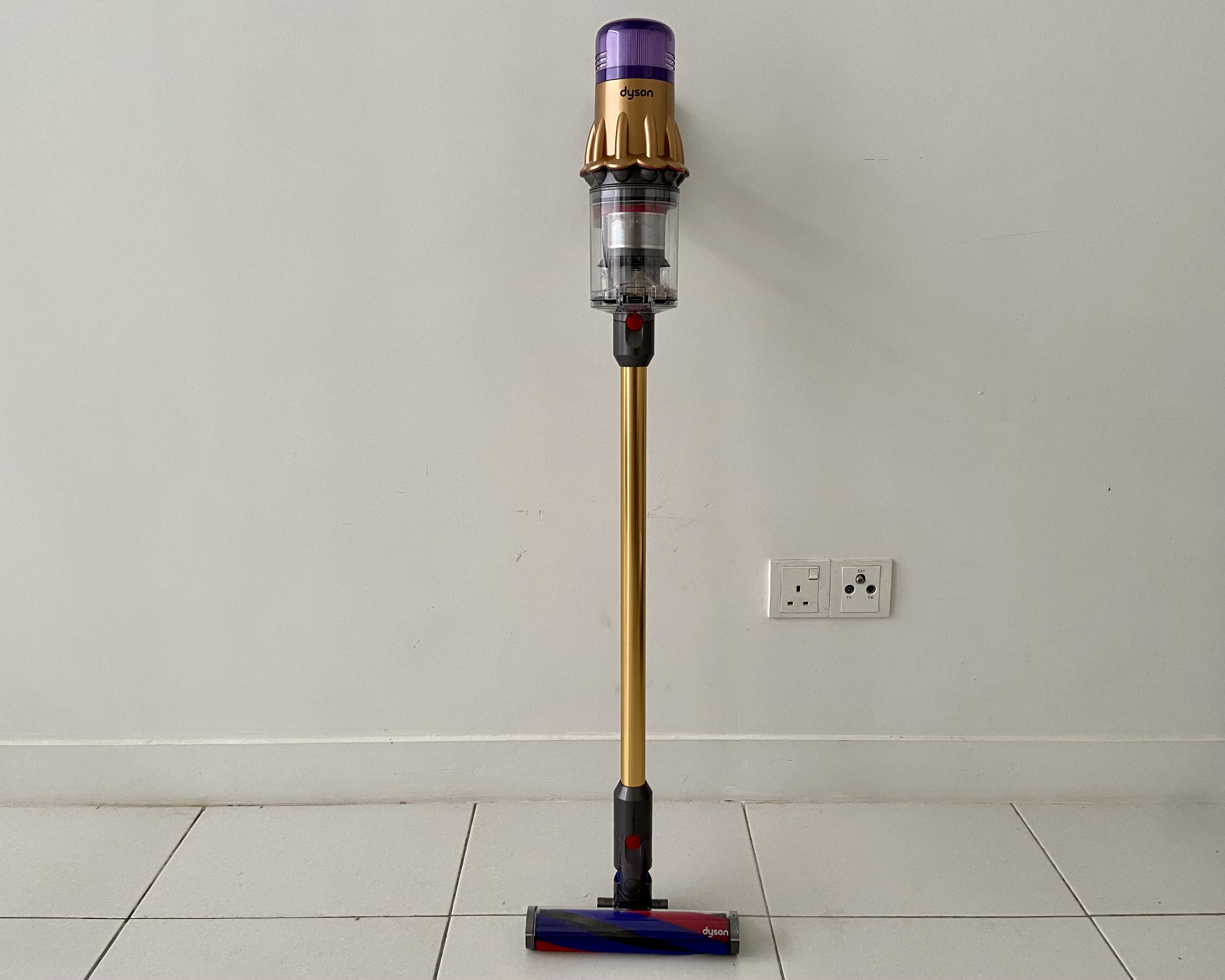 To me, a vacuum cleaner has always been an appliance to clean just floors and carpets. But with the Dyson Digital Slim™ Fluffy Pro and its variety of attachments, I can do so much more - effortlessly and efficiently. I'm even considering purchasing more accessories to make full use of this vacuum.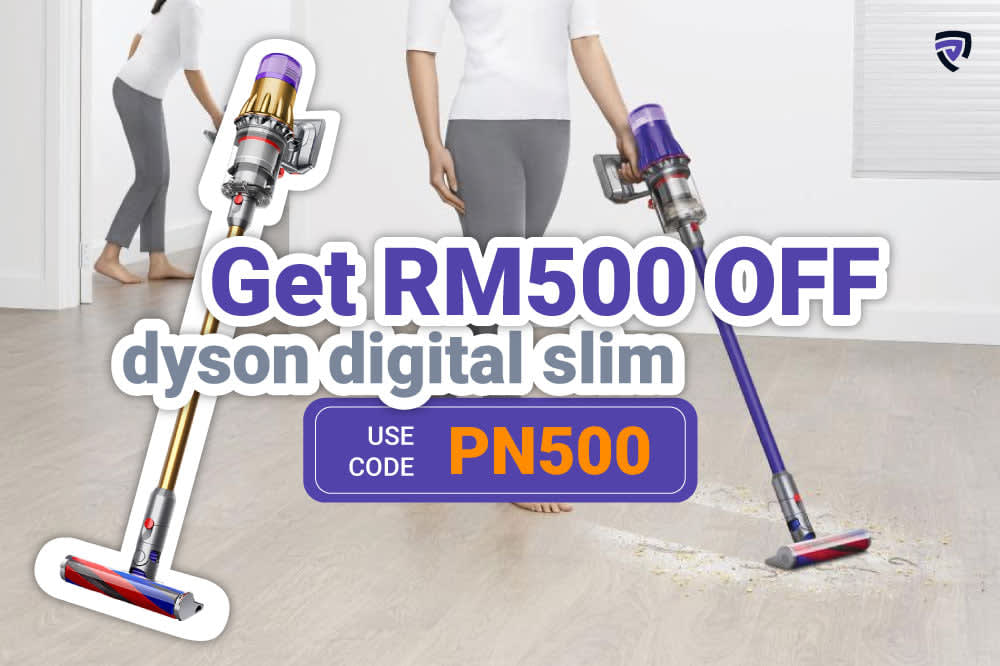 Priced at RM 2,999, it does come off quite steep, but it is worth the purchase. To boot, you can enjoy RM500 off with our exclusive promo code PN500 (promo code details here), taking the price down to just RM 2,499. In line with Chinese New Year spring cleaning, this exclusive promo code is only valid until 31st January 2022 so make haste!
In addition, do check out Dyson's CNY promo exclusives for great deals. Happy Chinese New Year!
---
*Promo code details
Code name - PN500
RM500 off 

Dyson

 Digital Slim™ Fluffy Pro vacuum (Gold/Iron) only
Valid on www.

dyson

.my on checkout
One code is applicable for one transaction only
Valid from 20th – 31st January 2022
Not applicable on top of other promos (e.g. Grab PayLater)