A good cordless vacuum cleaner is a useful addition to any household cleaning arsenal. These lightweight vacuums can be converted into handheld ones. Best of all, it certainly will not trip you as the corded vacuum cleaners do.
Offering flexibility and convenience, cordless vacuum cleaners have incredible battery life too.
Shop the best cordless vacuum cleaners below.
---
Table Of Contents
---
Top 11 Cordless Vacuum Cleaners In Malaysia
---
PROMO ALERT: RM500 OFF Dyson Vacuum!
In need of a vacuum that'll help you clean up fast? We're offering this exclusive deal for Dyson Malaysia:
RM500 OFF when you shop for the Dyson Digital Slim Fluffy Pro Vacuum! Only applicable to the Gold/Iron version on Dyson Malaysia Official website. Promo lasts until 31 January 2022!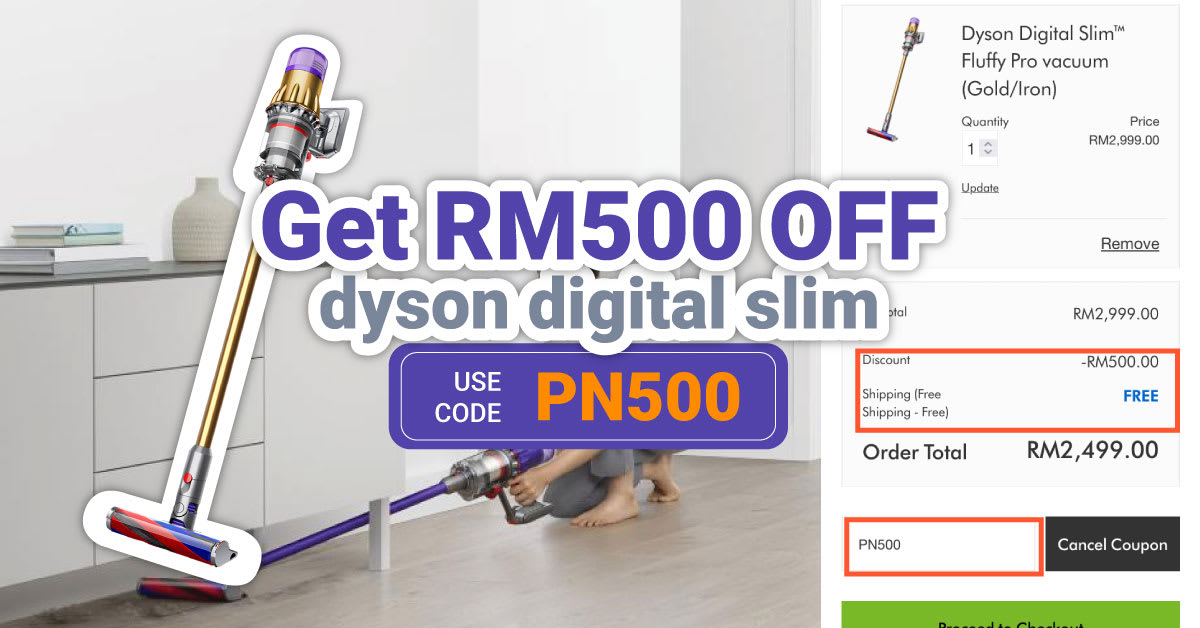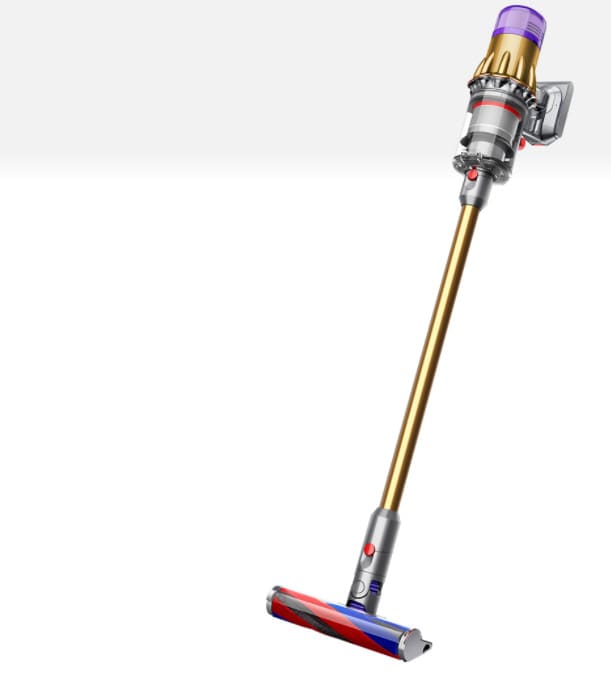 Check Dyson Digital Slim™ Fluffy Pro vacuum (Gold/Iron) (RM500 OFF USE CODE: PN500) price below:
add_circle
Intelligent real-time reports
add_circle
Advanced, whole machine filtration
add_circle
Comes with multiple tools for different cleaning tasks
add_circle
Made from high-tensile ABS for strength and lightness
add_circle
Slim Fluffy™ cleaner head is now 40% smaller and lighter
It's a given that house-cleaning is not an easy nor quick chore, all with the easy build-up of dust and dirt accumulated via outdoors, pet fur and such.
It is why Dyson vacuums are notable for their suction power. They just make cleaning fast and easy!
Overview:
A powerful 3-in-1 cleaning tool, the Dyson Digital Slim™ is a stick vacuum that can be transformed into a handheld one, allowing you to complete various cleaning tasks with just one device. Its versatility makes it a good investment in the long run.
Weighing 1.9kg, it's 30% lighter than the Dyson V11™. Its Slim Fluffy™ cleaner head can capture large debris with soft woven nylon, and sweep fine particles from hard floors thanks to the black anti-static carbon fire filaments. In addition, it comes with a crevice tool with LED lights, for easy cleaning of dark spaces.
Though lightweight, don't underestimate its power. Equipped with a Dyson Hyperdymium™ motor, it spins at up to 120,000rpm to generate 100 Air Watts of powerful suction. Its 11 scrolled cyclones are designed to remove fine dust and dirt from the airflow. On top of that, the Dyson Digital Slim™ has a 5-layer filtration system that captures dust and allergens.
In terms of battery, this vacuum has up to 40 minutes of run time which puts it at the top of the spectrum as the average battery life of vacuums is between 15-40 minutes, though there may be outliers that can push a little longer than that. Further, the 3.5 hour charge time isn't really a concern as you just have to leave it at the wall dock while it charges.
It has an LCD screen that allows you to receive filter maintenance reminders which takes the guesswork out of things and is helpful if you're too busy to remember when it needs to be changed. It also displays the performance, settings, and blockage reports in real-time.
Key features of the Dyson Digital Slim™ Fluffy Pro vacuum (Gold/Iron):
Smooth bin emptying - The ejection mechanism with rotary catch enables no contact emptying of the bin
Easy maintenance - The components can be easily washed and wiped to keep them clean
Removable battery - Battery can be replaced with an additional click-in one(sold separately) to instantly double the run time
The difference between the Gold/Iron variant and the Purple/Iron colourway is that the former is a direct exclusive to the Dyson Demo store and www.dyson.my, and it includes an additional floor dock.
Get this exclusive promo
Promo code: PN500
"RM500 OFF" the Dyson Digital Slim™ Fluffy Pro vacuum (Gold/Iron) only
Valid between 20th January - 31st January
Code is only valid on www.dyson.my upon checkout
One code is applicable for one transaction only
Not applicable on top of other promos(e.g. Grab PayLater)
*This offer is limited to 50 redemptions only.
Promising Review:
"We've been using the Fluffy Extra for some time now and dare we say, it's one of the best in the market in terms of design, usability, and performance. Reasons: It's insanely light and compact; The design is to die for; Great for homes of any size and shape; Extremely powerful when necessary; Simple UI and maintenance." - Wi-Liam, Lifestyle Asia
Our Review
Versatile, lightweight, and powerful. The Dyson Digital Slim™ Fluffy Pro vacuum is one appliance your home deserves. Besides vacuuming your floors and carpets, the accessories that come along with this vacuum allow you to clean your mattresses, upholstery, around furniture, car interior, and more. The overall cleaning experience that the Digital Slim™ brings is truly worth the money.
Read Full Review
---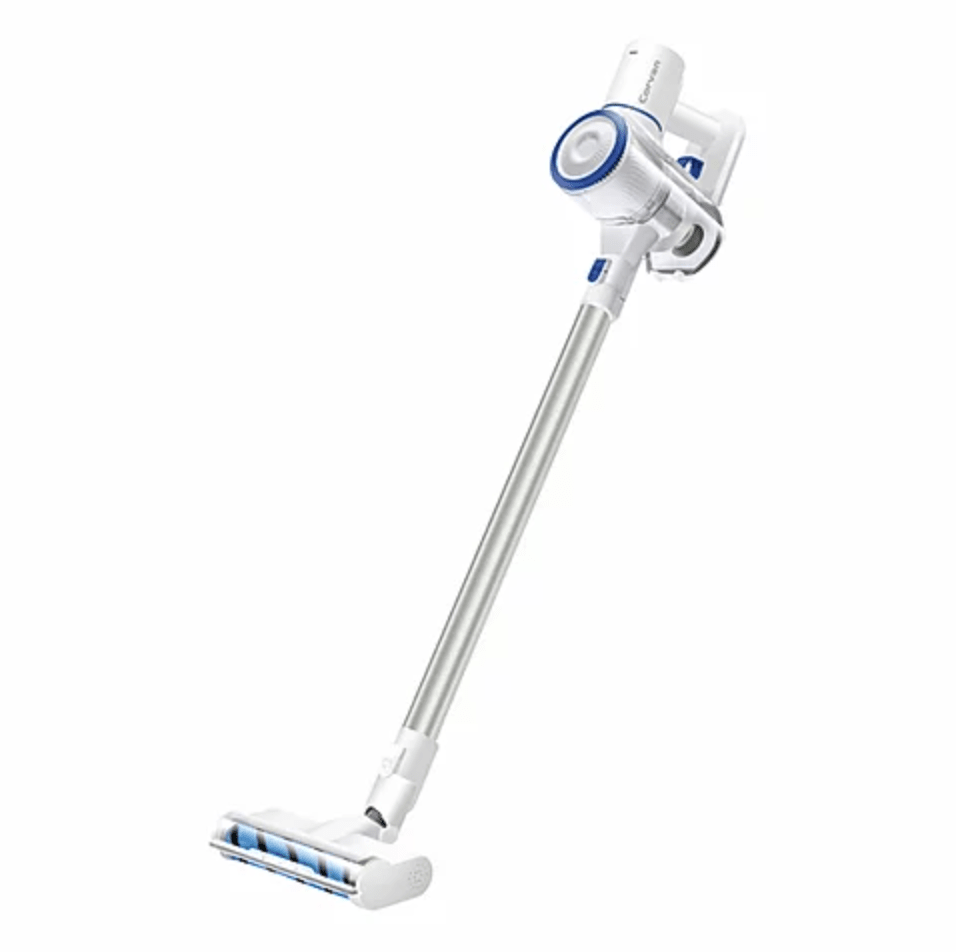 Check Corvan Cordless Anti-tangle Vacuum Cleaner price below:
add_circle
1 press operation
add_circle
Extra high reach
add_circle
Has a HEPA filter
add_circle
Charges faster than other vacuum cleaners
remove_circle
Does not work as a mop
remove_circle
Slightly short battery life
Corvan is a reliable manufacturer of household items. The Corvan Cordless Anti-Tangle Vacuum Cleaner is lightweight, yet powerful. Not only does it make it easy to vacuum under furniture thanks to its LED light, but the 65cm extension rod allows for extra high reach. It makes vacuuming less of a chore.
Overview:
We get how uncomfortable it can be to move around a heavy vacuum cleaner when you're cleaning the house, even a cordless one. So how would you feel about a lighter cordless vacuum that weighs just 1.4 kg? The Corvan Cordless Vacuum will make your cleaning experience more pleasant.
With an ergonomic handle to comfortably hold during cleaning, the vacuum is also designed with a 1-press operation so you won't need to constantly hold down the trigger while vacuuming. Its lightweight design doesn't diminish its power and efficiency in any way.
This vacuum is designed with a 3- stage HEPA filtration system, 2 types of modes for cleaning, and strong suction power.
Key Features:
One button operation - Single press to release bin

Ultra Strong Suction - Pick up small debris while being gentle on the floor surface

Ultra-lightweight - 15% lighter than most stick vacuums

Washable HEPA Filters
Performance:
Users have sung high praises for this vacuum. It is indeed quiet, and efficient -- running up to 40 minutes on Normal mode.
Suction power: 105W

Noise: 65dB

Working time: 40 minutes
Promising Review:
"First time using this product. The performance is excellent. After my hubby (vacuumed) the floor, it was so shiny just like after mopping. He's loving it. Great product and recommend to buy. It runs on 40 minutes under normal mode. Managed to complete 4 bed rooms." - Lydia.H
---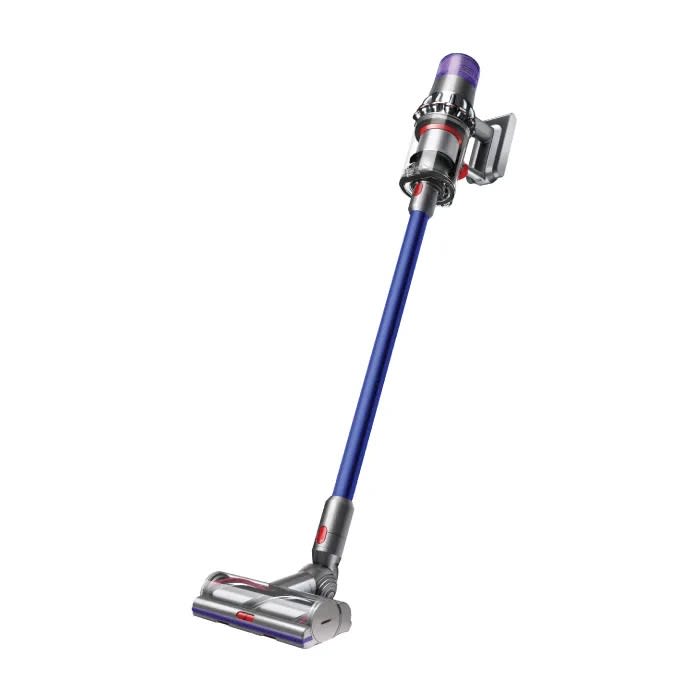 Check Dyson V11 Absolute Plus price below:
add_circle
Up to 60 min of running time
add_circle
Powerful suction
add_circle
Has a boost mode for intensive cleaning
add_circle
Has an LCD screen to report performance in real-time
Undoubtedly one of the best premium and designed cordless vacuum cleaners, the Dyson V11 Absolute Vacuum Cleaner is powerfully built to satisfy all of your household cleaning needs.
Overview:
The Dyson V11 is equipped with Dynamic Load Sensory Technology that cleverly detects and chooses the right motor speed for a specific cleaning task. It also comes with a high torque cleaner head that adapts well onto any surface type such as hardwood and tiles.
Apart from boost mode, the eco mode runs for up to 60 minutes, allowing you to clean larger spaces without having to charge it in between. When the battery is running low, the wall-mounted charging dock serves as a port for you to store and charge it when it's not in use.
Key Features:
Quick-release tool to empty bin

Soft roller head that's suitable for many types of floors

6 detachable head tools - for dust, dirt etc.

Up to 60 minutes of operation

Intelligently optimises cleaning and run time
Performance:
Users find it highly convenient as they can 'point and shoot' the dust compartment to the nearest bin without having to touch it at all when they're done cleaning!
Suction power: 185W

Noise: 70-78dB ( Eco-Boost Mode)

Working time: 60 minutes
Promising Review:
"The vac is solidly built. Good for arm n wrist workout. Follow Dyson video advertisement, u will find how easy to use it. Cheapo brand aren't come close to this real deal. Suction r powerful!!" KH.W
---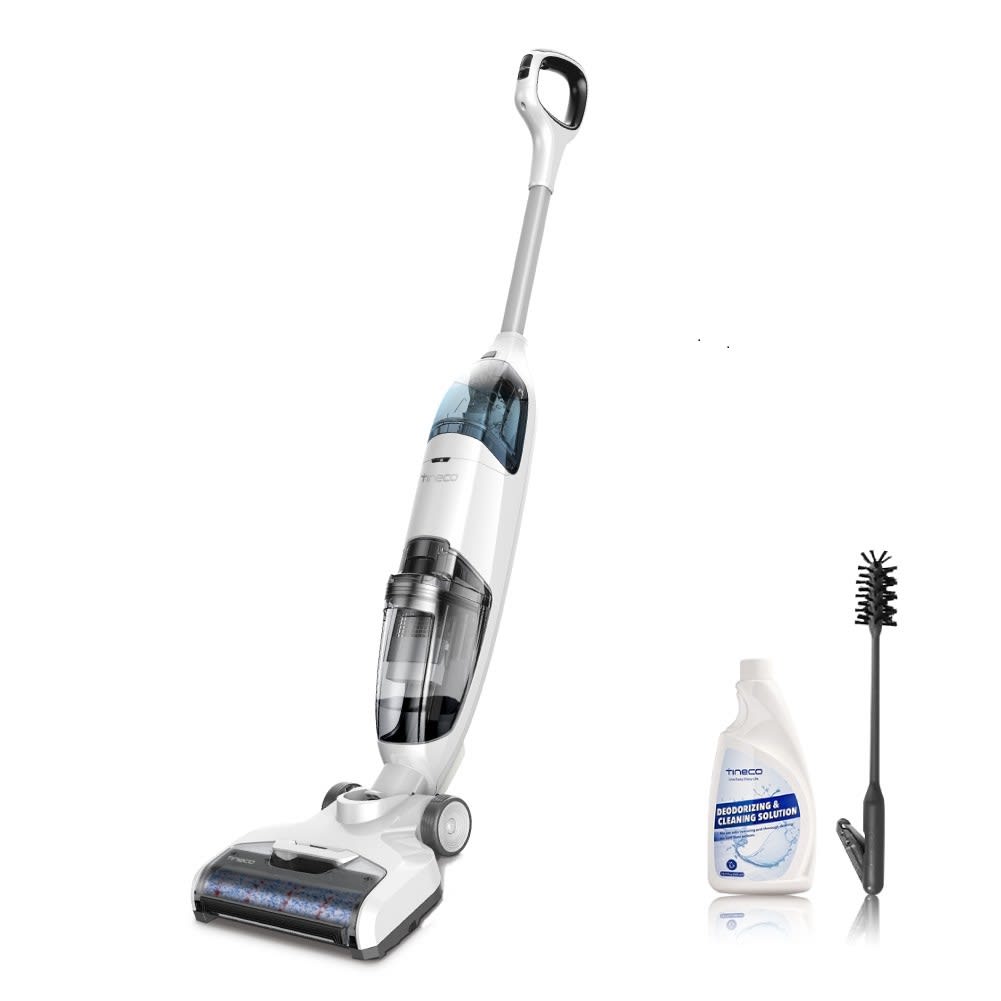 Check Tineco iFloor Cordless Wet Dry Vacuum Cleaner price below:
add_circle
Very efficient in quick cleaning with dual-feature
add_circle
Has a self-cleaning function
add_circle
Said to be less noisy than the average vacuum cleaner
remove_circle
A little pricey
remove_circle
Short cleaning time
remove_circle
Not suitable for heavy-duty cleaning
Vacuuming and mopping have never been easier with the Tineco iFloor Cordless Wet Dry Vacuum Cleaner. Especially when you're in a hurry, it saves you time and effort as you can do both at once.
Overview:
With a function that allows for simultaneous vacuuming and washing, it is able to capture the dust of large particles and clean up liquid spills. The vacuum cleaner's usefulness is more evident when it comes to big houses as its cordless and lightweight design makes it easy to manoeuvre.
Additionally, the vacuum has a self-cleaning function so you don't have to worry about cleaning the bin capacity often!
Key Features:
Wash and vacuum floors in one step with dual-tank technology incorporated

Up to 22 minutes of uninterrupted cleaning

Hands-free self-cleaning cycle
Best on sealed hard floors for optimum performance (hardwood, vinyl, laminate, linoleum, tile, marble, etc.)
Performance:
The dual design makes it very easy to clean with for most users. Cleaning chores have also been much easier to complete.
Suction power: 8.5 W

Noise: 82 dB

Working time: 22 minutes
Promising Review:
"Bought on lazada birthday. Tested with soy sauce, surprised me without sticky leftover. Really out of my expectations, save lot of time on cleaning. I recommend this to someone who being lazy like me or need more spare time on weekend to enjoy with friend & family." - Joseph T.
---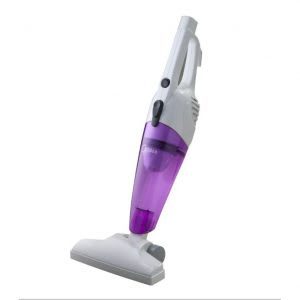 Check Midea Handheld Vacuum Cleaner MVC-SC861B price below:
add_circle
Transparent HEPA filter
add_circle
Travel-friendly
remove_circle
Not for heavy duty cleaning
With over 10,000 reviews on Lazada Malaysia, it's no surprise why the Midea Handheld Vacuum Cleaner MVC-SC861B is highly popular. This vacuum cleaner is a steal for its many functions.
Overview:
With a transparent HEPA filter that allows you to see how much dirt and debris that the vacuum cleaner picks up, its double design makes it easy for one to use it in stick option and clean the floor or in handheld to clean the sofa and mattress. Plus, its detachable dust cup makes it easy to clean the bin too.
Key Features:
2-in-1 versatile design (small handheld and stick design)
Silent operation technology
Design is suitable for off-the-floor items such as curtains, couches and shelves etc.
Performance:
Evidently a common top choice among many Malaysians, most find the vacuum to be compactly built, making it easy to pack away to anywhere!
Suction power: 600W

Noise: 69dB

Working time: n/a
Performance Review:
"It functions well and i am totally in love with it. It has a good suction for a vacuum prices under rm80. 00. For people who wants to buy a budget vacuum, i would totally recommend you guys to buy this." - Nurul N.
---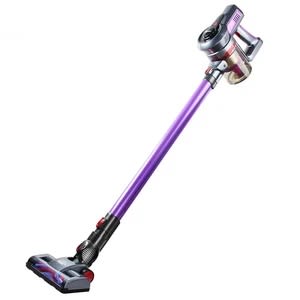 Check Airbot iRoom Cordless Vacuum Cleaner price below:
add_circle
Dual speed control
add_circle
2 suction pressure levels -- Eco and Turbo
add_circle
Washable stainless steel filter and HEPA filter
Why settle for a mediocre vacuum cleaner when you can get your hands on this powerful beauty? The Airbot iRoom Cordless Vacuum Cleaner is great value for money.
Overview:
This vacuum has two operating modes; a high spin for a thorough cleaning throughout the whole house and into even the tightest spaces, and a low spin for say, a daily quick cleanup. Able to be used up to 45 minutes without any interruption, this one also has quick a strong suction pressure, rated at 19kPa.
Key Features:
Operates with a 360° Suction Nozzle

Lightweight and ergonomic design for easy cleaning

Whirlwind cyclone force

One-button bin release feature

Removable battery for ease of maintenance
Performance:
Weighing just 2 kg, like all Airbot products, this one is also well-made in quality, adding to the fact that users trust it to last for years.
Suction power: 150W

Noise: n/a

Working time: 30 minutes
Promising Review:
"I love it! I didn't expect the quality is this good. The vacuum cleaner feels sturdy, most of the body is made from metal with beautiful color. Charging takes few hours and using it is also easy. I've recommended this product to a few friends (already). Good buy!" - Hariri A.
---
More: Best Vacuum Cleaners That Are Highly Rated - For Different Uses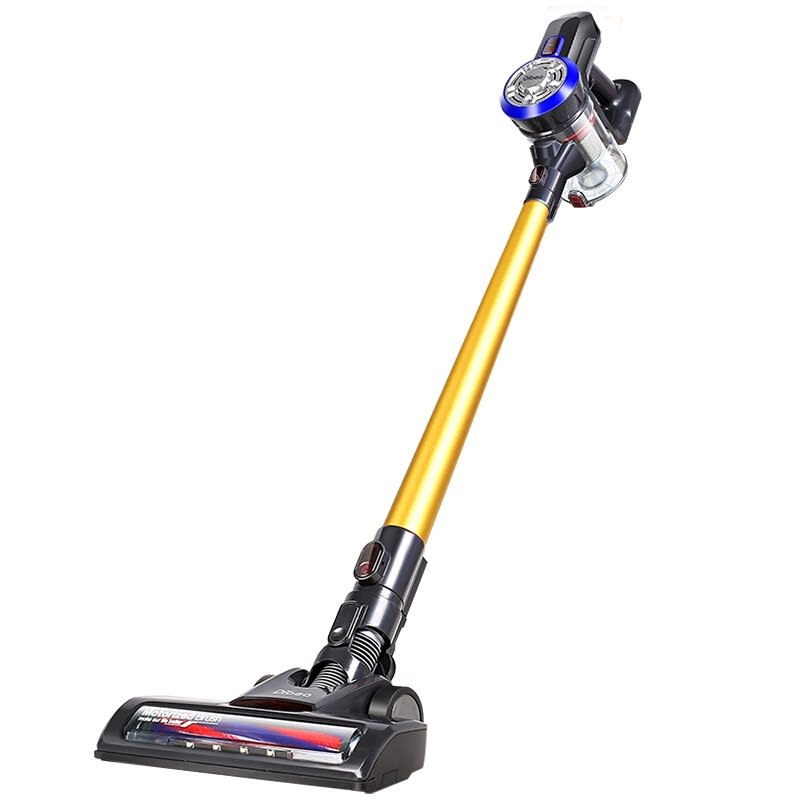 Check Dibea D18 Cordless Vacuum Cleaner price below:
add_circle
Perfect for larger homes
add_circle
Has a large dust bucket
remove_circle
No HEPA filter
Dibea is no stranger in the Malaysian market. The Dibea D18 Cordless Vacuum Cleaner Handheld Stick works well for usual vacuuming.
Overview:
A cheaper option, it is lightweight and has great battery life. Cheaper than the rest, it is good value for your money; equipped with 3 essential brush heads catered for every type of cleaning. There's even one with LED lights that's ideal for cleaning dark areas.
Also equipped with a larger dust bucket, the vacuum is good and reliable to eliminate dirt and debris.
Key Features:
Wide floor brush with LED lighting lights - great for reaching darker corners, coupled with a flexible design that's practical and easy to use

Utilises cotton material for filter bag to ensure a durable and easy-to-clean vacuum

Incorporates a stainless steel mesh with a fine-filtering function

Multi-stage cyclone separation system

Suitable for cleaning wooden floors, carpet, tile floors, car, bed, etc.
Performance:
This is a recommended buy for those who are new to cordless vacuums. The only setback of this model is that it does not come with a HEPA filter.
Suction power: 120W

Noise: 75dB

Working time: 45 minutes (standard mode)
Promising Review:
"Recommended cordless vacuum like this(convenience). The power speed overall is great and i realized that the light part on power brush is important(good design). Just that it need to take 5 hours to fully charge." - KONG. C
---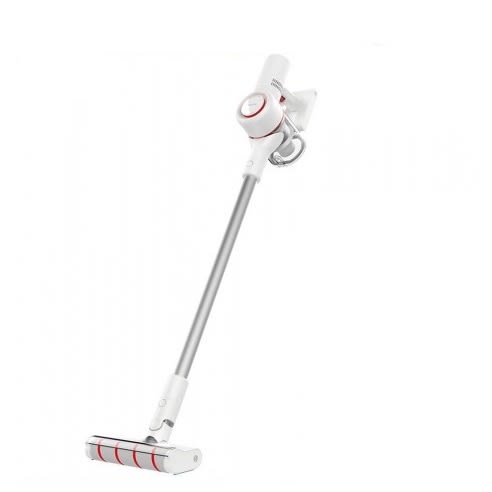 Check Dreame V9P Handheld Cordless Vacuum Cleaner price below:
add_circle
Able to capture hair from carpets
add_circle
Comes with multiple brush heads
add_circle
Contains a five-fold filtration system
add_circle
Works well on soft materials such as sofas and mattresses
add_circle
Multiple speed modes
remove_circle
Long charging hours ( 5 hours )
remove_circle
Small dust capacity
Having pets can be a delight but when they start to shed and there's fur all over the sofa, carpet and even the bed, a powerful vacuum comes in handy for cleaning it.
Overview:
With a high suction power of 120W and a high speed brushless digital motor with multiple cyclone separators, the Dreame V9 vacuum works to pick up dust and hair debris efficiently. Featuring a nice sleek white exterior, it contains a five-fold filtration system, with the last layer being a HEPA filter to filter small particles.
Key Features:
Five-stage filtering for cleaning efficiency

Lightweight at 1.2kg

Cyclone separator (for dirt collected into the bin)

Has air-cooling system to keep vacuum comfortable to use

Utilises Anti-mite brush
Performance:
Good value for money, users were fascinated with the fact that it works well to remove the hair stuck in the thickest carpets!
Suction power: 20,000Pa

Noise: 78dB

Working time: 60 minutes
Promising Review:
"Definitely like the weight of vacuum. Not that heavy! Love the brush as it will not easily stuck with hairs. I tried R****** T*****'s vacuum, although it is much cheaper compared to this but there are many cons too. Paid higher price for greater quality :)" - Shopee User
---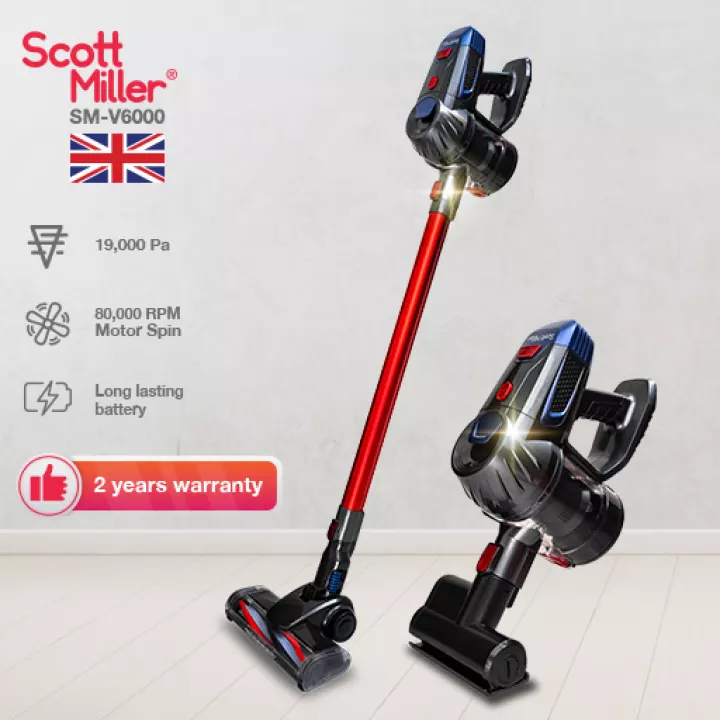 Check Scott Miller Cordless Vacuum Cleaner SM-V6000 price below:
add_circle
Powerful suction
add_circle
Multifunctional interchangeable brush heads
A good vacuum cleaner can really help ease your allergies. This one by Scott Miller is worth your consideration.
Overview:
This vacuum has 2 cleaning modes; Eco mode and Turbo cleaning for deep cleaning. Running on a DC motor with 80000 RPM spin, its HEPA filtration eliminates up to 99.7% of particles. Weighing just 1.9kg, it's easy to manoeuvre.
Equipped with 4 multi-functional brush heads, you can switch between them to suit your different cleaning needs. Apart from the fact that it's versatile, the deep cleaning motorised mite brush in particular is effective for deep cleaning your mattress and fabric. This is useful for removing allergens such as pet dander, pollen, and mold spores. Do note that this brush is sold separately on Shopee.
Key Features:
Utilises a motorised floor brush - great for hard flooring and carpet flooring to eliminate dust and stubborn dirt.
Comes with 4 multi-functional brush heads - Motorised floor brush, deep cleaning motorised mite brush, soft brush and crevice tool
Lightweight design at 1.9kg and can clean up to 180 meters square on a single charge
Performance:
According to users, it has got good suction power even when on Eco mode. This is an affordable and effective cleaning tool.
Suction power: 19,000Pa
Noise: 60dB in Eco mode
Working time: Up to 45 minutes in Eco mode
Promising Review:
"THIS VACUUM IS EXCELLENT. It's so powerful and so easy to use. Used it to vacuum all my carpets/ fabric sofa and everything is now super clean. The light feature is so helpful, helps you spot every speck of dust. wish I bought it earlier! Love that it's chargeable and cordless." - Lazada User
---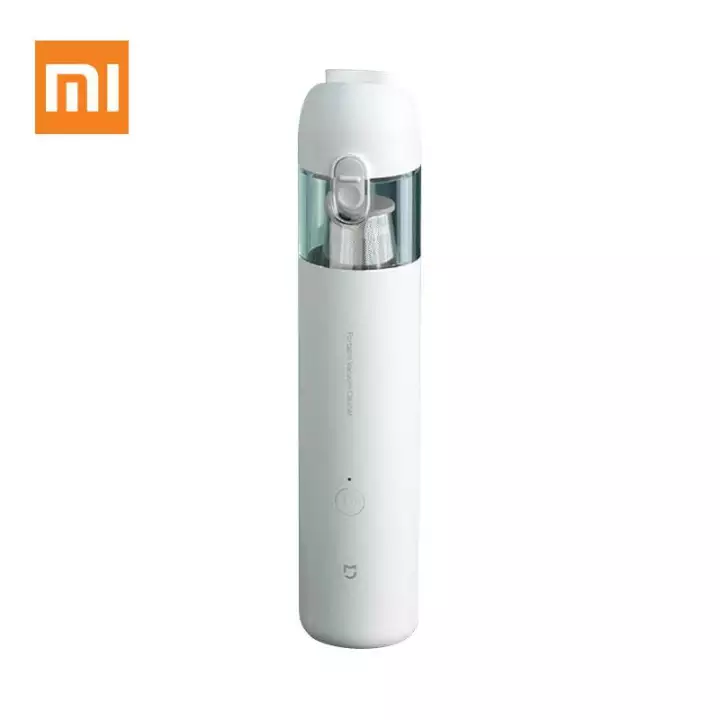 Check Xiaomi Mijia Mi Portable Vacuum Cleaner price below:
add_circle
One-button dust removal
add_circle
2 suction modes
add_circle
Dual filtration
remove_circle
Heats up easily
Cordless vacuums are a Godsent for cleaning up spaces that aren't near a power unit, say a car. The Xiaomi Mijia is one such cordless handheld vacuum that's ideal for vacuuming cars.
Overview:
Thanks to its lightweight design, it is easy to hold, with its main body weighing just 0.5kg. The brushless motors and air ducts make it more energy-efficient and effective. The built-in HEPA high-efficiency filter along with the primary steel mesh filter ensures more than 99.5% filtration efficiency.
Besides, it is also great to be used to clean your keyboard or desktop too.
Key Features:
Very slim build for portability purposes - slimmer than a vacuum flask!
Uses a brushless motor with strong power, coupled with double air ducts for efficient cleaning.
One-button dust dumping - convenient for hands-free
Removeable primary filter steel mesh - for separating large dust particles
Performance:
Given its size and price, its quality and performance are pretty good. Some users reported that it feels a little warm when in use.
Suction power: 13,000Pa
Noise: -
Working time: Low-end: 30 minutes, High-end: 9 minutes
Promising Review:
"Look elegant, size just nice to bring around, feel satisfying snacking up the dusk from racks and small items. Drawback is container not big, need to clear it from time to time. High suction a bit loud but standard suction would do most of the jobs." - Heng K.
---
---
Tips for choosing a cordless vacuum cleaner
Here are some factors to take into consideration when choosing a cordless vacuum cleaner.
A good cordless vacuum cleaner should be able to work for at least 30- 40 minutes straight on low suction mode. Smaller vacuums correspond with shorter operation periods.
Many people fail to realise that with the lack of built-in filters, dust particles may escape from the vacuum. If this happens, it'll make no difference the whole room will be covered with microparticles again after cleaning. Thus, it's best to look for one that has a HEPA filter. It's especially helpful for those who suffer from bad allergies.
Cordless or stick vacuum cleaners are preferable as they are usually ergonomically designed, making it easy to reach tight spots around your house. Plus, you won't need to worry about a cord tailing after you and tripping over it!
---
Related articles: