Ever wondered if cleaning with cordless vs handheld vacuums like the Dyson really helps to give you cleaner floors easily? A good cordless vacuum cleaner is a useful addition to any household cleaning arsenal. These lightweight vacuums can be converted into handheld ones. Best of all, it certainly will not trip you as corded vacuum cleaners do. 
Offering flexibility and convenience, cordless vacuum cleaners have incredible battery life too and often come with good dust detection & pickup. Even if you've found a good review about the Shark Rocket vacuum on Amazon, you may be surprised to learn that a budget-branded vacuum on Shopee Malaysia does just as well too.
From brands like Tineco to Miele; we've listed the best cordless vacuum cleaners in Malaysia overall here.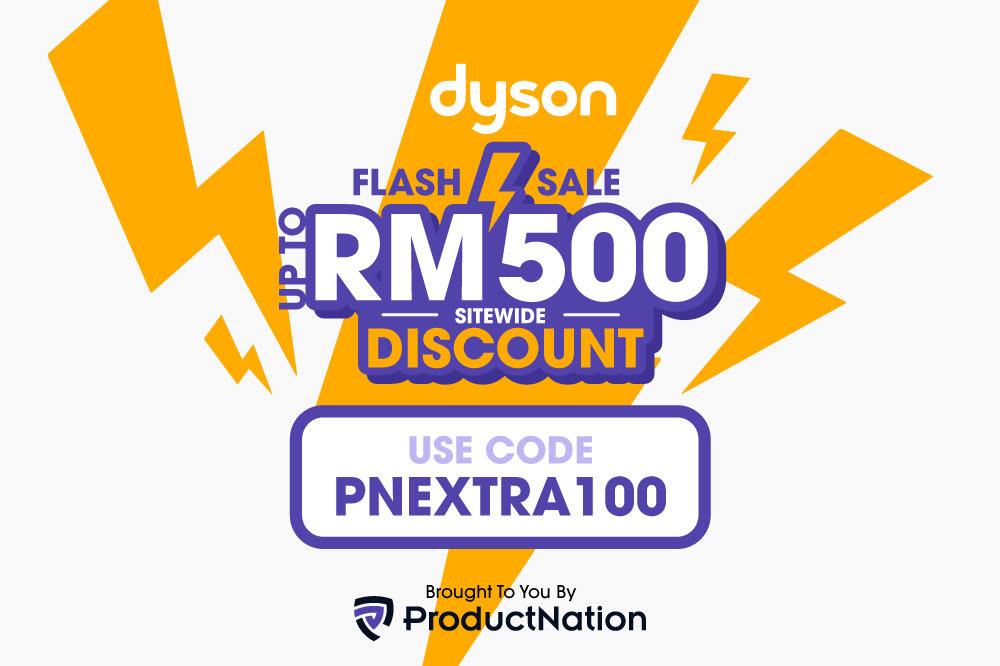 ALERT: Up To RM500 OFF - Dyson Malaysia Sale Sitewide
Always wanted a high-quality Dyson vacuum or air purifier? Dyson Malaysia is having a sitewide flash sale with up to a total savings of RM500! Make sure to checkout with our promo code below:
Promo code:

PNEXTRA100

Use promo code at checkout
Useable on Dyson Malaysia Official Website only
Valid from 26 – 30 September 2022
---
Best Cordless Vacuum Cleaners In Malaysia 2022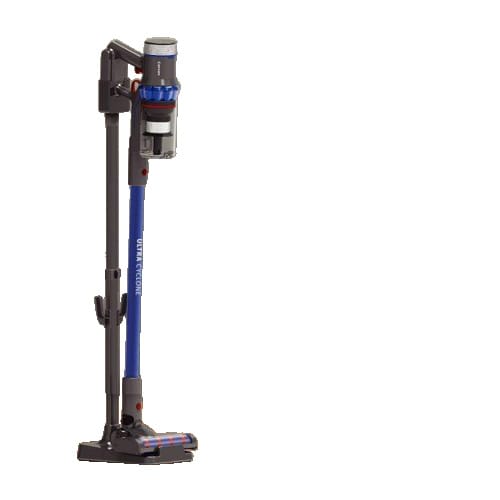 Check Corvan K18 Vacuum & Mop price below:
If you're still lugging around a heavy vacuum cleaner with limited reach to clean your home, it's time to consider investing in a cordless vacuum cleaner. Not only are these appliances lighter and more powerful, but some (if not most) are even multifunctional.
The Corvan K18 is a good example of one such multifunctional vacuum cleaner that also doubles as an electric spin mop with water dispensing automatically.  
Overview:
This sleek vacuum-mop combo features an ultra-strong suction at 201AW, making floor cleaning more satisfying and quicker to complete. To add, its high brightness LED headlight also makes it convenient for vacuuming and mopping in dark areas such as under furniture and hard-to-reach places.
Weighing in at only 1.5kg, the super lightweight and 1-press operated Corvan K18 makes it easy for you to clean without tiring out quickly. Its long runtime of up to 50 minutes is suitable for a big house (say, a double-storey house). Plus, the ability to mop and vacuum at the same time means you can cut the time spent on your floor cleaning by half. 
If you're prone to allergies, the appliance's 6-stage air purifier grade H12 HEPA filter allows you and your loved ones to breathe cleaner air while cleaning as all the allergens and dirt stays in the dirt bin. Additionally, its sealed Ultra Cyclone removes fine dust from clean air 15 times more efficiently than a normal cyclone, saving you 93% time on cleaning your filters.
Details & Highlights:
Ultra-strong suction at 201AW (air watts) 

Comes with an auto-charging stand

Digital touch screen control panel to change suction levels

Ability to mop and vacuum simultaneously

6-stage sealed filtration for fresh air while cleaning 

Ultra Cyclone expels 20x more dust and reduces maintenance by 15x

Lightweight at only 1.5kg

Runtime of up to 50 minutes, with additional battery option available for extended runtime

Comes with anti-tangle brush, bed tool, crevice tool and 2-in-1 dusting tool

Equipped with a high-brightness LED headlight

5 years warranty for vacuum turbine, 1-year warranty for body and battery
Testimonies:
As one of the top home appliances brands on Malaysian shopping websites Shopee and Lazada, users find that the K18 is one of the most value-for-money purchases they've made. Most users rave about its ease of use, lightweight design, effective mopping, and strong suction.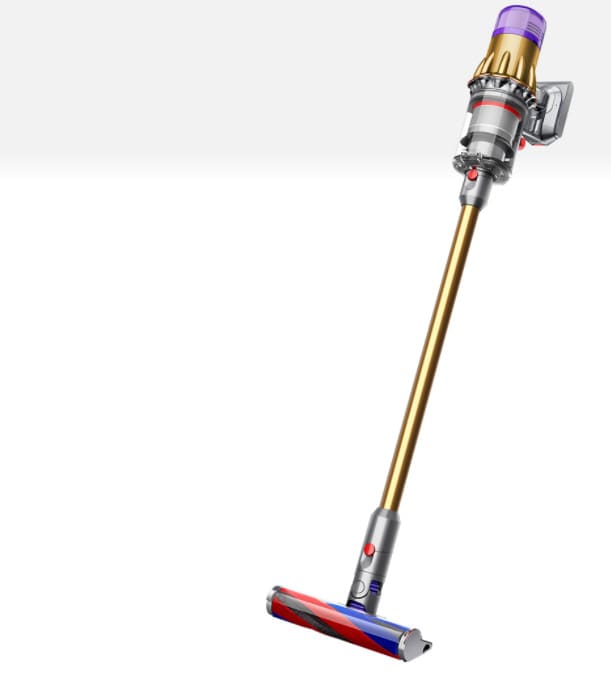 Check Dyson Digital Slim™ Fluffy Pro vacuum (Gold/Iron) price below:
add_circle
Intelligent real-time reports
add_circle
Advanced, whole machine filtration
add_circle
Comes with multiple tools for different cleaning tasks
add_circle
Made from high-tensile ABS for strength and lightness
add_circle
Slim Fluffy™ cleaner head is now 40% smaller and lighter
BONUS: Extra RM100 OFF Dyson Flash Sale
Enjoy a total savings of RM500 when you shop with Dyson Malaysia! Make sure to checkout with our promo code below:
Promo code: PNEXTRA100
Use promo code at checkout
Useable on Dyson Malaysia Official Website only
Valid from 26 – 30 September 2022
Overview:
A powerful 3-in-1 cleaning tool, the Dyson Digital Slim™ is a stick vacuum that can be transformed into a handheld one, allowing you to complete various cleaning tasks with just one device. Its versatility makes it a good investment in the long run. 
Weighing 1.9kg, it's 30% lighter than the Dyson V11™. Its Slim Fluffy™ cleaner head can capture large debris with soft woven nylon, and sweep fine particles from hard floors thanks to the black anti-static carbon fire filaments. In addition, it comes with a crevice tool with LED lights, for easy cleaning of dark spaces.
Though lightweight, don't underestimate its power. Equipped with a Dyson Hyperdymium™ motor, it spins at up to 120,000rpm to generate 100 Air Watts of powerful suction. Its 11 scrolled cyclones are designed to remove fine dust and dirt from the airflow.  On top of that, the Dyson Digital Slim™ has a 5-layer filtration system that captures dust and allergens. 
In terms of battery, this vacuum has up to 40 minutes of run time which puts it at the top of the spectrum as the average battery life of vacuums is between 15-40 minutes, though there may be outliers that can push a little longer than that. Further, the 3.5 hour charge time isn't really a concern as you just have to leave it at the wall dock while it charges.
Key features of the Dyson Digital Slim™ Fluffy Pro vacuum (Gold/Iron):
Smooth bin emptying - The ejection mechanism with rotary catch enables no contact emptying of the bin 
Easy maintenance - The components can be easily washed and wiped to keep them clean
Removable battery -  Battery can be replaced with an additional click-in one(sold separately) to instantly double the run time
The difference between the Gold/Iron variant and the Purple/Iron colourway is that the former is a direct exclusive to the Dyson Demo store and www.dyson.my, and it includes an additional floor dock.
Promising Review:
"We've been using the Fluffy Extra for some time now and dare we say, it's one of the best in the market in terms of design, usability, and performance. Reasons: It's insanely light and compact; The design is to die for; Great for homes of any size and shape; Extremely powerful when necessary; Simple UI and maintenance." - Wi-Liam, Lifestyle Asia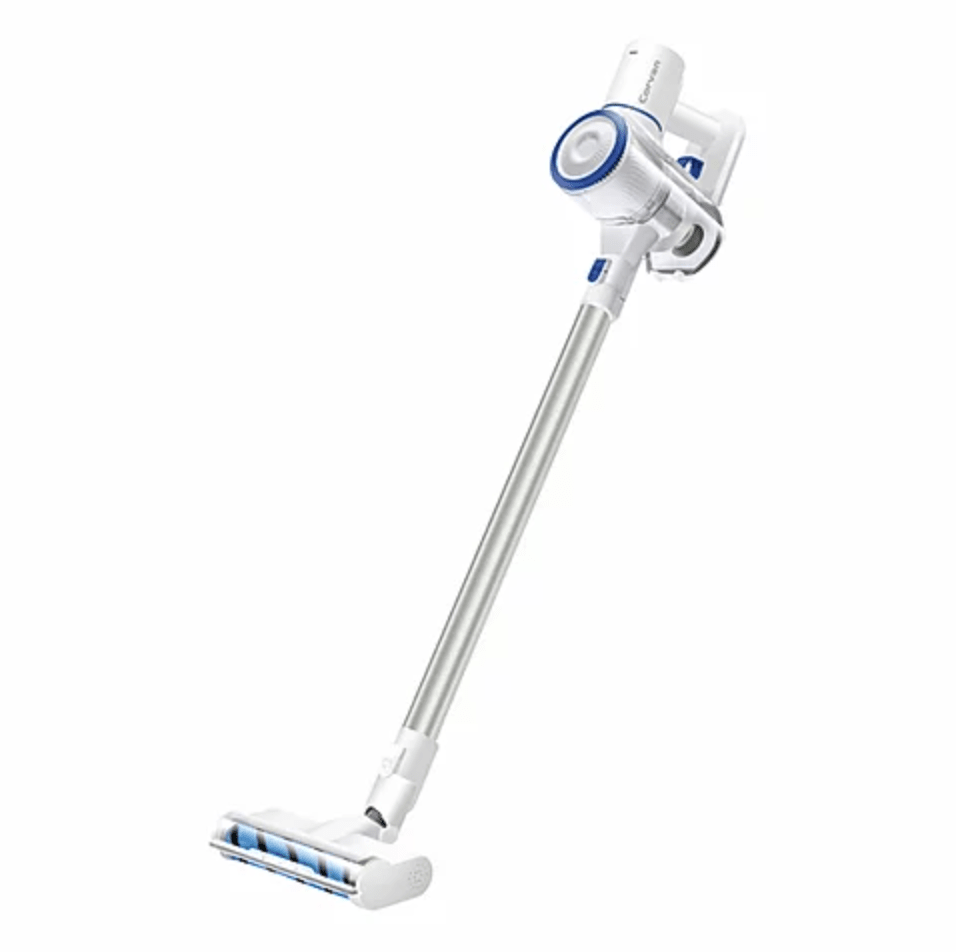 Check Corvan Cordless Anti-tangle Vacuum Cleaner price below:
add_circle
1 press operation
add_circle
Extra high reach
add_circle
Has a HEPA filter
add_circle
Charges faster than other vacuum cleaners
remove_circle
Does not work as a mop
remove_circle
Slightly short battery life
Corvan is a reliable manufacturer of household items. The Corvan Cordless Anti-Tangle Vacuum Cleaner is lightweight, yet powerful. Not only does it make it easy to vacuum under furniture thanks to its LED light, but the 65cm extension rod allows for extra high reach. It makes vacuuming less of a chore.
Overview:
We get how uncomfortable it can be to move around a heavy vacuum cleaner when you're cleaning the house, even a cordless one. So how would you feel about a lighter cordless vacuum that weighs just 1.4 kg? The Corvan Cordless Vacuum will make your cleaning experience more pleasant.
With an ergonomic handle to comfortably hold during cleaning, the vacuum is also designed with a 1-press operation so you won't need to constantly hold down the trigger while vacuuming. Its lightweight design doesn't diminish its power and efficiency in any way.
This vacuum is designed with a 3- stage HEPA filtration system, 2 types of modes for cleaning, and strong suction power.
Key Features:
One button operation - Single press to release bin

Ultra Strong Suction - Pick up small debris while being gentle on the floor surface

Ultra-lightweight - 15% lighter than most stick vacuums

Washable HEPA Filters
Performance:
Users have sung high praises for this vacuum. It is indeed quiet, and efficient -- running up to 40 minutes on Normal mode. 
Suction power: 105W

Noise: 65dB

Working time: 40 minutes
Promising Review:
"First time using this product. The performance is excellent. After my hubby (vacuumed) the floor, it was so shiny just like after mopping. He's loving it. Great product and recommend to buy. It runs on 40 minutes under normal mode. Managed to complete 4 bed rooms." - Lydia.H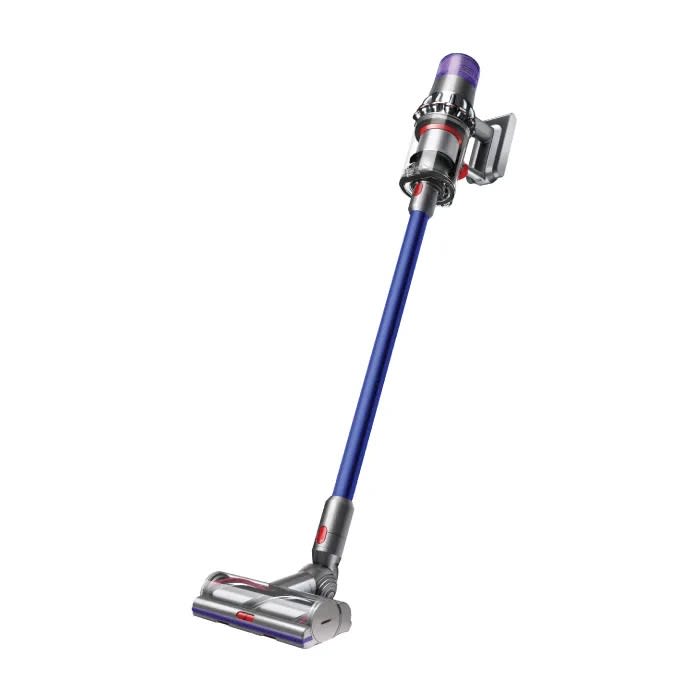 Check Dyson V11 Absolute Plus price below:
add_circle
Up to 60 min of running time
add_circle
Powerful suction
add_circle
Has a boost mode for intensive cleaning
add_circle
Has an LCD screen to report performance in real-time
BONUS: Extra RM100 OFF Dyson Flash Sale
Dyson Malaysia is having a sitewide flash sale with up to a total savings of RM500! Make sure to checkout with our promo code below:
Promo code: PNEXTRA100
Use promo code at checkout
Useable on Dyson Malaysia Official Website only
Valid from 26 – 30 September 2022
Overview:
The Dyson V11 is equipped with Dynamic Load Sensory Technology that cleverly detects and chooses the right motor speed for a specific cleaning task. It also comes with a high torque cleaner head that adapts well onto any surface type such as hardwood and tiles. 
Apart from boost mode, the eco mode runs for up to 60 minutes, allowing you to clean larger spaces without having to charge it in between. When the battery is running low, the wall-mounted charging dock serves as a port for you to store and charge it when it's not in use. 
Key Features:
Quick-release tool to empty bin

Soft roller head that's suitable for many types of floors

6 detachable head tools - for dust, dirt etc.

Up to 60 minutes of operation

Intelligently optimises cleaning and run time
Performance:
Users find it highly convenient as they can 'point and shoot' the dust compartment to the nearest bin without having to touch it at all when they're done cleaning!
Suction power: 185W

Noise: 70-78dB ( Eco-Boost Mode)

Working time: 60 minutes
Promising Review:
"The vac is solidly built. Good for arm n wrist workout. Follow Dyson video advertisement, u will find how easy to use it. Cheapo brand aren't come close to this real deal. Suction r powerful!!" KH.W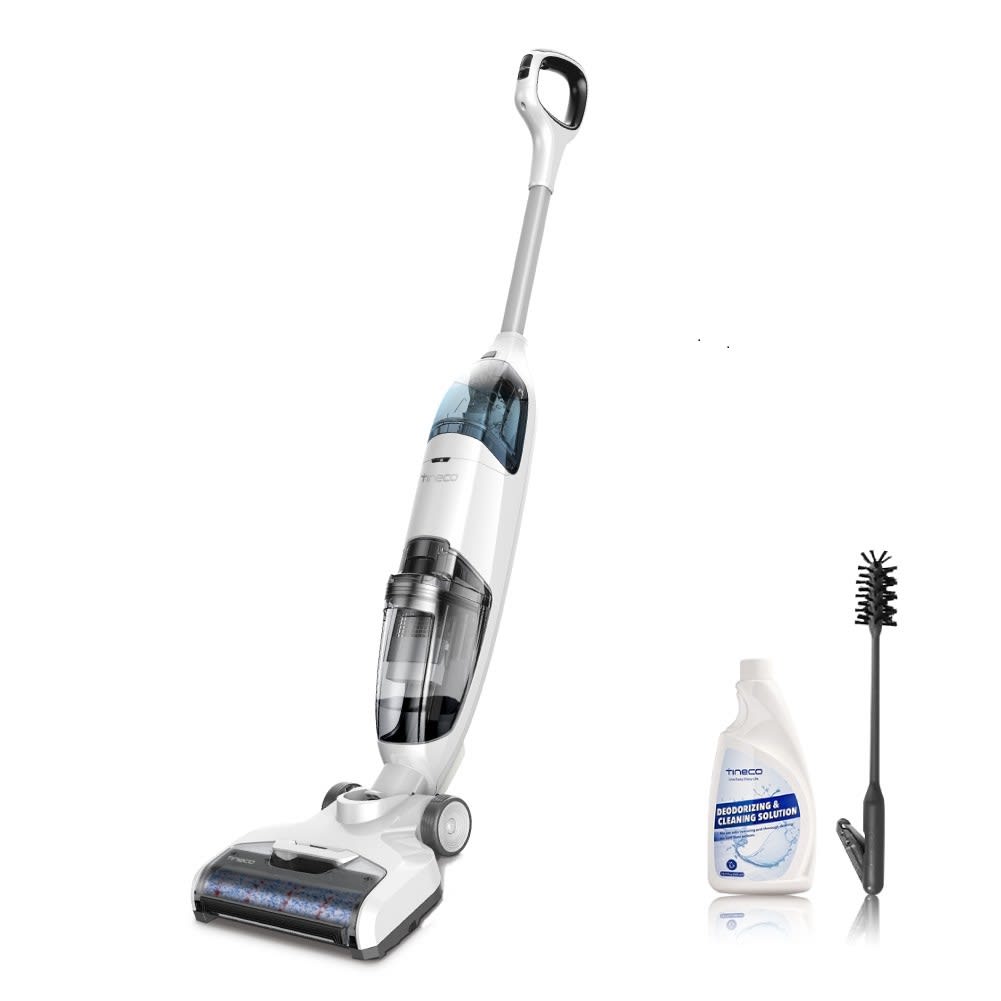 Check Tineco iFloor Cordless Wet Dry Vacuum Cleaner price below:
add_circle
Very efficient in quick cleaning with dual-feature
add_circle
Has a self-cleaning function
add_circle
Said to be less noisy than the average vacuum cleaner
remove_circle
A little pricey
remove_circle
Short cleaning time
remove_circle
Not suitable for heavy-duty cleaning
Vacuuming and mopping have never been easier with the Tineco iFloor Cordless Wet Dry Vacuum Cleaner. Especially when you're in a hurry, it saves you time and effort as you can do both at once.
Overview:
With a function that allows for simultaneous vacuuming and washing, it is able to capture the dust of large particles and clean up liquid spills. The vacuum cleaner's usefulness is more evident when it comes to big houses as its cordless and lightweight design makes it easy to manoeuvre. 
Additionally, the vacuum has a self-cleaning function so you don't have to worry about cleaning the bin capacity often!
Key Features:
Wash and vacuum floors in one step with dual-tank technology incorporated

Up to 22 minutes of uninterrupted cleaning

Hands-free self-cleaning cycle
Best on sealed hard floors for optimum performance (hardwood, vinyl, laminate, linoleum, tile, marble, etc.)
Performance:
The dual design makes it very easy to clean with for most users. Cleaning chores have also been much easier to complete. 
Suction power:  8.5 W

Noise: 82 dB

Working time: 22 minutes
Promising Review:
"Bought on lazada birthday. Tested with soy sauce, surprised me without sticky leftover. Really out of my expectations, save lot of time on cleaning. I recommend this to someone who being lazy like me or need more spare time on weekend to enjoy with friend & family." - Joseph T.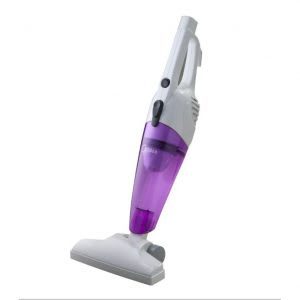 Check Midea Handheld Vacuum Cleaner MVC-SC861B price below:
add_circle
Transparent HEPA filter
add_circle
Travel-friendly
remove_circle
Not for heavy duty cleaning
With over 10,000 reviews on Lazada Malaysia, it's no surprise why the Midea Handheld Vacuum Cleaner MVC-SC861B is highly popular. This vacuum cleaner is a steal for its many functions.
Overview:
With a transparent HEPA filter that allows you to see how much dirt and debris that the vacuum cleaner picks up, its double design makes it easy for one to use it in stick option and clean the floor or in handheld to clean the sofa and mattress. Plus, its detachable dust cup makes it easy to clean the bin too. 
Key Features:
2-in-1 versatile design (small handheld and stick design)
Silent operation technology
Design is suitable for off-the-floor items such as curtains, couches and shelves etc.
Performance:
Evidently a common top choice among many Malaysians, most find the vacuum to be compactly built, making it easy to pack away to anywhere!
Suction power: 600W

Noise: 69dB

Working time: n/a
Performance Review:
"It functions well and i am totally in love with it. It has a good suction for a vacuum prices under rm80. 00. For people who wants to buy a budget vacuum, i would totally recommend you guys to buy this." - Nurul N.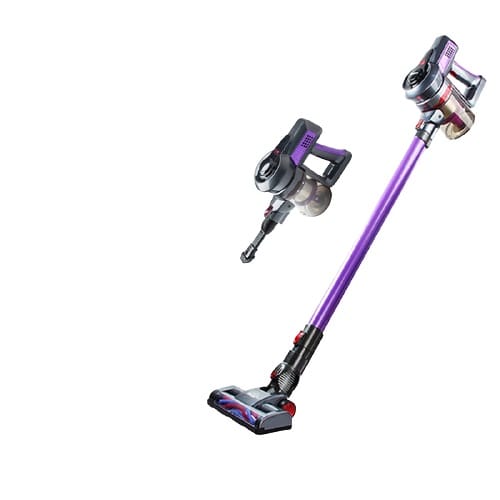 Check Airbot iRoom Cordless Vacuum Cleaner price below:
add_circle
Dual speed control
add_circle
2 suction pressure levels -- Eco and Turbo
add_circle
Washable stainless steel filter and HEPA filter
Why settle for a mediocre vacuum cleaner when you can get your hands on this powerful beauty? The Airbot iRoom Cordless Vacuum Cleaner is great value for money.
Overview:
This vacuum has two operating modes; a high spin for a thorough cleaning throughout the whole house and into even the tightest spaces, and a low spin for say, a daily quick cleanup. Able to be used up to 45 minutes without any interruption, this one also has quick a strong suction pressure, rated at 19kPa.
Key Features:
Operates with a 360° Suction Nozzle

Lightweight and ergonomic design for easy cleaning

Whirlwind cyclone force

One-button bin release feature

Removable battery for ease of maintenance
Performance:
Weighing just 2 kg, like all Airbot products, this one is also well-made in quality, adding to the fact that users trust it to last for years. 
Suction power: 150W

Noise: n/a

Working time: 30 minutes
Promising Review:
"I love it! I didn't expect the quality is this good. The vacuum cleaner feels sturdy, most of the body is made from metal with beautiful color. Charging takes few hours and using it is also easy. I've recommended this product to a few friends (already). Good buy!" - Hariri A.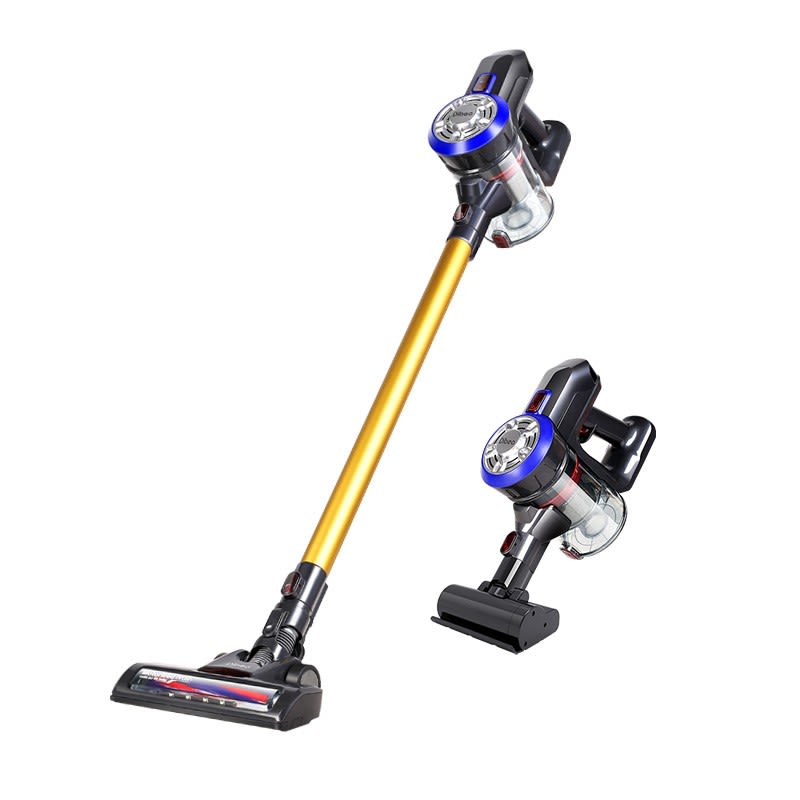 Check Dibea D18 Cordless Vacuum Cleaner price below:
add_circle
Perfect for larger homes
add_circle
Has a large dust bucket
remove_circle
No HEPA filter
Dibea is no stranger in the Malaysian market. The Dibea D18 Cordless Vacuum Cleaner Handheld Stick works well for usual vacuuming.
Overview:
A cheaper option, it is lightweight and has great battery life. Cheaper than the rest, it is good value for your money; equipped with 3 essential brush heads catered for every type of cleaning. There's even one with LED lights that's ideal for cleaning dark areas. 
Also equipped with a larger dust bucket, the vacuum is good and reliable to eliminate dirt and debris. 
Key Features:
Wide floor brush with LED lighting lights - great for reaching darker corners, coupled with a flexible design that's practical and easy to use

Utilises cotton material for filter bag to ensure a durable and easy-to-clean vacuum

Incorporates a stainless steel mesh with a fine-filtering function

Multi-stage cyclone separation system

Suitable for cleaning wooden floors, carpet, tile floors, car, bed, etc.
Performance:
This is a recommended buy for those who are new to cordless vacuums. The only setback of this model is that it does not come with a HEPA filter. 
Suction power: 120W

Noise: 75dB

Working time: 45 minutes (standard mode)
Promising Review:
"Recommended cordless vacuum like this(convenience). The power speed overall is great and i realized that the light part on power brush is important(good design). Just that it need to take 5 hours to fully charge." - KONG. C
Check Dreame V12 Pro Cordless Vacuum Cleaner price below:
add_circle
Has multiple accessories including an LED crevice for hard-to-see debris
add_circle
Good build quality for the price
add_circle
Great performance
It's inevitable; no matter what we do, we and our pets will shed a lot of hair and fur daily. So what can we do about it to get over the thought of fur on the sofa, carpet and even the bed? Your solution is a powerful vacuum like this one.
Overview:
Utilising a high suction power of 650W, a v-shape tunnel, comb-like teeth brush and a high-speed motor with auto-suction boost mode; the Dreame V12 Pro vacuum works to deep clean and pick up dust as well as hair debris whether it's on hard or carpeted flooring.
Aside from its slim yet air-tight structure, the vacuum contains a five-layer filtration system to filter out dust that poses a risk to allergic users. Best of all, it has an LED crevice to help you look out for fine hair (especially pet fur) that are hard to see on the floor.
Key Features:
Five-stage filtering for cleaning efficiency

Body weight at 1.6kg

500ml duct bin capacity

Utilises a carbon fibre rod for easy lifting and cleaning
Performance:
Being priced at a reasonable mid-range value, most users are very satisfied with not just its performance, but also its build which was comparable to other higher-end devices. Some did wish that the body weight could be lighter.
Suction power: 32,000PA 

Noise: N/A

Working time: 85 minutes
Promising Review:
"This vacuum cleaner is pretty light and the performance is superb, the result of cleaning is stunning, especially using the mini motorized bed brush to clean my bed and quilt." - Vincent K.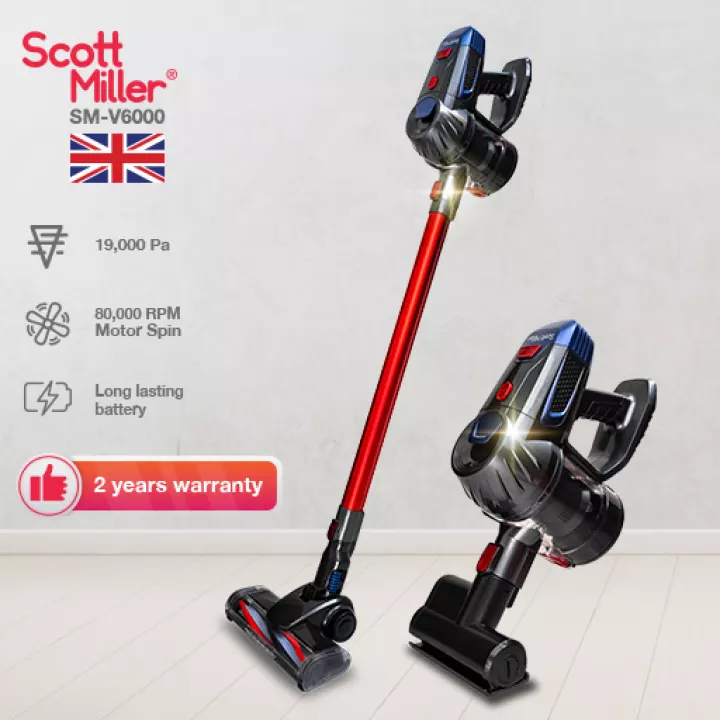 Check Scott Miller Cordless Vacuum Cleaner SM-V6000 price below:
add_circle
Powerful suction
add_circle
Multifunctional interchangeable brush heads
A good vacuum cleaner can really help ease your allergies. This one by Scott Miller is worth your consideration.
Overview:
This vacuum has 2 cleaning modes; Eco mode and Turbo cleaning for deep cleaning. Running on a DC motor with 80000 RPM spin, its HEPA filtration eliminates up to 99.7% of particles. Weighing just 1.9kg, it's easy to manoeuvre.
Equipped with 4 multi-functional brush heads, you can switch between them to suit your different cleaning needs. Apart from the fact that it's versatile, the deep cleaning motorised mite brush in particular is effective for deep cleaning your mattress and fabric. This is useful for removing allergens such as pet dander, pollen, and mold spores. Do note that this brush is sold separately on Shopee.
Key Features:
Utilises a motorised floor brush - great for hard flooring and carpet flooring to eliminate dust and stubborn dirt.
Comes with 4 multi-functional brush heads - Motorised floor brush, deep cleaning motorised mite brush, soft brush and crevice tool
Lightweight design at 1.9kg and can clean up to 180 meters square on a single charge
Performance:
According to users, it has got good suction power even when on Eco mode. This is an affordable and effective cleaning tool.
Suction power: 19,000Pa
Noise: 60dB in Eco mode
Working time: Up to 45 minutes in Eco mode
Promising Review:
"THIS VACUUM IS EXCELLENT. It's so powerful and so easy to use. Used it to vacuum all my carpets/ fabric sofa and everything is now super clean. The light feature is so helpful, helps you spot every speck of dust. wish I bought it earlier! Love that it's chargeable and cordless." - Lazada User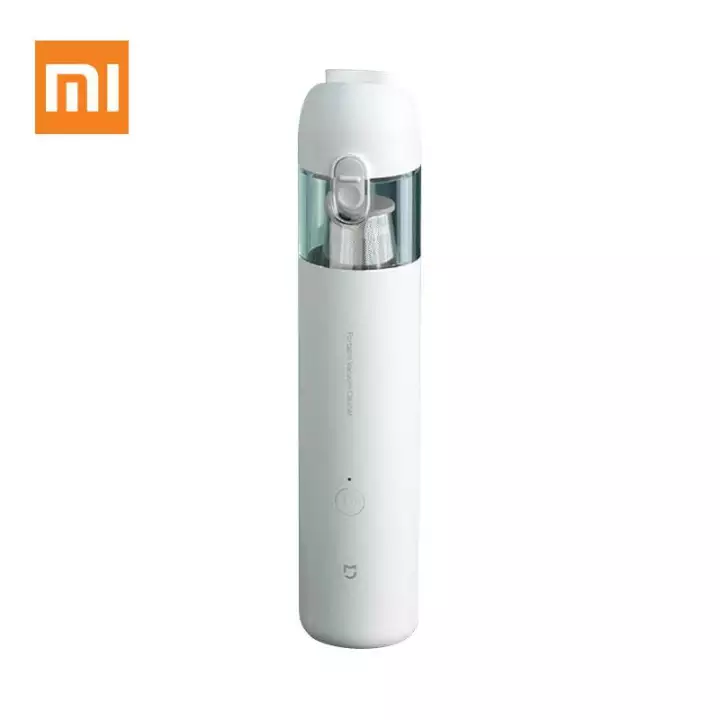 Check Xiaomi Mijia Mi Portable Vacuum Cleaner price below:
add_circle
One-button dust removal
add_circle
2 suction modes
add_circle
Dual filtration
remove_circle
Heats up easily
Cordless vacuums are a Godsent for cleaning up spaces that aren't near a power unit, say a car. The Xiaomi Mijia is one such cordless handheld vacuum that's ideal for vacuuming cars.
Overview:
Thanks to its lightweight design, it is easy to hold, with its main body weighing just 0.5kg. The brushless motors and air ducts make it more energy-efficient and effective. The built-in HEPA high-efficiency filter along with the primary steel mesh filter ensures more than 99.5% filtration efficiency.
Besides, it is also great to be used to clean your keyboard or desktop too.
Key Features:
Very slim build for portability purposes - slimmer than a vacuum flask!
Uses a brushless motor with strong power, coupled with double air ducts for efficient cleaning. 
One-button dust dumping - convenient for hands-free
Removeable primary filter steel mesh - for separating large dust particles
Performance:
Given its size and price, its quality and performance are pretty good. Some users reported that it feels a little warm when in use.
Suction power: 13,000Pa
Noise: -
Working time:  Low-end: 30 minutes, High-end: 9 minutes
Promising Review:
"Look elegant, size just nice to bring around, feel satisfying snacking up the dusk from racks and small items. Drawback is container not big, need to clear it from time to time. High suction a bit loud but standard suction would do most of the jobs." - Heng K.
Comparison Table for Best Cordless Vacuums in Malaysia
| | | | | | | | | | | | |
| --- | --- | --- | --- | --- | --- | --- | --- | --- | --- | --- | --- |
| Product Picture | | | | | | | | | | | |
| Product Name | Corvan K18 Vaccum & Mop | Dyson Digital Slim Fluffy Pro vacuum (Gold/Iron) | Corvan Cordless Anti-tangle Vacuum Cleaner | Dyson V11 Absolute Plus | Tineco iFloor Cordless Wet Dry Vacuum Cleaner | Midea Handheld Vacuum Cleaner MVC-SC861B | Airbot iRoom Cordless Vacuum Cleaner | Dibea D18 Vacuum Cleaner | Dreame V9 Handheld Cordless Vacuum Cleaner | Scott Miller Cordless Vacuum CLeaner SM-V6000 | Xiaomi Mijia Mi Portable Vacuum Cleaner |
| Specialty | n/a | n/a | Best lightweight cordless vacuum cleaner | Best rated cordless vacuum cleaner | Best wet and dry vacuum cleaner | Best budget cordless vacuum cleaner | Best value cordless vacuum cleaner | Best cordless upright vacuum cleaner | Best cordless vacuum for pet hair | Best anti-allergy cordless stick vacuum | Best cordless car vacuum |
| Suction Power | 201AW | 100AW | 115W | 185AW | 120W | 90AW | 120W | 120AW | 140AW | 150AW | 120W |
| Noise | n/a | 65db | 60db | 70db | 82db | 69db | 50db | 75db | 78db | 60db | n/a |
| Working Time | 50 minutes | 40 minutes | 40 minutes | 60 minutes | 22 minutes | n/a | 35 minutes | 45 minutes | 60 minutes | 45 minutes | 30 minutes |
| Dirtbin Capacity | 800ml | 300ml | 600ml | 540ml | 550ml | 500ml | 600ml | 550ml | 500ml | 800ml | n/a |
| Weight | 1.5kg | 1.9kg | 1.4kg | 2.95kg | 4kg | n/a | 1.5kg | 2.2kg | 1.2kg | 1.9kg | 0.5kg |
| Where to Buy | | | | | | | | | | | |
---
FAQ:
- Are Cordless Vacuums Worth Buying?
It's almost a given that vacuums offer better suction and clearing of dirt compared to sweeping the floor.
This is the biggest reason why today, with the speed of dust accumulating quite fast from external factors, a vacuum should be present at home. They are just great for clearing the likes of fine hair, suck up dirt from rugs and are also a fast solution to cleaning the floor in general.
The next question you may be wondering is why a cordless vacuum and not a regular one.
One easy reason is that they are much easier to start up and clean with right away. Cordless vacuums today generally have a charging dock for storage after every use and do not tether you to a wall when in use. Moreover, they are obviously much lighter to handle (though several notable models can be heavy too after a while).
TLDR: For daily maintenance or light cleaning, they are very handy as you don't need to keep them tethered to a wall, allowing you to quickly clean up anywhere and anytime at home.
---
- How to Buy a Cordless Vacuum Cleaner?
So you're interested in getting a cordless vacuum cleaner? Congratulations! They're one of the best cleaning tools you can invest in today, especially with how busy life can be. Looking at which one to buy doesn't need to be a scary ordeal, especially when you pay attention to the key features that make up a good cordless vacuum cleaner.
Here are features that you should look at when buying a cordless vacuum cleaner.
---
Suction Pressure/Power (Performance):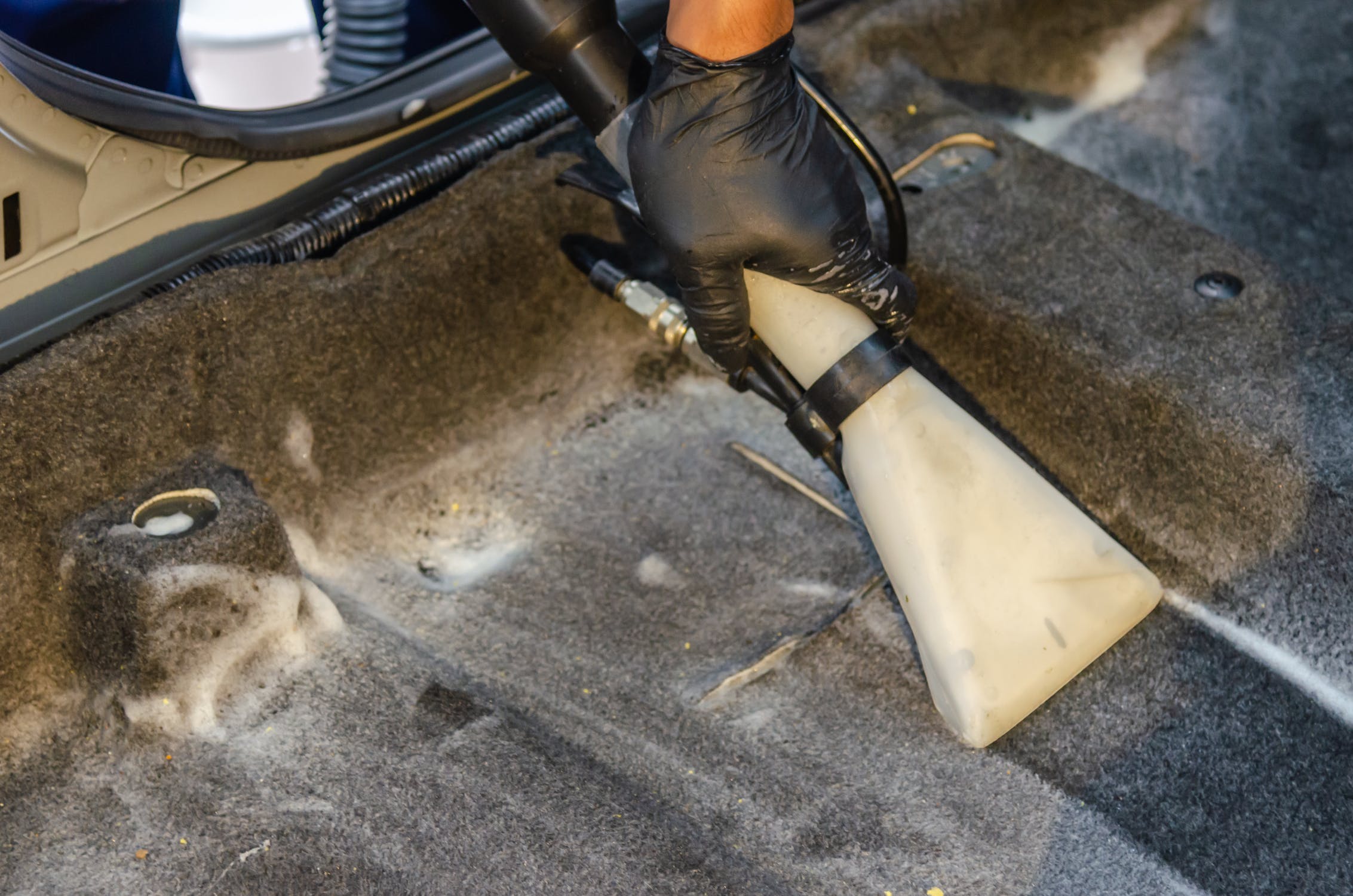 Just like most items, performance is key to being happy with your purchase. For an indication of how powerful a vacuum is, look for this measurement - 'kPa'. It literally means ' thousand Pascal'.
Simply put, this means the amount (or how much) of negative pressure the vacuum can cause to take in dirt and such. For your reference, many vacuums have at least a suction power of 20kPa (20,000 Pa). The higher the number, the easier it is to pick up dirt and debris. 
While kPa isn't the main aspect to look at, this unit is necessary if you want to clean up the likes of water and such, or heavier bigger items.
Key factors;-
The average vacuum suction power is 20kPa

Means the strength of negative pressure (suction) of the vacuum

Important for those who want to get a dry and wet vacuum
---
Cubic feet per meter (CFM) / Airflow:
"Measured in liters per second (l/s), cubic meters per minute (m3/min), or cubic feet per minute (ft3/m); airflow is the amount of air that flows through the vacuum at any given moment." - pickvacuumcleaner.com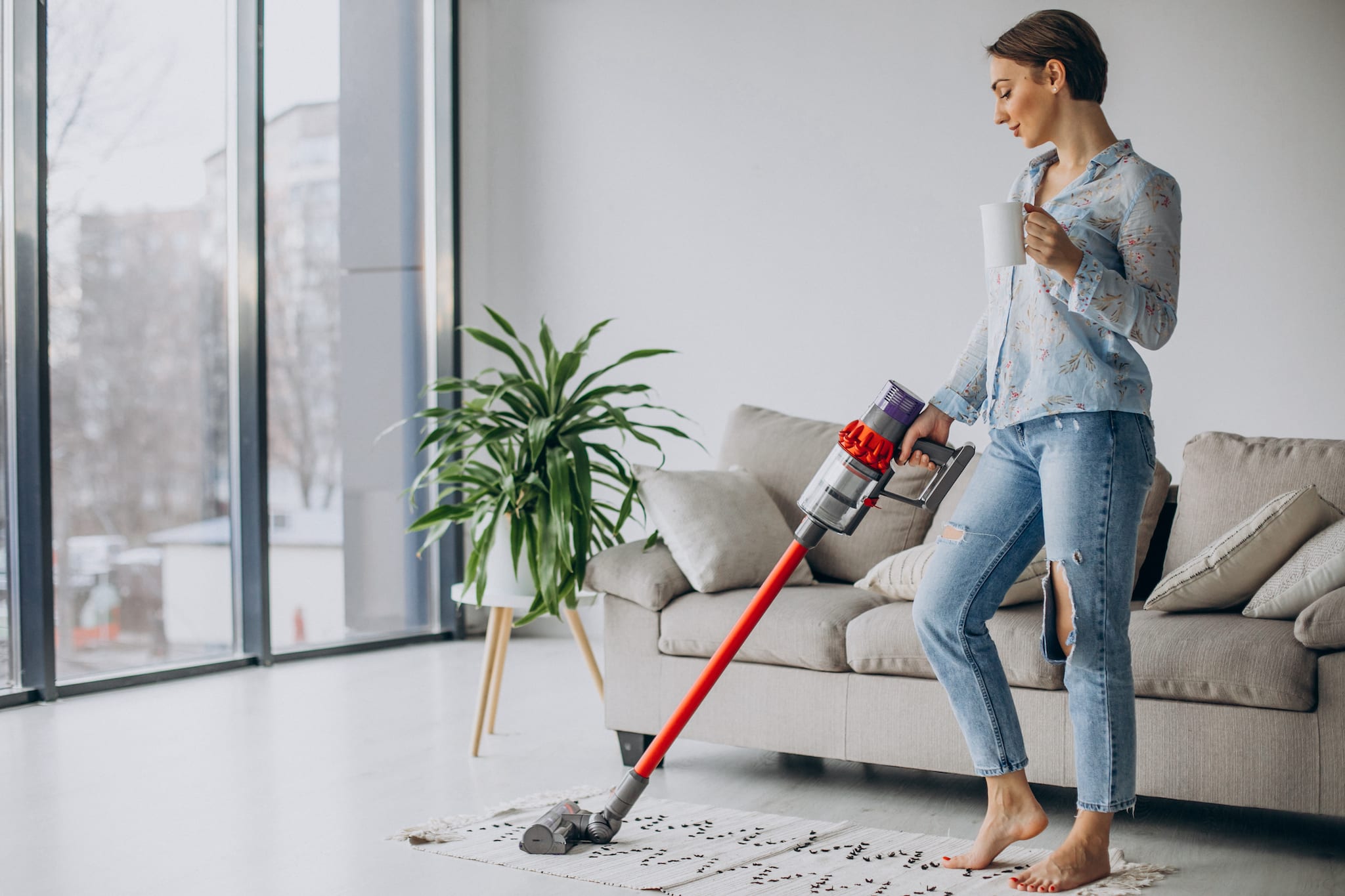 Suction power isn't actually the most important aspect of how powerful a vacuum is, but how good its airflow is. The CFM unit measures how much air flows through the vacuum. It also indirectly determines the resistance to motor exhaustion (so you don't rely on raw power, but how efficient the vacuum is in cleaning up).
Say your vacuum is powerful enough to suck up liquid. But how it maintains the airflow to carry debris into the dirt storage is just as important too. You wouldn't want to risk a messy clean up now, would you? Having good airflow and suction pressure is equally important to have a vacuum that does well.
The main problem? It's almost impossible to get a vacuum that has both high suction pressure and great airflow coverage due to the fact that their way of operation cannot overtake one another (they are inversely proportional). So getting a balance of both is good enough.
Key factors;-
Greater/larger airflow means the higher the suction power/efficiency is

50 to 100 CFM is the average rating for most commercial vacuums

Note that not all manufacturers will disclose the CFM rating
---
Battery: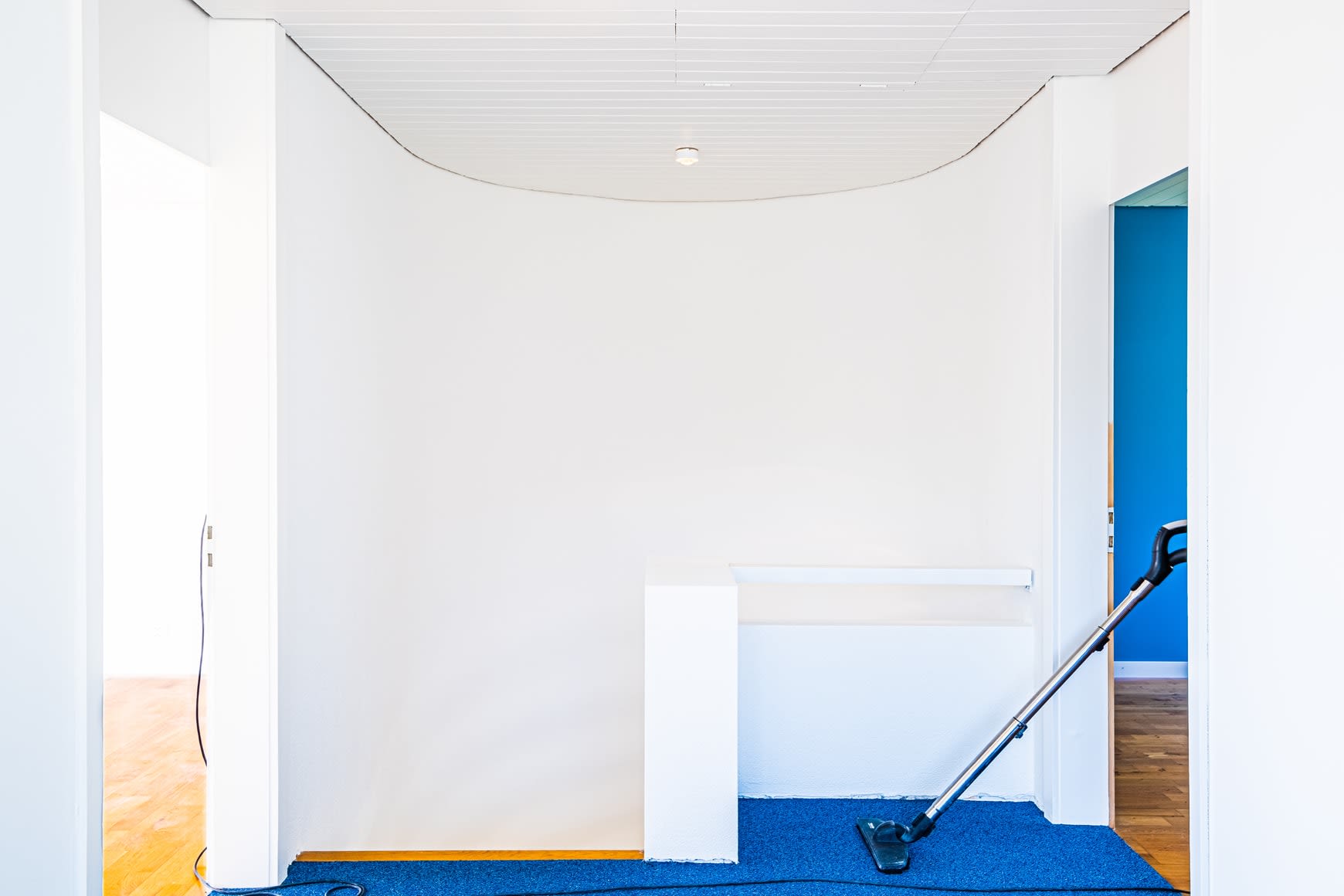 A good cordless vacuum cleaner should be able to work for at least 30- 40 minutes straight on low suction mode. As you've guessed, a high suction mode operating time will actually vary but are generally about only half of the duration (10 to 20 minutes) that you can get from low suction mode.
Some brands do offer an Eco Mode whereby depending on what you are sucking dirt out from, Eco Modes are often optimised to offer battery conservation while providing the correct amount of suction power needed. So if you can, look for a vacuum that has all 3.
We also need to add; in general, smaller vacuums correspond with shorter operation periods. But do take into consideration that the brand's technology also matters.
For example, Dyson is known for its Radial Root Cyclone™ Technology. This particular concept is capable of a powerful suction as well as acute filtration. It doesn't just clear the floor of dust properly but also ensure that none lingers in the air. 
Key factors;-
Anything with above 40 - 50 minutes of operating time is preferable

Look for one with multiple suction modes (Low, High and Medium/Eco Modes)

Take into account that some brands have a special suction technology to reduce the amount of time needed to clean.
---
- Tips For Choosing a Cordless Vacuum Cleaner:
Now that you are clear on what to look at when buying a cordless vacuum cleaner, you'll want to list down your priorities in choosing the right vacuum for you. Here's how:
As mentioned before, smaller vacuums correspond with shorter operation periods. But depending on brands, some vacuums do operate fast because of the brand's proprietary suction technology.
Many people fail to realise that with the lack of built-in filters, dust particles may escape from the vacuum. If this happens, it'll make no difference the whole room will be covered with microparticles again after cleaning. Thus, it's best to look for one that has a HEPA filter. It's especially helpful for those who suffer from bad allergies.
Cordless or stick vacuum cleaners are preferable as they are usually ergonomically designed, making it easy to reach tight spots around your house. Plus, you won't need to worry about a cord tailing after you and tripping over it!
---
- Best Cordless Vacuum Brands in Malaysia
Cleaning is one of the most time-consuming activities at home, especially if you have a large house. 
Thankfully, cleaning your house is now less exhausting and much faster with the advent of the vacuum cleaner, similar to how washing machines speed up the washing process. You enjoy the convenience of moving around comfortably as if you were using a broom without the inconvenience of stepping over wires.
Malaysia has some of the best cordless vacuums available for all to buy. There are several brands in the market that keep up the quality and life span of cordless vacuum cleaners. We've researched and found that the most popular brands for a cordless vacuum cleaner would be Dyson, Corvan and Tineco. 
Dyson: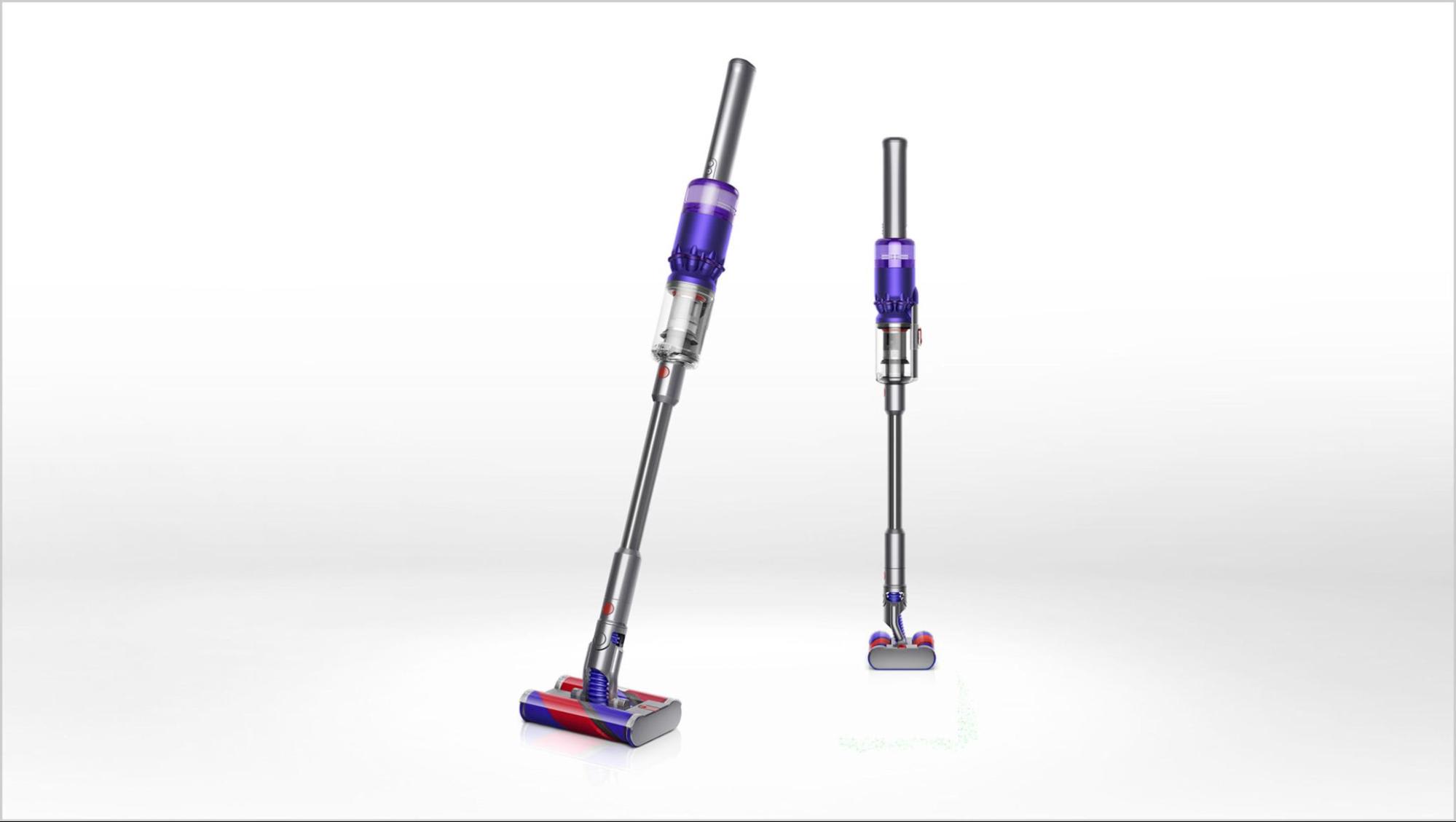 Dyson was the brand that created the world's first bagless vacuum cleaner after five years and 5127 prototypes. They are well-known for their technological innovation, which ranges from beauty products to household appliances. 
Due to their innovations, Dyson machines quickly became popular and are currently available in 65 countries across the world, with over 1000 engineers working for them. Their most popular product lines include their hair care and vacuum cleaners equipment such as the Dyson Airwrap Styler and the V11 cordless vacuum cleaner. 
Vast of their products and services have received positive reviews from customers. Their ratings have always been perfect, with never fewer than 5 stars in almost all of their product reviews. The majority of consumers have stated that they have had positive experiences with their vacuum cleaners.
Corvan: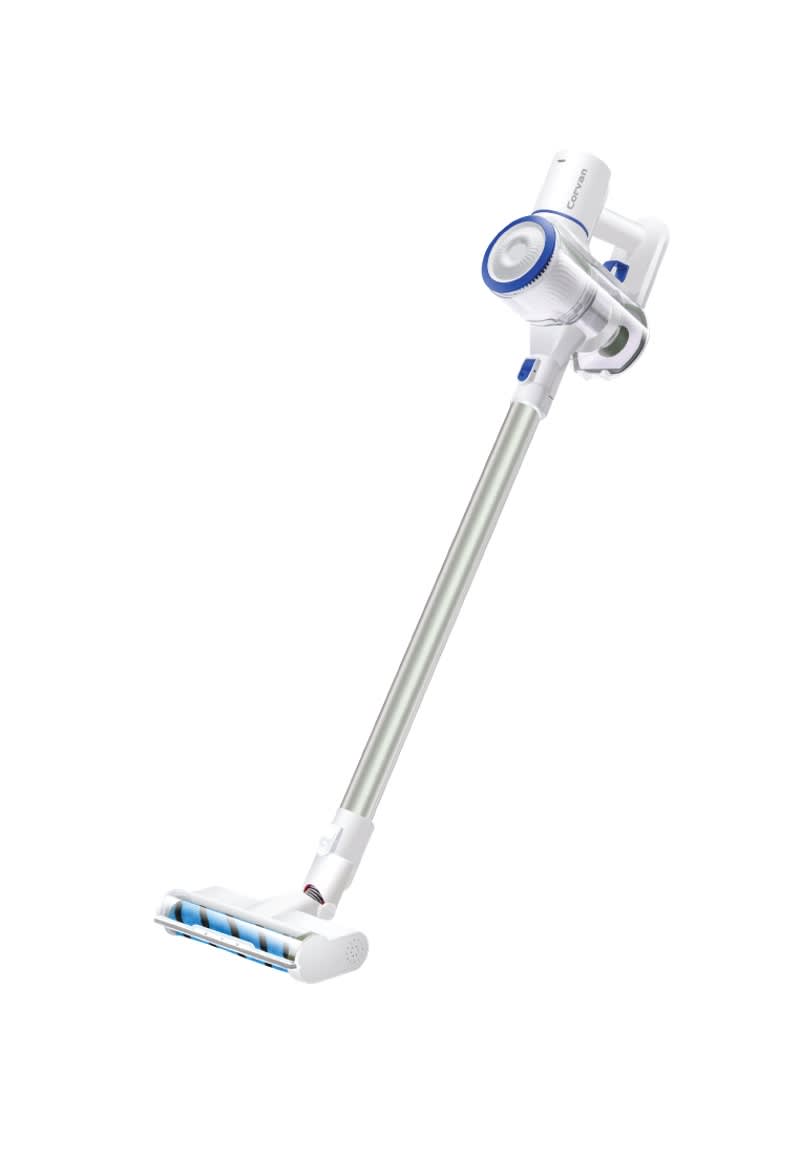 Corvan was founded in Malaysia in 2014, with the goal of improving modern life by incorporating cutting-edge technology into daily household appliances such as robot vacuum cleaners, robotic mop, and more.
The primary component of their R&D is direct communication with and listening to their consumers in order to understand a user's requirements and expectations. They feel that this continuous approach considerably aids in generating and delivering superior value for everyone through high-quality products. 
Corvan is also lucky to have a global network of strong technology partners and suppliers to make this happen. The brand is now well-known for providing value to customers through high-quality goods and excellent after-sales service.
Tineco: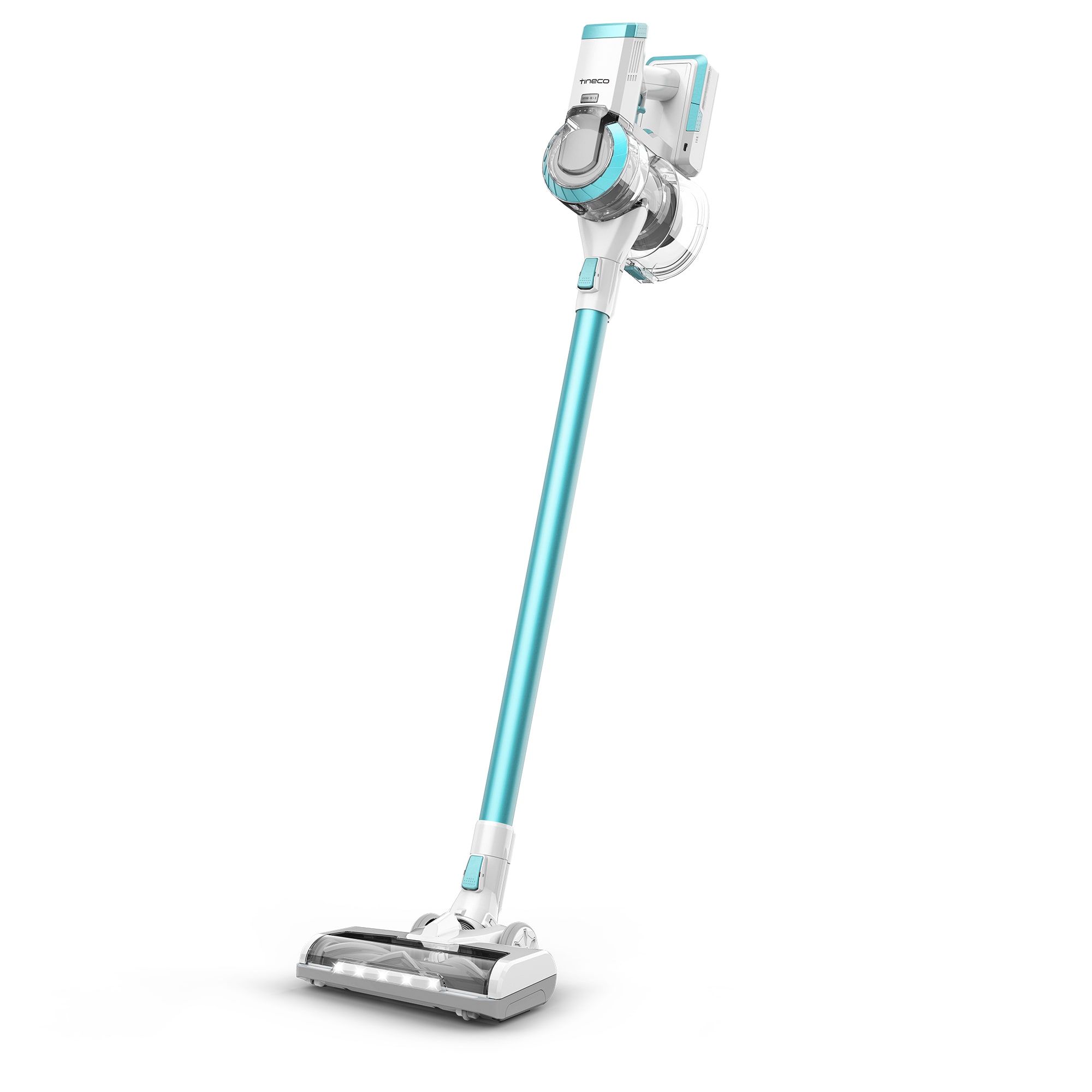 Not a stranger to the scene; Tineco is a premium brand in smart electrical appliances and a technological innovation firm focusing on intelligent technologies. They were notable for releasing the first smart vacuum cleaner on March 13, 2019, becoming the category's pioneer. 
Tineco was founded in 1998 with the development of its first vacuum cleaner and has since gained hundreds of local and international patents as well as remarkable global sales.
The stance by the majority is that Tineco vacuum cleaners clean better and leave behind less mess than other vacuum cleaners. It also has a more advanced cleaning roller that can vacuum and mop at the same time while avoiding any strain with coarser dirt. 
Tineco vacuums are ideal and preferred for everyday use/light mopping as well as cleaning up huge spills. If you're searching for a low-cost option that can handle both light vacuuming and mopping, consider the Tineco iFloor, which may be one of the finest for the money.
---
- Best Times to Buy a Cordless Vacuum Cleaner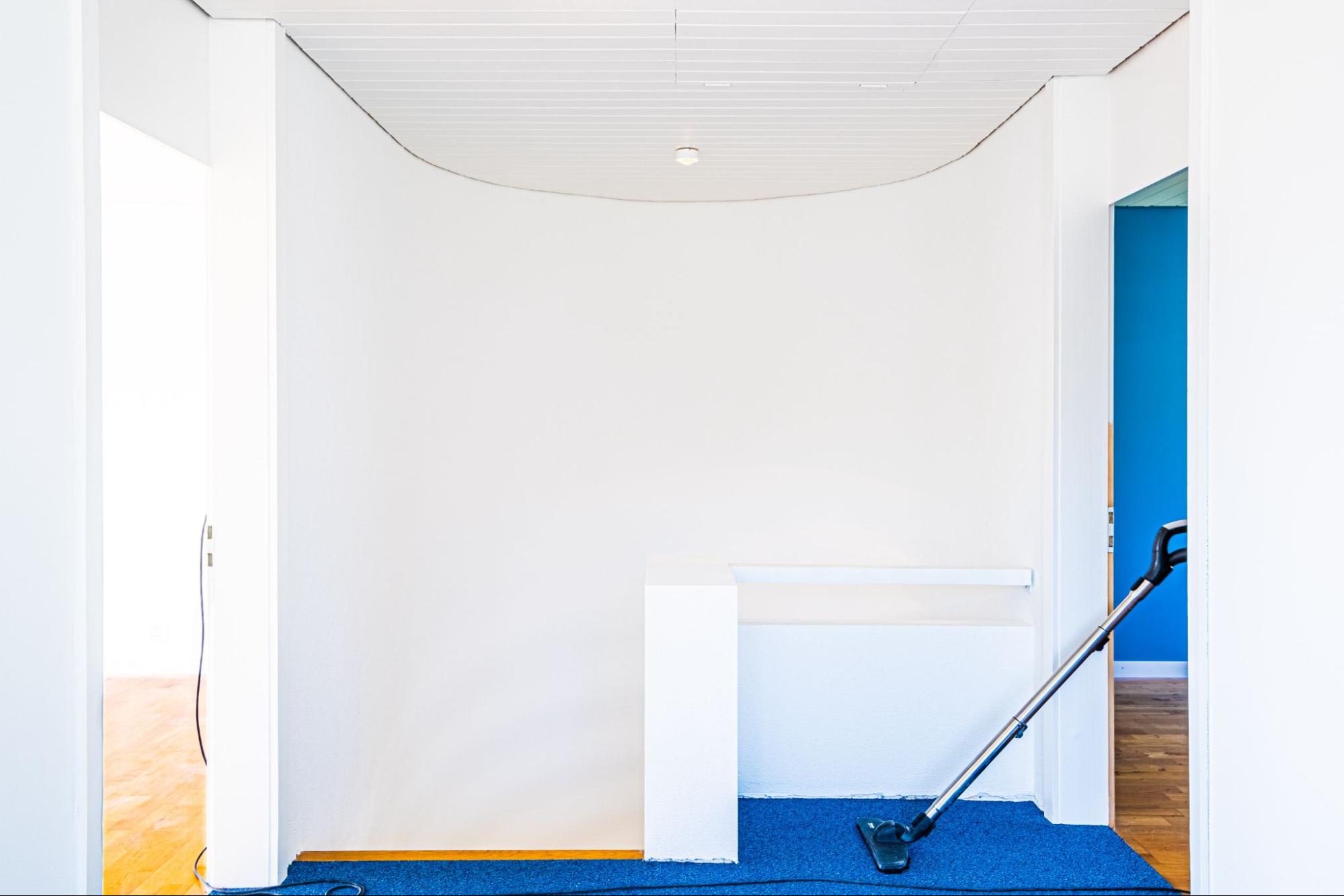 One might not think much about a vacuum cleaner until it's time to replace it. Today's models are more effective, with genuinely impressive cleaning power. We propose that, as with other appliances and electric equipment, you do some research and shop at the right time to obtain the greatest value. 
Aside from determining which sort of vacuum cleaner best meets your needs, conducting research on various models, and settling on a budget, you need also to know when to get one. When you buy can influence how much you pay and the choices available. So, when is the ideal time to purchase a vacuum cleaner?
Festive season:
The best time to purchase a cordless vacuum cleaner in Malaysia would undoubtedly be during monthly or festive season deals. Sales like "Chinese New Year, Hari Raya, Deepavali" are great times as the discounts and offers are insane. Some brands will also give limited edition gifts that tie with the festive season too.
Purchasing cordless vacuum cleaners just in time or before the festive season is the best thing to do since it helps keep your home clean over the holidays. Plus, brands also throw in additional gifts to offer you a "quick easy cleaning" experience.
Monthly & annual sales:
Aside from festive seasons, acquiring a cordless vacuum cleaner during sales like 11.11 or Black Friday as well as Lazada and Shopee's birthday sales is perfect. It is because the discounts are the greatest compared to other events and sale durations. 
Watch out especially for 11.11 or just any Year-end sale, as many brands do clearance sales to make way for new models. 
With Christmas sales happening too, the Year-end sales are one of the biggest shopping seasons in Malaysia, with many discounted coupons and promo codes released to be used on top of the already discounted prices.
---
- Cordless vs Corded Vacuum Cleaners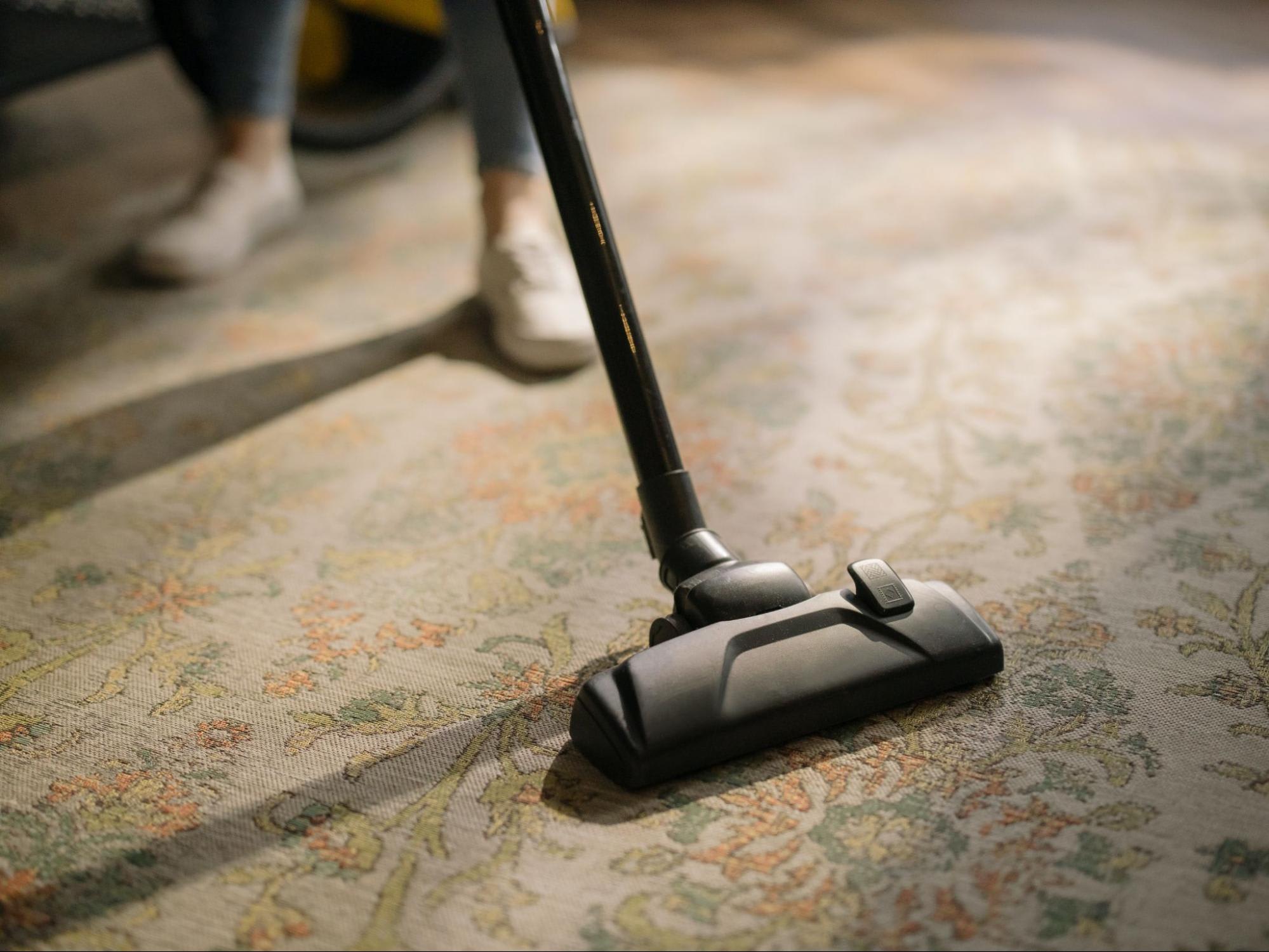 Dynamic components and a variety of equipment are included with corded vacuums, making cleaning a breeze. The effective components can reach all of the surface's corners. 
There are many pros and cons to having either a cordless vacuum or a corded vacuum. The former is a rather new type of invention from the latter. What's appealing about the cordless variant is that they just seem easy to access and use right away. Whereas, the corded variant is just useful for most houses and is much cheaper.
So, how do you choose between the two? Here, we help you break down both briefly.
Corded vacuum cleaners - Powerful, heavy-duty:
A corded vacuum cleaner comes to mind whenever you think about vacuum cleaners. They come with a plug-in connection and many attachments to aid in thorough cleaning. Therefore, you must plug it into a power source before using it. That is the primary reason behind the name. 
As these machines are usually bigger, they allow for the inclusion of a stronger motor to help you do heavy-duty cleaning. And because they are also usually bigger, corded vacuums have a big dust collection area. As a result, you may use your cleaner for longer periods of time without having to dispose of the dust it collects.
Because of a bigger motor for bigger suction power, corded vacuums have to connect to your home's power supply. This also causes many to believe that conventional versions are the finest choice for carpeted flooring.
Although bulkier, corded vacuums have improved thanks to advancements in technology. Therefore, if with several locations to clean in a big area, a corded vacuum cleaner would be ideal since it can run for an extended period of time if the power source is dependable. 
Cordless vacuum cleaners - Lightweight, 'Clean everywhere':
While suction power is typically more reliable on the corded variant via a wall power supply, cordless vacuums with lithium-powered batteries are just as reliable. In fact, suction power on cordless vacuums tends to be almost equal to corded variants than cordless vacuums with non-lithium batteries.
A cordless vacuum cleaner, as opposed to a corded vacuum cleaner, does not have a power connection cable. They equip a rechargeable battery that has to be charged every now and then. As the majority of the battery-type used are lithium, you'll have enough juice to last you for a couple of cleaning sessions. Disposable batteries, as opposed to permanent batteries, are simple to charge and replace. 
Also, because it is readily moveable from one area to another, a cordless cleaner allows you to get into tight spots without being tethered to the wall. And because it is cordless, you have complete freedom of movement in cleaning angles. The lightweight design is ideal for cleaning around furniture and in tight places.
Obviously, the suction power of a cordless vacuum is generated by the battery. As a result, as a battery begins to drain and diminish, suction strength decreases. So for a seamless cleaning experience, constant charging is required. 
Tip - To minimise the chances of forgetting to charge the vacuum, look for those with a charging station dock & a lithium battery for extended durability.
---
- How long should a good vacuum last?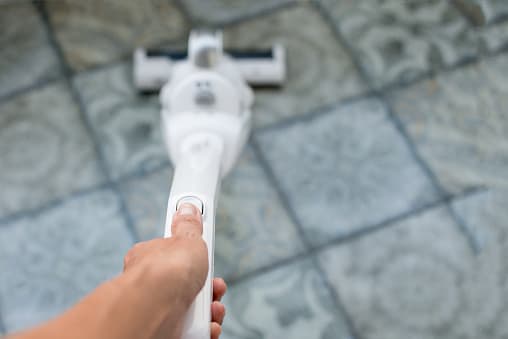 The vacuum cleaner has been around for a few decades, and there are many reasons why it's still the best-selling house-cleaning device. 
Notably, it makes the entire house cleaning process much more efficient. A clean house is always a desirable feat for homeowners in this fast-paced world, and vacuum cleaners are just the one tool that fits into this category well.
Working time:
Unlike mopping, which requires more time and energy, all you have to do is walk over an area with a vacuum and it will suck up any dust or residue. Given that thought, those from more reputable vacuum brands may attain speeds of up to 25,000 spins per minute, so you should be able to clean your entire house in as little as an hour.
Average lifespan - 8 years:
Aside from the fact that it performs well, buying a high-quality model will provide you with years of heavy service due to the quality of mechanism accessories that are used. 
Of course, this is dependent on the brand and the price that you pay, which leads us to the subject of how long vacuums last and if there is anything you can do to extend their lifespan. 
There are several aspects that may be considered to maintain a good lifespan for your cordless vacuum cleaner to last longer. In general, cordless vacuum cleaners have an average lifespan of 8-10 years, however, this varies depending on the brand. Keeping your vacuum cleaner on a regular basis is a huge bonus for longer-lasting vacuums. In fact, there are cases where vacuums are kept beyond 10 years up to 20 years!
Therefore, do consider purchasing a vacuum cleaner from a niche brand like Dyson or Corvan as they are fully focused on the few product lines that they have. They are a terrific long-term investment that allows you to receive a flexible vacuum cleaner at a fair and reasonable price. 
Also, bear in mind that appropriate vacuum cleaner maintenance is essential for prolonging the vacuum's lifespan and keeping the device functioning at its peak performance.
Tips for longer cordless vacuum life:
Avoid filling the bag or bin to the brim, since this may cause the unit to clog. 

Keep in mind to clean or replace the filter anytime it becomes filthy. 

Clearing the motorized brush of matted hair, thread, and other fibres that can strain the motor every few weeks. 

Constantly checking the hose for clogs on a regular basis.
---
- What floor can a cordless vacuum clean?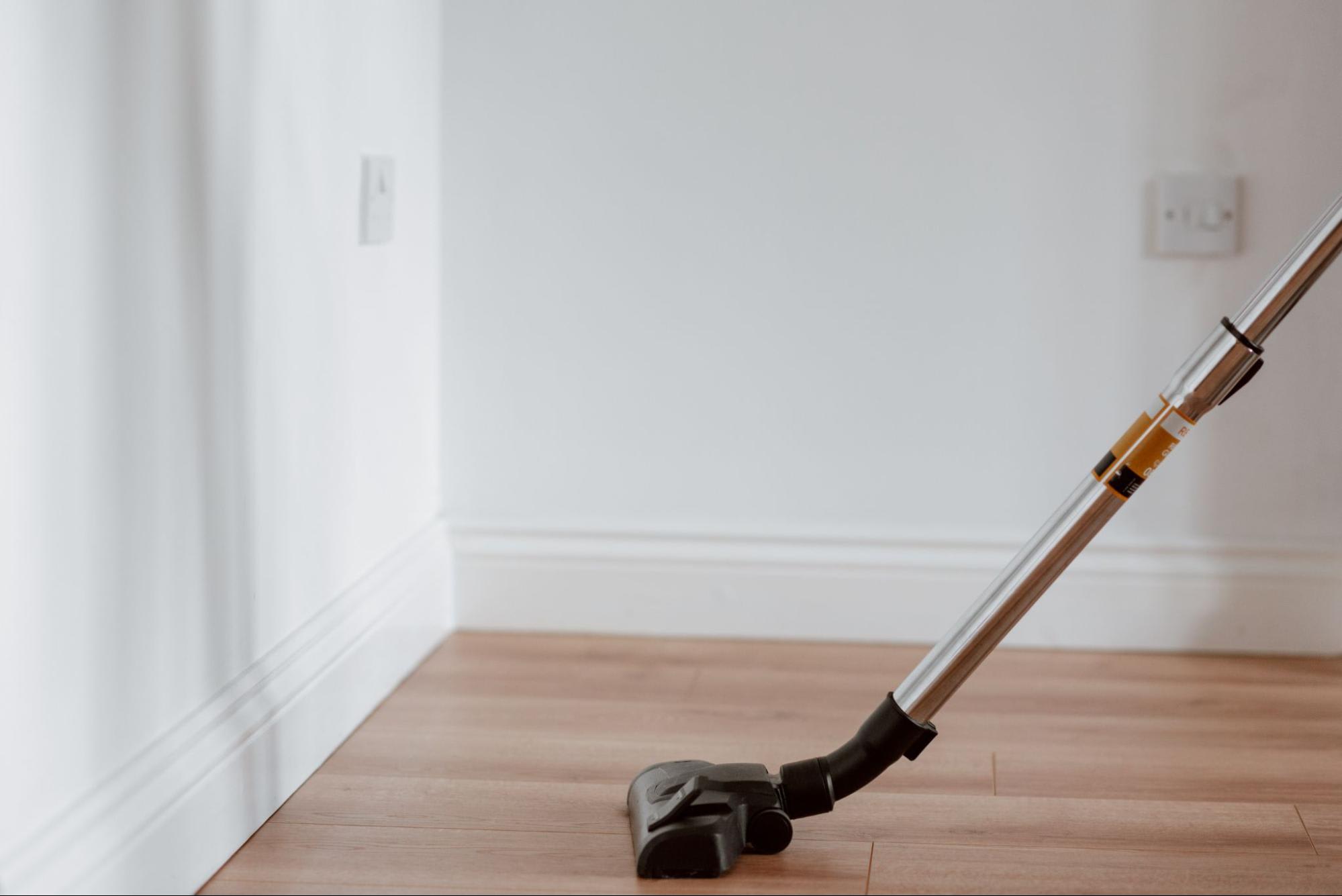 The quick answer: A distinctive vacuum cleaner is recommended for different kinds of flooring. So choose a vacuum for the general "hardness" of your floor.
When purchasing a vacuum cleaner, keep these pointers in mind. 
If you have hard flooring in your home, such as hardwood, tiles, or laminate, a vacuum cleaner with many attachments is your best bet. A cordless vacuum cleaner is perfect to avoid damaging your floor as you can easily adjust the suction power.

It's different for carpets; you'll actually need something very strong for the carpet as the fibres are more persistent in trapping dust. Therefore, the vacuum's motor must be capable of extracting dust and dirt from carpet fibres. If you don't want to worry about damaging your floors, an upright cordless vacuum cleaner is a great choice. 
---
- Prepping Your Vacuum for Cleaning
To avoid mishaps with your appliance, always remember to prepare your vacuum cleaner for use. The suction of your vacuum cleaner can be diminished by dirt and debris. Hence it is important to do routine maintenance on your vacuum cleaner after each use. 
Before you start, at the very least, make sure the dirt bin is empty. Alternatively, if your vacuum cleaner utilises bags, ensure sure the bag is just half filled. Then check to see if the roller brush or beater bar spins freely. Remove any entangled string, hair, or other waste from the brush.
Also, remember to always use the attachments provided alongside your vacuum cleaner. Even the most powerful vacuum cleaner head will not be able to remove all of the debris from the area where the floor meets the walls. Not being careful with your cleaning will result in black margins on carpets or a gritty grey line if you have hard flooring. 
Cleaning carpet floors:
To vacuum carpeted floors, make it a habit to use the roller brush, which removes fibres and allows the suction of the machine to remove impurities. 
Keep in mind that deep-down dirt will not be cleaned if the brush head is set too high. When it is too low, it cannot spin properly and can meddle with the suction of the machine. 
Cleaning hard floors:
For those with hard floors, you should use a machine with a felt or fabric roller or a flat floor head that does not have a rotating brush. These specialist hard floor vacuum attachments are more effective at collecting dust and tiny particles from hard surfaces. Unlike the carpet attachment, they will not harm the surface of your hard floor.
Doing quick cleans:
In terms of quickly cleaning floors, there's nothing wrong with rapidly vacuuming with a powerful motor. However, this type of rapid cleaning should not be done on a regular basis. Prepare your vacuum, clear furniture from the area you'll be vacuuming, and then take your time cleaning it well to remove filth and dust off your floors and out of your home.
---
- How To Clean A Vacuum Cleaner Properly?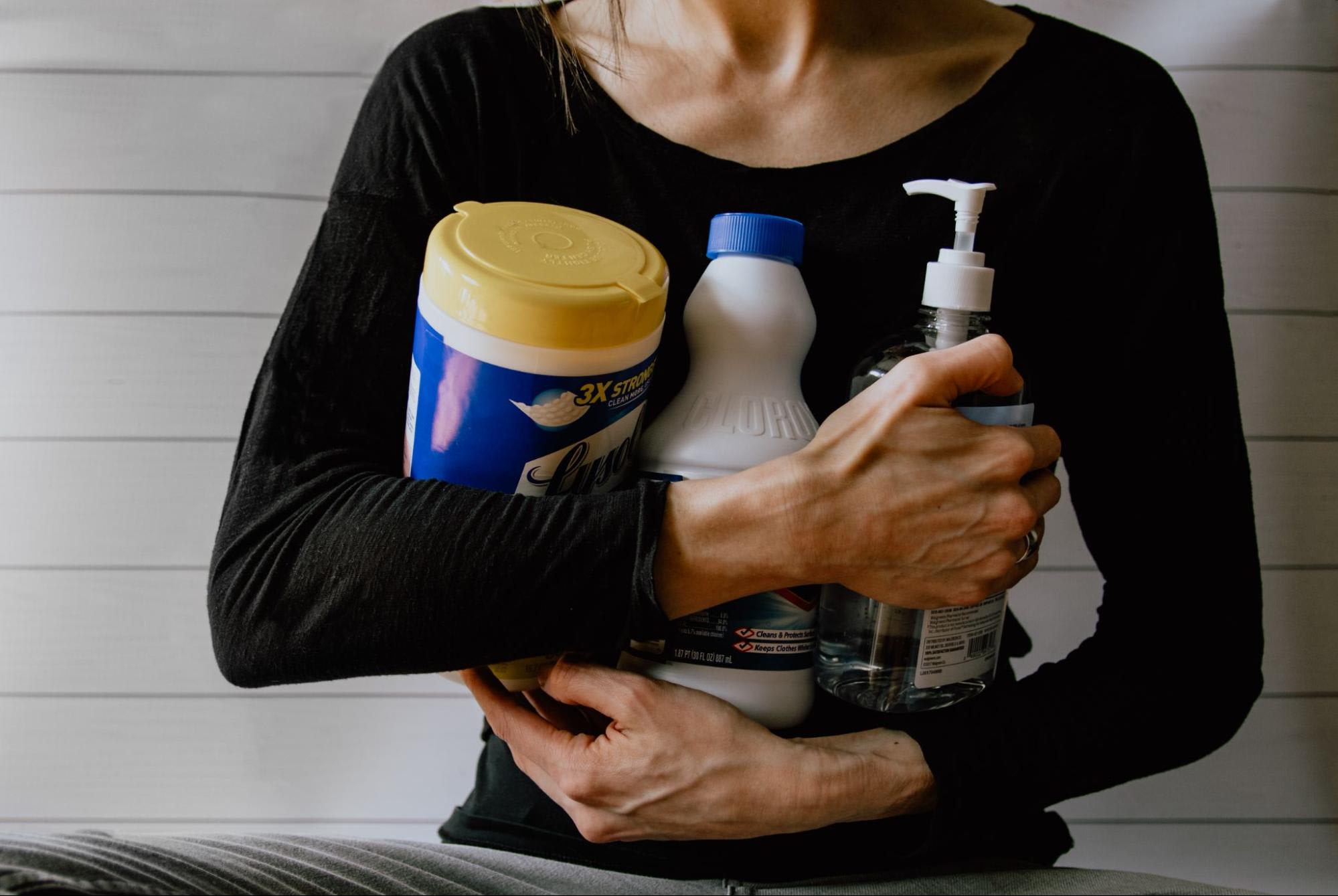 It's interesting that your vacuum cleaner is typically the dirtiest appliance in your household. By the time you've finished cleaning, you might not be eager to provide your vacuum cleaner any love and care. But a clean, well-maintained vacuum cleaner will perform a better job of cleaning up dirt around your house and will last longer.
Read the directions for your specific model before performing any maintenance on your vacuum cleaner. These will teach you how to secure and change the filters, as well as which parts are safe to wash.
What is needed to clean cordless vacuum cleaners are generally found in your home.
Water

Dish Soap

Microfiber Cloth

Toothbrush

Garbage bag
It is advisable to clean the blockages that are formed in the vacuum cleaner as the most common cause of a vacuum cleaner's loss of suction is clogs, which slows and overheats the unit. To avoid such issues, ensure that the dust canister is completely emptied after each use. Check the hose and machine entry for any dirt or dust that may cause a blockage in order to reduce or eliminate obstructions from the tubes.
Vacuum filters:
Many vacuum cleaners have washable filters, making it simple to clean them without the help of a professional. 
To simply remove dust from the filters, remove and tap them against a hard surface. If you want to limit the spread of dust and pollutants into your house, perform this step outdoors. 

Using lukewarm water, wash the washable filter and allow it to dry for at least 24 hours. If the filters aren't washable, simply tap them against a hard surface to remove access dirt.
Vacuum brush:
We're sure that you've probably seen out-of-shape vacuum head brushes. As a result of frequent use, the vacuum cleaner brush may appear worn out. This is due to pushing the brush head against the floor constantly. Not only that but threads and hair from the floor may have constantly gotten stuck and trapped in the brush. 
If that happens, don't pull the threads or hair. Instead, cut any threads or hair that may be clogging the brush. Avoid cutting the bristles at all costs.
In short; clean your vacuum cleaner on a regular basis and it will last longer. If you often use a vacuum cleaner, make sure to clean it every three months. Regular cleaning ensures that the vacuum cleaner eliminates impurities and dust efficiently while also reducing the amount of time you have to vacuum your home.
---
- Bag vs Bagless Vacuums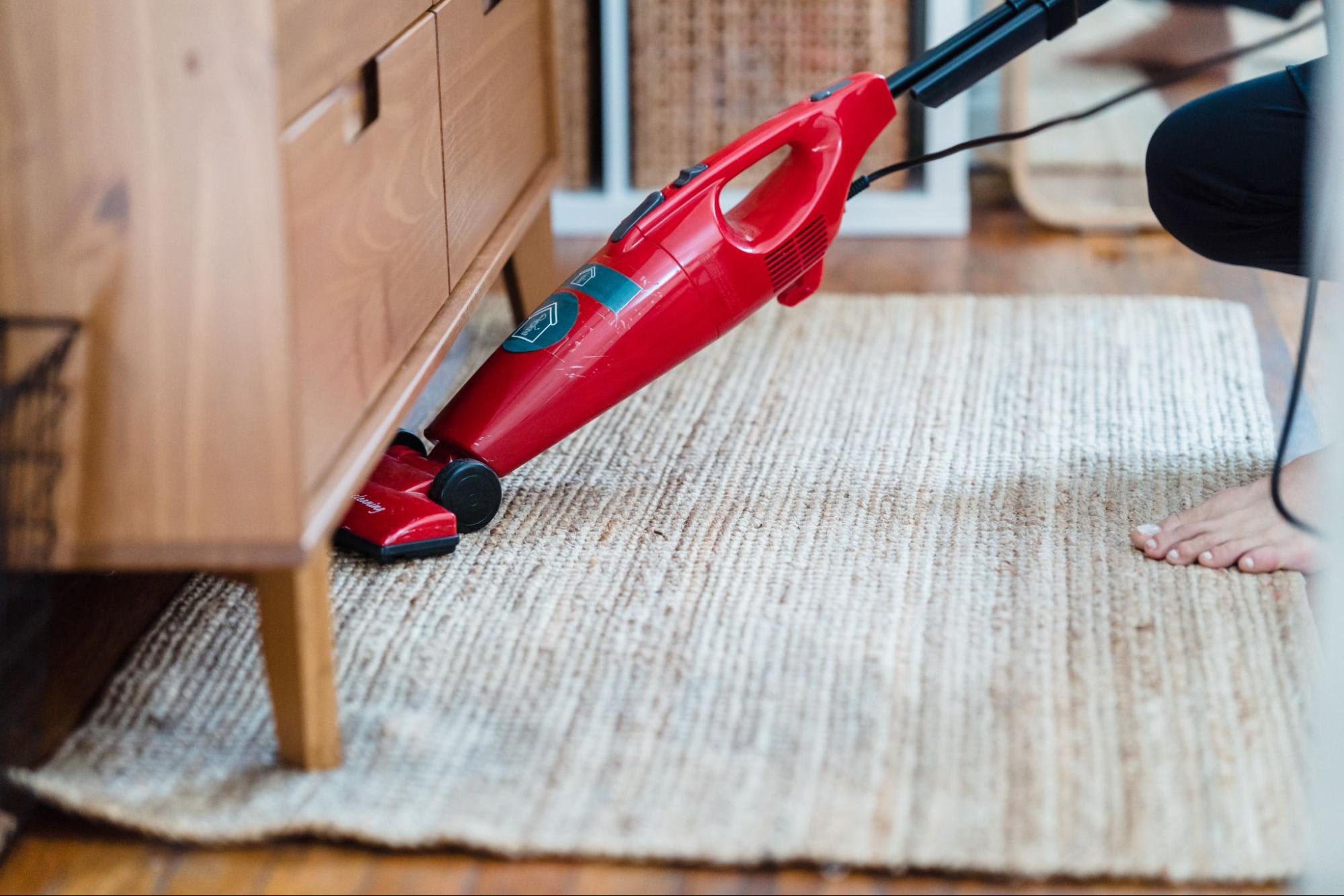 One of the most recent categories for vacuum cleaners is bag or bagless. Is a bagless model preferable to one that requires vacuum cleaner bags? It is entirely dependent on your family and its necessities.
Bagged Vacuum Cleaners:
In short, a bagged vacuum cleaner operates in the usual manner, with the changeable bag acting as a filter to capture dirt while enabling air to travel through the bag. 
When the bags are full, they must be changed. Filters in bagless vacuum cleaners capture dirt and dust in a dirt cup or chamber, which may then be emptied. 
So what happens when the bags get worn out? They require replacements once it becomes full. Replacing the bag isn't a big deal, and most vacuum cleaner bags aren't expensive. However, having to remember to check if the bag is full may be annoying. 
Luckily, some bagged vacuums feature an indicator light that indicates when the bag needs to be replaced. Vacuum cleaner bags also means less interaction with the dust and particles contained within the bag. Just remove the old bag and discard it, voila!
Pros of a bagged vacuum: 
Bagged vacuum cleaners are less messy. There is no possibility for the dust to end up on the floor or in your face.

It's preferable for allergy problems. Bags keep dust and allergens completely isolated from the person vacuuming. As a result, dust disposal is considerably less likely to trigger an allergic reaction.

Fewer maintenance costs are required. Vacuum cleaner bags reduces a compressive load on your vacuum cleaner for a variety of reasons. As filters are incorporated into the bags themselves, they do not need to be cleaned. Also, the bags have ample storage than their bagless equivalents, so you don't have to discard dirt as frequently.
Cons of a bagged vacuum :
Eco-unfriendly. While the majority of vacuum cleaner bags are composed of paper, they may also include other elements and hence are not 100% recyclable. 

Vacuum cleaner bags are rather expensive and must be replaced regularly, which can put a dent in your wallet.
Bagless Vacuum Cleaners:
There's very little chance of forgetting to empty the vacuum cleaner with a bagless vacuum cleaner since the dirt and debris in the cup can be seen clearly. 
Many versions, however, include filters that still has to be brushed, rinsed and dried entirely, or totally changed. Depending on your vacuum cleaner, emptying the dirt cup might be an unpleasant operation. 
Moreover, without a bag, dust may frequently swirl back out of the cup, and you may need to shake or scrape accumulated dirt from the container's bottom. However, if you vacuumed up anything you need to recover, it can be readily recovered from the dirt cup. 
Pros of a bagless vacuum:
Bagless vacuums are eco-friendly. They contain recyclable filters and, of course, no bags that end up in non-recyclable residual waste.

These vacuums are known to be less costly in the long run as there's no need to buy or spend on bags for your vacuum. 
Cons of a bagless vacuum: 
They can be messy to clean as it requires you to get your hands dirty whilst cleaning the dirt cup.

Bagless vacuums have cups that require washing and drying for maintenance compared to just throwing out a bag. Worse, you'll probably have to wipe out the cup more frequently than you would a bag. 
---
- How To Optimize the Battery life on Cordless Vacuums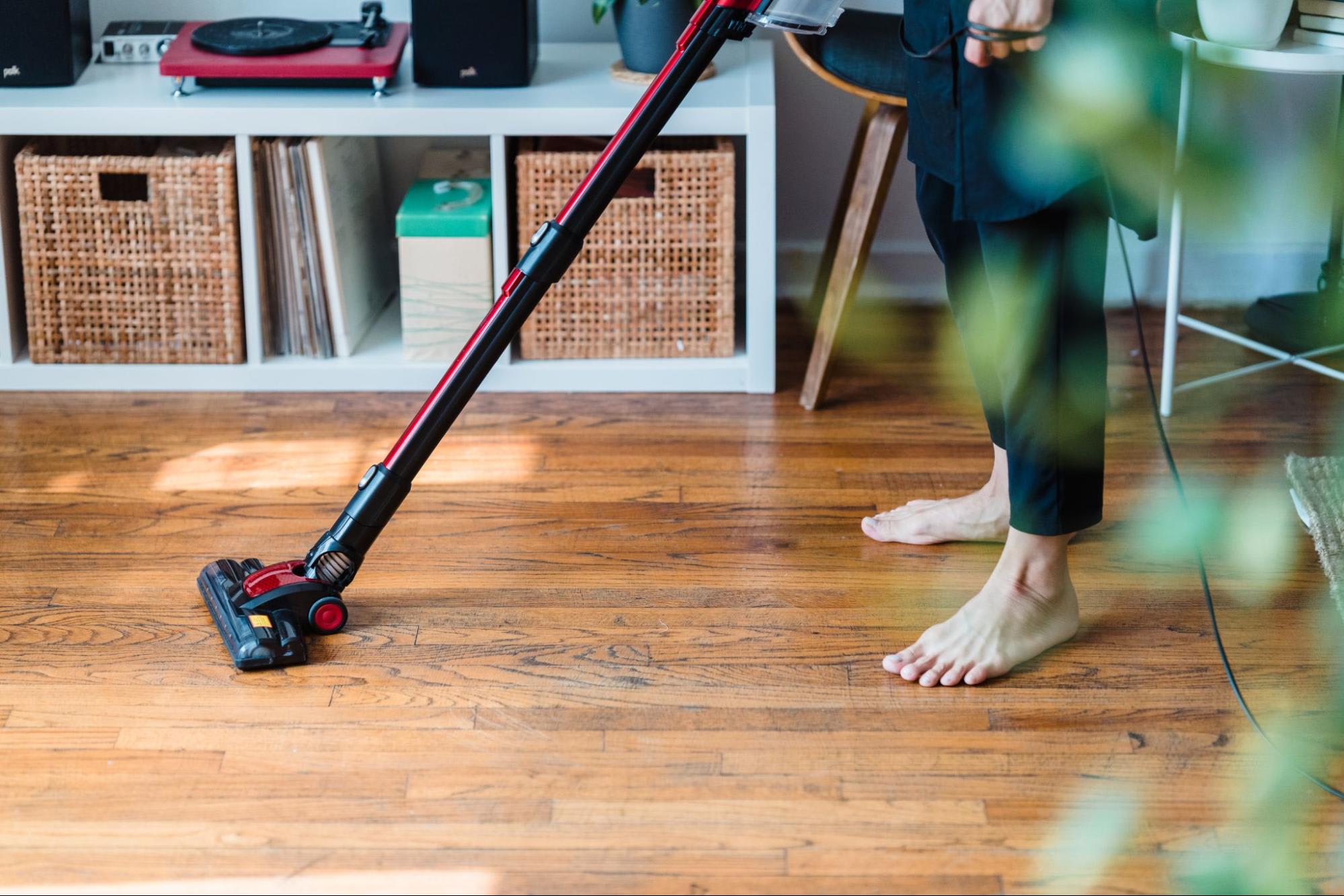 Where there is no local electrical supply, a cordless vacuum can be of great assistance in cleaning up spills or for just about anything. Utilizing the battery life of these cleaners is a real treat, but it is not as easy as it may appear to be. 
If your vacuum is powered by conventional batteries that are not rechargeable, the only justifiable approach to guarantee a longer lifespan is to ensure that you avoid vacuums going into the 'standby' feature. Switching the vacuum within on or off is good enough. 

For cordless vacuums with rechargeable batteries, they are designed in such a way that you need to have a place to store the battery charger somewhere. As such, a vacuum with a charging dock is convenient and ideal as it guarantees that the cells are always filled. 

Finally, keep your vacuums in a cool area to avoid power failure to the batteries.
Take note:
Some rechargeable batteries, particularly high-demanding batteries, have a liquid core and must be completely depleted before being recharged. With irregular charging patterns, it can mess up your vacuum's recall to allow the full charge (think: the bad charging habits for a smartphone).
Although they are no longer widely used, these batteries may tend to only recall and allow the amount of charge they previously had. 
If you recharge such a battery after it has been only one-quarter discharged, you will discover that it will only accept one-quarter of the available charge in the future, even if it has been totally exhausted. So, for optimal charging, ensure that you read your vacuum's manual to know the best way to charge it.
---
Related articles