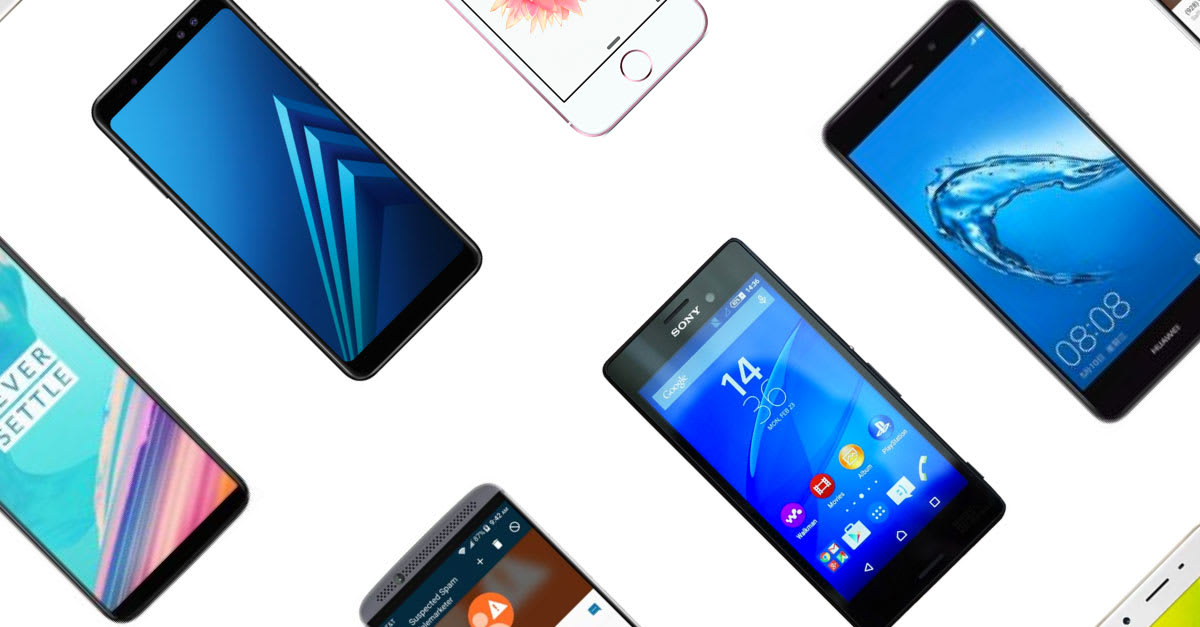 Want to own a smartphone but afraid that you might not survive the month after getting one? Well, not to worry! This list is meant for you if you want to own a smartphone you can call yours – without having to break the bank of course! Read on to know which mid-range smartphone is made for you and your wallet!
Best mid-range Android smartphone
Price from RM1,689.00
Looking for an android? Look no further than the Samsung A8, an elegant-looking phone built with metal construction and thin bezels. It is also Samsung's thinnest phone to date; its thinnest is a mere 5.9 mm.
Another impressive thing about the Samsung A8 is its camera. It has a 5MP front-facing camera which allows you to take a selfie that you could proudly share with your Instagram followers. The shutter speed is amazing too – it is precise and fast, allowing you to take quick snapshots and end up with breathtaking results!
Our Review
If you're looking for a phone that won't break the bank, but will make waves on Instagram, won't overheat or lag while you're in the middle of a game, or shatter upon impact, then the Samsung Galaxy A8 2018 is definitely a phone you should consider. To us (and to our bank accounts), this one is a winner.
Read Full Review
2 people added this to their wishlist
More: We Reviewed the Samsung Galaxy A8, and it Blew Us Out of the Water
Best mid-range smartphone with iOS
Price from RM555.00
You don't need to go broke to afford an Apple iPhone. Apple has come up with an affordable model – the Apple SE! Instead of going big, Apple goes small on the SE model, with its 4-inch screen which is within the reach of your thumb!
Its battery life is outstanding too – with its 1642 mAh battery that can last for 11 hours of binge-watching YouTube videos on a single charge. When you factor in that this battery is packed into a small smartphone, only then do you realize how amazing it is!
1 people added this to their wishlist
Best smartphone with a good camera
Price from RM699.00
The Oppo A57 is the ultimate selfie-machine. Equipped with a 13 MP front-facing selfie camera, this baby works great in low-light setting. There is also a Beauty Mode filter that enhances your beauty and will compel each of your Instagram followers to double-tap the selfies you take with this baby!
Another plus-point is its front fingerprint sensor. The front fingerprint sensor allows you to unlock the phone easily. How easy? Well, it is as easy as just touching the sensor slightly with your finger. The surface is hydrophobic so you can unlock your phone even when your fingers are covered in sweat.
Best mid-range smartphone for gaming
Price from RM1,699.00
Fancy an affordable smartphone that doubles as a portable gaming machine? Well then, the OnePlus 5T is the perfect smartphone for you! Coupled with the Qualcomm Snapdragon 835 processor; delivering peak performance and keeping the frame rates as high as possible are what it does best!
The display of the OnePlus 5T is great too. The 6-inch AMOLED screen of the OnePlus5T is capable of displaying every minute detail clearly you see in your game – be it the shadow of your character or each rain drop falling in the game.
1 people added this to their wishlist
Best mid-range smartphone with best battery life and fast charging
Price from RM809.00
The Lenovo P2 is equipped with a 5100mAh battery which can last for 3 days straight on a single charge. As if that wasn't enough, the Lenovo P2 also incorporates fast-charging which charges your battery so fast that it can provide 10 hours of on-screen time with only 15 minutes of charging.
You'll also get a 13MP rear camera and a 5MP front camera which just quite frankly, adds more bang to your buck!
5 people added this to their wishlist
Best mid-range smartphone for music
Price from RM1,549.00
Are you a music connoisseur? If you are, the ZTE Axon 7 might just be the phone of your dreams! Packing dual front-facing stereo speakers with Dolby Atmos surround sound technology, it makes you experience euphoria whenever you listen to music. There is little to no distortion at full volume and does exceptionally well in the audio department.
The display of the ZTE Axon 7 is impressive as well – its Quad HD 5.5″ AMOLED display is great for any kind of content, be it in video format, picture format, article format etc.
Best mid-range water resistant smartphone
Price from RM399.00
With the Sony Xperia M4 Aqua, worrying about dropping your phone in the toilet bowl would be a thing of the past. It is so water resistant to the point that you can submerge it into 1.5 metres of water for half an hour and still use it without experiencing any technical problems. It is also dust resistant.
Another worth-mentioning aspect of this phone is its display. Featuring a 5-inch IPS LCD display(720p resolution), it provides amazing viewing angles – no turning your neck just to find a perfect viewing angle of your favourite video!
Best Chinese Android mid-range smartphone
Price from RM510.00
Y should you get this phone? Puns aside, the Huawei Y7 Prime is rather remarkable for a mid-range smartphone. Equipped with the Snapdragon 435 chip, it's excellent for gaming and average multitasking. To supplement the Snapdragon 435, Huawei has also added a 32GB storage and 3GB RAM to its arsenal to ensure smooth performance.
The Huawei Y7 also comes with a fingerprint sensor which is located just beneath the camera module. The fingerprint sensor does more than just allowing you to unlock your phone with your finger – it acts as a touchpad that allows you to roll down the notification bar, swipe and many more!
3 people added this to their wishlist
Disclaimer: The pricing shown is just a good indication of how much these products are worth. The prices could change based on the e-commerce promotions that are going on. If some of the products are not available, do email us at [email protected] Thank you!