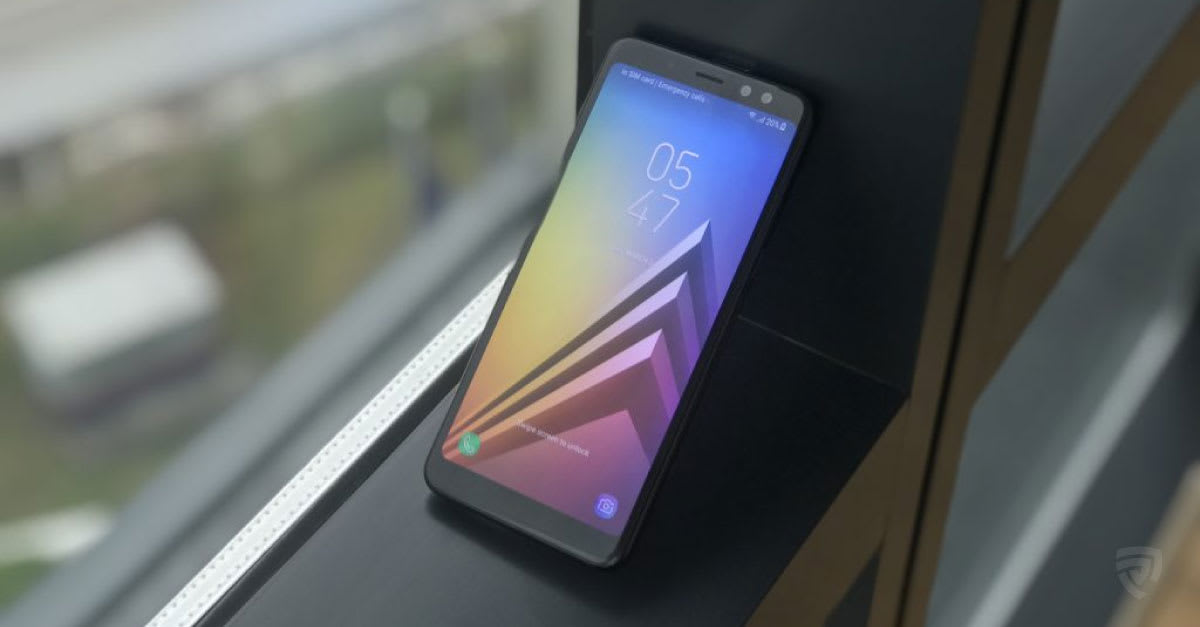 With its many competitors and predecessors, you'd think the 2018 version of the Samsung Galaxy A8 wouldn't make a splash. We'll go ahead and say it – this assumption couldn't be more wrong. Samsung has taken a decent model of a mid-range phone and improved it, turning it into an almost flagship-worthy technological marvel.
The 2018 version of the Samsung Galaxy A8 sees a good number of changes made to its exterior, distinguishing it from its 2016 counterpart. In 2018, the A8 is built for durability, and we'll tell you how. While it's slightly smaller, it's also thicker, water and dust resistant, and equipped with a Gorilla glass screen.
So… What Does It Look Like?
What... you mean you don't wash your phones?! #getonourlevel
We'll admit that Gorilla glass smudges pretty easily, and you'll end up having to give your phone a good wipe-down. However, with the durability it offers, we doubt you'll be complaining about a few stray smudges. It's a given that between the choice of a smudged screen, or a cracked one, smudges win every time.
Speaking of screens, Samsung's decided that some things should stay the same. They've decided not to fit the A8 with the curved screen of its equals. While this might not be popular, it's nice to know they're capable of keeping things simple, opting out of too many fancy design upgrades.
Okay, but what about the changes you mentioned?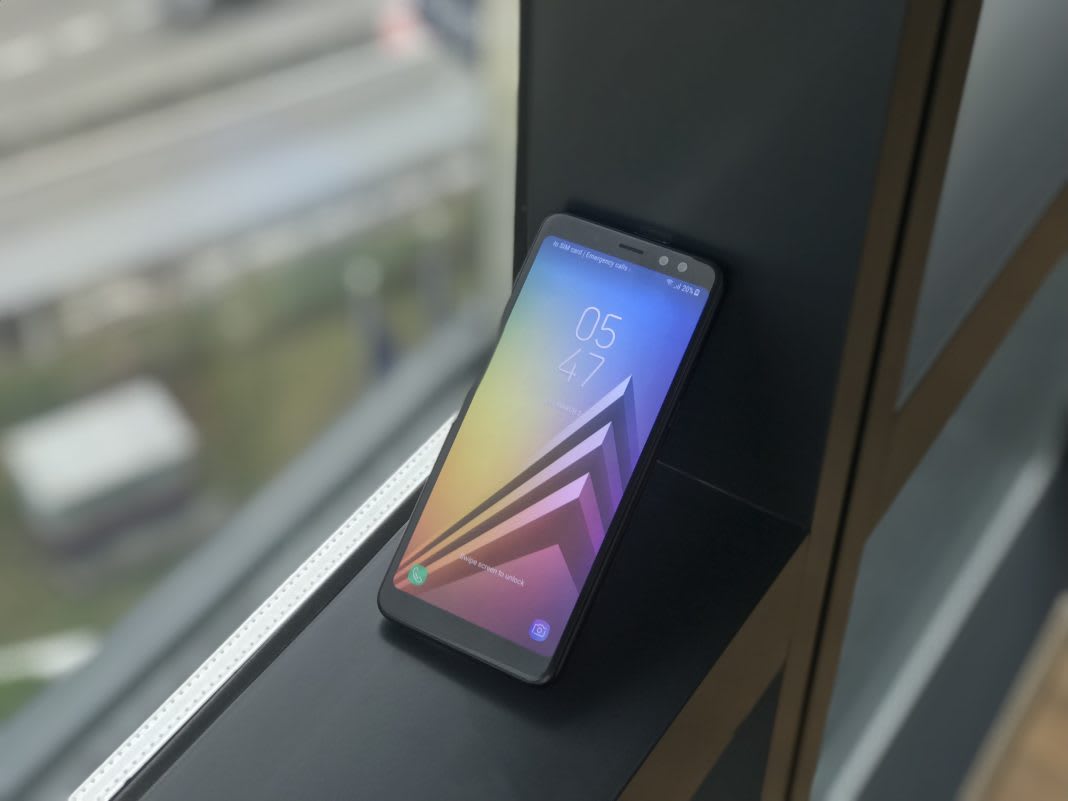 What you're not seeing is the ten minutes spent wiping away all the smudges.
Samsung has also opted for slightly larger, more distinguishable bezels with this one. They've also moved around a few things. The speaker has been moved to the side, from its usual positioning at the bottom of the phone. While this might not seem like a massive change, it does wonders for sound quality. You're less likely to cover it up with a stray finger, so say goodbye to tinny, muffled audio!
To keep things interesting, your fingerprint scanner is now just below your camera. If you're worried about smudging your camera lens – fear not! It's spaced far enough from your camera lens that you can unlock your phone with your fingerprint, smudge-free. If you're wondering why they've decided to make this shift, well… we've got news for you.
The reasoning behind this is that Samsung has decided to take a step with this year's Galaxy A8 that many other smartphone brands have done. They've completely removed the home button. Your phone is now all-screen (without that pesky notch – no shade). The home button (still flocked by your menu and back buttons) is relocated to the bottom of your screen. Simply swipe up to access it while the screen is on! While it takes some getting used to, it really pulls the look of the 2018 Galaxy A8 together, making it sleek and streamlined.
And tech improvements?! Where are they?
If only my life was as organized as my Plants vs. Zombies attack line.
| | |
| --- | --- |
| Specs | Details |
| Processor | Octa-core (2x2.2 GHz Cortex-A73 & 6x1.6 GHz Cortex-A53) |
| Memory | 32/64 GB, 4 GB RAM |
| Battery | Non-removable Li-Ion 3000 mAh battery, with up to 24h talk time |
| Display | Super AMOLED multi-touch touchscreen |
Of course, it's also what's on the inside that counts, and you'll be pleased to know that the 2018 version of the Galaxy A8 comes with major software improvements. Even though this is a mid-range phone model, and it's been established that in terms of smartphones, you get what you pay for, the Galaxy A8 is impressive. Running on Nougat Android OS, a 4 GB RAM, and a 3000 mAh battery pack, you're getting what you pay for – and slightly more.
To prove that this system works, we took it on a little test-run. We played Plants Versus Zombies, a game heavy enough to heat up higher-end models on the market. We got really into it and played more than a few rounds, expecting the A8 to heat up and slow down, but it held up incredibly well for almost half an hour. Believe us – if you're going on a long trip with a child who needs to be distracted, this is the phone you'll want with you.
Now, tell us about the camera.
Samsung is known for its excellent camera features, and the A8 doesn't disappoint. For a smartphone with a mid-range price tag, its camera is the gift that keeps on giving. Equipped with a 16-megapixel main camera, and two front-facing cameras – 8MP and 16MP respectively, you're given two depth of field options. There's also a wide-angle mode for selfies now; no more awkward cut-offs! You're promised fantastic photographs even in low lighting, so rest assured that your Instagram will be lit.
Testing out all the different selfie modes.
In terms of videos, shaky hands aren't an issue anymore; the A8 comes with an electronic image stabilization mode. However, every rose has its thorn, and the thorn here is the fact that there isn't an option to shoot slow-motion or 4K videos. Still, it's not the worst thing to ever happen to phone cameras, and honestly, with all the video-editing apps out there, the lack of a slow-motion feature isn't really going to make a difference.
Testing out the camera on the A8, and we were impressed!
That sounds perfect for my beach vacation!
And it is -- and here's why. We've already mentioned that the Samsung Galaxy A8 is dustproof, but it's also water-resistant. We tried this out, first by running the phone under a tap for five minutes or so, making sure that we didn't miss a spot. Then, we turned an empty plastic container into a mini-swimming pool, and the Galaxy A8 took a dive! We were pleasantly surprised to find that everything was in working order, when we took it out.
We even took it for a dive!
The Verdict
This year, Samsung has truly revamped the A8. We put it through the wringer, and it passed our tests – endurance, water tests, battery life, camera settings. It's everything you need in a smartphone, bundled up into a sleek little package. Sure, it might not have the flagship model frills, but it's important to remember that this is a mid-range smartphone.
All in all, if you're looking for a phone that won't break the bank, but will make waves on Instagram, won't overheat or lag while you're in the middle of a game, or shatter upon impact, then the Samsung Galaxy A8 2018 is definitely a phone you should consider. To us (and to our bank accounts), this one is a winner.
This writer approves. #teamandroid
Disclaimer: The pricing shown is just a good indication of how much these products are worth. The prices could change based on the e-commerce promotions that are going on. If some of the products are not available, do email us at [email protected]co. Thank you!
Samsung A8
If you're looking for a phone that won't break the bank, but will make waves on Instagram, won't overheat or lag while you're in the middle of a game, or shatter upon impact, then the Samsung Galaxy A8 2018 is definitely a phone you should consider. To us (and to our bank accounts), this one is a winner.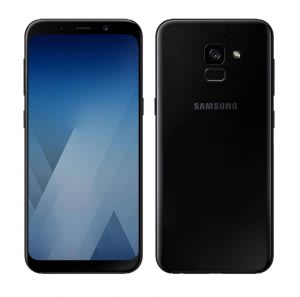 What's Good
Affordable – good product for at an inexpensive rate
Excellent operating system; doesn't lag or heat up with heavy use
Extremely durable; thick, equipped with Gorilla glass
Fantastic photography options, great camera specs
Sleek, streamlined silhouette
Water resistant – perfect for those shallow-snorkeling selfies!
What's Bad
Not as many camera features as Samsung flagship models
Average battery life – we were expecting a little better from this one, given the fantastic operating system
Gorilla glass smudges easily, so be prepared for lots of cleaning