The right portion of ingredients can make or break a recipe.
The right digital kitchen scale will help you with consistent and accurate measurements. Here are our top picks for the best kitchen scales you can buy right now.
Read also: 10 Essential Items You'll Need to Complete Your Kitchen
---
Table Of Contents
---
Top 5 Digital Kitchen Scales In Malaysia

Check Russell Taylors Stainless Steel Kitchen Scale KS-10 price below:
add_circle
Non-slip rubber on the base
add_circle
Value for money
Why It's Our Top Pick:
"This Russell Taylors scale is our top pick for its reliability, affordability, and its precision of course. We love how user-friendly it is too.
Bakers and fitness enthusiasts will appreciate its accuracy when measuring ingredients and portioning food when tracking macros."
Features:
Featuring an ultra-slim and sleek design, it's equipped with high precision sensors, producing measurements to the accuracy of 1g. It can be used to weigh up to 10kg and has an overload alarm.
Performance:
The hanging hook makes it easy to store and its night mode display makes measurements easy to read. Users love how lightweight it is.
Check Stainless Steel Mini Digital Kitchen Weight Scale price below:
add_circle
High precision strain gauge sensor
add_circle
Non-slip foam pad
remove_circle
Can only weigh up to 3kg due to its small size
This petite stainless steel kitchen scale is durable and won't take up much space in your kitchen.
Features:
Its high sensitivity gravity sensor ensures precise measurements. Given its small size, it can only weigh up to 3kg but it's extremely versatile, allowing for readings in 9 different units.
Besides, its backlit LCD display makes it easy to read and operate.
Performance:
Users are impressed with its quality and how well it functions as well as how reasonably priced it is.
This mini scale is perfect for weighing small items like seasoning, herbs, tea, or some fruits.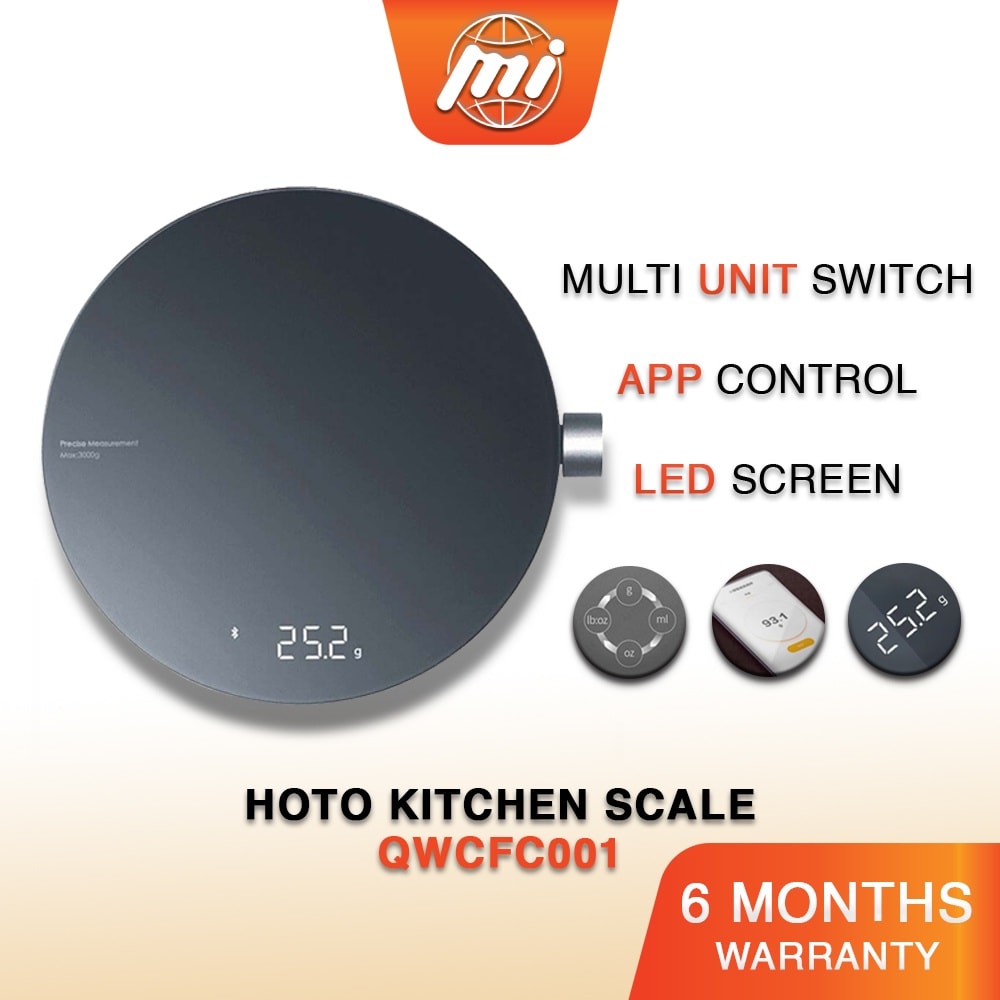 Check Xiaomi HOTO Smart Kitchen Scale price below:
add_circle
Multifunctional
remove_circle
Only weighs up to 3kg
Looking for a sophisticated kitchen scale that? The HOTO smart kitchen scale by Xiao Mi is just that.
Features:
This kitchen scale is unlike the others. Featuring an LCD screen, it also connects to the Mi Jia app allowing you to view the measurements and data on your phone. There is no need to meddle with various buttons as its interactive design gives you control of various settings with just one button. You have the choice between 4 units of weight.
Performance:
This isn't just a weighing scale. It can also be used to store records of coffee powder weight, the volume of water to come up with a recipe for coffee. You can even use the app to record weighing data and create recipes that you can share with friends.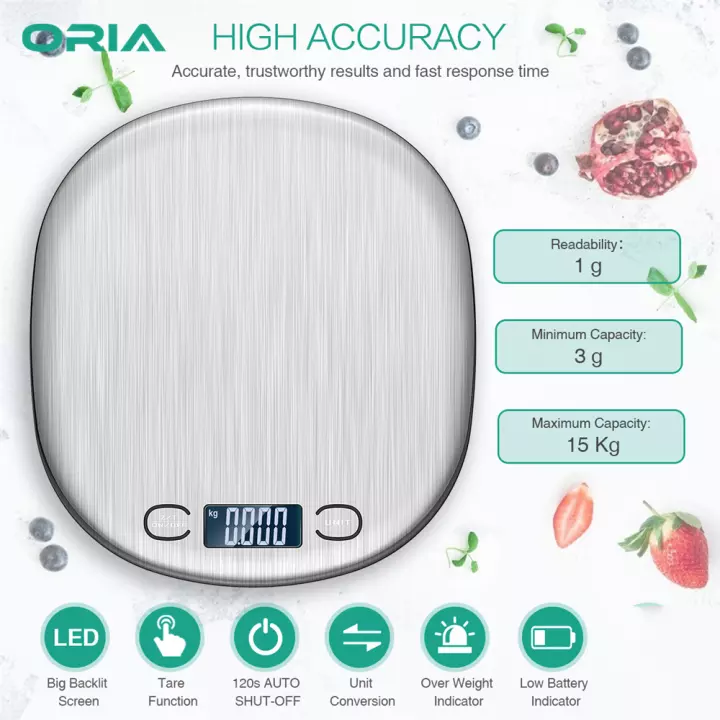 Check ORIA Digital Kitchen Scale price below:
add_circle
Overweight indicator
add_circle
Anti-fingerprint surface
If you're looking for something more heavy-duty, this one has a capacity of 15kg.
Features:
It is highly accurate and features a backlit screen that's easy to read. There's a 120s auto-shutoff function that's convenient as you can continue with meal prep without worrying about wasting battery life because you forgot to turn it off. To add to that, there's a low battery indicator so you'll know when it's due for a battery change.
Performance:
Its stainless steel body is durable and easy to clean. This is a great scale for portioning your ingredients for baking and cooking.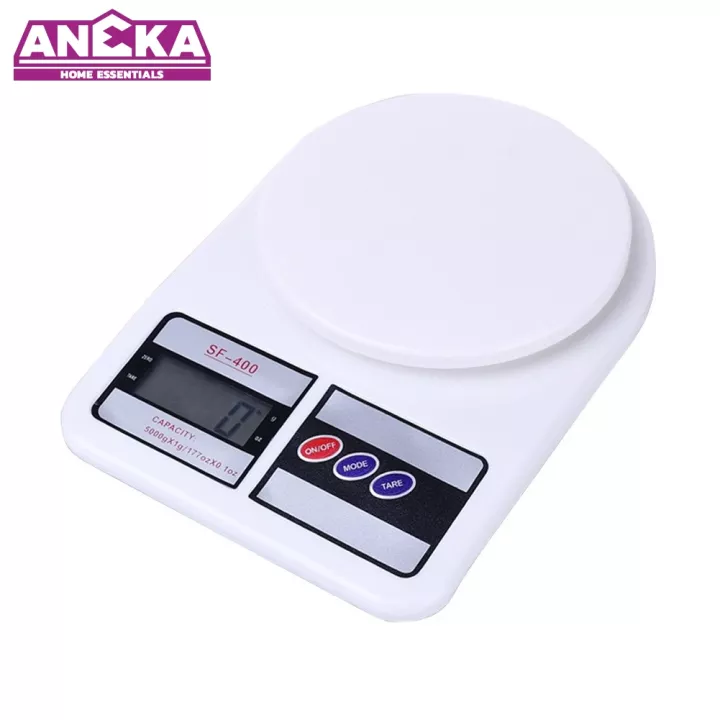 Check Mini Digital Electronic Kitchen Scale SF-400 price below:
add_circle
Low power indicator
remove_circle
Only 2 units -- "g" and "oz"
If you're on a budget, this is not a bad option.
Features:
The most affordable digital scale on this list, it features a high precision strain gauge sensor that's ideal for measuring flour and other powdered ingredients.
The platform is made of stainless steel which is durable and it has a capacity of 10kg/1g. 
Performance:
The LCD screen displays measurements clearly. Its performance and quality are satisfactory at this price point. The auto-reset is a handy feature to have to ensure accuracy.
Related articles: