Chinese New Year - one of the most anticipated occasions of the year for our ethnic Chinese brothers and sisters is just around the corner. It is a traditional festival celebrated by the Chinese to welcome a new year under the traditional lunisolar calendar.
During the Chinese New Year, Red Envelopes (Angpaos), hampers, gifts and CNY food and drinks are among the common things that are prepared ahead of the festival. And so happen for this year, Chinese New Year lands on the 1st of February 2022.
For Malaysian Chinese, it is a tradition to visit relatives and friends during the festive season while offering Angpaos (red packets) and exchanging gifts with each other.
Hampers on the other hand are typically prepared to appreciate a special someone or to send their best wishes to someone. It is a big deal to receive a hamper during Chinese New Year as it shows the gifter's sincerity and acts as a symbol of a close relationship. Sometimes, hampers are gifted via delivery to clients or business partners to symbolise a prosperous year ahead.
Since many aren't able to celebrate Chinese New Year last year due to the Covid-19 pandemic, why not make this year special by gifting a hamper or special gift box to your peers? No matter if it's a premium hamper or just a simple gift basket, it will definitely mean a lot to the person receiving it.
---
10 Best Chinese New Year Hampers and Gift Boxes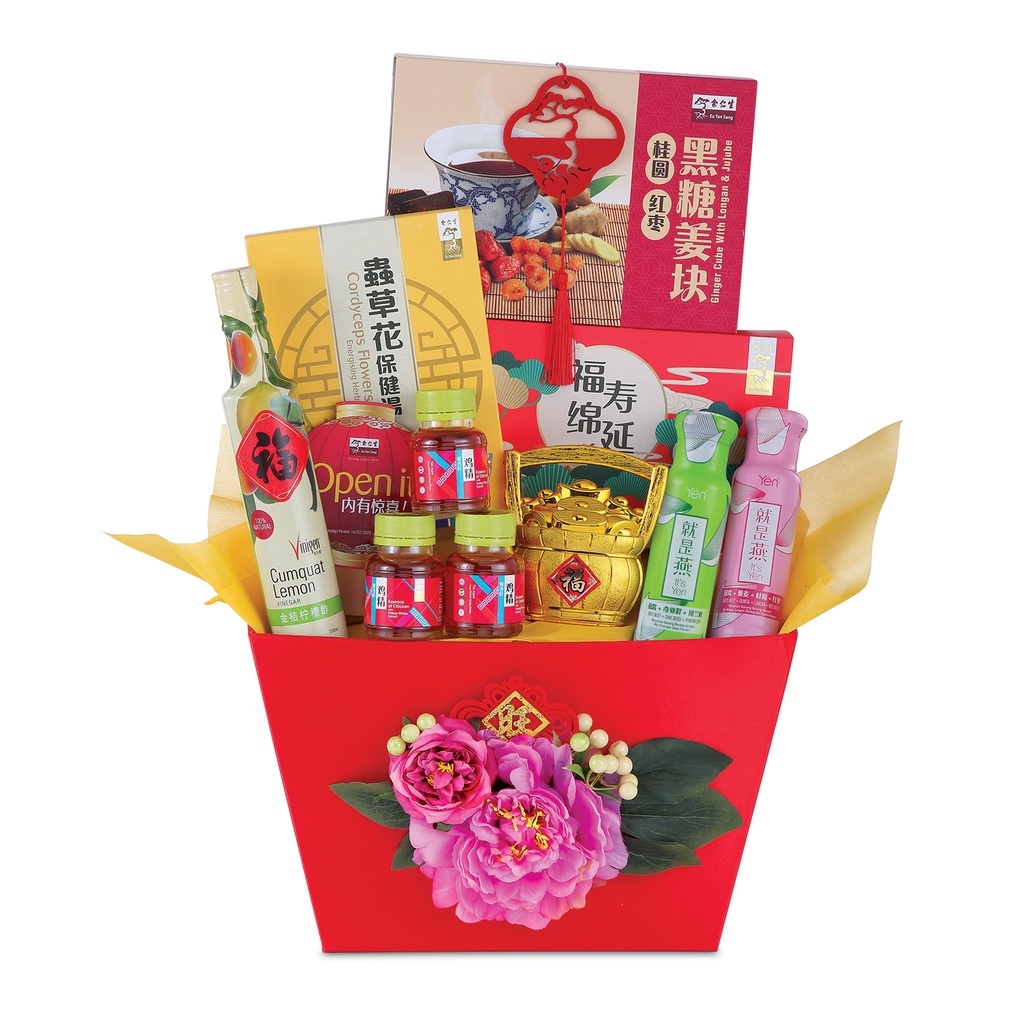 Check Eu Yan Sang CNY Hamper - Full of Love (Deluxe Blooming) price below:
What better way to express your love towards your family members than with the Full of Love CNY hamper this Chinese New Year? As the saying goes; blood is thicker than water, so we should prioritise our family and show some appreciation towards them, especially during the festive seasons.
Overview:
The hamper comes with various premium health products such as Chicken Essence with Gingko Biloba Extract, Bird Nest products, Herbal Soup and more. There's nothing that says "I care" than nourishing food to deliver best wishes for your family's health this Chinese New Year.
Not to mention; at an affordable price, the health products in this hamper are of great value and will most importantly bring good health to your family.
Consists of:
Essence of Chicken with Gingko Biloba Extract

It's Yen (Bird's Nest + Chia Seed + Pandan)

It's Yen (Bird's Nest + Quinoa + Longan + Red Dates)

Pear Nourishing Herbal Soup

Hawthorn Stick with Tangerine Peel

Fine Selected Fish Maw
---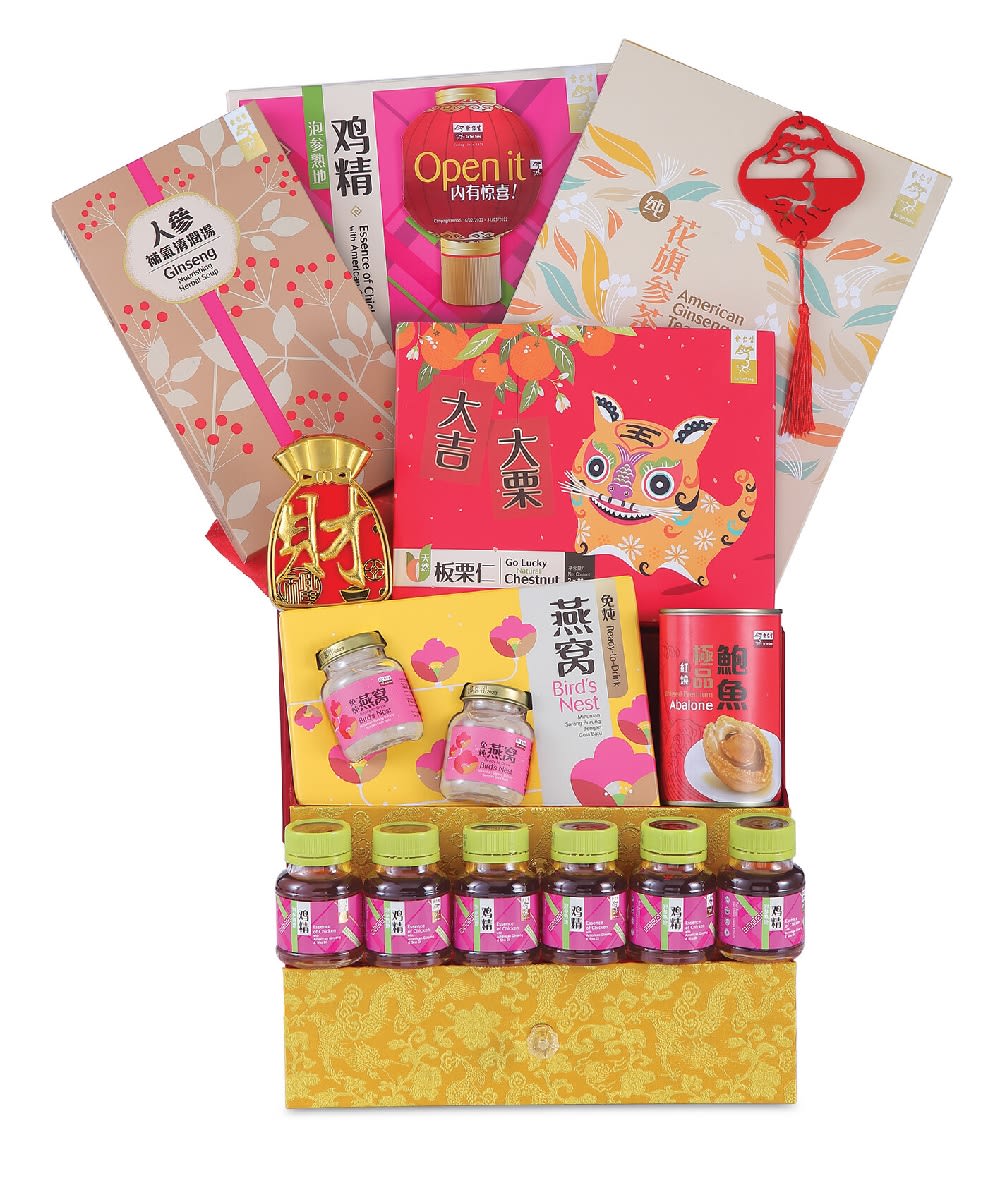 Check Eu Yan Sang CNY Hamper - Full of Fortune price below:
Your business clients and partners are possibly the second most important people coming after family. Show your appreciation towards those who helped you thrive in your business this Chinese New Year with a premium hamper by Eu Yan Sang.
Overview:
The hamper consists of a variety of fine assortments such as American Ginseng Tea, Bird's Nest, Ginseng Nourishing Herbal Soup and other healthy foods to wish them the best of health this year.
Neatly packaged, the hamper is also decorated carefully with a theme that symbolises wealth and fortune. At a decent price range, this hamper is sure to leave a good impression on your business partners and clients.
Consists of:
American Ginseng Tea

Braised Premium Abalone

Ready-to-drink Bird's Nest

Go Lucky Chestnut

Ginseng Nourishing Herbal Soup

Essence of Chicken with American Ginseng and Shu Di
---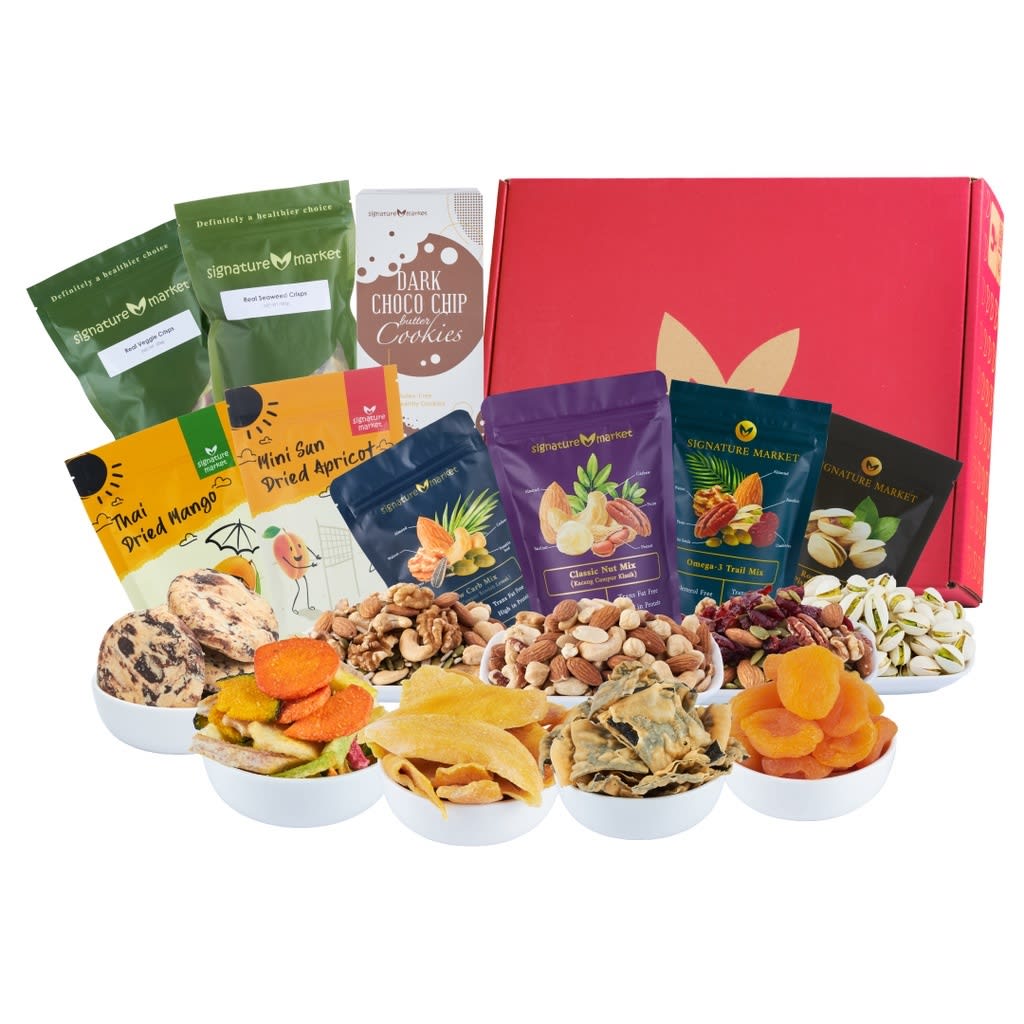 Check Signature Market Blossoming Happiness CNY Gift Box price below:
Chinese New Year is known for the many fattening cookies and snacks available which may not be everyone's cup of tea. If you or your recipients are health-conscious, the Signature Market CNY Gift Box is the perfect gift to get.
Overview:
This gift box is super affordable and comes with nine nutritious products, ranging from nuts to gluten-free cookies. The packaging is also pretty and thoughtful, with the set coming in a durable decorated box filled with Chinese New Year embellishments inside.
With a variety of delicious yet healthy products in this CNY gift box, embrace better health this festive season with your family and friends.
Consists of:
Classic Nut Mix

Dark Chocolate Chip Butter Cookies (Gluten Free)

Low Carb Mix

Mini Sun Dried Apricot

Omega-3 Trail Mix

Real Seaweed Crisps

Real Veggie Crisps

Roasted Pistachio in Shell Salted

Thai Dried Mango
---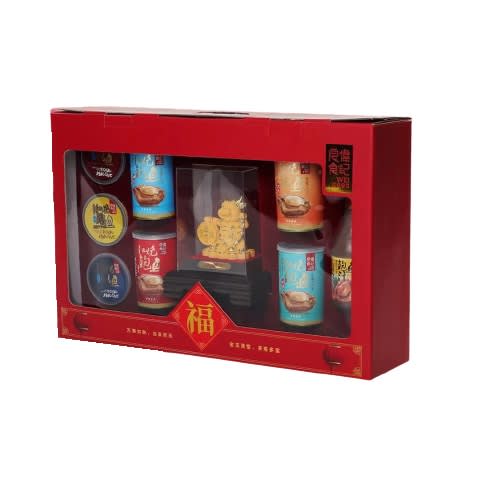 Check Wei Food Royal Grade Abalone Hamper - Big Lucky Cat (Set C) price below:
Feeling generous this Chinese New Year? Want to gift your spouse or in-laws a premium gift? Nothing speaks premium like a CNY abalone hamper! Abalone is a famous Chinese New Year dish that is known to be a premium dish as its price is quite expensive. According to popular Chinese belief, abalone dish also symbolises good fortune and abundance for the year.
Overview:
The abalone gift sets have a selection of 4 different options with different products and prices. In the Big Lucky Cat version comes with six abalone products, special Angpao packs and a Lucky Cat figure. This gift set is also packaged nicely in a fancy red box.
If you are looking to splash your cash on a special high-end gift, this abalone gift set will do the trick.
Consists of:
Spicy Abalone

Braised Abalone

Clear Soup Abalone

Braised Abalone Or Clear Soup Abalone

Braised Abalone Or Clear Soup Abalone

Abalone Soup

Taurus Ang Pao

7.5 Inches Lucky Cat
---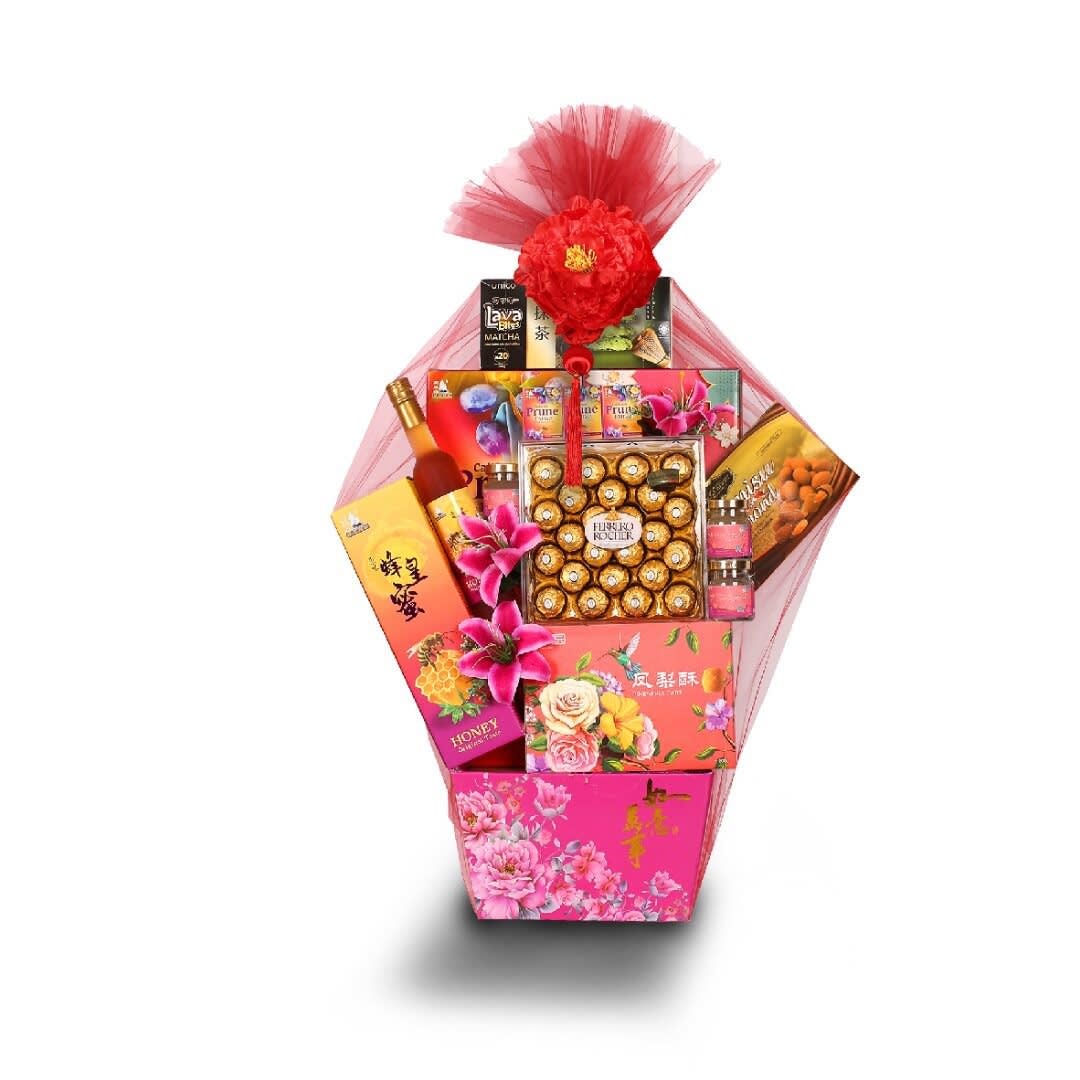 Check CNY Halal Empire Hamper - Festival Deluxe Abundance price below:
Looking for an alcohol-free hamper or a hamper for your Muslim friends? The Deluxe Abundance hamper consists of products that are Halal Certified and is the perfect gift for your relatives or clients that cannot consume alcohol or pork.
Overview:
The hamper comes with a variety of delicious food products that are appropriate gifts for Chinese New Year such as honey, chocolate, bird's nest and more. This hamper is also nicely decorated with red-themed embellishments and in an appropriate packaging, complete with a new year greeting card.
If you're unsure of what to get for your Muslim friends during CNY, this hamper is definitely suitable and worth the money.
Consists of:
Original Taste Honey

Bird's Nest with Ginseng and Rock Sugar

California Prune Essence

Ferrero Rocher

Tiramisu Almond Chocolate

Japanese Matcha Lava Cookies

Traditional Pineapple Tart
---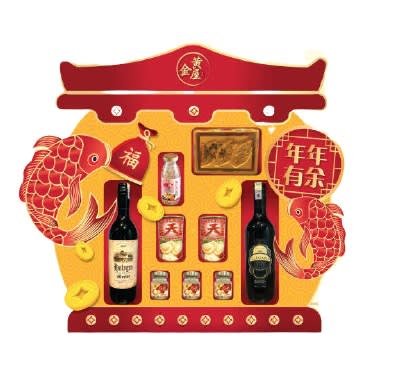 Check Golden House Chinese New Year Gift Box 2022 price below:
Looking for a more grand hamper to gift this year? Don't know what gift to get for a newly married couple? A wine hamper sounds like a great gift idea! Express your appreciation and gratitude (or flaunt your fortune) towards your best mates with the premium Golden House wine hamper that comes with a line of expensive products.
Overview:
The hamper comes with what you would expect from a premium hamper - Bird's Nest with Ginseng, Fine Red Wine, Abalone and more. It is decorated and packaged nicely with Chinese New Year greetings on top. The cherry on top is that the hamper is designed like a block of gold - adding a wealthy feel to it.
Consists of:
Bird's Nest with American Ginseng & Rock Sugar

2x Merlot Red Wine

Premium Bird Nest

Braised Abalone Can

Bird's Nest Drink with Sweet Osmanthus
---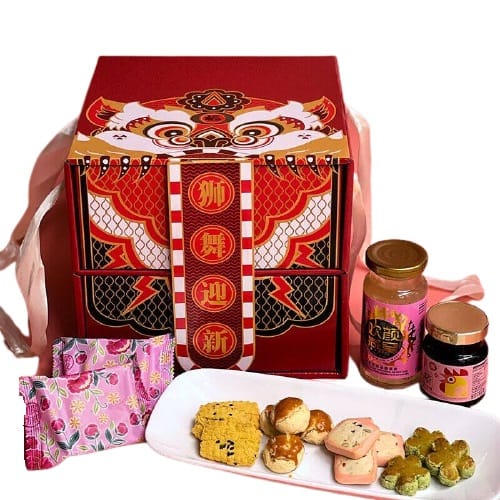 Check Yong Sheng CNY Gift Set - WooHuu Gift Box price below:
What's a Chinese New Year celebration without CNY cookies? The Yong Sheng CNY cookies gift box is the perfect gift for visiting relatives and friends. At an affordable price, get this cute double-layered box that is filled with delicious goodies and health products.
Overview:
The first layer of the gift box comprises various kind of cookies, whereas the second layer has some Nyonya Lava Cake and a bottle each of Bird's Nest and Chicken Essence. Adorning the packaging are Chinese New Year decorations with a Tiger design to commemorate the Year of the Tiger. Truly a simple yet impressive gift for anyone.
Consists of:
Almond Cookies

Cranberry Butter Cookies

Green Pea Cookies

Salted Egg Yolk Cookies

Nyonya Pineapple Lava Cake

Bird's Nest with Ginseng & White Fungus

Essence of Chicken with Ginseng & Cordyceps
---
Check Make Hay, Sunshine Custom Fruit Gift Box (CNY Edition) price below:
Make Hay, Sunshine's signature and all-time best seller fruit gift box is now available with Chinese New Year-themed decorations and flowers. Priced as low as RM88, the gift box has various fresh fruits and flowers that come with pretty CNY decorations.
Overview:
If getting your hampers from here, you have the option to choose an appropriate CNY gift box according to your budget. The only difference is that the more expensive versions have larger boxes as well as more fruits and flowers.
Whether budget or premium, the fruits and flowers are delicately arranged with gold ingots and other decorations in each hamper. So no matter your budget range, you still get a very presentable and elegant gift for your family and friends.
Consists of:
Selection of fresh seasonal fruits arranged accordingly with chosen budget

Kraft Gift Box with Exclusive CNY Velvet Box Sleeve, Flowers, Fillers, Decoration & Arrangement

Personal Message Card
---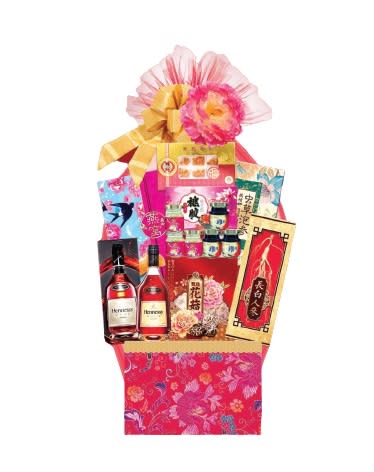 Check Prosperity Happiness Chinese New Year 2022 Hamper (C198) price below:
Newborn babies are a blessing to the family and is also a notable grand gesture to gift hampers in welcoming a new member of the family. The Prosperity Happiness hamper consists of a variety of health products that will not only help with the recovery of the mother, but can also improve their overall health.
Overview:
Some of the health products include Chicken Essence with American Ginseng, Bird's Nest with American Ginseng and more. Each hamper is wrapped carefully with Chinese New Year decorations, along with free gifts like Angpaos and a CNY greeting card. As the name "Prosperity Happiness" suggests, spread the happiness of a newborn baby in the family with this CNY hamper.
Consists of:
Essence of Chicken with American Ginseng and Cordyceps

Bird's Nest American Ginseng with White Fungus and Rock Sugar

Red Leaf Imported Red Wine Merlot

Wild Ginseng

Ganoderma Cordyceps Superior Soup

American Ginseng Tea
---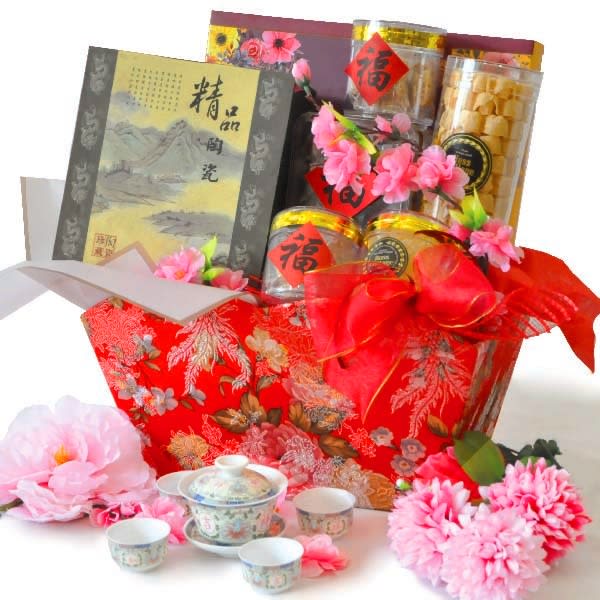 Check Flory Gift Good Life Gaiwan Teaset – CNY Hamper price below:
If you think that regular hampers with wine and biscuits aren't your cup of tea, a Chinese New Year-themed tea gift set may be suitable for you.
Overview:
The Flory Gift Gaiwan Teaset is a nice CNY gift as the hamper comes with a special Gaiwan teacup set and American Ginseng Tea - the best thing you can get for a tea lover.
In each hamper are also delectable Chinese New Year cookies that go well with the tea. Overall, the hamper's packaging are aesthetic and elegantly presented, complete with an eye-catching basket that's painted with oriental flower motifs.
Consists of:
Gaiwan Teacup Sets

American Ginseng Tea

Sesame Honeycomb Cookies

Ross Cottage Pineapple Slices

Ross Cottage Roasted Cashew Nuts

Ross Cottage Sweet Apricot

Premium Red Dates with Walnuts
---