Hari Raya Aidilfitri is fast approaching as the days go by. Falling on the 3rd of May this year, it marks the first day of Syawal, which is the 10th month of the Hijrah(Islamic) calendar, and the end of Ramadan(the Islamic holy month of sunrise to sunset fasting). 
It is a day where we enjoy the warmth of relationships with our fellow Muslim friends and eat all the yummy Malay cuisines to our hearts' content. 
If you're looking for the best Hari Raya hampers to give to your loved ones and friends this Raya season, we've got you covered.  
Top 12 Hari Raya Hamper Gift Sets To Buy in Malaysia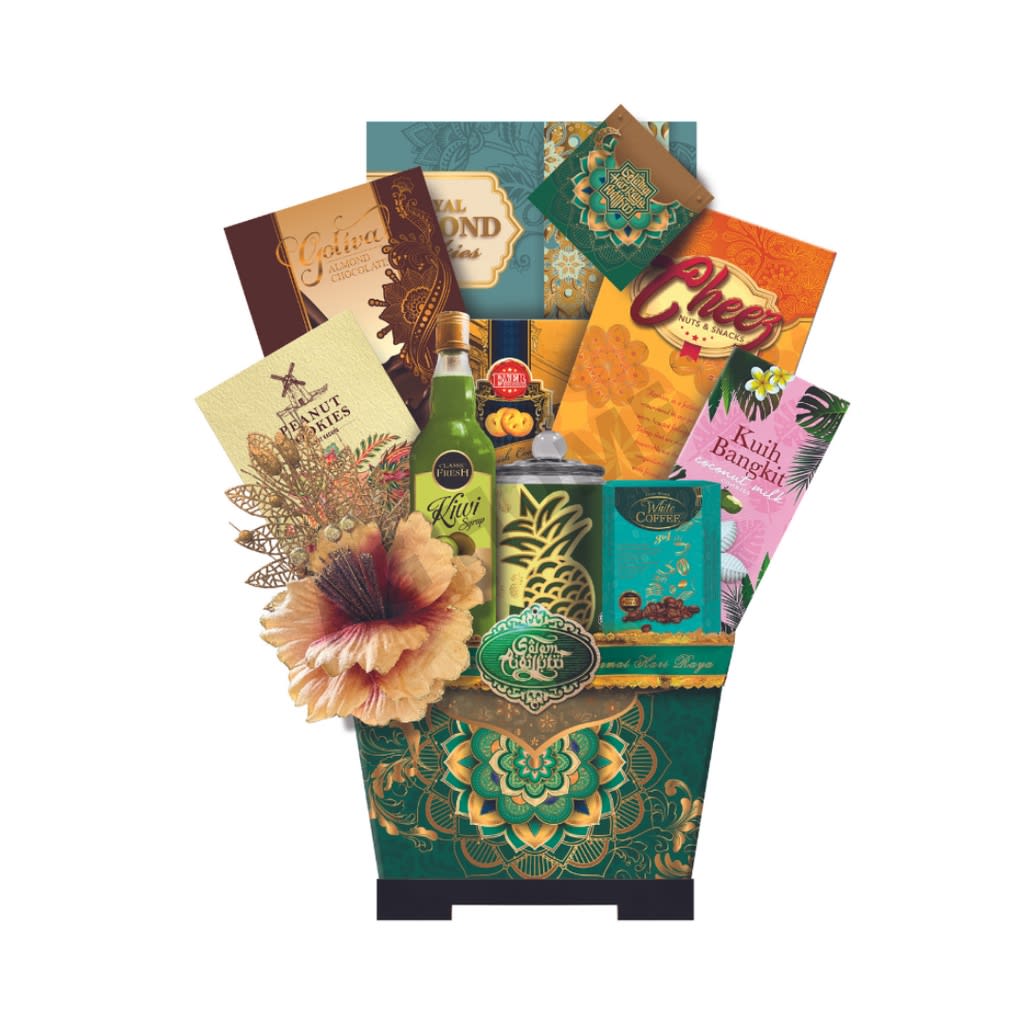 Check HR-2 Seindah Aidilfitri Hari Raya Hamper price below:
Shopping for the perfect hamper that hits right in every corner for just about anyone, especially when you're unsure what the recipient would like or not, can be tricky. If so, this hamper might just be for you.
Overview
The hamper has a variety of assortments from delicious cookies to snacks to fresh fruit syrup. It even comes in a decorated basket, so you won't have to worry about packaging and decorating your gift. 
The price is also within a reasonable range. And what makes this the best is that this gift is suitable for any occasion, not just Hari Raya.
Consists of:
Danish Butter Cookie (100gm)

Cheez Nuts & Snacks (150gm)

TIPTOP Kuih Bangkit Pandan Flavour 75gm (1 box)

Peanut Cookies (80gm)

Royal Almond Cookies (80gm)

Deary Klasik White Coffee (108gm)

Goliva Almond Chocolate (120gm)

Pineapple Tart Bottle (120gm)

Gold Classic Fresh Kiwi Syrup (700ml)

Packaging & Decorations (1 set)

Greeting Card (1 pc)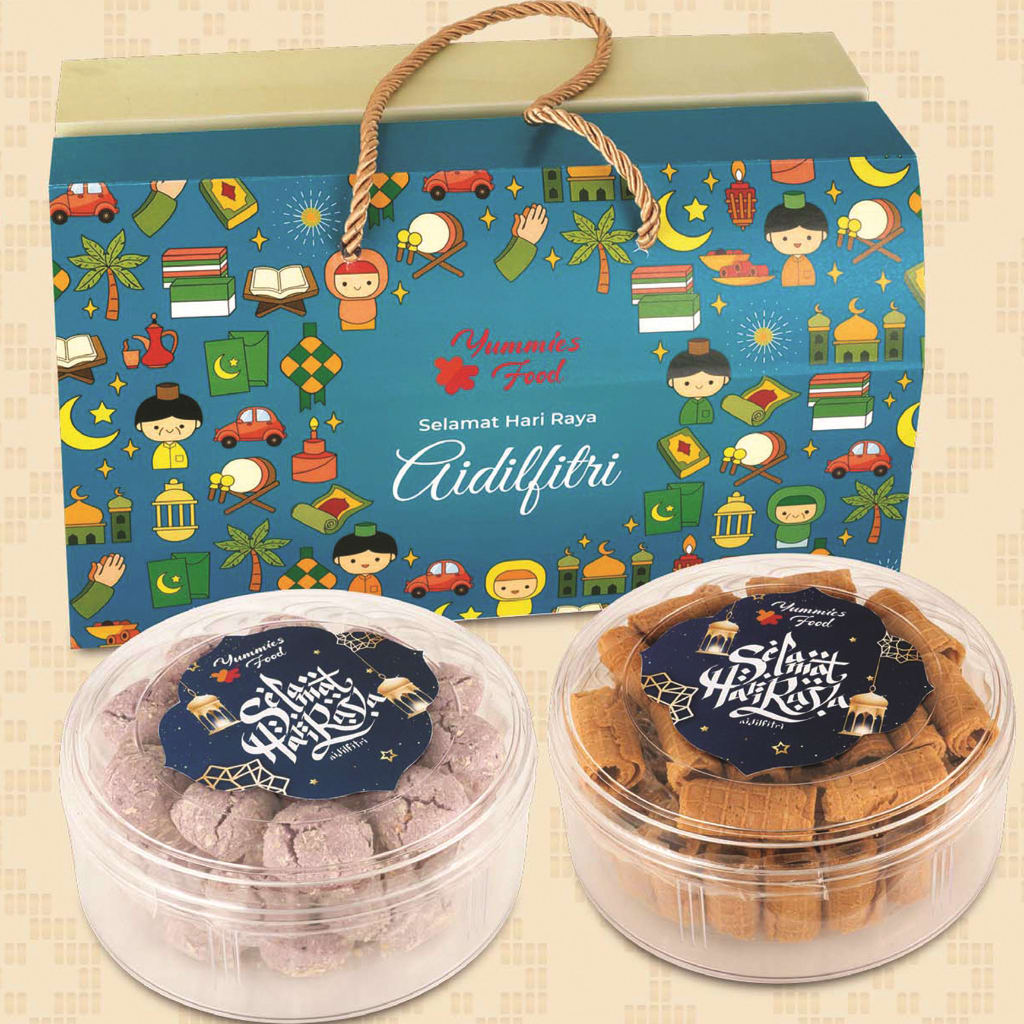 Check Yummies Hari Raya Cookies Gift Set price below:
On a budget or just out looking for a simple gift? This cookie gift set is suitable for gifting just about anyone whether it's your family, friends, and even your colleagues. Maybe also consider presenting this set as a little Raya gift to the host of any open houses you'll be going to.
Overview
This set has a variety of homemade cookies to choose from. You can can choose to include two cans of any cookie variant you want available from the brand. Ranging from sweet pineapple cookies to chocolate fudge cookies, feel free to customise which cookies to give based on your recipient's likes and dislikes.
Choose any two:
Carnival Pineapple Cookies (Roll) - 320g/can

Chocolate Fudge - 260g/can

Chocolate Flavour Cookies - 270g/can

Macadamia nut Cookies - 280g/can

Coconut Crispy Roll - 260g/can

Cashewnut Cookies - 280g/can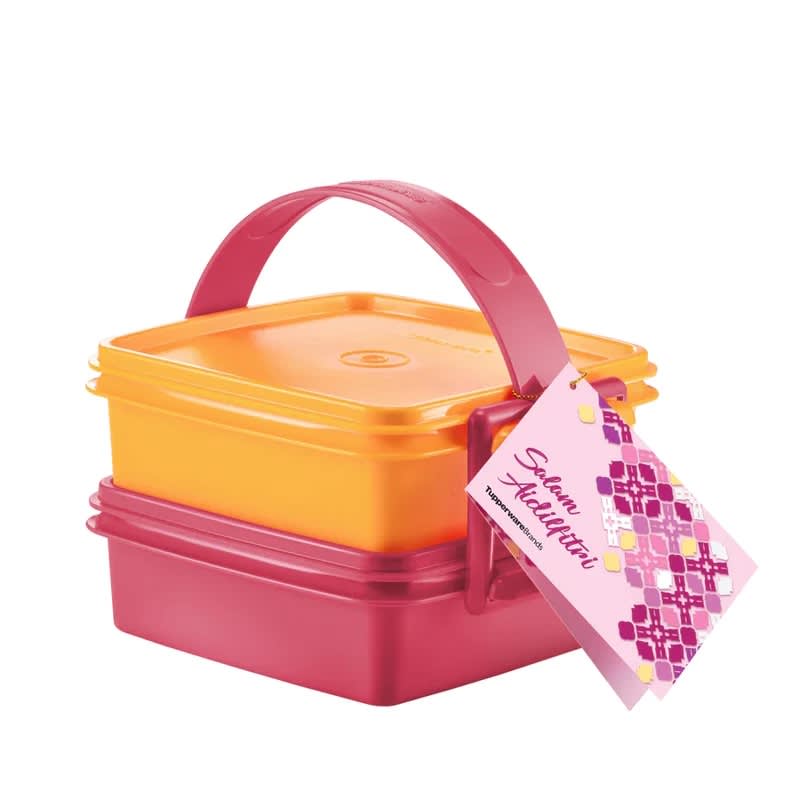 Check Tupperware Raya Cake Gift Set 2023 (2pcs) price below:
Everyone appreciates a good Tupperware to store food. This Tupperware Raya Cake Gift Set is a practical gift because it also comes with delicious cakes!
Overview
This Tupperware set comes in two containers, each stackable onto another and designed with a Cariolier to hold them together for ease of portability. Of course, in the Tupperware are a double chocolate cake and orange cake. After that, your recipient can have the Tupperware be put to good use for their daily lunches and whatnots.
Consists of:
Small Goody Box w Cariolier (2 pcs) - Capacity: 790ml

Double Chocolate Cake 250g (1 unit)

Orange Cake 230g (1 unit)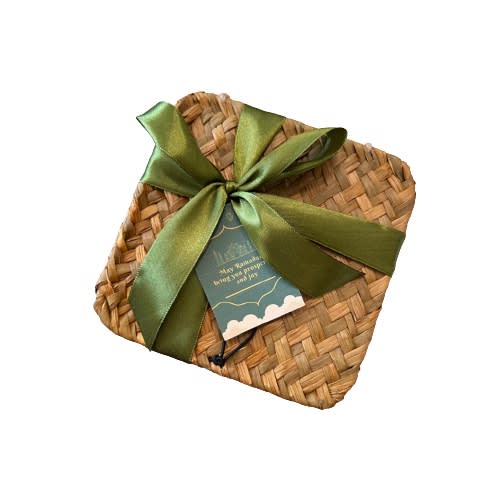 Check INS Feel Rattan Basket Raya price below:
This basket hamper raya is a good raya gift if you're tired of giving traditional hampers to your close ones.
Overview
This basket hamper comes with a rattan basket with all sorts of goodies in them. This hamper has three sets with each having dates (100g) and Ferrero Rocher. You can choose which set strikes your fancy.
Consists of:
Basket size for all sets (15x15x10)

Three different sets (set A, set B, set C)

Delicate Aroma Scented Candle (90G) (Set A)

Real Succulent Plant with wrapping (Set B)

Kintry Cookies (100g) (Set C)

Kurma for all sets (100g)

3 pcs Ferrero Rocher for all sets

Premium Rattan Basket Storage Organizer with flower decoration for all sets

A gift card and free ribbon for all sets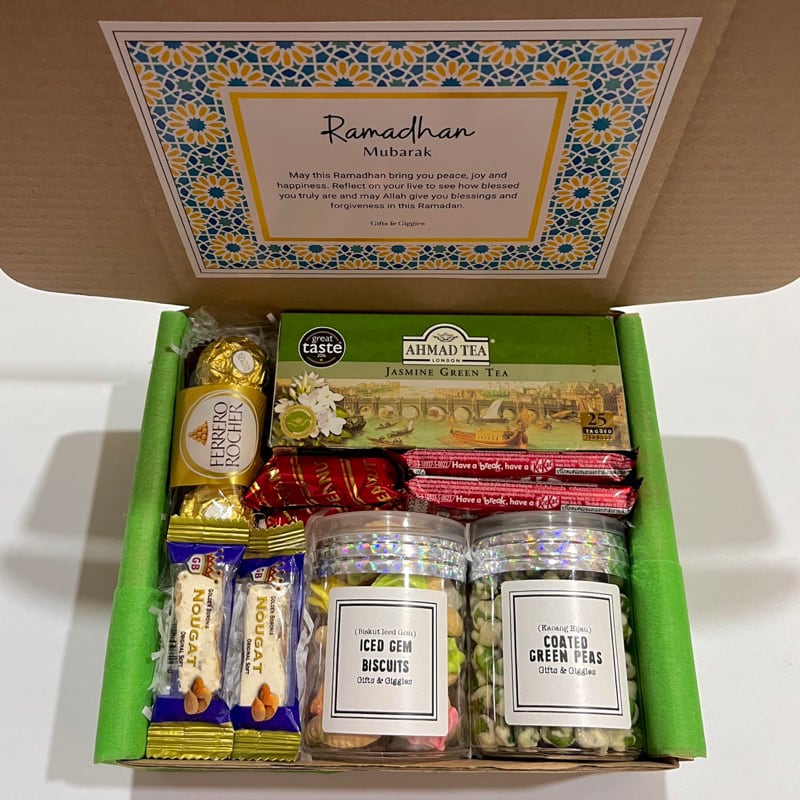 Check Gifts & Giggles Hamper Ramadan price below:
Want to gift raya hampers to loved ones but you're on a budget? Too busy and don't have enough time to preorder Raya hampers? Well, this hamper is suitable for you.
Overview
Available in 4 variants, each set contains goodies like chocolate, cookies and dates; perfect for most types of recipients. As the buyer, you can also choose to customise the box. For your assurance, each order will be sent out within 48 hours of purchase, making this suitable for anyone busy or in a rush to make a last-minute order.
Consists of:
And assortment of candies, tea, dates and cookies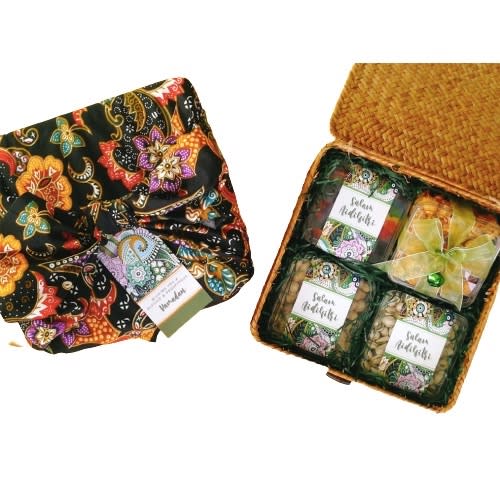 Check Raya Hamper 2023 RY11 price below:
Sometimes, all it takes to appreciate the celebration is with some good ol' traditional and homemade Raya cookies to gift to your loved ones. Perhaps you can indulge in that idea with this option.
Overview
This Raya hamper is filled with a variety of homemade and traditional cookies, suitable for one that craves the nostalgic Raya cookie delicacies. Wrapped with Batik-themed fabric, it'll surely bring out the festive air.
Consists of:
1(X) Homemade Raya Cookies - Lidah Kucing

1(X) Premium Raya Nuts - Imported Groundnuts

1(X) Traditional Raya Snacks - Kerepek Opak

1(X) Yummilicious Raya Snacks - Caramel Popcorn

1(X) Reusable Bamboo Weaved Basket wrapped up with Batik-Themed

Fabric and Raya Decorations

1(X) Raya Greeting Tag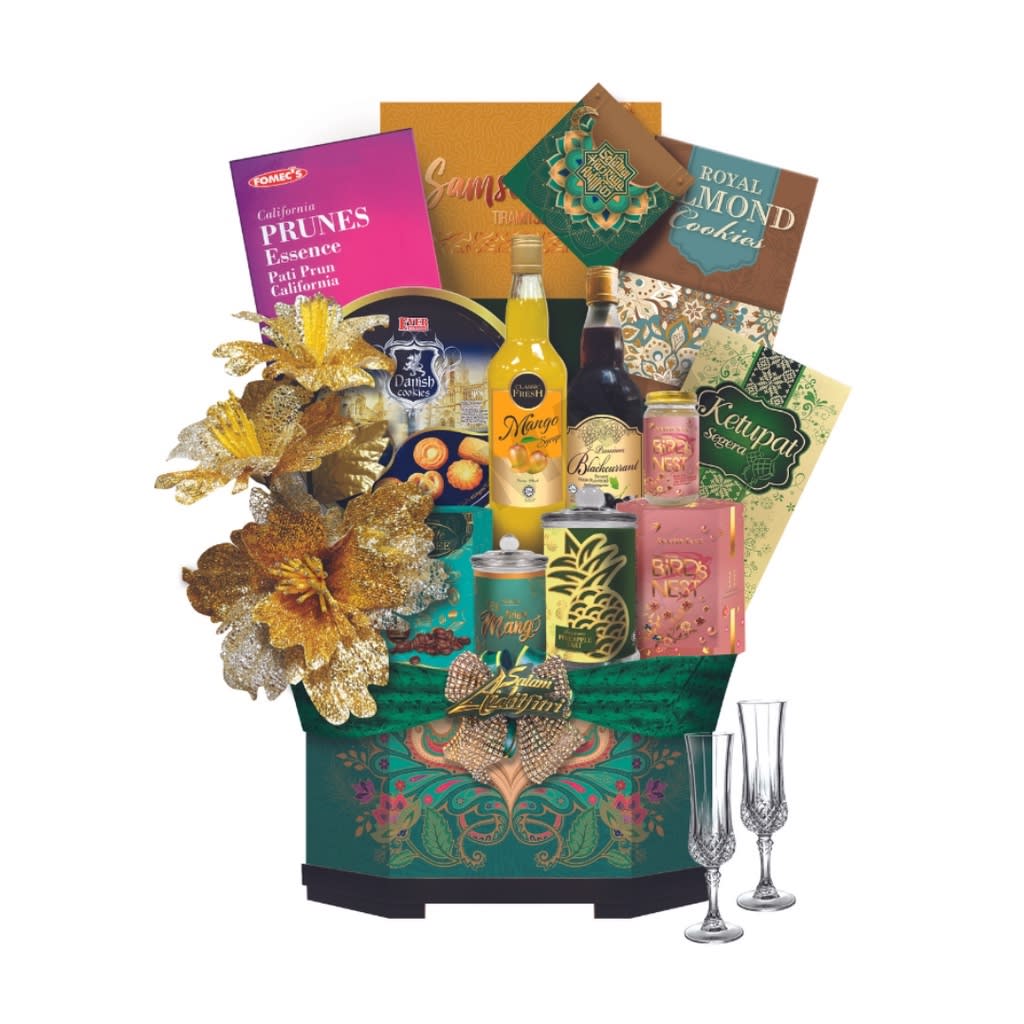 Check Hari Raya Hamper - HR4 price below:
If you know a lover of Ketupat, make the move and get them this Raya hamper since it contains instant Ketupat! That means whether they are a master chef or not, they'll be able to put that bag of a delicacy to good use.
Overview
A mixed variety of goods is stored in this hamper, ranging from fresh mango syrup to a box of instant Ketupat, which is a must-have when celebrating Raya. While most people would make Ketupat from scratch, the bag of instant Ketupat is great for those who are not skilled in the kitchen.
Other goodies in the hamper that your recipient would appreciate is some White Coffee, Danish butter cookies, some Tiramisu chocolate and more.
Consists of:
Gold Classic Fresh Mango Syrup (700ml)

Ketupat Segera 240gm (1 box)

Fomec's California Prunes Essense (3x 42ml)

Gold Premium Blackcurrant (700ml)

Samsonies Tiramisu Chocolate (100gm)

Bird's Nest with American Ginseng, White Fungus & Rock Sugar (150ml)

Deary Klasik White Coffee (108gm)

Ever Danish Butter Cookie (908gm)

Pineapple Tart Bottle (120gm)

Dried Mango (Bottle) (65gm)

Royal Almond Cookies (80gm)

Vintage Tall Crystal Glass (2 pcs)

Packaging & Decorations (1 set)

Greeting Card (1 pc)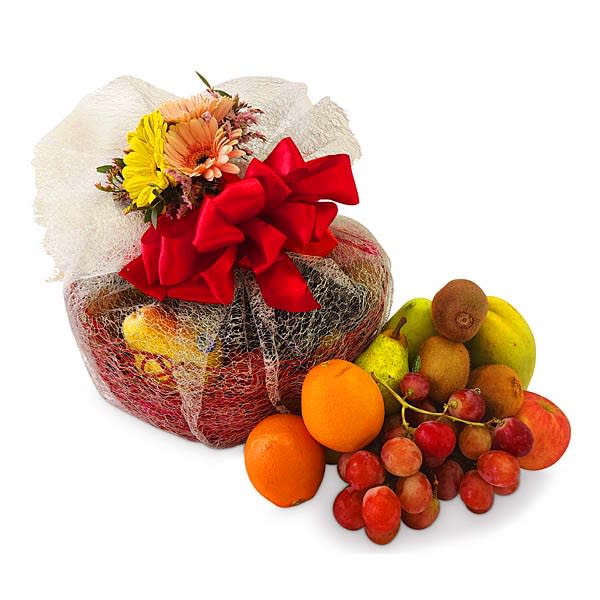 Check Alaka Hari Raya Gift price below:
Unsure of what to gift as a meaningful gesture, you can always opt for a fruit hamper; a simple and fitting set no matter the occasion.
Overview
A nutritious gift with goodness. It's a simple gift, however, that doesn't diminish the festive raya air. In addition, it's all wrapped up with beautiful Gerberas Flowers and with the addition of a happy note.
Consists of:
Five types of fresh hand-picked fruits

Al-Madinah Ajwa Dates 200g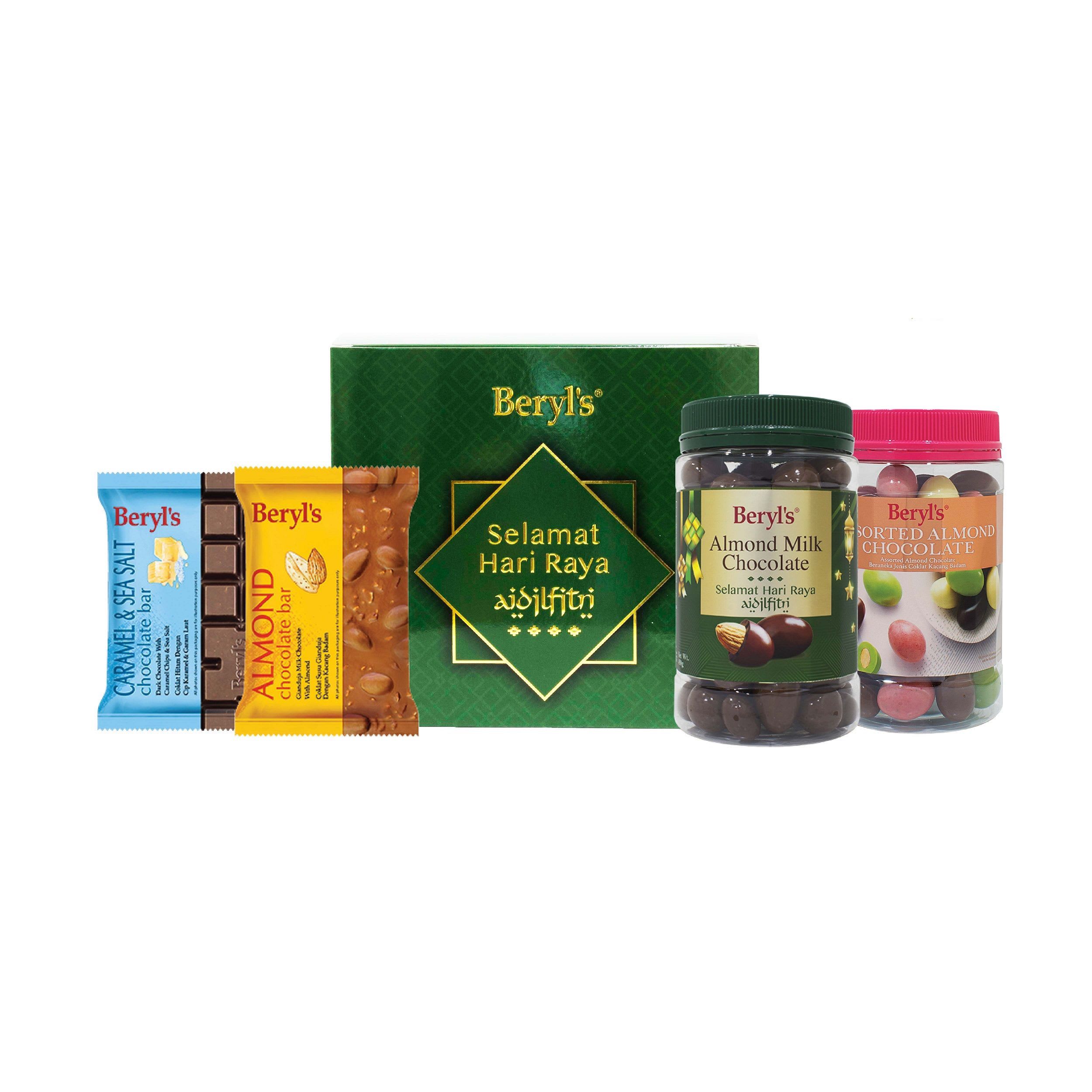 Check Beryl's Hari Raya Aidilfitri Gift Set A price below:
Do you know someone that loves chocolate? Or you just want a simple gift to offer to your friends? They'll appreciate this Beryl's Chocolate gift set.
Overview
Containing an abundant of Beryl's chocolate combinations of the brand Beryl, one may just be able to satisfy their own chocolate cravings with the taste of sea salt, milk and almond chocolate. Plus, the packaging is of a Raya decorated box, so no need to fuss about wrapping.
Consists of:
1x Beryl's Caramel & Sea Salt Chocolate Bar - Dark Chocolate With Caramel Chips & Sea Salt (100g)

1x Beryl's Almond Chocolate Bar - Gianduja Milk Chocolate With Almond (100g)

1x Beryl's Selamat Hari Raya Aidilfitri of Almond Coated With Milk Chocolate (450g)

1x Beryl's Assorted Almond Chocolate (370g)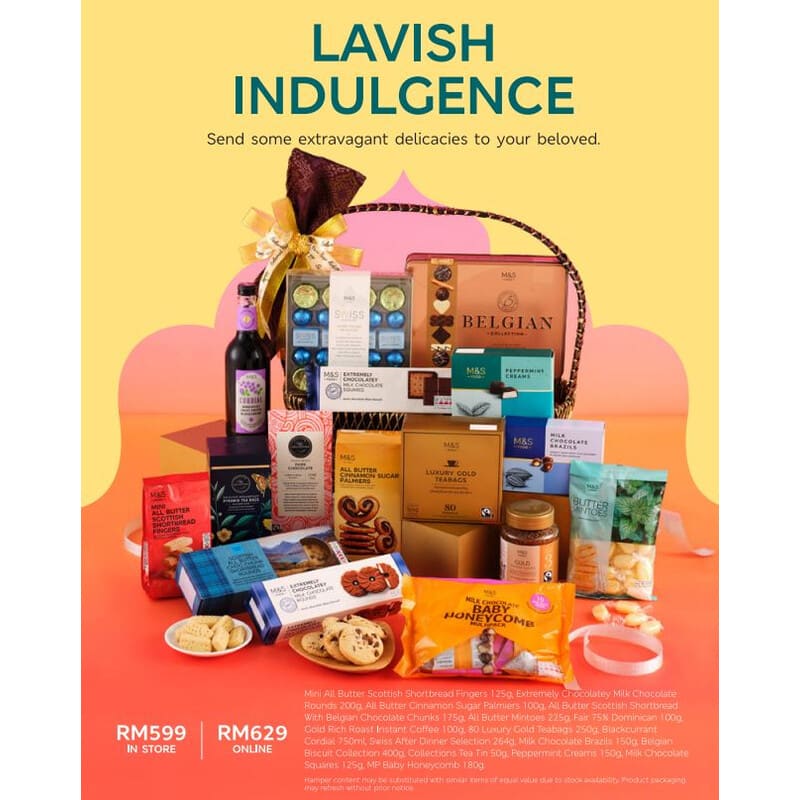 Check Mark & Spencer Lavish Indulgence price below:
If you've got a highly-profile client you wish to show your appreciation for, or wish to get the best of the best for your loved ones, how about gifting them this luxurious Raya hamper, which is filled with 16 types of goodies?
Overview
So, what do you get in such a luxurious hamper? It's packed with a variety of food assortments such as Fair 75% Dominican chocolates, Mini All Butter Scottish Shortbread Finger biscuits, and many more goodies. 
Wrapped with exquisite packaging, your recipient will surely be happy with such a gift!
Consists of:
Mini All Butter Scottish Shortbread Fingers 125g

Extremely Chocolatey Milk Chocolate Rounds 200g

All Butter Cinnamon Sugar Palmiers 100g

All Butter Scottish Shortbread with Belgian Chocolate Chunks 175g

All Butter Mintoes 225g

Fair 75% Dominican 100g

Gold Rich Roast Instant Coffee 100g

80 Luxury Gold Teabags 250g

Blackcurrant Cordial 750ml

Swiss After Dinner Selection 264g

Milk Chocolate Brazils 150g

Belgian Biscuit Collection 400g

Collections Tea Tin 50g

Peppermint Creams 150g

Milk Chocolate Squares 125g

Milk Chocolate Baby Honeycomb 180g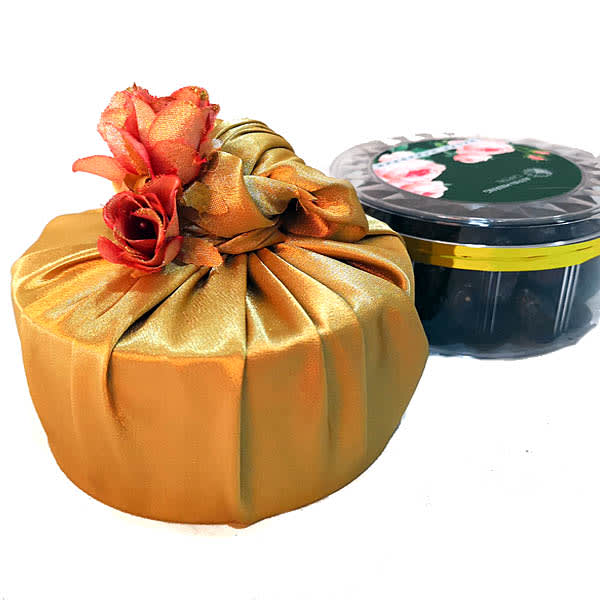 Check Flory Gift Ramadan Karim Dates Kurma Gift price below:
Dates are also an option if you don't have any idea what to give. They are prized as super foods and it is what Muslims eat as an act of Sunnah (acceptable etiquettes & traditional practice) during the fasting month. So why not opt to gift your loved ones with some premium dates to enhance the fasting and Raya experience?
Overview
This elegant gift package, which contains 500g of premium Safawi Dates, is suitable for this Ramadan and Raya month. Presented in a Furoshiki-style cloth wrapping, this gift will surely make your recipients look forward to a good Ramadan month.
Consists of:
Premium Safawi Dates 500g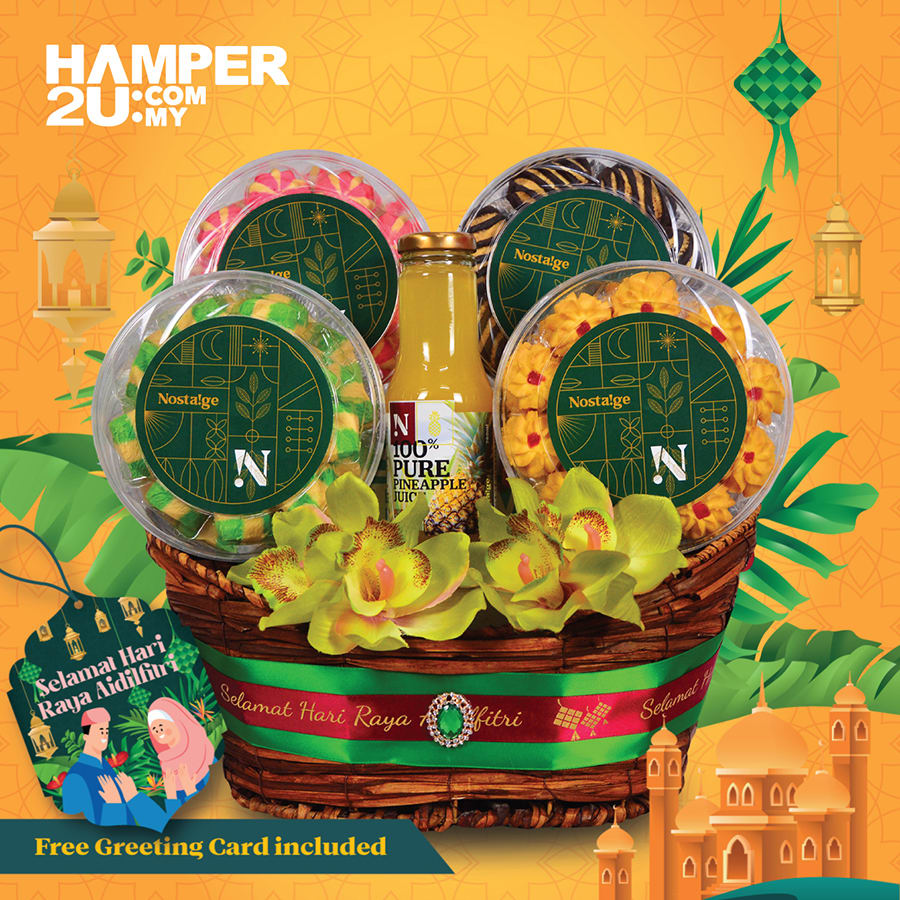 Check Raya 2023 Basket Hamper - NHR 3 price below:
Different from the usual Raya cookies gift set, this hamper consists of cookies exclusively from Nostalge, also commonly stylised as 'Nostalge'. If you know someone who's a fan of their cookies, consider this cookie hamper as a gift for Raya.
Overview
Packed with various cookies such as Dahlia and Dam Pandan cookies, anyone who receives this hamper will surely be delighted to it! There's also the addition of some Nostalge 100% Pure Pineapple Juice, as an added thirst quencher for the recipient after enjoying delicious cookies. 
Consists of:
Nostalge 100% Pure Pineapple Juice 260ml

Dahlia Cookies 300gm

Nostalge Dam Cookies (Pandan Flavour) 300gm

Nostalge Dark Chocolate with Soft Almond Filling 250gm

Nostalge Strawberry Cookies with Soft Strawberry Filling 220gm

Nostalge Black Sesame Oats Sticks 90gm

Basket, Hari Raya Packaging & Decoration
---
What Do You Put In A Ramadan Gift Box?

 
You can get creative when it comes to putting together gifts to place in a gift box or basket. Need some ideas for what to put in your Raya hamper box?
Tea boxes, homemade cookies, kurma, nuts, dried fruits and chocolates are among the common items you can add to it. Jams, canned drinks as well as organic food products can be added to it too.
If you know the person or family you're sending it to, consider what they might enjoy when deciding what to add to your gift box. Last but not least, include a Raya card with ahandwritten message, sending your wishes for a personal touch. 
---
What to give during Raya?
The humble response to this will be, nothing. Just your presence at the open houses of your family and friends means a lot!
Still, arriving empty-handed to an open house may not be entirely appropriate. Bringing something as a token is always a nice gesture. Drinks and snacks(Halal of course) would be a safe choice.  
Related articles