Prioritising consumers and customers, the recent Unbox & Discover event by Samsung reveals its aim to improve user experience with ongoing WOW promotional events. Samsung announced that they are rewarding their loyal customers with a more exquisite quality of audio and visuals from their Samsung TV screens–all for free!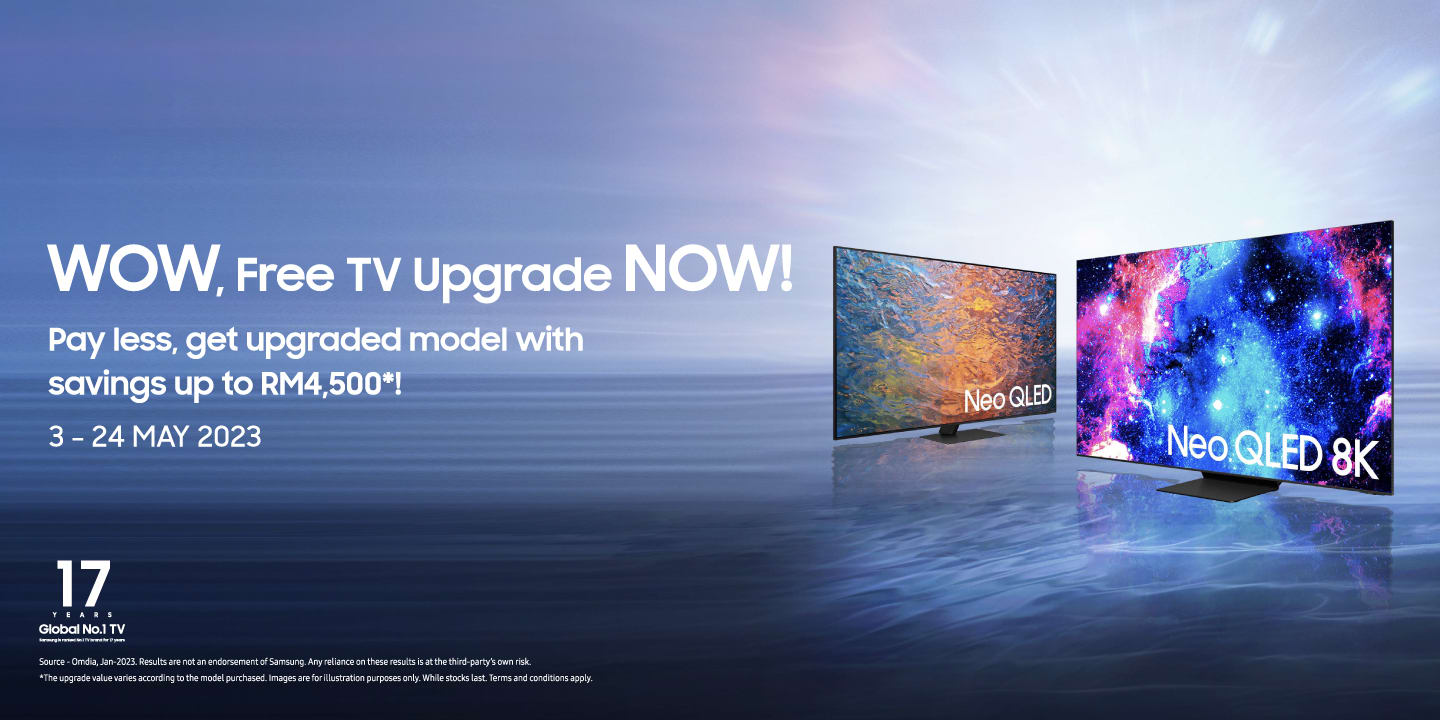 ---
Pay less and get more: save up to RM4,500
By placing an early order of any selected TV range from 3 to 24 May 2023, customers can enjoy a free exclusive upgrade to Neo QLED 8K, Neo QLED or QLED TV. Without paying extra, you can enjoy better performance and visual quality with the TV upgrades–truly a WOW experience.
Any purchase of the Neo QLED 8K QN700C, Neo QLED Q80C and QLED Q60C will entitle the customer to Neo QLED 8K QN800C, Neo QLED Q85C and QLED Q70C respectively.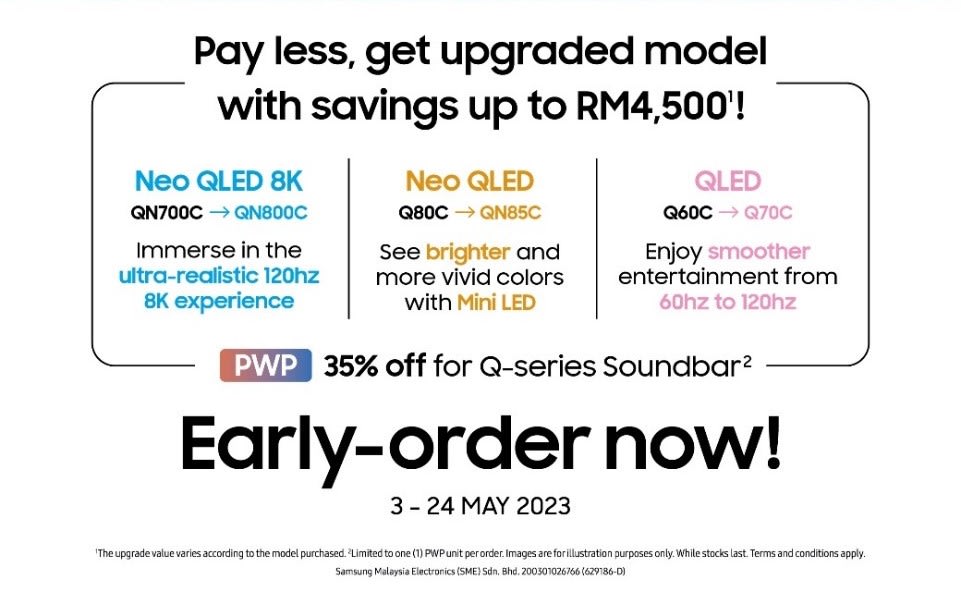 The Retail Recommended Price (RRP) for the 2023 TV line and their upgraded model details are listed below. Do check them out to find the suitable TV that matches your desired specifications.
Purchase at this price

Free Upgrade To

Model

Series

RRP (RM)

Series

RRP (RM)

Savings (RM)

Neo QLED 8K

QA75QN700CKXXM

18,199

QA75QN800CKXXM

22,699

4,500

QA65QN700CKXXM

15,199

QA65QN800CKXXM

17,699

2,500

Neo QLED 

QA85Q80CAKXXM

15,199

QA85QN85CAKXXM

18,599

3,400

QA75Q80CAKXXM

11,199

QA75QN85CAKXXM

13,599

2,400

QA65Q80CAKXXM

7,199

QA65QN85CAKXXM

9,599

2,400

QA55Q80CAKXXM

5,999

QA55QN85CAKXXM

7,299

1,300

QLED

QA85Q60CAKXXM

12,199

QA85Q70CAKXXM

14,199

2,000

QA75Q60CAKXXM

8,499

QA75Q70CAKXXM

10,199

1,700

QA65Q60CAKXXM

5,399

QA65Q70CAKXXM

6,199

800

QA55Q60CAKXXM

4,299

QA55Q70CAKXXM

4,999

700
For the most powerful and personalised entertainment ecosystem, it is highly recommended to pair Samsung TVs with Samsung Soundbars. Specially offered to early bird customers of the WOW TV upgrade promotions, Samsung presents a Purchase with Purchase (PWP) offer of a 35% discount for the Q-Series Soundbar. 
Pre-order at Samsung Malaysia Online Store today and enjoy these exclusive deals for your desired TV!
Related articles