You know how you sometimes wish that you could frame your favourite movie on your wall? Not just a screenshot of a scene, but the whole movie — and if that sounds Harry Potter-ish to you, let me introduce you to Samsung's The Frame.
This year, the brand has updated its 2021 Lifestyle TV The Frame and brought us this thin-bezel, lightweight matte display TV that looks exactly like its name: a photo frame. Designed to make your home look like an art gallery, The Frame can be wall-mounted, placed on an easel-like stand, or just stand on its own on a regular TV console. Whichever way you choose, you'll be getting a slim, minimalistic TV that blends perfectly into the room.
The model we reviewed was 55", which was just perfect for our newly renovated studio. Here's what we think about The Frame after a month of using it.
---
Samsung The Frame Specifications
Display:

55" QLED Matte Display, 3,840 x 2,160, 100Hz

Picture Engine:

Quantum Processor 4K

Colours:

1 billion with 100% Quantum Dot colour volume

Audio:

MS12 5.1ch Dolby Digital Plus, with Dual Audio Support 

Operating System:

Tizen

Compatibility:

Bixby, Web Browser, SmartThings, Media Home, Microsoft 365, Wireless Dex  

Features:

Game Feature with Auto Game mode

Connectivity

: x4 HDMI, x2 USB, 1 USB-C (Camera Only), Ethernet, Wireless LAN (WiFi 5), Bluetooth

Dimension:

1456.8 x 868.9 x 260.9 mm (with basic stand)

Weight:

22.8kg (with stand)
---
Design & Build
We were quite stunned by the design of The Frame when we first took it out of the box. I cannot reiterate how much the actual product really looks like what it's called, and it really just looks like a picture frame with very thin bezels until you turn it on.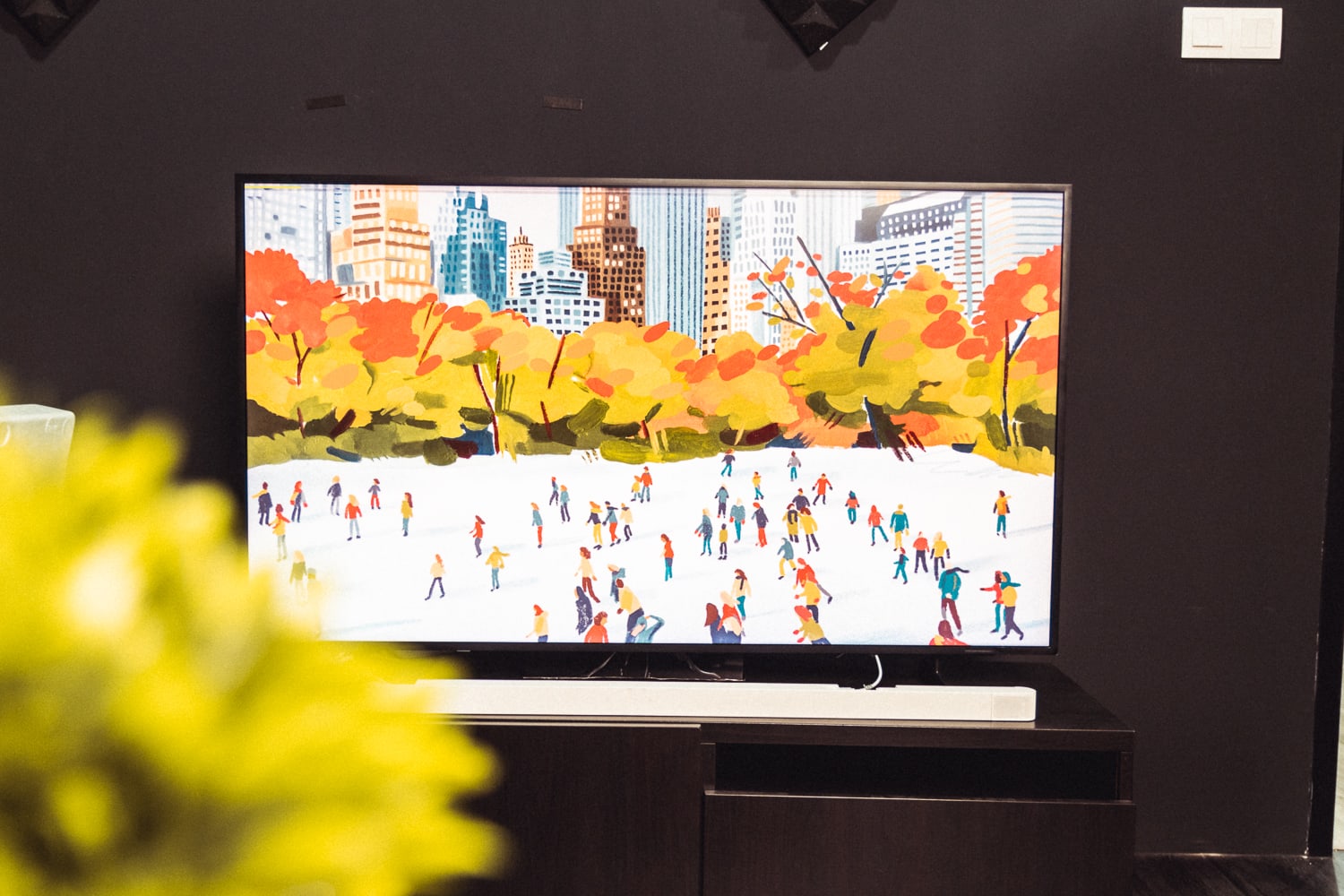 Our review model's bezels were black, which is sensible and fits just about any surroundings, but you can also customize your own Frame in other colours with magnetic bezels and choose between modern (straight lines) or bevelled (45-degree-angled towards the screen). 
Even though this was a 55" TV, it wasn't the behemoth that we expected. Even the box wasn't as thick as regular TV boxes. It's all plastic and relatively light, which makes it feel a little flimsy — you probably don't want to have a cat anywhere around this, since the plastic feet that came in the box also felt equally flimsy, though they held up the TV quite well once installed.
The Frame is able to achieve its slim and aesthetic look because the One Connect Box, which is essentially the "brain" of the TV, comes in a separate entity. There was only one cable to hook up to The Frame itself, which is to the One Connect Box, and there are convenient tracts around the back of the TV that makes cable management a, dare we say, doodle. Everything else, from power to soundbars and game consoles, is hooked up to the One Connect Box instead, so there are no unsightly cables to ruin the "art gallery" look.
---
Display
The biggest upgrade on this year's model over last year's was, of course, the display. Samsung added a matte finish over the display itself so that the TV is anti-glare, suitable for living rooms that take in a lot of natural light. And anti-glare it was — there was no need to move or draw the curtains just to see everything on the screen.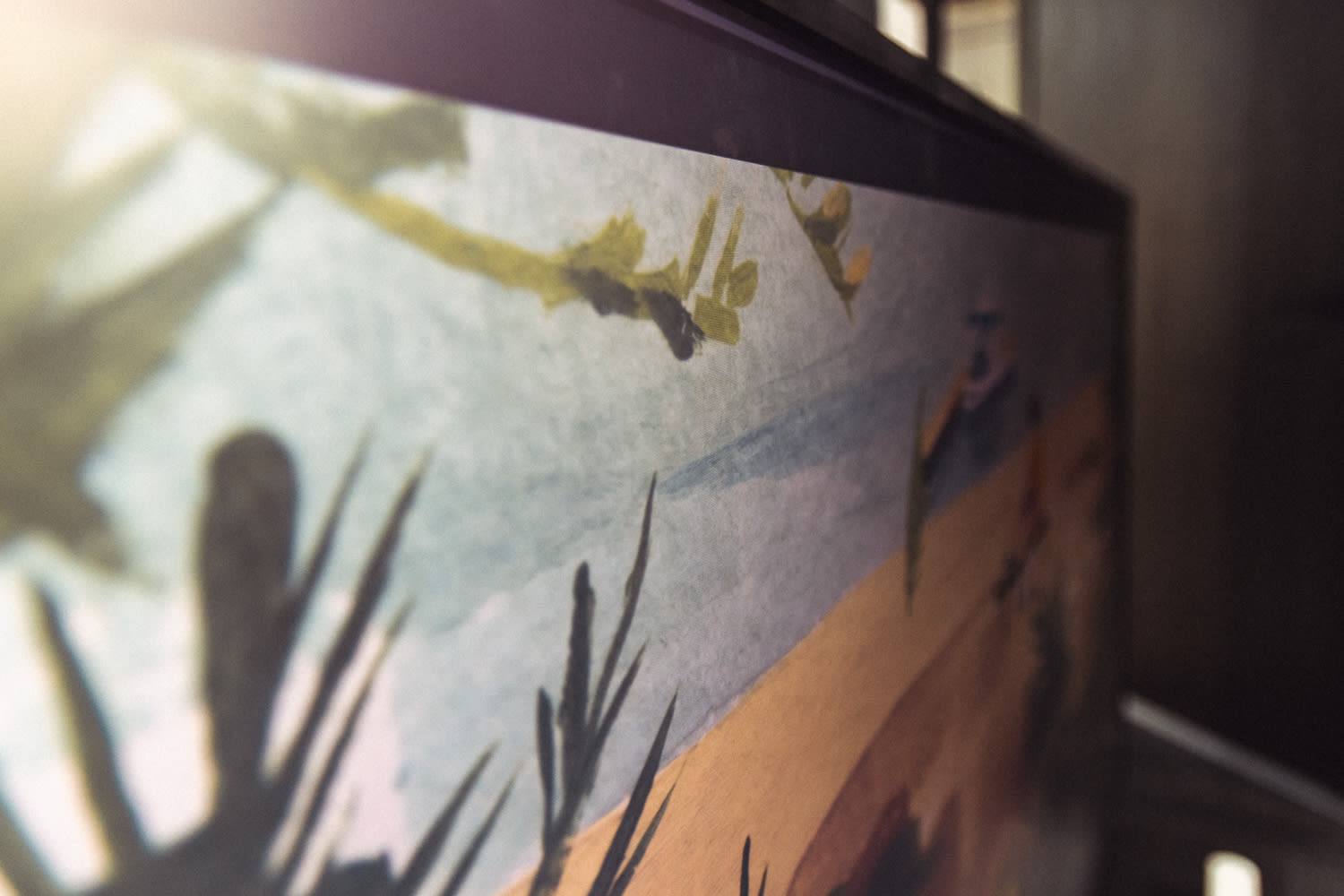 The TV supports 4K playback, but we couldn't figure out how to turn on HDR even though the website says it has the feature. Despite that, the image and colours on the TV were clear and brilliant, with vibrant reds, blues, and yellows. Unfortunately, it lacks a little in the display of darker colours, so darker shows like House of Dragons get a little blended together unless you up the brightness.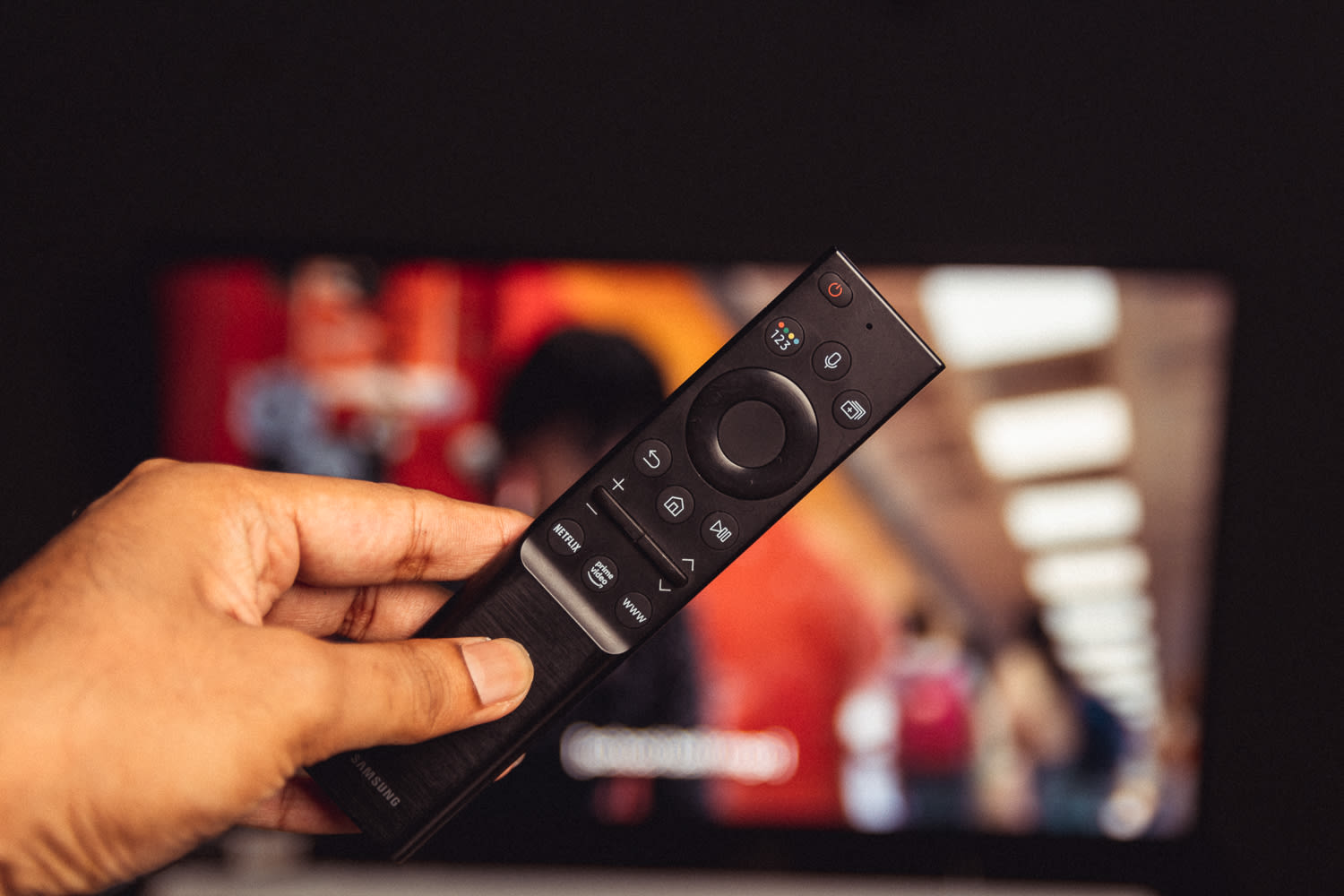 The Frame uses Samsung's solar rechargeable TM2281E remote, which is about as minimalistic as the TV itself with a grand total of ten buttons plus a round directional and select button. Honestly, we didn't really like the remote control — not only was the layout unintuitive, but it was also quite unresponsive. We could only get our remote to work when we point it directly at the One Connect Box and, for some reason, the ground.
---
Modes
Generally, The Frame uses AI to choose the best colour profile for whatever you're doing, but you can also change it manually if you want.
The Frame has four picture modes: Dynamic, Standard, Movie, and Filmmaker Mode, plus a Game Mode that turns on automatically when you launch a game. Each mode has a specific colour profile that suits just about any preference. We preferred the Flimmaker Mode, which allegedly allows you to watch the show the way the director intended. For Wednesday, that meant higher contrast and deeper blacks, instead of the slightly washed-out colours on Standard.
Apart from just content consumption and gaming, The Frame also has an Art Mode that turns on when the TV is off. In Art Mode, you can have pretty much anything, from your travel photos to the Mona Lisa, framed on your wall. Samsung offers a subscription-based Art Store that gives you over 1,600 works of art to choose from. This mode pretty much turns your TV into a literal picture/painting frame.
---
Sound
The audio from The Frame was bright, clear, and loud — just ask our colleagues when forgot to shut the door to the studio while watching Wednesday during office hours for this review.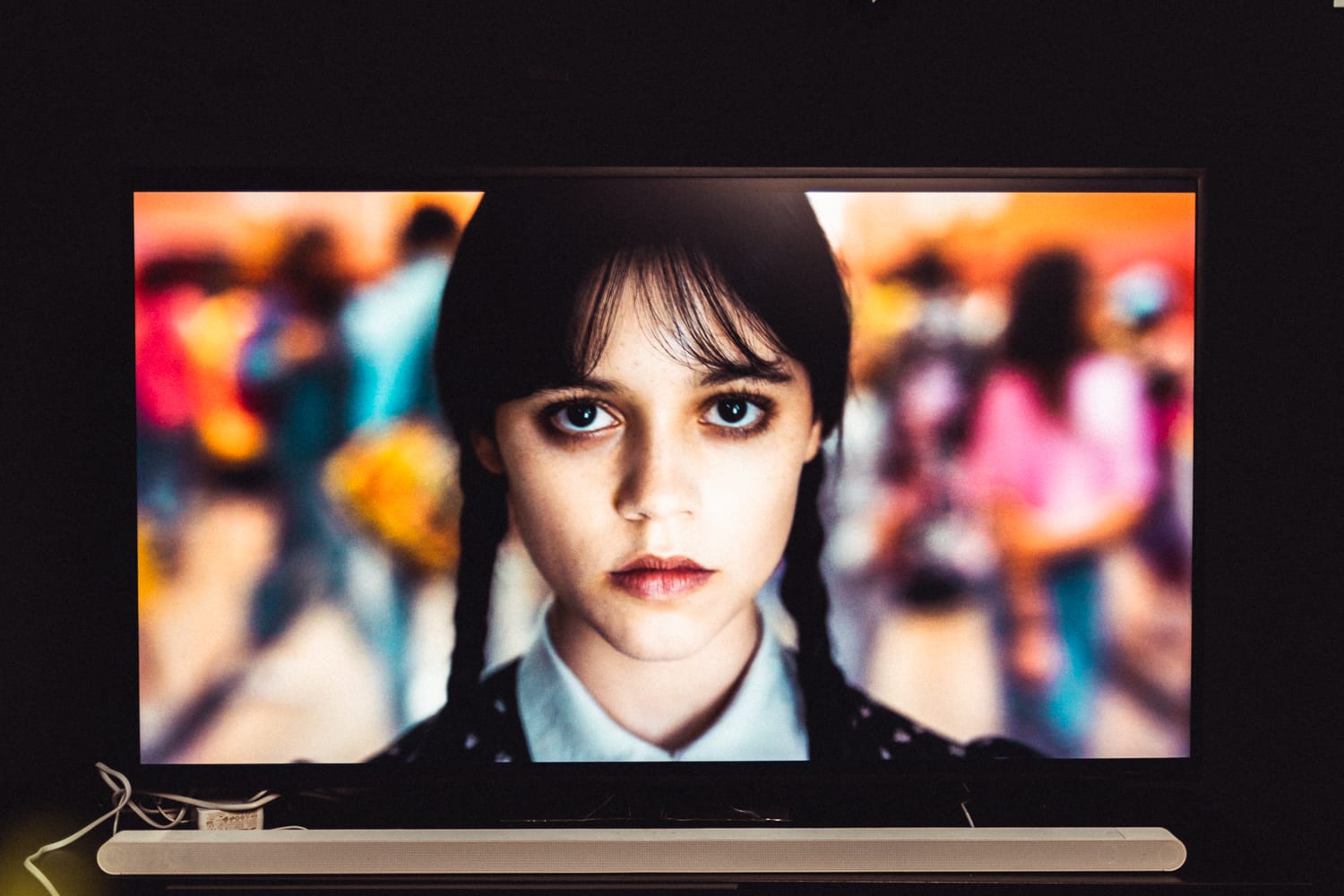 The 40W audio system with Dolby Atmos does its job well, though if you're a bass-lover, you might be slightly disappointed by the depth. The sound came through pretty well without any distortion, even at the highest volume.
It's just as well, since The Frame's aesthetic and minimalist design means that adding a soundbar to the TV just defeats the purpose. You'll notice that we did still hook a soundbar to the TV, but that's only because we were reviewing that too.
Related articles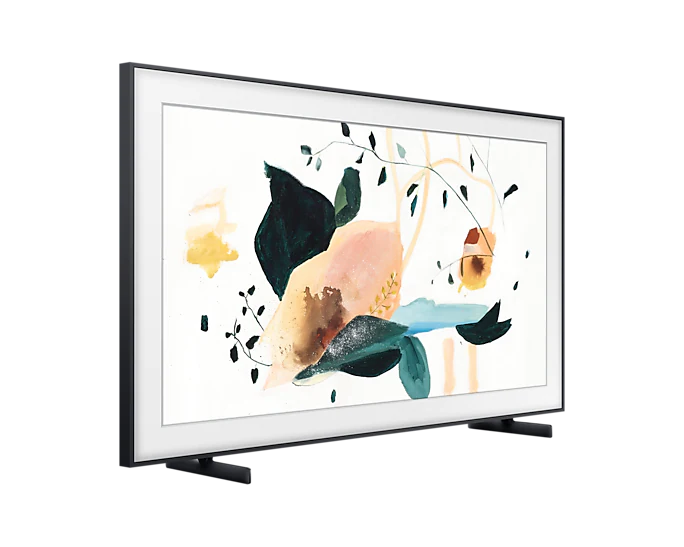 From

RM5,949.00
Check Samsung 55" The Frame (2022) price below:
add_circle
Minimalistic design
add_circle
Nice colours and contrast
add_circle
Customizable bezels
remove_circle
Wonky remote control
The biggest appeal to Samsung's The Frame is definitely its design. Minimalistic and inconspicuous, you can easily pass it for a giant framed painting instead of a TV. In terms of performance, it's quite decent, but nothing other smart TVs out there cannot do. It's not the best TV you can buy for its price, but its aesthetically pleasing art-centric features definitely makes it stand out.