Non-stick frying pans offer convenience and allow you to take a healthier approach to your meals with less oil usage. Plus, the after-cleaning is easy-peasy! 
If you're contemplating which non-stick frying pan to get, check out our list of the best ones to consider.
---
Top 11 Non-Stick Frying Pans In Malaysia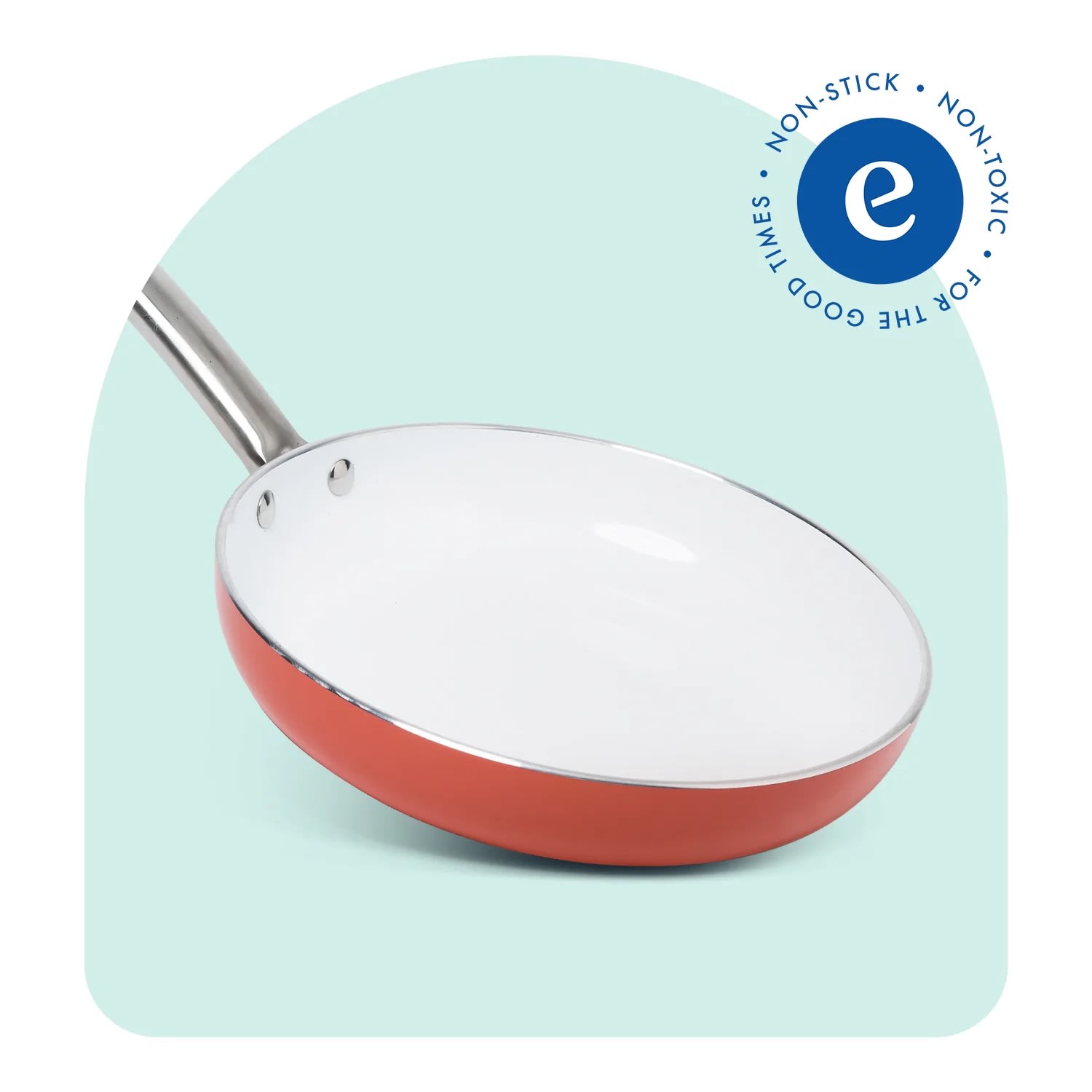 Check Ella Fry Pan price below:
Nobody wants their food to be stuck onto the pan and ruin an otherwise great dish. To avoid that scenario from happening, you have to season your own kitchen pan or get a non-stick pan if you don't want to rely on using too much oil. Not only that; you risk consuming too much oil or ruining the taste of your cooking if you season your pan wrongly.
Good to know; many cooking oils contain polyunsaturated fatty acids (PUFA) which, are unstable and if consumed too much, can lead to inflammation in the body. 
How about being safe by considering a non-stick frying pan? We think the Ella Fry Pan is one of the best cookware in Malaysia.
Overview
Unlike many other commercial non-stick frying pans, the Ella Fry Pan is useable on all stovetops be it gas, electric, induction and ceramic. You can even cook foods like Shakshuka in your typical conventional oven; this is truly a safe pan and reliable pan to have.
Speaking of safety; the pan is made with a non-toxic German technology called ​​GREBLON® non-stick which is essentially a natural ceramic coating for the pan. Designed to be eco-friendly with no use of any anodization at all, the pan is also free from toxins like Teflon™ (PTFE) and synthetic coatings (PFOA). So feel free to cook to your heart's content without worrying about harmful chemicals seeping into your food.
Aside from being non-stick and non-toxic, you will be using little to no oil for your cooking. Plus it makes cleaning easier, ensuring easy maintenance for a longer-lasting pan.
Details - Ella Fry Pan
Eco-friendly & durable; made with no harsh anodization and heavy metals

Non-toxic ceramic coating

: free of potentially harmful substances like PFOA, PTFE, other PFAs, lead, cadmium, and hazardous metals

Useable on all stovetops including gas, electric, induction and ceramic

Safe to be used in ovens (resistant to heat up to 550°C)

Dimensions: 26cm (Diameter); 5cm (Depth); 4mm (Thickness)
Who is this for?
This non-stick frying pan is for anyone who's not just concerned about eating healthily, but also for home chefs who prefer an easy-to-maintain frying pan that looks good. Its set of boons is pretty great too; made with eco-friendly materials that not only ensure safe cooking but also be used on all stovetops. With that, we do think the Ella Fry Pan is also one of the best non-stick pans in Malaysia.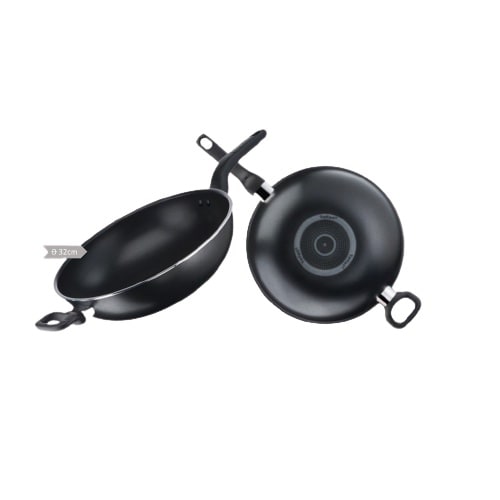 Check Tefal Cook Easy Non-Stick Wok B50389 price below:
add_circle
Additional side handle make it convenient to lift the pan
remove_circle
Quite heavy
Overview:
For this wok-pan, Tefal implemented a non-stick coating that is enforced with titanium in order to increase the durability of the pan. Thermo-signal technology is also incorporated into the pan so that it can aid in optimising the best temperature as to prevent over or undercooking the food.
If you're with a large family, this wok-pan is suitable for you as it can cook up to 3 to 4 portions at a time.
Details:
Material: aluminum

Weight: 13 kg

2-year warranty
Check Tefal Cook & Clean Non-Stick Deep Frypan price below:
add_circle
Dishwasher-safe
remove_circle
Lid is not included
Overview:
The Tefal Cook & Clean Non-Stick Deep Frypan has a 100% non-stick coating that makes cleaning quick and simple. It works well on any stove and includes Thermo-Signal® technology, which indicates the appropriate temperature for preliminary cooking. 
Additionally, its superior technology will enable smooth heat diffusion throughout your cooking. Not forgetting; this frypan is simple to hold while cooking thanks to the ergonomic handle, which offers a pleasant grip.
Details:
Compatible with induction

Weight: 0.9kg 

Available size: 28cm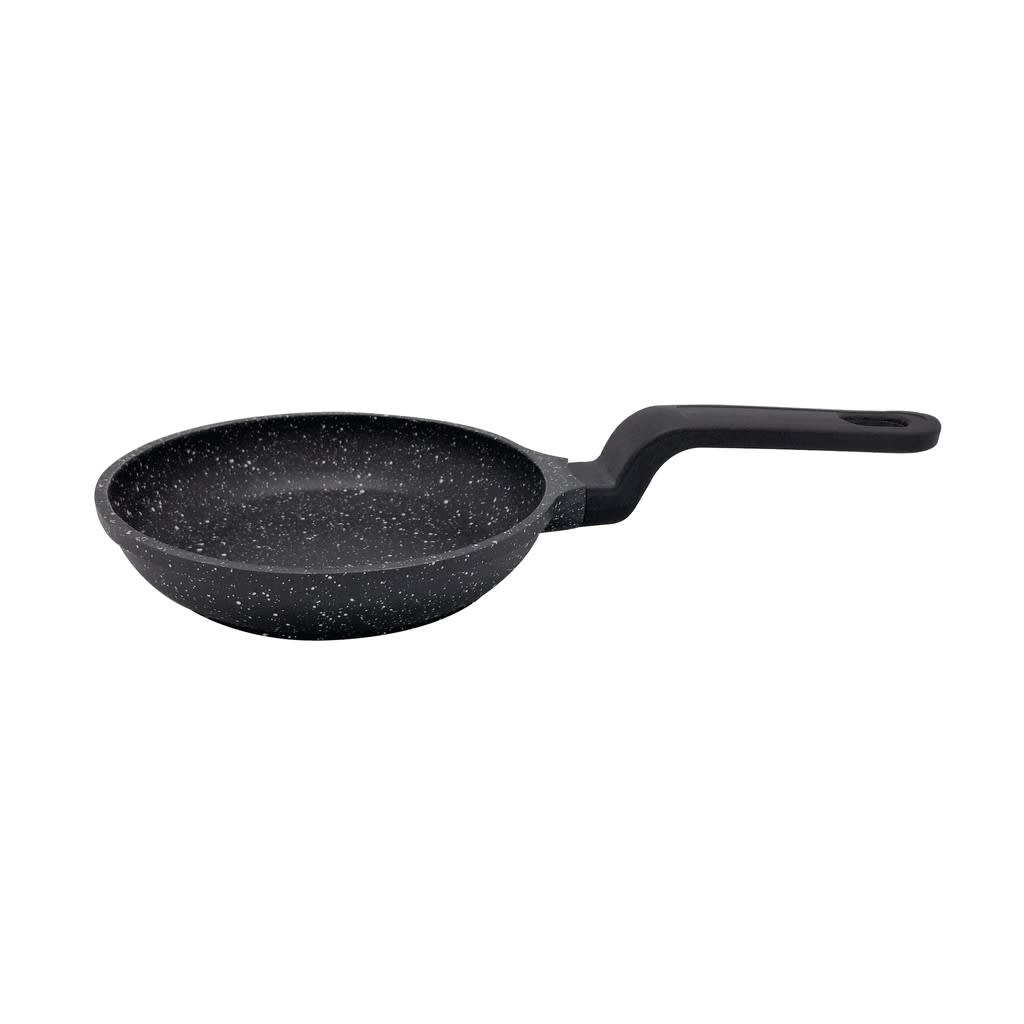 Check La Gourmet Shogun Senjo Plus Egg Pan price below:
add_circle
Affordable price
remove_circle
Lid is not included
Overview:
This egg frying pan is made with 7 layers of non-stick Tritanium Mega coating to guarantee optimal and safe cooking without risks of burning your food. Aside from that, Marble-resistant granules are added to the coating to protect and improve it further. 
To ensure the best cooking experience possible, the cast aluminum core of the pan is optimise dto offer the best thermal conductivity and heat distribution.
Details:
Not compatible with induction

1-year warranty

Available size: 14cm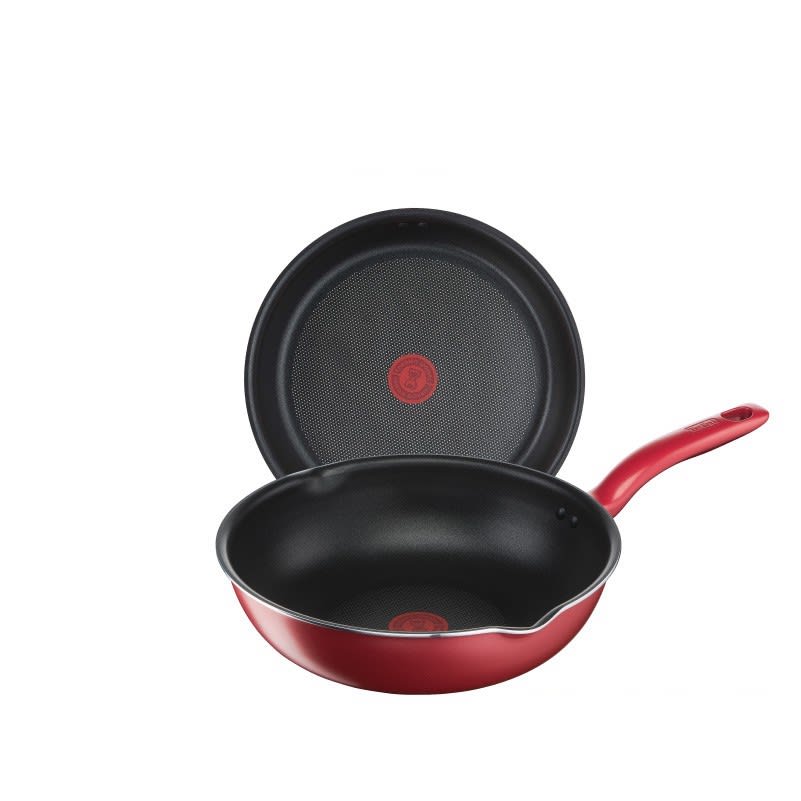 Check Tefal So Chef Deep Frypan price below:
add_circle
Ergonomic stay-cool handle
remove_circle
Lid is not included
Overview:
This pan is made in mind for exceptional cooking outcomes. Tefal has designed it with Thermo-Signal® technology which consists of working around with titanium coating and an induction base.
By signalling when the pan reaches the ideal cooking temperature, the Thermo-Signal® technology eliminates the need for guesswork; useful for when you're cooking something new. Moreover, the wide base promotes more even cooking, helps to ensure that food is cooked consistently.
Its non-stick coating differs from that of other frying pans in that it is strengthened with titanium, enhancing its durability and resistance.
Details:
Compatible with induction

2-year warranty

Available size: 28cm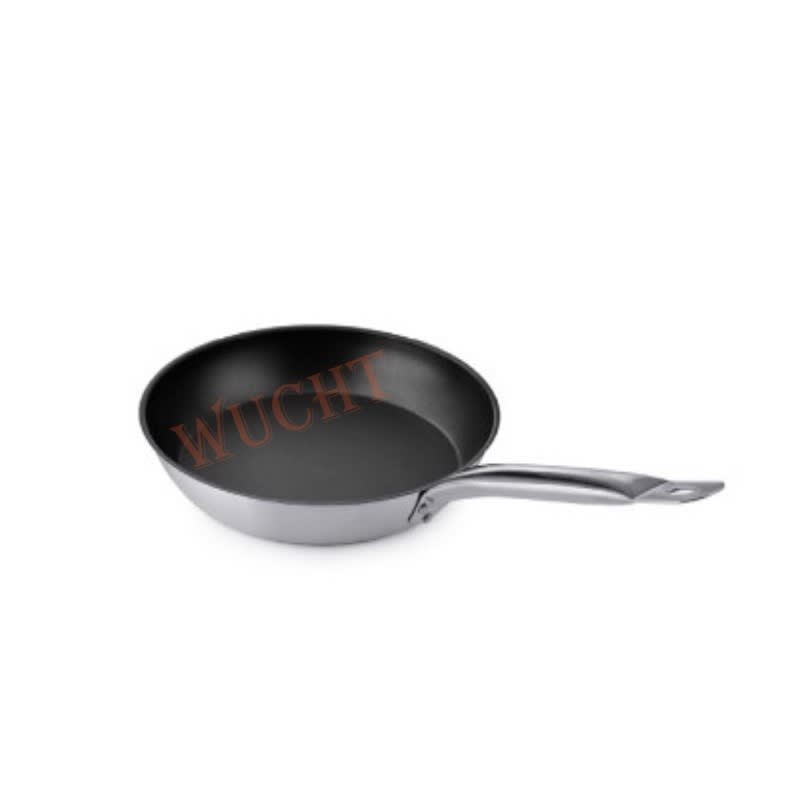 Check WUCHT Stainless Steel Non-Stick Frying Pan price below:
add_circle
Lid is included
add_circle
Ergonomic handle
Overview:
WUCHT's non-stick frying pan is made of stainless steel and has an aluminium disc coated on the bottom. What's nice is that heat can be distributed quickly and uniformly thanks to the aluminium core. 
Additionally, the stainless-steel substance is designated as Food Grade 21CT, preventing a chemical reaction between your foods and the frying pan. To increase longevity and keep it from deforming, the pan is made with a second rim.
Details:
Compatible with induction

Weight: 4.5kg

Available sizes: 18cm, 20cm, 22cm, 24cm, 26cm, 28cm, 30cm, 32cm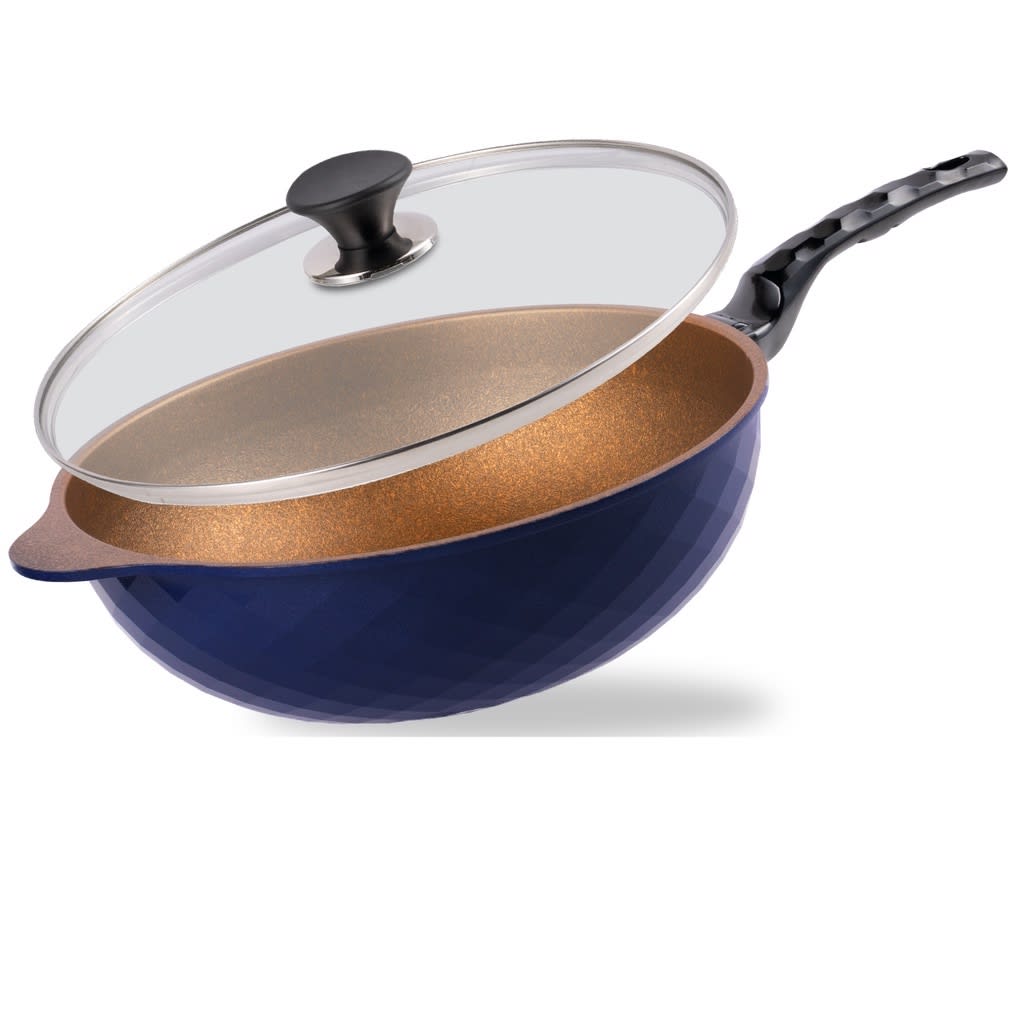 Check NUYEO Sigmul Series Non-Stick Frying Wok Pan price below:
add_circle
Scratch resistant
add_circle
Comes with solid tempered glass lid
Overview:
Made in Korea, the NUYEO Sigmul Non-Stick Wok Pan is designed with the newest Magma-Tech Ecohealth Ultra Stone Coating. This coating provides over 2 times thickness than the conventional coating. In addition, it includes a polymerization IH base to allow it for use on any burner. Aside from that, the pan is optimised for even heat distribution. Not only does it reduce cooking time but also ensures that harmful fumes are not emitted in the event of overheating.
Details:
Compatible with induction

Weight: 1.2kg

Available sizes: 32cm, 34cm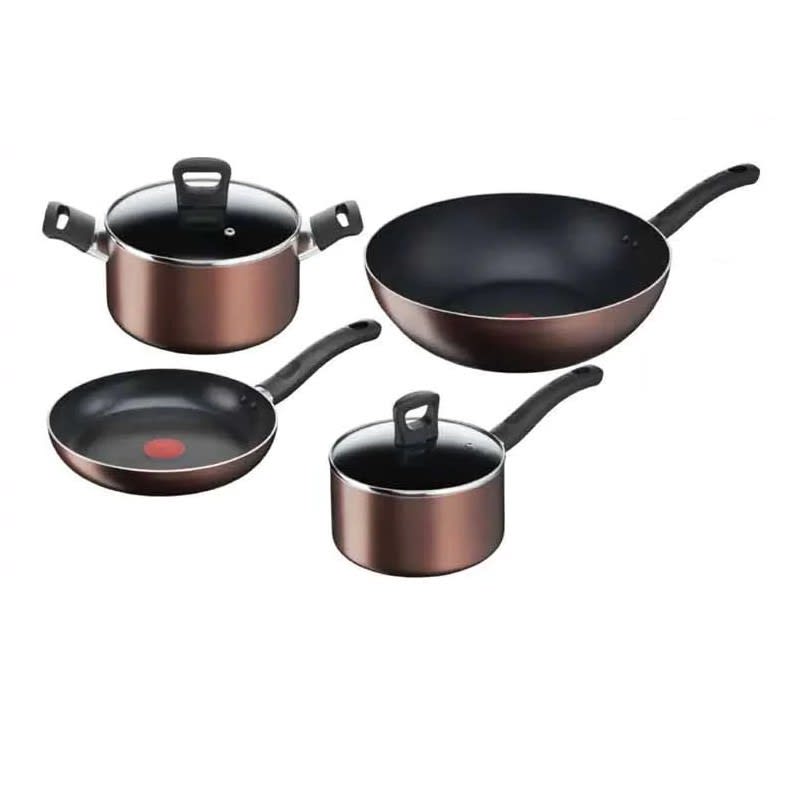 Check Tefal Day by Day Non-Stick Frypan price below:
add_circle
Suitable for all hob types
remove_circle
Lacks pouring edges
Overview:
This particular Tefal Cookware fry pan can be used on all types of stove including induction, making it accessible to all homeowners. Given its titanium non-stick coating with anti-scratch layer, you can bet that this frypan will be easy for you to clean the interior and exterior.
With a shallow depth of 4.4cm, it ensures that your food heats up faster therefore saves you a lot of cooking time. It is also considerably lightweight, making it versatile for different types of cooking styles whether you're flipping pancakes or eggs.
Details:
Material: Aluminum

Uses thermo-signal technology to indicate the ideal temperature to start cooking

Available sizes: 24cm, 28cm
Check Uakeen Germany Forged Non-Stick Pan with Lid price below:
add_circle
Dishwasher-safe
add_circle
Easy grip handle
remove_circle
20cm non-stick pan should not be used on an induction stove
Overview:
This frying pan is easily everything that a person who cooks would ask for. First of all, this frying pan is multi-layered and made out of a highly durable Granite/Ceramic coating that covers the interior and exterior of the pan. That makes the pan much easier to clean!
Not only that; there are natural minerals in the layers of the pan to enhance the pan's non-stick function which leads to a much healthier cooking experience by using less oil. Sounds like a good start to a healthier lifestyle to us!
Details:
Suitable for all hob types: gas, electric, halogen, even vitro-ceramic and induction

Material: aluminum

Available sizes: 20cm, 24cm, 28cm, 30cm 32cm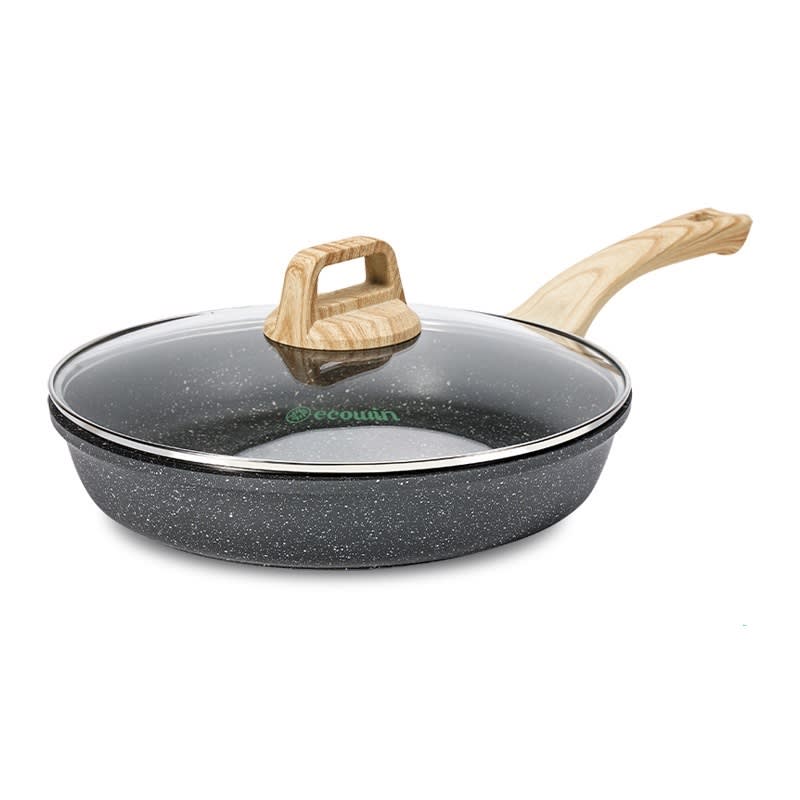 Check Ecowin Maifan Stone Non-Stick Pan price below:
add_circle
Quick cooking process
Overview:
This Ecowin non-stick frying pan is designed with durable maifan stone which claims to be stronger than volcanic rock stone, granite stone and even gold stone which makes this frying pan highly durable.
It is also designed to care for your health as it contains various mineral elements and antibacterial components to help ensure safety even after prolonged use of this pan. As an added benefit, the pan's wooden handles are ergonomically designed to not burn or be slippery when being held.
Details:
Material: marble, aluminum

1-year warranty

Available sizes: 20cm, 24cm, 26cm, 28cm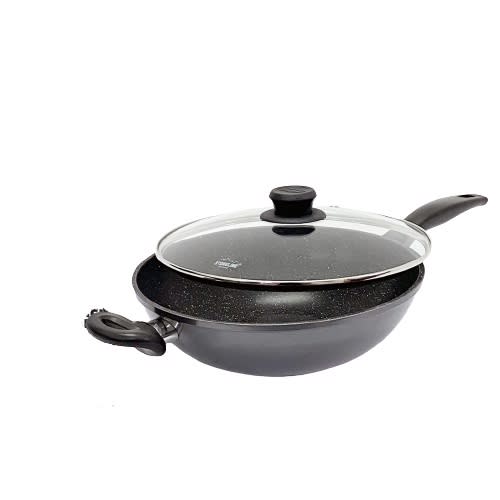 Check STONELINE® Classic Stir Frying Wok price below:
add_circle
Versatile: for frying, steaming, slow cook, searing
remove_circle
On the expensive side
Overview:
This frying pan is different from the rest as it uses its own signature Stoneline coating. Said coating is a non-stick one that's reinforced with real stone particles in order to make the frying pan one of the most durable pans in the market. 
Essentially, it is built to ensure that it is long lasting, resistant to scratch, while offering a good cooking outcome with little to no oil being used.
Details:
Suitable for electric, gas, ceramic, and induction stove

Material: die-cast aluminum, glass

Available size: 28cm
---
FAQs
- What Is Non-Stick Frying Pan?
A non-stick frying pan is a frying pan that's coated with a particular substance that prevents food from sticking to it. Generally, the coating that is used is a synthetic polymer, such as polytetrafluoroethylene (PTFE). 
Non-stick frying pans are ideal for daily use as they're so convenient to clean. 
---
- Are Non-Stick Pans Safe?
Non-stick frying pans are convenient and practical. However, there are some concerns about whether the coating might be toxic and not safe to use. 
Generally, non-stick frying pans are safe. If you're concerned about ingesting flakes of no-stick coating, fret not as it is harmless. However, flaking will affect the effectiveness of the non-stick coating. Besides, the likelihood of flaking is unlikely unless the pan is of low quality.
Much safer materials are now used in the manufacture of non-stick frying pans, ensuring safer and healthier cooking. Most frying pans are now PFOA free so you've got nothing to worry about. Go ahead and add that non-stick frying pan to your cart!
---
- How to clean a non-stick frying pan
Nothing is more frustrating than searing a chicken breast or frying an egg, only to discover it's stuck to the pan when you want to remove it. Non-stick pans are only good for about five years on average. However, if you follow these tips and practices, yours might last longer.
Allow for thorough cooling of the pan
Allow your pan to cool entirely on the stovetop once you've finished cooking. Soaking or rinsing a hot pan in cold water can cause the pan to distort and destroy the non-stick surface.
To clean the pan, use warm and soapy water
Rinse the pan with lukewarm water as soon as it has cooled to remove any food particles from the surface. To extend the life of your pan, use warm water instead of hot water.
Use a sponge and dish soap to scrub the pan
Dishwashing liquid should be applied straight to a soft sponge or washcloth. Scrub the pan's whole surface to remove any leftover food debris. Thoroughly rinse the pan.
Dry the pan completely
To dry the kitchenware, use a clean, soft cloth. Store your cookware on a vertical dish rack or stack pans with a paper towel to avoid scratching non-stick surfaces.
---
- How to season a non-stick frying pan
Seasoning is a simple procedure that improves the efficacy of the non-stick surface and extends the life of your cookware.
To season your pan, follow these 7 simple steps:
Once the cookware is out of the package, wash it with warm water and a moderate detergent.
Using a kitchen towel, thoroughly dry the pan.
When the pan is completely dry, add about one teaspoon of vegetable or canola oil. Rub it all over the ceramic surface, up to the pan's rim.
Heat the pan over medium heat (350 degrees) for 1 minute.
Remove the pan from the oven and allow it to cool fully.
Remove any excess oil with a paper towel after the pan has cooled.
Related articles