Dehydrating food is a form of food preservation that removes the moisture from food while retaining its flavour and nutrients. Doing so saves you money and avoids food wastage, allowing for efficient storage of your food items. 
We've found some of the best food dehydrators to buy. Shop them now!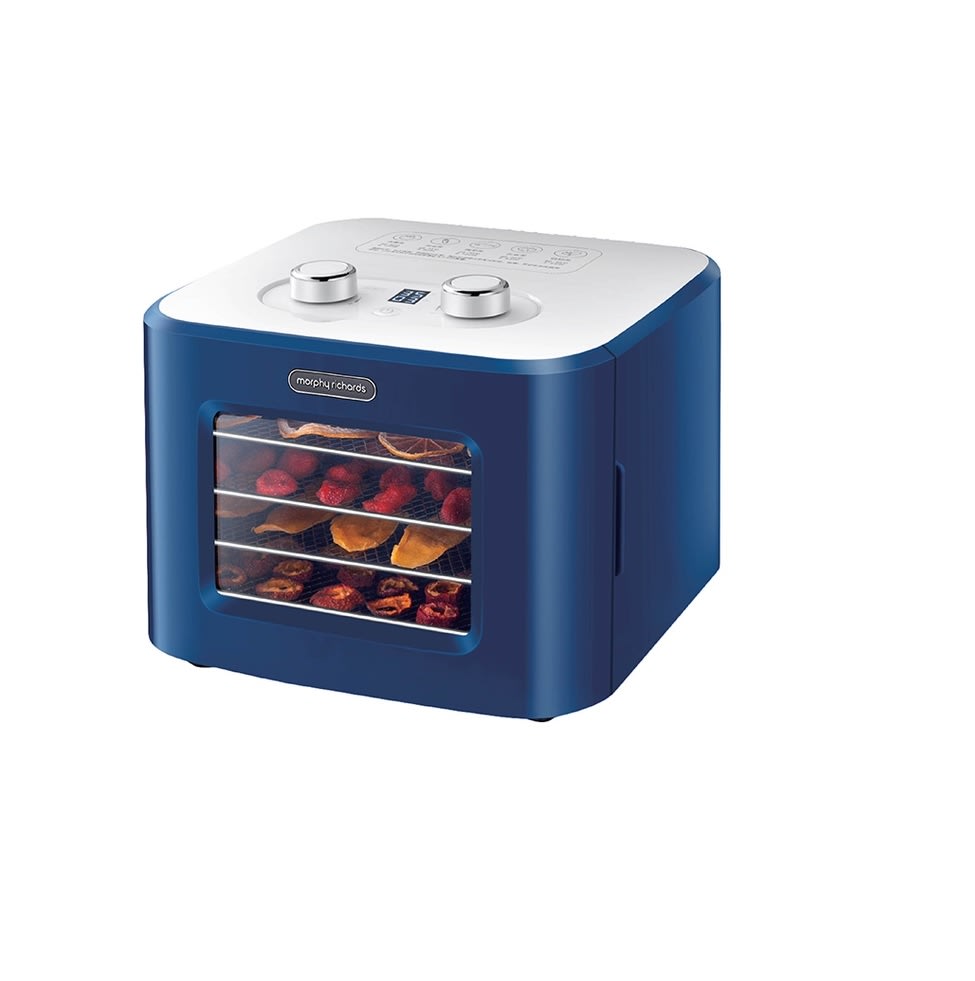 Check Morphy Richards Food Dehydrator 405FD1 price below:
add_circle
Stainless steel heating element
Overview  
Morphy Richards' compact size will fit seamlessly into any part of your kitchen. At 2.8kg, this food dehydrator comes with an adjustable drawer-like tray that accommodates various kinds of food. Its large glass window allows you to check on the food without interrupting the process.
Furthermore, its hidden stainless steel heating element offers concentrated heating which aids in the dehydration process. 
360˚ circulating heat and airflow

Digital temperature control

Large viewable window

Auto cooling function 

2-year warranty
Who is this for?
Smaller than it appears to be, this food dehydrator is ideal for those who are looking for compact ones with a decent capacity. Its small size makes it suitable for single users. Users recommend leaving your food for a minimum of  8 hours to achieve a chewy texture or longer for crispiness.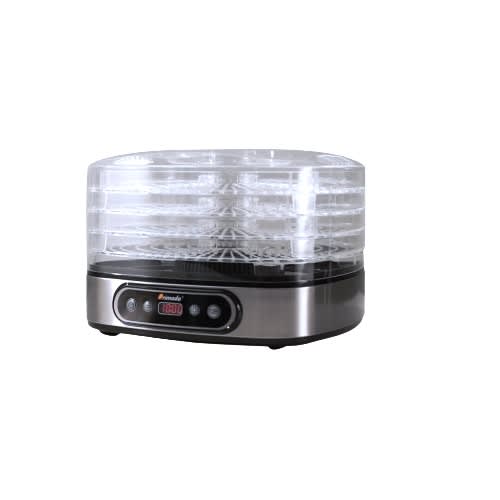 Check Primada Food Dehydrator MPD68 price below:
add_circle
4 removable stackable
add_circle
Transparent trays
add_circle
SIRIM and ST-Certified
add_circle
Has non-slip pads
Overview   
This food dehydrator removes the moisture content from your food while retaining 97% of your food's vitamins and minerals. Its dehydrating temperature reaches a maximum of 70°C. Enhanced airflow ensures that high-heat circulation passes through each tray for even dehydration.  
Moreover, its Circusmart 360° Air-Flow Circulation System is electronically controlled in which its automatic circulator fan evenly dehydrates with effective results in a short time. This dehydrator comes with 4 transparent, removable dryer trays which allow you to monitor its drying process. Better yet, these trays can also be used to dry your food without the dehydrator. 
1-year warranty

Has temperature and timer control

Comes with a cover event that speeds up hot air convection and dries faster

Its many vent outlets rapidly dissipate heat to prolong product life
Who is this for?  
Great for beginners as this food dehydrator is easy to use. For those who are looking for a much healthier way of consuming food, this food dehydrator removes the moisture from food, whilst retaining its flavours and high nutrient and vitamin content. It even operates on low noise.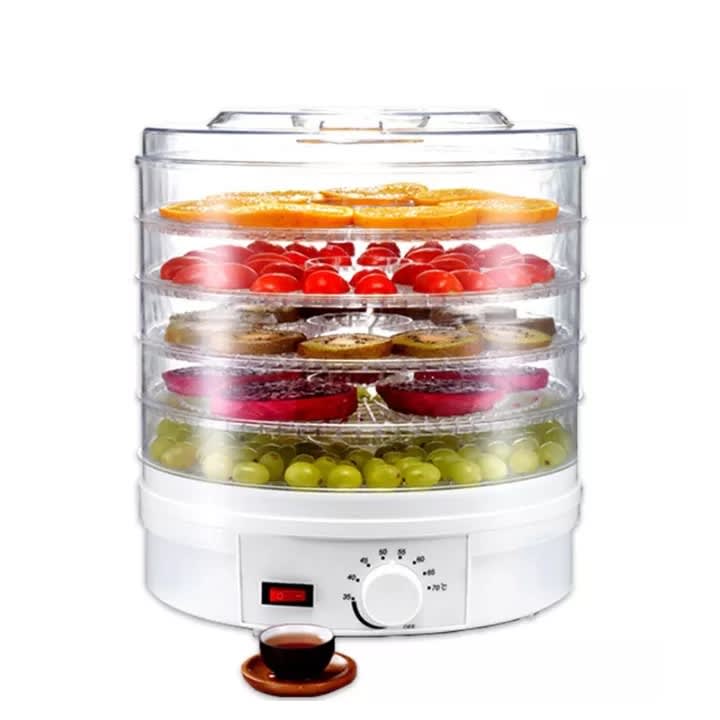 Check KELETOOL Food Dehydrator price below:
add_circle
Heat-resistant
add_circle
Has a ventilation cover
add_circle
Has protective foot pads
remove_circle
No warranty
Overview   
KELETOOL's Food Dehydrator offers a 360° thermal cycle that allows uniform heating. Its hidden electronic temperature probe accurately measures the temperature in the cavity. Once the heating process has stopped, its inner fan cools its interior until its temperature falls below 45°C. 
Has an automatic cooling system to cool its interior when the drying process ends 

Made of a double-layer body that's heat-resistant     

5-layer capacity
Who is this for? 
If you're on a tight budget but are on the lookout for healthier snack alternatives, KELETOOL's food dehydrator is under RM100. For the price you pay, its features are pretty decent albeit basic.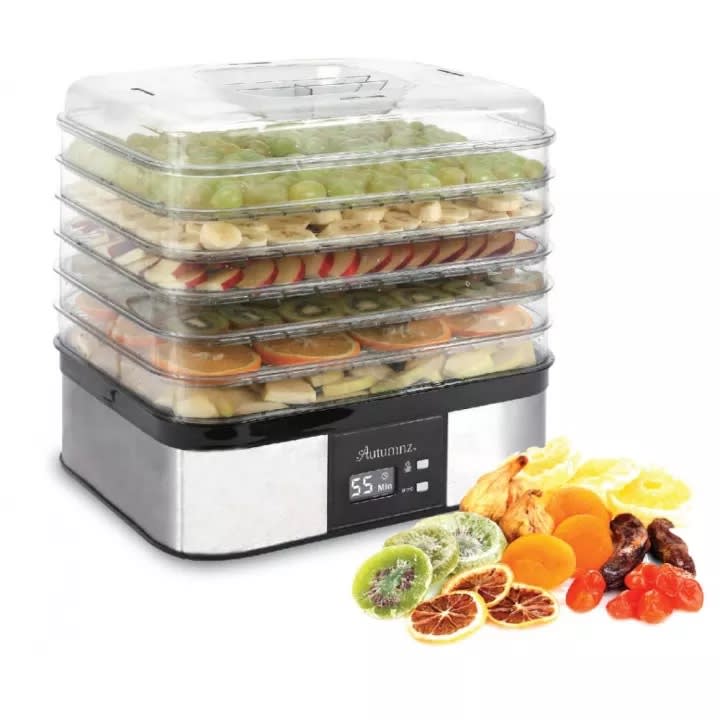 Check Autumnz Food Dehydrator price below:
add_circle
Suitable for all food types and sizes
add_circle
Spacious trays
Overview   
Make some healthy snacks by dehydrating fruits and vegetables of your choice with the Autumnz food dehydrator. The temperature range is between 40° to 70°C. Its 5 transparent and stackable trays are spacious, allowing you to lay your food out evenly and dehydrate larger portions at a time. Plus, its superior air circulation encourages even drying. 
1-year warranty

Comes with a free mat to hold smaller sized food 

Comes with a digital temperature and time controller with LCDs

Has a transparent lid that enables the easy monitoring of the drying process
Who is this for?
Its digital time controller has a range between 1 to 36 hours which provides convenience for anyone who's looking to dehydrate a wide range of foods, particularly those that would require a longer drying time. To aid in the process, there is an accompanying food drying temperature/time reference manual guide.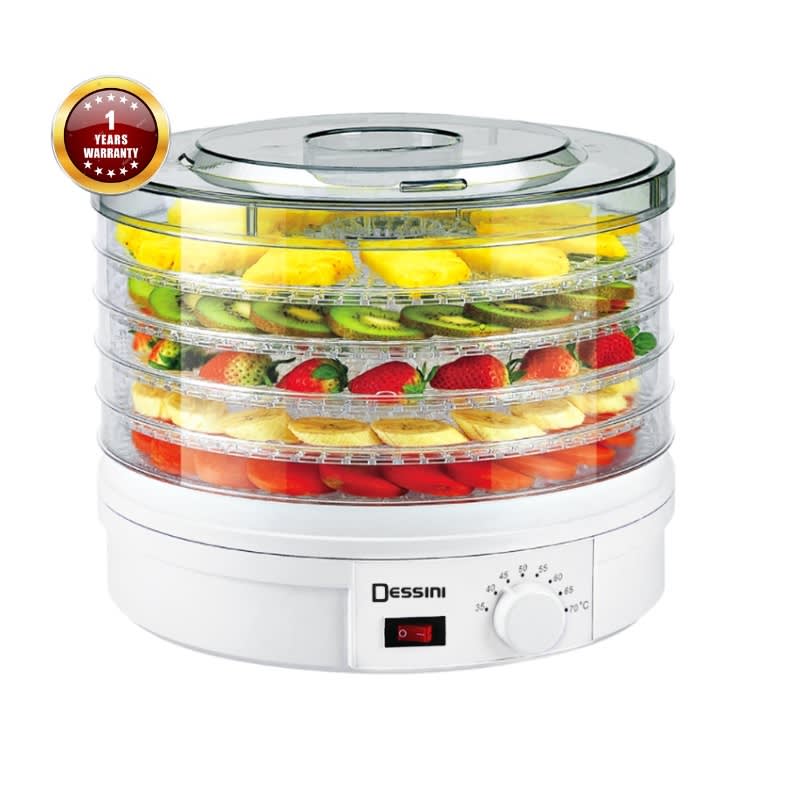 Check DESSINI ITALY Food Dehydrator price below:
add_circle
1-year warranty
Overview   
This food dehydrator comes with 5 trays measuring 32cm each, which provides ample space for your food. Its strong heating with a ventilation fan offers an even drying for your food. Not only that, this dehydrator is capable of preserving not just fruits and vegetables, but also tea leaves, herbs, mushrooms, and even plants to be used as scented potpourri.
Its temperature is adjustable, within the range of 35-70°C. This allows for different types of food to be dehydrated at their designated temperature. 
An adjustable thermostat enables different foods to dry at the proper temperature  

Hot air circulation drying system    

Made of food-grade plastic
Who is this for?    
Users of this product have noted that its drying process works faster than their experience with other purchases. Besides, since the trays are transparent, you can monitor the dehydration process of your food to check on the texture.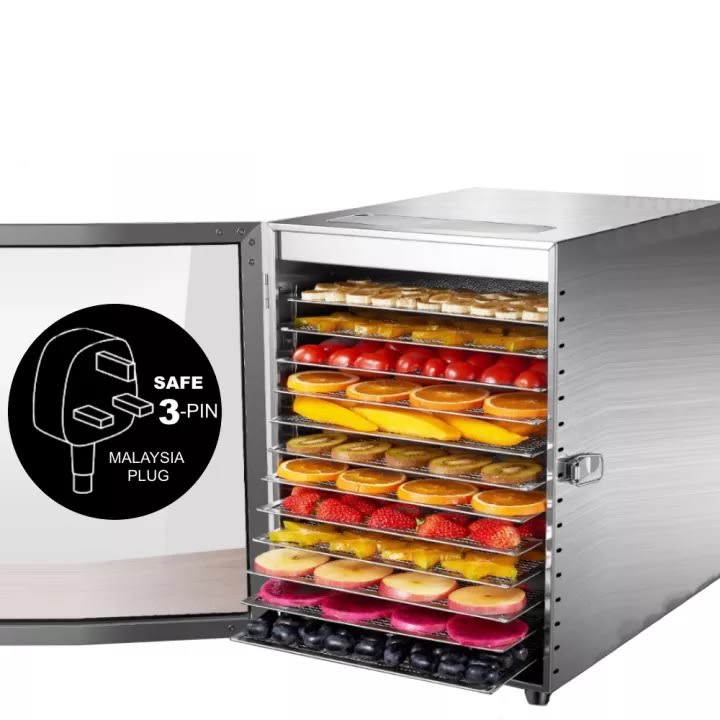 Check Septree 12 Tier SUS304 Stainless Steel Food Dehydrator price below:
add_circle
Digital temperature controller
add_circle
6-month warranty
add_circle
Stainless steel trays
Overview   
Offering 10.9 sq ft of drying space, Septree 12 Tier SUS304 is one of the biggest food dehydrators yet, making it suitable to accommodate large families or even businesses. Operating at 800W, its dual-motor saves up to 50% of energy. 
This large food dehydrator has a large visible glass door as well, which makes it easy for you to monitor its drying process. 
Heat retentive front tempered glass door  

Has 12 stainless steel trays, with a 3cm gap between each tray  

Equipped with a horizontal airflow system with a rear-mounted motor and fan
Who is this for?  
Heavy-duty, this food dehydrator is suitable for small businesses. It has a temperature range of 20˚C - 90˚C which is a more versatile range compared to other dehydrators. You'll also be happy to note that it operates at a low noise level.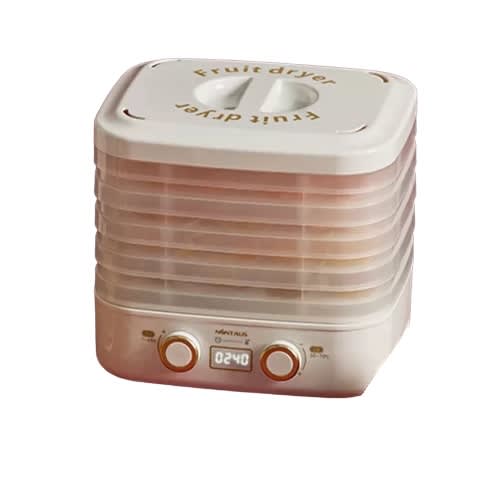 Check 10L Food Dehydrators price below:
add_circle
Easy to operate
add_circle
Low noise operation
add_circle
Dual-installation set-up for both thin and thick foods
remove_circle
Short warranty period
Overview  
This mini 5-shelf food dehydrator offers quick-drying with minimal noise. It's a minimalist cream-coloured food dehydrator with a 10L capacity that's customisable to accommodate both thin and thick foods. All you need to do is elevate it to create additional space if you need to add in thicker food, such as thicker cuts of meat. 
Besides, its drying process involves even internal hot air circulation.  
3-monthth warranty

Has 5 layers of shelves 

Comes with a 48-hour timer 

Made of food-grade material       

Operates on a microcomputer-controlled double knob operation
Who is this for? 
Great for the whole family, this convenient food dehydrator comes in great for any of your backpacking trips, especially when you need healthier food options. Though small in size, it comes with great quality. 
FAQ
- What foods work well in a dehydrator?
A variety of foods can be dehydrated. Among them are fruits, vegetables, meats, jams, yoghurt, sauces, herbs, syrup, honey, and even pet food! Dehydrating these foods removes moisture, prolonging their shelf-life. 
However, some types of foods cannot be dehydrated - avocados, milk, peanut butter, and butter. This is because oil-based foods or foods with a higher fat content don't dehydrate well. 
Related articles