Admit it, browsing Lazada for the best deals can be tiresome at times. Here, we list only the best deals available on Lazada Malaysia. Whether you're looking for a Lazada free delivery voucher, bank promo code, or general coupon, we've got you covered.
Can't get enough? Here are more shopping voucher codes and promos!
---
Lazada Voucher Codes and Offers 2021

FREE Shipping Voucher
Up to RM8 off for Sitewide FREE Shipping
Minimum spend of RM12
Only for Lazada App Checkout
Collect the voucher
Limited redemptions only
---

80% OFF Lazada Voucher: Member Rewards
80% off Lazada voucher for Lazada wallet members
Minimum spend RM8
Collect voucher
Valid on selected sellers only
Valid until August 08, 2021
95% OFF Lazada Discount Vouchers
Get up to 95% discount + RM50 Lazada Coupon on Top Brands
Minimum spend depends on the brand's terms and conditions
Collectible Lazada vouchers updated daily
RM15 OFF with Lazada Wallet
RM15 OFF Sitewide Voucher
Minimum spend of RM28
Available on Lazada App Checkout
Available for Lazada Wallet Checkout

RM8 OFF New Customer Voucher
RM8 OFF Sitewide Voucher
No Minimum Spend
Only for Lazada App Checkout
Register an account and collect the voucher

Extra RM15 Coupon: Maybank
RM15 OFF Sitewide Voucher
Minimum spend of RM150
For Maybank Cardholders only
Only for Lazada App Checkout
Use voucher code: MAYWED
Valid every Wednesdays, until December 31, 2021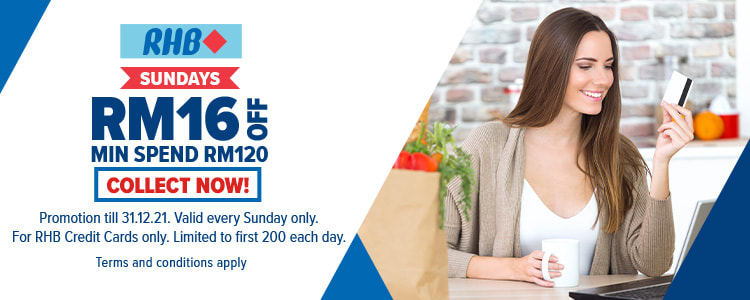 RM16 Coupon: RHB Weekends
Pay using your RHB credit cards and get RM16 OFF
Minimum spend of RM120
Only for Lazada App Checkout
Valid every Sunday, until December 31, 2021
Citibank Monday: Extra RM22 OFF
Enjoy an extra RM22 discount on your purchase
Minimum spend of RM200
For Citibank Cardholders only
Only for Lazada App Checkout
Valid every Monday
RM15 OFF: Thursday Special Affinbank
Enjoy extra RM15 off when you shop using Affinbank
Minimum spend of RM150
Collect voucher
Valid every Thursdays until October 28, 2021
Boost E-Wallet: RM6 OFF Lazada Voucher
Enjoy an RM6 discount when you pay your orders with Boost
Minimum spend of RM40
App checkout required

RM20 OFF: Standard Chartered Tuesday
Enjoy RM20 OFF when you shop using Standard Chartered M

alaysia Berhad's credit cards

Minimum spend of RM150
Valid every Tuesday only until December 28, 2021
Use promo code: SCBTUE
RB Home Sale: Extra RM15 Voucher
Shop now and enjoy extra RM15 voucher
Minimum spend RM150
Valid until December 31, 2021

Trusted Retailer Brands Sale: Up to 70% OFF
Shop now and enjoy up to70% OFF
Save more with store collectible voucher
Minimum spend required
Valid until September 30, 2021

Brands of the Month Sale: Up to 30% OFF
Shop for the brands of the month and enjoy up to 30% OFF
Save more with store collectible voucher
Minimum spend required
Valid until September 30, 2021

LazMall X Pretty Ballerinas: Up to 60% Off + 15% OFF Voucher
Grab these great deals from Pretty Ballerinas with up to 60% OFF
Save more with 15% OFF store voucher
Minimum spend of RM900
Capped at RM150
Valid until September 23, 2021

Tefal Sale: Up to 60% OFF
Enjoy up to 60% OFF on Tefal products
Collect voucher and save more
Minimum spend required
Valid until October 02, 2021

LazMall X Dibea: Up to 63% OFF
Shop for the best home companion with up to 63% OFF on Dibea products
Collect voucher and save more
Minimum spend required
Valid until September 23, 2021
Nutox Sale: Up to 30% OFF + 8% OFF Collectible Voucher
Grab these beauty deals today with up to 30% OFF
Save more with 8% OFF collectible voucher
Minimum spend RM70
Capped at RM8
Valid until September 24, 2021
LazMall X Dibea : Up to 50% OFF + RM62 OFF Voucher
Shop now and enjoy up to 50% OFF
Save more with RM62 OFF collectible store voucher
Minimum spend of RM539
Valid until September 16, 2021

Health Works: Up to 50% OFF
Shop now and enjoy up to 50% OFF
Save more with store collectible vouchers

K-Beauty Sale: Up to 50% OFF + 5 PCS Free Gift
Enjoy up to 50% OFF on your favorite korean products
Collect store voucher and save more

LazMall X Guardian: Up to 45% OFF
Enjoy up to 45% OFF on Guardian products
Save more with store collectible voucher
Minimum spend required
Valid on September 11, 2021

Malaysian Deals: 50% OFF Voucher+ Free Shipping Collectible Voucher
Don't miss these great offers with 50% OFF voucher
Collectible voucher
Minimum spend required
Free shipping voucher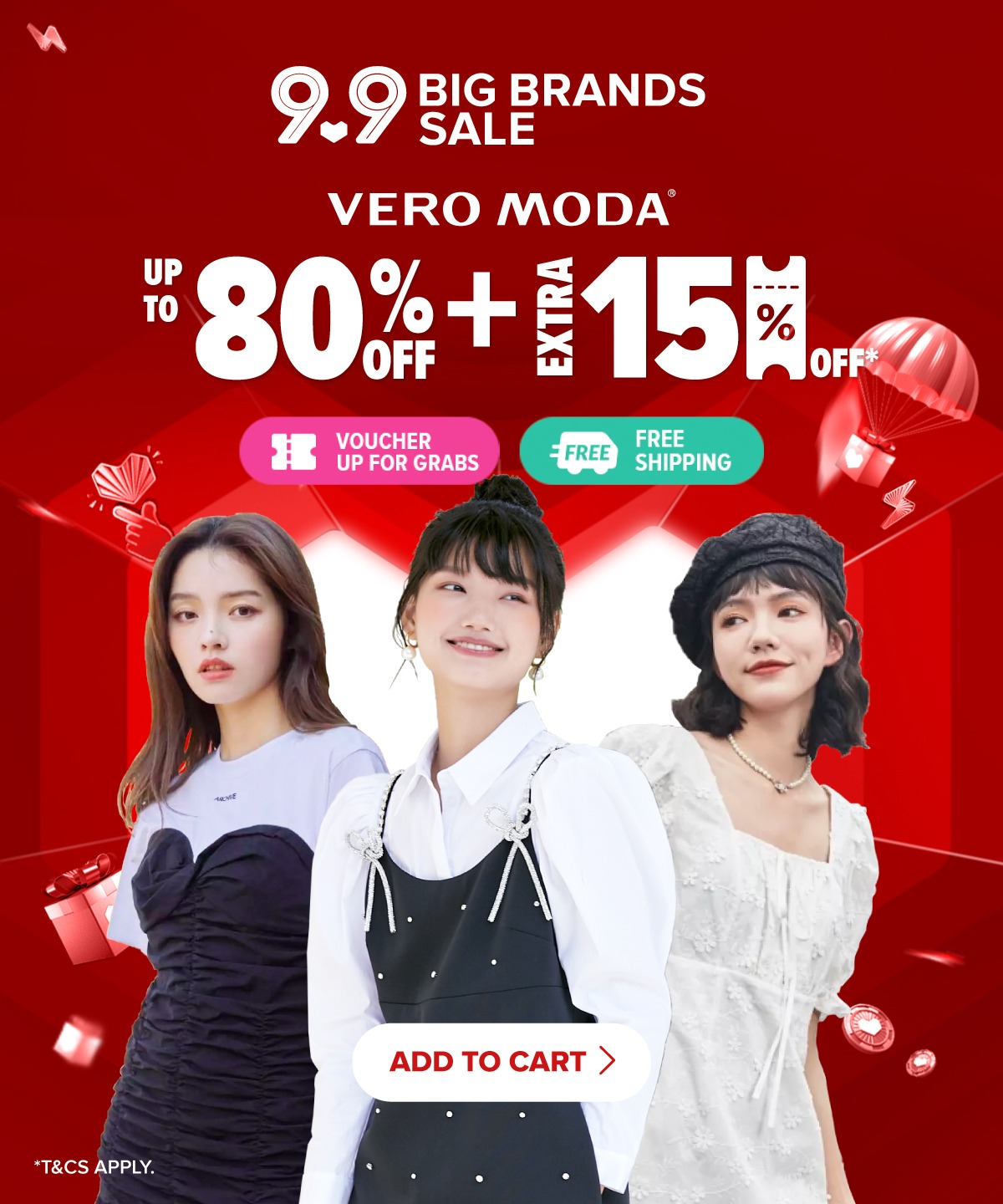 Vero Moda Sale: Up to 50% OFF + RM20 OFF Voucher
Shop these must have styles from Vero Moda with up to 50% OFF
Save more with RM20 OFF collectible voucher
Minimum spend of RM159
Valid until August 31, 2021

Support Lokal Lah: Up to 50% OFF + Free Shipping Voucher
Enjoy up to 50% OFF today
Save more with store vouchers
Collect free shipping voucher

Health Essentials Sale: 30% OFF + Free Shipping Voucher
Get your health needs with 30% OFF
Save more with Lazada Wallet collectible voucher
Collect RM8 free shipping voucher
Minimum spend of RM12

LazMall X Trendyol: Up to 50% OFF + RM12 OFF Voucher
Change your wardrobe with Trendyol modern style and enjoy up to 50% OFF
Collect voucher and save RM12 OFF
Minimum spend RM100
Valid until August 31, 2021
Nivea Sale: Up to 40% OFF + RM12 OFF Voucher
Shop at Nivea and enjoy up to 40% OFF
Collect voucher and save RM12 OFF
Minimum spend RM80
Valid until August 31, 2021

Senheng X Standard Chartered Sale: Extra RM50 OFF
Pay with Standard Chartered Credit Card and get extra RM50 OFF
Minimum spend of RM500
Valid until July 31,2021

Apple iPhone 12 Purple: 0% Installment
Buy the new iPhone 12 in Purple with 0% installment
Save up to 10% discount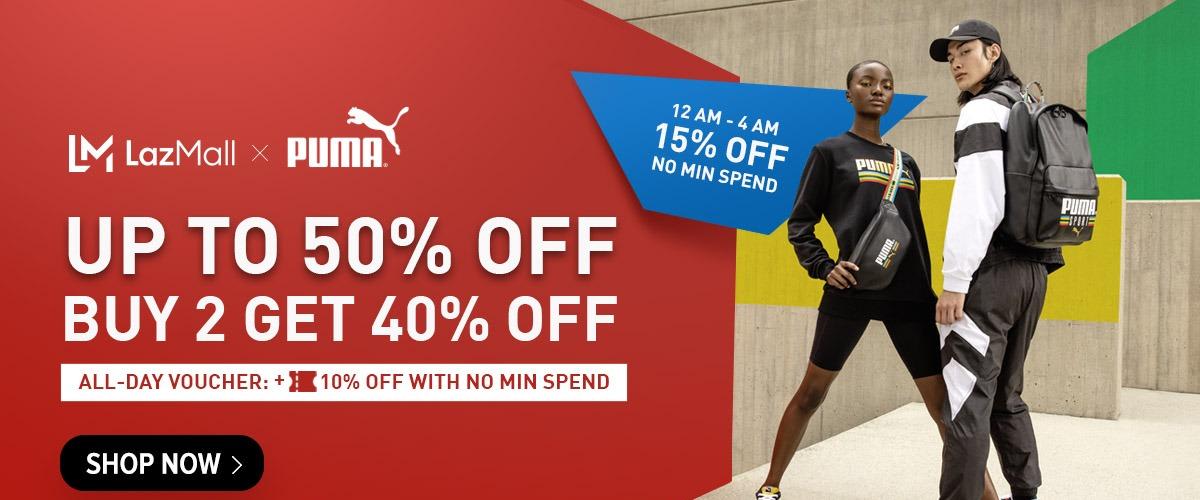 Puma Malaysia: Buy 3 Get 40% OFF+ 10% OFF Voucher
Buy 2 to get an additional 40% off on Puma Malaysia
Collect 10% OFF voucher
Minimum spend of RM0.01
Valid on July 14, 2021

RM5 OFF Fashion Pavillion
Shop premium fashion brands on a budget
Exclusive RM5 off lazada voucher
Minimum spend of RM15
Taobao Collection Storewide FREE Shipping
Shop Taobao collection products now and enjoy storewide free shipping

Up to 80% OFF Everyday Low Price Deals
Deals Under RM8
RM8 FREE Shipping Voucher with Minimum Spend of RM8
Up to 75% OFF Daily Flash Sales
Up to 75% OFF on Flash Sales
Save more with Collectible Shop Vouchers
Extra 50% Discount with Lazada Wallet Voucher
Up to 85% OFF Lazada Super Deals
Under Price RM19
Up to 85% OFF Top Picks
Extra 38% OFF Shipping Fee using Lazada Wallet

RM5 OFF Lazada Voucher Groceries Special
RM5 OFF Shop Voucher

Minimum spend of RM80

Selected Items Only
Up to 80% off LAZAT Food For You
Up to 80% OFF Food & Beverages

Extra Discounts Using Food Vouchers

Under RM5 Laz-At Meals
RM200 VOUCHER Program Save 2.0
Sign up to get an RM200 voucher
Must be a Malaysian citizen
Must have Registered Electric Utility Account
Applicable on airconditioner and refrigerator purchases

RM500 Cashback: Standard Chartered Promo
Sign up for a Standard Chartered Credit Card and get up to RM500 Cashback
Minimum top-up of RM150
Lazada Wallet users only

12% Cashback: Mastercard Tuesdays
Top Up and Save your Mastercard® for the first time on Lazada Wallet and get 12% cashback
Valid on Mastercard Credit, Debit, and Prepaid users
Valid every Tuesdays until March 29, 2022
RM1 for RM3 Lazada Wallet Credit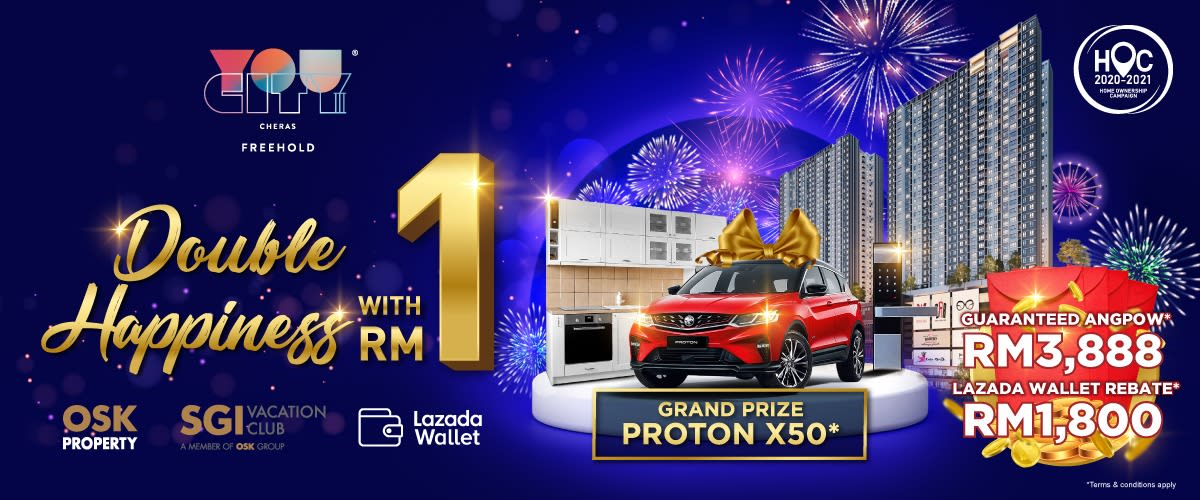 Get RM3 Lazada Wallet Credit for only RM1
Experience 30 Minutes Virtual Tour
Limited Redemptions only every 12 PM
Unlock more prizes & big rewards

Get RM500 Lazada Voucher
Get RM500 Lazada Voucher when you Apply and Own a New Lazada Citi Platinum Card
RM28 Voucher Every Mondays
10x Reward Points on Lazada Wallet & Lazada Spends
Exclusive FREE Shipping Voucher
Get up to RM500 in Free Lazada Benefits
Enjoy up to RM500 in Free lazada benefits
Be a Lazada seller to earn 24/7 while working from home
---
Related Voucher Codes Recommendations
---
We all understand how awesome it feels when getting an item that we want is just a few clicks on a screen away. Yes, we are talking about wonderful online shopping destinations. No queue, no fuss!
Lazada, founded in 2012 by Rocket Internet and later taken over by Alibaba Group in 2016, is undoubtedly one of the top-rank eCommerce platforms in Southeast Asia. It joins together 140 million customers across Vietnam, Thailand, Singapore, Indonesia and of course, Malaysia and it strives to serve everyone the best shopping experience.
Over the years, Lazada Malaysia has been embraced by our locals so much that shopping at Lazada is nothing strange to them anymore. Not only is Lazada Malaysia accessible through its website, it is also accessible through its mobile app on both Android and IOS devices.
Download the Lazada Malaysia app now if you haven't already!
Despite being in the industry for almost 10 years, Lazada has never stopped growing and evolving with improved technologies, logistics and payment infrastructures. Not only does it assure customers of a safe payment process, but it also makes sure that customers can check orders anytime to know the latest whereabouts of their items.
To assist every user at its best, Lazada has even developed a Live Chat system that equips a more interactive service. Such service is available daily from 9:00 am to 9:00 pm except for public holidays where it will be operating from 9:00 am to 6:00 pm.
What To Buy at Lazada Malaysia?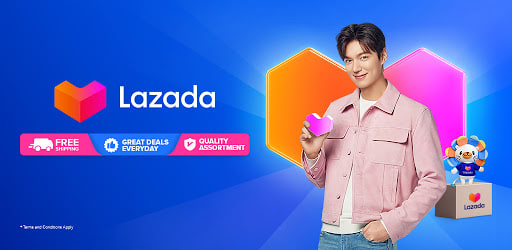 Lazada Malaysia is just as fantastic as a physical shopping mall, or even more! It is where one can easily have his shopping list all-checked in one go.
While there are countless products on Lazada Malaysia, electronic gadgets such as handphones, laptops, power banks and vapes have been some of the most sought-after items by the locals. This is because Lazada has collaborated with renowned tech or electronic companies like MI, Realme, HP and ASUS to have their flagship stores in its marketplace!
Also, brands like Ookas and Sandisk which are notable for their electronic accessories are available on Lazada Malaysia.
Are you looking for gaming accessories? Check out Lazada Logitech Store!
Are you planning to purchase a new iPhone? Lazada Apple Store can't wait to see you!
Besides electronics, Malaysian shoppers frequently get their household appliances and furniture from Lazada too. Many have purchased kitchen appliances, tv, air conditioner and even sofa to have them delivered to their doorstep! Some of their favourite brands include Tefal, Khind, Dyson and Philips.
Apart from the categories mentioned above, Lazada Malaysia also ensures that the shoppers' needs for Fashion, Sports, Health & Beauty and Grocery are never neglected.
Shoppers can easily acquire skincare products from stores like Lazada Cetaphil and Lazada Cerave or hunt down the latest release of K-beauty skincare from stores like Lazada Innisfree and Lazada Laneige. Whereas for grocery shopping, Lazada Malaysia has cooperated with Tesco, which is one leading supermarket in Malaysia, to supply the customers the daily essentials.
Not just confined to physical products, e-vouchers and digital Lazada gift cards can also be purchased in the marketplace. Some of those vouchers include food vouchers, cash vouchers and top-up vouchers for service providers like Celcom, YES and UMobile. As for the Lazada gift cards, they are valid for up to 180 days and will be delivered to buyers through emails. Each of them contains a voucher code for redemption.
Why Shop at Lazada?
Best prices and infinite choices
We guess it is pretty clear. One of the reasons Malaysians are so fond of shopping at Lazada is unquestionably its vast choice of products. Not to mention how the products are more reasonably priced than in the physical retail stores, there are always promotions and mega offers coming up on Lazada for everyone to secure the items at the best prices!
While there is this classic Lazada Marketplace with local sellers, Lazada has recently launched LazGlobal and LazMall onto its platform to add more diversity to the marketplace.
LazGlobal is a channel that establishes a cross-border business. It connects buyers directly to homegrown sellers from other countries such as Korea, China, Japan and the United States.
It is just as similar to the Lazada Marketplace except that buyers will be getting their products from the international merchants instead of the local ones. In other words, they can find any sort of item in LazGlobal too! All products sold in LazGlobal will be shipped from overseas and come with an Easy Return period of up to 7 days.
On the other hand, LazMall is where customers can have access to local and international branded products. The merchants in LazMall are either the brand owners or the sanctioned local distributors.
What is so fascinating about the mall is that it guarantees 100% authenticity for all its goods otherwise customers can get 5 times the money back. What's more, customers will also receive a compensation of RM5 in their Lazada Wallet for any late delivery in LazMall! Unlike the usual return period that goes from 7 to 14 days, LazMall allows an Easy Return period of up to 15 days from the delivered date.
Up to 15 days returns and refunds
If you are wondering how to return an item to Lazada Malaysia, here is a brief guide to clear your doubt.
7 - 14 days Return:

Within the specified period, buyers submit the online return form with supporting details and images. Buyers will then wait for the sellers to approve or reject the request. If buyers do not assent with the sellers' decision, they are allowed to appeal the request to Lazada Team.

LazMall 15 Days Easy Return:

Within 15 days, buyers fill up the online return form and select either a drop-off location to drop off the items or a pick-up location to have the courier service collects the items from them. No additional information needed.

7 - 14 Days Easy Return:

Similar to the 15 Days Easy Return except for a difference in the validity period and buyers will have no pick-up option to return their items.
For more information on the refund process, kindly check out the "help centre" on Lazada.
Lazada Payment Protection
Lazada Malaysia ensures buyer protection with its Payment Protection approach. As soon as customers notice any unauthorised transaction from their Lazada accounts, they can submit the relevant online form and the Lazada team will instantly get into action. If the transaction is proven indeed unrecognised, buyers can have the complete amount compensated. Such buyer protection works for transactions via Lazada Wallet, e-banking as well as credit/debit cards.
A variety of delivery services (with free shipping too!)
Lazada has collaborated with multiple courier partners in Malaysia for a more efficient and swifter delivery service. Just to name a few, there are NinjaVan, GDex, Collectco and PosLaju. Besides the Standard Delivery option, it provides customers with a faster same-day or next-day Express Delivery option too! Such an option is handled by Lazada Express (LEX) service itself.
While a shipping fee is normally incurred, merchants on Lazada often offer their customers free shipping with or without a minimum purchase needed. Even if they don't, fret not, there are always vouchers and codes made available for such free shipping benefits!
If you don't know this already, free shipping vouchers can be collected on Lazada Malaysia on its "Free Shipping" page every day at 12 am, 12 pm and 6 pm!
Numerous payment options
Another great thing about shopping at Lazada goes to its numerous payment methods. Customers can choose to pay via an e-banking system, credit/debit cards or even through e-wallets like Boost, Touch n Go and Lazada Wallet. Customers who would like to pay by cash can do that at any 7-11 stores. Additionally, instalment payment, facilitated by Maybank, is also accepted with a minimum spend of RM500. Do note that Cash on Delivery (COD) and Paypal payment methods are not available on Lazada anymore.
Countless promotions and Lazada promo codes
Behold everyone, here comes the best part where one can grab massive savings when shopping at Lazada!
Flash sales, free vouchers, store coupons, discount codes and promo codes… you name them, Lazada has them!
Each year in Lazada Malaysia, there will be Black Friday sales, Raya Promo, Merdeka Sale, Christmas Sale as well as shocking Cyber Monday sale going on. During those sales, tons of code vouchers, collectable vouchers and coupon codes will be freed for claims!
Let's not forget about the 10.10 Women's Festival sale, 11.11 Singles' Day vouchers and 12.12 code vouchers. They grant Malaysians the best chance to purchase items at the lowest prices possible!
New users can also expect multiple new user promo codes and vouchers for their use. Additionally, Lazada Malaysia has also been running exclusive app-only cashback deals for both new and existing users with a rate of up to 11%. Such cashback benefits can be acquired via various cashback sites that facilitate Lazada Malaysia.
What's more, this coming 27th March, Lazada will be celebrating its 8th anniversary! Save the date now and expect to be showered by its jaw-dropping birthday sale!
With all that being said, let's move onto something more practical, shall we?
How to get Lazada vouchers and coupons?
To claim the collectable vouchers, users first go to the "Voucher" page on Lazada where they will be immediately greeted by different sorts of vouchers. Then, simply by clicking the "collect" button on the screen, the vouchers will be added to the Lazada accounts!
To make things even easier for the users, the Lazada team has broken down the vouchers into several categories i.e "20% off" vouchers, "LazMall" special vouchers and "No min spend" vouchers. Users can also browse the vouchers based on the types of items they are looking for.
The procedure is pretty straightforward and trouble-free. To use a code voucher, one will only need to enter the corresponding code during the checkout process. Whereas, the collectable Lazada vouchers will be automatically applied and reflected at the payment amount during checkout.
Users can also utilise multiple vouchers to a single order with restrictions applied. For valid use, give an eye to the expiry date and special conditions of each voucher!
Bonus: More Ways to Save
Thinking to save more? Here are some of the techniques.
Lazada Credit Card Promos
Are you aware that Lazada Malaysia works together with several banks like Hong Leong Bank, UOB, HSBC and Maybank in launching partnership vouchers and bank promo codes from time to time?
On Lazada Malaysia, every day is a bank discount day!
As for 2021, customers that purchase RM200 and above via Lazada App every Monday can enjoy a discount of RM22 when they pay using their Citibank cards.
Standard Chartered Bank has also come up with credit card promos every Tuesday for the first 150 new customers on Lazada. The customers will receive RM10 off their orders when they pay using a Standard Chartered credit card.
Aside from that, customers who top up their Lazada Wallet on Tuesday using their Public Bank Mastercard cards can take advantage of the bank's special card promotion too! This promotion gives 5% cashback to new Lazada Wallet users and 12% cashback to the existing users.
On Wednesday, all customers can have a deduction of RM15 from their total order when they spend RM150 or above and pay using Maybank cards. Do note that this deal is only valid for the first 300 customers so be sure to not miss out!
Every Saturday, Ambank cardholders can claim limited Ambank vouchers that give RM10 and RM30 off their purchases on Lazada App with a minimum spend applied. RHB bank cardholders should not miss the Sunday vouchers from the bank too. The vouchers give them a discount of RM16 when they pay using RHB credit cards on Lazada App.
To spice up the payday, CIMB Bank presents its users with amazing monthly vouchers that vary from RM11 off to RM15 off. The vouchers are redeemable every month from 25th to 29th and are limited to only the first 600 customers. Thus, grab them before they run out!
For more details, kindly check out the "Voucher" page on Lazada Malaysia.
Lazada Daily Rewards
Daily Rewards is where customers can earn points as they check-in at Lazada App every day. By checking in continuously, customers will be granted additional rewards.
What is so awesome about the points is that they can be turned into cash rewards or vouchers once a minimum amount of 40 points (RM40.00) is reached. Such rewards and vouchers can be utilised in every store on Lazada.
Yes, check-in and earn money! That's how simple it is!
To earn extra points, customers can invite their buddies to download Lazada App via a sharable link. When they do so, they also stand a chance to win away cash prizes up to RM88 from Lazada!
Share Pocket Lazada
Share Pocket is a game of "the more, the merrier".
At Share Pocket, each user will have a unique link that can be shared with his friends. The user will receive a money balance when each of his friends clicks on the link. As such, the more friends that check out the link, the more balance the user will gain!
When users have successfully collected a balance of RM50, they can have the amount topped up to their Lazada Wallet. It is important to note that the money balance will be refreshed every 24 hours so everyone should try to reach the target as fast as possible!
LazCoin
LazCoin adds more fun to the shoppers' experience. Such coins can be easily earned by participating in LazGames or by completing daily Lazada missions. The coins can be used to get a deduction on the payment amount as well as to redeem gifts or vouchers. To find out what is redeemable using LazCoin, check out the "Coins" section on the account page.
Lazada Voucher Club
Lazada Voucher Club is not just an ordinary club. To start with, it is a subscription plan that can be 1-month long or 3-months long, targeting to help customers in saving even more.
In the club, the members will join up to 4 voucher rounds per month and collect any 6 exclusive vouchers each round. That makes it 24 vouchers a month already and we haven't even counted the vouchers obtained outside the club!
Many club members are surprised at how the subscription plan has helped them in saving up more than they have expected. To subscribe to the plan, one can do it during checkout or by visiting the "Voucher Club" section on the account page. The price of the subscription plan starts from RM12.50.
Be a member of the Voucher Club today!
Onederful Wallet
Onederful Wallet is indeed a wonderful game as customers can win their favourite products with just RM1. The participants will pay RM1 via their Lazada Wallet or LazCoin on a selected item. A winner will then be chosen among them to take away the item. The result of the game will be announced the following day by noon. Essentially, one can pay for multiple listed products in Onederful Wallet.
Cash Rain
Cash Rain is pretty self-explanatory. In the game, the user has only one mission and that is to catch as many cash as possible from the cash rain. After participating in the game, the user can proceed to invite other friends to play the game for extra cash rewards up to RM5. Once an amount of RM15 is accumulated, it can be redeemed as vouchers or as money to their Lazada Wallet.