Get ready as it's time for Lazada's Birthday Sale 2022, which will happen from 27 to 29 March 2022. In conjunction with the celebration, there will be an epic sale that includes free shipping, daily offers, discounts, and promos. 
To make it even more thrilling, Lazada has prepared a range of entertaining activities in which you may win coupons and discount codes through games.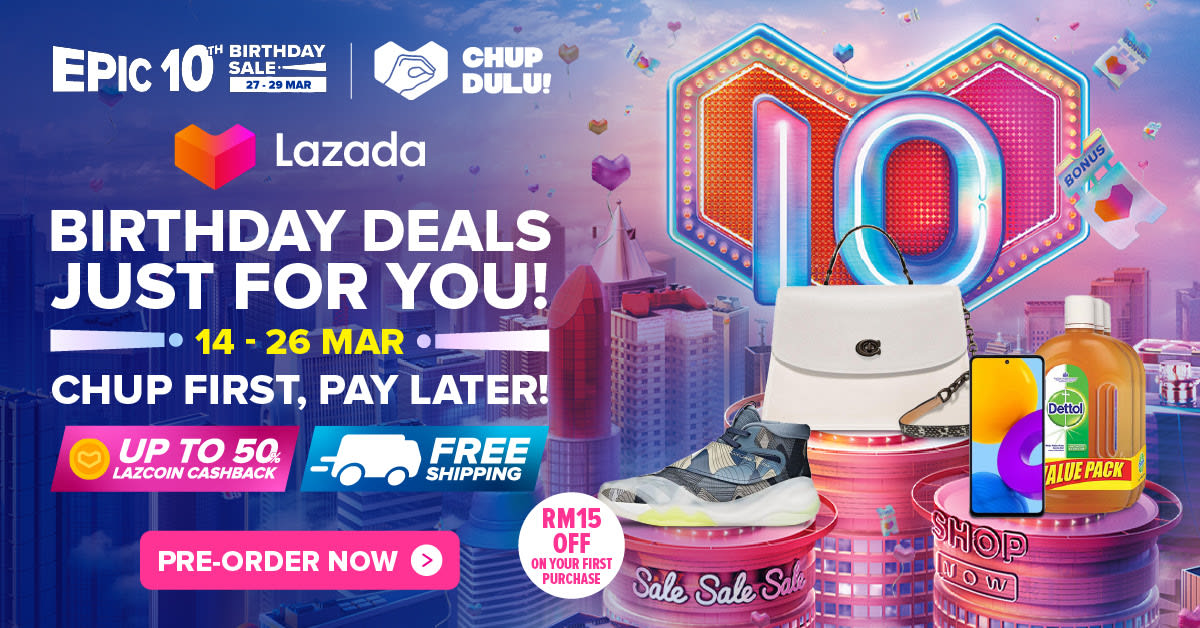 Lazada has a massive sale planned for this year's event. So if you're stressed about figuring things out, don't worry as we're listing down what you should focus on. Just sit back, unwind, and shop!
---
Exclusive Lazada x ProductNation Bank Promos
Got a debit or credit card you shop with? You don't want to miss out on Lazada Bank's March 2022 deals.
To mark the occasion, we've compiled a list of unique Lazada Bank Promo codes for you to use, which you can find below. 
Exclusive Lazada x ProductNation Promo Code:
RM20 OFF with min spend of RM120

For existing customers, useable in app only

Valid from 27th to 29th March 2022

Use Code: LAZBgXSp
---
Daily 60% off Vouchers up for Grabs

Don't think that you'll join Lazada's 10th Birthday Sale without enjoying HUGE discounts!
Aside from free delivery on your purchases, make sure to shop via the Lazada app and get vouchers from every crook and cranny. Watch out for the RM10 Lazada bonus, 50% Coin Cashback*, 60% off with Brand Mega Offers, and more!
That's not all; the Crazy Flash Sale is offering you deals starting from RM10. So stay alert and place your order before it's too late!
---
Free Shipping

Pssst, there's free shipping!!
Go all out and splurge on whatever is added to your cart because shipping is free during this Lazada Birthday Sale. All you need to do to qualify is just meet the minimum spending requirements and you can have your Lazada favourites for less. 
---
Lazada Birthday Bonus: RM 10 off Every RM100 Spent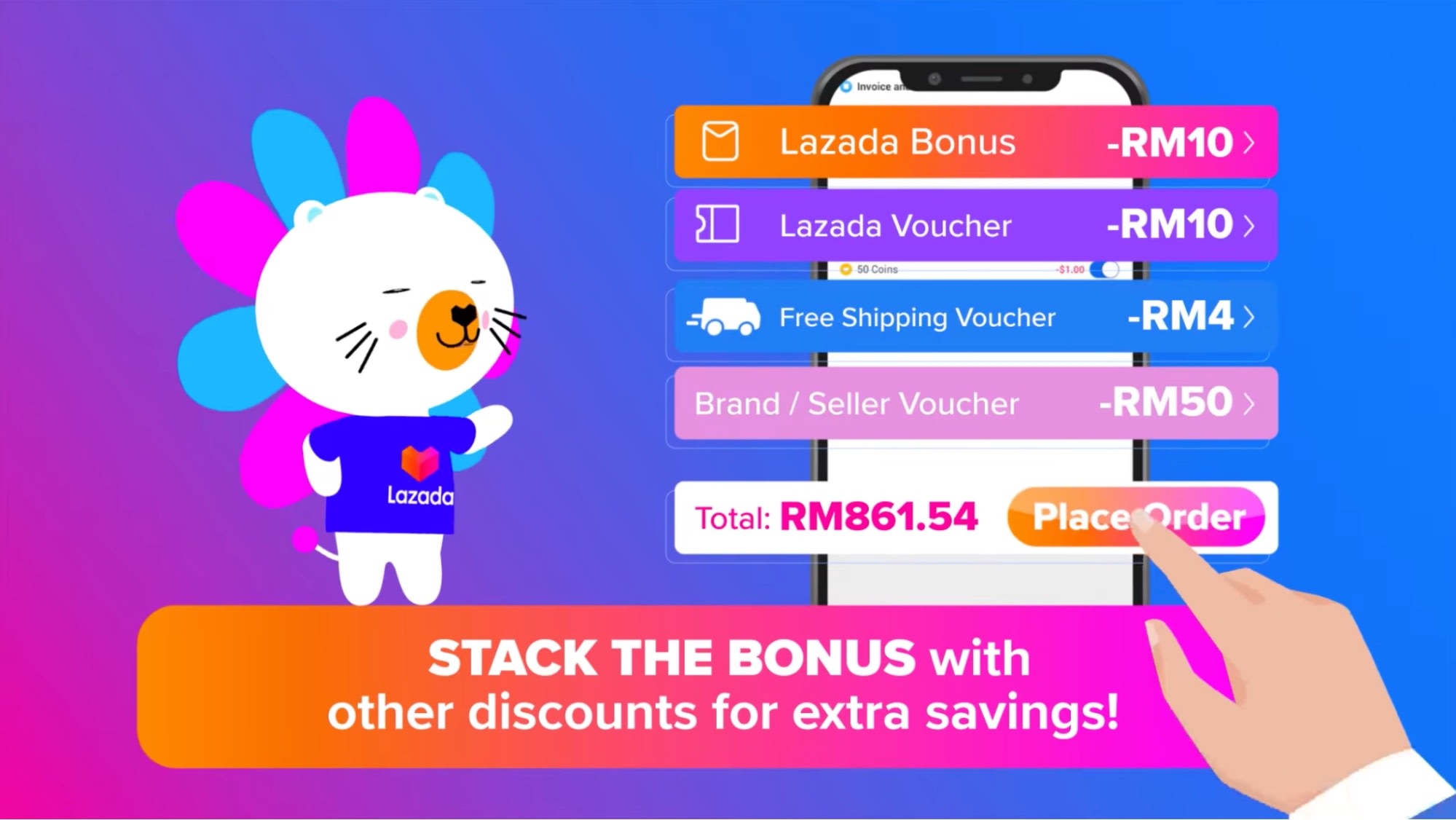 Remember what we said about Lazada Bonus? Part of Lazada's 10th Birthday Sale discounts to enjoy is the friendly Lazada Bonus which grants you a few extra ringgit off for a certain amount spent on your end.
The Lazada Bonus for this Lazada Birthday Sale 2022 is an RM10 discount for every RM100 spend!
---
Chup Dulu 

"I Chup first", Now you can! 
Have you been that type of a shopper to hesitate? Maybe with Chup Dulu, it's a blessing in disguise to enjoy better deals.
On Lazada, look for items with the Chup Dulu seal. You are entitled to a special discount or deal by paying a 10% deposit to reserve the item, then pay the rest later on a given date.
Do note that cancellations for offers prior to full payment is not permitted. A twist tho is that you may cancel your purchase once full payment has been done. This voucher is not redeemable for cash-on-delivery.
You may enjoy Chup Dulu from 14th to 26th March 2022. Then, pay the remaining balance on the 27th March from 2 AM to 11:59.59 PM! 
Additionally, you will earn 5% Coins cashback for ALL Chup Dulu goods after the deposit is paid. 
About Chup Dulu:
Deposit Period:

14th - 26th March 2022

Check Out Period:

27th March (2AM - 11.59.59PM)

No minimum spend required

Coins cashback capped at 500 coins per buyer per day
---
50% Lazcoin Cashback

Did someone say cashback?!
Even if you are too late to grab vouchers all around Lazada, there are always LazCoins to boost your shopping experience. Such coins are simply obtained by taking part in LazGames or completing daily Lazada quests. The 50% Lazcoin Cashback may be used to earn discounts as well as to redeem gifts or coupons. 
Check out the "Coins" column on the account page for further details on what is redeemable with LazCoin during this sale!
---
Exclusive Deals and Vouchers on Lazada App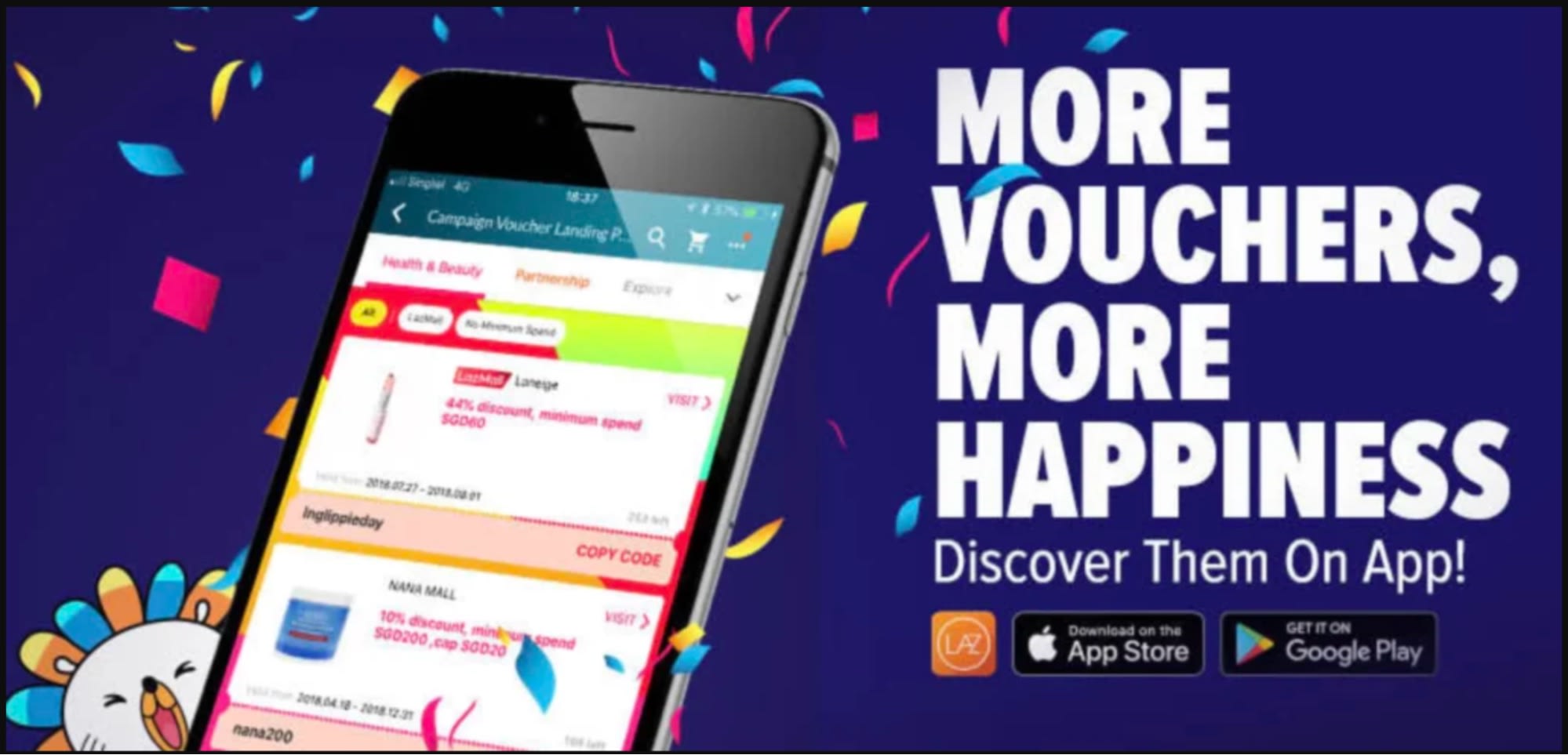 Now, here comes the coolest part where one may save a lot more money when deciding to purchase on Lazada.
Make sure to get the full experience by shopping on Lazada App rather than the website. That's because there are exclusive mobile-only coupons available on a daily basis for you to shop with. 
Not only that, but Lazada Malaysia has been offering many app-only cashback promotions for both new and current customers. Moreover, make sure to turn on your notifications so you can stay alert for fantastic Lazada mobile-only bargains.
---
Beauty Deals to Steal
No joke that beauty deals should happen more often. Imagine how many things we need to replenish for our beauty and grooming routine.
For Lazada Birthday, enjoy discounted prices on skincare and beauty essentials, especially through limited brand deals. Just head over to your favourite brand's page and check out what deals or gift sets are up for grabs.
---
Staying Healthy with Lazada

Another category that's receiving lots of love from this Lazada Birthday Sale is Health and Lifestyle.
Taking care of your health might be challenging, that's why Lazada's 10th Epic Birthday Sale is releasing and highlighting deals on the best health supplements, workout equipment, and sports accessories to help you keep healthy and stay fit at home.
---
Hungry No More with Lazada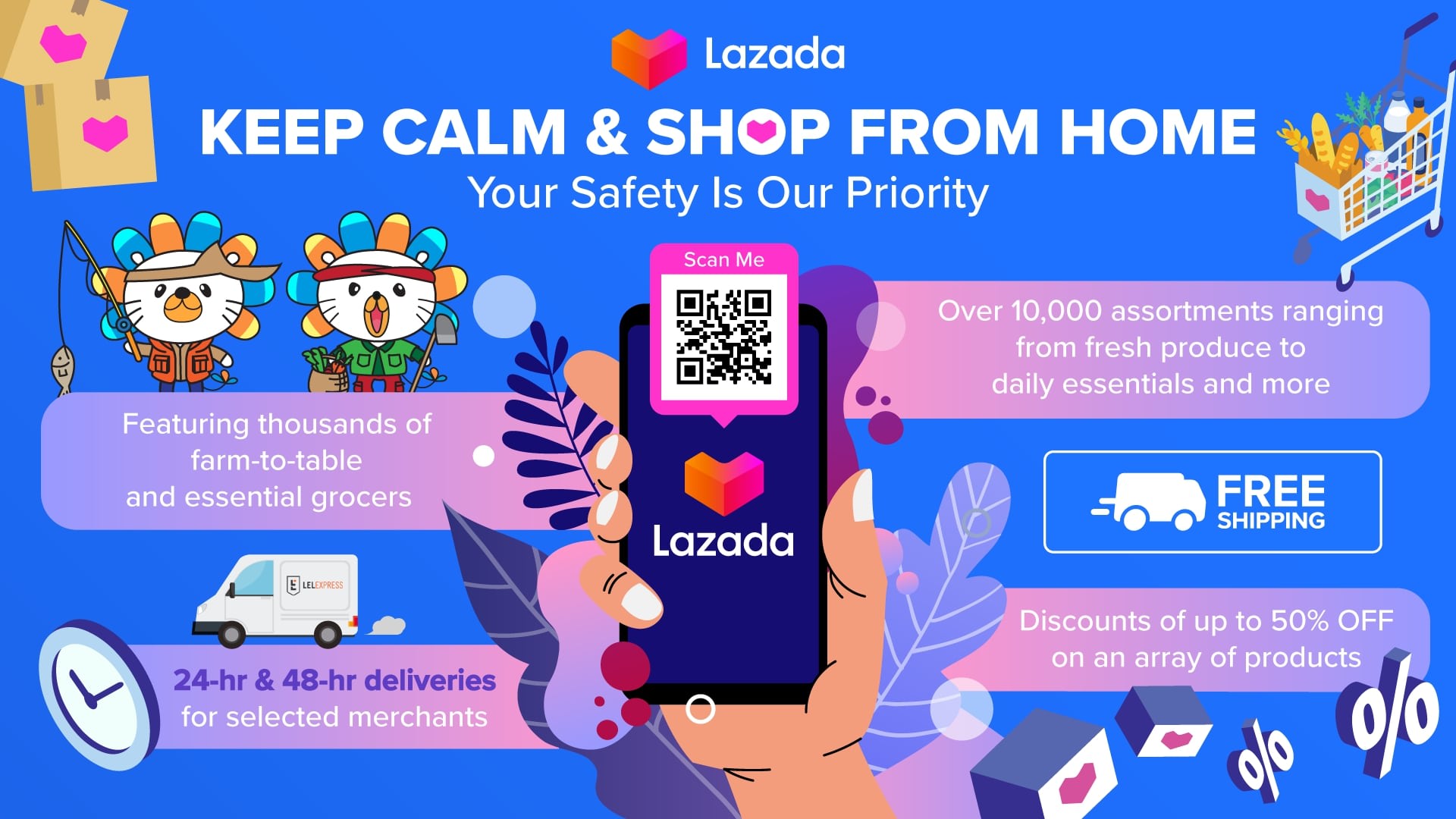 It happens; we forget to get groceries after a long day at work. Don't worry, you can get your groceries during this epic sale!
Lazada Malaysia's 10th Birthday Sale includes everything you need for your regular grocery shopping. Simply head on the Lazada app and order your goods, then get them delivered to your door.
---
Lazada Games
All in for a round of fun and games? This year's Lazada Birthday Epic Sale is here with a fun twist.
Besides collecting vouchers and swiping away, Lazada has vouchers and LazCoins up for grabs via games: Lazzie Star and Lazzie hunt. 
Lazzie Star:
Lazzie Star is back with a Cake Master for Lazada's 10th Birthday! "Bake a cake, level up & win amazing prizes"!
To become a Cake Star, you are required to finish 30 levels.
To finish each level, players must get baking cream to bake the birthday cake by fulfilling missions (Share, Browse the store, Add to cart, Checkout), playing a short game, and sharing and inviting others to play Lazzie Star. 
Users will subsequently be rewarded with Lazada Bonus after completing each level. When users achieve five distinct levels - 10, 15, 20, 25, and 30 - they are eligible to enter a prize draw for fantastic rewards!
In addition, users may come in on a daily basis to make their cake and receive coupons from Lazzie Star's Voucher Store!
Game Period: 16th - 26th March 2022

Rewards: Prize draw & coupons

Redemption Period: 27th - 29th March 2022
Lazzie Hunt:
Think of this as a manhunt for Lazzie - Lazada's loveable lion mascot. To score exclusive prizes, search around an area on Lazada and stand a chance to be in the winning of big prizes.
Past rewards include a shiny car to bring home (Nissan Almera Turbo for 11.11 sale 2021).
"Colllect Lazzie for Rewards"
Game Period : 21 March - 8 May 2022 

Rewards: TBC
Stay tuned for the announcement on prizes and rewards!
---
These are just a handful of the great deals and highlights offered during Lazada's Epic 10th Birthday sale. Don't forget to check back in from time to time for flash sales and vouchers. Who knows, you could strike gold when shopping for your favourite products!
P.S.: Save even more on your Lazada shopping during this sale with these amazing Lazada Promo Codes! 
Related Lazada promo recommendations